Lumens: From Single Showroom to Digital Disruption
By Katie Lawson
11/29/2018
Lumens: From Single Showroom to Digital Disruption
If you were on the hunt for elegant lighting in 2006 you might have been lucky enough to live in Sacramento, California, and have access to Lumens single showroom where you could get advice from one of the 10 original company members.  A little over a decade later, Lumens helps meet home good needs around the world with 95% of their business being done online, 4 million catalogues delivered annually, and marketing team three times bigger than the original staff.
So how do you turn a one-showroom company into a boon of online business in a few short years? Jeff Romero, Lumens' Digital Marketing Manager, joined us at Bloomreach Connect San Francisco to share how Lumens aced the digital space so quickly.
"Hey, We Can Do This Online."
The first step that Lumens took was simply treating their space as a second showroom and, like any showroom, the main question is how to get people through the door. Starting with a dive into Google Analytics, Jeff set out to discover how to connect shoppers to the products they're really looking for.
The first thing Jeff discovered was the value of good product data. Having a clean, intuitive site hierarchy and strong data integrity gave both a positive experience to online shoppers and to the ever-important Google crawlers.

A solid organic foundation got people in the door, and the next step was determining how to get those new customers to the products and information they needed. For Lumens, rich content was the golden ticket.
Content Builds Confidence
Lumens tackled content in two ways, with depth and with scale. For depth, Jeff and his team created rich product information, buying guides, and great lifestyle images throughout the site. They created content that made every visitor feel like they could style a space as beautiful as the showroom - that they could be their own home decor guru.
On the importance of this content, Jeff states, "We have some very high quality pieces which are not just a casual buy. Rich content helps you explore and learn about your options and makes you feel confident in your purchase."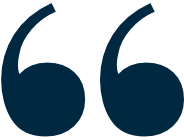 Rich contet helps you explore and learn about your options and makes you feel confident in your purchase. 
- Jeff Romero, Digital Marketing Manager
The second method Lumens implemented was to make all of their products findable in as many ways as possible, and to do so at scale.  For this, Lumens turned to Bloomreach's thematic page tool to quickly fill in content gaps. Home decor is a crowded space, and Jeff knew his team needed to think outside of a native product catalog and talk to customers in the way they want to search.
"It's a fantastic tool." explains Jeff, "When we go to create a category page it has to go through our Product Information Management system, it has to go through the merchandising team, and you have to manually assign products for it. So if I went to my team and said 'Hey guys, I've noticed there is some search volume for Concrete Pendant Lighting - it's a specific search, people are probably lower in the funnel and more willing to convert - can we create a page for that?' I'm told that we might be able to do so within two months. That doesn't work. I'm trying to get in Google tomorrow. I want to figure out how to get there now. That's where the thematic tool comes into play. Based on product data, making sure we have good data integrity, and being able to group products into a page I can make that page in 30 seconds and it fills in that content gap."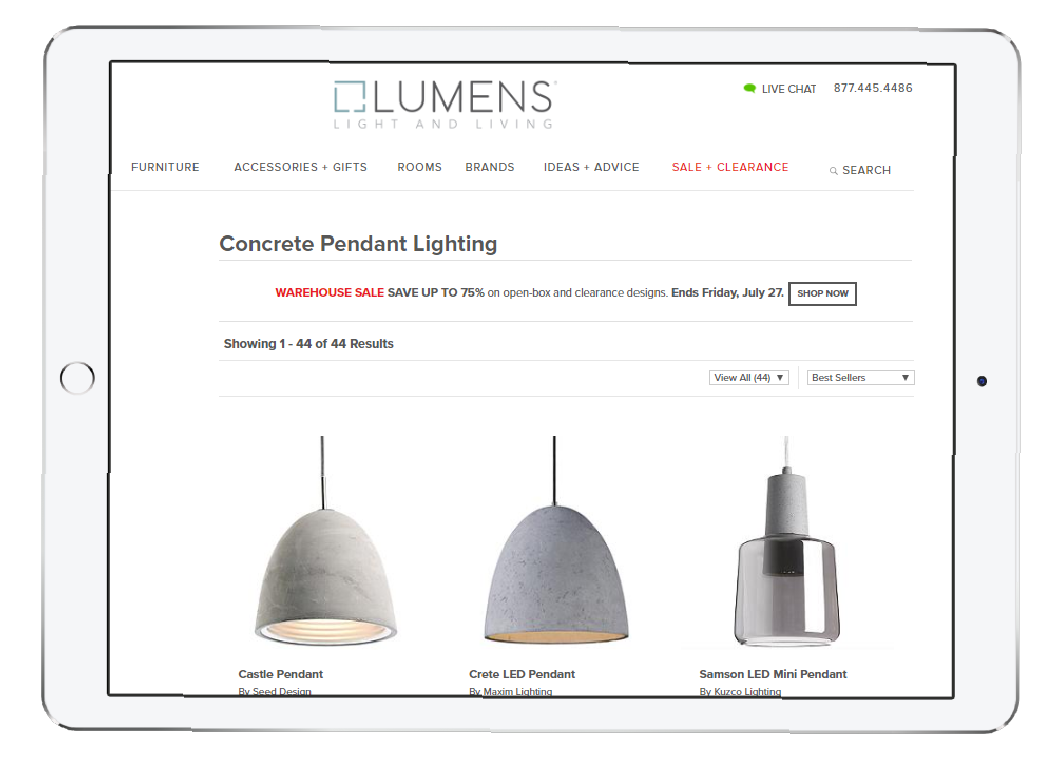 Expert Content Breaks Open A Crowded Market   
"I know we all have heard that content is king, but it really just works" says Jeff. Nothing proves the reign of content more than Lumens' ability to rise up in the crowded home decor space.
To be clear, it's not just any content that guarantees success, but truly expert advice and information that builds trust with a shopper. Luckily, Lumens had a well of expertise to draw from - and you probably do too.
Jeff turned to the experts - the customer services department. They knew the questions being asked and also had the answers. Not only does this let your own teams be the heroes but also, says Jeff, "It's what customers want. To hear straight from the mouth of the experts."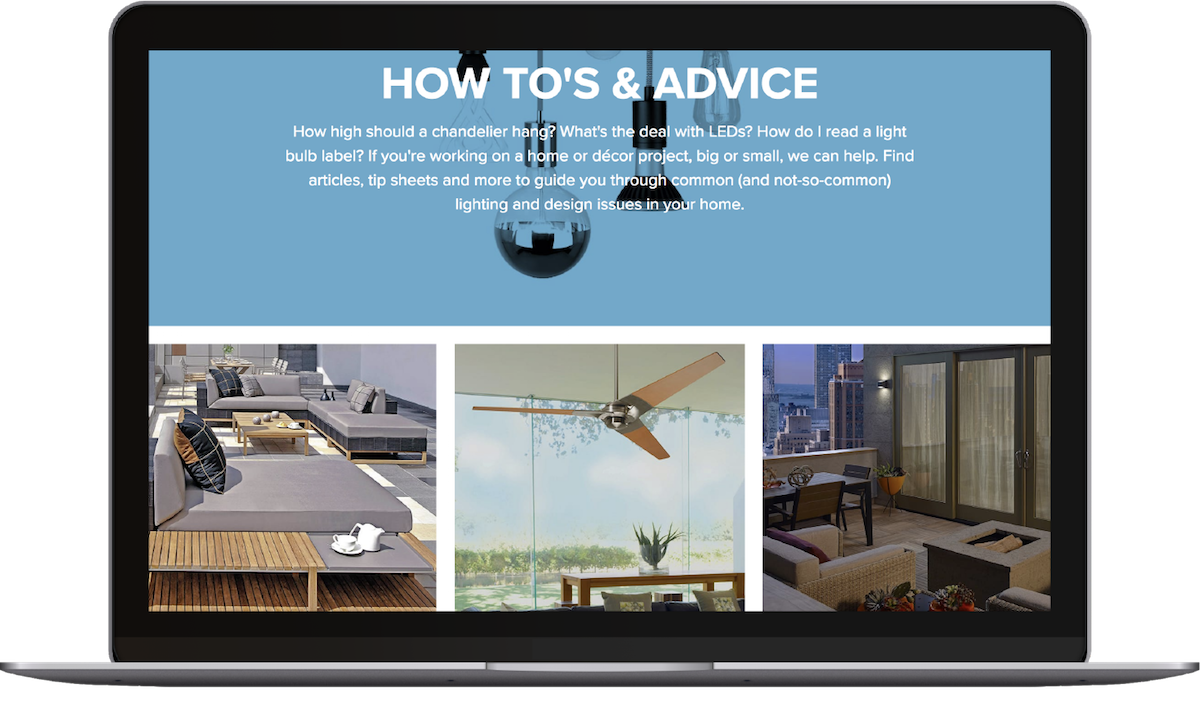 When asked how Lumens thrives in a crowded market, Jeff states, "Make sure you know what you're talking about," and pointed to Lumens expert content as the reason they rank on page 1 of Google results for the (incredibly popular) term "ceiling fan".
Shining Light on B2B Needs
For content to work you need to know who you're talking too, which can be difficult for companies with both B2B and B2C customers. "It's not just having the right catalog, it's understanding the context of the person and meeting them where they need you." explains Jeff.
"For the trade group, or B2B, we want to present them with a different experience." explains Jeff, "The consumer is looking for information, where the trade group is looking for a solution. They want to buy something for their client, they want to complete a project. They are trying to get to that solution, so we have to give them a different user experience."
To provide this tailored experience, Lumens has a dedicated trade site that provides trade partners with additional benefits, such as project management tools and a dedicated sales rep, which gives B2B buyers a far more needs-based experience than the consumer site.
Be as Active as You Can Be, Everywhere You Can
Lumens didn't set up their first showroom and declare they were going to disrupt the space, they just focused on bringing customers in the door and directing them to the right products. Since that time, their continued drive to cater to their customers has led them down an accelerated road of growth. As Jeff puts it, "Test, test, test. Figure out what people are searching for and go for it."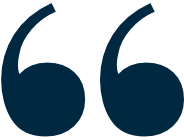 Test, test, test. Figure out what people are searching for and go for it.
With a rapid testing mindset as a core part of their culture, Jeff's team is continuously finding new ways to bring customers through the door - online and off.
"We know that our shopper base is huge, and it continues to grow, so we want to be active anywhere we can whether that is print, paid, organic, social, video." Jeff advised, "I hear other businesses say 'I only focus on organic, I don't do any PLAs or paid search' and I think - Why? You have shoppers there. Be everywhere you can be. It's a simple statement but effective."