E-Commerce Site Search and Merchandising
Leveraging Your Cross-Functional Partners to Build a Winning Merchandising Strategy
By Roxanna Couse
08/09/2022
E-Commerce Site Search and Merchandising
Leveraging Your Cross-Functional Partners to Build a Winning Merchandising Strategy
As a merchandising team, it's important to not work in a vacuum. Different roles within your organization will be critical to build relationships with as you seek to deliver an e-commerce experience that delights your consumers. It takes many different functions and players to create a successful e-commerce operation, so here is our list of the roles within your organization that we recommend you get to know and become BFFs with. 
Product and User Experience Teams
It's critical to not only understand what these teams are tackling and stay close to any new site enhancements, but also to provide input into their roadmaps. As a merchandiser, you're really close to your website, your products, and the things that your consumers need, and sharing those learnings with these teams can help you meet the consumer's needs and your company's goals. 
If you don't already have a relationship with these teams, here are a few tips to help you kick-start one: 
When you are sharing updates around different campaigns, website activity, or voice of the consumer data, include the UX and product team in the discussion 

Invite these teams to any merchandising strategy briefings or campaign ideation workshops

Bring data-driven insights about how your consumers are engaging your products on the website

Ask to be included in their brainstorming sessions and sprint planning

Ensure that you are in the loop on product release notes so that new features don't come as a surprise when you find them on site
Broader Merchandising Team
Depending on how your team is structured, you may need to collaborate with the broader merchandising group to ensure that as a whole, the right experience is being delivered to the consumer. These teams may all be testing and learning separately, too, and those learnings can and should be shared. It can be so easy to put up a silo, but if you work together, it will help you build an experience that's more cohesive for the consumer and drives better results for the business.
Digital Marketing
Creating a consistent experience for the consumer — from the time they initially engage with your brand to the moment they land on the website — is incredibly important. By creating a working relationship with your digital marketing team, this will help ensure: 
The entire journey makes sense for the customer and that you have a clearer picture of what's in the marketing pipeline

You understand how this journey benefits the customer and how it can be used for the bigger picture in your merchandising strategy 
This relationship benefits both teams as you learn what levers are being pulled higher in the funnel. At the same time, the marketing team can gain a better understanding of the impact their campaigns are having lower in the funnel. It's a win-win relationship. 
Supply Chain 
Is your company facing availability challenges, or are you up to your ears in inventory that you just can't sell?
Well, partner with supply chain team to understand delivery capabilities and inventory levels in order to use this information as an input into your merchandising plans. Collaborate with the buying team to add products to the catalog that consumers are seeking or where consumers may be facing availability/stock issues. Then, use this information to drive your tactical actions and backup plans for the products you plan to push within your product grid, content, recommendations, etc.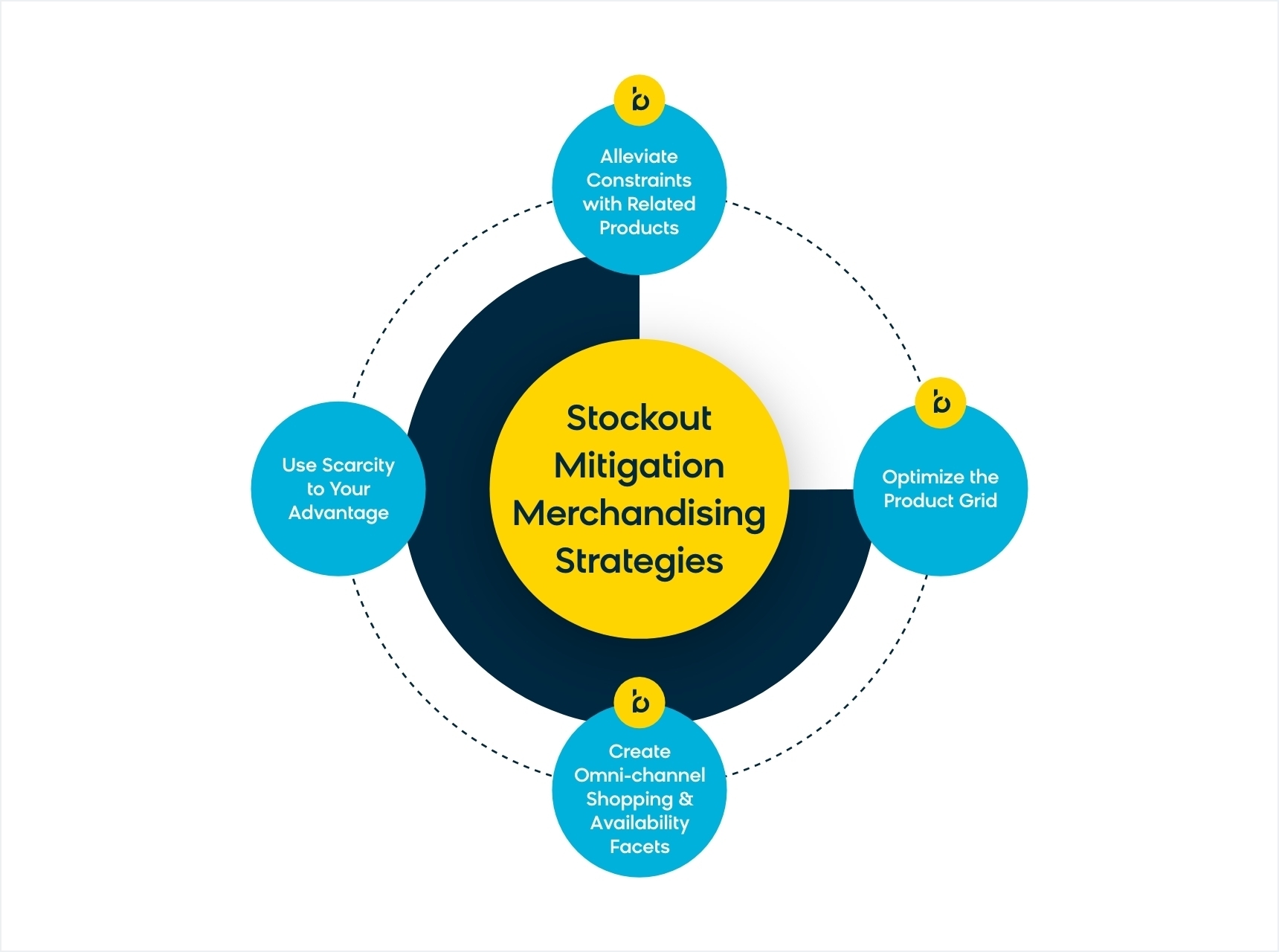 The Buying Team
Some merchandising teams may also have buying responsibilities, but most often, this work is handled by a different department. While you may not be responsible for the products that make it on your site, you can inform future purchasing decisions made by your buying team by raising awareness of the assortment gaps you're seeing. Assortment gaps on the site can be identified in many different ways, including: 
Reviewing your null search reports regularly. When reviewed during peak seasons and pivotal assortment changes, this data can reveal a mismatch in product assortment vs. consumer expectations.

Reviewing searches from your top category pages. By reviewing what your consumers are looking for after visiting your top category pages, you can reveal potential gaps in your assortment. 

Analyzing top products purchased during peak periods and what's being purchased within the same basket. If you notice a trend in products being purchased or patterns in the way consumers are shopping, these could all help to reveal potential assortment opportunities. An example of this might be noticing that your outdoor storage totes are selling more during the holiday season. Could consumers be using the outdoor storage totes to protect their holiday yard ornaments? If so, maybe this could reveal an opportunity to stock more of this type of merchandise during the holiday season. 

Understand product engagement and conversion holistically at a segment level. Are you seeing certain groups of consumers gravitate toward discount types, product categories, etc.? 
All of this information can be helpful as you kick off conversations with the buying team to help inform future merchandising buying decisions. 
Next Steps
As the captain of the ship, it is so important for merchandisers to have a very strong partnership with all the key players that make an e-commerce operation better. If there are any departments included in this list that you are not working with closely today, reach out, set up a quick coffee chat or a call, and start building a relationship now. Here is a sample message you send to your cross functional team members to get the conversation started:
Subject Line: E-Commerce + [Team Member's Group] Quick Connect 
Hi [Name],
I hope this email finds you well. I am on our [team name] and I am very interested in learning more about your role and function within the org. I am working on [event, campaign, or can be more generic around your role and responsibilities] and would love to share some insights and pick your brain on how your team is also prepping for this [event, campaign, or can be more general].  I believe that some of the work I am doing and the customer learnings and data I have could be a value add to your team. 
Please let me know if you are okay with me finding time to connect. I look forward to connecting with you! 
Best,
[Your Name] 
As the merchandiser, we need to be in the middle of it all, so breaking down the silos and building better cross-functional partnerships can start with us. To learn more about building solid relationships with your cross-functional team members and why this is so important, tune in to my conversation with Salee Suwansawad, the Senior Digital Site Merchandiser at VF Corporation, and members from our Bloomreach Experience Strategy group as we discuss this topic in more detail.