Go Headless to Drive E-Commerce Success and Fuel Your Composable Commerce Architecture
Empower your marketers to craft personalized shopping experiences with a revenue-driving headless CMS and bring your composable commerce vision to life.
See How
Forward-thinking brands trust Bloomreach to go headless
Compose the Perfect Shopping Experience for Your Customers With Bloomreach Content
Empower Your Marketing Users
Bloomreach is different from other headless CMS tools because unlike other solutions, users can bring together search, merchandising, customer, and product data together in a single view to visually create, edit, and preview entire personalized experiences on top of a headless stack.
Developer-friendly Headless CMS
Bloomreach exposes feature-rich APIs with detailed documentation to enable you to configure and manage the solution without needing to go via the UI. Our broad and deep integration options allow you to work with your preferred back-end and front-end technologies. Out-of-the-box commerce accelerators and SDKs will also help you kickstart your development.
Future-proof Your Storefront
Instead of using a one-size-fits-all e-commerce solution to serve your business needs, composable commerce leverages modern technologies and approaches like microservices, APIs, cloud computing, and headless content management to allow you to keep evolving your tech stack to make the most of the best tools around.
Combine Headless Content Management With Composable Commerce
Headless commerce is fantastic for shopping experiences on any screen — web, app, or even in-store billboards. Paired with a headless CMS, you can craft and manage content-rich commerce experiences and unlock total creative control with content tools that drive revenue. With Bloomreach, you can create content once and publish it anywhere. No need to rebuild your site or app every time.
A Powerful CMS and Experience Manager to Craft Beautiful Experiences That Convert
Don't let a modern front end slow down your workflow. Bloomreach Content comes with powerful e-commerce capabilities built in to empower your team, save time, and reduce the burden on your developers. Turn your content into collaborative fast lanes with built-in personalization, merchandising, and SEO capabilities.
Increase e-commerce KPIs, including conversion rate, AOV, and sales, with powerful personalization across the full customer journey.
Craft engaging experiences to upsell and cross sell at the right time. Give your merchandising teams total control with built-in commerce components to sell more and easily manage how your products are displayed.
Easily improve your headless commerce storefront and take action in one place with page metadata settings that help you rank better and drive attract more organic traffic.
Go Headless For More Flexible Content Creation
Turn any screen into a digital storefront with the flexibility of powerful Content APIs. From web pages and mobile apps to smart mirrors and wearables — everything is managed from a single platform.
Publish on any channel, whether it's your single page application, website, app, kiosk, or IoT device. Reuse and update banners, text, graphics, images, videos, interactive components, and more across all your channels.
Deliver value with your content faster than before. Bloomreach's unique approach brings dynamic content management, search, merchandising, customer data, and campaign management together into one marketer-friendly solution.
Deliver entire page layouts in JSON format and power any channel, whether it's a SPA or IoT device. Get sophisticated content delivery and management APIs at your fingertips to power pretty much anything that comes next.
Outperform the Competition With Speed
A faster website means better conversion rates and, ultimately, higher profit per visitor. Build lightning-fast shopping experiences that increase revenue and average order value by turning your storefront into a single-page, progressive web app powered by headless commerce and headless content.
With high availability, smart caching, 24/7 support and monitoring, automatic backup, and disaster recovery, you can build on a rock-solid foundation of a powerful content platform.
Save Time With Pre-built Storefront and Commerce Integrations
Powerful accelerators for your front and back end offer an end-to-end solution to your composable commerce stack that helps you save development time and go live faster. Whether your current commerce platform is Shopify, Commercetools, BigCommerce, or SAP, Bloomreach empowers your developers to deliver a PWA faster with prebuilt integrations.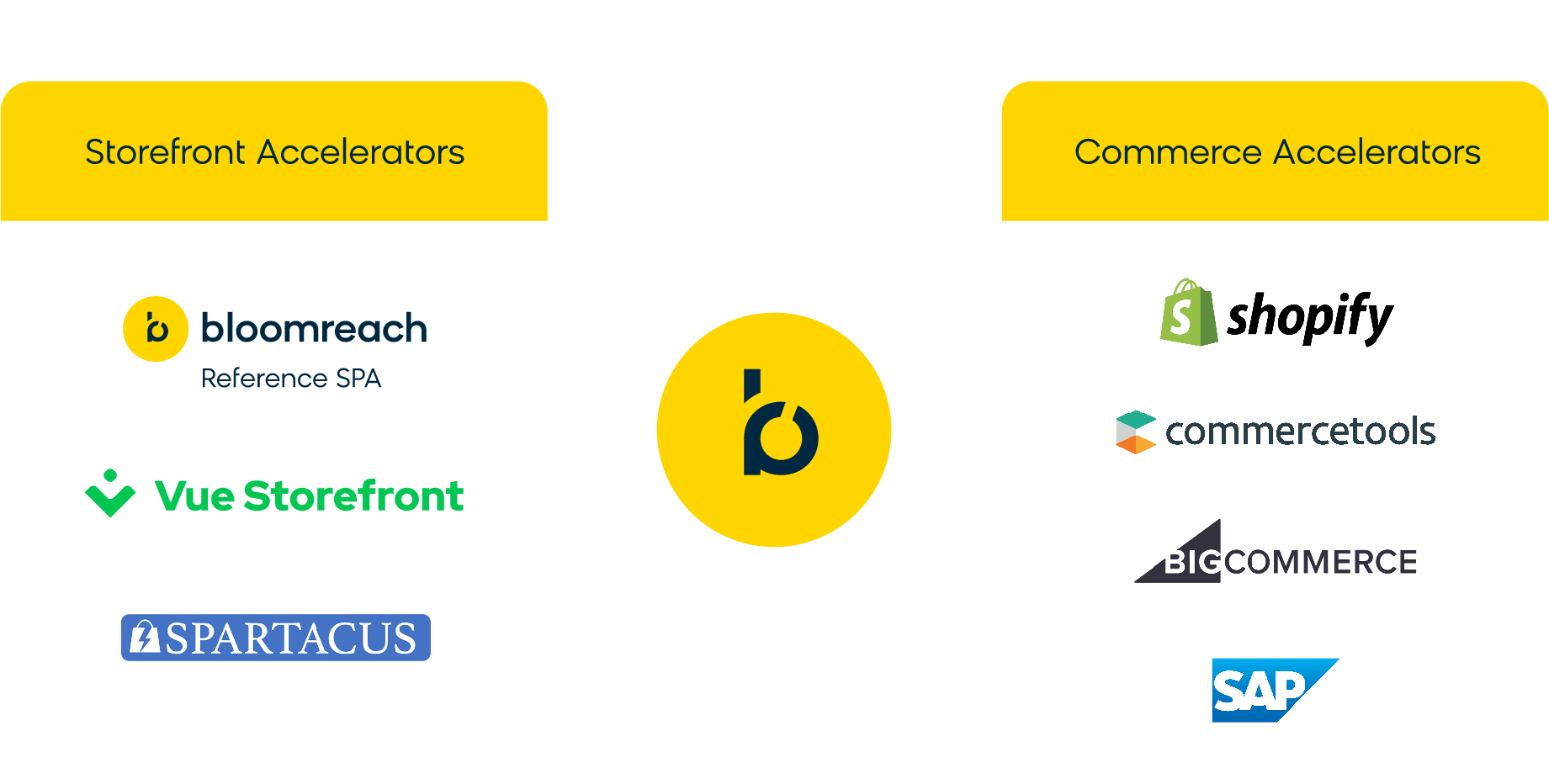 Ready to See Bloomreach Content in Action?
See how Bloomreach can help your business make the most out of your headless commerce system and craft content-rich commerce experiences.