Commerce Experience
What Is Composable Commerce?
By Donna-Marie Bohan
01/03/2023
Traditional commerce platforms offer a one-size-fits-all solution from a single vendor, many complete with the basic capabilities to set up and run an e-commerce business. Essentially, they offer you the building blocks you need to customize commerce experiences for your customers online. This worked well for businesses in the first wave of digital commerce when companies went online for the first time and customers required simple, standardized experiences.
But the goal isn't just to stand up a store any more, it's to stand out from the crowd. 
The addition of new digital touchpoints have surpassed what "old school" monolithic architectures were built for. Ever-increasing consumer expectations for engaging digital experiences and the steady rise of e-commerce as the primary channel for most businesses to engage and convert customers has changed the perspective digital marketers and merchandisers. 
In order to keep up with the latest e-commerce trends and the pace of rapidly changing consumer behaviors and expectations, let alone differentiate and innovate in a saturated market of online businesses, companies are rethinking their technology stack, shifting away from the traditional commerce platforms, and looking to invest in a composable commerce architecture. 
No single vendor can offer all of the software components needed to deliver e-commerce experiences that meet the demands of today's customers. Meanwhile, the need to innovate and evolve marketing and merchandising rapidly means the legacy tech stacks that require a single code base to be tested and deployed no longer work. A composable commerce solution is needed to serve customers optimally.
Today, choosing one of these platforms may be fine to start out, but results in trying to "fit" business requirements to the architecture and limits your business's ability to compete. 
Enter the composable commerce movement. 
What is Composable Commerce?
Composable commerce allows e-commerce teams to select and assemble best-of-breed commerce solutions and compose them to satisfy their unique business needs.
Instead of using a one-size-fits-all e-commerce functionality, composable commerce leverages modern technologies and approaches like MACH (Microservices, API, Cloud, Headless) and JAMstack (JavaScript, APIs and Markup) to adapt to the ever-changing market dynamics of today and tomorrow.  
The basic tenets of composable commerce are:
Business centricity — This empowers business users to make changes to digital strategy, enable new business models and create unique experiences without heavily relying on IT.
 Modular architecture — This supports more agile delivery, faster time to market, and the modular approach improves experiences across all touchpoints. 
 Open ecosystem — This empowers brands to assemble best-of-breed solutions using various accelerators, third-party applications, pre-composed solutions, and best practices to meet exact business requirements.
Gartner defines composable commerce as using packaged business capabilities (PBCs) to move toward future-proof digital commerce experiences. The future of commerce experiences requires application leads to adopt a composable approach.
How is Composable Commerce Changing Commerce Experiences? 
Composable commerce is all about using the best-in-class technology from various vendors rather than relying on a single vendor to provide a standard functionality that is supposed to work for everyone. 
A typical composable stack, for instance, would include a range of best-in-class services covering various capabilities and might look like the following: TaxJar for tax, ShipStation for fulfillment, Bloomreach for customer engagement or product discovery services, Elastic Path for commerce and Stripe for a payment gateway, to name but a few.
At Bloomreach, we define these as commerce experience services, allowing companies to bring customer and product understanding, coupled with machine learning, to all aspects of interactions with customers — a real game-changer for commerce.  
All of these services exist as a part of the e-commerce ecosystem, each functioning in a specific role to help companies serve their customers.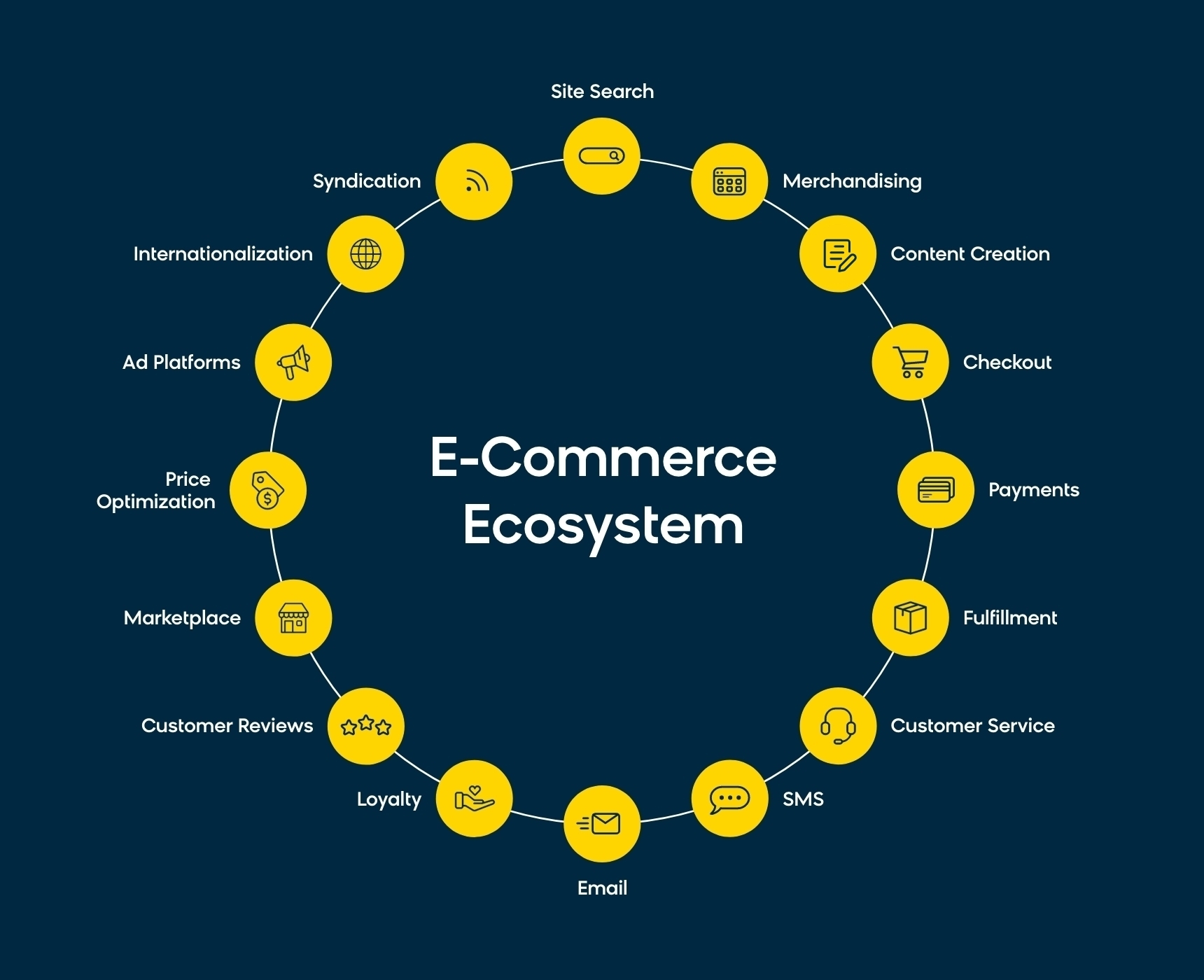 Composable commerce therefore embraces uniqueness and differentiation.
The business benefits include the ability to:
Enable commerce experiences on any touchpoint
Deliver highly differentiated commerce experiences to engage customers with your brand and products
Enable commerce experiences with complex business requirements e.g. highly personalized marketing automated campaigns that provide e-commerce personalization campaigns to keep at-risk shoppers from churning 
Outmaneuver competition with the flexibility and speed needed to rapidly adjust to customer and market needs
The technical benefits of Composable Commerce include the ability to:  
Embrace an API-first headless architecture without the complexity and risk of being locked-in to a specific vendor, allowing for components to be added in/out as and when they are needed
Respond quickly to changing business requirements 
Increase efficiency and reduce costs associated with system management and staffing by leveraging modern technology
Composable Commerce vs. Headless Commerce
Composable commerce and headless commerce are two similar technology buzzwords that are seen quite often in today's marketplace. Similar, but quite different at the same time.
Bloomreach defines headless commerce as a e-commerce solution where the front-end presentation (head) has been decoupled from the back-end commerce functionality. This is seen often with a content management system and Bloomreach offers Bloomreach Content, a headless CMS that allows companies to manage their storefront effortlessly and easily add products to any page via powerful APIs.

But it's important to understand that while headless commerce and composable commerce may seem similar, they are not interchangeable. Consider these points:
Going headless is a step towards composable commerce, but companies need an experience builder (a CMS, commerce platform, DAM, or search or personalization provider) to complete the e-commerce experience to meet customer expectations.
Headless commerce and composable commerce do go hand-in-hand as the underlying technologies in play need to be headless in order for composable commerce to exist and work.
The Bloomreach Commerce Experience Cloud facilitates personalization through page building, search, and digital marketing campaigns.
To speak more simply, headless commerce features a decoupled back-end and front-end while composable commerce is a comprehensive approach to consolidating headless initiatives. Composable commerce lets you bring flexibility and agility to your tech stack and deliver innovative experiences to your customers via headless architecture.
Bloomreach Joins the MACH Alliance
Knowing what it can help our customers to achieve, Bloomreach joined the MACH Alliance in November 2022. MACH Alliance members are leading the charge to encourage businesses everywhere to adopt more modern technologies and are leading the way as innovators in digital commerce in today's marketplace.
What does MACH stand for?
Microservices: Individual pieces of business functionality that are independently developed, deployed, and managed.
API-first: All functionality is exposed through an API, making it possible to tie together two or more applications or services.
Cloud-native SaaS: Software-as-a-Service that leverages the full capabilities of the cloud, beyond storage and hosting, including elastic scaling of highly available resources. Functionality is updated automatically, eliminating the need for upgrade management.
Headless: The front-end user experience is completely decoupled from the back-end logic, allowing for complete design freedom in creating the user interface and for connecting to other channels and devices (i.e. existing applications, IoT, A/R, Vending Machines, sensors, etc.)
The customization and agility offered by composable commerce are particularly significant today, when e-commerce has hit an inflection point. After the unprecedented digital adoption driven by the pandemic, businesses are now asking themselves an important question: our consumers have all come online, but how do we keep them here? What's more, how do we convince them to choose us over our competitors?
The answer, as we believe at Bloomreach, is personalization. E-commerce alone is no longer enough to impress customers. They expect a digital journey that seamlessly spans multiple channels, all while offering an experience tailored specifically to their needs. 
Bloomreach Leads The Way With Composable Commerce Use Cases
The anatomy of the e-commerce ecosystem has changed in today's marketplace. Taking a headless commerce approach with your content management system and a composable commerce approach with the entirety of your tech stack has never been more important because of the rapidly changing market dynamics and the flexibility it offers your commerce ecosystem.
Customers interact with your brand dozens of different ways now and have high expectations for their customer experience with your company. If your technology stack can't offer a customized customer experience, you're fighting an uphill battle to foster customer loyalty.
The Bloomreach Commerce Experience Cloud is the one solution that can foster e-commerce personalization across all steps of the customer journey. Our packaged business capabilities in our Discovery, Content, and Engagement products connect commerce experiences for customers and combine to be the perfect composable commerce platform.
Bloomreach offers an all-in-one platform and as a member of the MACH Alliance, we offer all the components you need to drive revenue and foster customer loyalty for your specific business. Learn more about Bloomreach's journey in joining the MACH Alliance and the impact we will make on digital commerce for years to come.