Content Management System (CMS)
What Is Composable Commerce? Why Does It Matter?
By Donna-Marie Bohan
Feb 17, 2021
12 min read
Content Management System (CMS)
What Is Composable Commerce? Why Does It Matter?
Traditional commerce platforms offer a one-size-fits-all solution from a single vendor, many complete with the basic capabilities to set up and run an e-commerce site.
This worked well for businesses in the first wave of digital commerce when companies went online for the first time and customers required simple, standardized experiences. 
Fast forward to the 21st century and that is no longer the case. The addition of new digital touchpoints that these original platforms were not built for, the ever-increasing consumer expectations for modern, engaging digital experiences, and the steady rise of e-commerce as the primary channel for most businesses to engage and convert customers has changed all of that.
In order to keep up with the latest e-commerce trends and the pace of rapidly changing consumer behaviors and expectations, let alone differentiate and innovate in a saturated market of online businesses, companies are rethinking their tech stack and shifting away from the traditional commerce platforms. 
No single vendor can offer all of the applications needed to deliver e-commerce experiences that meet the demands of today's customers. Meanwhile, the need to innovate and evolve marketing and merchandising rapidly means the legacy stacks that require a single code base to be tested and deployed no longer work.
Today, choosing one of these platforms may be fine to start out, but results in trying to "fit" business requirements to the architecture and limits your business's ability to compete. 
Enter the Composable Commerce movement. 
What is Composable Commerce?
Composable Commerce allows e-commerce teams to select and assemble best-of-breed commerce solutions and compose them to satisfy their unique business needs.
Instead of using a one-size-fits-all e-commerce functionality to serve business needs, Composable Commerce leverages modern technologies and approaches like MACH (Microservices, API, Cloud, Headless) and JAMstack (JavaScript, APIs and Markup) to adapt to the ever-changing market dynamics of today and tomorrow.  
The basic tenets of Composable Commerce are:
Business centricity. It empowers business users to make changes to digital strategy, enable new business models and create unique experiences without heavily relying on IT.
 
Modular architecture. It supports more agile delivery, faster time to market, and improved experiences across all touchpoints. 
 
Open ecosystem. It empowers brands to assemble best-of-breed solutions using various accelerators, third-party applications, pre-composed solutions and best practices.  
Gartner defines Composable Commerce as using packaged business capabilities (PBC) to move toward future-proof digital commerce experiences. 
By 2023, Gartner predicts that organizations that have adopted a composable approach will outpace competition by 80% in the speed of new feature implementation.
The message is clear: the future of commerce experiences requires application leaders to adopt a composable approach. We agree.
How is Composable Commerce Changing Commerce Experiences? 
Composable Commerce is all about using the best-in-class technology from various vendors rather than relying on a single vendor to provide a standard functionality that is supposed to work for everyone. 
A typical composable stack, for instance, would include a range of best-in-class services covering various capabilities and might look like the following: TaxJar for tax, ShipStation for fulfillment, Bloomreach for content or search services, Elastic Path for commerce and Stripe for a payment gateway, to name but a few.
At Bloomreach, we define these as Commerce Experience Services, allowing companies to bring customer and product understanding, coupled with machine learning, to all aspects of interactions with customers - a real game-changer for commerce.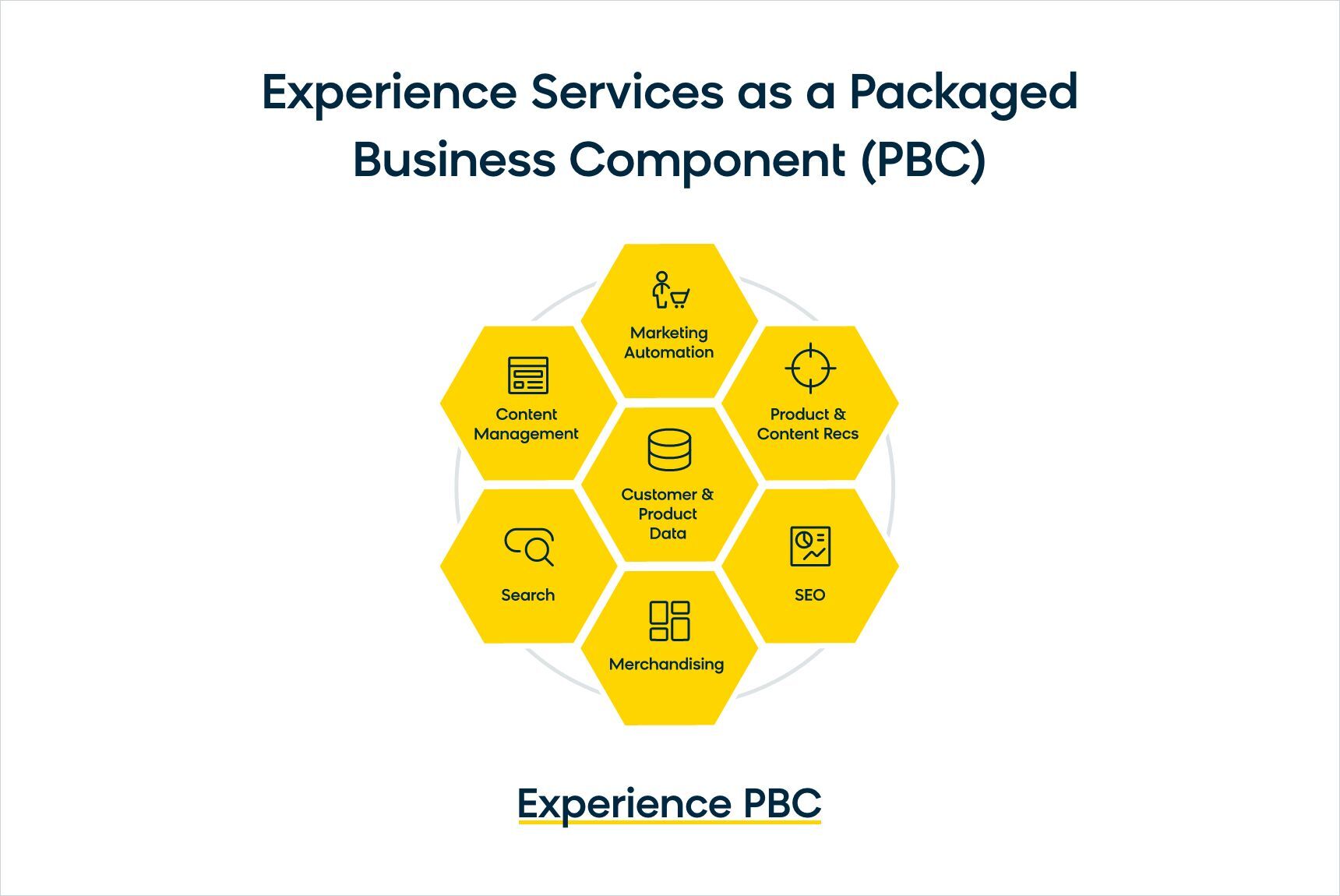 Composable Commerce therefore embraces uniqueness and differentiation.
The business benefits include the ability to:
Enable commerce experiences on any touchpoint
 
Deliver highly differentiated commerce experiences to engage customers with your brand and products
 
Enable commerce experiences with complex business requirements e.g. highly personalized marketing automated campaigns that provide e-commerce personalization campaigns to keep at-risk shoppers from churning 
 
Outmaneuver competition with the flexibility and speed needed to rapidly adjust to customer and market needs
The technical benefits of Composable Commerce include the ability to:  
Embrace an API-first headless architecture without the complexity and risk of being locked-in to a specific vendor, allowing for components to be added in/out as and when they are needed
 
Respond quickly to changing business requirements 
 

Increase efficiency and reduce costs associated with system management and staffing by leveraging modern technology
The Composable Commerce Hub from Elastic Path 
Our partner Elastic Path has reinvented the concept of the traditional vendor marketplace with the Composable Commerce Hub, which includes all of the pieces for a brand to quickly and confidently launch unique commerce experiences.
The Composable Commerce Hub is the first and only open exchange of business solutions powered by an ecosystem of leading digital commerce providers.
It is a central location that brings together a robust library of Pre-Composed Solutions and Accelerators. Whereas traditional vendor marketplaces were home to just partner integrations, the Hub includes all of the pieces for a brand to combine with the Composable Commerce Platform to quickly and confidently launch with a DIY Commerce Solution.
This Composable Commerce Hub makes DIY Headless accessible for all, whether a brand wants to use a Pre-Composed Solution to get up and running quickly and customize on demand, or custom compose their unique solution from Accelerators and the API-first Headless Commerce Platform to meet unique commerce requirements easier and faster.
The Bloomreach Commerce Accelerator allows our customers to rapidly launch and power an e-commerce website, which implements all of the underlying Elastic Path functionalities such as checkout, address updates, basket management, signup, and so on, without the need for extensive Elastic Path integration work.
At the same time, customers can take advantage of Bloomreach technologies from Search and Merchandising, SEO and Recommendations to Content Management and Marketing Automation. 
As such, every customer can finally unlock the power and flexibility that comes along with headless, regardless of their digital maturity or commerce experience. In turn, companies can launch faster and innovate to meet their unique requirements so that they crush the competition, exceed customer expectations, and meet ambitious revenue goals.
Visit the Composable Commerce Hub to learn about our accelerator that integrates Elastic Path with Bloomreach Experience Manager and Bloomreach Search & Merchandising with minimized development effort, giving customers a head start in client engagement and brand awareness.
As early adopters, they will leapfrog industry laggards.