Commerce Experience
Bloomreach Has Been Named a Customers' Choice in 2022 Gartner® Peer Insights™ "Voice of the Customer": Digital Experience Platforms
Bloomreach is excited to announce we have been recognized as a Customers' Choice for 2022 in the Digital Experience Platforms category, as well as the Mid-size Enterprise segment (ARR $50M-$1B USD), on Gartner® Peer Insights™ 'Voice of the Customer': Digital Experience Platforms. This distinction is a recognition of vendors in this market. For us, it is based on feedback and ratings from 78 verified end users of our product as of May 2022. Overall, Bloomreach reviewers gave us a 4.4 out of 5 from 138 ratings, with 80% saying they would recommend our product as of September 26, 2022.
Everyone here at Bloomreach is particularly honored since the distinction comes from customers — the people we're here to serve.
Gartner Peer Insights recognizes vendors in this market based on reviews from verified end-user professionals. The Customers' Choice distinction takes into account both the number of reviews and the overall user ratings. To ensure fair evaluation, Gartner maintains rigorous criteria for recognizing vendors with a high customer satisfaction rate.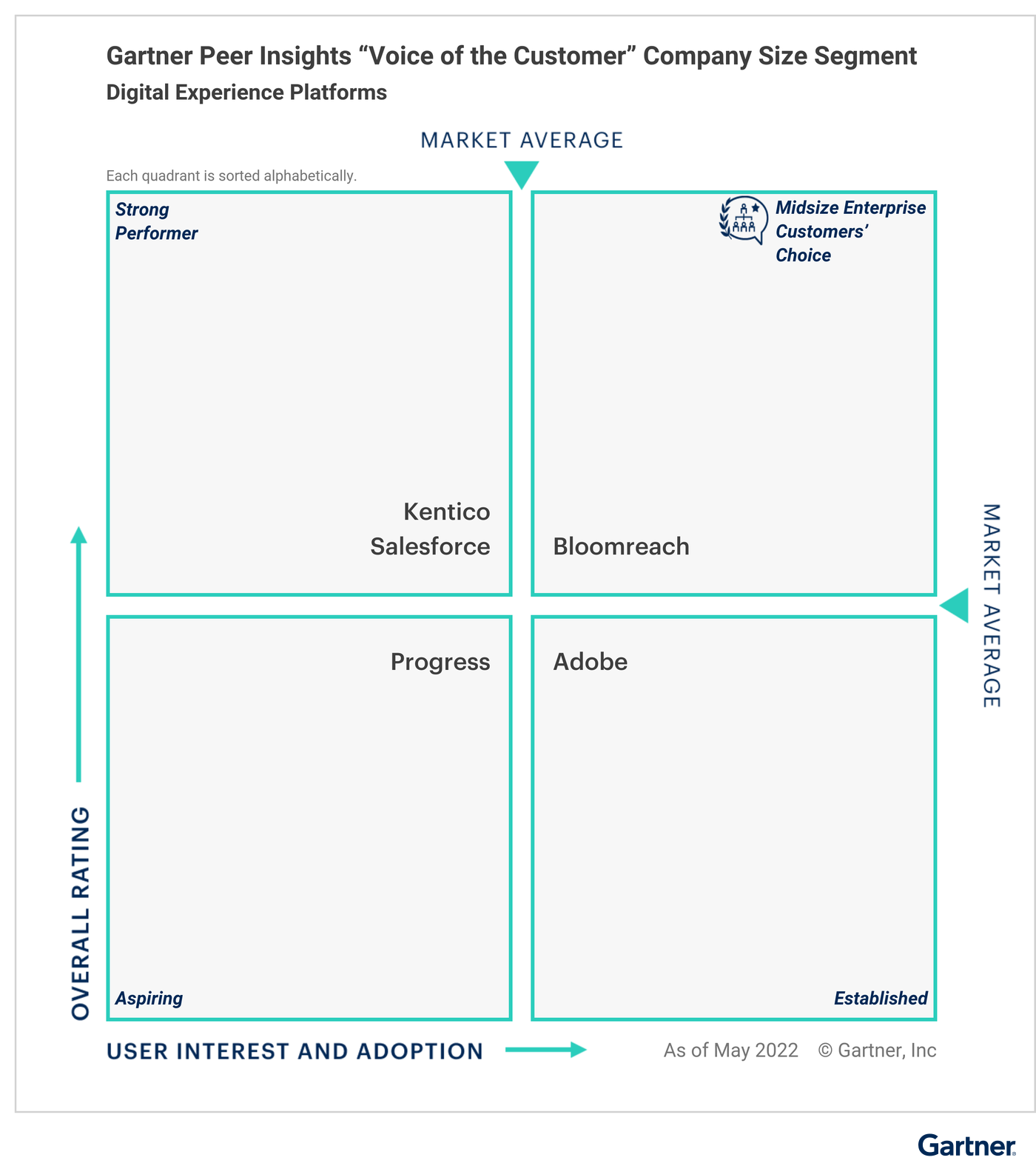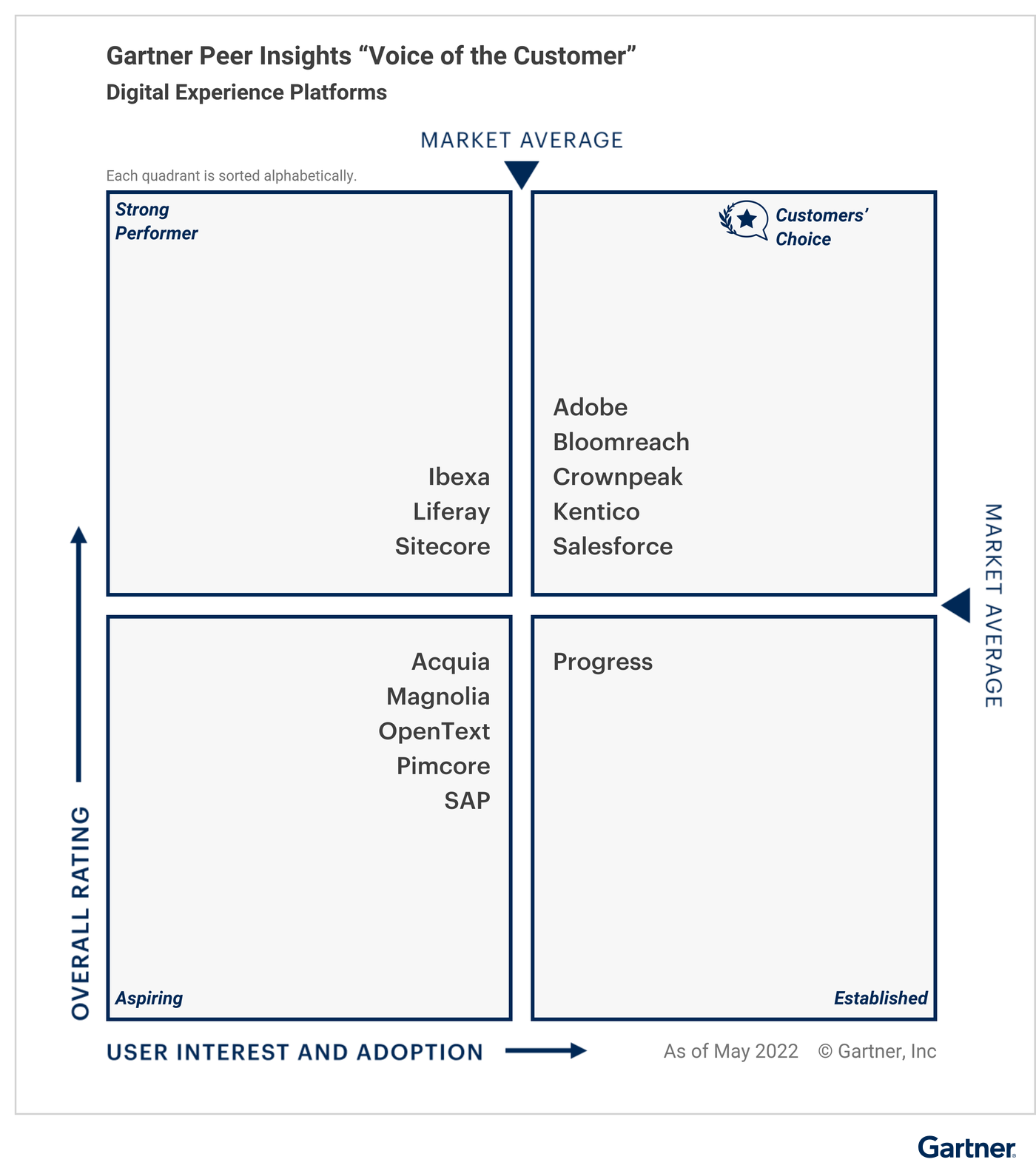 Here are some comments from customers that contributed to this distinction:
"Bloomreach is the most simple and affordable tool; there are two aspects of Bloomreach that we particularly enjoy. For starters, it provides both analytics and marketing automation functions, eliminating the need to use multiple tools for individual tasks. Furthermore, its features go beyond basic functionalities like marketing attribution or simple newsletter campaigns. We can easily design and execute complex personalized scenarios for long-term user lifecycle management and the like using Bloomreach." — IT Service Management Consultant, IT services. Read the entire review. 
"Overall, I am very satisfied with Bloomreach. We started using Bloomreach Engagement (formerly Exponea) 3 years ago and it has really helped us take that next step in terms of personalisation, customer data management, A/B testing, and e-mail marketing." — Customer Experience & Insights Manager, Retail. Read the entire review.
"We wanted to use different solutions at first because we needed different analytical functions for segmentation, attribution, funnels, and retention analysis, and we wanted to automate communication across multiple channels. Finally, we were pleasantly surprised to discover that a single solution, Bloomreach, was able to fully satisfy both of these requirements. I totally fell in love with its interface, all its features, and its price. It's an important part of our organization in the development of applications." — Master Data Analyst, Medical Equipment/Supplies. Read the entire review.
 
Read more reviews for Bloomreach here.
To learn more about this distinction, or to read the reviews written about our products by the IT professionals who use them, please see the Digital Experience Platforms page on Gartner Peer Insights or download the full report here.
To all of our customers who submitted reviews, thank you! Your feedback helps us create better products to fit your needs, and we look forward to earning the trust and confidence reflected in this distinction.
If you have a Bloomreach story to share, we encourage you to join the Gartner Peer Insights crowd and weigh in.
Gartner, Gartner Peer Insights 'Voice of the Customer': Digital Experience Platforms, 28 July, 2022
The Gartner Peer Insights Customers' Choice Badge, Gartner®, and Peer Insights™ are trademarks of Gartner, Inc. and/or its affiliates. All rights reserved. Gartner® Peer InsightsTM content consists of the opinions of individual end users based on their own experiences, and should not be construed as statements of fact, nor do they represent the views of Gartner or its affiliates. Gartner does not endorse any vendor, product or service depicted in this content nor makes any warranties, expressed or implied, with respect to this content, about its accuracy or completeness, including any warranties of merchantability or fitness for a particular purpose.