Commerce Experience
Bloomreach Commerce Pulse: The Holiday Numbers Are In
By Brian Walker
01/21/2022
Commerce Experience
Bloomreach Commerce Pulse: The Holiday Numbers Are In
Note: Our Bloomreach Commerce Pulse monthly articles explore the most interesting Bloomreach Commerce Pulse results and provide key insights for e-commerce professionals and industry observers looking to benchmark and understand what is happening in the market. They reveal current trends and help businesses to fully understand the digital commerce marketplace.
Holiday 2021 was a much-anticipated one in digital commerce circles. Coming off a robust pandemic-driven 2020 holiday season, many have looked with anticipation toward what we would see this past holiday, which unfortunately also ended up being impacted by the pandemic. 
As we take a look back at the lead up to the holiday season, at the end of September 2021 we saw Bloomreach Commerce Pulse sales up 37.94% YTD over 2020. That is a big jump on its own, but even more significant when considering September 2020 saw a 35.18% YTD increase over 2019. We had been trending with even faster growth in 2021 over 2020 as we exited fall. 
But as the holidays drew closer, we began to see a number of challenges in the market that indicated that once again this holiday season would be unlike any in memory. Those challenges included low inventories related to the challenges in the supply chain and logistics, overall cost increases related to labor, logistics and operations, and a drop in consumer confidence as a result of inflationary worries and renewed pandemic concerns. What would these mean for the holiday season at large?
Now that all of us around the world have celebrated our December holidays and welcomed a new year, the full holiday season data is in. Once again, digital commerce played a major part in how consumers shopped in the fourth quarter of 2021. 
At Bloomreach, we consider the "holiday shopping season" to begin on October 1, even if many early bird shoppers get a jump on their shopping before then. Keep that date in mind as we move forward and glance back at the 2021 holiday season in review. For our purposes, we noted the end of the holiday season on December 25. 
North America
In North America, Bloomreach customers' e-commerce sales were up 11% YoY during the holiday season (when comparing 2021 to 2020), while online traffic was down 14% YoY in that same timeframe. Average order size was up 22% while conversion rate was up 6%. So fewer clicks but a higher rate of customers buying and at higher order sizes. Higher average order sizes were boosted in part by fewer promotions and some degree of price increases, which had a positive impact on overall sales.
But the real story becomes clearer as we look at December 2021 specifically. Despite upward momentum throughout the early part of the holiday season, the month of December 2021 in itself saw overall sales decrease in North America 18.45% YoY when comparing December 2021 to December 2020. 
This is a significant shift in trend late in the year from where we were heading into the holiday season, though the conversion rate improvement does not seem to indicate customers had a problem finding what they were looking for. The overall drop likely reflects a combination of softening consumer confidence due to inflation and the economy, along with a fear that the pandemic would have a major impact. Thus, the drop YoY in December, paired with an overall modestly positive holiday season, paints a mixed picture as we navigated the news cycle and its implications through the holidays.
Europe and UK 
The story was a little bit different in the United Kingdom and Europe. Overall across the holiday season, e-commerce sales across the Bloomreach customer base was up a slightly more modest 9% YoY in comparison to 2020, while traffic was up 8%. However, conversion rate was down 16% while average order size was up 21%. So traffic was up, but conversion and orders were smaller on average. As in North America, higher average order sizes were boosted in by a combination of fewer promotions and price increases due to inflationary pressure on inventory, logistics, and labor costs, which had a positive impact on overall sales results. 
Similar to North America, Europe and the UK saw December e-commerce sales really tail off compared to the trend throughout the balance of the year. During December 2021, Europe and the UK were down 11.78% YoY in that same time period. 
Another interesting insight arises when looking at the 2021 holiday season versus the 2019 holiday season, our last holiday season pre-COVID. In comparing YoY numbers from those two holiday seasons, sales were up 29% in North America in 2021 and traffic was up 37%. In Europe, traffic was up 43% while sales were up 18%. Those are meaningful increases and reflect a new baseline for online shopping and digital commerce. 
About the 'Cyber Five'
When considering the 'Cyber 5' shopping event (the five days between Thanksgiving and Cyber Monday), results varied between the two regions.
In North America, sales were down 2% YoY comparing 2021 to 2020, while traffic was down 17%. Conversion rate was up 10%, while average order size was up 12%. So a pretty flat result.
Interestingly, the America shopping event export drove a meaningful impact in the European and UK markets, where sales were up 17% YoY and traffic was up 6% YoY when comparing 2021 to 2020. Average order size was up 29% while conversion rate was down 14%. 
What Search Terms Tell Us About the Holidays
Our compilation of the most popular search terms always gives great insight into what is on the mind of shoppers across the globe. In December, it was clear that gift giving and the holiday shopping was on the mind of those doing the searching. 
While our first four search terms (pajamas, socks, cheese, slippers) may not have necessarily been have been holiday-related searches, it's obvious with searches like "christmas ornaments", "christmas pajamas", and "christmas sweater" that festive shoppers were preparing to celebrate the holiday season.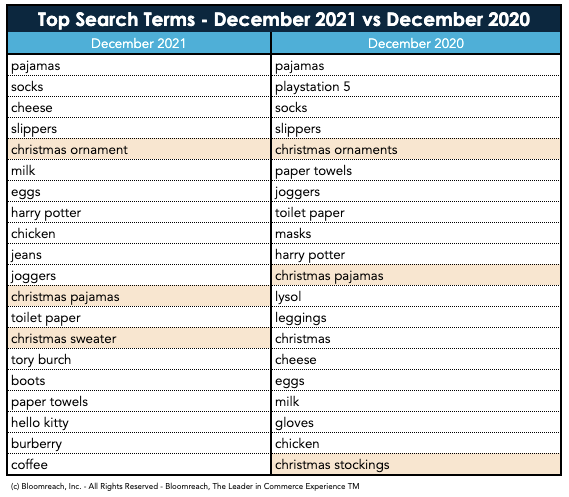 Other notable gift-related search terms include "Harry Potter" and "Hello Kitty" — each holiday staples for children's gifts. 
Also noticeable is the lack of COVID-related search terms in December 2021 compared to December 2020. 
Overall, 2021 Was a Great Year for Commerce
With the close of December, we now have a full view of 2021 and the year in commerce.
The first thing that jumps off the page is an incredible 33.15% increase in sales in North America when comparing full year 2021 to 2020, and a 16.77% increase in the United Kingdom and Europe in that same time period. Digital commerce has carved out a place in the lives of many and that it will not soon be replaced. 
Other impressive full year 2021 sales numbers include: 
A 113.56% increase in the home improvement sector
A 35.13% increase in grocery 
A 22.36% increase in luxury after a tough 2020 for that segment
A 10.59% increase for B2B
A 44.65% increase in general merchandise
A 8.81% increase in home furnishings
A 0.78% increase in apparel
Interested in More Insights and Trends?
Join us for our next Commerce Pulse Quarterly roundtable to discover the shifts in consumer behavior and purchase patterns in digital commerce. Register for the virtual event here.
About Bloomreach
Bloomreach is the world's #1 Commerce Experience Cloud, empowering brands to deliver customer journeys so personalized, they feel like magic. It offers a suite of products that drive true personalization and digital commerce growth, including: Discovery, offering AI-driven search and merchandising; Content, offering a headless CMS; and Engagement, offering a leading CDP and marketing automation solutions. Together, these solutions combine the power of unified customer and product data with the speed and scale of AI-optimization, enabling revenue-driving digital commerce experiences that convert on any channel and every journey. Bloomreach serves over 850 global brands including Albertsons, Bosch, Puma, FC Bayern München, and Marks & Spencer.