Commerce Experience
Digital Commerce: Top Challenges, Trends, and Steps To Take
By Carl Bleich
Jul 04, 2019
24 min read
Commerce Experience
Digital Commerce: Top Challenges, Trends, and Steps To Take
Digital commerce is in the midst of (yet another) revolution and things are moving faster than ever.
The COVID-19 global pandemic has pushed digital commerce front and center for both B2B and B2C buyers. While all this excitement means new possibilities, it also comes with the challenge of figuring out just how to proceed.
Customer expectations can shift in an instant and businesses' ability to adapt to market trends will determine their level of success. 
What Is Digital Commerce?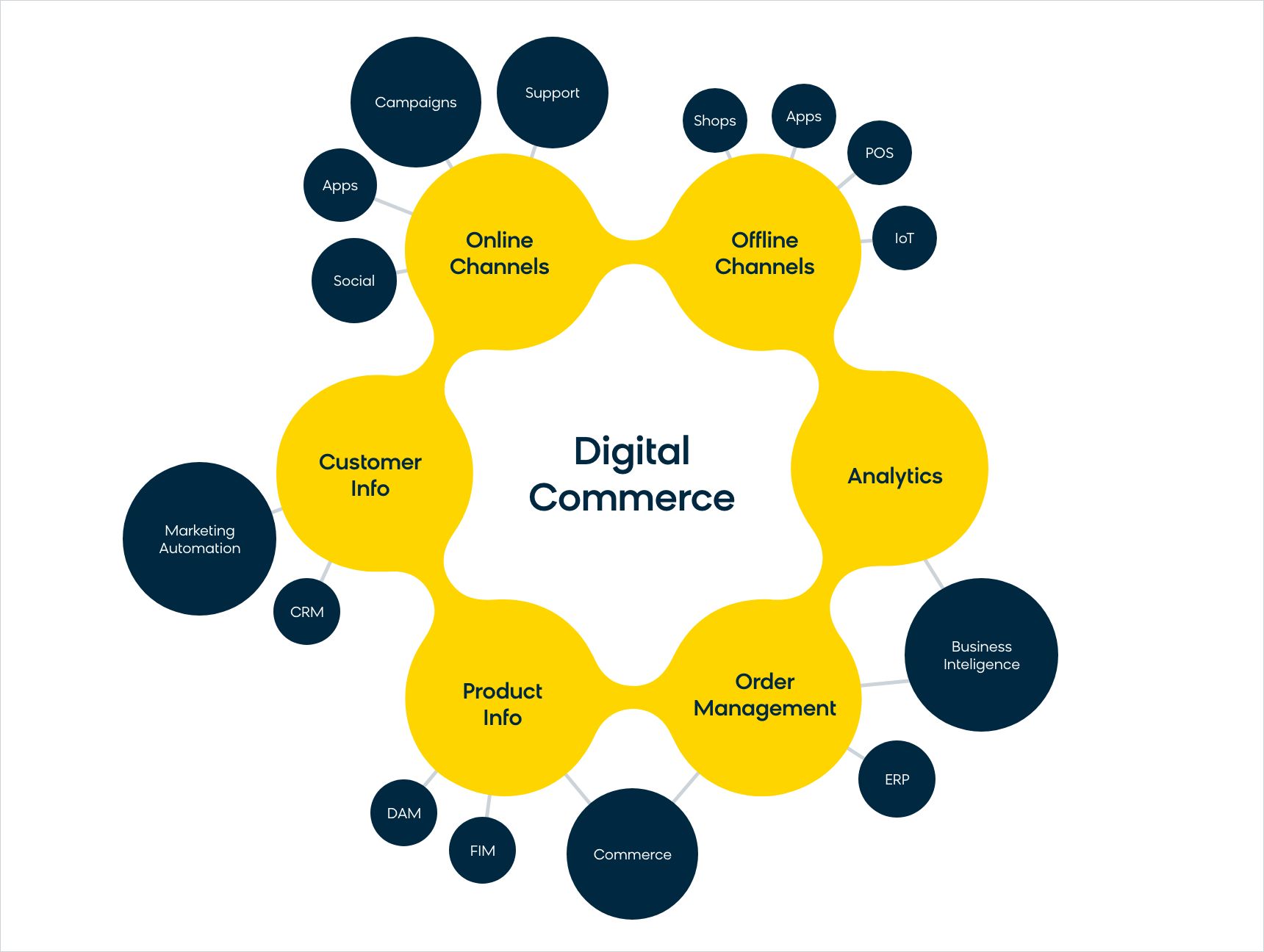 Digital commerce is the buying and selling of goods and services using digital channels such as the internet, mobile networks, and commerce infrastructure. 
Some examples of digital commerce include:
the marketing activities that support these transactions, including people, processes, and technologies to execute the offering of development content
analytics and promotion
pricing
customer acquisition and retention
customer experience at all touchpoints throughout the customer buying journey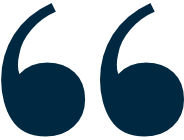 There was a time when digital commerce meant static storefronts and shopping carts. Today, digital commerce spans an integrated set of personalized digital experiences, from customer acquisition through retention, which are often owned and managed by marketing. 
— Gartner Digital Commerce Technologies Primer 
Why Is Digital Commerce Important
As the impact of digitalization continues in both B2B and B2C, we're seeing extreme changes in customer behaviors and expectations, from the way they research a product/service, consider and complete a purchase, or show loyalty to a brand, to the way they communicate all of this to their peers.
The State Of Commerce Experience, a commissioned report conducted by Forrester Consulting on behalf of Bloomreach, found that in 2020, 83% of decision makers reported double-digit growth in digital revenue. In 2019, before COVID-19, only 9% experienced such growth. 
Nowadays, digital commerce is so much more than a sales channel. For example, according to the same study, 65% of customers research a product online before they go to the physical store.
So, digital commerce is important and is the demand of time, customers, and busineses. 
 The Importance of Being Consistent
Creating a consistent customer experience across all touchpoints and understanding and remembering a customers' interactions across those touchpoints remains important for retailers.
Consider something as basic as the ability, or inability, to save customers' shopping baskets across all digital channels and devices, once they have logged in.
Many retailers still have gaps in their cross-touchpoint experience.
For example, consider the problem with not saving recent searches and additions to shopping carts across devices and channels, even when a customer is logged in.
Why wouldn't consumers expect to see items they placed in a basket on a mobile device, show up when they sign in on a different device?
That kind of inconsistency makes it difficult to keep a customer engaged throughout the entire customer lifecycle — researching, buying, seeking support — when they are using multiple devices — which they almost always are.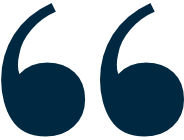 The biggest challenge in digital commerce is to empower the organization to interlink and orchestrate all channels to create great customer experiences across all channels, without creating too much complexity for the organization. 
- Peter Zwyssig, CEO of foryouandyourcustomers
 The Importance of Meeting Expectations
Keeping up with the surge of mobile and new digital devices being used by consumers is a challenge in itself.
Here are some statistics: 
Mobile transactions soared in Cyber Monday 2020, with 64 percent of consumers using mobile to purchase products. 
Today, the focus for retailers should not only be on the conversation or enabling sales on a particular device (smartphone, tablet etc.), but more on the influence their digital assets and presence have on overall sales (including those that are completed in store).
In fact, 58% of retail sales will be influenced by digital by 2023.  
 The Importance of Adapting to Digital Commerce in B2B
Traditionally, B2B has been lagging behind more innovative B2C organizations.
The global pandemic has been a wakeup call to all businesses to get their digital commerce strategy in order, amplifying the importance of customer experience and customer demands for better online experiences.  
"The event has accelerated B2B e-commerce by at least two years," says Brian Beck, Managing Partner at Enceiba, within a podcast episode on B2B commerce.
That's why it's wise for B2B enterprises to look at the lessons learned by the leaders in the B2C space.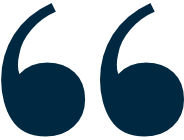 Leverage B2C shopping experiences, such as personalization, live chats, ratings and reviews.
- Jason Daiglar, Director at Gartner
Adopting such B2C practices will no doubt play a key role in shifting the mindset of B2B organizations.
Shifting to consumer-friendly B2B sites could put a huge strain on IT departments, which need to start supporting new operating models and integrating new technologies into existing production and supply systems.
And, as if to underscore that analysis, Gartner acknowledges that 70 percent of survey participants say that their organizations cannot keep up with the pace of change in digital commerce.
6 Key Digital Commerce Trends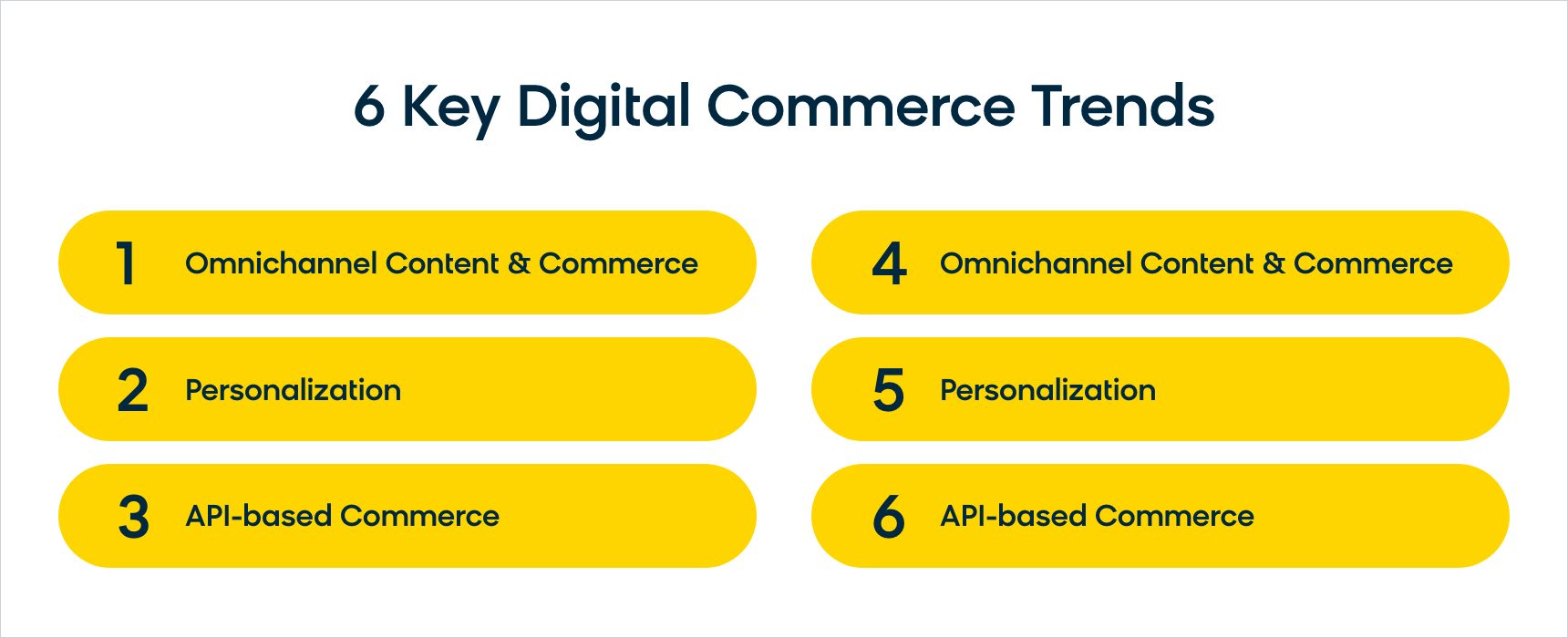 Omnichannel Content and Commerce
Digital commerce professionals need to create meaningful engagement with consumers in every channel.
Developing and serving the right content for the right place and time increases brand awareness and creates a consistent customer experience across channels.
It also maximizes the customer understanding that can be gathered from cross-channel analytics.
 Personalization
Bloomreach defines e-commerce personalization as the practice of using commerce data responsibly to get to know, guide, and impress your customers with experiences that are so relevant and contextual, they feel like magic. E-commerce personalization spans cross-channel, on-site, and in-app, resulting in measurable journeys that engage and lead customers through brand awareness to product discovery to repeat purchases.
Personalization needs to be built into the core of the experience and impact every point of interaction.
Site search, browsing data, product recommendations, landing pages, and all other interaction points should work cohesively to build a complete picture of each visitor across their journey.
 API-based Commerce
Legacy, inflexible commerce and content solutions are holding enterprises back from building unique experiences and growing fast.
API-based commerce (aka headless commerce) circumvents these problems by using the API as the core to interface with separate business systems.

A lightweight API controls the transmission of data between systems — content, products, customer information, financials, and other systems reside in separate systems, free from any code that limits frontend development. 
Retailers can enjoy the advantages of true omnichannel design by developing custom layouts in much less time it takes to scale a coupled system to accomplish the same feat.
It enables to deliver relevant, contextual, and consistent product and content experiences to your customer across all the sites, apps, and other touchpoints they interact with.
 Artificial Intelligence
As you know by now, AI is growing exponentially and isn't showing any signs of slowing down. 
AI applies advanced analysis and logic-based techniques, including machine learning, to interpret events, support and automate decisions, and to take actions.
Some examples of AI in e-commerce range from site search optimization, product recommendations to shopping journey personalization.
 Customer Analytics
We've learned a great deal since the term "big data" became a hot topic a decade ago. Today there are practices and technologies that ensure good service while protecting everyone's privacy. 
To truly enrich the customer experience will require marketers to step back, look at the different types of data they have. Then they should determine the data and technologies that provide customers with the kind of experiences they expect going forward.
 Enterprise Marketplace
People don't just expect convenience or better prices any more — that's become a given. Now, they want options that take into account their tastes and preferences. 
This means vendors and service providers will need to start using customer data and analytics to fine tune their services and compete in a fast-paced industry.
A marketplace that can aggregate various suppliers into logical bundles of services and products, which are then delivered to customers / users based on a detailed analysis and understanding of their preferences and priorities, would become an intelligent marketplace delivering additional value to both merchants and users.
According to Gartner,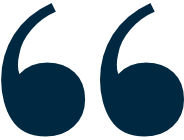 By 2023, 15% of medium-to high-gross-merchandise-value digital commerce organizations will have deployed their own marketplaces, thereby creating an entirely new digital ecosystem.
5 Steps You Can Take Now [with examples]

 Define Meaningful KPIs, Not Just Conversion:
When measuring the effectiveness of your efforts, it is very helpful to have multiple KPIs that actually tell you something about the visitors and their behavior.
Obviously, conversion is an important KPI in any digital commerce environment. But variables like time spent on the site, number of visits before conversion and even the type of content visitors are consuming can also provide valuable insights in the overall journey and the visitor's willingness to convert.

📌 [Example]: Customers looking at the cancellation page of a telecommunications company might be existing customers looking to cancel. But by looking at the overall journey you could potentially identify if they looked at the store pages as well. It could be that visitors are concerned about their ability to cancel easily, but are still willing to sign up and buy.
 Measure Content Effectiveness, Not Just Page Views:
Measuring is a very logical next step. When we know the KPIs that are important, we can start looking at the actual content that contributes to them. That means looking beyond just visits to the store pages and really diving into the content that visitors consumed. 
Did they read the FAQ on payment options? 
Did they read the reviews on product X?
Did they click the banner that said "Cancel Whenever?" 
The data you'll collect that way provides insight into which content works. It's the sort of data you need to be able to experiment with content and see how it helps your KPIs.
As with all things, you will need to get started somewhere. And starting small is always much easier.
Don't go for perfection immediately — be flexible and willing to learn.

📌  [Example]: measuring content effectiveness is a very powerful tool, but it will take some time before things will be ironed out.

So start by tagging content or investigating the data you have. That will provide some insight.

With those insights, you can start making assumptions and testing them out. Being agile and patient will definitely pay off in the long term.



 Think Short Term and Long Term:
You should not be afraid to experiment and try out alternative solutions. The main lesson to keep in mind here is that nothing is ever finished.
In other words, if you test out a new way of creating your campaign landing pages, you should also think about the long-term consequences of this structure. 

In some cases you might want to add the new solution to the existing infrastructure, while in others you might want to take the lessons learned and implement those in the existing platform.



 Pick The Most Valuable Audience for Which to Personalize:

Just because you could personalize everything on your site for everyone in the universe does not mean you should.
While one-to-one personalization is talked about as the gold standard — and is highly desirable in many cases — think of personalization as a puzzle that requires all of the pieces to be put together to be most effective.

In some cases segmentation and targeting is the wiser choice. It's always helpful to try to weigh out the costs versus the benefits.

In the example mentioned earlier, we talked about the fact that people looking at cancellation options might be potential customers. It could be very interesting to try and convince those in this group to become a customer, but you should consider the bigger picture as well.

If this is just 0.5 percent of the people on the site, you would probably be better off identifying a bigger audience. If it is 30 percent, things are very different. 
Companies That Are Driving Digital Commerce Experience
Bloomreach has over 850 companies using our Content, Discovery, and Engagement pillars. That has resulted in hundreds of success stories and winnining use cases in digital commerce. 
Whether it is My Jewellery winning with zero-party data or HD Supply increasing revenue from search, our Bloomreach Commerce Experience Cloud offers companies innovative ways to own the digital commerce space. 
Digital commere solutions can help you build a great digital experience, creating a platform + best-of-breed solution that combines content and commerce. 
The Bloomreach Commerce Experience Cloud combines content and experience management with market-leading, AI-driven search, merchandising and personalization together in one efficient, modern platform.
Let us walk you through how Bloomreach can work for your organization.