Commerce Experience
Bloomreach Commerce Pulse: The Road to Reopening
By Brian Walker
06/08/2021
Commerce Experience
Bloomreach Commerce Pulse: The Road to Reopening
Note: Our Bloomreach Commerce Pulse monthly articles explore the most interesting Bloomreach customer data points and provide key insights for e-commerce. They reveal current trends and help businesses to fully understand the digital commerce marketplace.
As more people across North America, the United Kingdom, and Europe become vaccinated against COVID-19, the impact of the reopening of the economy on consumer habits and e-commerce results is becoming clearer. 
With government restrictions now lifted, many consumers are enjoying getting out to stores and restaurants again. We — like many — have been eager to see the impact this "return to normal" will have on e-commerce results, especially as we annualize mid-pandemic data from 2020.
Looking at the data from May 2021, it is clear that e-commerce is not slowing as the  convenience of online shopping paired with the now established consumer routines of store pickup continue to drive e-commerce results higher. 
Bloomreach customers with B2C consumers specifically saw a 40.57% sales increase year-over-year (YoY) in May 2021 compared to May 2020 across all markets, and an increase of 11.62% month-over-month (MoM) compared to April 2021. 
The picture across regions however also tells the story of the robust economic rebound in the U.S. and the sputtering recovery in Europe. U.S. sales were up 45.73% YoY in May, while in Europe they were only up 4.25% YoY. This is a byproduct of consumer sentiment in the face of very different economic conditions. 
However, we can also see how the "return to normal" is driving certain key market segments we might associate with return-to-work: travel, dining out, and nightlife and entertainment. 
We can see double and even triple digit sales increases appearing in the luxury, travel, and home entertaining segments respectively as many consumers set to embark on a vaccinated summer. 
Looking at aggregated search term data from across Bloomreach clients allows us to see what is on the minds of consumers. Search terms obviously look drastically different from May 2020 and there are several individual highly searched keywords that point to an economic recovery and reopening across the aforementioned business sectors.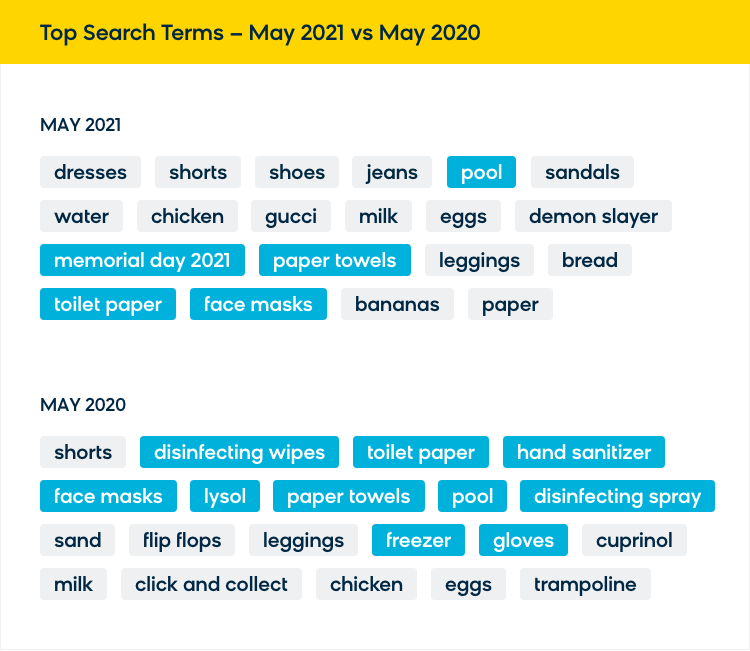 For the first time in 2021, a luxury term landed in the top 20 overall search terms as luxury fashion company Gucci was the ninth most searched word. We will dive more into the rebound of luxury shortly but this is a clear sign that the vaccines have people ready to get out and show off a bit with a luxury brand. 
Appearances by search terms such as "pool" and "Memorial Day 2021" further show us that consumers are ready to have fun and get together for summer gatherings. Additionally, the search term "Demon Slayer" is a result of the release of the movie Demon Slayer: Mugen Train, the Japanese animated film that debuted in theatres in the United States and Canada in late April. The movie grossed over $45 million in theatres in the last six weeks as moviegoers return to theaters as well as stream new releases. 
Apparel search terms like dresses, shoes, and jeans show us that consumers are looking for new clothes to wear on vacations or at gatherings with family and friends this summer. It's unlikely those items are being purchased just to be worn around the house. 
Luxury 
The luxury segment has made a slow comeback month by month in 2021 but saw a significant increase in the month of May. 
Sales were up 14.52% in May compared to April while conversion rates were up 9.97% compared to April. In comparison to May 2020, luxury sales were up 32.69% while traffic was up 41.39%.
Search terms Gucci, Tory Burch, and Balenciaga were most searched within the luxury sector, followed by Christian Louboutin, a famous designer of women's shoes (specifically, high heels, which few were likely to wear in the midst of lockdowns and stay-at-home mandates). 
Clearly, shoppers are looking for new luxury clothes to wear to events they feel are important, likely outside of their homes. The bounceback for luxury is a change from early 2021 when less people were vaccinated and is a great sign for the sector as more and more people will likely receive the vaccine as summer continues. 
Travel
Travel, an industry severely impacted by the pandemic, stands to gain the most from widespread vaccinations and loosened restrictions. With the onset of warmer temperatures and after many months spent indoors, people are eager to begin planning for summer travel to see family and friends and get away on vacations.
This can be seen in our Bloomreach Commerce Pulse data through increased searches and sales since early March when vaccinations really ramped up. Specifically for the search term "luggage and duffels", search is up 10% and sales are up 24% when comparing the second half of April and all of May to the first half of April and all of March. 
Overall sales of suitcases are up 44% in that same time period and sunscreen (42%) and beach towel (50%) overall sales have increased in that timeframe as well. It certainly seems like people are ready to head to the beach, lake, or other sunny summer vacation destination for the first time in far too long. 
The increase in searches and sales strongly aligns with the increase in vaccinations worldwide and progressively warmer weather in many places in the northern hemisphere. As parts of the world reopen, many are doing their best to be prepared. That definitely includes preparing for that long-awaited vacation with necessary supplies.   
Home Entertaining
As more people become fully vaccinated, they are seemingly becoming more comfortable returning to gatherings in the homes of others and hosting people in their own homes. 
Our Bloomreach clients have experienced an uptick in the sale of "party supplies" over the months of April and May. By our definition, party supplies are a mix of products hosts would need for the perfect event, including decorations, a food tray, plates/cups, etc. 
In comparing April to March, the sale of these supplies skyrocketed 127%. In comparing May to April, sales went up another 30%. It would appear that people are celebrating occasions with pomp and splendor and are once again comfortable hosting larger groups of people at their residences.  
Pre-Pandemic Behaviors Have Not Returned
Many have speculated that the easing of COVID-19 restrictions would quickly be followed by a return to pre-pandemic behaviors and patterns. However, that does not seem to be the case. 
Consumers are being inspired through digital marketing and social media and they are using digital channels to research, discover, and buy. Paired with the asymmetrical response to the economic recovery, we see e-commerce continuing very strong momentum in North America. This is coupled with a more modest increase in Europe as the economic recovery struggles to get meaningful air through summer. 
If you're interested in learning more about these data points or any others with industry experts, sign up for Commerce Pulse Quarterly: Spring 2021 on June 29. Our experts will lead an interactive roundtable discussion that will explore unique insights in digital commerce and discuss changes in consumer behavior and purchase patterns across the landscape. Don't miss it!
If you're looking for even more on the overarching state of digital commerce, download The State of Commerce Experience on-demand. Experts from all corners of e-commerce gathered to discuss their best tips and tricks for capitalizing on this unique time in digital commerce history and the learnings from this two-day event are essential for any e-commerce business.  
About Bloomreach
Bloomreach powers 25% of US and UK e-commerce search and commerce experiences. If you're looking for more information or have a question, feel free to reach out to learn more. We will be bringing you monthly insights as we navigate the changes in digital commerce together — whether you are a customer or not.