Omnichannel Marketing Automation
The Power of Win-Back Emails
By Lisa Rothman
07/26/2023
Omnichannel Marketing Automation
The Power of Win-Back Emails
One of the major challenges facing e-commerce companies today is customer retention. Acquiring new customers takes time, effort, and resources, so when a customer stops buying your products or using your services, it can be tough to make up that lost revenue. 
Fortunately, depending on why the customer has lapsed, you can likely win them back with a win-back email campaign. By sending a win-back email (or several, if you're sending a series), you can get customers who have lost interest in your brand to come back and boost your long-term revenue and customer retention. Let's look more closely at what a win-back email is and how to create successful win-back campaigns.
What Is a Win-Back Email? 
A win-back email is an email sent to customers who haven't engaged with your emails or purchased from you in a while. This may be a simple message to remind customers to come back or can include discounts or offers. Multiple emails are often sent as part of a win-back email campaign to entice customers to engage with your brand again and take action. 
A key thing to note is that a win-back email campaign is not the same as a reengagement campaign. While they're similar, a reengagement campaign is primarily focused on subscribers who haven't interacted with the brand recently (i.e., opened or clicked on an email), while a win-back campaign is for customers who have made a purchase in the past but haven't made one in a while.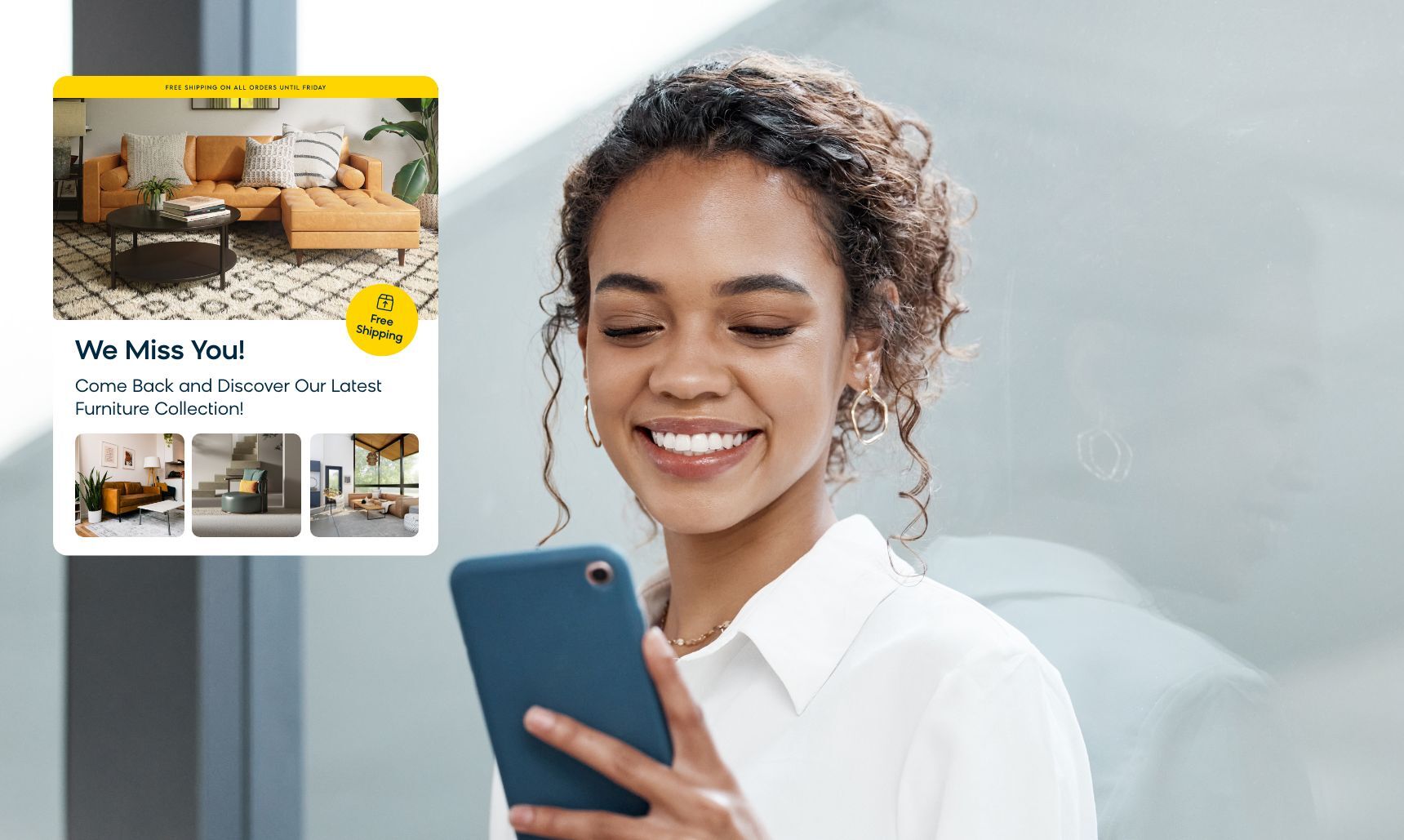 Why Are Win-Back Emails Important? 
Winning back clients via win-back emails is critical since it costs several times more to recruit new customers, users, or subscribers than it does to maintain the ones you already have. For example, the average abandoned cart rate is 70% and search abandonment costs retailers over $300 billion every year. In addition, it can cost four to five times more to acquire new customers versus retaining current ones.
Essentially, companies will lose revenue without repeat customers. Maintaining customer engagement with your brand is critical to maximizing revenue over the long run, and win-back emails are an excellent way to boost customer retention and lifetime value. 
How To Create an Effective Win-Back Email Campaign
Simply wishing your customers would purchase from you again won't do you any good. Here are some tips to create a win-back email campaign that, well, wins. 
Identify the Right Customers To Target
The first step to crafting effective win-back emails as part of win-back campaigns is to identify which customers you want to target. There's no set period after which an email address and the customer who uses it are considered inactive subscribers. Labeling inactive subscribers depends on how often your company expects customers to interact with your business.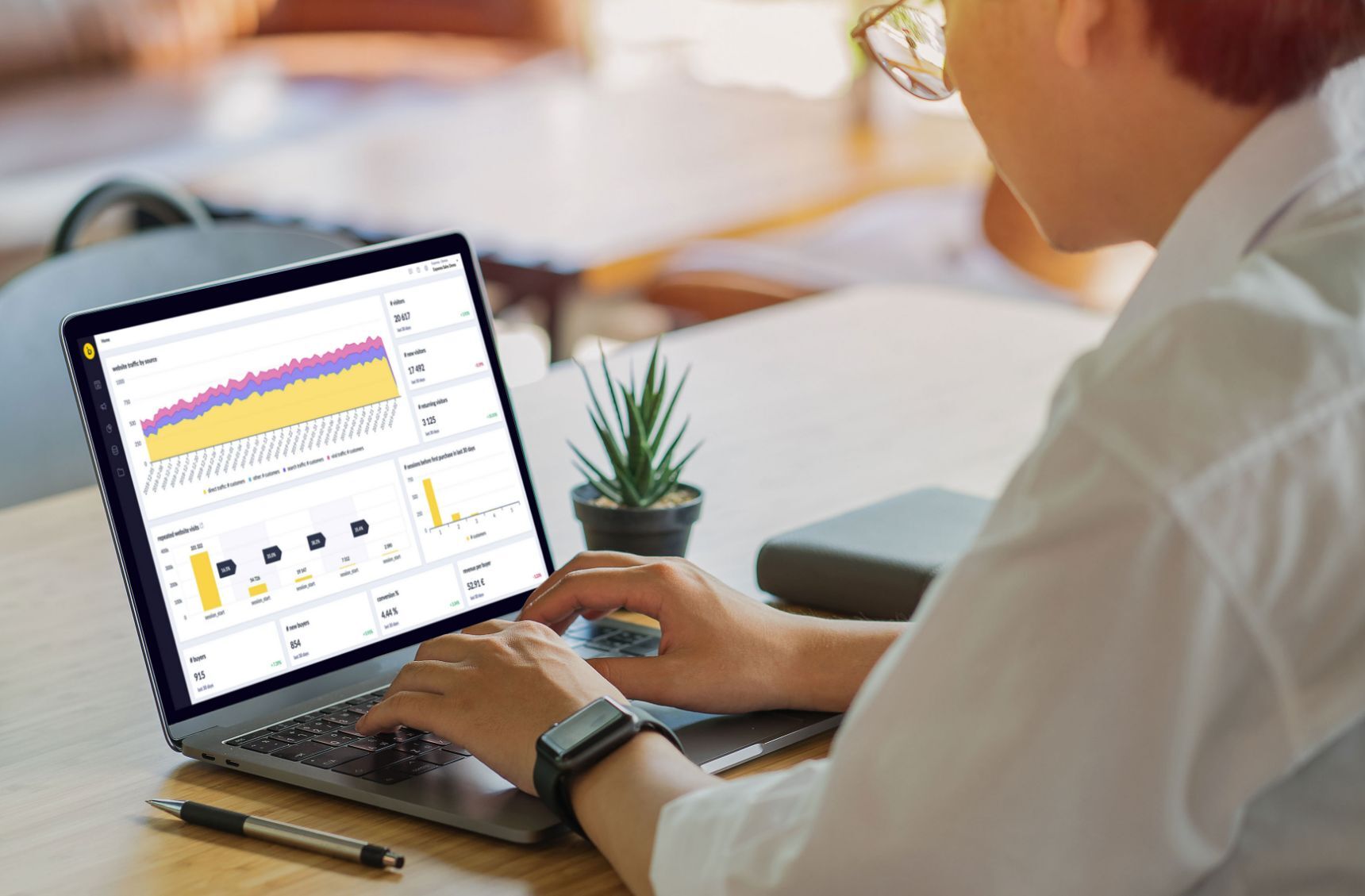 For some businesses, customers or clients may be marked as inactive after a few weeks. However, others may wait several months before engaging their customers with a win-back email campaign. Business owners must examine their sales data and most loyal customers' interaction rate to determine who are their inactive customers.
Ensure the right customers see the right message consistently across all touchpoints with segmentation and audience building. For effective segmentation, you should bring in customer data in real time into a single customer view, then use that data to identify whether a customer is active or inactive. Your marketing teams can then group people with shared characteristics into segments to effectively market to each group. For example, using your sales and customer records, you can catalog each inactive customer in the following ways:
Recency – Time in months since their last order
Frequency – Number of orders in the past year
Monetary value – Average order value (low/medium/high) 
Make Sure You Personalize Your Content  
Once you know which inactive customers you want to target, you'll want to focus on personalization to take your email marketing and win-back campaigns to the next level. Personalization is especially critical for a win-back email campaign — you'll struggle to reengage a lost customer if you send generic emails that don't relate to their purchasing habits. Your win-back email campaigns should never stick out as pointless promotions or feel like they come from nowhere. They need to be woven into your customers' relationship with your business and serve a purpose. 
For recently lapsed customers, you may only need to send a "We miss you!" message to remind them of your brand. Otherwise, you can look at past behavior to determine the best incentive to send to your disengaged customers. Did they respond well to free shipping in a previous campaign? Or maybe a discount code or free gift? Tailor your content and offer to match each customer's preference. 
Know When To Move On
Unfortunately, you can't win back every customer, and that's okay. But, you can still use this opportunity to send a final win-back email and get some valuable insights. Try sending a feedback survey asking why the customer has moved on. At best, this might be enough to get them back because you're trying to work with them. At worst, you'll collect invaluable feedback on ways to improve your brand, your products, and your customer experience. 
You can also send an opt-out email asking lapsed customers to actively choose to remain on your radar (i.e., your email list) or unsubscribe. If they leave, you move on. If they stay, you can try to win back the customer with future emails. 
Find the Right Time To Send 
Once you've personalized your content, it's time to determine when to send your win-back email. With the right AI-driven solution, you can automatically find the optimal send time based on each customer's past behavior. 
While driving higher opens and click-through rates is always important in email marketing, it's especially crucial for a win-back email campaign. This is essentially your last chance to win back inactive users and customers, and if you can't, there's a good chance they won't be coming back. By turning to AI to help, you can automate this process and send more impactful emails at scale.  

Keep Testing and Optimizing 
To create the most successful win-back emails possible, it's vital that you continuously test and optimize your content. Try testing different elements of your email, including the subject line, your call to action, and any images you include. 
One of the most common ways to do this is through email A/B testing. It involves comparing two variations of a single variable to determine which performs better. A/B testing allows businesses to make changes without alienating their audience, as it permits them to test each version on a small subset of subscribers. This allows better-informed marketing strategies and successful campaigns. 
Just be sure to test one variable at a time so you don't muddy the results. If done right, you'll end up with reliable first-party data you can use to make informed decisions throughout the rest of your win-back email campaign. 
Win-Back Email Campaign Examples 
Win-back campaigns don't just come in one flavor. Let's look at some of the different types of win-back email campaigns you can run.
Abandoned Cart Emails
Abandoned carts are common in e-commerce, and they represent a lot of lost revenue. For every 10 customers who add an item to their cart, seven leave without purchasing. Abandoned cart campaigns are essential for reengaging customers and increasing conversion rates. Over 40% of cart abandonment emails are opened, 21% are clicked on, and 50% of users who click make a purchase.
When a cart is abandoned, the customer has still signaled some interest in the item. Oftentimes, a simple reminder email is enough to secure a purchase, so don't miss this chance to send an effective abandoned cart email. Start with an attention-grabbing subject line, show the abandoned products, and throw in an offer if necessary to drive the conversion.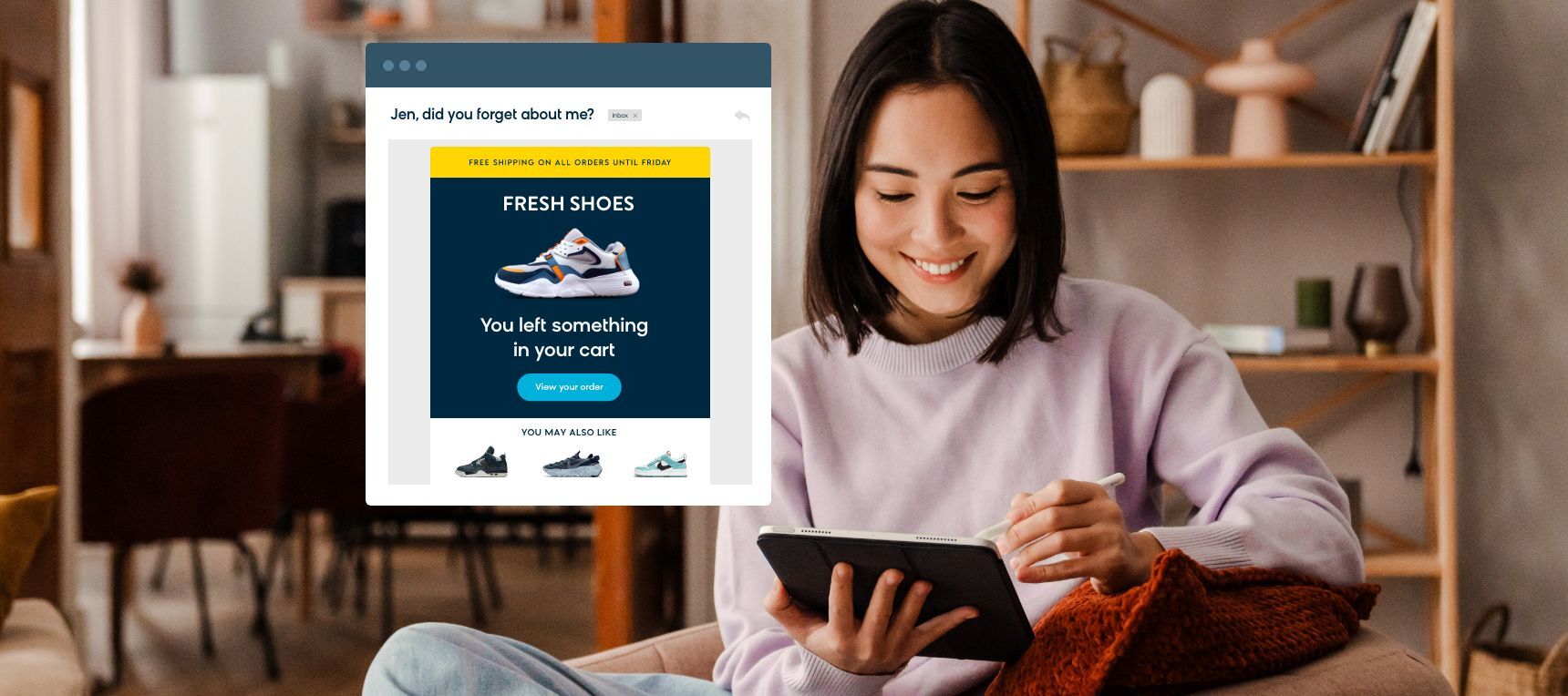 Stock Alerts
Another effective win-back email example is using stock alerts to reengage inactive customers. Try letting a lapsed customer know if an out-of-stock item they previously viewed is now back in stock to get them to come back to your site. You can also automate this process — once an item is back in stock, the consumer receives an automated notification with a tailored message.
You can also use stock alerts for price drops. Again, if a customer had previously viewed a customer and it's now cheaper, you can trigger a price-drop email to entice them to come back. And, if a customer viewed an item and it's now low in stock, letting them know there's limited stock can trigger their FOMO and encourage them to take action again. 
Personalized Product Recommendations 
Targeting lapsing customers with highly personalized email communications, including personalized subject lines, content, and product recommendations, will aid in reengaging them. 
Product recommendations are personalized suggestions provided to loyal customers to enhance their shopping experiences and increase sales. These recommendations are generated and tailored based on various data sources, such as user behavior, past purchase history, browsing patterns, and user preferences. 
To help you make smarter product recommendations that can win back customers, try turning to algorithm-driven recommendations. These are powered by AI and can include bestsellers, trending products, similar products, recently viewed products, and products that are frequently bought together.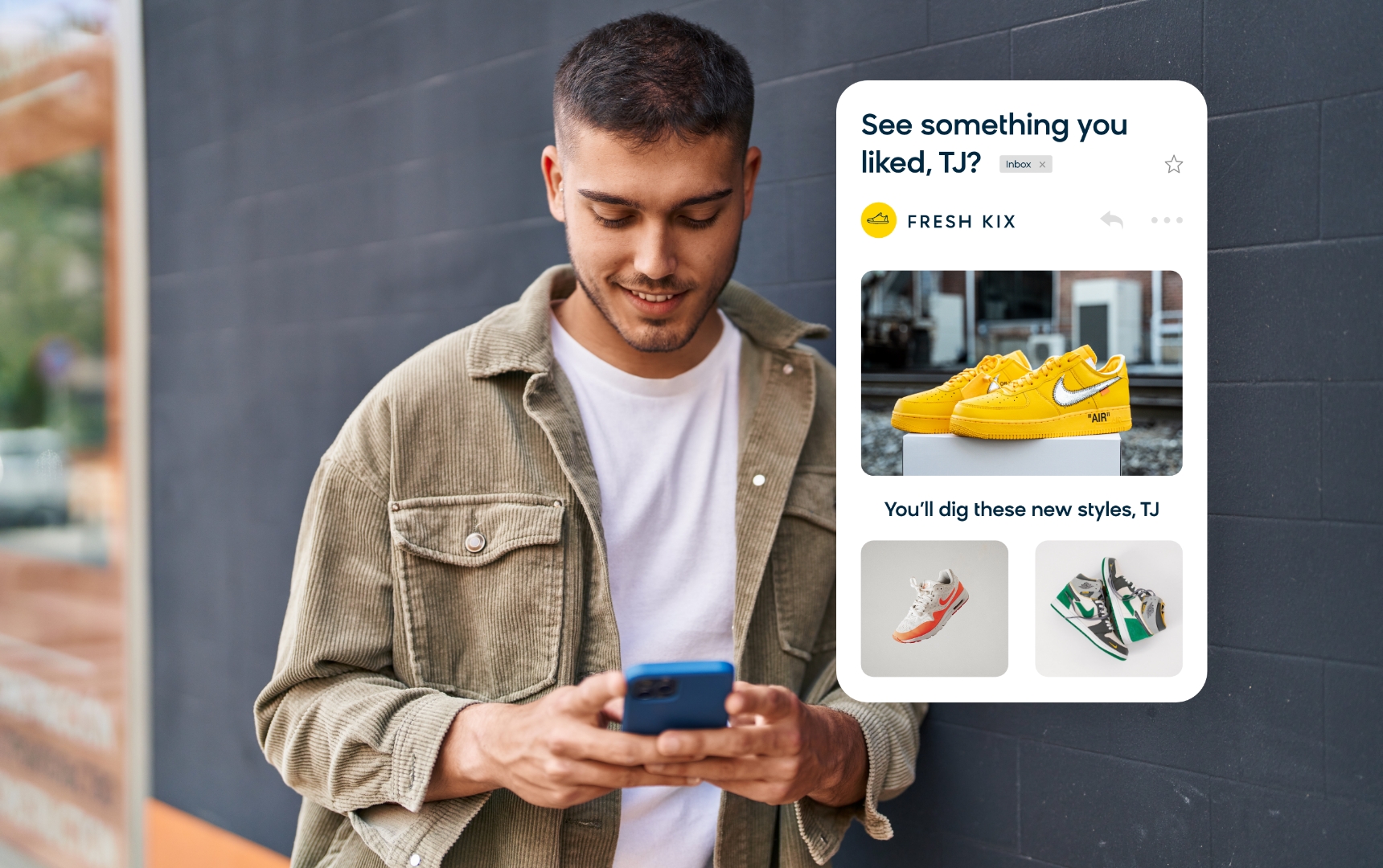 Sending the right product recommendations is crucial for improving customer experiences, increasing engagement, and driving sales. Additionally, they can increase order value, decrease lost customers, and boost customer loyalty. By sending highly relevant recommendations, you boost your chances of winning a customer back and strengthening brand loyalty. 
Use Bloomreach To Create Win-Back Emails That Work 
To create successful win-back emails, you'll need a powerful solution like Bloomreach Engagement. Our all-in-one platform enables personalized campaigns with real-time data and AI, and simplifies data-driven marketing by consolidating multiple apps and enabling efficient, limitless marketing that drives incredible experiences. 
Powered by a customer data engine, Bloomreach Engagement also offers advanced segmentation and insights, WYSIWYG ("what you see is what you get") lifecycle campaigns, and AI-powered personalization without sacrificing deliverability and ease of use. You get everything you need to deliver the most effective win-back email sequence to convert customers who've lapsed. 
It's time to create a win-back strategy that'll drive results and get more customers to come back. Learn more about email marketing with Bloomreach.