Your Next Great Adventure: Increase Revenue and Customer Loyalty
Provide omnichannel shopping experiences personalized with in-tent
Request Demo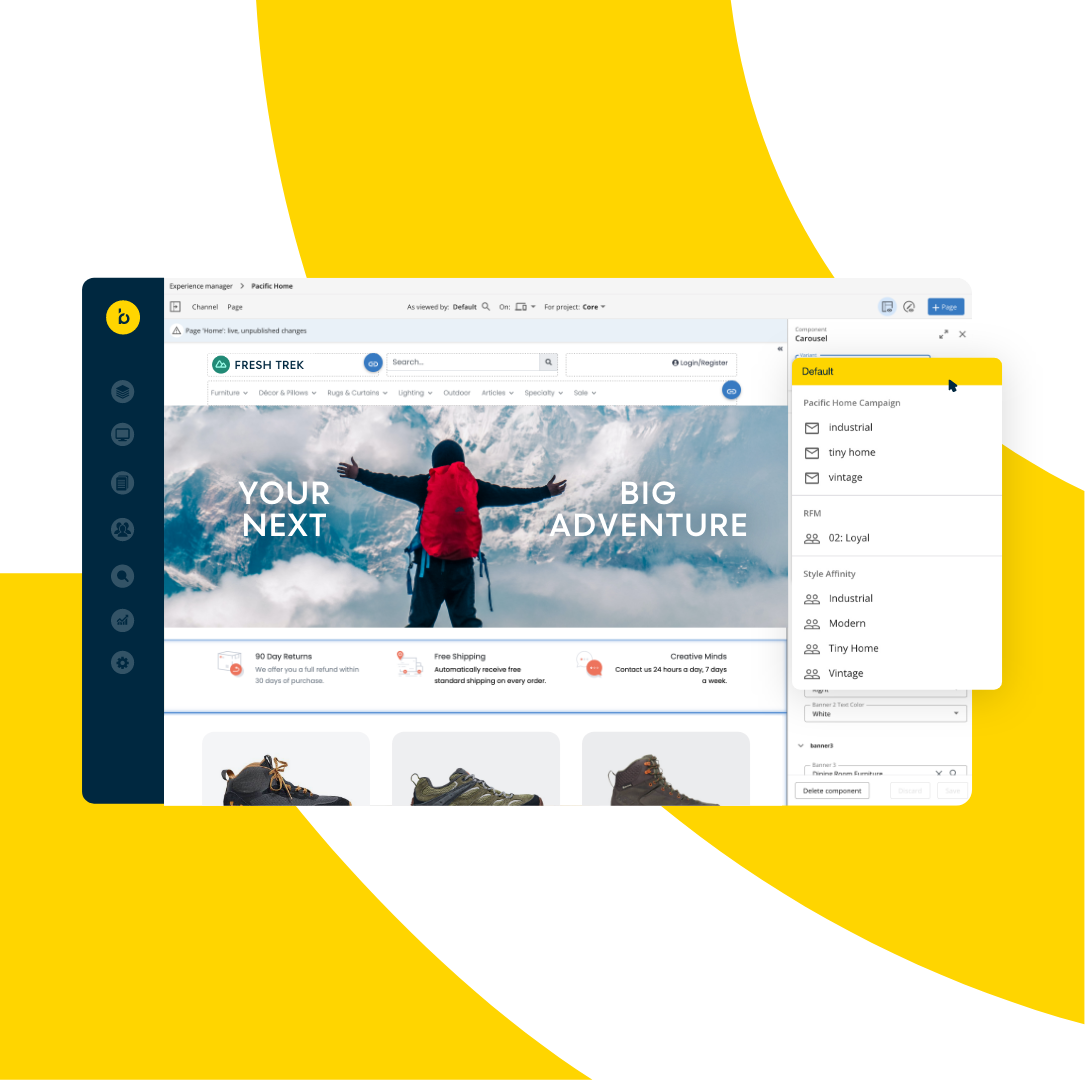 From personal fitness journeys to intense outdoor adventures, shoppers are becoming increasingly more active
As customer interest in getting active rises, it's important to create individualized digital shopping experiences that keep customers coming back over a lifetime of adventures.
It doesn't matter where your customer starts their journey — via an ad click, website visit, or an in-store consultation —  a data engine like Bloomreach Engagement is the key to actioning your customer behavior and delivering the 1:1, bespoke shopping experiences your shoppers crave.
Watch Now: Single Platform, Single Team, Single Customer View - Bloomreach x Olukai
How Bloomreach Empowers Outdoor and Fitness Brands
Decrease Your Cart Abandonment Rate
It's easy to let customers know about new gear, promotions, or events with an advanced AI that targets customers based on their specific lifecycle stage, preferences and past interactions - from both anonymous and known visitors. By reaching the right customers, in the right channel, and at the right time, you can quickly increase average order values, decrease cart abandonment rates, and boost customer loyalty.
Lower Customer Acquisition Costs With Real Time Recommendations
Every customer is unique. Whether it's a novice adventurer seeking gear for their first 4,000 footer or an elite runner looking for yet another pair of sneakers, get them to convert faster and improve your average order value by serving them relevant, personalized recommendations that encourage product discovery of items based on their current and previous browsing behavior.
Actionable insights that increase customer lifetime value
No need to become a data analyst overnight. Free up your data team's time with Bloomreach's pre-built advanced customer journey analytics that visualize and quickly target the right segments, so you're never leaving money on the table. Need something more nuanced? Bloomreach also offers the ability for anyone on your team to easily create their own models to suit your company's goals and needs.
Trusted by leading outdoor and fitness companies for their personalization needs
Additional Resources for Outdoor and Fitness Brands
Create personalized experiences that are so seamless, they feel like magic.