Omnichannel Marketing Automation
Using ChatGPT for Marketing Automation
By Ian Donnelly
06/29/2023
Omnichannel Marketing Automation
Using ChatGPT for Marketing Automation
When ChatGPT burst onto the scene at the end of 2022, it changed the way organizations thought about artificial intelligence (AI). Here was an accessible tool — which goes beyond voice assistants and data analytics — to allow marketers to change the way they work. 
The AI market is booming. According to McKinsey, the number of AI capabilities that companies employ has doubled over the last four years, while global corporate investment has increased sixfold. What's interesting is where investors place their focus because it indicates what the next "big thing" will be. From 2020 to 2022, global investment in AI startups increased by $5 billion with an emphasis on machine learning (ML) and chatbot companies. Therefore, it looks like the era of generative AI has just begun.
Since its humble beginnings with handwriting and speech recognition in 1998, AI has come a long way. Think back just 10 years, and the technology didn't exist to reliably recognize language or images. Therefore, when OpenAI released ChatGPT on November 30, 2022, it really was revolutionary — and became the fastest-growing app of all time. Two months after its launch, ChatGPT had 100 million active users, a milestone that took the social media platform TikTok nine months and the ill-fated Google+ 14 months to achieve. Even though ChatGPT is still in its research and feedback-collection phase, the demand is so high that on February 1, 2023, it launched a subscription version (priced at $20/month) to allow users to secure access.
In this article, we explore ChatGPT in depth and discover how it can be used to best effect within marketing today, as well as where the technology will lead to customer success efforts next.
What Is ChatGPT?
ChatGPT is AI technology that uses natural language processing (NLP) to understand context, intent, and word associations, so it can respond to users in a way that mimics human speech and writing.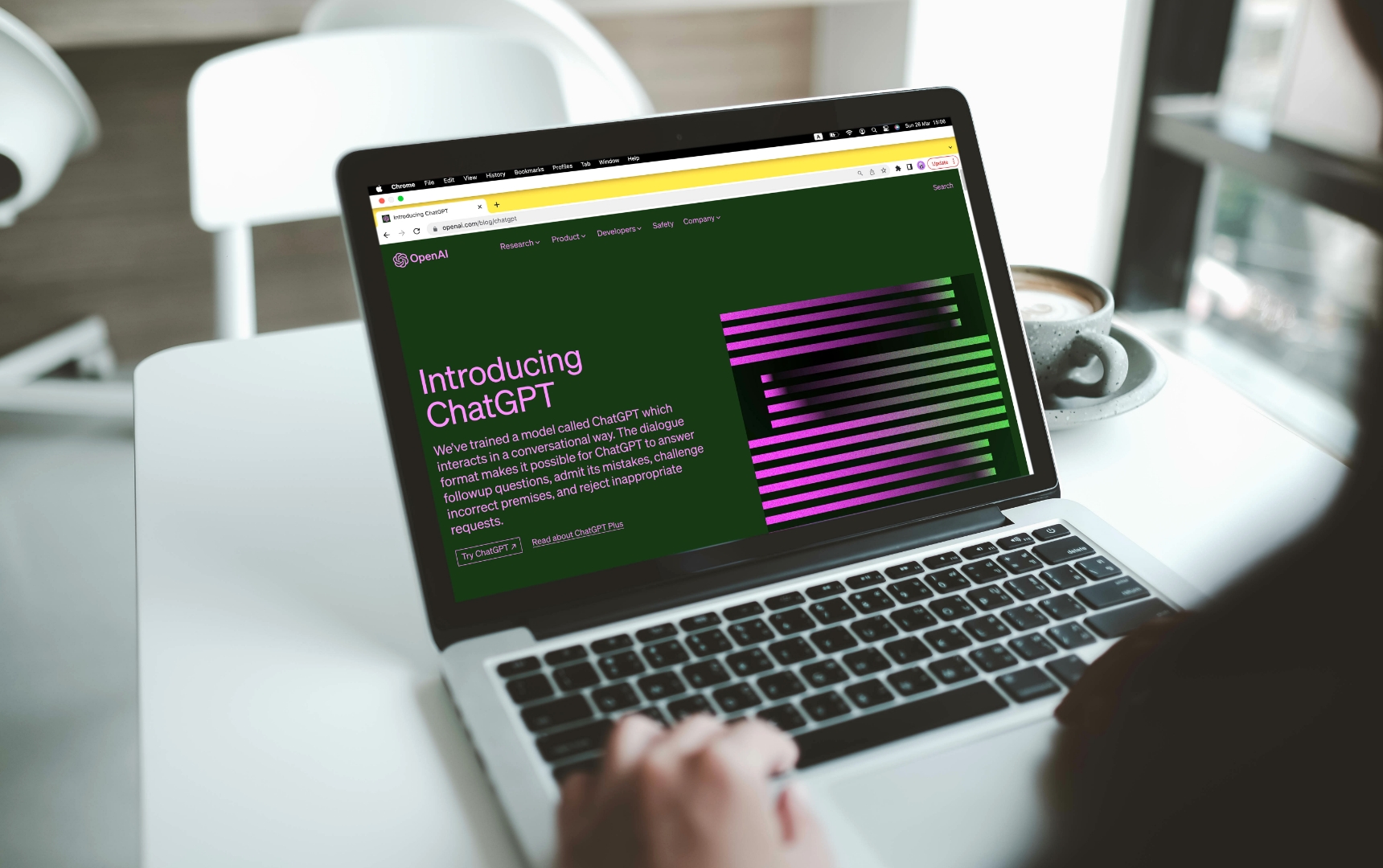 Using large language models (LLMs) to create a deep neural network (DNN), ChatGPT is built on similar structures to the human brain. This enables the software to process, interpret, and learn from information, rather than adhere to preprogrammed rules. With fast, accurate responses, organizations can take advantage of ChatGPT to enhance their internal capabilities and evolve existing processes.
ChatGPT Use Cases for Marketing
With the initial excitement of ChatGPT subsiding, attention can now be placed on where the technology can best support marketers to help (rather than hinder!) their operations. Therefore, before we consider the best use cases, it's important to understand the limitations of ChatGPT.
By OpenAI's own admission, ChatGPT struggles with:
Accuracy: The software was developed to generate plausible-sounding content. It was also trained on 300 billion words taken from books, online texts, and Wikipedia articles in 2021. And it doesn't cite sources, so users can't check where the information came from.
Ethics: AI is only ever as good as the data it's trained on, which can suffer from both conscious and unconscious bias. This has led ChatGPT to exhibit biased behavior. 
Arrogance: ChatGPT is also known to have a bit of an ego, being excessively verbose and believing it knows best, rather than asking the user clarifying questions.
However, even with its limitations, ChatGPT still offers a wealth of valuable use cases, which we'll explore below.
Content Creation
As the saying goes, "content is king." It's why 7 in 10 marketers are actively investing in content marketing, with 24% of those looking to increase their investment this year. However, when 94% of web pages don't receive a single visitor from Google, it's important to focus on quality over quantity and optimize every page.
An encouraging 88% of marketers who use SEO intend to boost their investment to ensure their organization is found online — and ChatGPT should be top of their list. 
Because ChatGPT can make keyword targeting suggestions for on-page optimization of landing pages and blog posts, it can eliminate the manual effort involved in identifying the most profitable keywords to increase site traffic. Furthermore, it can identify synonyms for root keywords — for example, with "bespoke bathroom," it knows to optimize for alternatives, like "custom bathroom," "unique bathroom," or "personalized bathroom."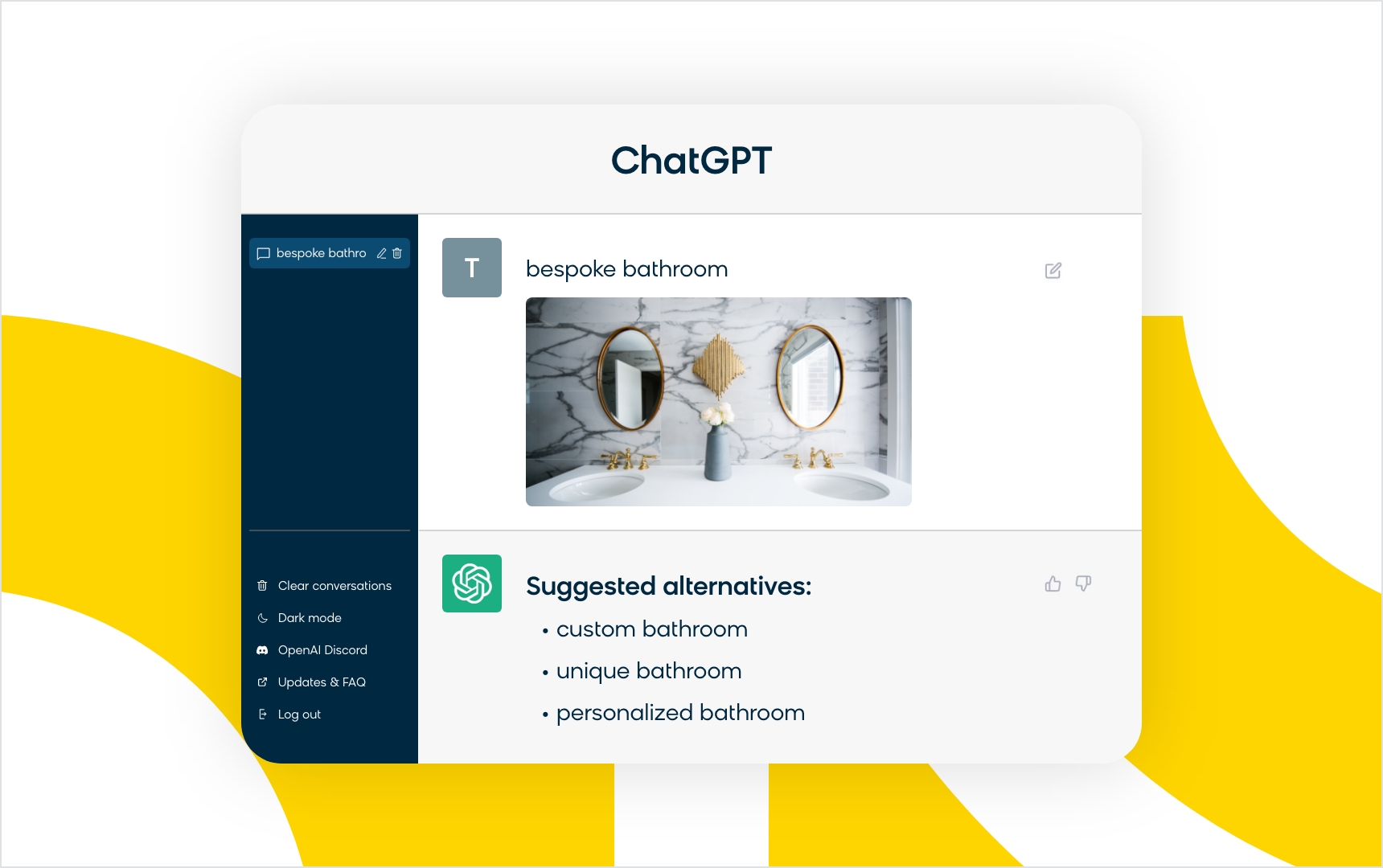 However, ChatGPT is far more than an SEO assistant. While it might not be the right tool to write articles or product brochures (yet!), it is able to write product descriptions using keyword analysis, as well as draft meta descriptions to help improve the click-through rate on search engine results pages. 
Extend this capability further, and ChatGPT can assist with the creation of pay-per-click (PPC) ad copy, as well as retargeting campaigns. Using behavioral and predictive data, ChatGPT can support marketers in engaging high-intent visitors, repeat customers, and lookalike audiences, which stops them from wasting precious ad spend.
Furthermore, ChatGPT offers a smart way to use A/B testing within campaigns, which is proven to increase revenue by an average of 5-10%. Interior decoration company bimago used similar AI technology to automate its A/B testing, and increased the conversion rate of subscriptions on a website banner by 44% when compared to normal A/B testing. This same idea can be used within email marketing campaigns to both optimize subject lines and personalize the content based on a customer's past behaviors, interests, and responses.
Customer Service
When deciding whether or not to do business with an organization, 90% of consumers use customer service as the deciding factor. Good customer service makes good business sense because it also lowers the cost of customer acquisition and encourages loyalty — 89% of customers will purchase again following a positive customer service experience.
So, what does "good" customer service look like?
You can provide real-time support when the customer needs help rather than making them wait for office hours. Your agents can resolve issues quickly instead of subjecting customers to long hold or wait times. Better still, you'll give customers the ability to self-serve and find the answers online themselves, rather than be passed between departments where they're forced to repeat their details over and over — and over.
This is where ChatGPT can help. Chatbots are already commonplace on websites, but most are constrained by the rules they've been programmed with. AI-powered chatbots can go further, using tools like ChatGPT to create a more human-to-human experience. Now, when a customer asks a question, rather than be presented with the best-fitting preprogrammed response, the AI-powered chatbot can engage in a conversation and share links to further information, such as FAQs, tutorials, and videos.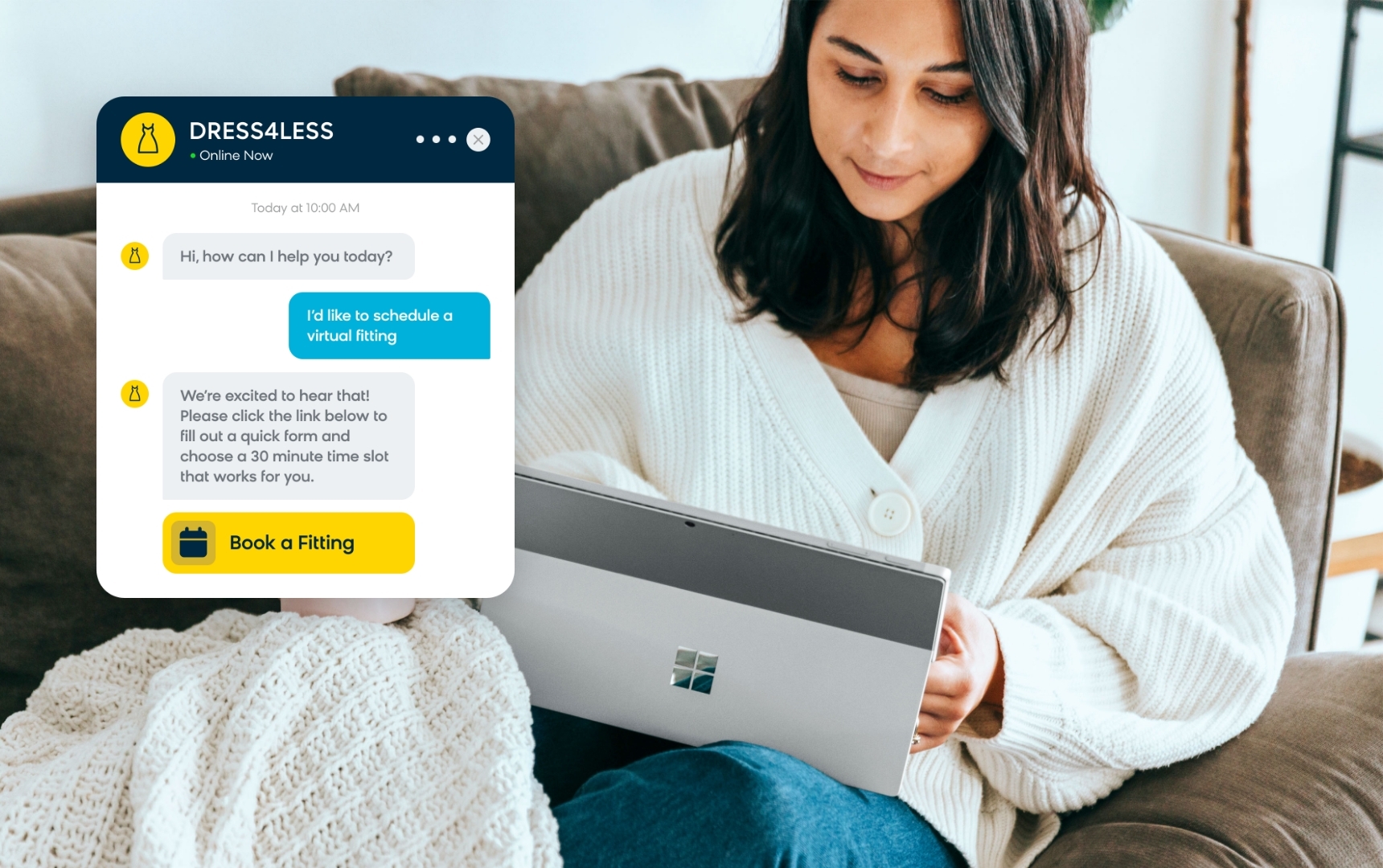 ChatGPT offers the potential for marketers to personalize their customer journeys on a 1:1 basis by only showing each visitor relevant messaging, banners, and images. For online furniture company Connox, using AI to improve its customer journey resulted in a 34% decrease in bounce rate from product pages and a 7% increase in average order value.
In addition to content personalization, ChatGPT can also support marketers with personalized searches. Here, the software only displays relevant search results based on their past behaviors and actions. For example, if it knows a customer is vegan, the results would omit any products containing meat or dairy products. It's through search intelligence that the software understands the visitor's context and intent, and can deliver a personalized shopping experience to make that customer feel understood from their first visit.
Personalized Recommendations
Customers expect companies to deliver personalized interactions and get frustrated when they don't receive one — and when customers aren't happy, it's easier than ever for them to walk away and get what they want elsewhere. Additionally, 7 in 10 consumers say that how well a company understands their individual needs impacts their loyalty.
Research from McKinsey shows that 75% of consumers tried a new shopping behavior in the last 18 months, which they intend to continue. Personalized interactions are a simple way to capitalize on the opportunity to secure new loyal customers — and ChatGPT can help.
As the technology learns based on historic data, such as browsing and purchase history, it's possible to feed ChatGPT data that enables it to make personalized product recommendations. Travel company Kiwi is a great example of an organization that was intent on delivering the best possible customer experience. Using similar AI technology, it increased monthly bookings by an incredible 1,131%.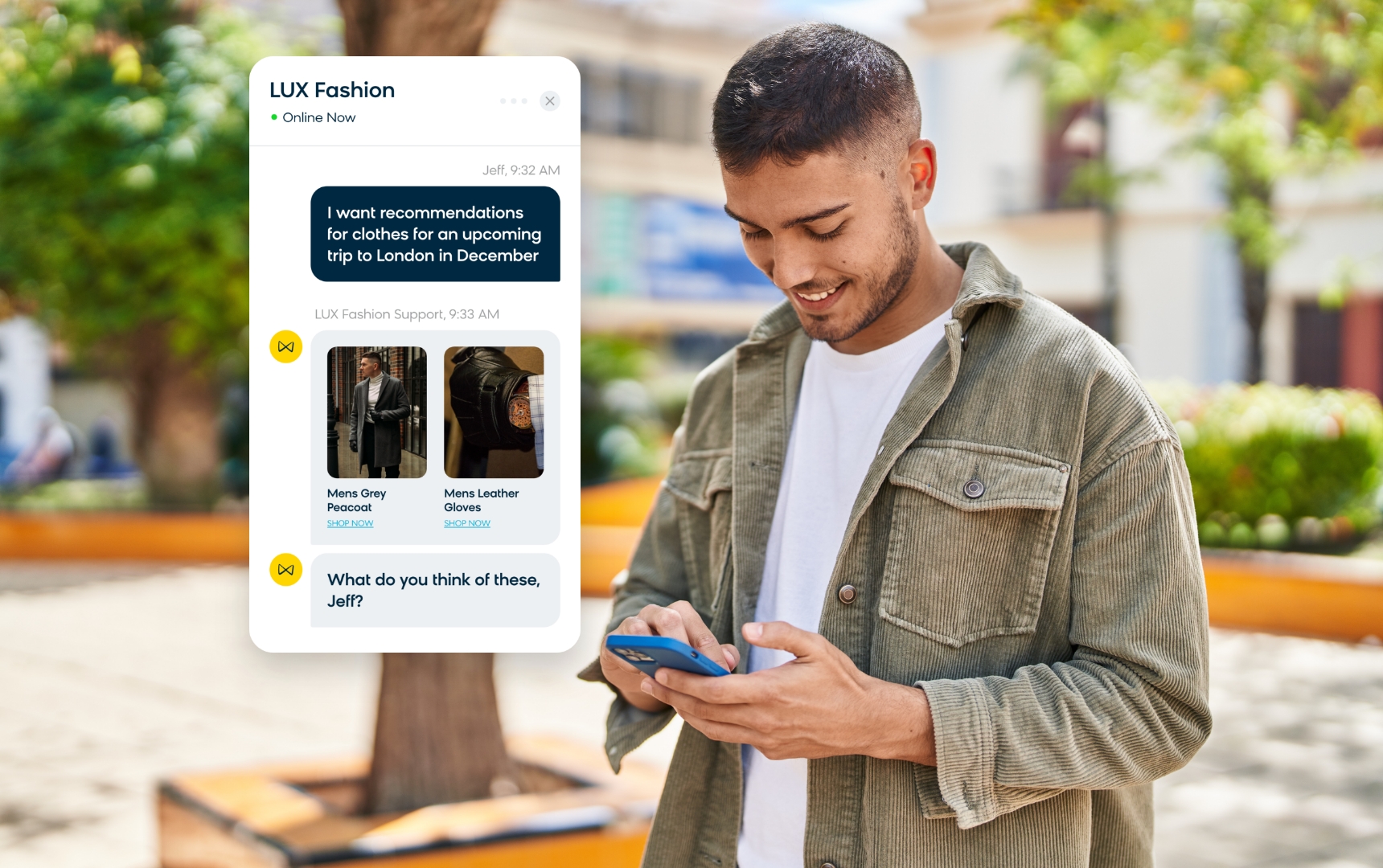 Beyond product recommendations, ChatGPT can also assist with content recommendations. Again, it uses past data and behaviors to better understand a customer's preferences, so it can recommend the best articles, videos, and podcasts. Cosmetics and beauty brand Yves Rocher was able to increase clicks on a recommended item within one minute by 17.5x because it personalized content to each visitor.
Data Analysis
An alarming 87% of marketers say data is their company's most under-used asset, which isn't that surprising when CMOs are only spending 6.5% of their budget on data analytics. Organizations that use marketing analytics end up with higher profits because they know how to continually improve and optimize campaigns in real time. Able to help marketers see which channels and messaging are most effective, they can make informed decisions about how to consolidate their resources around tactics that deliver optimal results. Fashion brand Weird Fish took advantage of AI-powered data analysis to learn how to optimize its Facebook ads, which resulted in a revenue increase of 82%.
While ChatGPT can't create images (yet!), it can generate ideas for charts and graphs that enable marketers to visualize their data (e.g., how does one product feature compare to similar competitor features?). Or, it could help analyze behaviors that facilitate a deeper understanding of the audience. This insight would allow marketers to execute hyper-focused campaigns to a subset of their audience who are receptive to a specific message or seeking a particular outcome.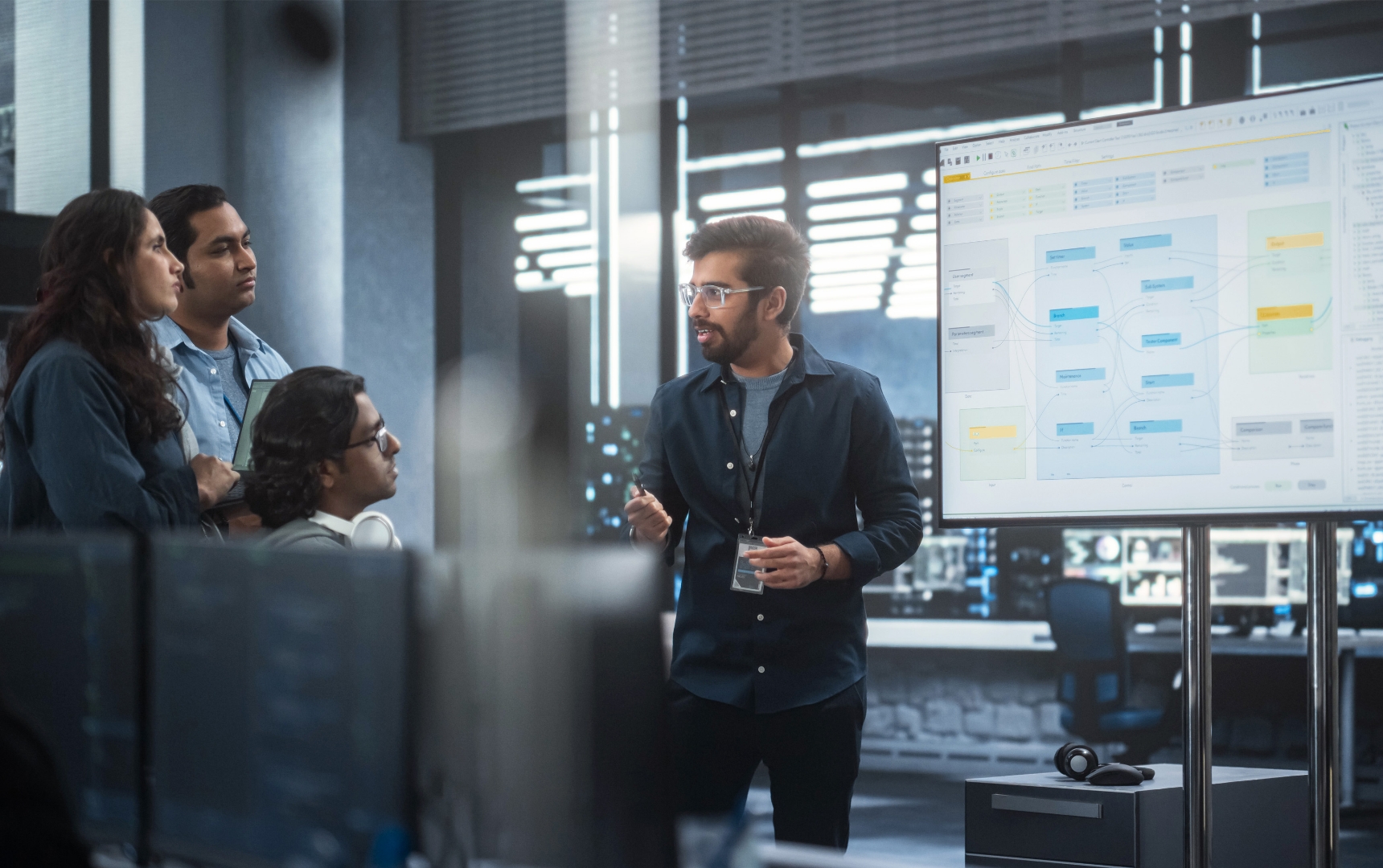 Furthermore, this visualization of data can help support predictive analysis. By mapping past data, it becomes easier to identify trends and patterns, which helps marketers plan and adjust their strategies accordingly. Alternatively, exploratory data analysis (EDA) can assist when formulating a hypothesis to explore data from a different angle — for example, if a marketer knows factors that cause customers to churn in one country, they can consider what might happen in a different country or generate alternative perspectives when tweaking different influences.
Creative Campaigns
An uncomfortable truth is that 77% of B2B ads score just one out of five for creative effectiveness, which means they have little to no effect on revenue. It's a massive problem because creativity is no longer confined to just ads — it's needed in all areas of marketing to ensure the content hooks the audience in and converts them. 
One of the greatest challenges for brands is looking beyond the norm for their industry. It requires them to think differently, as well as have the courage to be different. Nearly half (42%) of B2B brand marketers say that creativity is a key priority, and thankfully it's one of the best use cases for ChatGPT.
Every marketing campaign involves content ideation, and ChatGPT is an amazing tool to speed this process up. Ask it for ideas based on topics or existing content and it'll return results in seconds rather than at the end of a lengthy brainstorming session. For example:
List [number] ideas for articles about [topic]
List [number] viral Instagram Reels ideas about [product/service]
Create [number] call-to-action button ideas based on the content of this blog post URL
Write [number] Google Ad headlines from [URL]
List common challenges faced by [buyer persona description]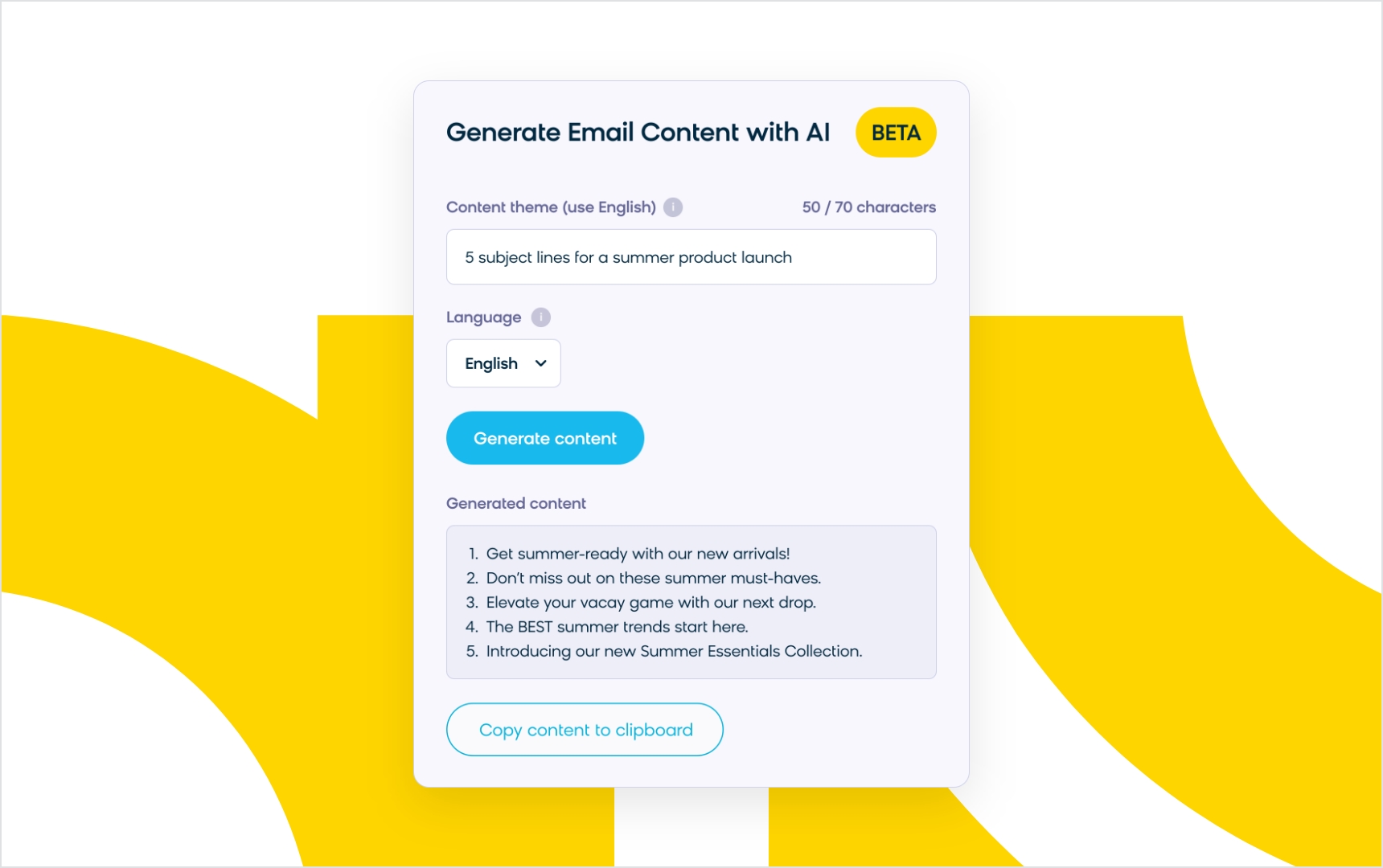 When franchise operator Alshaya used AI technology to power its content ideation and adapt campaigns across multiple markets, it saved 50% in planning time, which left more time for the company to refine the execution.
Finally, at a practical level, marketers can prompt ChatGPT for recommendations on the best productivity tools. Whether you're looking for keyword research, headline analyzers, task management tools, or transcription software, one quick question turns into a roundup of all the best tools available.
Using AI for Marketing Automation
Immediately after the release of ChatGPT, there was a mad rush of marketers who wanted to get their hands on intelligent technology. However, even though generative AI is transformational technology, we're now reaching the point where having experimented with the tool, they're realizing its limitations and are starting to consider how to best adapt the tool to augment their internal capabilities.
This is where Bloomreach can help. With AI-driven product discovery and omnichannel marketing automation in a single easy-to-use platform, you can take advantage of AI to create truly personalized experiences that drive faster ROI and greater customer loyalty. The best part? You can do this at scale and without the need to involve IT or dev teams. 
Ready to start your journey to effective AI integration? Re-watch The Edge Summit, our upcoming digital livestream that featured: 
Visionary keynotes about new and emerging applications of AI for e-commerce
Thought-provoking dialogue with pioneers in the field of generative AI
Practical discussions on how next-generation AI fits into your business today, tomorrow, and for the limitless future ahead