E-Commerce Site Search and Merchandising
The Ultimate E-Commerce Merchandising Guide: Mastering the Basics
E-Commerce Site Search and Merchandising
The Ultimate E-Commerce Merchandising Guide: Mastering the Basics
Merchandising is all about opportunities — it always has been. If one were to define it simply, they'd likely say that it's the presentation and promotion of products to customers to influence their purchasing behavior, increase their satisfaction, and boost your bottom line. 
In recent years, it's become just as important to implement an effective merchandising strategy on your e-commerce site as it is in any of your brick-and-mortar stores. To attract customers, drive sales, and foster customer loyalty, your brand will need to continually innovate your online shopping experience — and e-commerce merchandising is a very important piece of this approach. 
But e-commerce merchandising itself is constantly evolving. Your customers will no longer forgive a bunch of hastily uploaded products to your e-commerce store. If you want to keep up with your most innovative, dynamic competitors, then you'll need to brush up on your e-commerce merchandising knowledge to create a strategy centered around the best practices and the right tools. 
What Is E-Commerce Merchandising?
E-commerce merchandising refers to the strategic display and promotion of products or services on an online store or marketplace. Much like traditional merchandising in your brick-and-mortar store, e-commerce merchandising focuses on cross-selling and upselling techniques to maximize sales and enhance the overall shopping experience for customers.
Your e-commerce merchandisers are responsible for carefully selecting, organizing, and presenting your products or services in a way that attracts both prospective and returning customers and motivates them to make a purchase. This can be anything from optimizing product listings and crafting engaging product descriptions to utilizing customer reviews and ratings on category or product pages. 
Personalization is also an important component of online merchandising. By combining these two strategies, online retailers enhance their digital experience through tailored recommendations and visually appealing product displays. This makes it easier for customers to find what they're looking for (and more) while increasing your revenue and return on investment (ROI). Not only that, but e-commerce merchandising will also boost customer satisfaction and improve brand perception, allowing your business to scale through data-driven decisions.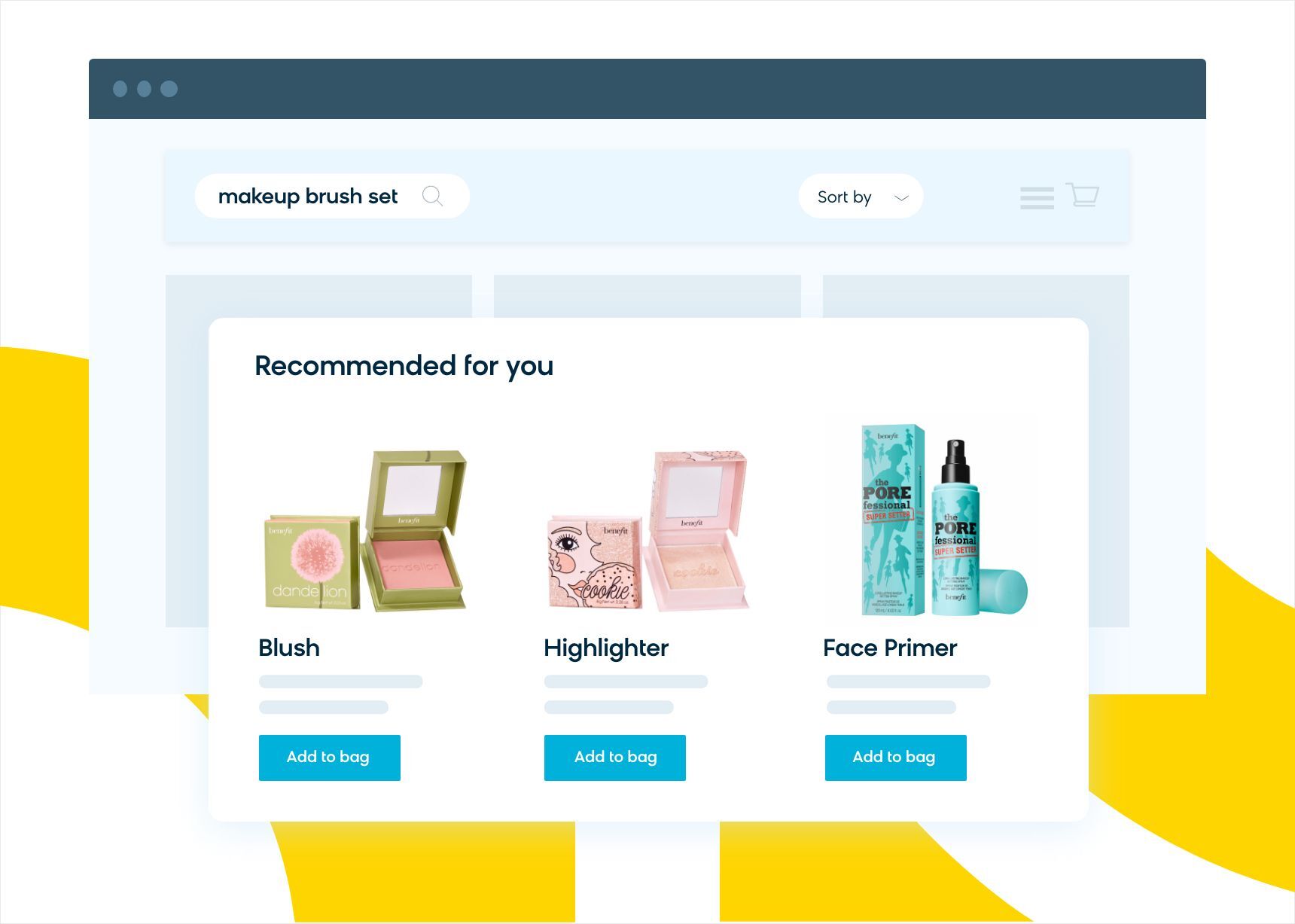 E-Commerce Merchandising Best Practices
E-commerce merchandising best practices set you up to provide your customers with a shopping journey that's engaging, user-friendly, and personalized. Here are a few to keep in mind as you work toward a better e-commerce experience.
Use AI To Automate 80% of Your Workflow
Today's merchandisers are expected to be a Swiss Army knife of sorts  — even when they're working for larger companies. That's why merchandisers are turning to AI automation to alleviate their workload, address their biggest roadblocks, and ensure their success during peak season. By adhering to the 80/20 principle, merchandisers can efficiently utilize search and merchandising technology for 80% of their tasks while dedicating the remaining 20% to activities that demand human expertise.
Merging insightful analytics with the invaluable human perspective enables merchandisers to conserve time, budget, and workforce resources. This approach not only leads to remarkable outcomes but also prepares the company for potential economic downturns. In essence, merchandisers can concentrate on tasks that require their unique attention and automate the rest with AI like natural language processing (NLP) and machine learning (ML) to create a balanced and effective strategy.
Leverage Helpful Content Where and When You Can
Leveraging helpful content in your e-commerce merchandising strategy ultimately helps your customer's decision-making process. Since it's certainly not uncommon to hear stories of customers feeling overwhelmed by the number of choices available to them (perhaps you've even been there yourself), providing relevant, informative, and engaging content on your e-commerce website is essential. This empowers your prospects (and returning customers) to make a confident purchase decision.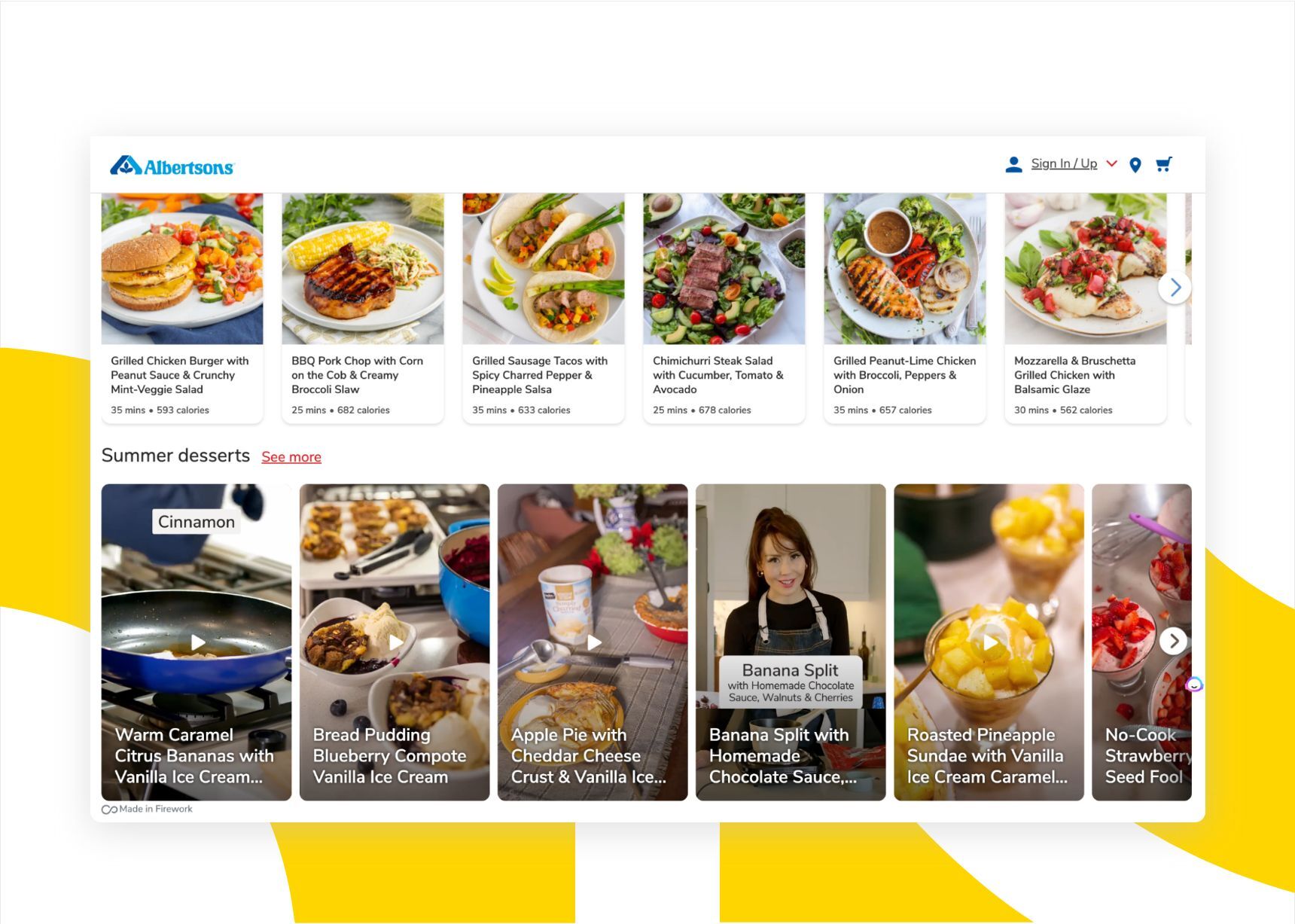 The types of content you offer can take various forms, of course. Think of detailed product descriptions, how-to guides, or blog posts that address common questions and concerns. When customers feel supported and educated by the content provided, they're more likely to return to your website for future purchases, recommend your brand to others, and engage with your company through social media and other channels. This trust in your brand and its credibility will go a long way when it comes to your business' bottom line.
Create Curated Collections To Promote Cross-Selling and Upselling 
Curated collections play a vital role in promoting cross-selling and upselling opportunities in e-commerce merchandising by simplifying the shopping experience for customers. If you thoughtfully group related or complementary products together, your brand can effectively showcase a variety of items that cater to specific themes, like promotions, seasons, or customer preferences. In the same vein as traditional merchandising, this targeted approach uses product recommendations to encourage your customers to explore additional offerings and discover new products they might not have otherwise considered. 
With advanced AI algorithms and ML, your business can create these tailored collections based on customer browsing history, past purchases, or demographic information to provide a more relevant, customized shopping experience. Not only can AI anticipate their wants and demands, but it can also make real-time adjustments, ensuring both relevancy and appeal within the current moment. As a result, brands and retailers can deliver more effective, personalized, and dynamic curated collections on their e-commerce stores that drive customer engagement and increase revenue. 
Don't Overlook Smart Site Search Functionality 
Smart site search functionality is crucial to any e-commerce merchandising strategy as it significantly improves the overall customer experience. For those who come to your website with a specific product in mind, an intelligent, AI-powered search bar allows them to quickly and easily locate their desired items. By delivering accurate, relevant, and personalized search results, retailers can streamline the shopping process, reduce frustration, and increase the likelihood of customers making a purchase (or multiple).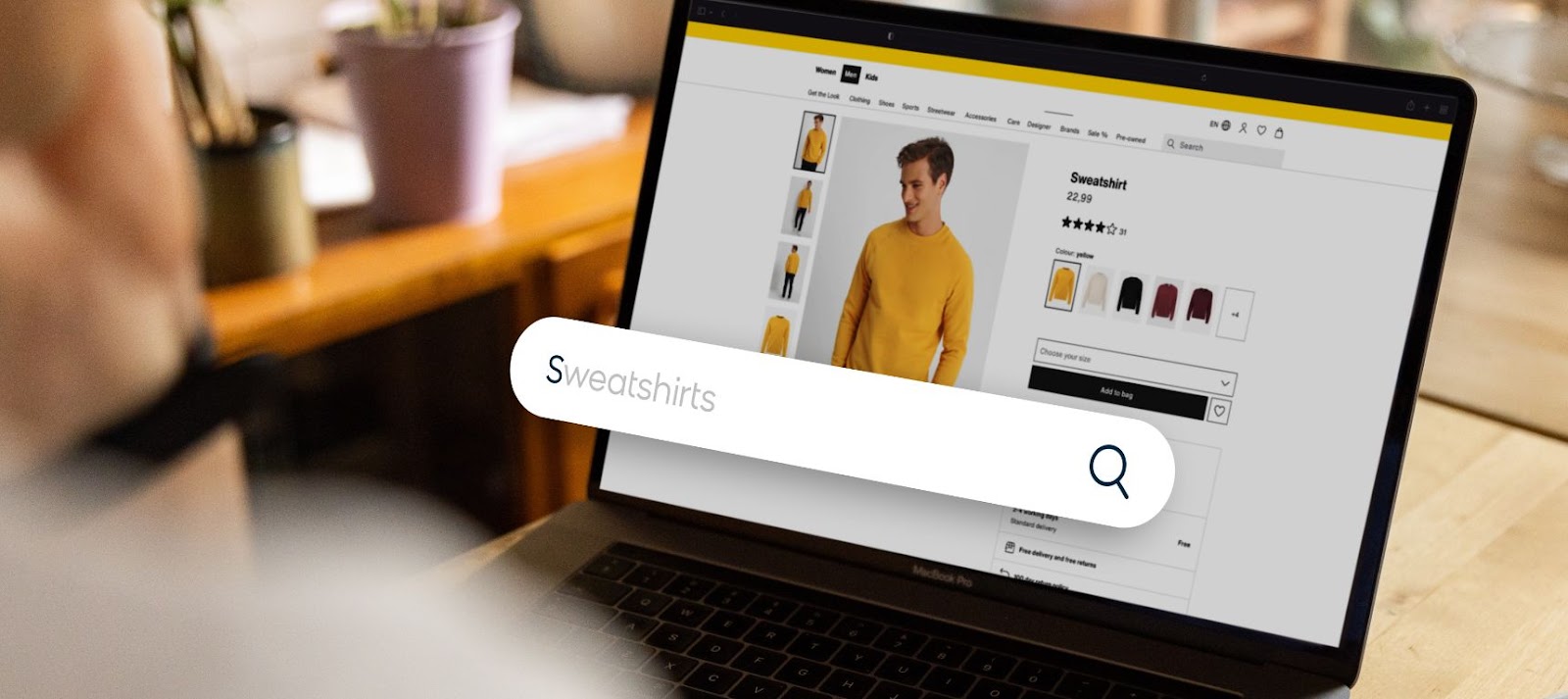 Like curated collections, site search can also help shoppers discover other products they might not have initially considered, fostering the idea of exploration and additional purchases. These shopping experiences are made possible through data-fueled insights into customer behavior and preferences, which e-commerce software like Bloomreach can provide through our customer data engine (CDE).
Customer data ingestion happens on your website and/or mobile app, point of sale (POS), in-store interactions, loyalty program, CRM, and more to create a single marketing view of your customer to personalize and optimize the search experience. By providing a seamless search experience, e-commerce retailers can cultivate customer loyalty, encourage repeat purchases, and drive short- and long-term business growth.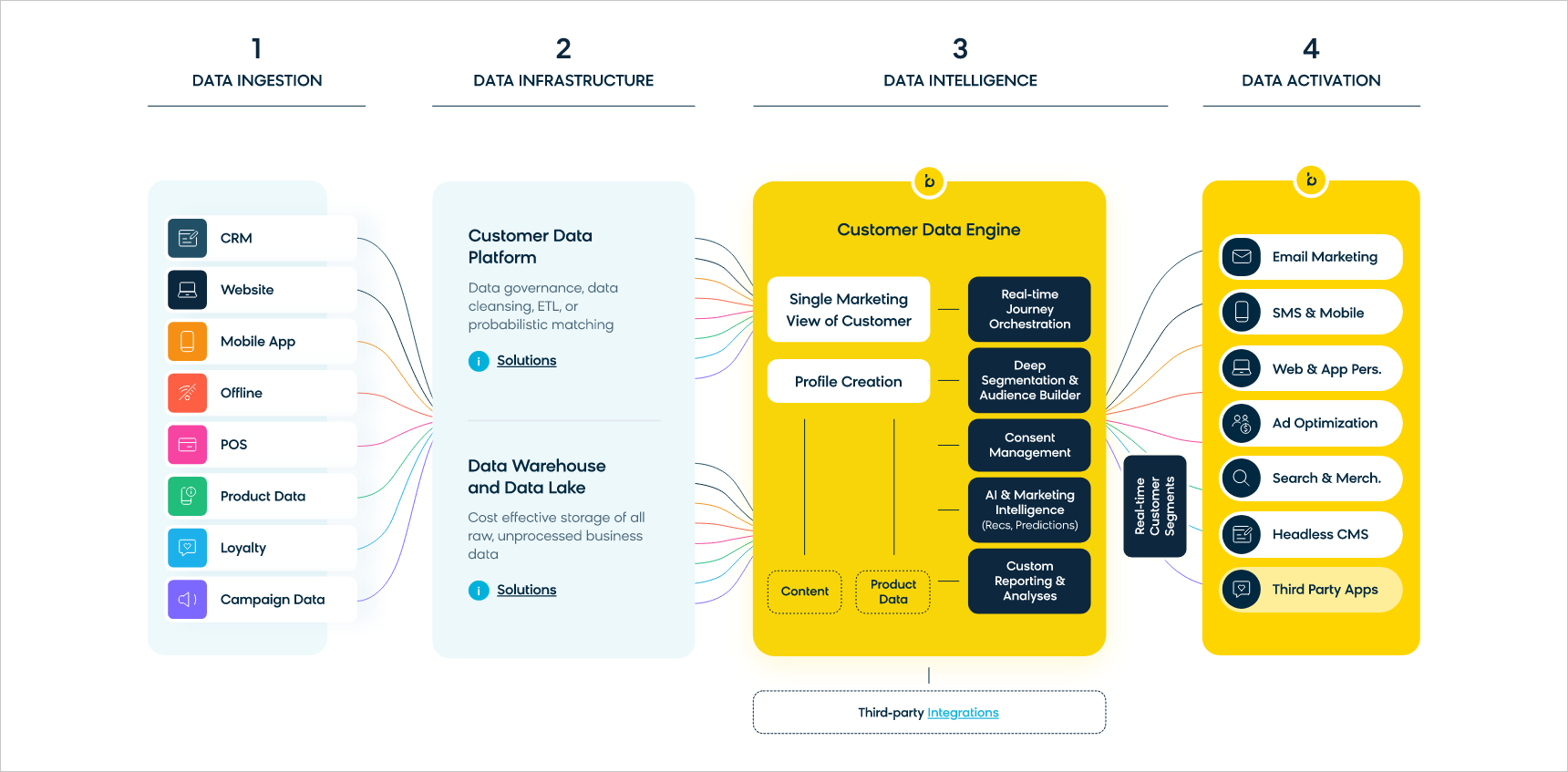 How To Build an E-Commerce Merchandising Strategy
Building a successful e-commerce merchandising strategy involves a combination of understanding your goals and target audience, optimizing product presentation, developing apt marketing campaigns and/or promotional strategies, A/B testing different scenarios, and leveraging AI-driven, merchandiser-focused technology. 
Every step of this process should be infused with data to help your e-commerce merchandisers make informed decisions about everything from inventory to product placement. This will also set a framework to set goals, track performance, and optimize your approach over time. So, let's break it down.
Define Your Goals
Start by outlining clear objectives for your e-commerce merchandising strategy. Some goals you might want to consider are: increasing sales, boosting average order value, or reducing cart abandonment rates. Defining your goals will help shape your strategic plan and aptly measure your success.
Understand Your Target Audience 
Conduct thorough research to gain insights into your customers' demographics, preferences, needs, and purchasing behaviors. By understanding your online shoppers and their behavior, you can more easily tailor your e-commerce merchandising efforts to appeal to your target audience, increase revenue, and promote company growth.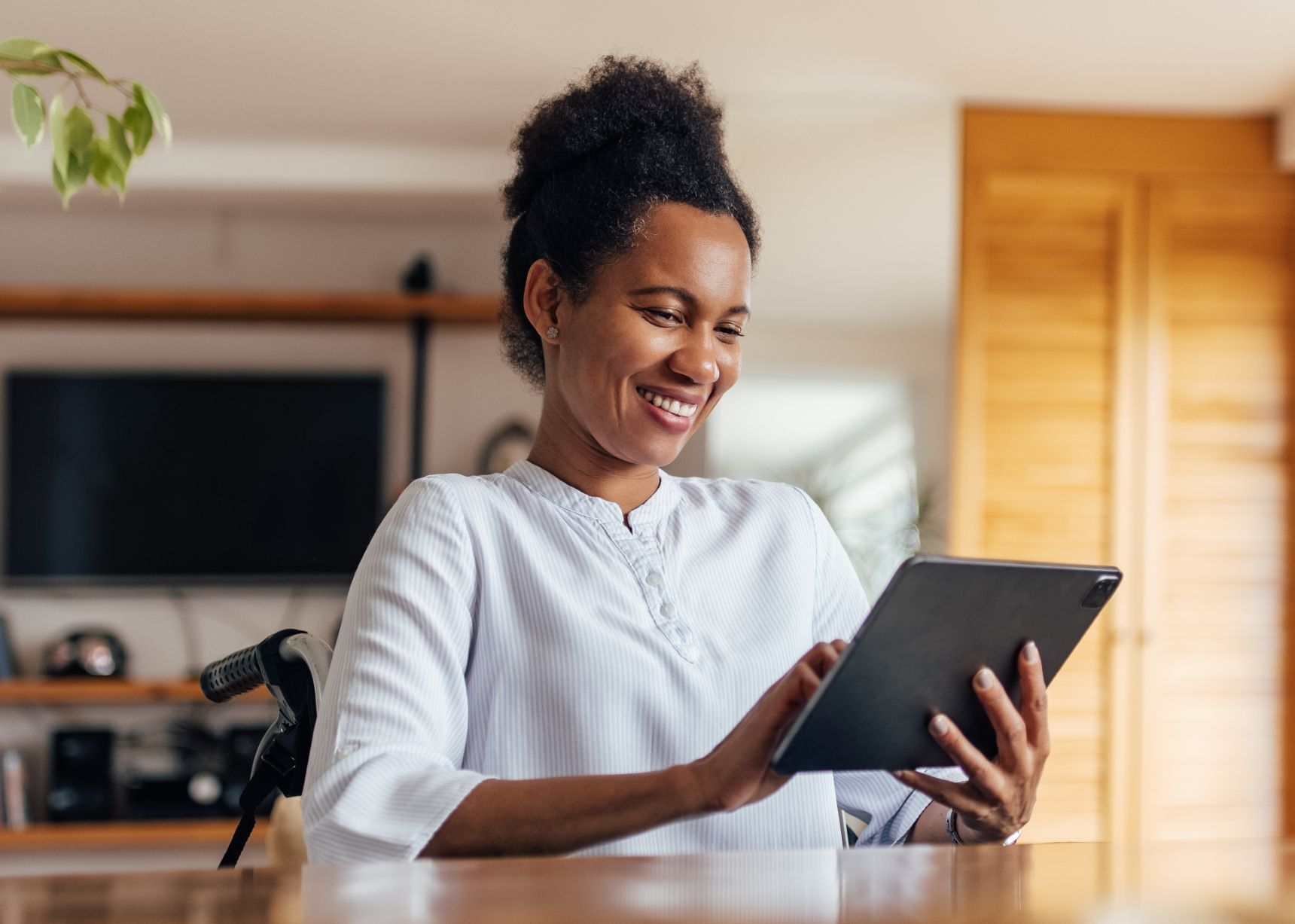 Organize and Optimize Your Product Catalog
Ensure your product catalog is well-organized with clear categories and subcategories, complete product details and descriptions, and easily navigable filters. A well-structured product catalog simplifies the shopping experience and reduces the likelihood of customers becoming frustrated with product discovery, leading to more profit for your company.
Develop Marketing Campaigns or Promotional Strategies 
Once you set your goals, pinpoint your audience, and organize your product data, it's time to start thinking about your marketing campaigns and promotional strategies. Use data to identify patterns in your customer's behavior. Then, take advantage of this intel to plan and execute discounts and limited-time offers, reward loyal customers, and create other marketing materials.
Monitor, Test, and Adjust When Necessary 
Like any experienced e-commerce professional, you'll want to test the effectiveness of your site search and merchandising, or searchandising, strategy. Again, behavioral data from your customers can identify key areas for improvement and help you make the necessary adjustments to your approach. By regularly testing different product placements, merchandising tactics, and user interfaces, you can determine what resonates best with your audience and stay ahead of your competition.
Find the Right Technology Solution
Selecting the right technology for your e-commerce merchandising strategy is the most important step you can take in this process. The best e-commerce merchandising software on the market will streamline operations, increase efficiency for your time-strapped teams, and help maintain a competitive edge in the rapidly evolving digital landscape. It does all this by optimizing product presentation, allowing for personalization, and enhancing the overall digital experience.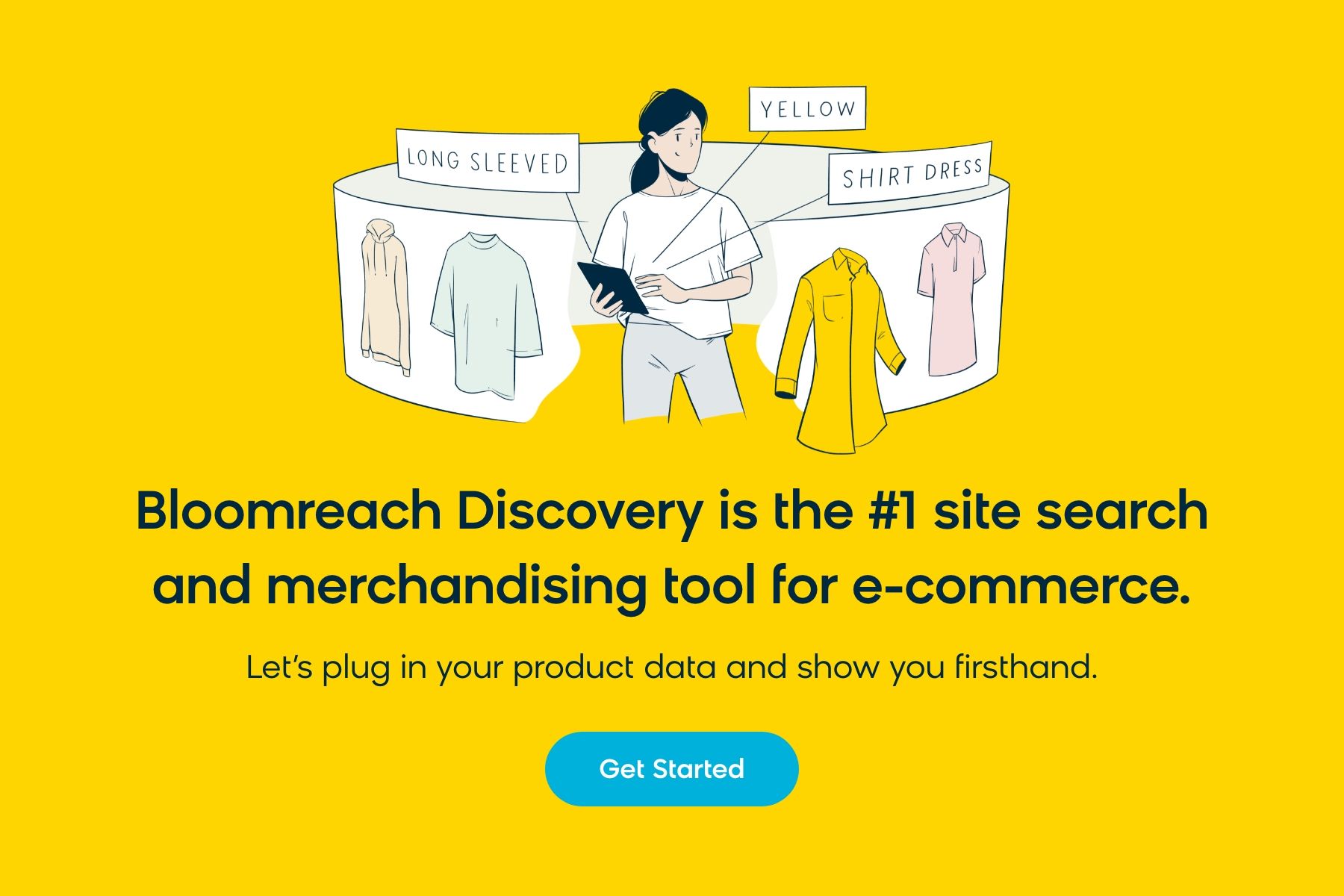 How To Find the Right E-Commerce Merchandising Software 
The ideal e-commerce merchandising solution should offer a comprehensive suite of tools that cater to various aspects of merchandisers' workflows, such as visual merchandising, product releases and promotions, and inventory management. When evaluating different options, consider factors such as ease of integration, scalability, and the ability to adapt to ever-changing market trends. 
Prioritize solutions that provide data-driven insights and mature AI, enabling you to make informed decisions, automate processes, and refine your strategies over time. By investing in a robust e-commerce merchandising solution tailored to your business needs, you can enhance customer experience, boost conversions, and ultimately, achieve success in the extremely competitive digital landscape.
Bloomreach Helps Execute All E-Commerce Merchandising Strategies
Retailers and brands across the globe achieve success by leveraging powerful e-commerce merchandising tools like Bloomreach Discovery. Our e-commerce merchandising software streamlines workflows by creating relevant, personalized customer experiences at scale with groundbreaking AI built for e-commerce. 
Here's how one of our valued UK retail customers, Boden, saw success with Bloomreach.  
Boden Sees Big ROI From Adding Personalization to Online Merchandising
Founded in 1991, Boden is a well-known British clothing retailer. While Boden originally operated as a mail-order business, the company now has websites in seven countries, a £300M annual turnover, and two million customers across the globe — with 98% of sales coming from its online store.
Despite all of its success online, Boden knew that the brand could do more to personalize its e-commerce merchandising strategy. Unfortunately, its previous tools were time-consuming and slow to make changes. To enhance personalization, the team needed an all-in-one search and merchandising solution to reduce manual work and increase the team's agility and flexibility.
Boden found that Bloomreach Discovery was the perfect solution since it had the potential to automate 80% of its redundant workflows, allowing the company's e-commerce team to focus on the tasks that require human intervention. Using Bloomreach's advanced NLP and ML, Boden could learn from its customers' behaviors and match intent with the best-fitting products. Best of all, Boden's team can still intervene with this process manually as they see fit. 
By investing in Bloomreach Discovery, Boden was able to achieve a few different initiatives. First, the brand increased conversions and revenue per visitor (RPV) by simply using Discovery's A/B testing capabilities for its "outfitting" offering (i.e., displaying a collection of clothes that go together for particular customers). Second, Boden used location-based audiences to serve up climate-appropriate products to shoppers, remaining relevant to its audience's needs. Last but not least, the business' site is fresher than ever before, with the ability to product sort updates every 15 minutes rather than 2-3 times a week. 
With Bloomreach, Boden's team is now more effective and can work smarter — instead of harder.
For Better E-Commerce Merchandising, Choose Bloomreach
If you're tired of being limited by your current e-commerce merchandising tools, don't miss out on the chance to revolutionize your business with the right solution. By investing in Bloomreach Discovery's AI-forward, merchandiser-friendly capabilities, you'll see nothing but serious momentum in your approach to e-commerce product discovery. 
Keep reading to learn more about e-commerce merchandising and Bloomreach Discovery.