Real-Time Personalization
5 Ways To Improve Your Email Marketing Strategy
By Amelia Woolard
03/24/2023
Real-Time Personalization
5 Ways To Improve Your Email Marketing Strategy
The first email may have been sent in 1971, but email marketing is still fresh in 2023, and there's never been a better time to invest in it. 
Email marketing is a powerful tool for businesses to reach audiences and drive conversions. 49% percent of shoppers enjoy receiving promotional emails from their favorite brands on a weekly basis, and half of them make a purchase as a result of marketing emails at least once per month. 
Email marketing can be the difference between marginal email marketing success and out-of-this-world results. From planning your email outreach to personalizing your content, try these five email marketing tips before you send your next email.
Why Does an Email Marketing Strategy Matter? 
Email marketing may not be as trendy as social media or video marketing, but email marketing efforts reach a large audience and can earn serious money for e-commerce brands. 
Four million people use email, and for every $1 spent on email marketing, you can expect to earn $36 (or more, depending on the industry). Needless to say, neglecting email marketing means leaving a lot of annual revenue on the table.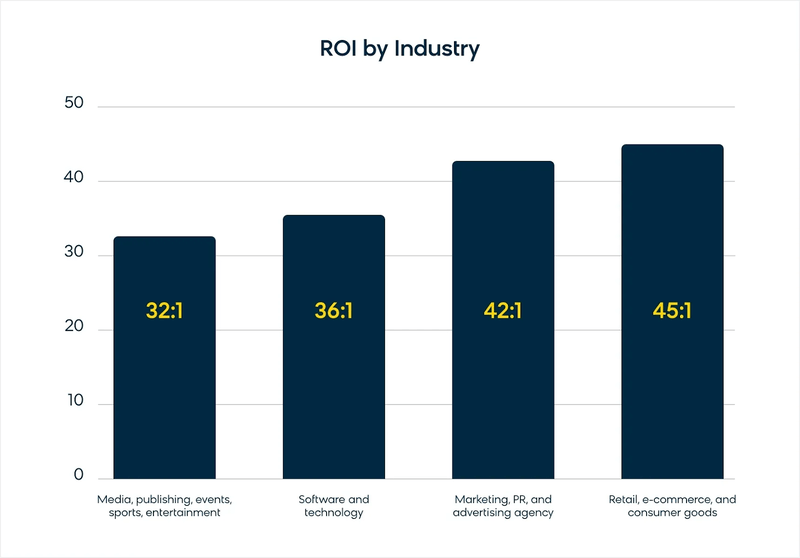 Email marketing also opens the door to unlimited personalization opportunities where you can customize your messages with special offers and recommendations.
Finally, email marketing is popular among marketers, with two out of three marketers using email to engage their target audience in 2022. To stay competitive in e-commerce, you must have an effective email marketing strategy. 
How To Get Started With Email Marketing 
You can reap a lot of benefits from email marketing. Here's how you can get started with unlocking more revenue and personalization potential.
Create a Plan
When mapping an email marketing strategy, planning is crucial. With a plan, your team is better equipped to distribute messages that appeal to and convert subscribers into customers. 
When creating an email marketing strategy, consider these factors:
Start with your goals. What do you want to achieve with email marketing? This could include increasing sales, earning more website traffic, or building brand awareness. 
Build your send list. You can build your list using sign-up forms or social media campaigns. Consider offering incentives for people to subscribe. 
Segment your list. Your subscribers are unique. Segment them appropriately based on demographics, interests, and behavior, and your email is more likely to drive engagement. 
Put It in Motion
Once you have a basic email marketing strategy in place, it's time to craft your message and prepare it for sending. 
As excited as you may be to put your first email out into the world, don't hit "send" until you've double-checked that your email includes timely, relevant content. 
Personalization increases email open rates and click-through rates. Use your subscriber's name, past purchase history, and other data to create personalized messages, email subject lines, and calls to action. 
Emails with highly relevant content will grab your subscribers' attention. Make sure every email you send is engaging and informative. Keep your subscribers engaged by sending them a mix of email content, including special promotions and product tutorials.
Test Everything 
Once you've sent your email, there's one more thing left to do: Test the results of your efforts. 
Continuously testing your email marketing campaigns involves comparing different subject lines, calls to action, and email formats. Until you know what's working and what's not across your email messages, you can't take the steps needed to improve your marketing strategy (and reap untapped revenue).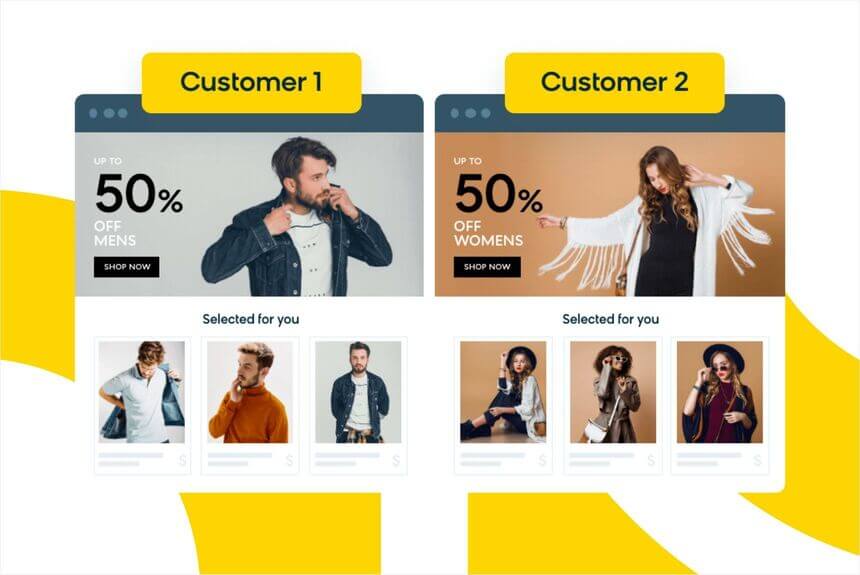 Ultimately, the key performance indicators (KPIs) you decide to track are up to you, and should be determined based on your intended goals. Here are a few that remain popular with email marketers: 
Active audience trends to track your audience's engagement levels 
Delivery rates to see how many emails are getting delivered to inboxes
Hard and soft bounce rates can clue you into deliverability issues
Open rates reflect how often your subscribers open your emails
Strategies To Improve Your Email Marketing 
In order to maximize your email marketing efforts, you need to focus on key strategies designed to boost your email marketing performance. Here are a few of our favorite strategies: 
Boost Your Email Deliverability 
Marketing teams put a lot of thought into their email messages, but not a lot of thought is typically given to email deliverability, or how many of your emails are reaching the inbox. 
An estimated 347 billion emails are sent every day. Yet, not all of those emails are actually being delivered. That means millions, if not billions, of additional revenue is falling victim to spam filters or unsubscribes. After all, if your email never reaches your customer's inbox, it can never result in a conversion. 
Here are a few tips to help you ensure email deliverability to your subscribers' inboxes:
Regularly clean your send lists. Practicing good email list hygiene prevents spam complaints and ensures that your email messages are going to those who want them.
Use segmentation to ensure that you're honoring subscribers' preferences when emailing them. You don't want to send daily emails to someone who's specified that they only want to hear from you once a week. 
Deploy personalized content and subject lines. Personalization makes your messages more relevant, so customers are likely to open them. This signals to email service providers that they want your emails in their inboxes. 
Leading jewelry manufacturer L'azurde found success in optimizing for deliverability. By reaching a 99% deliverability rate, the brand now reaches 20x more customers. With Bloomreach Engagement and Voxwise, L'azurde earns an estimated 1€ million more per year.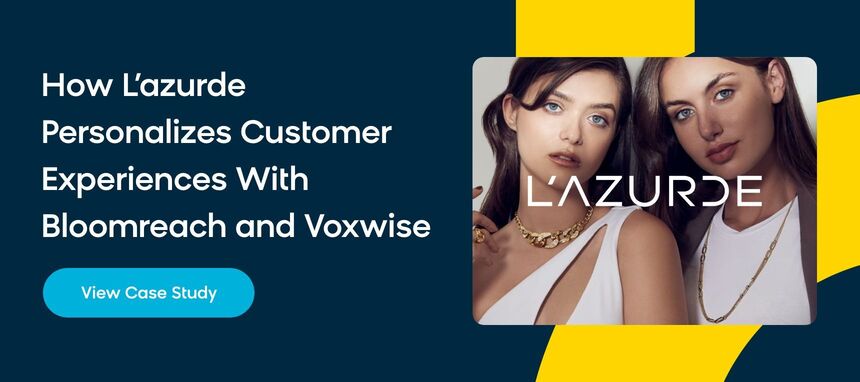 Follow Privacy and Compliance Best Practices
Rules may be meant to be broken, but when it comes to privacy and compliance, you need to follow best practices. 
Privacy is incredibly important in today's digital landscape. Unsolicited emails feel intrusive to users who didn't ask for them and will likely result in a spam complaint to email service providers. In addition to hurting your reputation, that kind of activity can also negatively affect your email deliverability rates.
Permission-based email marketing alleviates this problem by sending emails only to those who have explicitly agreed to be contacted. 
When you use permission-based email marketing, you indicate to your subscriber that you value their privacy preferences. Not to mention, permission-based marketing is mandated by certain laws, including the CAN-SPAM Act and the General Data Protection Regulation (GDPR).
Double opt-ins are a signature practice in permission-based email marketing. A double opt-in is a two-step process to enroll new subscribers to your email list. Here's how it works:
The subscriber fills out an email sign-up form on your website or on another platform.
Your business sends a confirmation email to the subscriber, asking to confirm the subscription with the click of a link or button.
In confirming the subscription, the subscriber establishes interest and gives explicit permission to receive emails from your business.
Every business wants a clean email list of people highly interested in their products. When you send emails to people who want to hear from you, you reap higher engagement rates, more successful conversions, and lower unsubscribe rates. 
Use Marketing Automation To Reduce Manual Work
Email marketing may be exciting, but parts of it can also get repetitive — and who wants to spend the better part of their workday repeating the same processes?
If you're looking to work smarter, not harder, while also leveling up your sales potential with email marketing, marketing automation is worth a look. 

When marketing teams use automation, they can rely less on their IT departments to trigger or troubleshoot email marketing campaigns. They can also free up labor, so valued employees can spend more time working on tasks that require a human touch. 
Automation can also segment email send lists in no time, so marketing teams can personalize their emails en masse. From there, you can set up automatic triggers and unlock insights that you might otherwise overlook. 
Finally, automation plays a critical role in omnichannel marketing by providing a consistent customer experience across all channels and mediums, including mobile devices. When you use automation to deliver personalized messages at scale, you earn higher engagement and conversion rates. No wonder marketing automation is every high-performing team's secret weapon. 
Personalize Your Emails in Real Time
Are you guilty of using outdated data to inform your email marketing efforts? Real-time personalization can resuscitate your email marketing strategy and breathe new, revenue-generating insights into your message. 
When used for email marketing, real-time personalization involves adjusting email content to fit the customer's real-time behavior, like their recent purchase history, browsing activity, or location. Real-time personalization helps e-commerce brands deliver relevant messages to customers, increasing the likelihood of engagement and conversion. 
Savvy email marketers use a mix of zero-party and first-party data to send email messaging that strikes a chord and results in conversions: 
Zero-party data is any data that a customer intentionally shares with your company. It could include feedback from the customer when asked about a shopping experience. If a new subscriber tells you how often to contact them, that's another example of zero-party data. 
First-party data is data collected by your company website, social media channels, and so on. Because you collect this data yourself, first-party data is exempt from any questions about who owns this intel.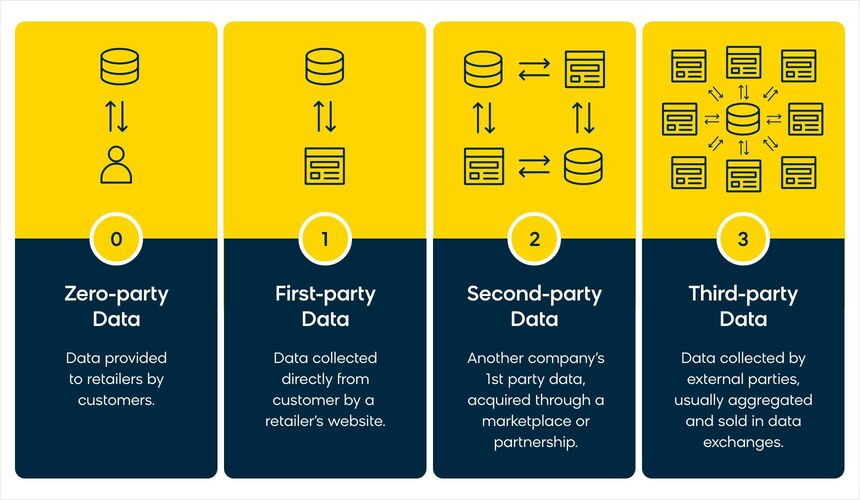 Many businesses also work with second- and third-party data. However, these data types can be trickier to work with. Because this data is collected and owned by someone else, it can be less reliable and sometimes inaccurate. 
Second- and third-party data can also trigger privacy concerns with customers who have not given their consent to share this data with you. If you use second- or third-party data, be sure to have a clear opt-out policy for customers to use if needed. 
Take Advantage of the Entire Customer Journey 
From initial engagement to post-purchase follow-up, email marketing can guide buyer relationships throughout the entire customer journey. Whether your customer is an active shopper or an inactive subscriber, there's a campaign designed to lure them back to your business and encourage them to engage with you. 
Welcome Emails
New subscribers expect an immediate touchpoint when signing up for email communications. Welcome emails fill this need, simultaneously reassuring your customer that their name is on your send list and giving them more branded content from your company. 
Remember time, content, and cadence when scheduling a welcome email marketing campaign. Your messages should be timely, include the right content, and hit your subscriber's inbox with the right frequency. Don't forget to include a call to action to encourage them to take action! 
Abandoned Cart Emails 
E-commerce brands lose $18 billion in revenue annually due to abandoned carts, and nearly 7 in 10 shopping carts never result in a purchase. This is even more likely to happen when customers are shopping on their mobile devices.
Abandoned cart emails are very successful in reminding your customer about the products they've left behind. Just over 1 in 10 cart abandonment emails sent result in a purchase. You can even sweeten the deal with a discount or other incentive to complete checkout.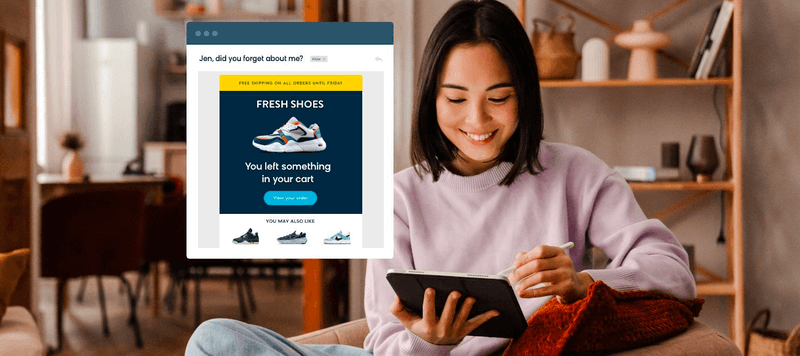 Win-back or Reengagement Campaigns 
Similar to an abandoned cart email, win-back or reengagement campaigns reactivate lapsed or lapsing subscribers and encourage them to interact with your brand (e.g., make a purchase). 
To get started with a win-back or reengagement campaign, you'll first need a segmented list of customers who haven't engaged with your brand in a while. From there, you can send personalized emails to encourage these customers to return and make another purchase, thereby increasing revenue and customer retention.
Surveys and Feedback 
After making a sale, engage customers by asking for their feedback. Surveys provide valuable intel on shoppers' preferences and behaviors, which can inform your email marketing strategy. 
Surveys also reveal what customers like and dislike about your products and shopping experience. Net Promoter Score (NPS) surveys ask customers to rate their overall experience with your brand and use that intel to generate a score ranging from -100 to 100. NPS surveys can accurately measure customer loyalty, identify areas of improvement, and more. 
Examples of Great Email Marketing 
It's not enough to just talk about email marketing best practices in the abstract. Check out these examples of brands that ran effective email marketing campaigns to understand how to put these tips into action. 
River Island

River Island is a UK-based fashion retailer offering cutting-edge styles for men, women, and children. In order to maximize their email marketing efforts, the brand turned to Bloomreach Engagement to improve domain reputation, build customer loyalty, and maintain email-driven revenue. 
Bloomreach Engagement went to work with A/B tests designed to test email frequency and categorize subscribers accordingly. After implementing the suggested email marketing strategies, River Island was able to drive a significant 30.9% increase in revenue per email, a 26% increase in email open rate, and a 12.8% decrease in unsubscribe rate.
Oliver Bonas

Clothing and lifestyle retailer Oliver Bonas is all about offering customers an elevated experience. In order to better serve shoppers, the brand sought a single customer view (SCV) database with ample data points about shoppers' purchase histories, site activity, and recommended products. 
Oliver Bonas witnessed remarkable improvements in their email marketing within a year of implementing Bloomreach Engagement. With this scalable and flexible database, the brand is empowered to enhance its email marketing strategies and deliver a memorable experience to customers. As a result, Oliver Bonas saw a whopping 762% increase in revenue and 161% jump in conversion rates for its emails. 
baby-walz

German retailer baby-walz offers products for babies, children, and nursing mothers. Boasting over one million online visitors each month, baby-walz has no shortage of interested customers. Their biggest challenge was staying compliant with the General Data Protection Regulation (GDPR) while maintaining an elevated customer experience.
Bloomreach Engagement efficiently handled a double opt-in process, which ensured that baby-walz's subscribers are interested in hearing from the brand. In the process, Bloomreach collected valuable data about one of the brand's largest target audiences: expectant mothers. By analyzing information about different customers and their pregnancy stages, baby-walz was able to deliver highly relevant emails to buyers at every stage of their journey. This resulted in an average 53.8% open rate on personalized emails that were sent to expectant mothers and were tailored to their pregancy stage. 
Create More Personalized Email Marketing With Bloomreach
All eyes are on strategic email marketing for 2023. This year, take it back to one of the most popular and time-honored communications methods around and level up your marketing strategy with these email marketing tips. 
To stay ahead and stand out among increasingly digital-first consumers, you'll need email marketing software that can create effective email marketing campaigns (and so much more). Enter: Bloomreach Engagement. 
Bloomreach Engagement is at the forefront of email marketing personalization and compliance. With a range of solutions designed to enhance the customer experience, drive conversions, and optimize digital channels, Bloomreach empowers e-commerce brands to deliver targeted email communications that result in conversions and deepen customer relationships. 
But Bloomreach Engagement is also so much more than email. Powered by a customer data engine to pull in deep, meaningful insights from your shoppers' everyday interactions, Bloomreach is able to seamlessly connect your email campaigns to your overall marketing strategy for real-time omnichannel orchestration and AI-powered personalization. 
It's time to elevate your email marketing efforts this year — learn more about getting started with email in Bloomreach.