Real-Time Personalization
5 Email Campaigns You Can Implement Right Now To Drive Revenue
There's no denying that emails can do wonders for e-commerce businesses — after all, emails can generate an ROI of $36 for every $1 spent. But knowing what's possible and actually achieving that ROI through email are two different stories. 
Fortunately, if you're using Bloomreach Engagement, you already have access to a world-class email platform that uses intelligent AI to deliver personalized emails that drive business impact. Here are five campaigns you can implement with Bloomreach Engagement that will start increasing revenue in little to no time. 
Abandoned Cart Campaign
Nearly 70% of online shopping carts are abandoned, which means if you can get even a fraction of those shoppers to come back and complete the purchase, that's easy revenue. To run an effective abandoned cart email campaign in Bloomreach Engagement, you'll want to turn to our powerful AI to do the following: 
Create a catchy subject line. Bloomreach Engagement has an AI content generator, which means you can quickly generate content ideas, create testing variants, try different tones of voice, and even support multi-language content to engage your audience. 
Personalize the content. Make sure you feature the products your customer left in their cart in your emails. They likely added the item to the cart in the first place because they were interested, so remind them of that to close the deal. While you're at it, you can also offer tailored incentives based on what's worked in the past, such as free shipping, a discount code, or a bundle deal with complementary items — all with personalized product recommendations. 
Find the right send time. Bloomreach Engagement's AI can use customer data to determine the optimal send time for each individual customer. Instead of guessing, automatically deliver your abandoned cart emails when the customer's most likely to open them.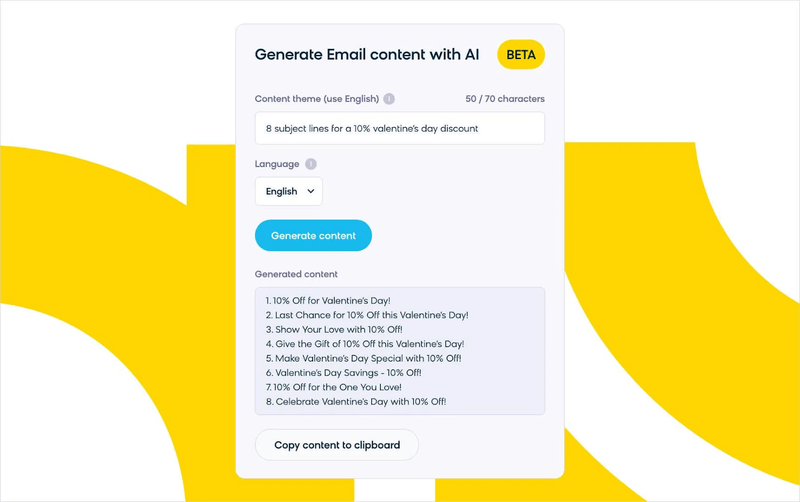 Shoppers will abandon their carts for any number of reasons, but if they simply got distracted or are on the fence, an email campaign can be the push they need to complete their purchase. Lifestyle retailer Oliver Bonas incorporated abandoned cart emails into their email strategy and saw a 762% increase in revenue. 
Win-back Campaign
In general, it's much easier to get an existing customer to make another purchase than to acquire a new customer. That's why, beyond abandoned cart campaigns, you should turn to win-back campaigns to boost revenue. 
First, use Bloomreach Engagement to build an audience segment of customers who haven't interacted with your brand in a while. This is not only based on the recency of their interactions with your emails, but across any digital channel or their loyalty status based on RFM segmentations. Understanding more about why you're losing customers is absolutely crucial for actually winning them over, so take advantage of Bloomreach Engagement's robust segmentation capabilities to create more effective strategies. 
Once you have your segments defined, you can send personalized content in a variety of ways to win them back: 
Send AI-driven product recommendations based on a customer's past interactions with your brand, their purchase history, and more. 
Tap into their brand affinity. Our AI uses past behavior — both online and offline — to understand which brands your customers have shown the most interest in. The automation checks for new products from the brand, and then notifies the customers when there are products they would find relevant and interesting. 
Automatically send emails for new items from a customer's most-visited (but never purchased) product category. Bloomreach can identify the most commonly viewed categories for each customer that they've never purchased from. Then, you can automatically trigger an email when new items are added to that category without worrying about sending a redundant recommendation. 
Stock-related Campaigns
When customers show interest in your products, create a sense of urgency to get them to actually purchase. With low-inventory emails, you can tap into a customer's fear of missing out. Trigger an email to send when a product a customer is interested in falls below a certain threshold to get them to act fast. 
Similarly, you can use price drop alerts to let customers know when a product or service has been discounted. Let your customers know if there's a time limit on the offer so that they're more likely to purchase before the price goes back up.
Meanwhile, back-in-stock emails can let your customers know when a product they're interested in is available again. There are a couple of different ways you can approach these: 
Automatic alerts. When a customer views a product that's out of stock, you can automatically add that product to a watch list. Our automation will check whether the item goes back in stock, and then trigger an email with a personalized restock message. 
Customer-initiated alerts. You can also display a small subscription box for the customer to check themselves when they want a restock notification. Bloomreach will confirm this with a double opt-in, and then send an email whenever the item comes back in stock. 
Plus, because of Bloomreach Engagement's unique in-memory framework, you can personalize these emails in real time. As soon as the product is available, you can immediately trigger a back-in-stock email to ensure that customers can act before the item is sold out once more. Vivamix used this tactic to boost revenue by 17% with automatic back-in-stock notifications.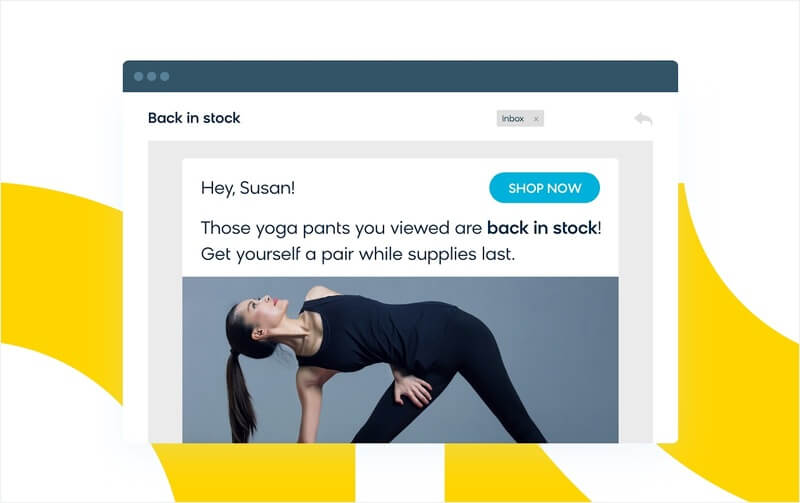 Replenishment Campaign 
If your customers need to restock items they've purchased from you (such as cosmetics, detergent, or dog food, just to name a few examples), then you can capture repeat purchases by sending replenishment emails. 
With Bloomreach Engagement's AI and customer data capabilities, you can time your emails to be sent when the customer's likely to be running low on the product. Even better, you don't have to be a subscription service to know when a customer's ready to buy again. Bloomreach knows when a customer nears their average purchase frequency for a particular product or service, and can trigger the campaign accordingly. 
From there, use dynamic content to show the specific product in your email, along with its availability and estimated delivery time. By sending these emails when it's the most relevant for the customer, you'll boost your recurring revenue and reduce customer churn. 
Upsell Campaign
While the other campaigns on this list were more about reengaging customers or providing convenience, you can also run upsell campaigns to increase your average order value. Deliver targeted and personalized emails encouraging your customers to upgrade or purchase complementary products or services. For example, if a traveler books a stay at your hotel, you can send an email with an offer for your on-site spa service. Or, if someone buys a jacket from your site, you can send an email with recommendations for other pieces of clothing that go with it.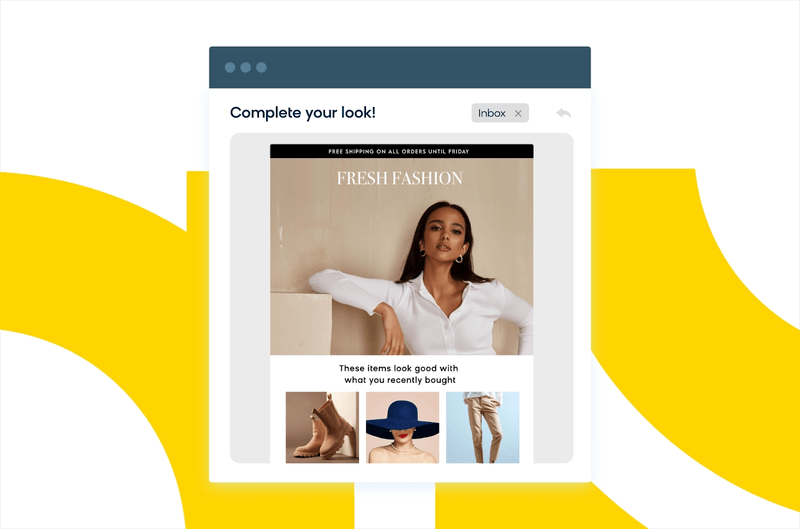 It's important for you to tailor these recommendations based on your customer's behavior and preferences if you want them to click through and convert. You can also use urgency and scarcity tactics (like with the back-in-stock and low-inventory campaigns) to encourage quick decisions.
Increase Revenue With Email in Bloomreach Engagement
When done right, emails can be a significant driver of revenue for your business. Bloomreach Engagement makes it easy to create impactful email campaigns in just a few steps. Implement these campaign ideas by checking out our email campaign documentation.