Omnichannel Marketing Automation
E-Commerce Marketing Automation and Its Benefits
By Katie Monk
Aug 04, 2022
16 min read
Omnichannel Marketing Automation
E-Commerce Marketing Automation and Its Benefits
Online is now the main method for consumers to buy from brands. Global retail e-commerce sales hit $4.9 trillion in 2021 — a figure that's estimated to rise by 50% over the next four years. So business owners and marketers need to know how to take advantage of emerging e-commerce trends, such as e-commerce marketing automation, to give their online shoppers the best personalized digital experience, and to both build brand loyalty and increase sales. 
Traditionally, marketing was a costly and time-consuming affair. But with the rise in new automated e-commerce technology, many of the labor-intensive processes can now be handed over to technology tools and systems to execute automatically. E-commerce marketing automation can leverage customer and product data to create personalized campaigns for online shoppers, which both enhances their experience and drives businesses' top line. 
What Is E-Commerce Marketing Automation?
Essentially, e-commerce marketing automation allows a business owner or marketer to replace manual marketing tasks with a marketing automation software or tool that can both manage and monitor repetitive workflows. These workflows might span multiple channels, such as mobile, web, email, and in-app, and may include tasks such as lead management, email nurturing, remarketing ads, personalizing content, and retargeting messages.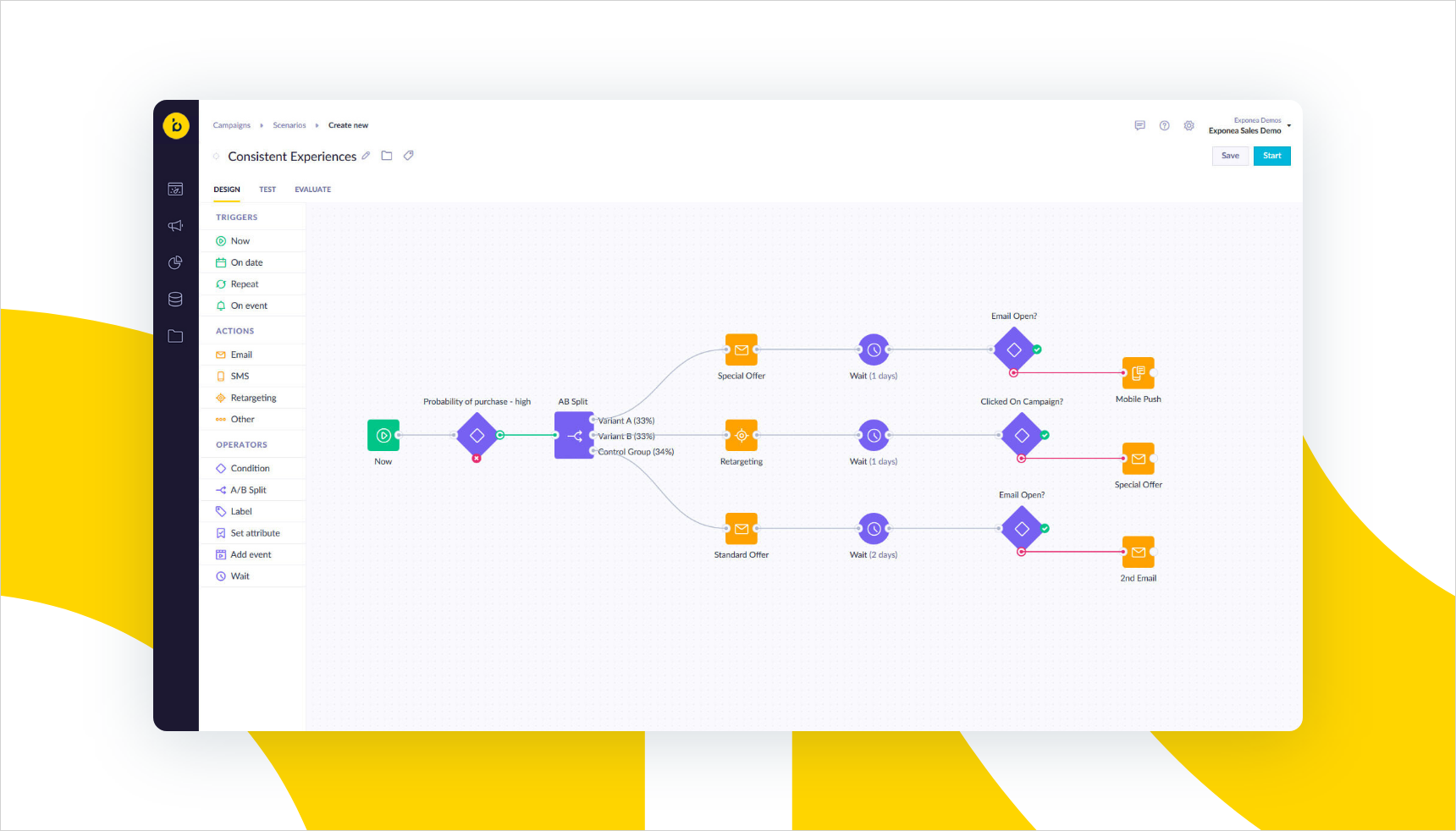 By using a marketing automation tool, employees, marketers, and business owners can make specific data-driven decisions about nearly every aspect of their communications, and offer unique experiences to each customer based on their habits and preferences. 
Put simply, they can put their marketing efforts on autopilot, so they can get on with other jobs or focus on other areas of the company. 
According to the 80/20 rule (otherwise known as the Pareto principle, after philosopher Vilfredo Pareto), 80% of your results come from 20% of your actions. So if you want to work smarter, not harder, you need to apply the right technology to the 80% so you can work on the 20% that truly needs your time. 
That 20% might include branding, user experience (UX), negotiating product promotions and exclusive deals, and anything else that requires a personal touch. 
How Can E-Commerce Marketing Automation Benefit Your Business?
E-commerce marketing automation can free up a considerable amount of time and energy for your marketers, customer relationship management (CRM) managers, and merchandisers so they can focus on more relevant tasks that need "the human touch." This results in a higher "time to value" (TTV) within the company, and at a time when budgets are being reduced and teams are being squeezed and having to be more creative with their resources, automating as much as you can within your company makes good business sense. 
Using automatic platforms also minimizes the reliance on IT departments, which are often busy or slow to respond to requests, putting more power in the hands of the people who know how to do the marketing. The best tools will feature intuitive interfaces that allow you to quickly personalize online campaigns, without the need for technical support. 
E-commerce marketing automation also makes it easier to segment customers based on preferences and past actions. You can create future-focused campaigns based on specific scenarios, instead of using guesswork or sending campaigns based on unknown preferences or actions. Customers want e-commerce personalization, and with automation, you can create personalized messaging at scale. 
Another benefit of e-commerce marketing automation is that you can automatically keep customers engaged by setting up real-time triggers. These might depend on a variety of scenarios, behaviors, or timelines. You simply program them to send personalized messages at certain points in the customer journey. Artificial intelligence and machine learning (AI/ML) can find the best time and the best channels to message your customers to achieve the highest engagement, and A/B testing can further optimize for purchases or average order value. All of this can result in an overall better outcome for the customer, greater conversions, better retention, and increased brand loyalty.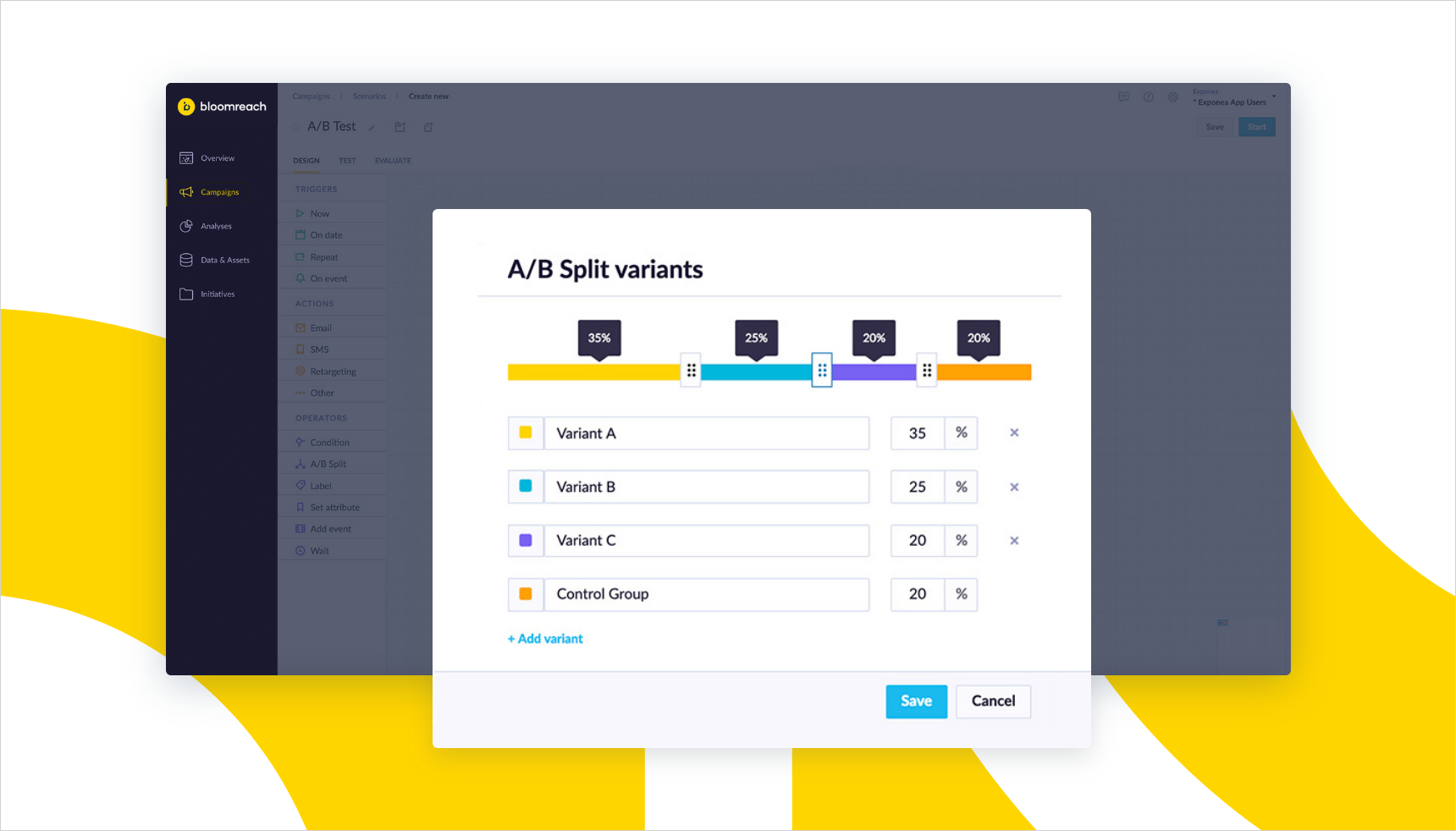 E-Commerce Marketing Automation in Practice 
By using the platform to automate your marketing efforts, you can create future-focused marketing campaigns across multiple channels. The platform gives total control over every aspect of the customer journey. These channels may include:
Examples of Effective Marketing Automation Campaigns
There is so much potential with how and when you use e-commerce marketing automation tools that you really can apply it to any aspect of your marketing strategy. Here are a few examples of where you might initially consider applying the technology, then you can get creative with your own ideas based on your unique business needs. 
These are just a few campaign ideas to help you get started. With the right marketing automation tool, you can unlock plenty of other use cases to help you drive customer loyalty and repeat purchases.
Come Out Ahead With E-Commerce Marketing Automation
With digital commerce not showing any signs of slowing down, and actually set to increase in popularity, e-commerce business owners and marketers need to stay ahead of the game to make sure they don't lose customers and drive greater success with existing ones. 
E-commerce marketing automation is the wisest choice for any savvy marketer, and the amount of time saved can be spent on much more productive tasks that really need that human touch. With choppy economic waters ahead, the more tasks you can automate, the better. And the more you can give your customers an experience to remember, the healthier and more resilient your business will be. Get started with your own effective marketing automation tool by checking out this interactive demo of Bloomreach Engagement.