E-Commerce Site Search and Merchandising
How To Use Product Recommendations To Grow Revenue
By Donna-Marie Bohan
06/13/2023
E-Commerce Site Search and Merchandising
How To Use Product Recommendations To Grow Revenue
Imagine having the power to effortlessly boost your e-commerce revenue, increase customer satisfaction, and drive repeat purchases, all with one strategic move. Well, the secret to this success lies in product recommendations. Having a product recommendation strategy gives you the ability to transform your online store into a revenue-generating machine by delivering personalized suggestions that captivate and convert shoppers.
In this guide, we'll delve into the world of product recommendations, explaining what they are, why they're important, and what product recommendation tactics you can use to power a winning recommendation strategy — along with examples. 
Without further ado, here is your one-stop shop for learning about product recommendations that drive more revenue. 
What Are Product Recommendations?
Product recommendations in e-commerce are personalized suggestions that are provided to customers with the goal of enhancing their shopping experiences and increasing sales. Recommendations are generated and tailored based on various data sources, such as user behavior, past purchase history, browsing patterns, and user preferences. 
There are two main types of product recommendations: algorithm-driven recommendations and rules-based recommendations. 
Algorithm-driven recommendations are product recommendations powered by AI. Common algorithm-driven recommendations include:
Bestsellers
Trending products
Similar products
Recently viewed products
Frequently bought together 
Bloomreach refers to algorithm-driven recommendations simply as recommendations. Consider using recommendations if:
You want the algorithm to automatically select which products to display based on purchases, views, and other interactions.
You want to spend less time on setup and maintenance. For example, adding a carousel on product pages with a "frequently bought together" collection based on what other users who have bought this product have also purchased.
Rules-driven recommendations, on the other hand, are product recommendations that a merchandiser sets by triggering certain products being shown. Bloomreach refers to these as pathways because they are intended to guide a user's experience in their e-commerce journey. Common rules-based recommendations include:
New arrivals
Discounted items
Brand highlights
Promoting excess inventory 
Rules-based recommendations are useful when you want to promote a certain product range, boost a campaign, and increase margins. Consider using pathways if: 
You want to create a more guided and uniform experience.
You know which products or groups of products (based on product attributes) you want to highlight. For example, a carousel highlighting a collection of on-sale products on a category page. 
For optimal results, it's best to use a combination of algorithm-driven and rules-based product recommendations to drive the most engagement and revenue on your site.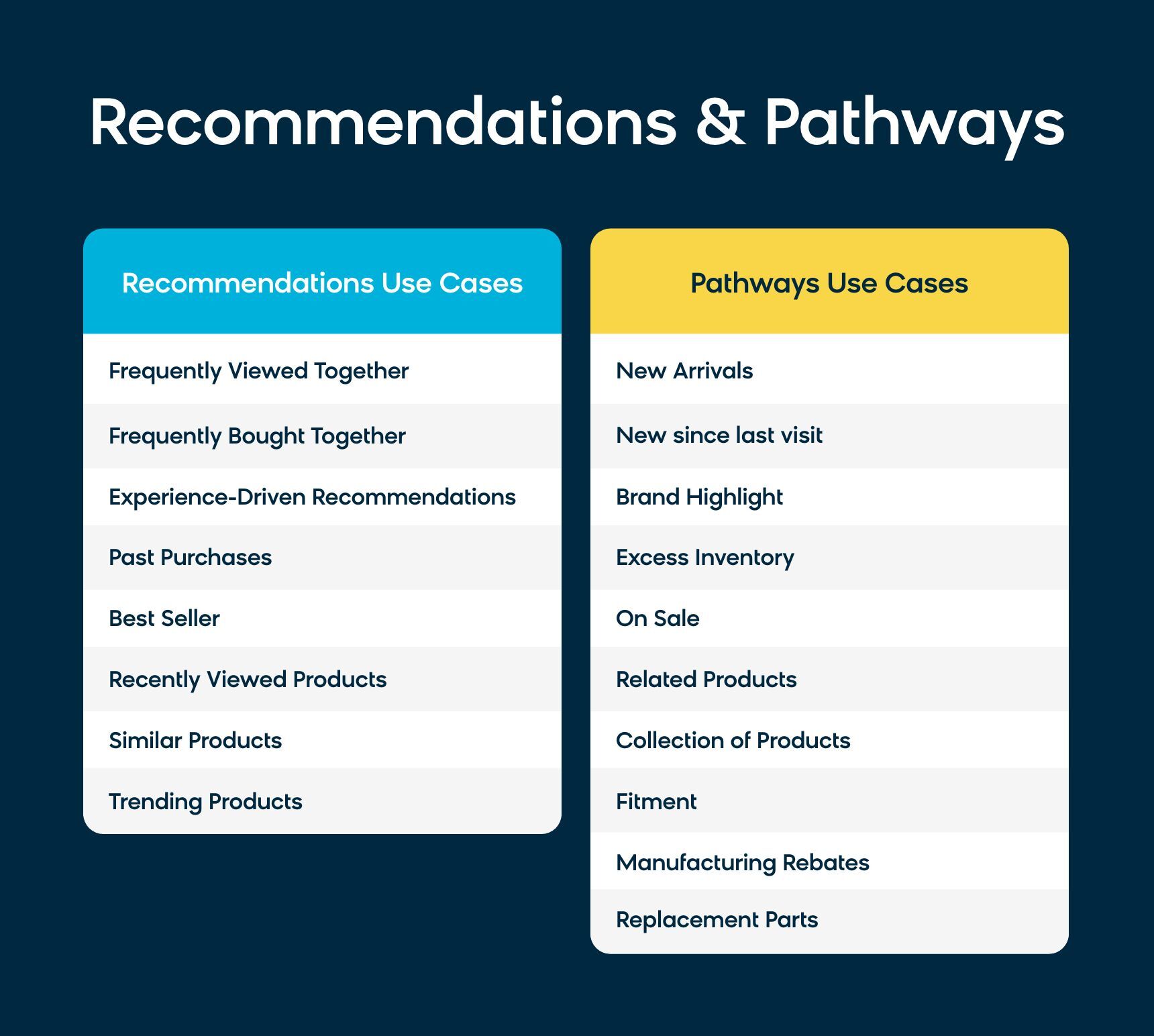 Why Are Product Recommendations Important?
Product recommendations aim to improve shopper satisfaction, increase engagement, and drive sales by facilitating product discovery and offering a personalized shopping experience. They are therefore an incredibly important part of personalized search and discovery experiences in e-commerce.
Here are some reasons why product recommendations matter in e-commerce and how you can use them to achieve your business goals.
Improved Customer Experiences 
A frustrating experience with a brand can make or break relationships with customers, and it's enough to warrant them to leave your site and never return. A great deal of user frustration is down to not having enough information about a product, so prioritizing this in combination with an excellent product taxonomy will help you deliver a site experience that's easy to navigate. 
Higher Customer Engagement 
If a consumer continuously searches for the same product, you might conclude that they have a preference for this item. By analyzing zero- and first-party data, as well as information on past searches, you can deliver personalized search results that make your customers feel understood and increase their likelihood to convert. 
Increased Conversion Rates 
It stands to reason that showing your site visitors what they want to see will lead to more conversions. By serving relevant products, you'll see more people follow through with a purchase. 
More Sales and Revenue 
Recommending relevant products will boost sales and revenue for your business, but it goes beyond the customer simply purchasing what they were searching for. You can use personalized product recommendations to spotlight similar or complementary products that might interest your shoppers to drive even more sales. 
Greater Order Value
By suggesting related or complementary products, customers may be tempted to add more items to their basket or choose higher-priced products, ultimately boosting average order value (AOV) and revenue for your business.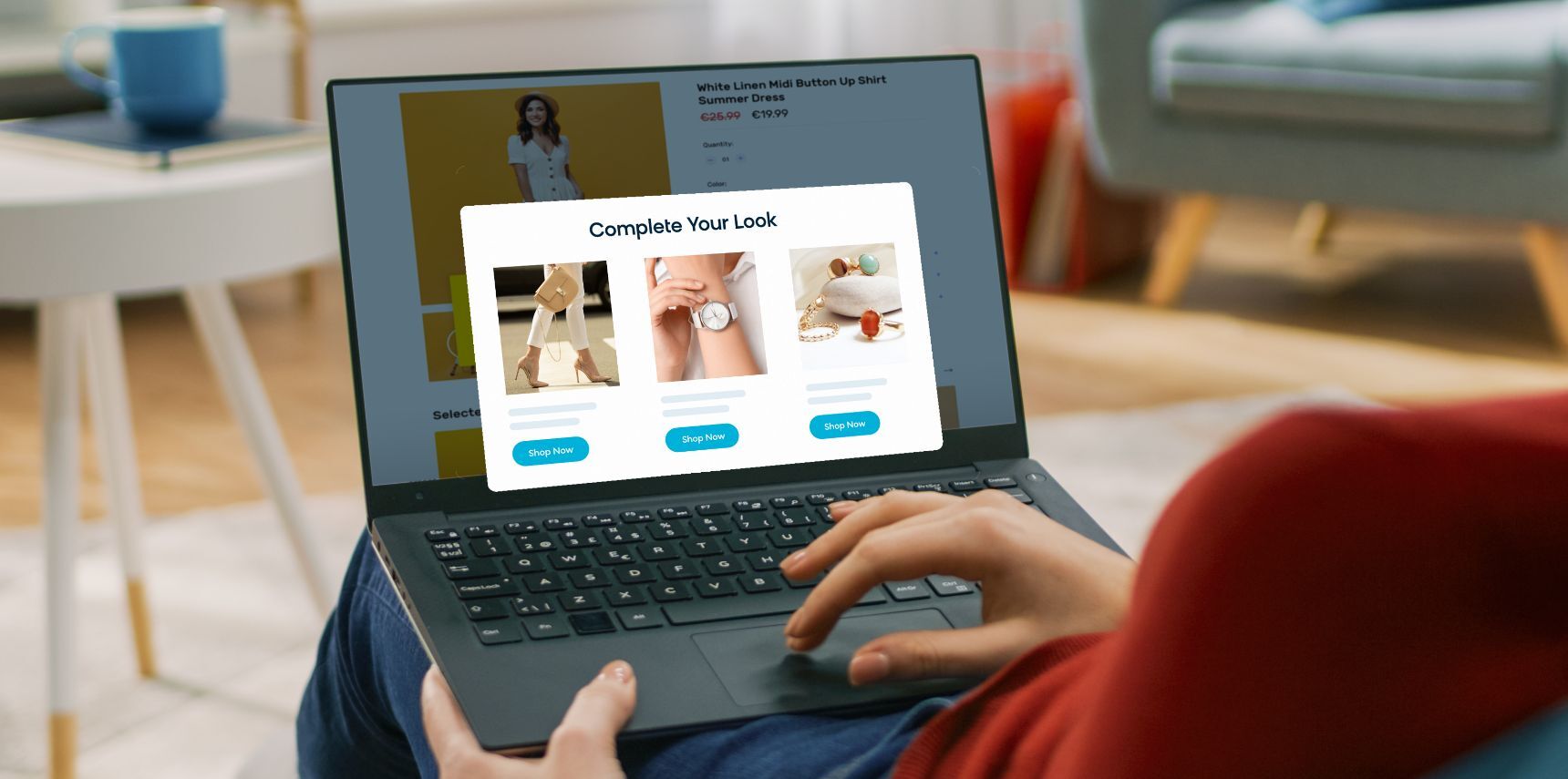 Customer Retention and Loyalty 
When customers receive suggested products that align with their preferences, they feel understood and are more likely to buy from a brand. This encourages repeat purchases, improved customer retention rates, and positive word-of-mouth referrals, contributing to building brand loyalty and organic growth. 
Inventory Optimization 
Another reason why product recommendations are essential for a brand is that they can be used to optimize inventory management. By analyzing shopper behaviors and preferences, product recommendations allow you to figure out which items are popular and in demand. This will help you stock the right products and reduce inventory costs by minimizing how much you carry of less popular items. 
Competitive Advantage 
With all of these benefits, it's no wonder that product recommendations provide brands with a competitive edge. In an increasingly competitive landscape, offering personalized and seamless shopping experiences can make all the difference for your e-commerce business, attracting and retaining customers in a crowded marketplace. 
The Top Product Recommendations Tactics for E-Commerce
Whether it's recommendations (algorithm-driven recommendations) or pathways (rules-driven recommendations or guided product discovery), there are several product recommendation tactics you can use to optimize your recommendations strategy. 
Bestsellers
These product recommendations promote the sale of products that are most commonly purchased by your customers and display products that are likely to generate the most revenue. The algorithm uses a combination of RPV, ATCs, and views in order to maximize revenue.
Similar Products 
These product recommendations display other products that are similar to a given product. A similar products widget intelligently leverages product data to show the most contextually appropriate products. For example, if a user views a "Columbia backpack," the similar products widget might display recommendations for other backpacks with similar features.
Showing similar products encourages the shopper to explore your product catalog and discover other products they might be interested in buying. It can therefore be used to create a relevant browsing experience and increase upselling opportunities. 
Social Proof
By recommending popular products, you can give people the assurance that other customers have purchased the same items. 
Drive this point home by featuring positive user reviews to let customers know how much they've enjoyed the product. People respond to word-of-mouth recommendations — user-generated reviews are a good equivalent for online retailers, and can be the push your shoppers need to finalize the purchase.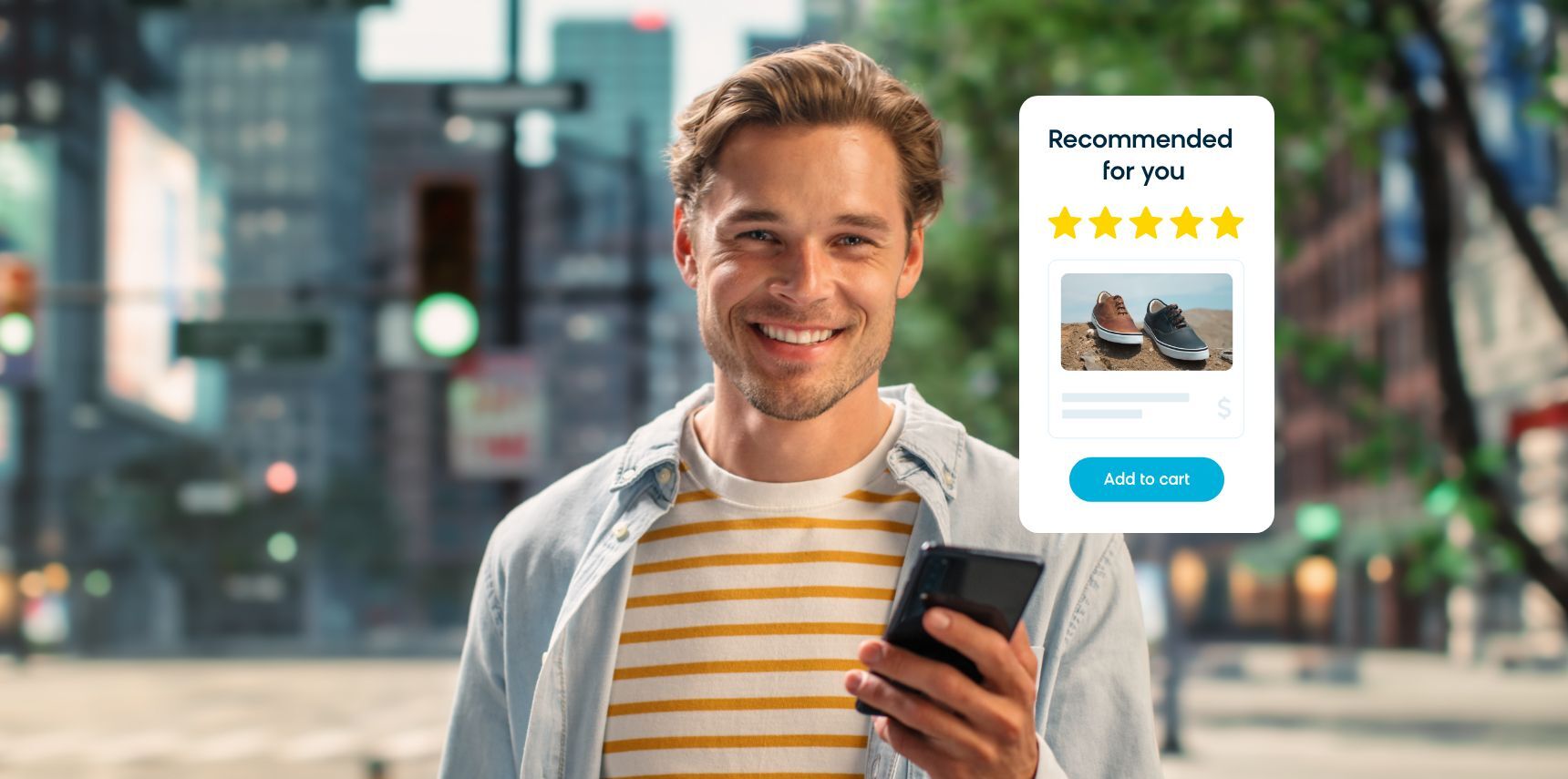 Personalized Recommendations
You can personalize the shopping experiences for your customers by leveraging data around preferences and behaviors to deliver highly targeted product recommendations.
In addition to curating the recommendations based on historical data, personalized product recommendations deliver a unique and optimal digital experience in real time through rapid data aggregation and analysis of ongoing site visits.
It matches the visitor's search patterns and browsing history with the attributes of the products they interact with, leveraging the data to build a unique affinity profile for each individual in real time and recommend products that have the highest chances of conversions for online shoppers. 
Each user's affinity profile is constantly refreshed with every interaction, providing unique insights into their preferences for specific colors, brands, sizes, categories, price ranges, or any other attribute present in the product.
You can also capitalize on zero-party data in order to serve a suggested product tailored to your customer. Zero-party data is the data a customer intentionally shares with a business and includes center preference data, purchase intentions, personal contexts, and how the individual wants to be recognized by a brand. Because this is data that the customer explicitly shared with you, it should play a key role in your recommendation strategies. 
Featured Products
Using pathways (rules-driven product recommendations), you can customize product displays to bring the attention of your customers to desired products and to allow maximum focus on specific business goals like brand promotion, margins, sales or discounts, seasonal events, and campaigns. 
New Arrivals
These product recommendations highlight the latest products that you might want to promote and feature on search result pages, category pages, or landing pages. 
Upsell and Cross-Sell Recommendations
Upsell and cross-sell recommendations display related or similar products and can be used to promote your own branded products, or a sponsored brand, as well as higher-margin items. 
Inventory-Based Recommendations
These types of product recommendations can be used to address limited or low stock, back-in-stock items, replenishment, or products that need to be sold quickly due to excess inventory. 
Examples of Winning Product Recommendations
Having a solid recommendation strategy for your e-commerce site is a critical aspect of delivering personalized results and a superior e-commerce experience. Many brands have turned to Bloomreach Discovery, the leading provider of intelligent site search solutions, to achieve exactly this.
The Vitamin Shoppe
The global wellness retailer faced a challenge in needing to provide an intuitive digital platform that could replicate the personalized assistance of their in-store representatives, known as Health Enthusiasts. With help from Bloomreach Discovery, The Vitamin Shoppe used product recommendations to optimize category pages and drive organic search traffic. 
The results were impressive:
11% increase in add-to-cart rate on category pages
5.69% increase in revenue per visitor (RPV) for search visitors 
2% increase in RPV for users starting their journey on category pages 
These victories not only translated into increased revenue for The Vitamin Shoppe, but also provided customers with a more tailored online shopping experience, aligning with the brand's commitment to supporting customers on their wellness journey.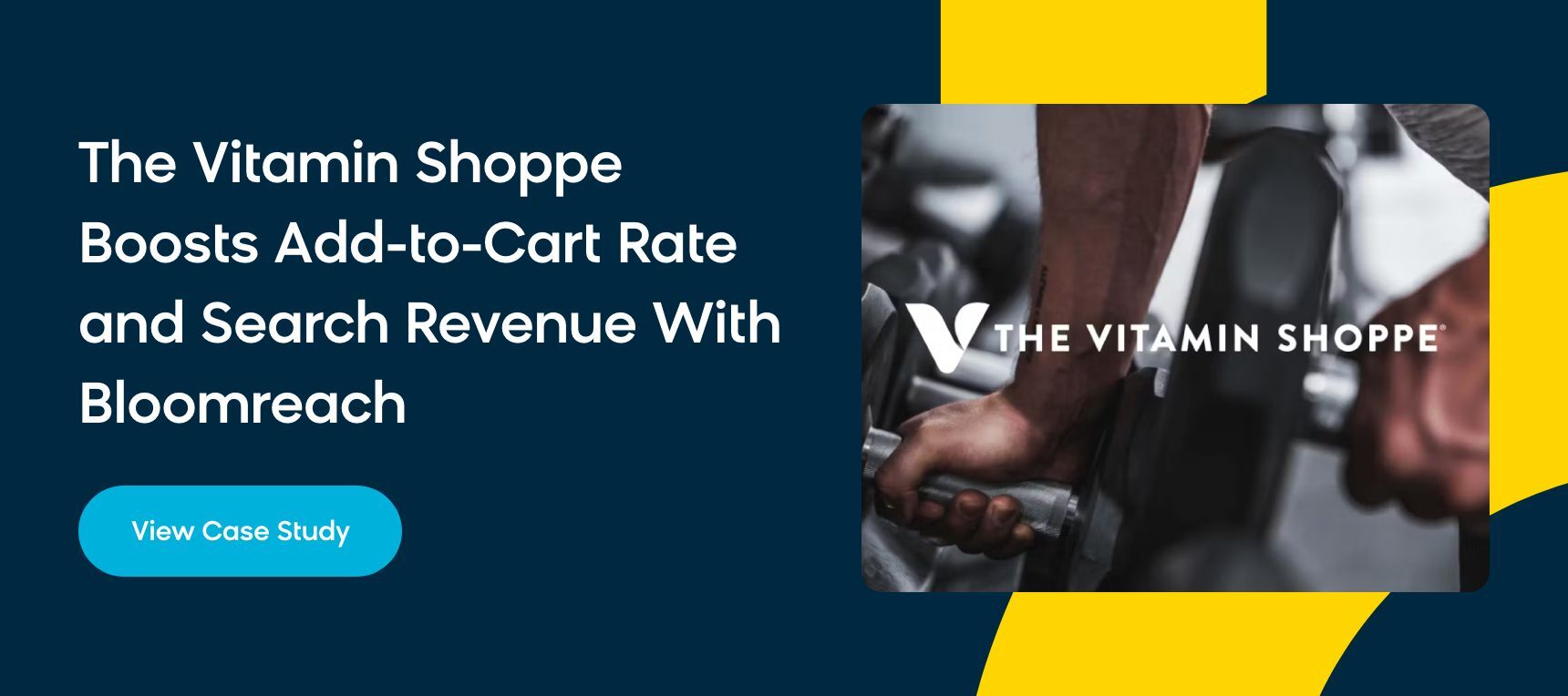 Level Nine Sports
Level Nine Sports achieved impressive results in revenue growth through its partnership with Bloomreach and BigCommerce. The challenge for the sports retailer was to replicate the personalized and engaging experience of its physical stores in its e-commerce website. By utilizing Bloomreach Discovery as its product discovery engine and integrating it with e-commerce platform BigCommerce, the company transformed how customers find products on their site. 
The implementation resulted in qualitative improvements to the search experience and addressed inventory utilization issues, allowing Level Nine Sports to clear out niche items faster and improve working capital. 
Level Nine Sports achieved: 
23.4% increase in conversion rate
42% increase in time spent on its website after search
29.7% decrease in search exits
These remarkable results are a great example of how effective product recommendations and optimized search capabilities can significantly impact revenue growth and customer engagement for e-commerce businesses like Level Nine Sports.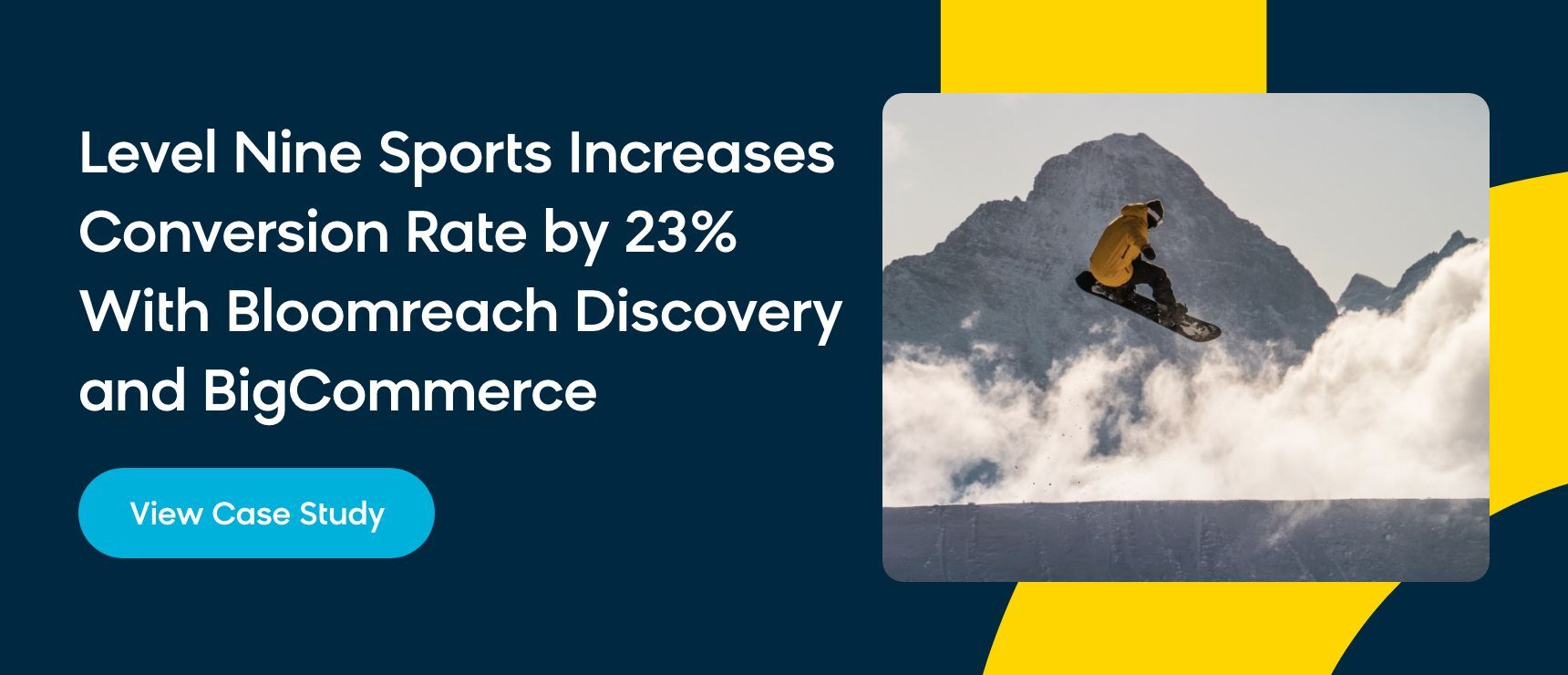 MKM
MKM, the largest independent builder's merchant in the UK, recognized the need to modernize its digital experience and cater to the expectations of customers, especially millennials and Gen-Z consumers. By partnering with Bloomreach, Vue Storefront, BigCommerce, and Brave Bison, MKM created a highly personalized and localized website experience that differentiated it from its competitors and provided a seamless customer journey. 
This integrated architecture resulted in significant outcomes, including:
7.9% increase in average order volume 
43% boost in total web revenue 
75% improvement in average page load speed
77% increase in average time on page
With these impressive results, MKM has established a strong online presence and has positioned itself for continued growth in the digital landscape.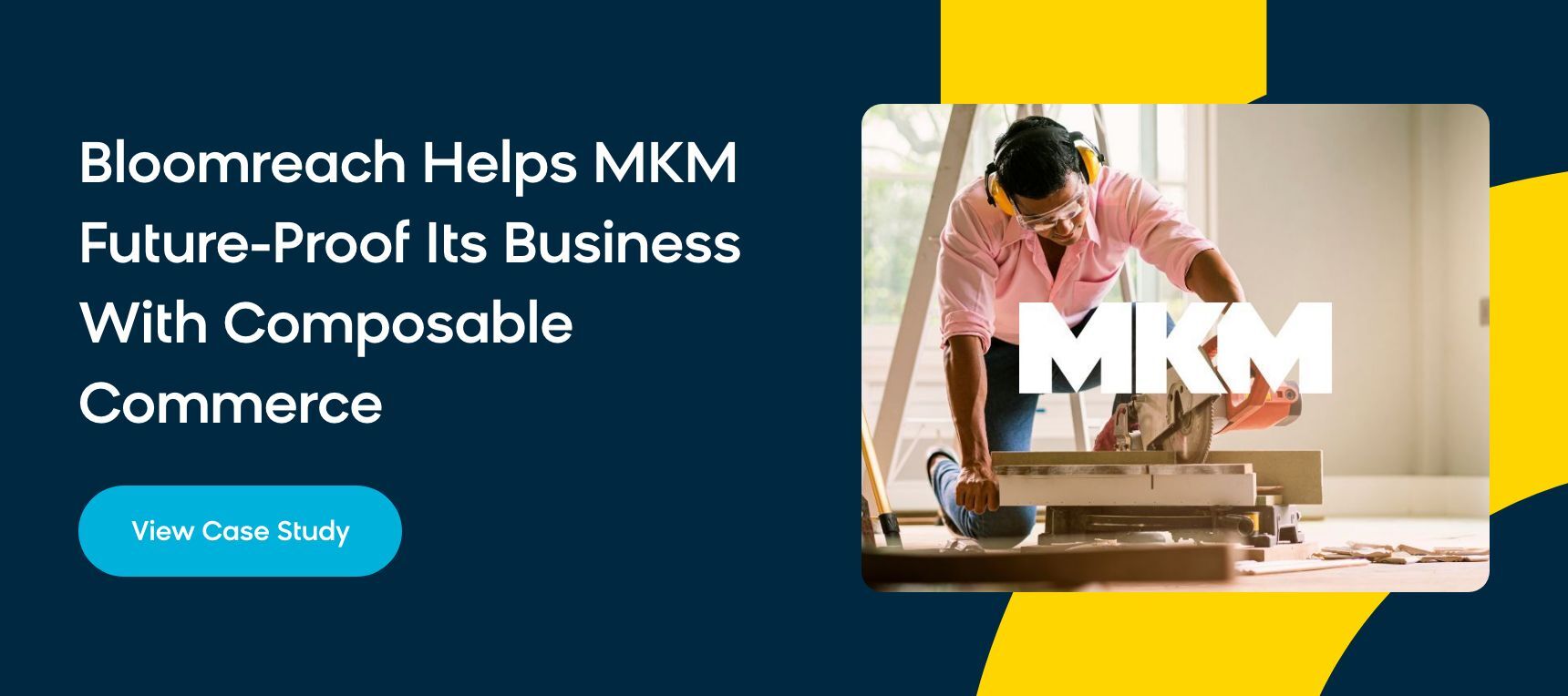 Bloomreach Discovery Boosts Revenue With AI-Driven Product Recommendations
The path to driving more revenue for your business and improving customer experiences by speaking to customers at key conversion points starts with product recommendations. Almost half (56%) of customers are more inclined to return to a site that offers product recommendations while 72% of shoppers expect businesses to recognize them as individuals and know their interests. Personalized recommendations on e-commerce websites have therefore become the norm.
If your business doesn't have a recommendation strategy, it's time to start building one. The good news is that the ability to have a successful product recommendation strategy has never been easier with Bloomreach Discovery. 
Our best-in-class product discovery solution has a number of advantages. 
Customer intent-based recommendations: Bloomreach uses advanced search intelligence to analyze customer data and provide highly relevant product recommendations, resulting in higher conversions and improved customer satisfaction. 
A smooth shopping journey for new customers: Ready-to-go algorithms guide new site visitors on your website, directing them to relevant sections such as "frequently bought together," "bestsellers," and "trending" products, ensuring a seamless and intuitive shopping experience.
A personalized experience for returning customers: Returning customers are shown new additions to the product catalog, keeping them engaged and interested, regardless of how frequently they visit your e-commerce website.
Curated collections for increased engagement: Custom product collections can be promoted on any page, showcasing new brands, seasonal products, gift ideas, and more, enticing undecided shoppers and encouraging them to take action.
Dynamic recommendations for targeted promotion: Bloomreach's rules-based tool allows you to create dynamic product recommendations tailored to your unique goals. You can promote high-margin products, private labels, or excess inventory, giving you full control over your promotional strategies. 
Email recommendations for customer retention: By using real-time information about inventory and customer interests, Bloomreach enables you to nurture customer loyalty through personalized email recommendations. Stay in touch with customers even after they leave your site and deliver tailored email campaigns to drive repeat purchases.
Bloomreach Discovery's AI is pushing the limits of what's possible in e-commerce. Learn more about Loomi today — our industry-leading AI that will help you drive limitless growth.