E-Commerce Site Search and Merchandising
How To Compare All the E-Commerce Site Search Solutions on the Market
E-Commerce Site Search and Merchandising
How To Compare All the E-Commerce Site Search Solutions on the Market
Only 10% of US online adults disagree that they rely on the search function on a retailer or brand website to find the product or type of product they want to buy, according to Forrester. But if so many customers rely on site search, why do brands continue to fall short? 
In many cases, the issue stems from a lack of investment in a site search tool. Companies often focus on other e-commerce priorities, like digital marketing, fulfillment and shipping, and data storage and improvements — all of which are undoubtedly important. Unfortunately, as a result, shoppers are left feeling frustrated by irrelevant search results and a lack of understanding of their needs.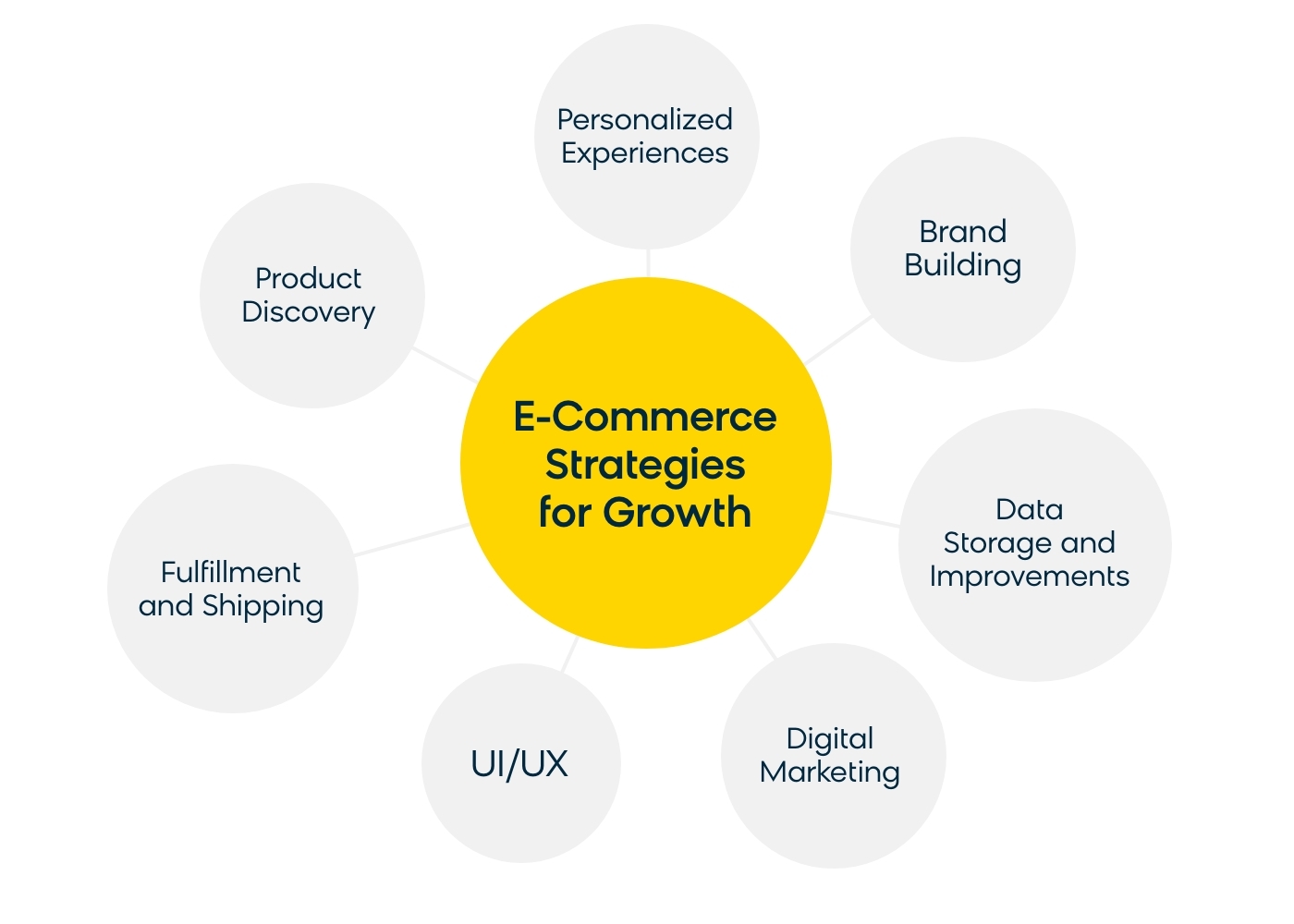 To bridge the gap between a mere visit and a successful purchase on your e-commerce website, businesses must prioritize an intelligent site search solution. But doing so is no easy task and often requires the help of a trusted search vendor to assist your team with the multitude of facets that make up e-commerce search, like optimizing search relevance, for example. 
Let's take a closer look at how to choose the best site search solution that maximizes your online sales and provides a rich and satisfying customer experience.
What Is Site Search in E-Commerce? 
Site search in e-commerce refers to the functionality that allows customers to search for specific products, services, or information in an online store. It involves a search bar where users can type in keywords or phrases related to their query with the hopes of getting relevant, personalized results.
A well-designed site search feature is crucial for e-commerce businesses. It helps customers find what they're looking for quickly and easily — and even find additional purchases — with features such as autocomplete, synonym recognition, faceted search, and recall and ranking algorithms. 
To do all this effectively, site search also needs to use AI, like natural language processing (NLP), to enable the search engine to understand complex phrases or conversational language. Then, it should use machine learning to digest these learnings over time. A combination of all of the above will lead to increased conversion rates, revenue per visitor (RPV), and average order value (AOV). 
Why Is It Important To Choose the Right E-Commerce Search Engine? 
Choosing the right e-commerce search engine is crucial for the success of your business, as we've seen from the many cautionary tales of businesses failing to adopt any sort of e-commerce strategy and closing their doors as a result. Luckily, site search continues to be one of the most important, low-hanging fruit investments you can make when it comes to e-commerce technology. 
And research shows that customers are still feeling underwhelmed by the majority of e-commerce search experiences. According to the Baymard Institute, 42% of site search is still performing below standard. That's because the site search tools (or lack thereof) beneath the search bar are inflexible, too manual, or have questionable AI. 
Since site search directly impacts the user experience and helps customers quickly locate relevant products or services, you'll need an e-commerce search engine that can analyze search data and trends to identify valuable insights into customer behavior and preferences. Aside from customer data, it should also help you identify popular products, emerging demands, and potential gaps in product offerings. This information enables businesses to further optimize search, product and category pages, and product recommendations to better cater to their target customers. 
The Challenges of E-Commerce Search 
E-commerce site search faces challenges that can impact the shopping experience and, in turn, a business's success. More often than not, these obstacles include irrelevant results, manual processes for merchandisers, a lack of customization for businesses, and the absence of context in search queries. Even if you've run into one (or all) of these obstacles already, we've set aside some time to explore their intricacies before delving into what you should be looking for in a solution. 
Irrelevant Results 
Nothing is worse than feeling misunderstood, and irrelevant results will make your customers feel just that. When customers encounter irrelevant search results, it signals a deeper issue — a disconnect between what the customer is looking for and what the brand perceives they're seeking. It's not just about a single frustrating shopping experience; it's symptomatic of a broader misalignment that could be permeating through your entire online strategy. This can lead to a ripple effect of negative impacts, from reduced site engagement and lower conversion rates to a decline in repeat visits.
Moreover, these frustrations aren't isolated incidents. They can quickly become conversations in broader social circles, saying that your brand fails to provide relevant search results. In the digital age, word-of-mouth travels fast, and a few negative experiences can rapidly snowball into a widespread perception of your brand as being difficult to navigate or out of touch with customer needs. Such reputational damage can be far-reaching and long-lasting, making it even harder to win over hesitant prospects or win back dissatisfied customers.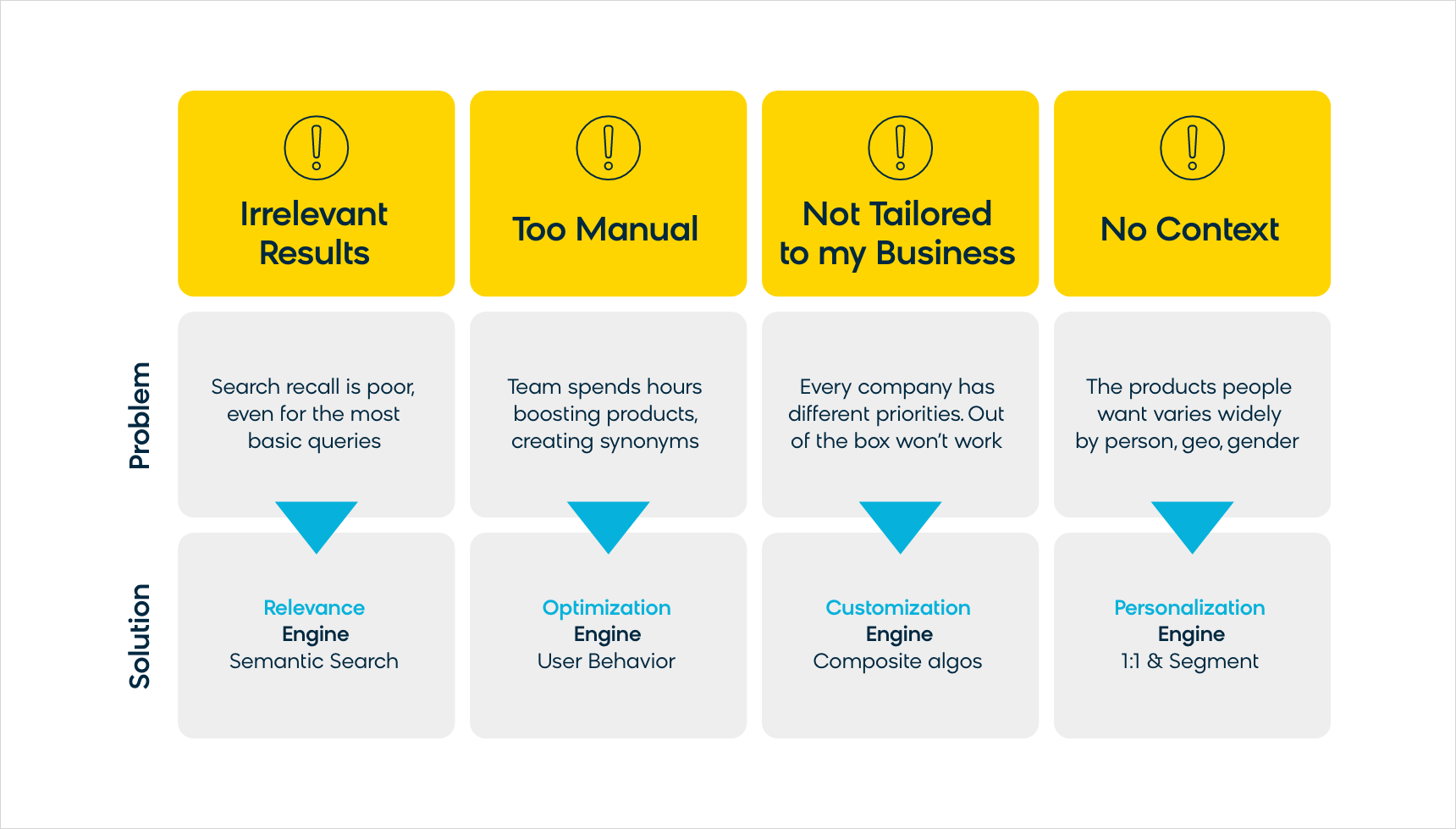 Too Manual
With the popularity of AI spreading like wildfire, more and more companies are looking into different aspects of their business processes to see what they can automate. Site search is no exception. Although it's not often discussed, a highly manual e-commerce search engine can cause significant challenges for both your merchandisers and your customers. 
First, search engines that lack advanced features lead to customers sifting through a long list of search results or product category pages to find exactly what they're seeking, which only causes frustration with your brand. For merchandisers, it creates unnecessary workloads, where they're boosting or burying products, creating synonyms, or optimizing product grids when they could be focusing on more strategic tasks to move the needle on your business.
Not Tailored to Your Business
When investing in any technology solution, most businesses are (reasonably) worried that the solution won't understand their business the same way their most trusted team members do. In other words, an e-commerce search solution that's not tailored to a specific business may fail to address the unique needs of a particular company, industry — grocers have different needs than B2B distributors, for example — or business use cases. 
A generic search engine might lack the necessary features and customization options to effectively showcase products or services, which will lead to suboptimal search results, lower conversion rates, and less return on investment (ROI). But the harm goes beyond just disappointing metrics. Again, a search engine devoid of customization and sophistication can also create a frustrating user experience that reflects poorly on your brand. This negative user experience can erode customer trust and loyalty, making it more difficult to retain existing customers and attract new ones.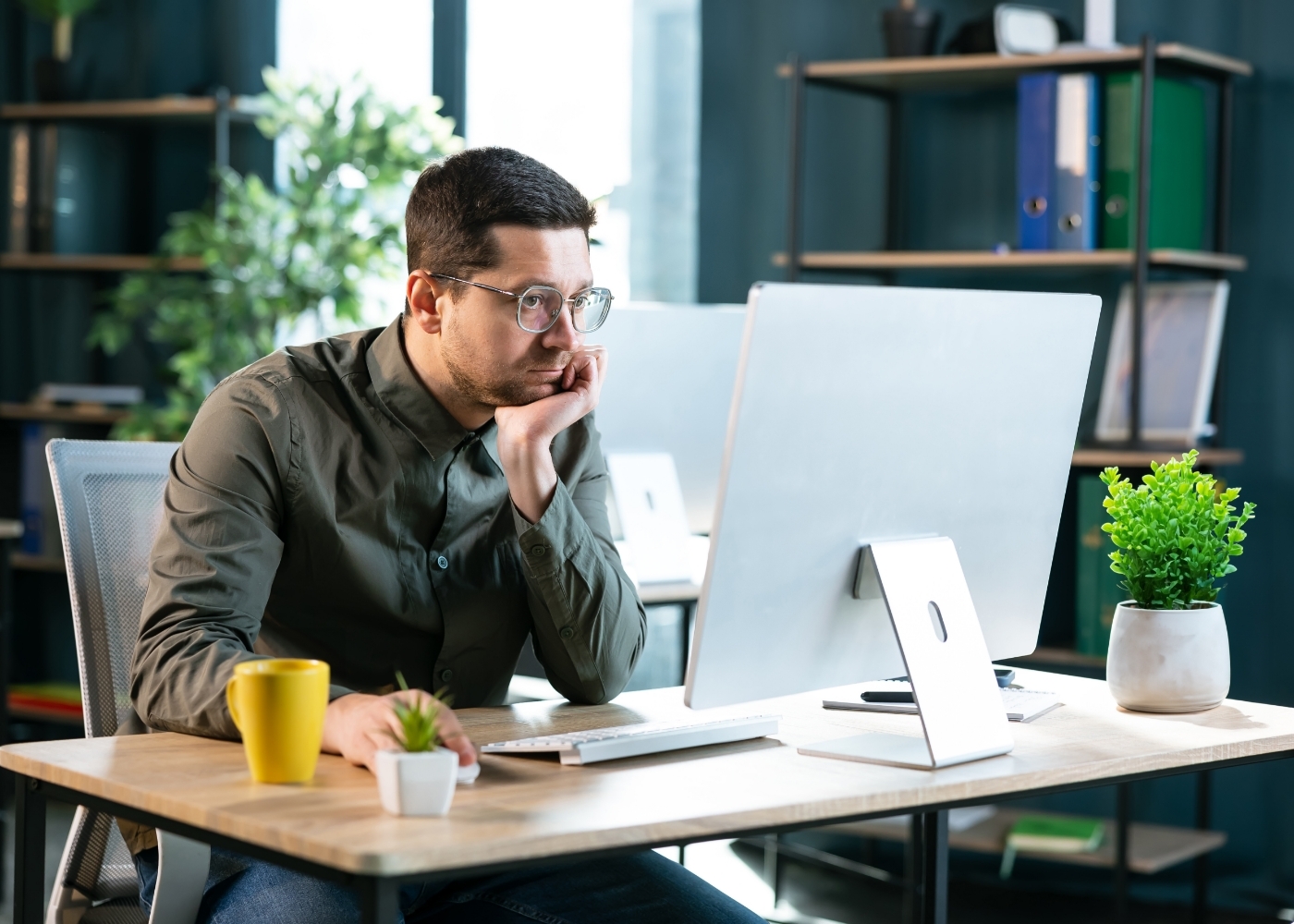 No Context 
Although we wish that search queries held the same context as human-to-human conversations (and maybe, with the rise of technologies like ChatGPT, they'll get there eventually), there can still be a lack of understanding between what a shopper types into a search engine and the search results returned to the user. When a search engine lacks contextual understanding, it can't provide the most appropriate product recommendations, resulting in customers having to spend more time and effort sifting through unrelated items. 
Those looking to invest in their e-commerce site search initiative should look for a solution that accounts for factors such as a shopper's demographic information, behavioral data, and transactional data. For example, if a customer searches for a "denim jacket," your search engine should use data points — like age, gender, location, add to carts, and past purchases — to suggest products best suited for them with the end goal of boosting RPV and AOV.
The Capabilities Your Site Search Solution Needs
To ensure that your e-commerce site search investment is up to modern standards, there are several key capabilities that it should have. In this section, we'll explore these essential components and why they're integral to the success of your online store, in both the short and long term.
Algorithms Optimized for Revenue 
Your e-commerce site search needs algorithms optimized for revenue generation. These algorithms should be designed to display the most relevant and high-converting products in response to a shopper's query. By prioritizing products that speak to your customer's needs at that given moment, you can ensure that your site search maximizes your revenue potential and increases those all-too-important e-commerce metrics like RPV, AOV, and ROI. Not to mention, these algorithms should be able to adapt and learn from customer behavior, continuously improving their performance over time.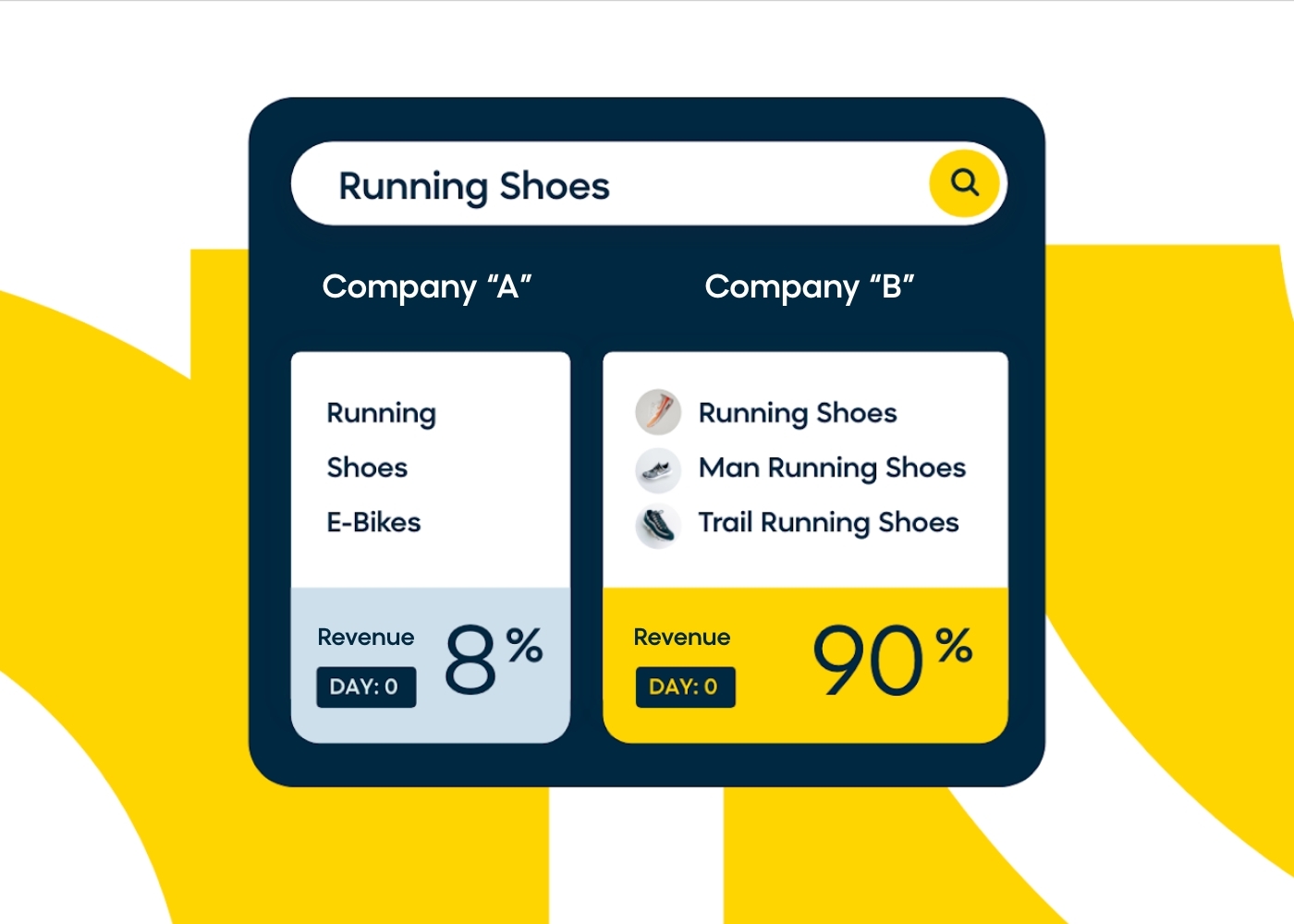 Personalization Capabilities 
Personalization is a subject that's been discussed so much over the past decade that it's likely lost its meaning for some. Despite your feelings around the word, personalization is crucial to any site search engine. It all comes back to the issue of "no context" — if your site search engine doesn't have important context regarding your different audience segments (e.g., gender, location, or transactional data), your site search bar can't make the proper recommendations based on their queries. As a result, your business can't target them properly, decreasing the likelihood of a conversion and future customer loyalty.
Semantic Understanding 
Strong semantic understanding is another important site search solution capability. Simply put, your site search should comprehend and interpret the true intent behind a user's search query, even if it includes synonyms, misspellings, or colloquial language. AI, like NLP, can help separate products from attributes, such as color, size, or brand name, to dissect their meaning. By accurately understanding the meaning behind each search query (instead of keyword matching), your site search can provide more accurate results, reducing the likelihood of customers leaving due to frustration with the product discovery process.
Synonym Library
Any worthy search solution should have a comprehensive synonym library, which allows your search bar to recognize and understand synonyms, alternative terms, and even industry- or location-specific jargon that shoppers might use while searching for products or other information on your website. By associating related terms with one another, your search engine won't be limited by terminology. So, if a customer is looking for slacks but types "trousers" into the search bar, your synonym library is populated correctly and can return relevant results.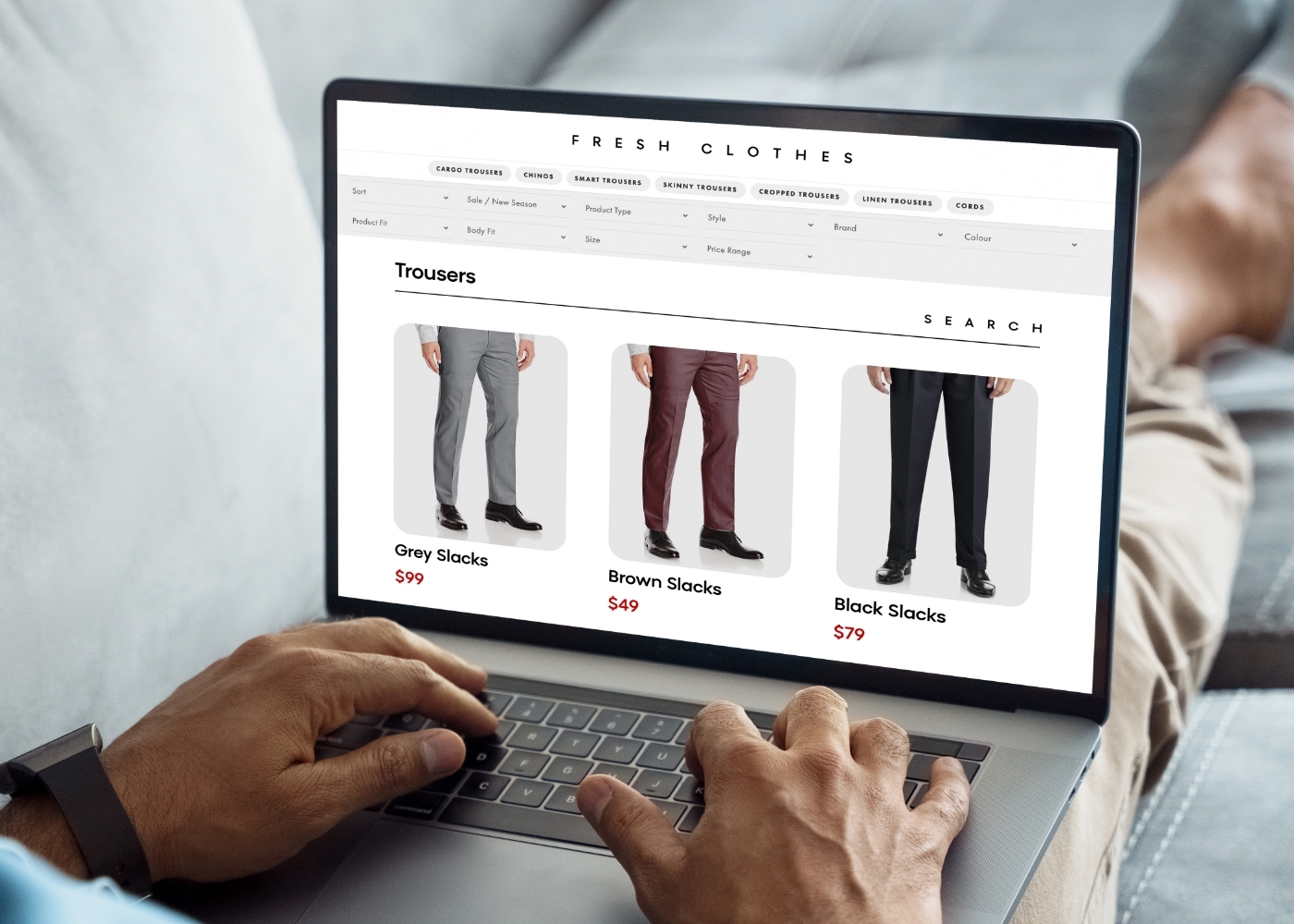 Drag-and-Drop Visual Editor
Making changes without IT? It's not wishful thinking — so long as the e-commerce site search solution you evaluate has a drag-and-drop visual editor. Even though it seems like a standard feature, don't downplay its importance. An easy-to-use interface can help merchandising teams more easily customize and configure your search results and category pages without any extensive coding knowledge. It can also ensure that your product discovery strategy aligns with your brand's strategic focuses, all while encouraging your customers to explore your website further.
Actionable Analytics Dashboard
Finally, your site search solution should include an actionable analytics dashboard that provides valuable insights into search behavior and trends. This search analytics dashboard should offer data on popular search terms, search result click-through rates, and user engagement with search features (i.e., filters and sorting options). By analyzing this data, you can identify areas for improvement in your site search strategy and capitalize on the positive traction you're seeing. While a data dashboard seems customary, you need a dashboard that's built to empower your team and improve customer experiences and relationships. 
The Types of Site Search Solutions Available 
Navigating the diverse landscape of e-commerce site search solutions can be daunting, especially when trying to identify the most suitable option for your brand's specific requirements and objectives. To help you make a well-informed decision, we'll take a look at the two categories of solutions available on the market today.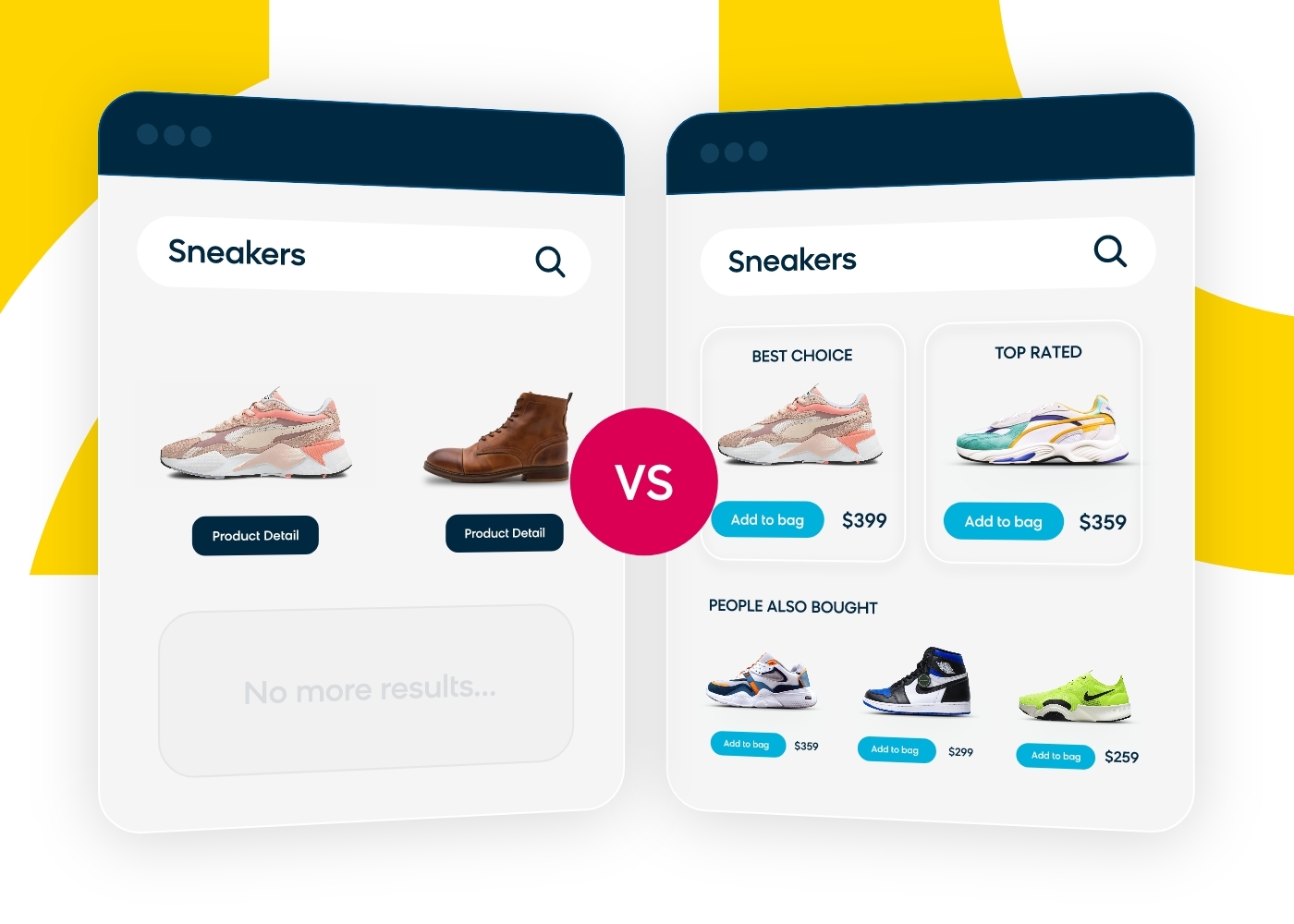 Out-of-the-Box Search Solutions 
Out-of-the-box (OOTB) search solutions provide businesses with a foundation for implementing search functionality on their e-commerce websites. These solutions — like Solr, Elasticsearch, Salesforce Einstein, and Google Retail Search — offer a range of features and can be customized to varying degrees, depending on the specific requirements of each business. 
However, one of the main challenges with OOTB search solutions is the level of technical expertise and resources required for customization, maintenance, and scaling. While these solutions offer flexibility, they often demand a dedicated team of developers to ensure smooth integration, updates, and continuous optimization. Bloomreach estimates that most companies spend around 30 months building foundational capabilities (i.e., synonyms, filters/facets, intent, ranking, etc.) within an OOTB solution. This can lead to increased costs for your company and — even worse — slow ROI, which may not be suitable for smaller businesses or ones seeking rapid results.
Before selecting an OOTB search solution, businesses should carefully consider their unique requirements for e-commerce search, as well as their available resources and long-term goals. Ask yourself the following questions:
What is the total cost of ownership of an OOTB search solution?
Who is owning implementation and maintenance of this search tool?
Can we expect to see ROI on search soon? How?
Meet with your CTO, CMO, or CDO to make a plan of action surrounding your answers to the questions above, since it's crucial to invest in a search solution that remains effective, efficient, and aligned throughout all the different phases of your business.
Productized Search Solutions
Productized search solutions are fully packaged and ready-to-use options designed to streamline the process of implementing search functionality on e-commerce websites. These solutions, like Bloomreach, come with a predefined set of features — and the best ones boast optimizations that cater specifically to the needs of e-commerce. Unlike OOTB search solutions, productized search solutions eliminate much of the complexity of customization and maintenance.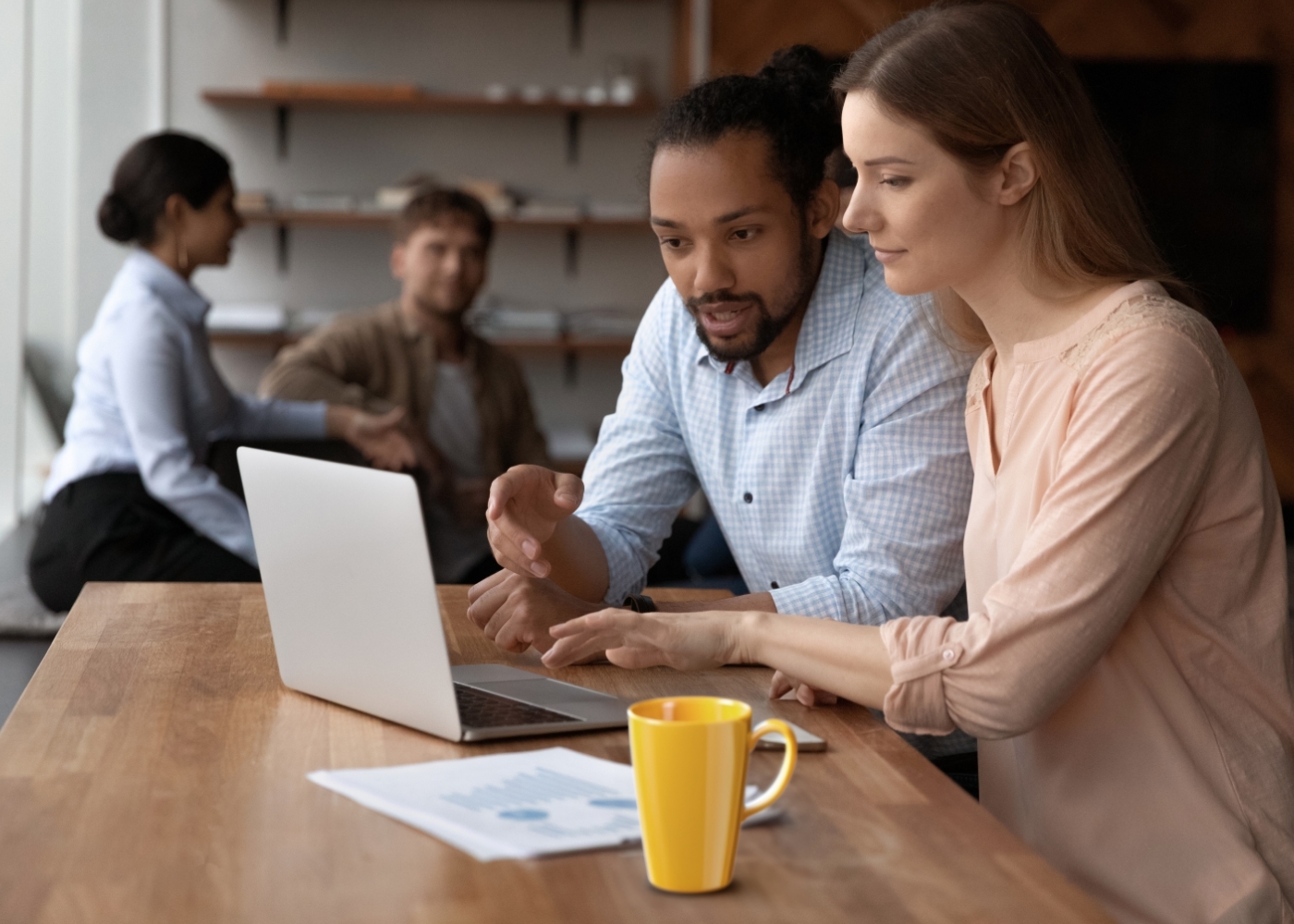 A big advantage of productized search solutions is their streamlined nature. Although the implementation of a productized search solution might take longer than an OOTB one, you aren't essentially building your search from scratch. Instead, your business can efficiently deploy a search solution and start experiencing the advantages immediately. Productized search solutions also offer continuous support and updates, guaranteeing that the search experience stays current and adheres to industry best practices. This degree of convenience enables businesses to concentrate on other crucial aspects of their operations.
However, not all productized solutions are created equal. Businesses must find one that strikes a balance between AI automation and smart customization. Plus, more advanced productized tools might take longer to implement initially, but make up for it with faster ROI. The best solutions will allow your merchandising team to build upon a solid foundation of data while the pixel continues to learn so that your search bar becomes increasingly aware of all the nuances around your particular business. 
Ultimately, selecting a productized search solution requires careful consideration of the specific needs and goals of your business. It's not just about choosing a solution with the most features, but one that aligns with your e-commerce merchandising strategy and can adapt to your evolving business landscape. Remember, a well-optimized search function isn't just a tool — it's a strategic asset that can drive significant value for your e-commerce brand and should bring together smart search, data-driven merchandising, and multilevel personalization into a unified solution. 
Out of All Your Options, Bloomreach Stands Out From the Rest 
Choosing the right site search solution is a critical decision that can significantly impact your brand's online performance and bottom line. To ensure you're making the most informed choice, it's important to thoroughly evaluate various site search solutions, whether they be OOTB or productized, and consider their features and ability to deliver relevant search results.
At Bloomreach, we understand the importance of an effective site search with features like algorithms ranked for revenue, semantic understanding, and personalization capabilities — we have for over a decade now. That's why we've developed our Search Impact Validation, which lets you test the effectiveness of our site search solution using your company's data. This allows you to see firsthand how our technology can enhance your site search functionality and drive improvements in shopping experiences, conversion rates, and ROI.
Don't leave your site search to chance. Get in touch with us today to learn more about our Search Impact Validation and how Bloomreach Discovery can help your brand optimize site search functionality for accurate search results.