Omnichannel Marketing Automation
What Is SMS Marketing and Why Should You Use It? 
By Ian Donnelly
07/25/2023
Omnichannel Marketing Automation
What Is SMS Marketing and Why Should You Use It? 
If you're thinking about using SMS marketing for your business, you're probably a little overwhelmed and wary of how much hype the channel receives in the marketing world. 
Marketers are constantly singing the praises of this simple and effective marketing channel. There are countless social posts, blogs, and research findings highlighting dozens of statistics that point to how important SMS is to your strategy. 
Increases in customer engagement, more conversions, and better brand recognition are just a few of the most captivating results.
But is there really a huge advantage to using SMS over other channels? What is the real value, both long- and short-term, that your brand can gain from SMS marketing efforts?
That's what we're here to answer.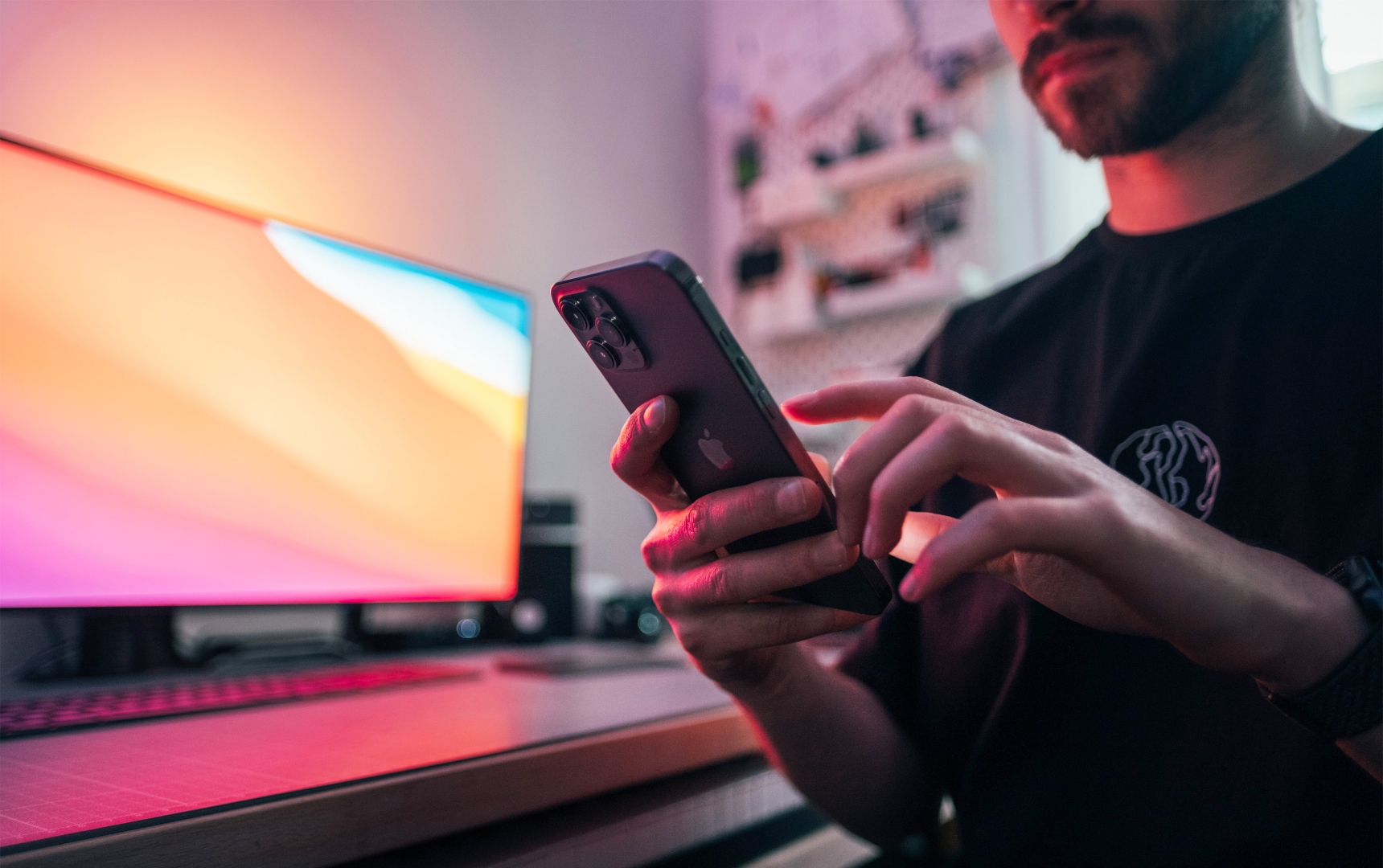 What Is SMS Marketing?
SMS marketing is the act of using text messaging as a marketing channel. 
You've likely experienced this as a customer before — getting a welcome message, special offer, or shipping update via text message from a brand you frequent is an example of SMS marketing at work.
It's a convenient and effective way to send important information and promotional materials. And it's fast becoming a preferred channel for customers to interact with their most-loved brands.
Does SMS Marketing Really Work?
In the early 2000s, when texting was just becoming a popular way to communicate, promotional SMS messages were seen as a little intrusive. And ever since, they've been unfairly lumped in with cold calls and spam emails. 
Marketing via text has evolved since then, but many marketers are still worried that adopting the practice will rub their customers the wrong way. No one wants to come off as a brand that sends invasive marketing messages or spammy texts.
But you can achieve success with an SMS campaign without pestering or alienating your customers. While texting may have been an irksome marketing ploy in the past, it is quickly becoming the most desirable way for customers to interact with brands. 
In fact, research proves that texting is an ideal channel for businesses to utilize — and if you're not already creating SMS campaigns, you should consider doing so.
5 Key Statistics That Prove SMS Marketing Delivers
6.6 Billion People Use Smartphones Worldwide
Smartphones are now a fact of life. There are eight billion people in the world, and 83% of them use a smartphone. 
While that number may seem high, smartphone use has been steadily climbing for the last decade, and is only expected to keep growing.
Odds are that you have a smartphone, have checked it recently, and have sent and received texts in the past few hours. That makes you the perfect audience to receive SMS messages from your favorite brands, just like so many users around the world.
The Average SMS Open Rate Is 98%
Every marketer knows that getting your audience to view your message is half the battle, no matter which channel you utilize. And when it comes to capturing your recipient's attention, SMS marketing consistently knocks it out of the park with close to 100% open rates. 
This statistic truly is exceptional in the marketing world. Especially when compared to email, the go-to marketing channel for most brands, which has an average open rate of 20%.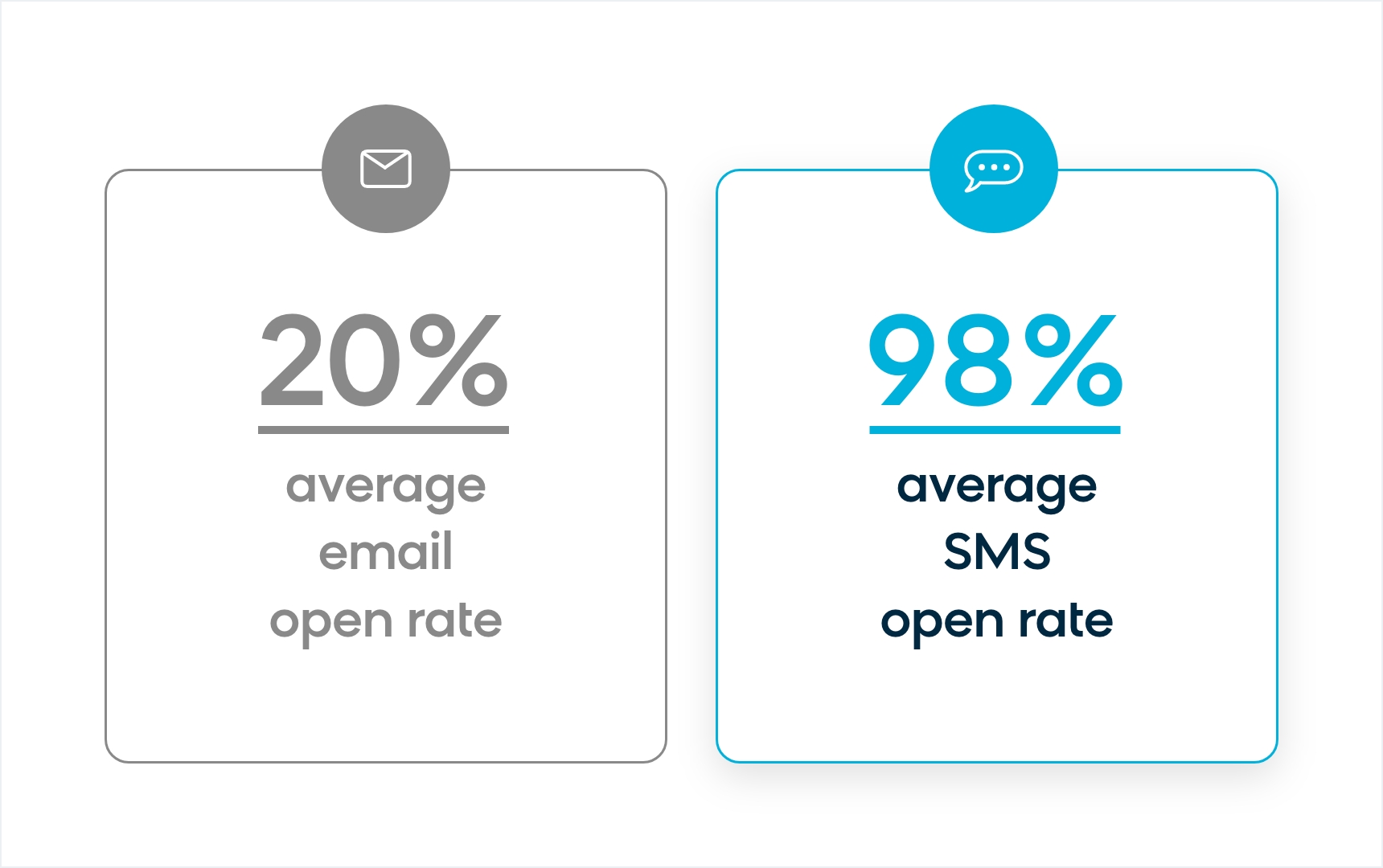 The Average Click-Through Rate Is 19%
An opened text message is a start, but inspiring customers to take action and purchase via text is another thing entirely. Fortunately, SMS marketing yields an impressive click-through rate (CTR) of 19%.
That's an incredible number compared to the next best results: Email marketing produces a 4% CTR, while Facebook barely reaches 1%.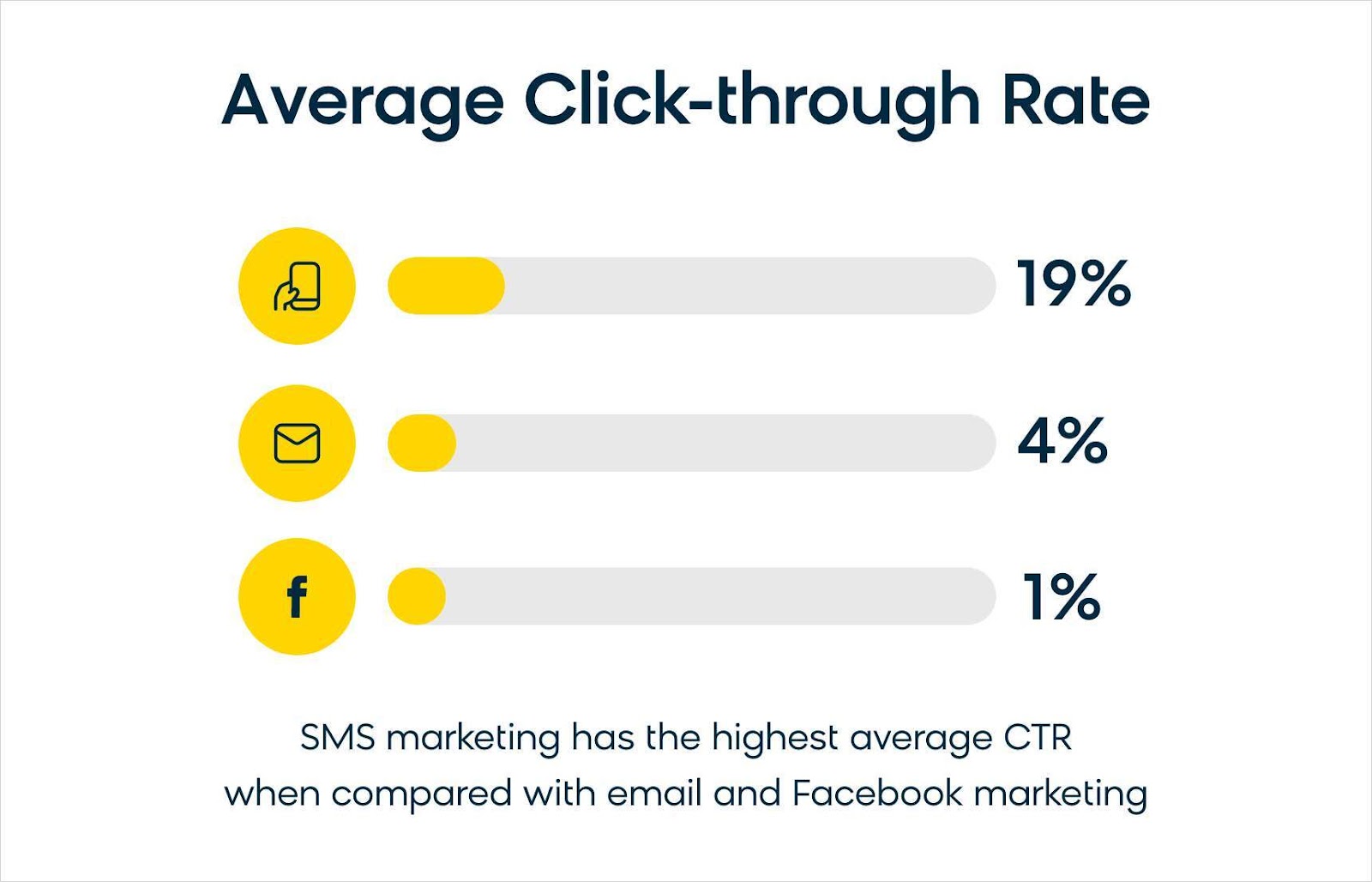 Texting is not only the most likely channel to elicit an "open and read" action, it's also the most motivating format to guide your audience further along in the customer journey. 
Read This Next: The Ultimate Guide to Journey Orchestration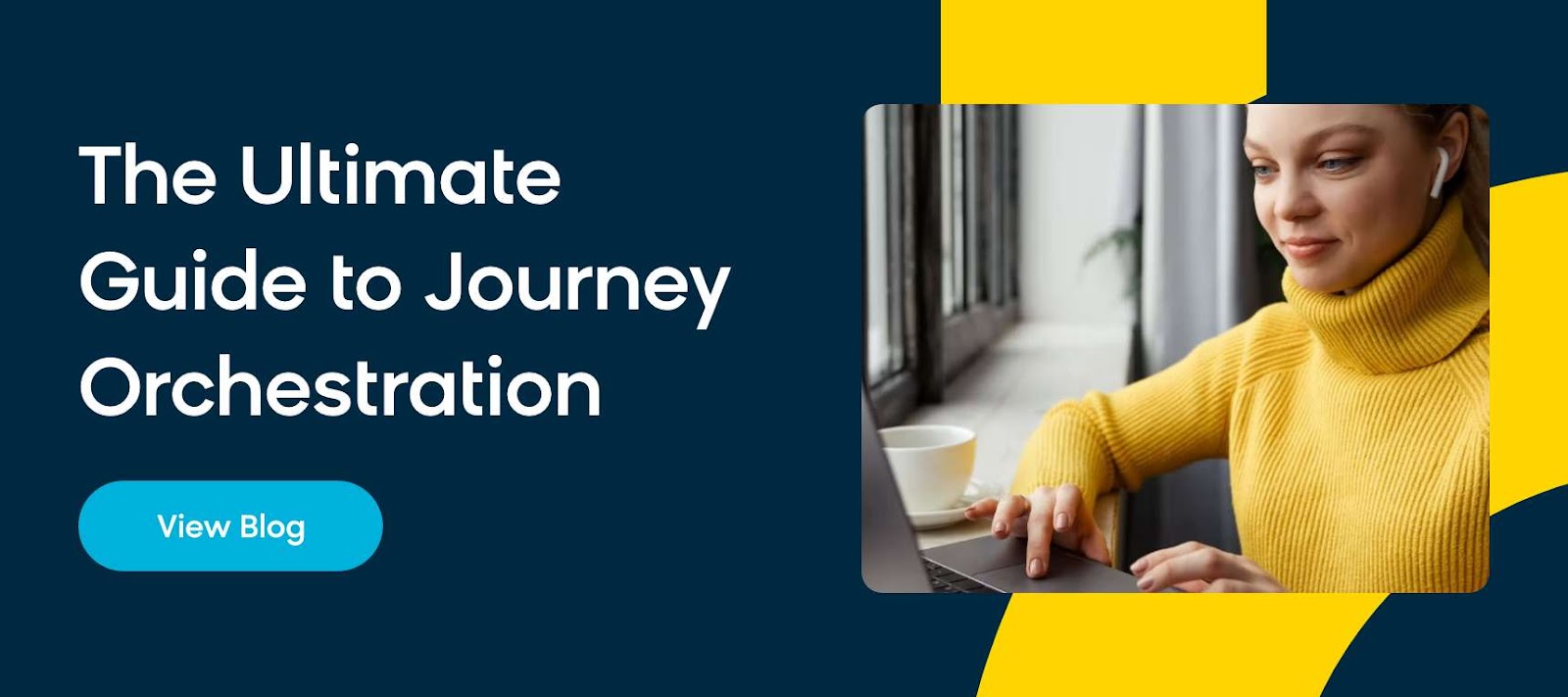 90% of Consumers Prefer Connecting With Businesses via Text Message
Digital commerce has opened up countless touchpoints that businesses can use to connect with customers. But of all the channels available to brands, SMS messaging is the most preferred format — and the most underutilized.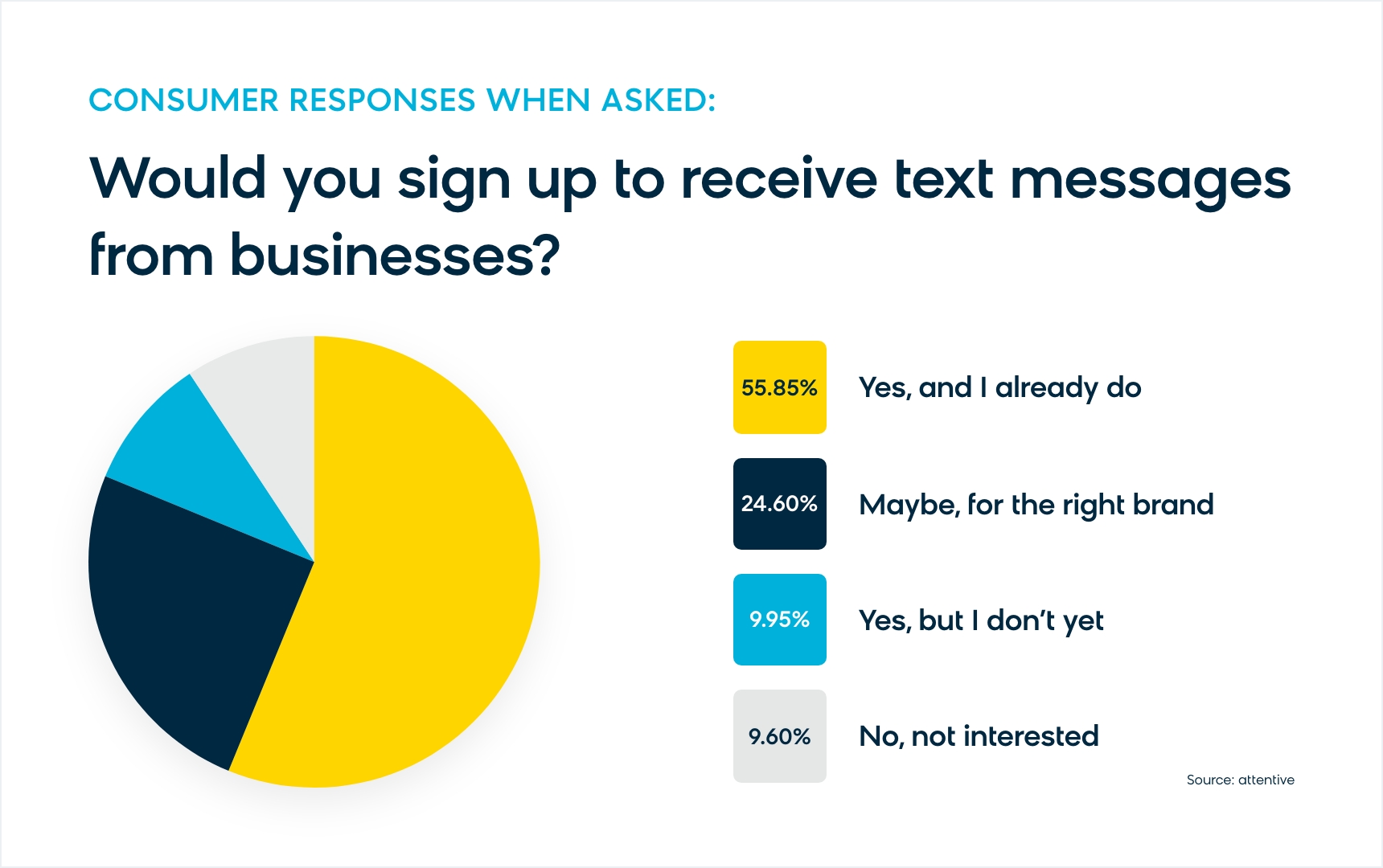 In all the surveys and statistics that count, texting has been proven to be an A+ channel. 
An overwhelming 91% of consumers are interested in signing up for texts from businesses. And despite the fact that many brands have yet to offer texting as a communication channel for their customers, SMS has overtaken calls and emails as a trusted and favored channel. 
90% of customers prefer text messages over phone calls, and 93% have more trust in text messages than in emails. This is because text messages have only a 2.8% spam rate, which is significantly lower than the 53% spam rate of emails.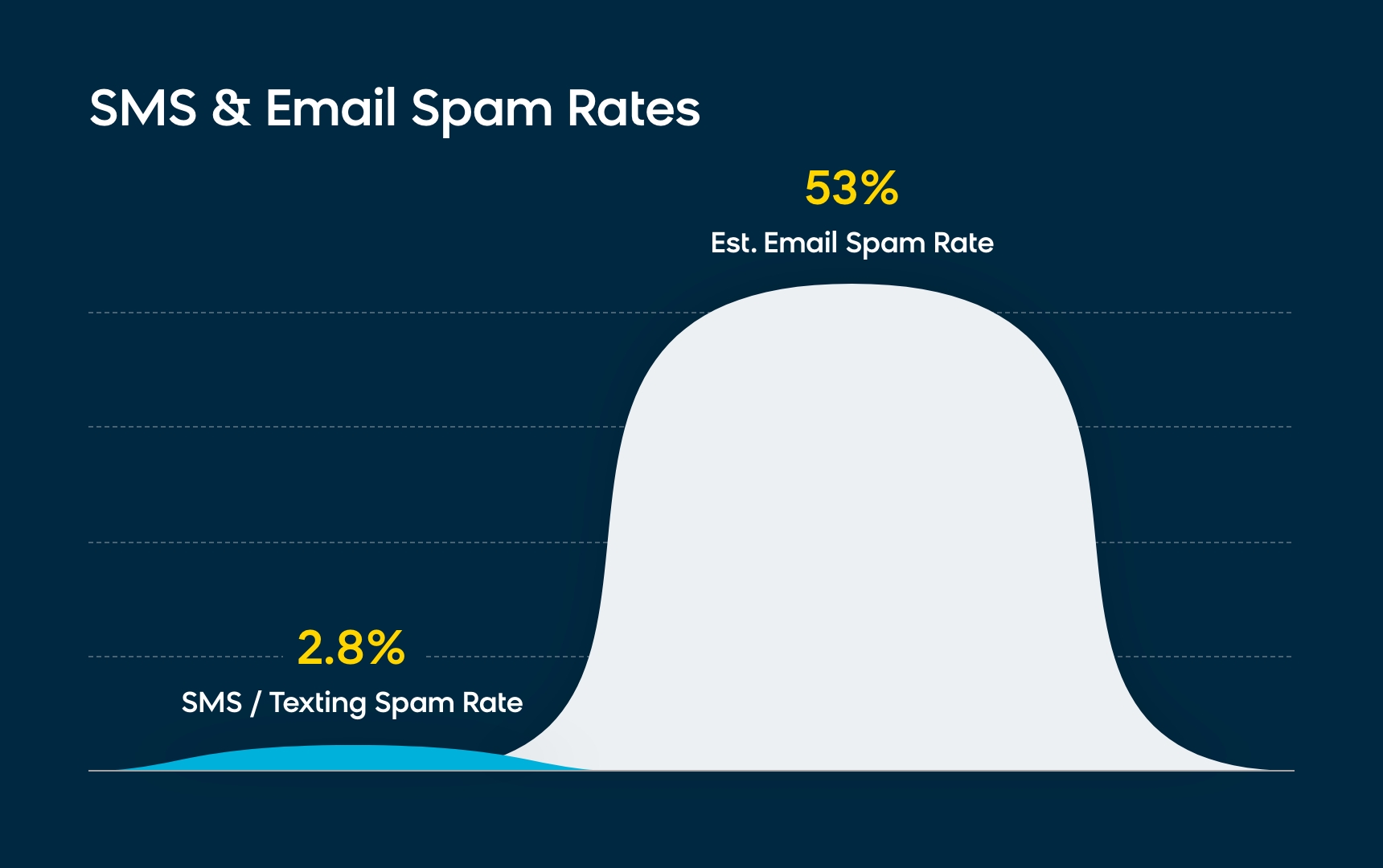 73% of SMS Marketers Report That Texts Help Drive More Revenue
A 2023 report showed that a vast majority of marketers who leveraged SMS marketing saw a boost in revenue from their efforts, with 53% of marketers ranking SMS among their top 3 revenue-driving channels.
On average, businesses can expect a 25x return on their investment when launching a text message marketing program. It has the potential to quickly become a top-performing channel for your marketing strategy and a motivating connection with your customers, making it a win-win for businesses and audiences alike.
Read This Next: boohooMAN Sees Up to 25x ROI From CDP-powered SMS Campaigns With Bloomreach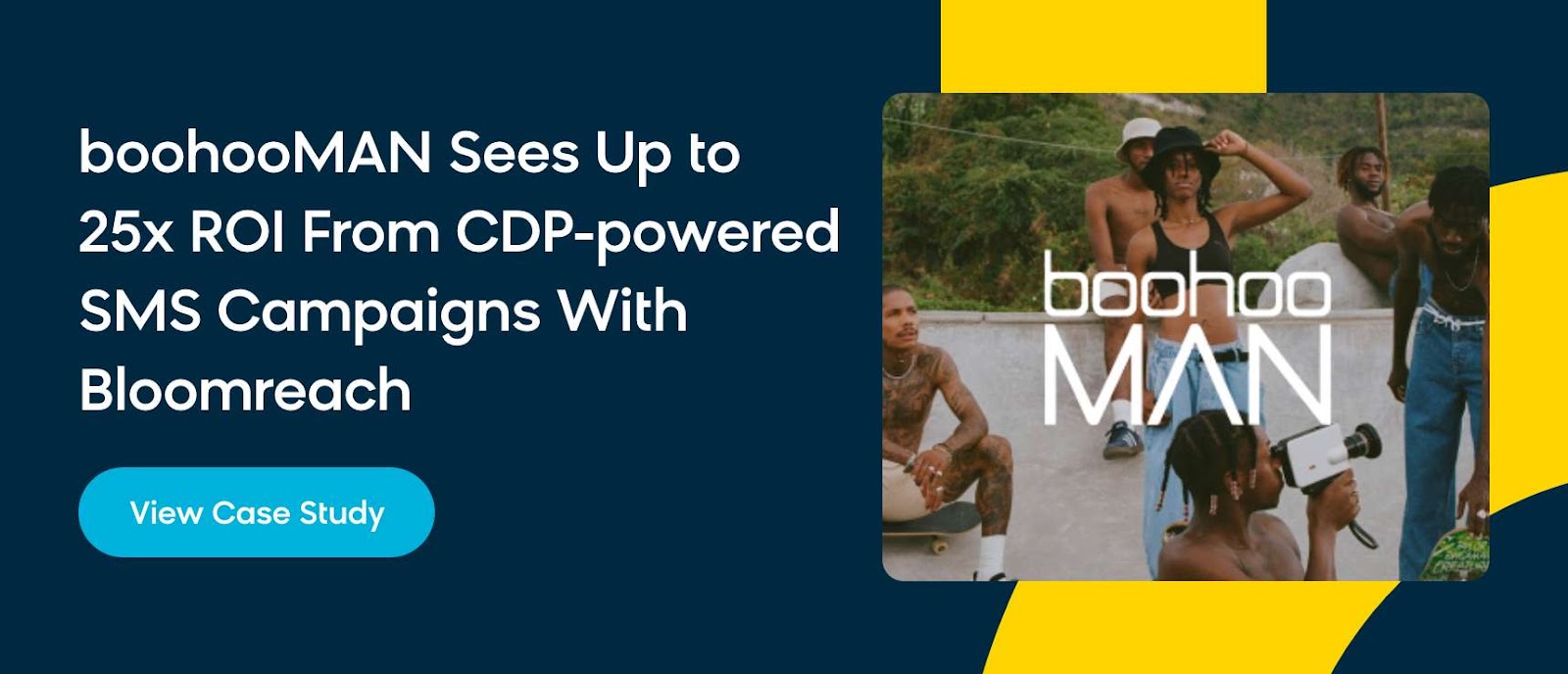 The Benefits of SMS Marketing
While the above statistics provide excellent selling points for text message marketing, there are advantages that go beyond the impressive numbers. SMS campaigns can help you future-proof your strategy, produce valuable content with less time and effort, and connect with your customers like never before. 
Here are the long-lasting benefits that make marketing via text worthwhile.
Mobile Commerce Is a Fact of Modern Life
The whole world has gone mobile, from our favorite stores to our social lives. The proof of this can be found everywhere you look. 
Mobile phones currently contribute to more than half of all internet traffic and have become the focal point of so many experiences. It's the dominant way that people browse the web, watch videos, buy products, open emails, communicate with their friends, and so much more.
This makes mobile marketing absolutely vital for brands looking to reach their customers where it counts. Everyone has a smartphone, everyone is interconnected, and everyone uses their mobile devices to research, shop, and engage with the brands they love.
You need to be reaching your audience on their phones, where they are most likely to see your message, act on your CTA, and make a purchase.
Read This Next: Why Mobile Marketing Is Here To Stay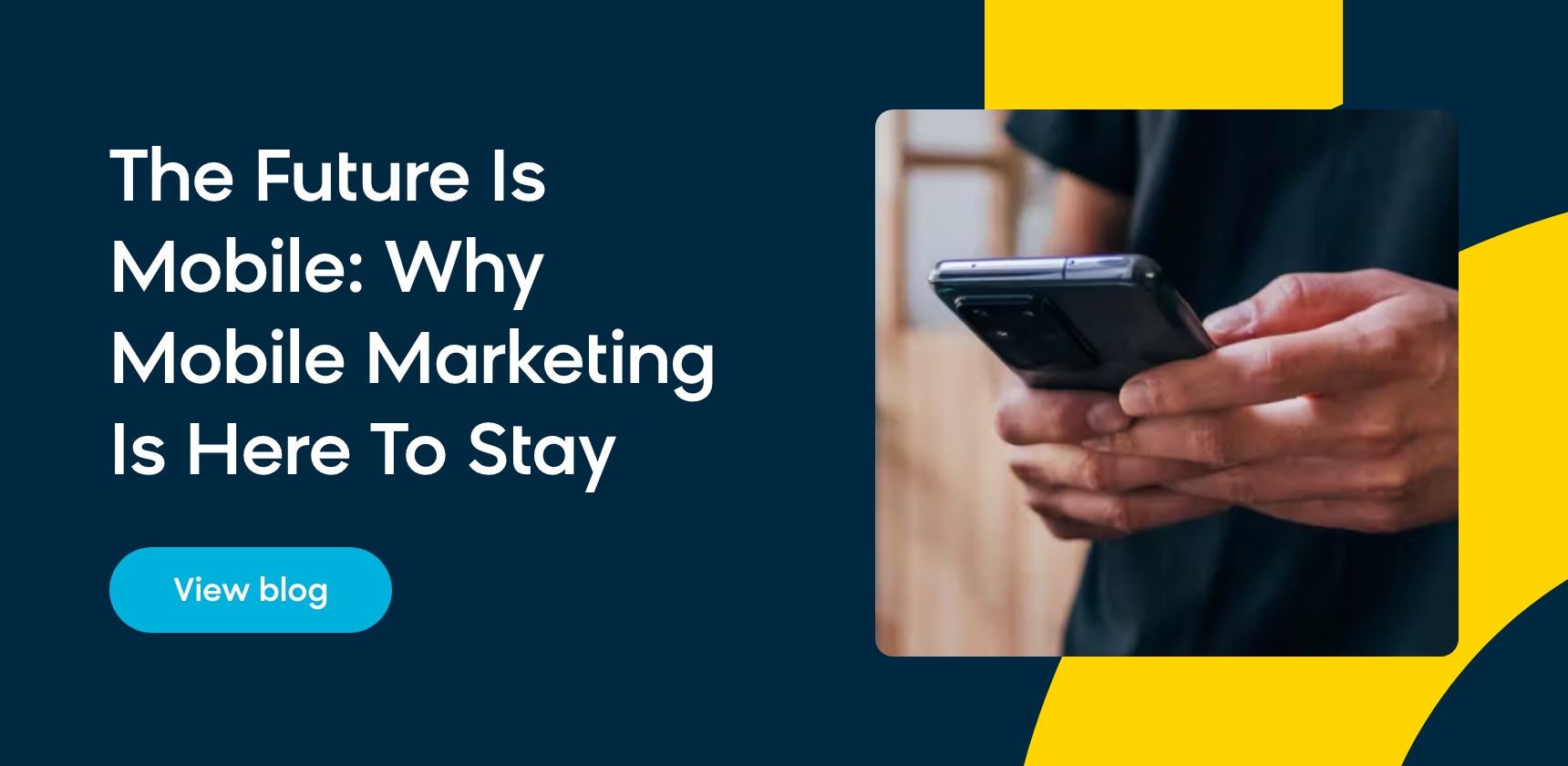 Producing Content Isn't Time-Consuming for SMS Campaigns
Of all the marketing channels available for businesses to utilize, texting is undoubtedly the simplest to write for.
Blogs can be lengthy, social media content requires a team to shoot and stylize, and emails need a strong voice and an eye for graphic design to stand out in your audience's inbox. But with SMS messages, you're only working with 160 characters, so you have no choice but to get right to the point with a clear message and a strong, straightforward CTA.
Even if you're crafting an MMS message, which lets you add additional media like an image, a GIF, or an MP4 video, the file size is limited. Your text messages are inherently uncomplicated, so your campaigns will be more focused and streamlined by design.
Texting Is a Direct Line of Communication With Your Customers
An SMS marketing message is as close to a direct, foolproof connection to your customers as any marketer can hope to get. There's no other channel that is all but guaranteed to reach your audience, be opened and read, and be interacted with.
Because mobile is now the way the world works, texting is integral to any business' marketing strategy. It's a native channel in smartphones that people use constantly — the average US smartphone user spends around 26 minutes per day texting.  
Texting is such an instinctive way for consumers to communicate that it is now synonymous with phones, even more so than phone calls. In fact, 68% of consumers text more than they talk on their smartphones.
And this one-to-one connection with your audience is an invaluable tool to inspire action and increase revenue. 
It's an effortless jump from a text to a mobile site. Your audience is used to navigating multiple apps at once on their phone, which makes a link to a product page, delivery tracking page, or checkout page a feasible and worthwhile step in the customer journey.
SMS Marketing 101: The Essential Steps for Success
Getting Your Audience To Opt in and Maintaining Compliance
Getting consent from customers to receive marketing text messages isn't just a suggested best practice that marketers should consider. Businesses are legally required to get explicit consent from subscribers before sending marketing communications.
TCPA Laws
If you plan on using SMS as a marketing channel in the United States, you are required by law to adhere to the Telephone Consumer Protection Act (TCPA), which regulates telemarketing calls, autodialed calls, prerecorded calls, text messages, and unsolicited faxes. 
This federal law lays out SMS compliance conditions for businesses in the US, including the following requirements:
Your subscriber must explicitly opt in for SMS marketing in writing. This opt-in must be separate from email marketing.
You must explain to potential subscribers what types of messages they'll receive and clearly state how they can opt out of future messages. 
You must respect opt-out requests. 
You can't send text messages during federal- and state-specific "quiet hours."
In essence, the TCPA ensures that businesses only send texts to those who have explicitly given you permission to do so, and only communicate in a respectful manner. 
CTIA Best Practices
In addition to the TCPA, the Cellular Telecommunications and Internet Association (CTIA) has produced messaging principles and best practices that companies can follow to stay compliant.
The CTIA is a trade association that represents the US wireless communications industry, including mobile carriers and suppliers in the United States. And while their best practices are voluntary, they are highly encouraged for brands utilizing SMS marketing.
In addition to the TCPA requirements, there's a vast array of consent principles offered by the CTIA, including advice such as:
Always disclose that message and data rates may apply. 
Maintain a record of each customer's consent. 
Be forthcoming about message cadence. If opting in subscribes your audience to a recurring campaign, such as a weekly or monthly update, then clearly explain the regularity of messaging.
Message thoughtfully, carefully, and be precise in your wording. Sending a recipient a specific and thorough message, such as "Text YES to subscribe to promotional updates, sales, and discounts" is a more effective text than a generic "Text YES to subscribe" message.
For any marketer looking to start or expand their use of SMS marketing, reading both the TCPA laws and CTIA best practices is highly encouraged. Be sure to check out our guide to understanding SMS compliance to fully understand these important principles.
How To Obtain Opt-in Confirmation
So if consent is step one of any SMS strategy, how do you get your customers to opt in?
There are plenty of creative ways to ask your audience to sign up for texts. One of the best ways to obtain consent is to include an opt-in form on your website or other online channels.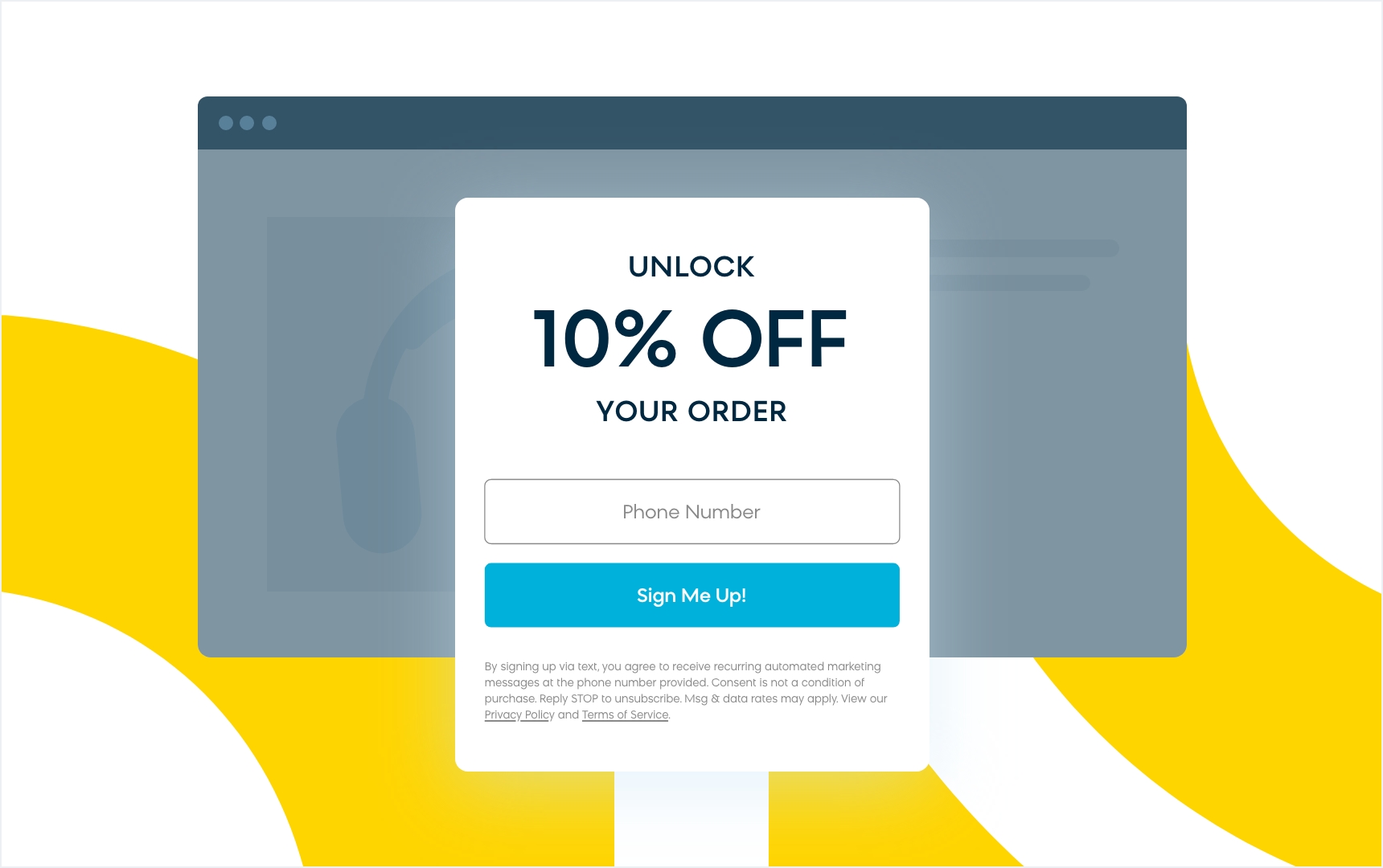 You can incorporate this prompt into multiple stages of your customer journey, such as: 
A homepage banner with an opt-in form
A subscriber request in exchange for a promotional deal
Asking your customers to subscribe once they've completed a purchase for easier updates
It's also a good idea to incorporate a second opt-in confirmation into your consent process. This can be as simple as reconfirming a recipient's opt-in status in the first message you send them. 
Consent is one of the fundamental and most important steps in the SMS marketing process, and it's an intrinsic part of digital marketing as a whole. Without a thorough understanding of consent management across all your platforms, your strategy can falter at the starting line.
Read This Next: The Ultimate Guide to Consent Management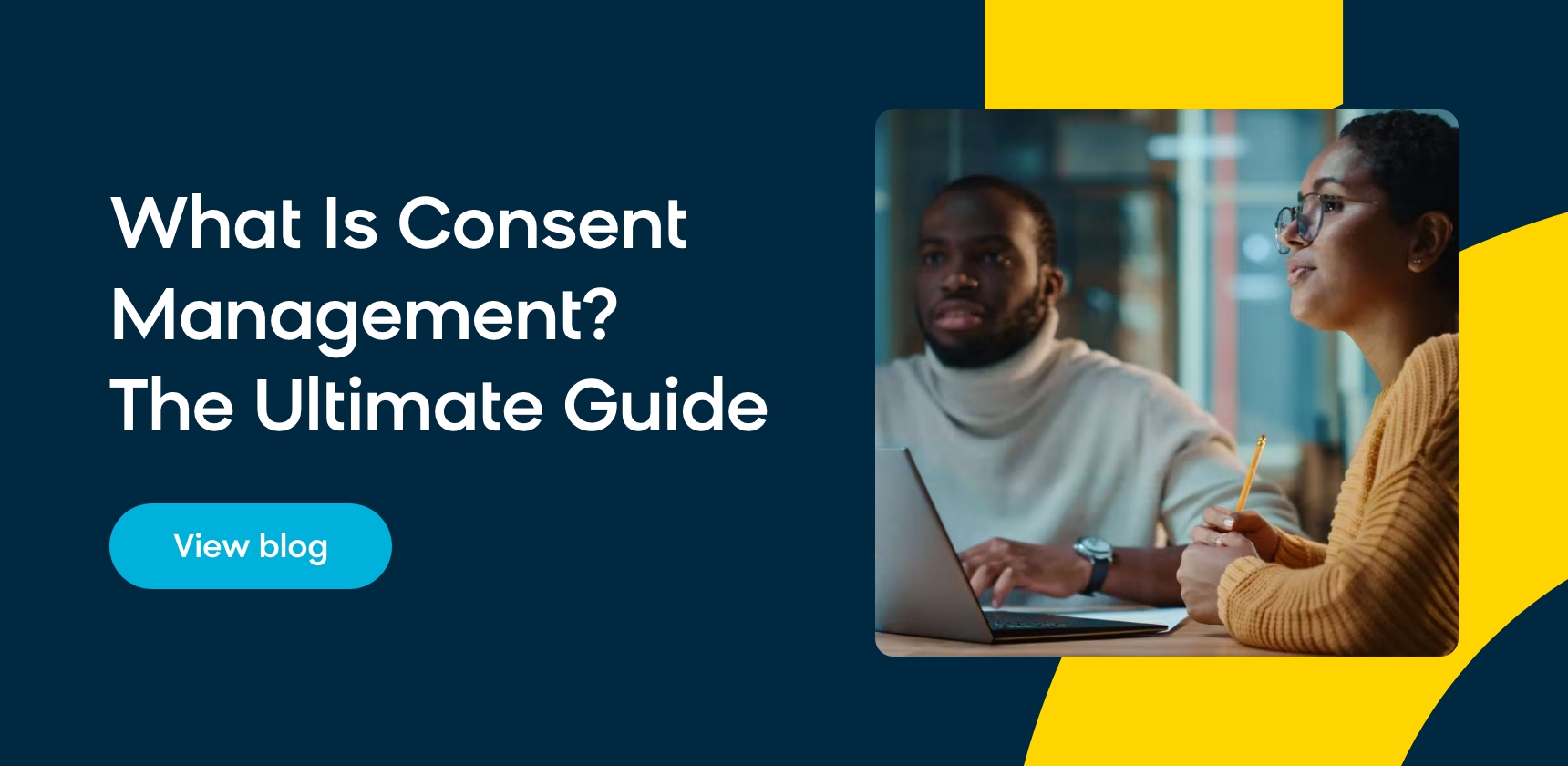 Choosing the Right SMS Marketing Campaigns 
There is a broad range of SMS campaigns and promising use cases available for SMS marketers to adopt, and the type of campaigns you utilize entirely depends on what you want your campaigns to accomplish. All you need is a little know-how, some creativity, and an overarching goal to get your efforts on track.
Start With Your Goals
Like all marketing efforts, your SMS campaigns won't get far without a clear goal in mind. 
Formulating growth-minded and achievable objectives is an essential part of crafting great campaigns and getting them off the ground. You need to determine:
What do you want your SMS marketing to accomplish? 
What does success look like? What are your benchmarks and KPIs?
How does this goal contribute to your overall marketing strategy?
Once you have an objective for your SMS campaigns, it's all about finding the right pieces to your customer journey puzzle. 
There are two basic kinds of campaigns: promotional and transactional. Each has its own strengths and offers a myriad of ways to engage your audience.
Promotional Messages
Promotional SMS campaigns are the advertising and marketing messages you send to generate interest in a product or service. 
They are designed to get customers on your site and shopping your store, such as:
Special discounts
Personalized deals
Coupon codes
Flash sales and seasonal sales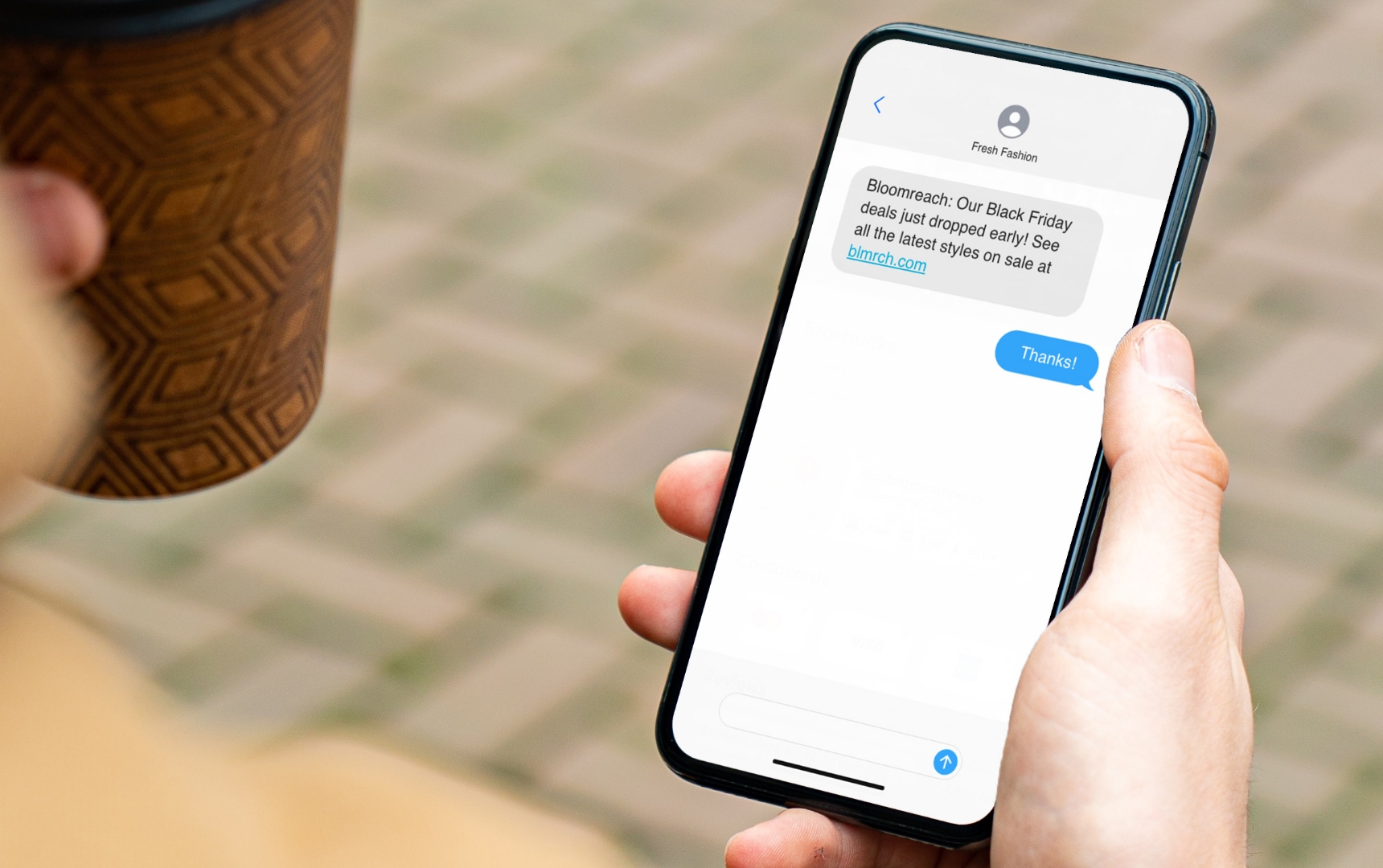 Above is a well-known example of a straightforward promotional message for a Black Friday deal — you've likely received something similar if you subscribe to a business' SMS marketing.
But you can add a touch of originality to your promotional texts, including things like personalized discounts, special codes, or offers that cater to each individual customer's wants.
No matter what type of promotion you decide to send your audience, these messages can be highly effective via text, especially when accompanied by a clear CTA.
Read this next: E-Commerce Personalization: Your Complete Guide

Transactional Messages
Transactional messages are triggered campaigns that are sent in response to an event or action. This kind of SMS marketing provides relevant information to the customer, giving them a rewarding customer experience with quick and easy communication.
Some examples of transactional campaigns are:
Welcome messages
Order confirmations
Customer service and feedback requests
Shipping notifications and updates
Transactional SMS messages are extremely common campaigns for businesses to use, and with good reason. They build brand credibility, foster a positive buying experience, and keep your customer in the loop on things that matter most to them.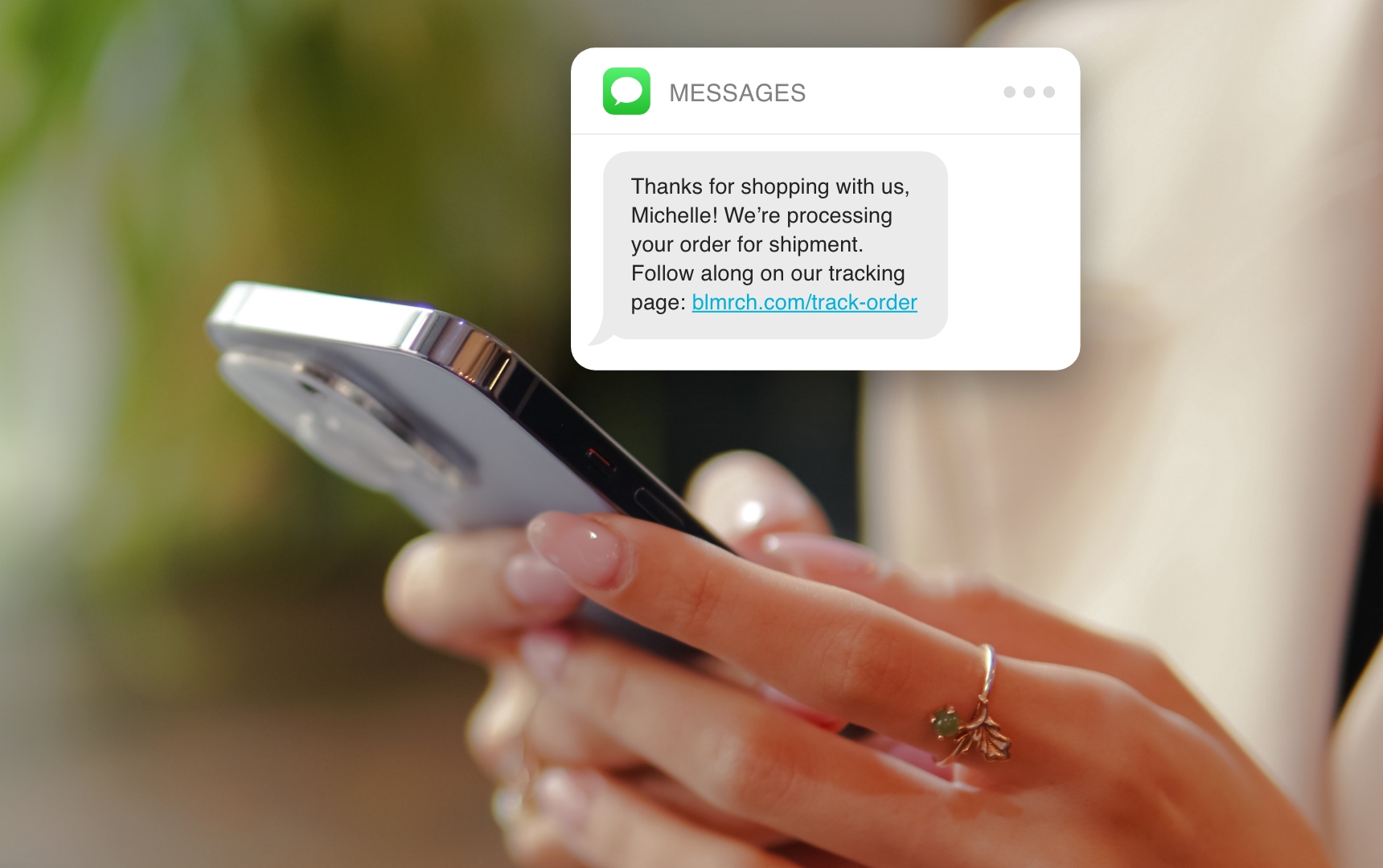 In fact, more than 50% of customers prefer transactional SMS messages over other forms of communication for support-related topics. 
It's an easy and effective addition to the buying journey that can encourage more customer engagement from your audience, and can go a long way towards bettering your customer lifetime value.
Read This Next: The Ultimate Guide to Customer Lifetime Value
Gain Insight From Other Business' SMS Campaigns
Drawing inspiration from successful SMS marketing campaigns used by other businesses can be a great way to boost your own campaigns. 
If you're looking for more campaign ideas and some inspiration, check out our guide for creating the best SMS marketing campaigns.
Read This Next: Everything You Need To Create the Best SMS Marketing Campaigns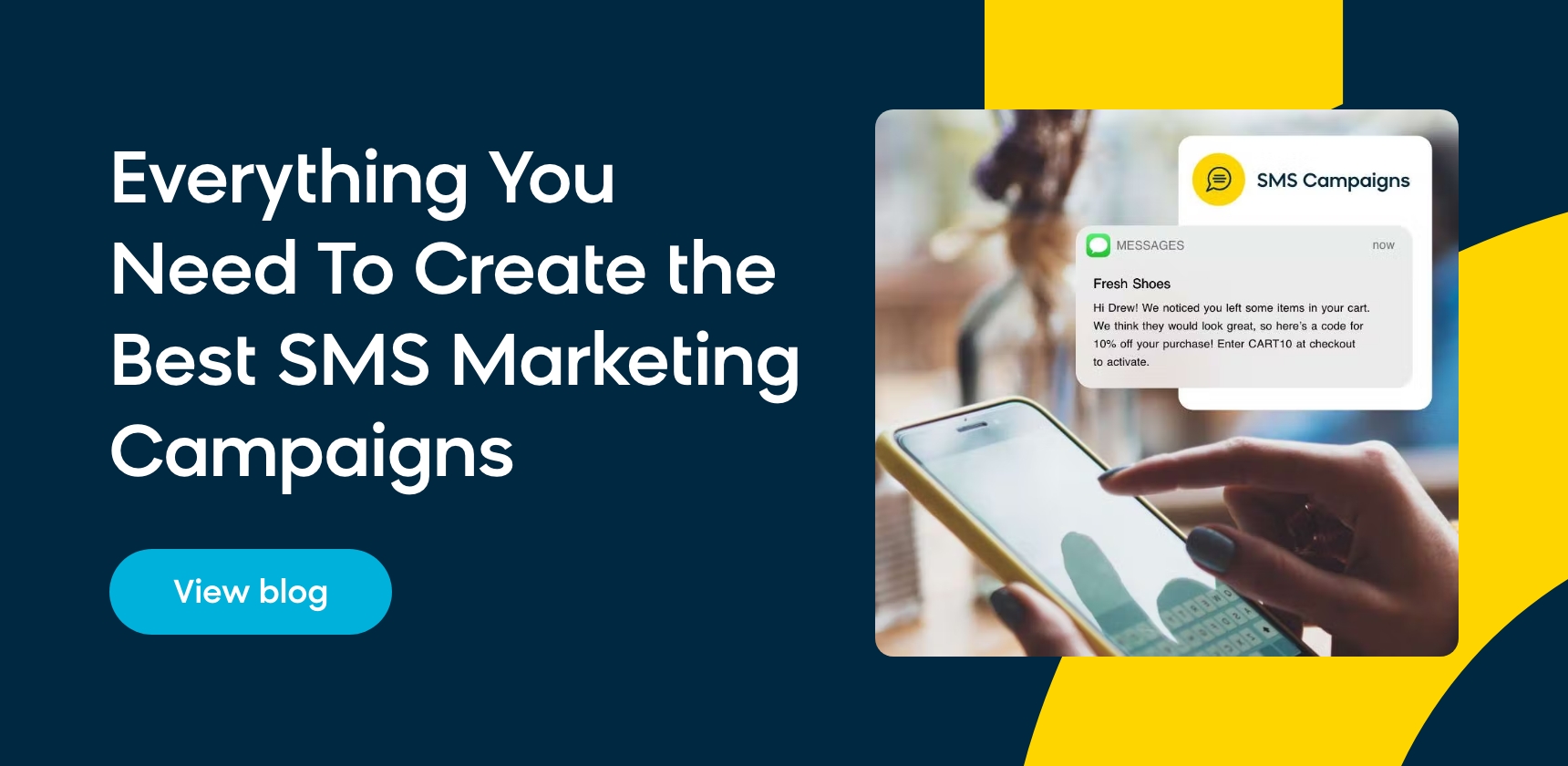 Incorporate SMS Into Your Overall Marketing Strategy
Consumers don't exist solely on one channel, and neither should your brand. 
Text messages are valuable ways to connect with your customers, but your marketing messages need to span multiple channels. All of your efforts need to work together to guide your customers through their customer journey. 
The goal should always be to provide a seamless customer experience, whether a customer is shopping online from a mobile device, on a laptop, or in a brick-and-mortar store.
Here are some ways you start incorporating SMS marketing into your comprehensive strategy.
Leverage Your Data To Drive Campaigns
To make your SMS marketing strategy truly impactful to your bottom line, you need to leverage the data you've collected from your customers to fuel your efforts. Like all campaigns across every marketing channel, data is vital to success.
It all comes down to how personalized you can make your marketing. Customers want to be catered to on an individual level, and harnessing zero- and first-party data is the best way to make your campaigns as effective and personalized as possible. 
The data you gain from other steps in the customer journey — your customer's transactional, demographic, and behavioral data — can be plugged into your SMS marketing strategy to improve your messaging. 
You can use purchase and commerce data to facilitate transactional campaigns, connecting orders and tracking numbers to triggered messages. Or, use customer data points like a person's style, size, and category preferences to inform your promotional campaigns and make them much more compelling.
The possibilities are endless. You just need the right technology that brings all your data together and gives you a 360-degree view of your customer. 
Read This Next: Customer Data Management: How To Gather Customer Data Correctly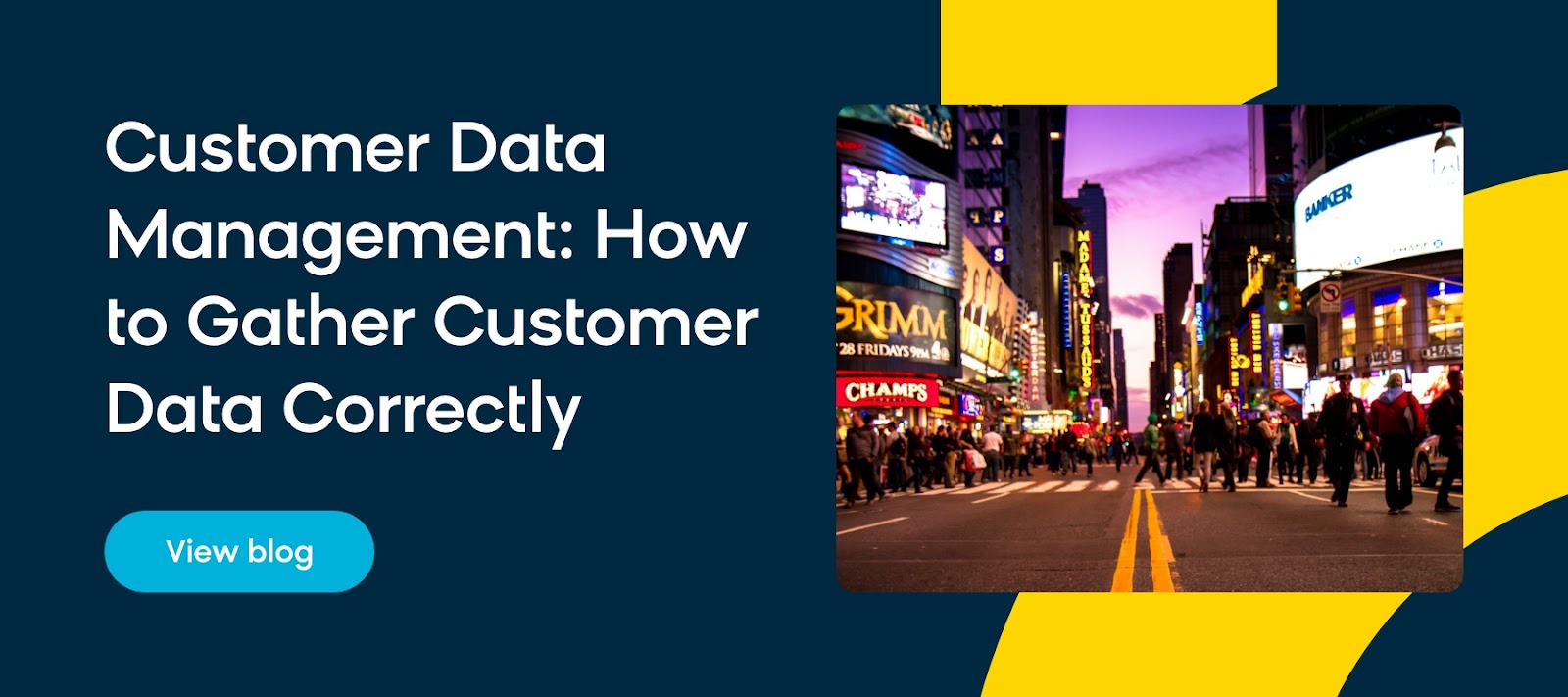 Email and SMS Go Hand in Hand
Of all the channels and strategies that you can interlink with SMS marketing, email marketing is the perfect match.
SMS and email are known as the power couple in the marketing world. They both speak to a permission-based audience and both clock some of the best conversion rates in the business. 
And when utilized together, SMS and email marketing campaigns can work wonders.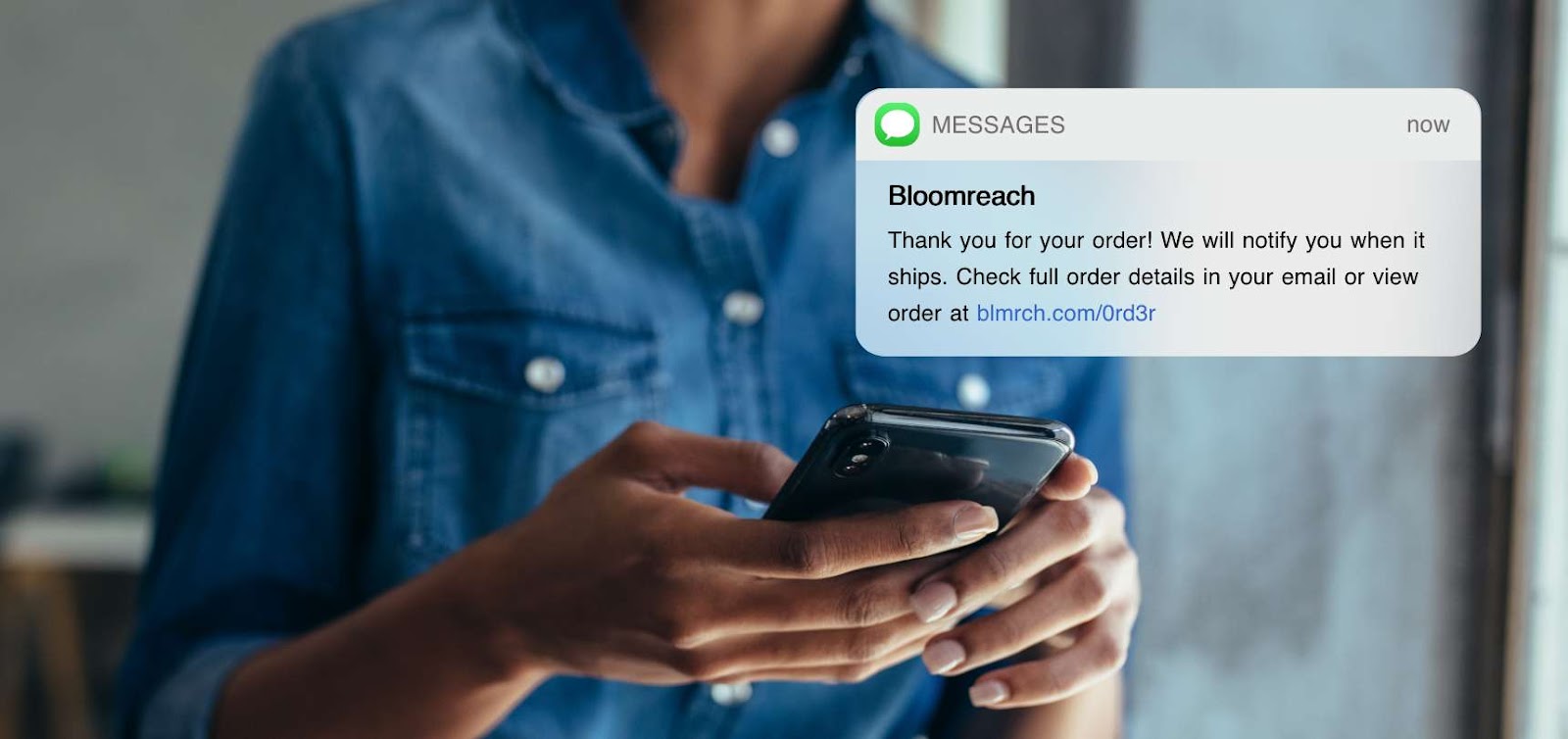 For instance, you can use email and text messaging to make transactional campaigns as helpful and relevant as possible. Sending a text to notify your customers that their order has been shipped, along with an email that gives them their full order details, is a widely used dual campaign that offers a better customer experience.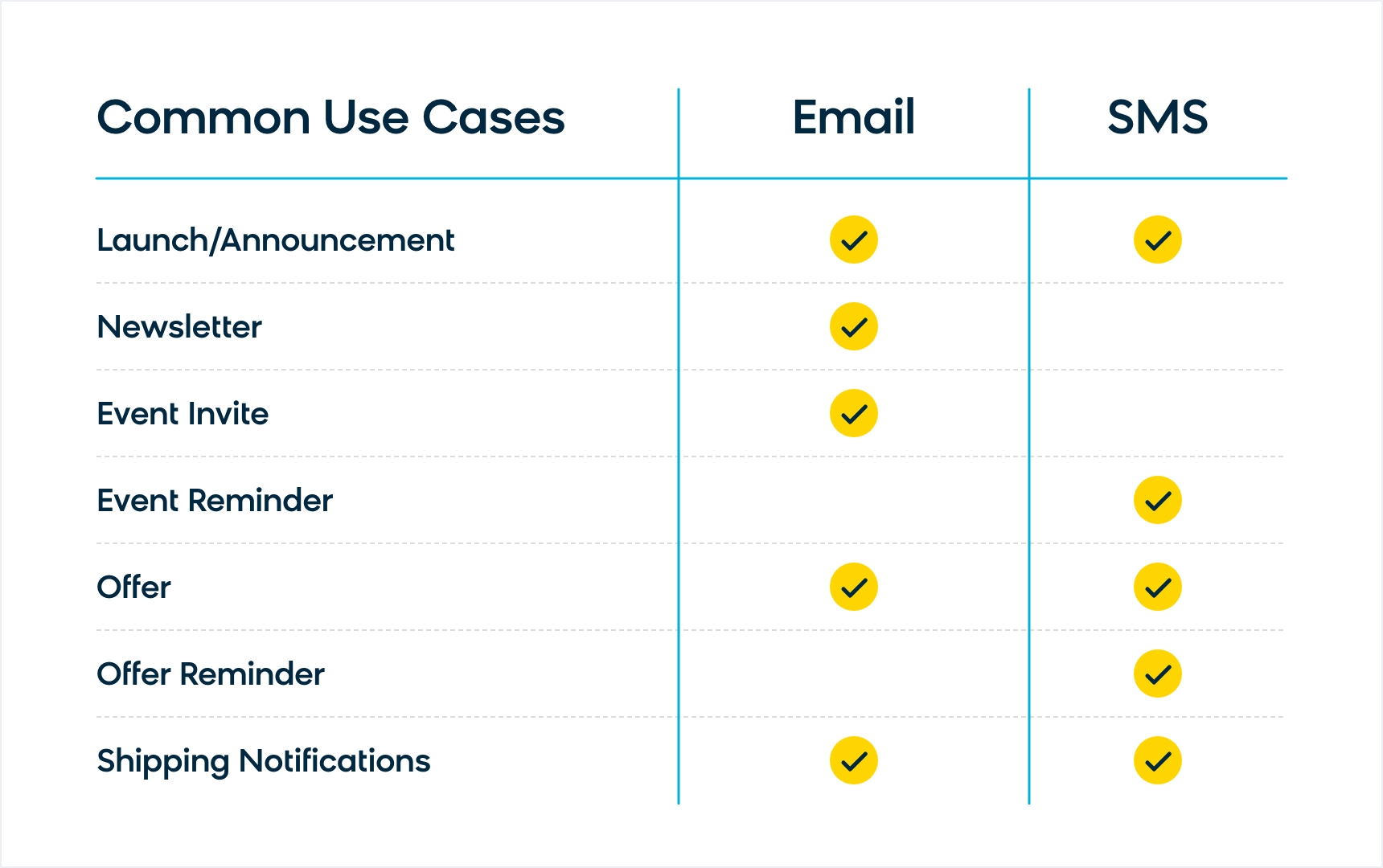 There are plenty of common email and SMS use cases, like the ones shown above. But to know whether you should use email marketing, SMS marketing, or cross-promote with both, you just need to ask yourself one question: How quickly does the recipient need to see the message for it to be impactful?
If your message is immediate, go with SMS. If it's not too urgent, it can go to your customer's email inbox. And if it's important enough to their customer experience that multiple touchpoints are warranted, use both channels to drive your message home.
Choose the Right SMS Marketing Software for Your Business
Developing your marketing strategy takes time, effort, and the right tools for the job. That's why an SMS marketing platform is essential for modern SMS marketers looking to make the most of their efforts.
You need the ability to create campaigns at scale, orchestrate and automate your SMS messages, and personalize your content to each customer's preferences. 
And beyond these big-picture needs, your marketing software has to offer practical features like bulk messaging, two-way conversations, short codes, multimedia messaging, and more.
Choosing a platform is arguably the most important step in formulating your SMS marketing strategy, which is why we break down the process in our SMS marketing strategy guide. It lays out all the must-have features of the ideal SMS marketing program and helps you get the ball rolling with an SMS strategy best suited for your business' needs.
Read This Next: Setting Up for SMS Success: How To Build an Effective SMS Marketing Strategy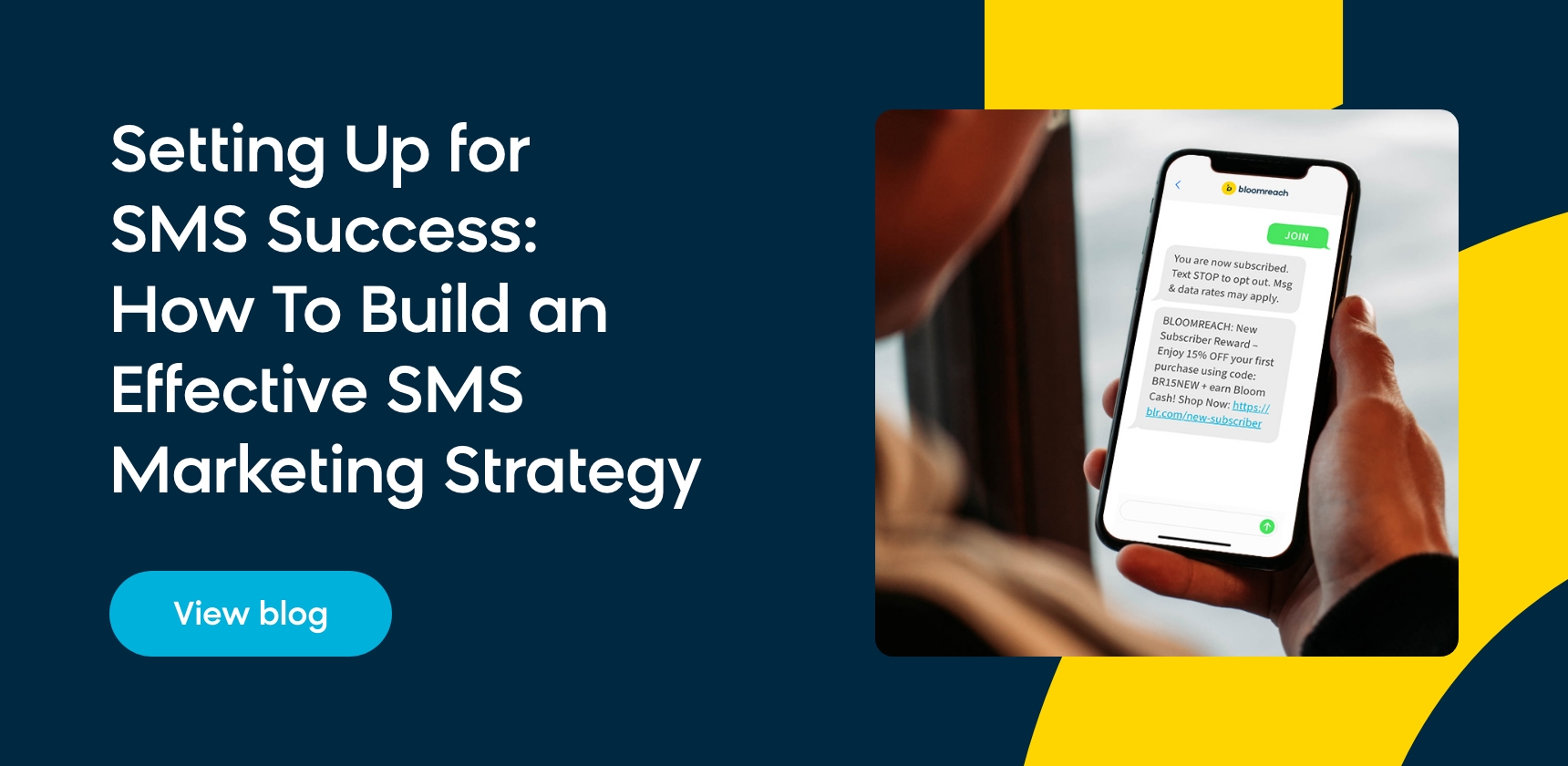 Get the Most Out of Your SMS Marketing With Bloomreach 
Bloomreach Engagement is an omnichannel marketing solution that brings customer data, automation, AI, and analytics together so marketers can build personalized campaigns from one place, for millions of customers — and do it all in a matter of minutes. 
With our innovative platform, you have all the essential components to create successful SMS campaigns that weave seamlessly into your strategy — personalization, automation, and omnichannel orchestration are all effortlessly possible.
Wondering what this looks like in action? Check out our blog on all the next-level SMS marketing features available with Bloomreach Engagement.