Omnichannel Marketing Automation
E-Commerce Customer Experience: How To Create Great Experiences
By Wendy McAuliffe
Nov 03, 2022
Omnichannel Marketing Automation
E-Commerce Customer Experience: How To Create Great Experiences
Creating next-level customer experiences is no longer an added bonus for e-commerce businesses to have. It's a must to compete in the modern market. 
Now more than ever, customers value business relationships that anticipate their needs and deliver easy, memorable experiences on their devices of choice.
Online engagement has become the deciding factor of how business relationships are nurtured or lost. It is very often where brand and retailer relationships are born, and the way your online store facilitates meaningful connections can make or break customer loyalty.
To become a digital-first business, a great customer experience is essential. Companies that do not focus on creating this will struggle to survive. Keep reading to learn how you can craft great e-commerce customer experiences that make your brand truly stand out.
What Is Customer Experience Management?
Customer experience management (CXM) is the practice of designing every type and quality of interactions a customer has with a business, across every physical and digital touchpoint. E-commerce customer experience refers specifically to the digital experience a business delivers to a customer.
The goal of experience management is to optimize, orchestrate, and inspire interactions that will help guide customers along their paths to purchase.
No matter if your business is B2B or B2C, every step of the buying journey must be considered. You need to be asking:
How do customers research products and evaluate their options?
What tailored help and content will they need along the way?
What additional items can they be inspired to consider?
How do they complete the selection process?
What necessary customer support will they need post-purchase?
Nowadays, we have the tools and technology to address all these questions. A modern online business can design exceptional, personalized experiences that allow the online shoppers to buy with confidence, find the right products, and do it quickly and efficiently.
The reality is that we are living in the age of the customer, and businesses wishing to survive long term must move past the idea of customer retention — they need to focus on customer obsession. We know that each time a shopper is exposed to an improved digital experience, their customer expectations for all experiences rise to a new, higher level. And for today's shopper, only the most customer-centric businesses reach the expected standard.
What this means for businesses is that CXM has become a moveable feast. And having a robust e-commerce customer experience has also become intrinsic to help companies grow and thrive.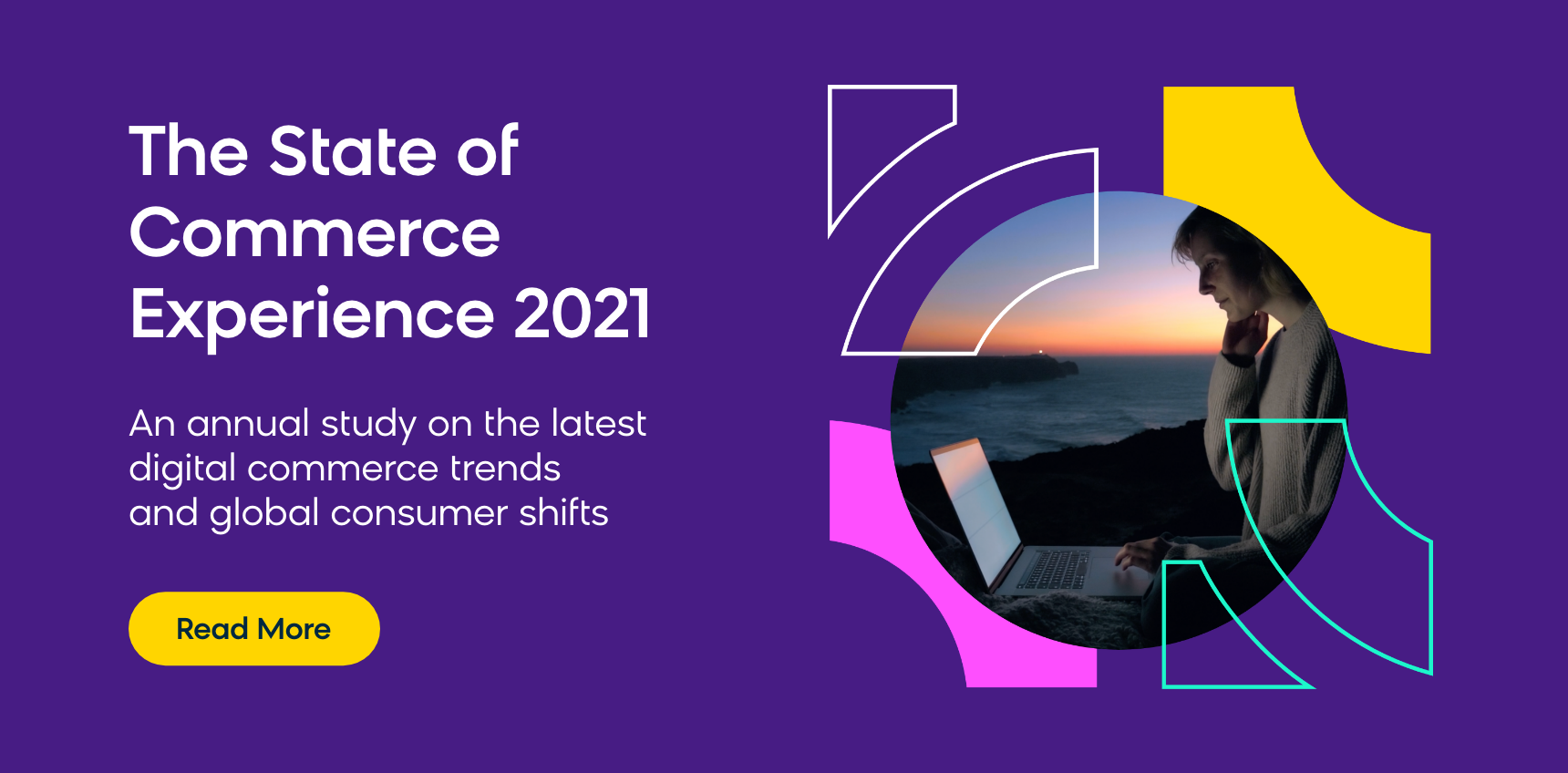 Why Is Customer Experience Important in E-Commerce?
Customer experience can set companies up to be more competitive and more customer-focused, ultimately driving sales and business growth. And there's plenty of data to back that up.
The State Of Commerce Experience, a commissioned report conducted by Forrester Consulting on behalf of Bloomreach, found that nearly half of buyers (40% of consumers and 56% of B2B customers) would pay more for a better experience, and would not buy from the same business again if the experience had been poor.
Yet too many businesses do not provide basic capabilities like easy website navigation, relevant search results, or clear product information. Almost 80% of online customers abandon their purchases because of these reasons, jumping to competitors who better meet their needs.
Furthermore, according to the same study, 98% of business decision-makers believe that not providing a seamless customer experience has important business implications, including a decreased net promoter score (49%), reduced customer visits (48%), and lost revenue/market share to direct competitors (44%).
This all points to a huge perception problem in online commerce — many companies view it simply as an online shelf to put products on display, and nothing more. But digital commerce is so much more than a sales channel. For example, according to the Forrester/Bloomreach study, 65% of customers research a product online before they go to the physical store.
Online browsing also has the potential to inspire potential customers to make purchases more than any other method. CXM is critical in capturing these opportunities and converting them by ensuring the customer experience, at every stage, is positive and stress-free.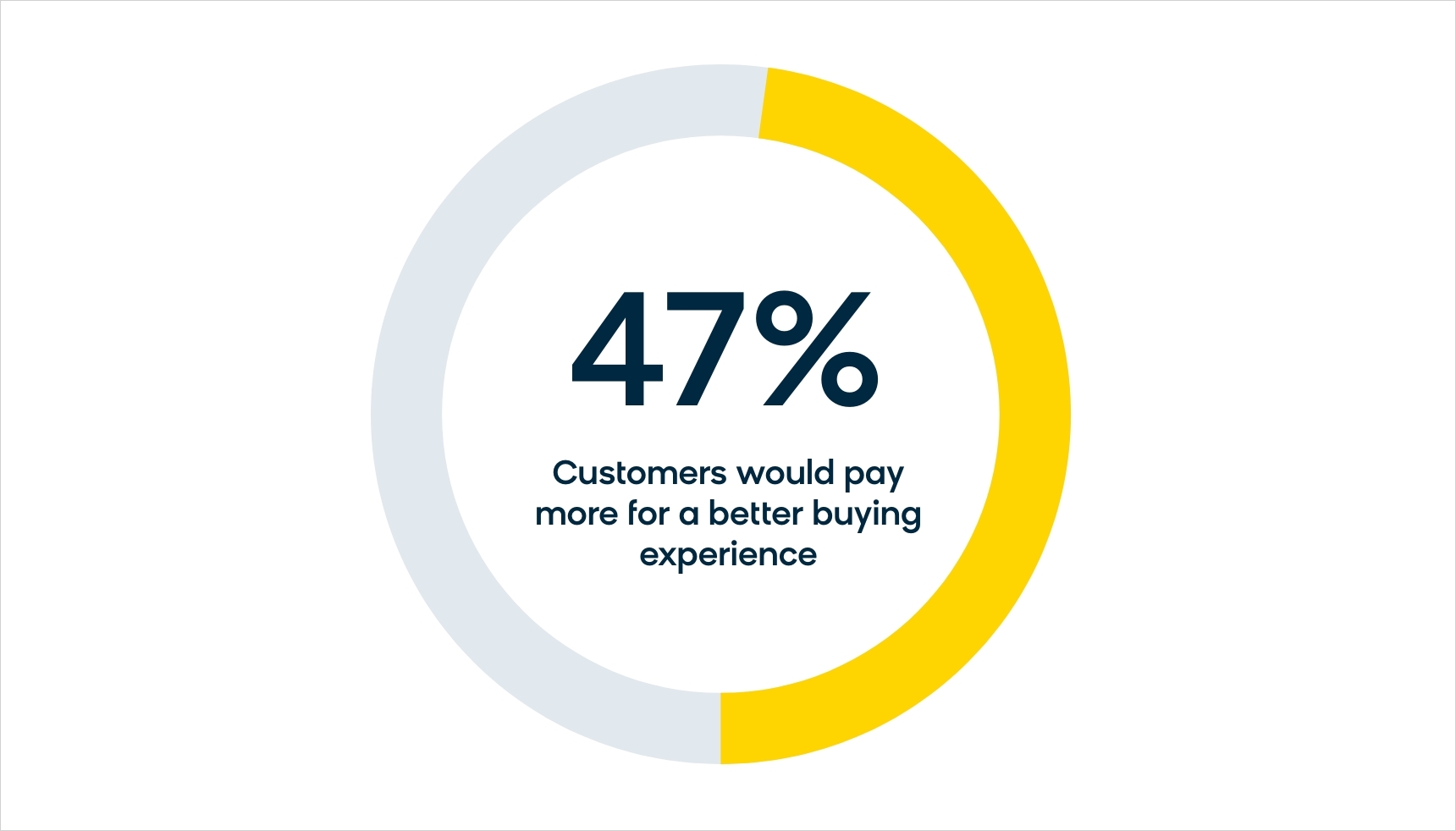 The Impact of Covid-19
The Covid-19 global pandemic pushed digital commerce front and center for both B2B and B2C buyers, driving half of shoppers to buy products they've never bought online before, with 70% buying more than usual.
It has been a wake-up call to all businesses to get their CXM strategy in order, amplifying the importance of customer experience and customer demands for better online experiences.  
"The event has accelerated B2B e-commerce by at least two years," says Brian Beck, Managing Partner at Enceiba, in a podcast episode on B2B commerce.
"The disparity is going to be very dramatic in terms of the businesses who were prepared and those who weren't. We're going to come out of this and I'm optimistic that on the other side, we're going to see a lot more investment in e-commerce customer experience, and transformation is going to be faster than it would have been otherwise."
Expanding on this, Allen Bonde, VP and Research Director at Forrester Research, believes that "customer preferences, expectations, and habits and behaviors are going to change" as a direct result of Covid-19.
"People will be more directed in their purchasing. One of my theories is that consumers will start to put cost aside and it will be more about convenience and availability. This will apply to both consumer behaviors and business purchasing behaviors. It will be more about reliability, convenience, availability, assured delivery trust, and less about price."
These attributes are very much at the heart of a great customer experience strategy.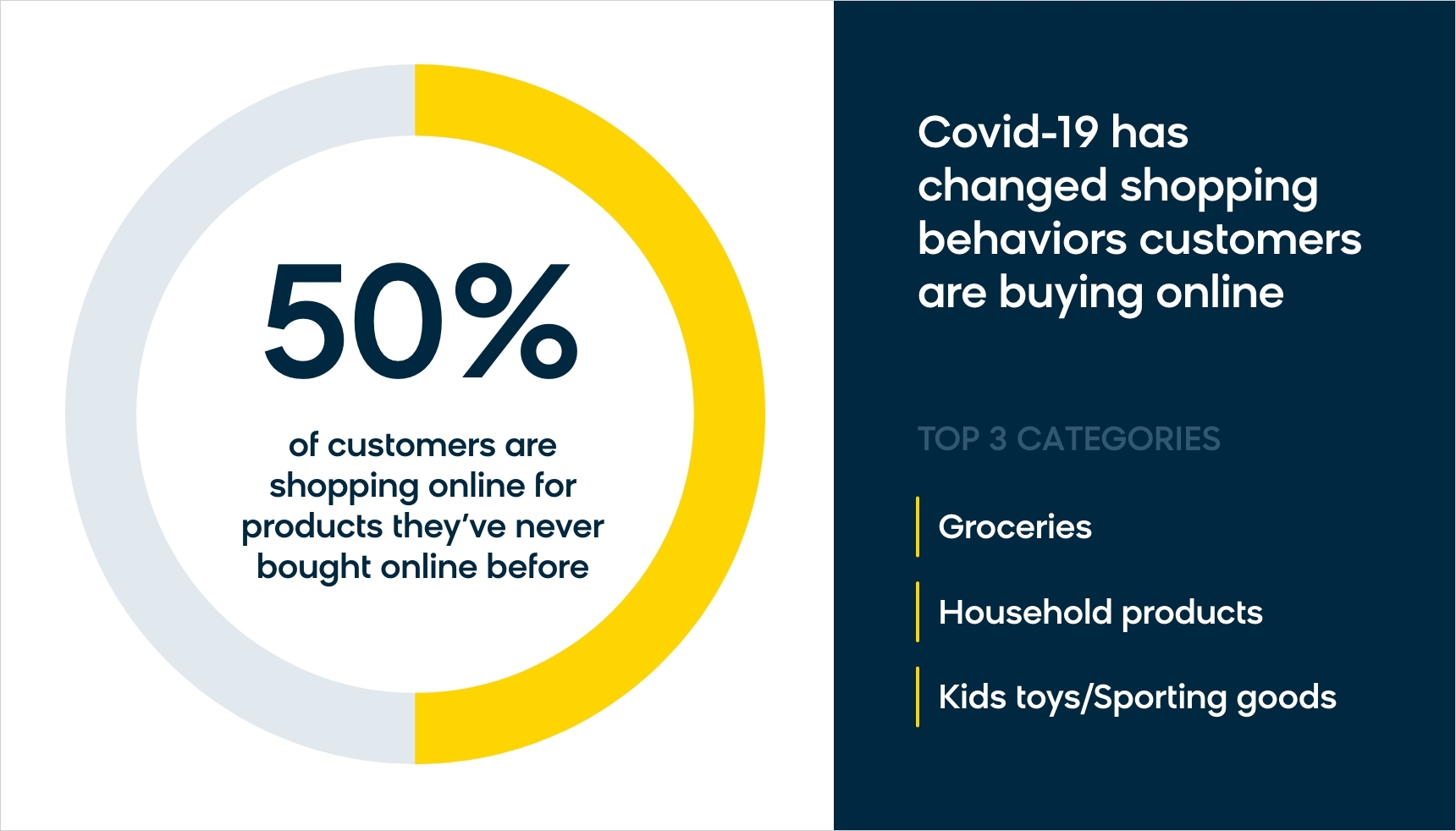 5 Ways To Improve E-Commerce Customer Experience
Intelligent Search
"For e-commerce, site search is the primary tool for building baskets and conversion, whether they're new or returning customers," says Shanti Vellanki, IT Director at grocery retailer Albertsons.
The search box is the most important real estate on any site, and it's a pivotal touchpoint for customer experience. 
Customers want a search function that delivers relevance to them. They want to know if the item they want is in stock and they want to see relevant suggestions, accurate up-to-date information, and detailed product information.
Unfortunately, many of the search functions on e-commerce sites today may hurt as much as they help because they focus on keywords instead of the meaning of those words in context. 
On a practical level, it's the difference between dumb search and intelligent search. Most marketing platforms still search for words alone, which is a recipe for failure.
If a shopper searches for a "shirt dress," they don't want results full of "dress shirts," and vice versa. Or if they search for "budget black laptop," they most likely want a black, low-cost computer. But a keyword search may instead deliver a page of low-cost black accessories for a laptop.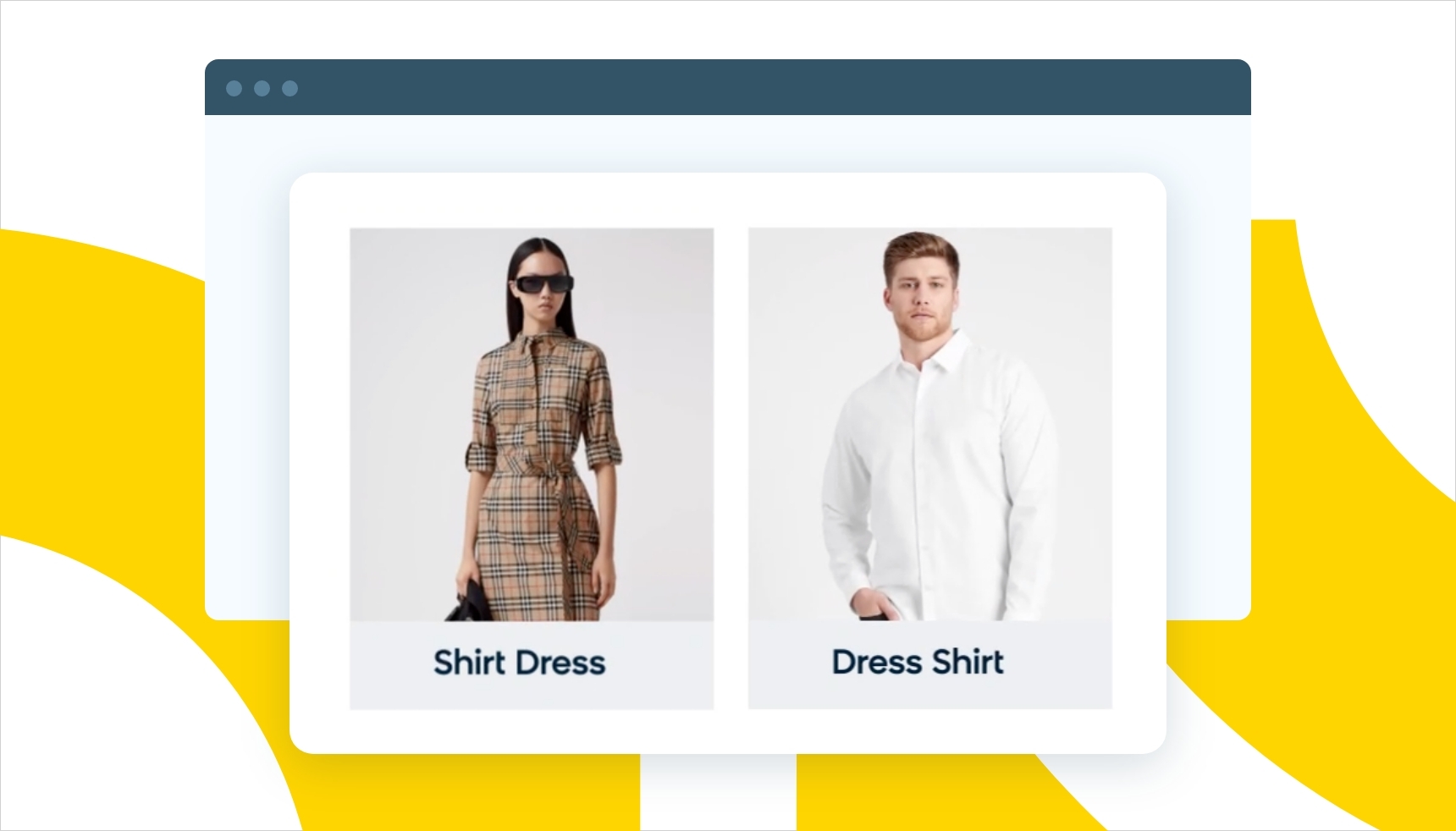 By comparison, an intelligent, semantic search considers the words in context, just as a human sales clerk would.
Intuitive, tailored search capabilities are crucial in delivering an exceptional customer experience. 
A Personalized Experience
The Forrester/Bloomreach study found that just 14% of consumers and 22% of B2B customers say their most recent online experience was completely personalized to them. Yet increasingly, this is the consumer expectation across all verticals.
Covid-19 has triggered an interesting cultural reset when it comes to consumer attitudes towards online shopping, and new habits are likely to have formed. Consumers are seeking out personalized experiences more and more.
As Pam Danziger, luxury retail expert and author, shared in a conversation on steering retail companies through the pandemic, "coming out of this crisis, we're going to see even more distinction between the idea of going shopping as an experience and actually having to buy something…the shopping experience and buying have become disintermediated."
Of course, this is easier said than done. While personalization is an increasingly hot topic, most businesses are still in the early stages of understanding how to best utilize it. But there are valuable tools that companies can use to ramp up their efforts.
Artificial Intelligence (AI) technology can help businesses embed personalization and targeted campaigns into their digital offering, empowering a relevant and tailored experience for the customer.
For example, products can be displayed based on customer-driven performance data as well as top business priorities. Machine learning capabilities can also enable retailers to respond quickly to changes in consumer behavior, as well as external factors such as weather and geolocation.

The Role of Mobile
How mobile fits within the digital customer experience is an important consideration. 
Because like it or not, mobile is here to stay. Mobile use has boomed in popularity in recent years for one simple reason: People across the world have become more attached to their mobile devices. Despite beliefs that consumers would be reluctant to purchase via mobile, mobile commerce sales are on track to reach well into the trillions in the very near future.
And this change isn't just an important factor for B2C companies. The massive shift to mobile is changing the way B2B businesses engage with customers, too. 
B2B businesses have traditionally thought of e-commerce as a tool for order entry — someting that their target customers do on their desktop, in their office, and without the need for a catered, convenient shopping journey. But with user experience becoming the big differentiator, the mobile experience becomes critical.
"As a customer walks through their factory, their facility, or their store, the retailer needs to ask, what problem are they trying to solve?" says Brian Beck, author of Billion Dollar B2B Ecommerce. "I know I would rather take action as I am walking through, whether it's adding to my order, placing the order, or figuring out where something is."
A strong mobile touchpoint can enable this level of usefulness to B2B customers, and it can be the game-changing factor for your customer experience.
Rich Content and Information
During the COVID-19 pandemic, the importance of information on product availability increased by 11% as a critical requirement for both consumers and B2B customers.
Providing accurate information such as product details, stock levels, answers to common questions, and pricing clarity can go a long way towards enhancing the e-commerce customer experience.
According to the Forrester/Bloomreach study, 32% of businesses currently provide rich, detailed product information, leaving much room for improvement.
Additionally, content needs to do more than answer product questions accurately. It must also tell a story and inspire the user. "You have to connect with me as a customer using rich content and experiences," explains author, researcher, and Forbes Senior Contributor Pam Danziger in our Commerce Experience podcast.
Moving forward, consumers are looking for more meaningful experiences. And they won't necessarily be drawn to a five-star brand just because of its reputation. Retailers will need to work harder for new customers and build brand loyalty through the digital customer experiences that they offer.
Flexible Purchase and Delivery Options
The State of Commerce Experience study revealed that only 41% of businesses offer in-store or branch pickup and 27% offer next-day delivery within their existing e-commerce strategy.
A lack of flexibility in purchase and delivery options can be costly, causing the customer experience to fail at the last hurdle. 
In the B2B sector, Amazon Business is a good example of a company providing the flexibility users want and need. It offers an experience Amazon users are familiar with in their personal lives, but with added business functionality and convenience such as the ability to buy on credit, pay by invoice, downloadable VAT invoices, and spending trackers.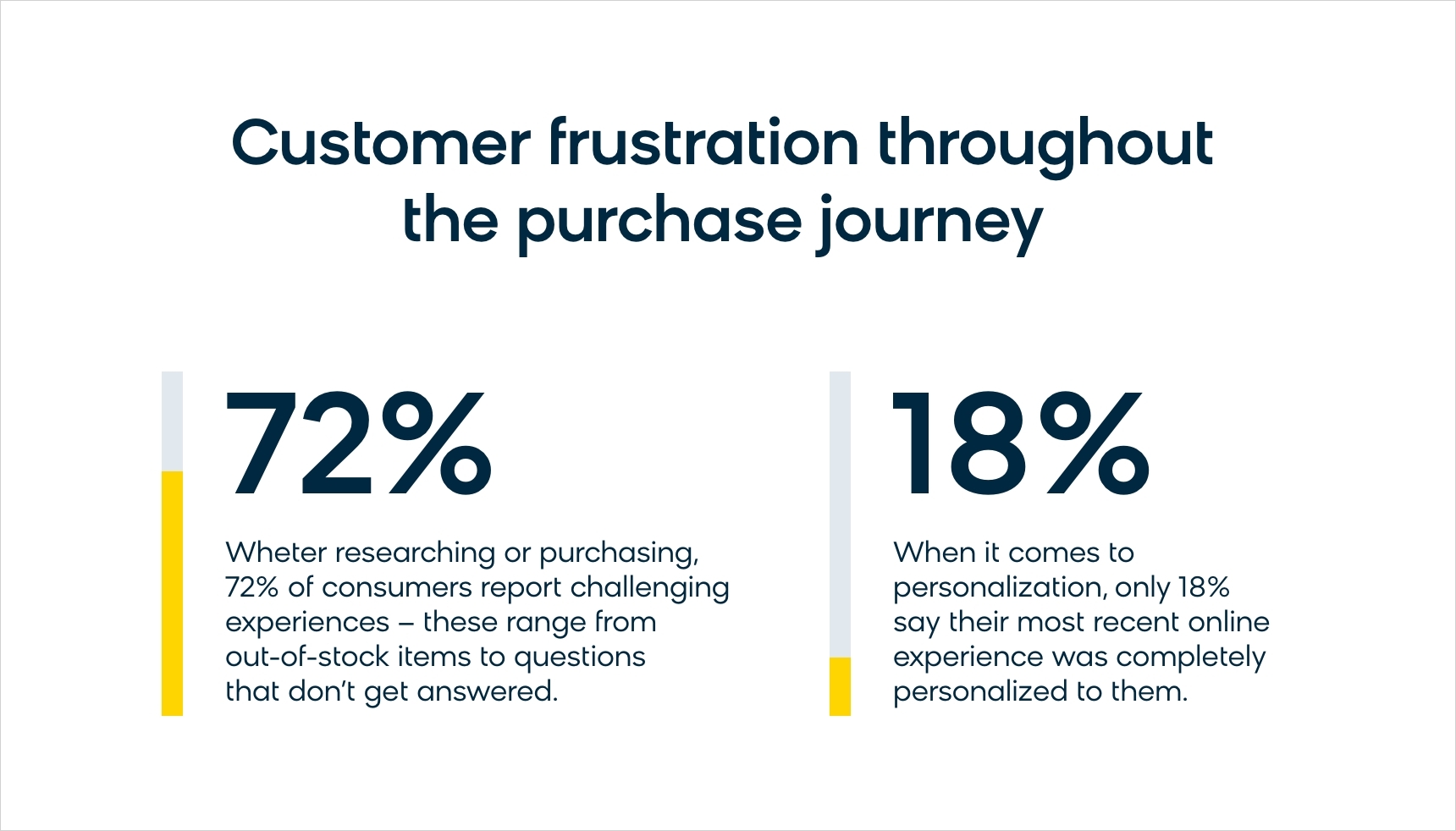 How To Analyze and Enhance E-Commerce Customer Experience
CXM needs constant attention and refinement. If you're a distributor, retailer, or reseller of any type, you need to know what your customers are doing. 
Here are some best practices for measuring the success of your CXM strategy:
💡 Data and insights
Businesses must focus on collecting the data and insights that are relevant to assessing and enhancing their customer experience strategy across every possible touchpoint. 
Transactional data helps illustrate the customers' purchase history. This includes data points like records of orders, invoices, methods of payment, timing of payment, and other information associated with an event like the lease or sale of goods and services.
Behavioral data makes it easy to know the patterns of your target audience. Customer data is vital for understanding the customer journey. Knowing where visitors were just before they came to your site — whether that was a search engine, a competitor's site, an advertisement, or somewhere else — can go a long way in personalization efforts.
Social media data is important for tracking how individuals engage with your content. The social data from your prospects and loyal customers can help you achieve deeper audience segmentation, improved lead nurturing, and a better understanding of the user experience to craft more engaging customer interactions.
🧪 A/B testing
A/B testing can be incredibly helpful for assessing the impact of merchandising decisions. And with a platform that empowers testing in real time and at scale, you can display unique content to each customer and create truly personalized experiences.
With the right tools in place, you can perform A/B testing on email campaigns, web experiments, weblayers, or even whole customer journeys. There's no limit to the variations you can produce that let you zero in on the ideal message for your audience.
The ability to A/B test is crucial for modern businesses. Without it, you can't put all the data and insights you collect to good use. You need to be able to apply the knowledge you gain from your data by test variables and fine-tuning the online shopping journey. It's the best way to optimize the customer experience.
📈 Customer satisfaction
Every business needs to be able to measure customer satisfaction, and the customer satisfaction score (CSAT) is an easy and instant way for brands and retailers to measure the success of their customer experience.
To calculate it, companies send a survey immediately following a purchase or customer interaction, depending on the nature of their business. The survey will ask "how satisfied were you with your experience?" and provide a corresponding survey scale. The CSAT is the average score of that survey.
The net promoter score (NPS) can also be a helpful metric for businesses, which is a customer satisfaction benchmark that measures how likely customers are to recommend the business to a friend. Also recorded via a survey, retailers will be able to determine the percentage of customers that love, are neutral towards, or aren't a fan of the brand.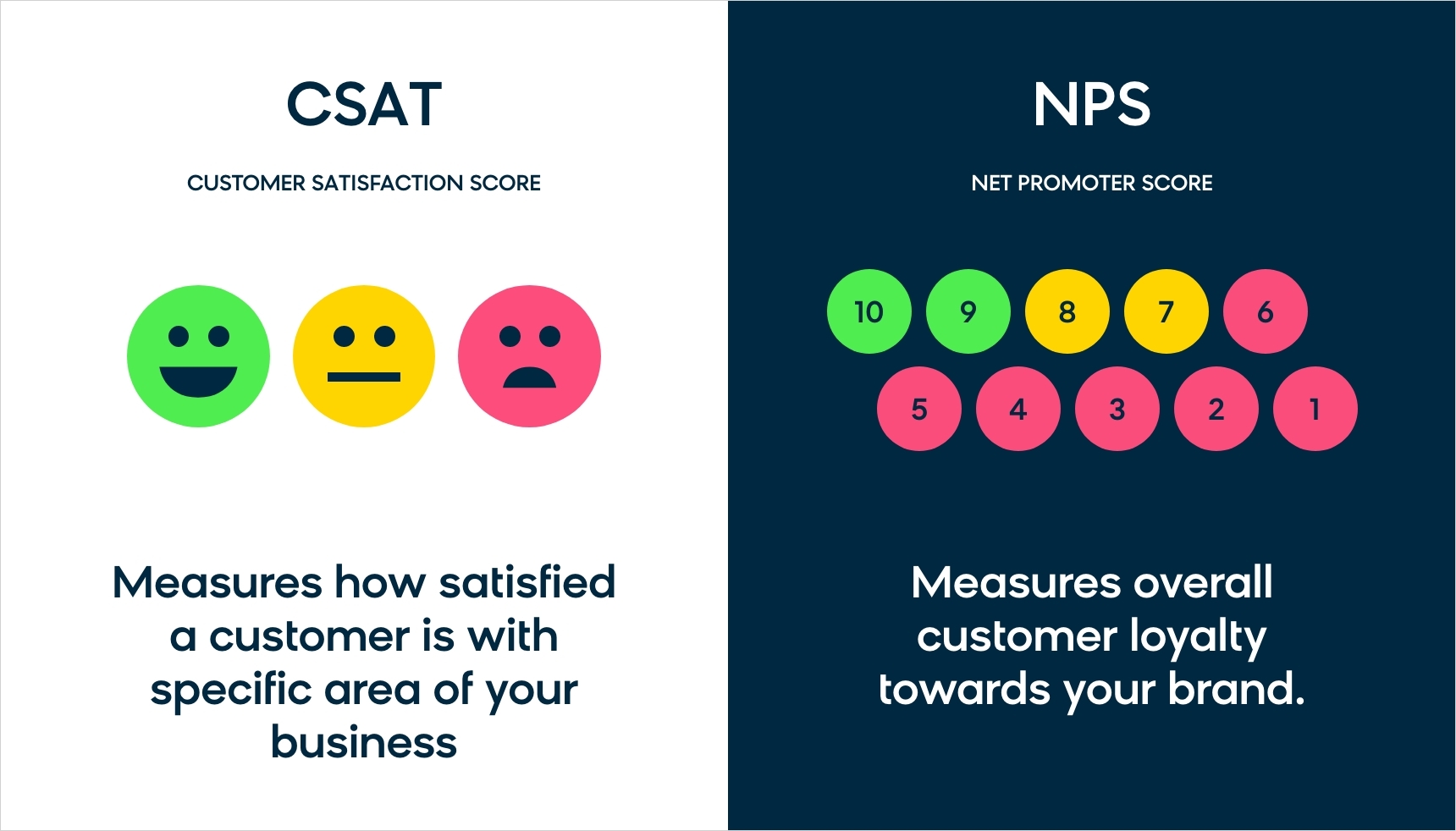 Examples of B2C and B2B Companies Creating Great E-Commerce Customer Experiences
In order to win in today's fast-paced world of digital commerce, the creation and management of exceptional experiences is a must.
Here are some of our favorite examples from world-leading companies: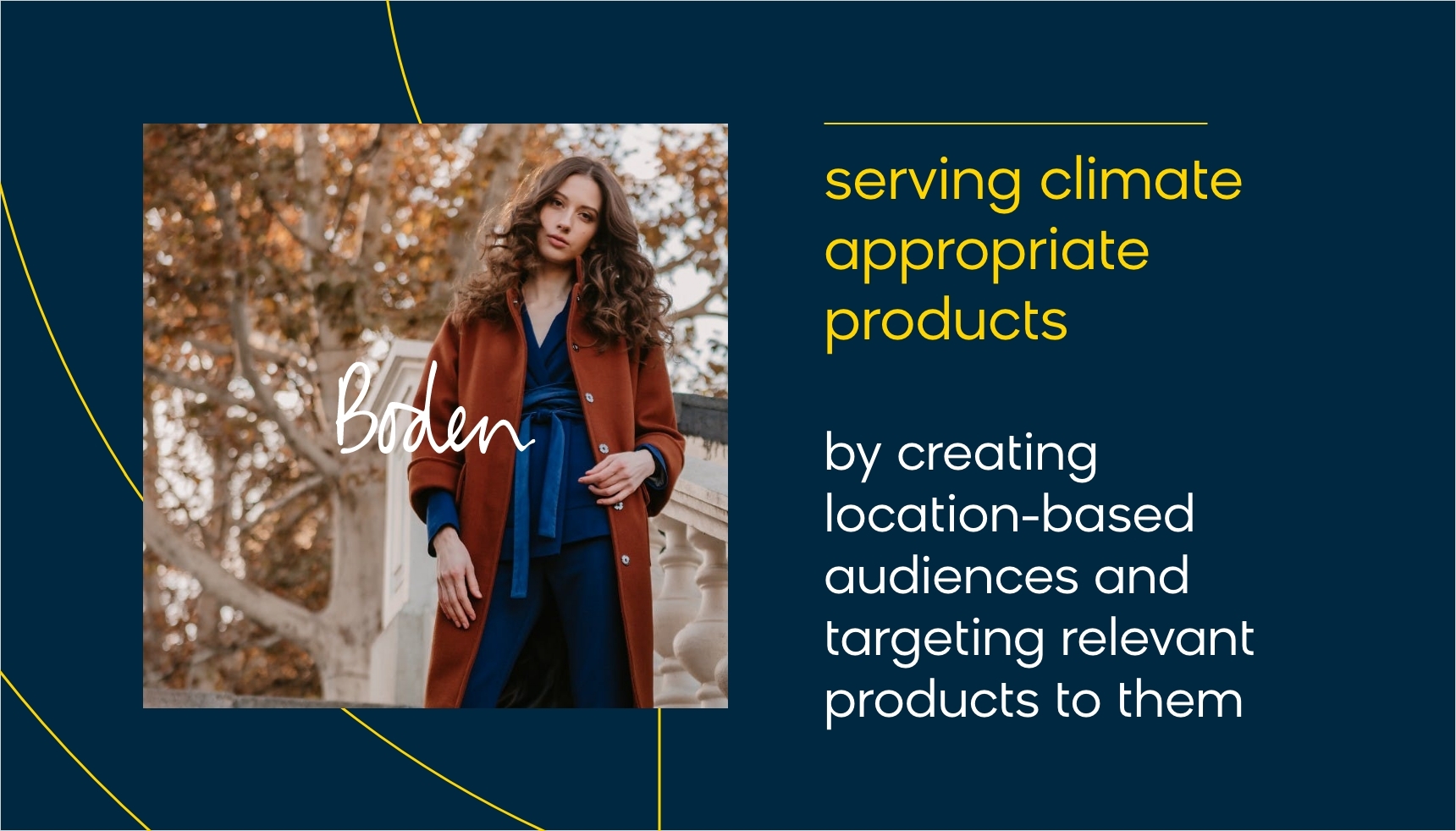 Boden:
British clothing retailer Boden saw that personalizing the customer journey would be the key to its future success. It needed a solution that would:
Provide a personalized experience for its customers 
Reduce the amount of manual rule-writing 
Give the team more agility and flexibility to react to customer needs
By partnering with Bloomreach, Boden has been able to build a personalized experience for each of its visitors. The solution, powered by AI, offers capabilities in A/B testing, slot-based merchandising, 1:1 personalization, segmentation, analytics and more. 
For example, Boden is now able to serve climate-appropriate products to shoppers by creating location-based audiences and targeting them with relevant products. It has also been able to launch "outfitting," which is the process of offering customers a collection of clothes that go together.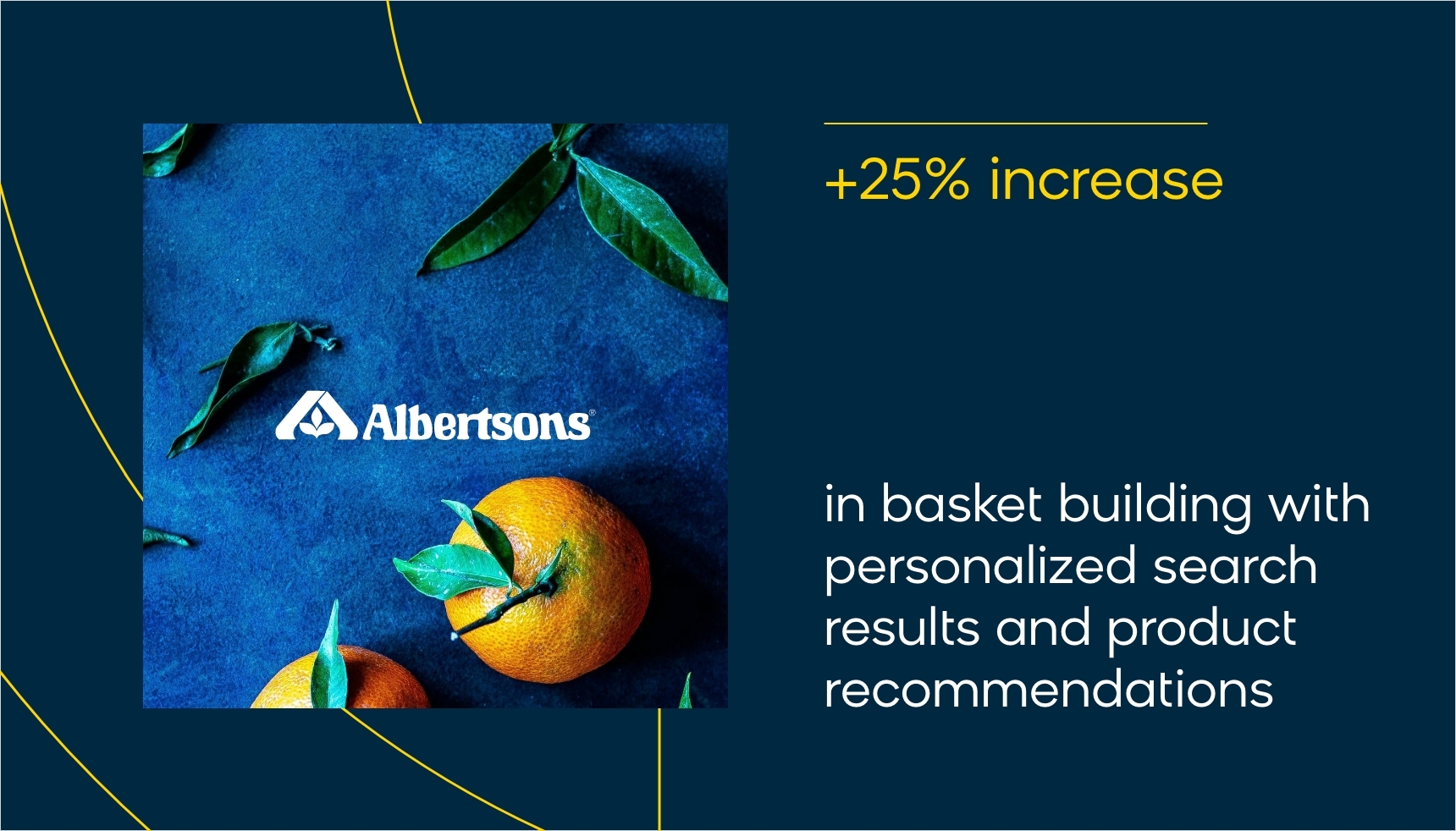 Albertsons:
Grocery store Albertsons has always been ahead of the curve when it comes to e-commerce. Keen to keep improving, it wanted to inspire its customers in what to cook for dinner, offering them multiple ways to shop and serving up personalized, relevant content wherever it could. It also needed to meet a growing demand for online grocery shopping.
With nearly 50% of its e-commerce attributed to search, Albertsons saw an opportunity with product search and browse solutions to reduce the time it was taking to build a basket, increase basket size, and lift conversion rates.
To achieve this, it used Bloomreach to deliver precise, relevant, and personalized search results along with product recommendations. As a result, basket-building speed went up by over 25%.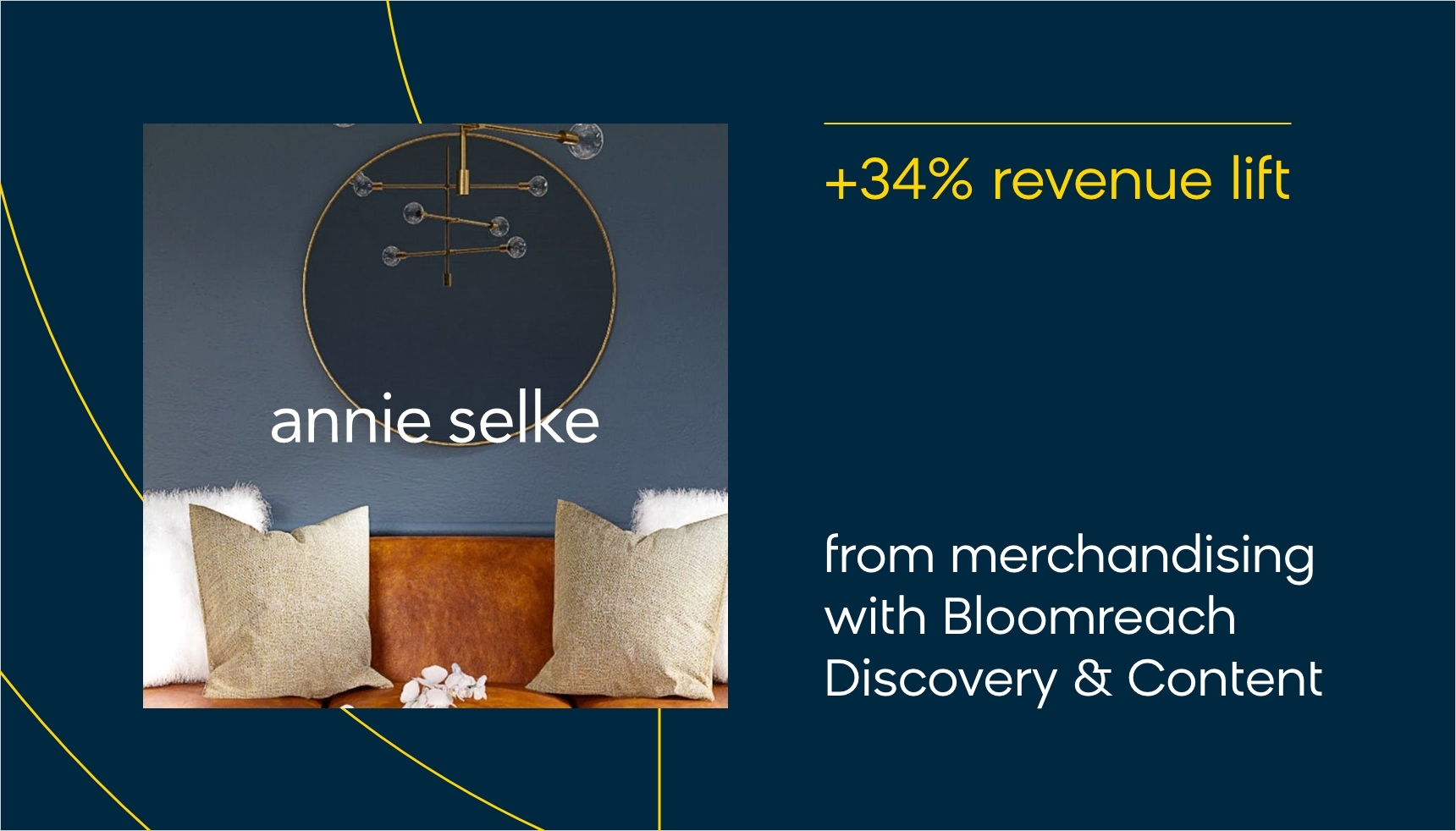 Annie Selke:
Home interiors retailer Annie Selke had a well-established brand, and the next phase was to create a frictionless online shopping experience from start to finish with merchandising at the center.
What it needed more than anything was intuitive search to replace the poor search functionality it had in place.
"It's super important to show the right products to the customer at the right time and in the place they're looking for them," explains Monica Cleveland, CMO of The Annie Selke Companies.
Implementing Bloomreach's site search capabilities enabled the business to take a two-pronged approach to search. If customers knew what they were looking for, they could skip past irrelevant results on the search page and head straight to the product page.
If they were less sure of their search, they would be shown highly relevant products on a search results page based on previous user behavior. In the first six months of the program, the brand saw a 40% increase in revenue from search.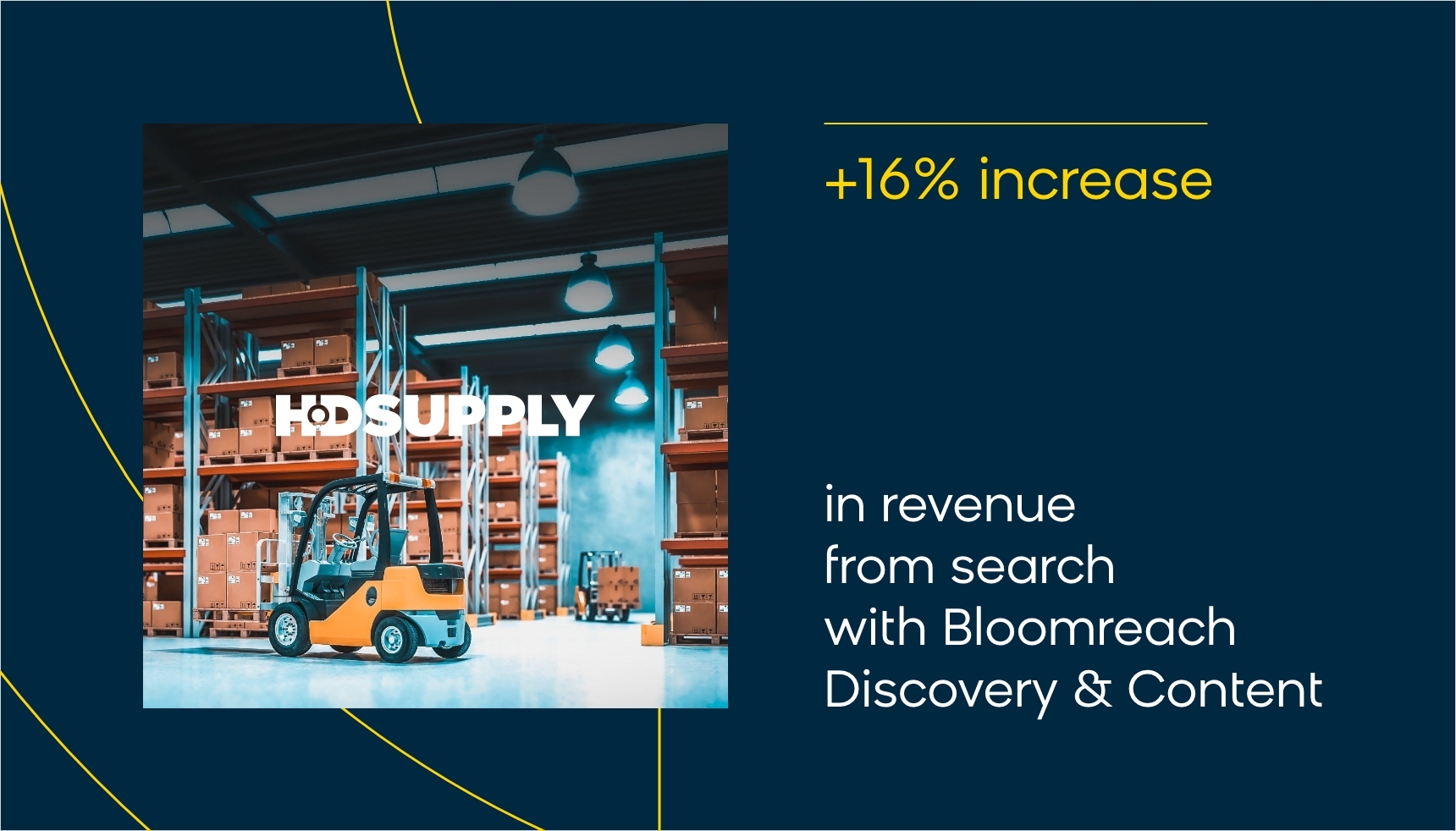 HD Supply:
HD Supply, one of the largest industrial distributors in North America, wanted to upgrade its entire user experience to B2C+, meaning it wanted to deliver the experience people expect along with the additional features a business customer needs.
Creating a smooth buying process was critical. Brooke Logan, Senior Product Manager, E-commerce at HD Supply, explains that "customers want to be able to find the right products fast, be sure they're picking the right products, order them, and get back to their day. It's all about making that 'Add to Cart' really easy."
With Bloomreach, the company revamped its site search experience with the ability to add to cart directly from the search bar. E-commerce customers now see the product image, part number, price, and the "Add to Cart" button directly in the search bar.
As a result of the program, HD Supply experienced a 16% increase in revenue from search and its add-to-cart rate from list and product detail pages increased by 4%.
Create the Best Customer Experience With Bloomreach
The rapid shift to digital in the last few years has forced e-commerce customer experiences into the spotlight, making it an urgent priority for businesses. Those with an effective customer experience strategy have been the winners, while others have been stuck and scrambling to figure out a way through.
Now is the time for retailers and brands to get back to basics and focus on the essence of experience and the type of relationship they would like to nurture with new and existing customers.
Above all, the experience they build must be convenient. At the same time, it also needs to be an immersive and inspiring adventure that will keep satisfied customers coming back.
And the ability to craft meaningful experiences is exactly what Bloomreach offers. 
Bloomreach is the world's #1 Commerce Experience Cloud, empowering brands to deliver customer journeys so personalized, they feel like magic. With a full suite of products that drive true personalization and digital commerce growth, companies have all the tools they need to offer the best possible experience for their customers, from site search and product recommendations to intelligence data insights and omnichannel marketing campaigns.
Ready to see what Bloomreach can do for your business? Schedule a demo today.