Omnichannel Marketing Automation
Top Strategies To Improve Your Abandoned Cart Emails
By Donna-Marie Bohan
09/15/2023
Omnichannel Marketing Automation
Top Strategies To Improve Your Abandoned Cart Emails
Picture this: A shopper has been eyeing one of your top-selling products for weeks. Web analytics show they've visited your online store multiple times and have even added the product to their online shopping cart. However, instead of seeing the shopper complete an online checkout, they simply completely disappear. Sound familiar? 
That's because abandoned carts are a commonplace phenomenon and the e-commerce equivalent of romantic ghosting. It's sudden, it's confusing, and it downright hurts. 
Research indicates that nearly 70% of online shopping carts are abandoned. This means that for every 10 customers who add an item to their shopping cart, seven of them leave without following through on the purchase. 
How do you combat such rejection? Fear not — we've got some tried-and-tested solutions for reducing abandoned shopping carts and recovering lost sales through a highly effective digital channel: email. Learn how to make sure you don't get your e-commerce heart broken again. 
What Are Abandoned Cart Emails?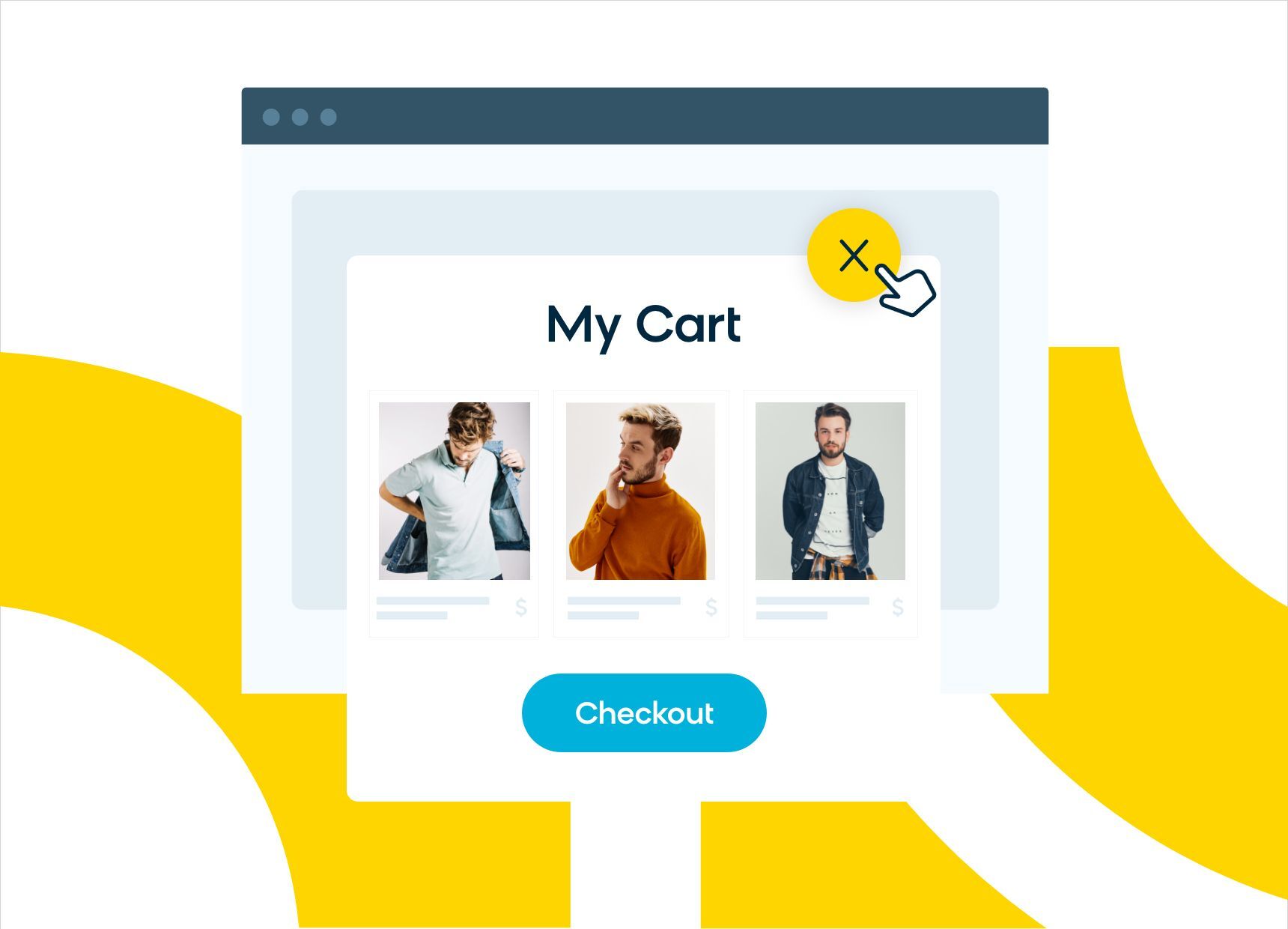 Abandoned cart emails are emails automatically sent to prospects or customers who've left without ordering the items they've added to their shopping carts. In short, they represent incomplete purchases in online environments. It's a common issue in e-commerce and can be caused by a variety of factors, including high shipping costs, limited payment options, a complicated checkout process, or the customer simply changing their mind. 
Whatever the reason, abandoned carts are a big problem for online retailers because they result in lost sales and revenue (and sometimes even lost customers). They may also be a sign that your commerce experience is in need of a makeover. As a result, e-commerce businesses should employ abandoned cart email campaigns to improve the commerce experience and recover lost sales. 
Why Should You Send Abandoned Cart Emails? 
Addressing abandoned carts and improving your customer experience is critical to preventing lost revenue and retaining customers. Cart abandonment campaigns are an essential means to achieving this. 
Since the customers have already added products to their carts, this indicates they were quite far in the buying decision process. Reminding customers after a few hours or days that they still have items in their carts is an effective way of increasing that conversion rate.
To help illustrate the importance of email reengagement, here are some interesting stats:
Over 40% of cart abandonment emails are opened
21% of these abandoned cart emails are clicked on
50% of users who click end up making a purchase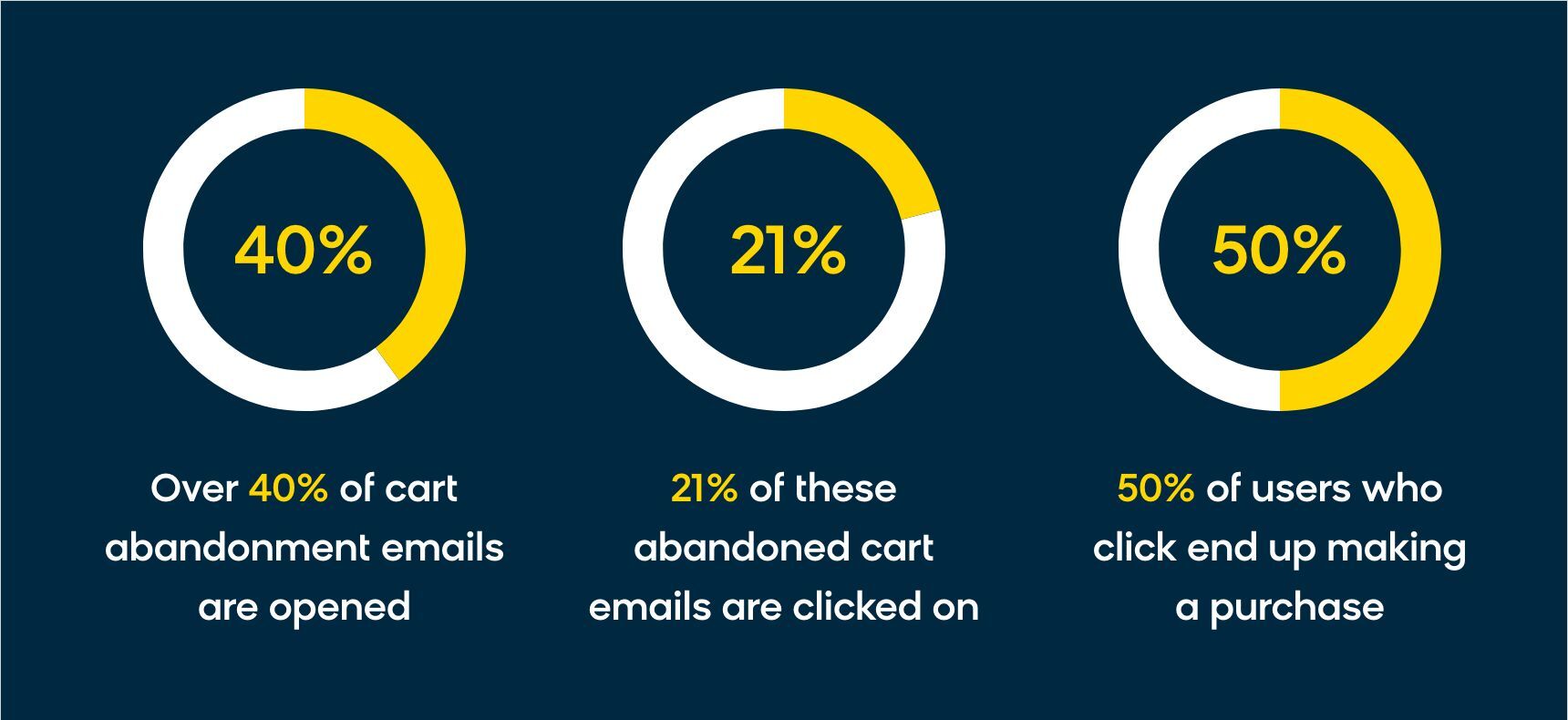 In other words, setting up an automated abandoned cart email campaign is a great way to decrease your cart abandonment rates. 
3 Strategies To Create Revenue-Generating Abandoned Cart Emails
Aside from optimizing the checkout experience, there are a few best practices you can use to reengage customers and increase the likelihood of conversion. 
Start With an Attention-Grabbing Subject Line
An email subject line is one of the most important elements of any email marketing campaign, representing a key factor in motivating people to open an email and engage with your brand. 
Modern inboxes are crowded, and brands vying for attention use well-crafted subject lines to stand out from the crowd and drive engagement. 
According to Phrasee, specialists in AI-powered content generation and optimization, there are a number of techniques and linguistic features that work  to create a follow-up email that converts.
For example, spammy and misleading messaging is generally bad for business. Instead, make sure your email content follows naturally from what you promise in the subject line. Reusing the same words or targeting the same sentiments can also hurt your email marketing performance over time. 
The smart approach is to experiment with different language elements and new ways to deliver your brand message. More than that, multivariate testing is an effective way to determine what subject lines work best with your unique audience. 
Barilliance has compiled a definitive guide to abandoned cart email subject lines, with examples from notable brands. 
In these abandoned cart email examples, you'll find subject lines that lean into various email techniques, including:
Offering incentives, like Bonobos — some examples include teasing a coupon code inside or providing a free shipping offer

Reminder notifications, like Forever 21 — remind customers that they have abandoned items so they can take action

And creating a sense of urgency, like The Honest Company

Cart abandonment emails should have the highest open rates in your triggered email campaigns because they target customers who've already expressed interest in your products. This is all the more reason why attention-grabbing email subject lines should be an important part of your email arsenal.  
Tap Into E-Commerce Personalization Strategies
At Bloomreach, we love to talk about e-commerce personalization because we understand why it has proven to be successful in not only engaging customers, but also driving sales and increasing repeat purchases. 
There are a number of ways that personalizing cart abandonment emails helps increase their effectiveness. Adding the customer's name in the subject line is a basic way to personalize your content, for example. 
But you can go even further: Try featuring the specific items the customers have left on their checkout page in your email, along with complementary products they might like. You can also try incorporating social proof, such as user reviews and testimonials. Not only will you keep your content relevant, but you may also capitalize on an opportunity to convert and even upsell. 
Here are some ways to personalize your cart abandonment emails: 
Use the customer's name throughout, including in the subject line, email greeting, and email body
Highlight the abandoned item(s) in question (and other complementary products) 
Offer personalized incentives, such as free shipping or discount codes — and be sure to include an expiration date to instill a sense of urgency
Share social proof from other users who purchased the same products and were satisfied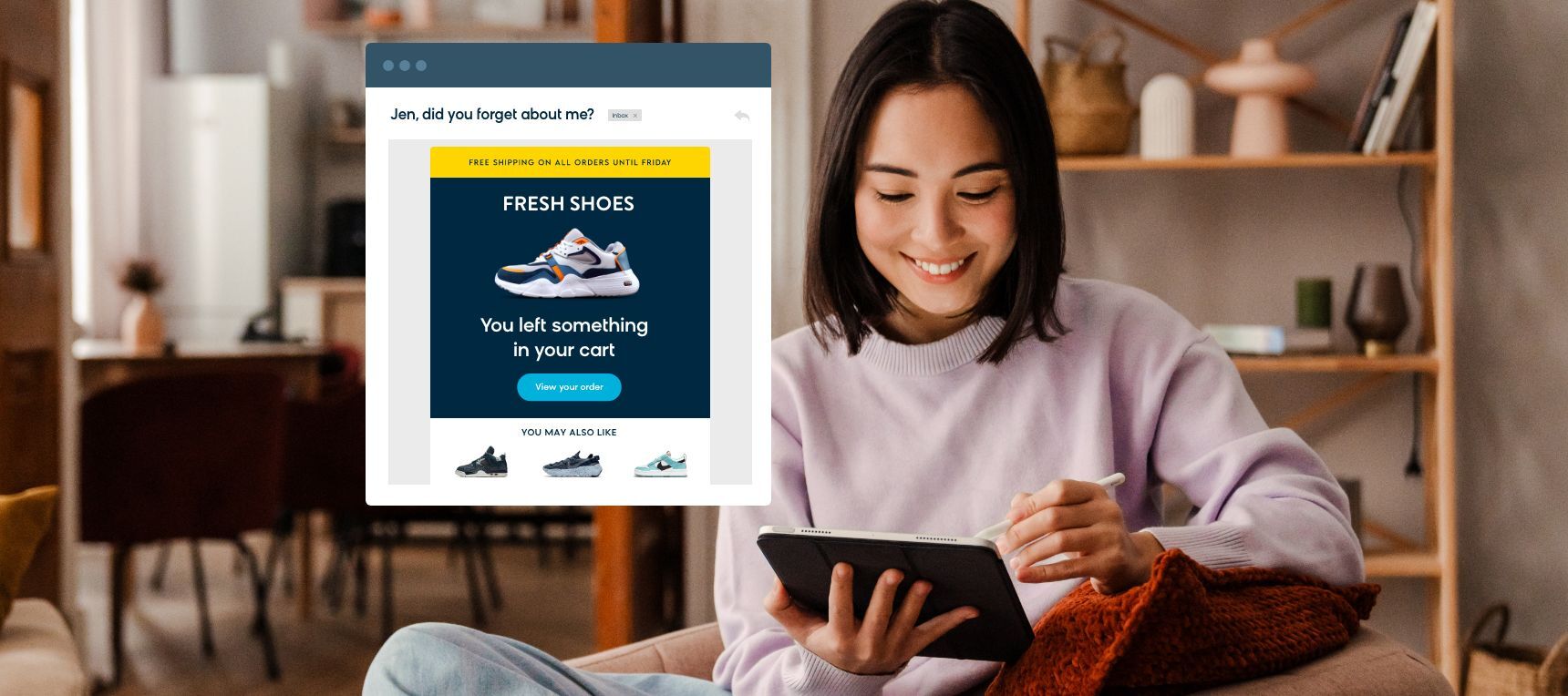 Use AI and Automation to Your Advantage
Creating a revenue-generating cart abandonment email strategy doesn't have to be a time-consuming or costly affair. Thankfully, AI and marketing automation take care of many aspects of this effort so you can concentrate on other areas of your business. 
E-commerce marketing automation allows a business owner or marketer to replace manual marketing tasks with marketing automation software or tools that can both manage and monitor repetitive workflows. When it comes to email marketing, some of these workflows might include nurturing your prospects, personalizing content, or remarketing messages. 
By using a marketing automation tool, businesses can make specific data-driven decisions about nearly every aspect of their communications, including offering unique experiences to each customer based on their habits and preferences. You can even use AI to determine the optimal time to send your abandoned cart emails.
An effective strategy to enhance follow-up emails is to include personalized recommended products within the email. An automated email is sent to the recipient with the items they didn't purchase but showed interest in. 
Your recommendation model might be based on additional customer data such as most frequently visited categories, purchase history, or interests. These are good sources for weekly deal recommendations or seasonal offers. These customers are quite far in their purchase journey already, so targeting them in this way is a proven tactic for increasing conversion rates. 
To get the most out of AI and marketing automation in your abandoned cart email strategy, it's really helpful to have a flexible, all-in-one platform that combines customer data, AI, marketing, and analytics. This way, you can personalize your content in real time, take the manual work out of abandoned cart email campaigns, and focus on strategy. 
Examples of Abandoned Cart Emails + Best Practices
In need of some inspiration? We've selected some abandoned cart email examples from leading brands to help you along your journey to greater conversions and revenue. 
Case Study: Oliver Bonas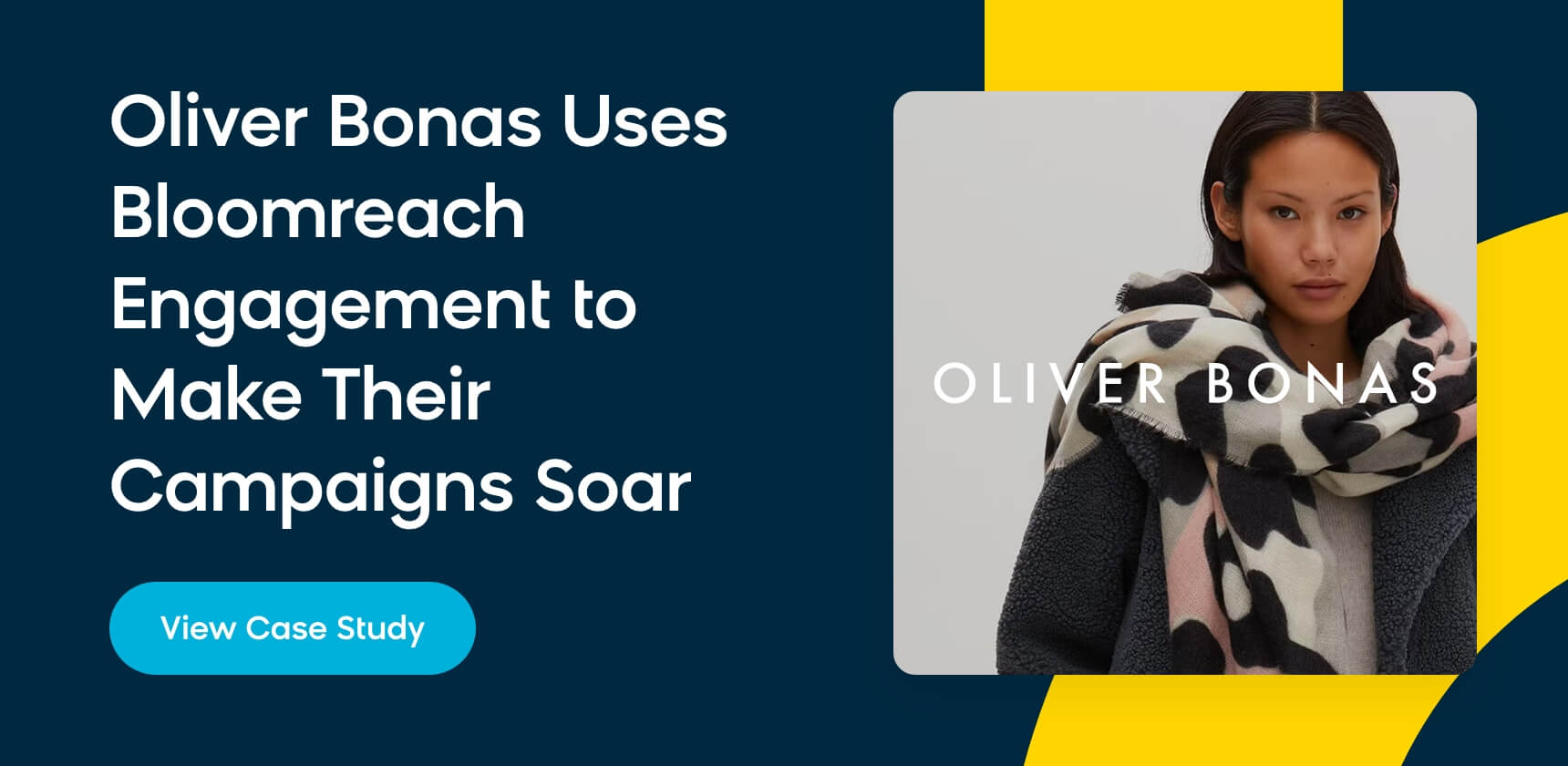 British lifestyle retailer Oliver Bonas turned to Bloomreach Engagement for its new marketing strategy, which sought to accommodate a variety of customer segments and incorporate brand-new designs and email flows for different channels and their sign-up locations. 
These new emails were personalized to each customer segment, and also featured opt-in segments, reminders, and abandoned-cart notices. These offerings allowed Oliver Bonas to target and retarget its designated audiences.
Overall, the unified data, collected through Bloomreach's all-inclusive platform, delivered connected customer experiences with a single, automated solution. It also allowed customers to manage their correspondence with the company through an email preference center.
The result? In less than a year, Oliver Bonas experienced exponential improvements. Bloomreach Engagement helped the company better connect with its prospective and existing customers, leading to a 97% increase in email click-through rates.
By taking their email campaigns to the next level, Oliver Bonas continues to unify and leverage customer data to drive revenue and conversions.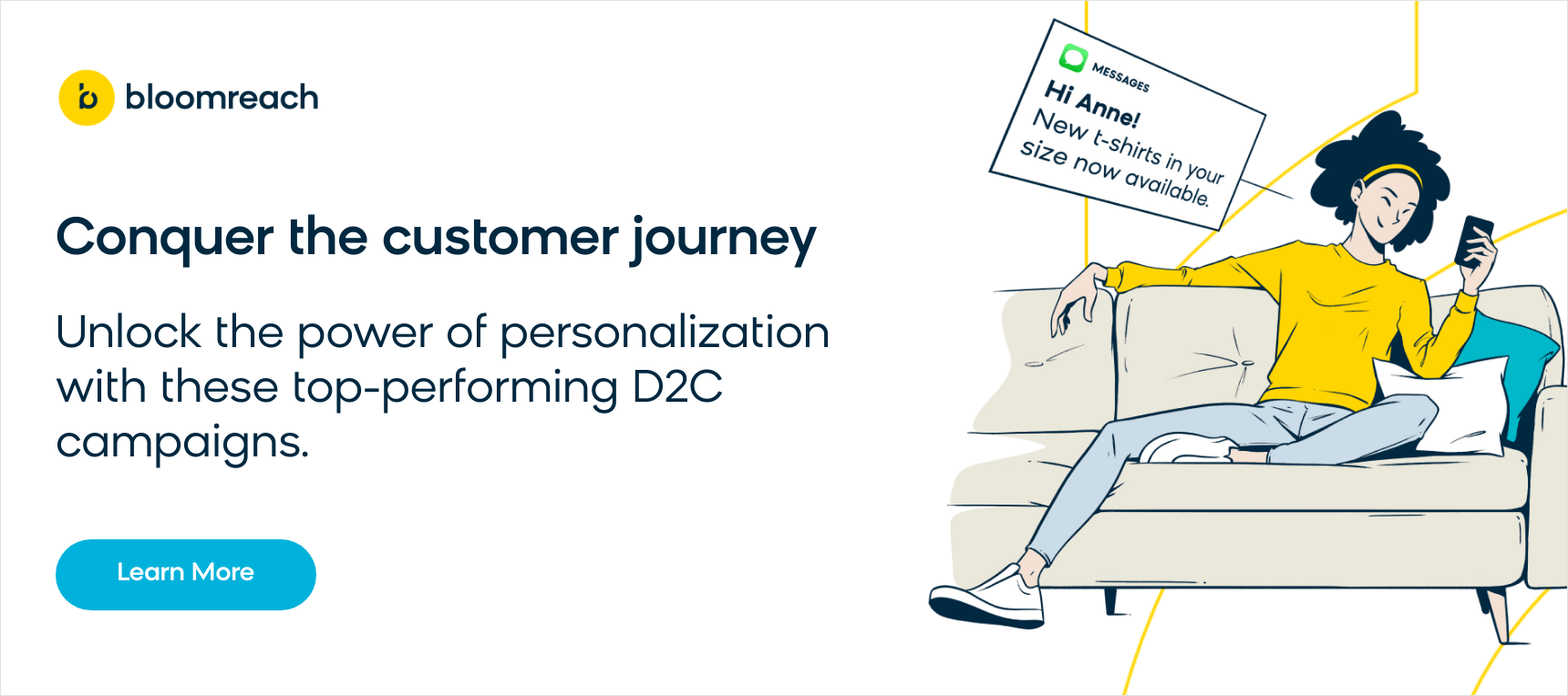 Abandoned Cart Email Best Practices
The marketing automation experts at HubSpot know a thing or two about great email marketing best practices. They've put together a useful collection of abandoned cart email examples, as well as a handy guide to abandoned cart email templates and what an abandoned cart email sequence might look like. 
For example, the first email in an abandoned cart email sequence might focus on a cart reminder that's sent a few hours after the cart is abandoned. The second email could be a follow-up reminder sent a few days later. Then, the third email can subsequently focus on offering discounts or promotions.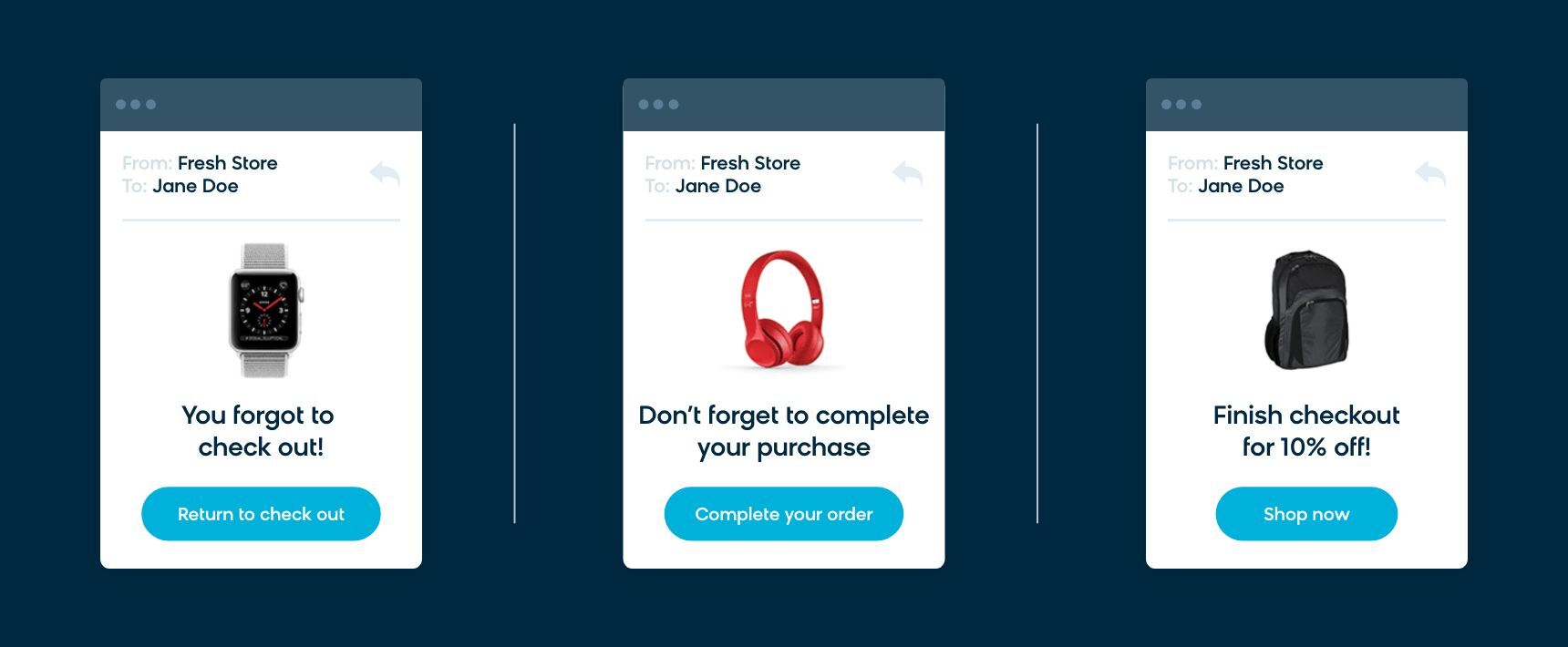 Thinking Beyond Email — Abandoned Cart Strategies for SMS
Now that you've got a solid grounding on how to execute an abandoned cart email strategy, it's worth considering how you can recover lost sales via other digital marketing channels. 
The beauty of using a platform like Bloomreach Engagement is that it enables brands to executive omnichannel abandoned cart email campaigns. 
SMS marketing campaigns, for example, have consistently proven how valuable a text messaging strategy can be. With the number of mobile devices expected to exceed 18 billion by 2025, it's no surprise that mobile commerce is a pretty big deal and all the more reason why the ROI on mobile marketing will continue to grow. 
If your goal is to reduce cart abandonment and recover lost revenue, you can tailor your SMS messages to notify shoppers when they've left items in their cart, send them discounts and incentives to complete their purchase, or provide shipping updates for their order once they've become a loyal customer. 
Read this next: Everything You Need To Create the Best SMS Marketing Campaigns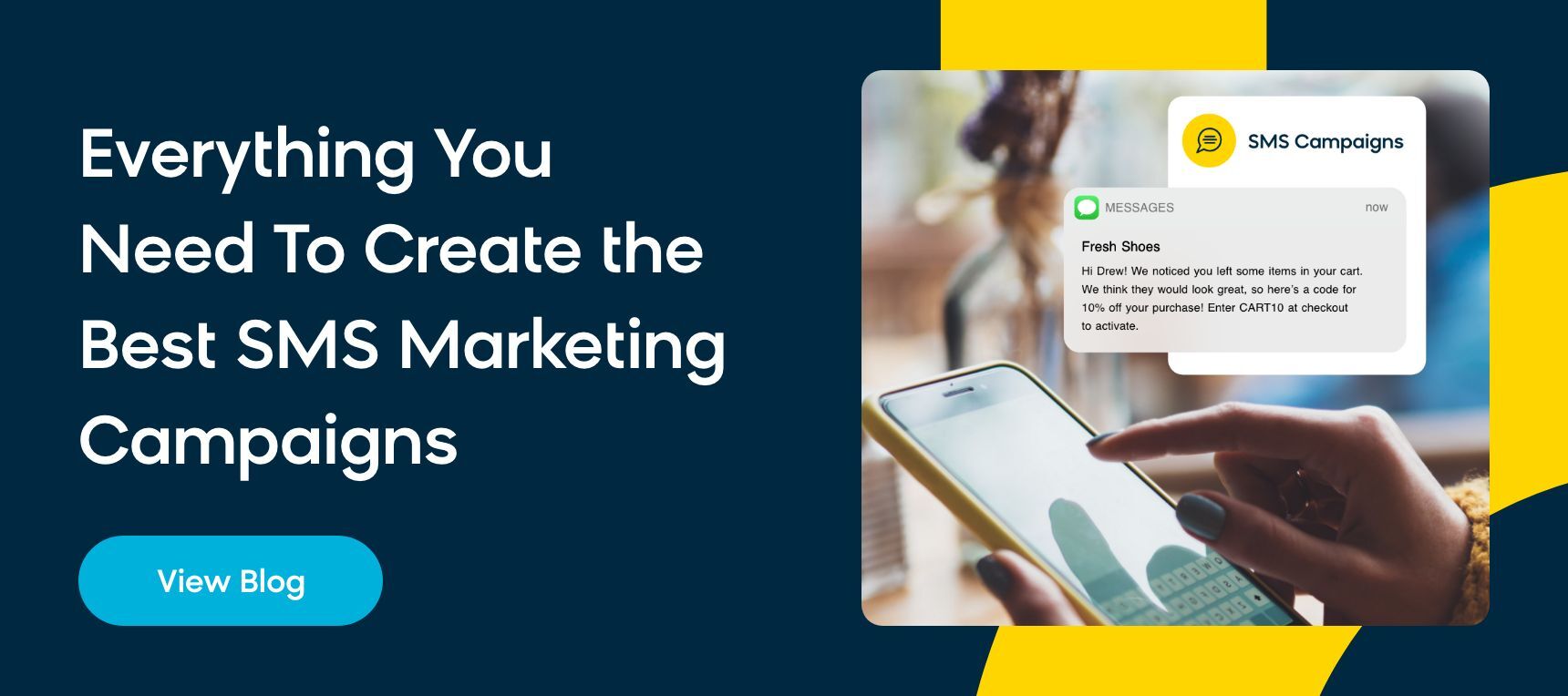 Bloomreach Engagement Facilitates a Winning Abandoned Cart Email Strategy
In summary, abandoned cart emails are the perfect solution for reengaging customers and recovering lost sales. 
If your goal is to recover lost sales via abandoned cart emails or omnichannel marketing campaigns, Bloomreach Engagement is the tool you need to drive more powerful results. 
Featuring advanced targeting, drag-and-drop email automation, and real-time personalization, you can raise the bar with your abandoned cart email campaigns, convert more customers, and win more revenue. Plus, Bloomreach Engagement is powered by Loomi, an industry-leading AI that makes it easier to convert cart abandoners and lapsing customers.
Don't wait to get started. Learn more about how Bloomreach Engagement can help you elevate your abandoned cart email strategy.