Omnichannel Marketing Automation
How to Create an Omnichannel Customer Engagement Strategy
By Ian Donnelly
07/31/2023
Omnichannel Marketing Automation
How to Create an Omnichannel Customer Engagement Strategy
It's no secret that customer engagement is a primary goal for every marketer. It's the modern metric used to measure success, and to get better engagement, you need to be present in all the right places.
Everyone is using multiple devices, apps, and channels to interact with their favorite brands. And if businesses want to keep their customers engaged, they need to be ready and able to connect with people on the right channel at the right time.
That's why an omnichannel strategy is so crucial. Your customers expect a consistent and cohesive brand experience across all touchpoints. You can't afford to lose your audience because your campaigns are confined to one channel or your customer journey falls short. You need a comprehensive approach to your customer engagement strategy — and the right marketing technology to put your plans into action.
Here's everything you need to know to create an omnichannel customer engagement strategy.
What Is Omnichannel Customer Engagement?
Omnichannel customer engagement is a multichannel approach to marketing and customer service that is all about delivering experiences that are relevant, timely, and valuable to the customer. It uses an array of channels — both direct and indirect, online and offline — to build a seamless, cohesive customer journey, no matter where your audience interacts with your brand. 
This level of consistency goes beyond basic multichannel marketing to build customer journeys that guide your audience as they interact with different touchpoints. For instance, a customer that visits your website can be sent a special email offer on a product they viewed, or shown a social ad if they clicked on the email but didn't convert. Each touchpoint builds on the next step in the customer's journey, offering an experience that deepens their relationship with your brand.
How an Omnichannel Approach Improves Customer Engagement
An omnichannel approach is so beneficial to modern shoppers that it's now an expectation — 9 out of 10 consumers want an omnichannel experience with seamless customer service between communication methods. 
And beyond meeting customer expectations, there are countless reasons that companies should adopt omnichannel customer engagement. It can help boost your marketing efforts across the board, including:
Increased sales and traffic. Studies show that omnichannel customers spend more money than single-channel customers. 
Increased customer loyalty. Not only do omnichannel customers spend more, they're also more loyal to your brand. Companies with omnichannel engagement strategies retain 89% of their customers on average.
Better data collection. Marketers that are able to track their customers across different channels and connect all that data can better serve their audience with a more personalized experience.
Key Components of a Omnichannel Engagement Strategy
To build an effective customer engagement strategy, you need the right tools for the job. An omnichannel customer engagement platform is a must-have, and every component of your marketing technology stack needs to work in sync to create the seamless experience your customers expect.
That's why Bloomreach Engagement offers all the customer insights, workflows, and orchestration capabilities necessary to achieve omnichannel results — all in one platform. 
Here are the main features your marketing technology needs to achieve next-level omnichannel customer engagement.
Unified Customer Data
The ability to ingest and unify data into a single marketing view of your customers is step one of any smart omnichannel strategy. You need a data collection tool that can centralize all your data and break down any silos to develop a deep understanding of who your customers are and how to best serve them.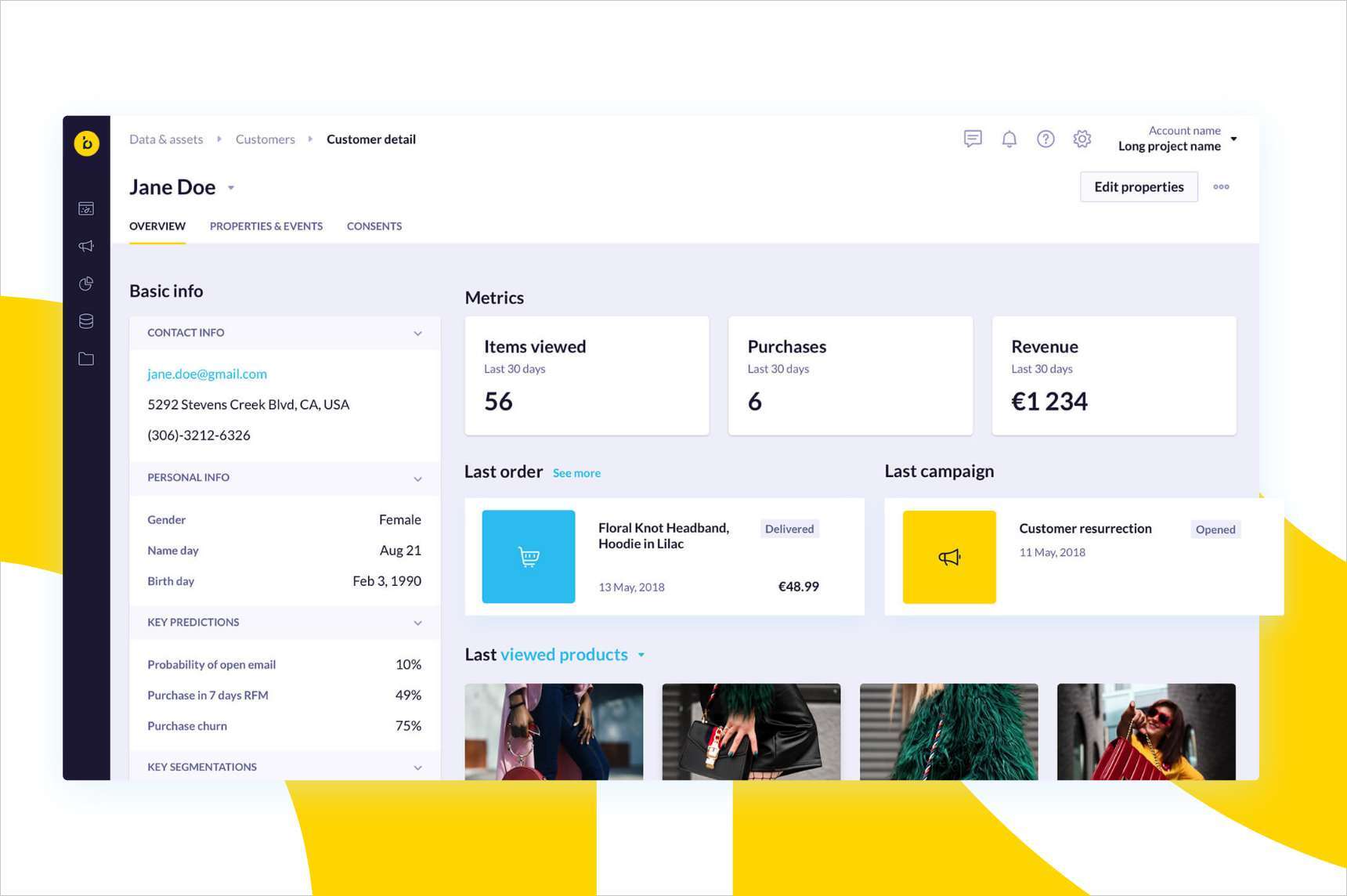 You need to collect your data and consolidate it into a single customer view, a database of customer profiles containing accurate data points like each customer's purchase history, site activity, product recommendations, etc. — everything you need to build omnichannel campaigns that cater to every individual person who interacts with your business. 
Fully Aligned Channels
Coordinated and integrated marketing channels are just as important for omnichannel customer engagement. Every interaction your customer has on one channel needs to inform the others, allowing you to draw insights and activate your customer data across all your campaigns.
When you break down barriers between channels and integrate all these touchpoints, you empower the consumer to interact with your brand on their own terms, wherever and whenever it's best for them. This makes it easier for your omnichannel customers to engage, repeatedly purchase, and become a loyal customer.
Hyper-Relevant Segmentation
Building advanced customer segments and audiences is one of the most crucial components of omnichannel marketing. It's something you need to get right to make sure your customers always receive the most relevant, up-to-date communications that speak directly to their needs.
Real-time data is the key to segmentation. With access to the most relevant data points from your customers' interactions with your brand, you can build campaigns that speak to customers on a one-to-one level, whether they are your most loyal customers or one-time purchasers who are in danger of churning.
Journey Orchestration and Marketing Automation
Tracking your customer's behavior, segmenting them into relevant groups, and reaching them on the right channels at the right time can sound like a daunting and time-consuming task. That's why omnichannel orchestration and automation capabilities are must-have features for any marketing tech stack.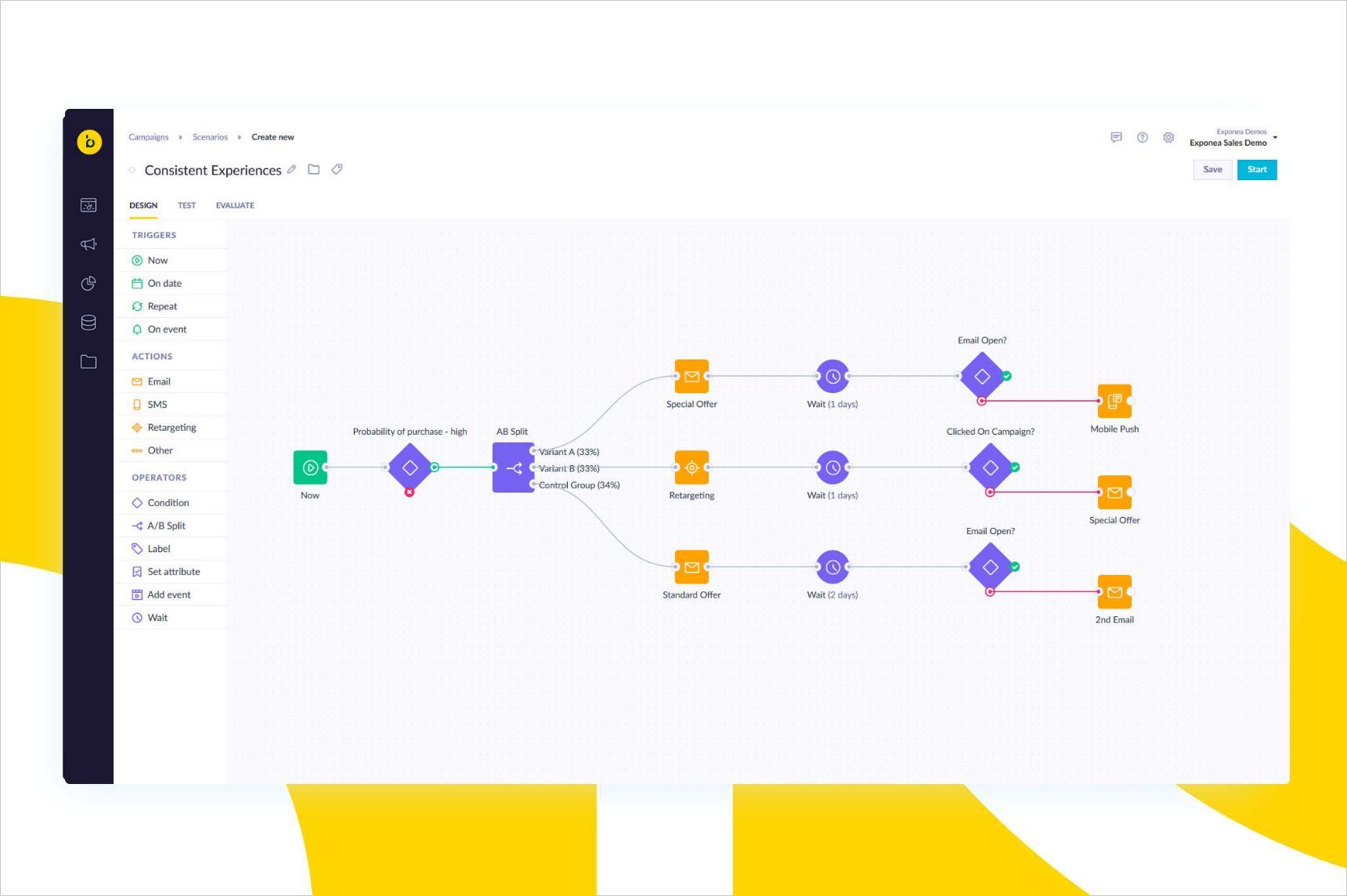 Creating adaptive, relevant campaigns requires forethought, coordination, and the ability to see entire workflows from a birds-eye view. Marketers need to set up campaigns, triggers, and conditions in one place instead of trying to execute them all individually across different channels. 
How an All-in-One Solution Streamlines Omnichannel Success
Access to all these features is non-negotiable to create a truly omnichannel experience, but  cobbling together a tech stack with all the right tools can be a difficult job. 
That's why Bloomreach Engagement offers everything you need to build, orchestrate, and execute a game-changing omnichannel strategy. It's the only marketing solution that combines customer data, marketing channels, analytics, and machine learning into one integrated platform. 
Powered by our customer data engine, Bloomreach Engagement natively connects advanced data collection capabilities with granular analytics to help marketers understand the customer journey in real time and create omnichannel campaigns that drive results.

With Bloomreach Engagement, your customer segments are always fueled by the most relevant data, your campaigns can adapt to your audience's actions in real time, and your entire customer journey is automated to create the seamless experience your customers deserve.
All the tools in Bloomreach Engagement's comprehensive toolkit makes true personalization possible, which is the ultimate goal of omnichannel customer engagement. When your customer experience feels completely contextual and unique to each consumer, there's no limit to how successful your strategy can be.
Examples of Omnichannel Customer Engagement Campaigns
Even with the right tool for the job, building your omnichannel customer engagement strategy from scratch can be an intimidating endeavor. Choosing the right campaign themes and goals while coordinating a consistent experience across all your channels is no small feat. 
The best way to start is by looking at use cases of omnichannel campaigns that consistently work for modern businesses. Here's some tried-and-true examples of omnichannel experiences that you can implement to engage with your customers.  
Retarget Audiences Who Haven't Engaged With Your Email or SMS Campaigns
If you have customers who aren't engaging with your email or SMS campaigns, you can take an omnichannel approach to reconnecting with them and nurturing customer interaction in different ways. Disinterest via one channel can be a valuable data point that fuels another — for instance, you can create a customer segment based on unengaged SMS or email recipients and try an alternative channel to inspire action.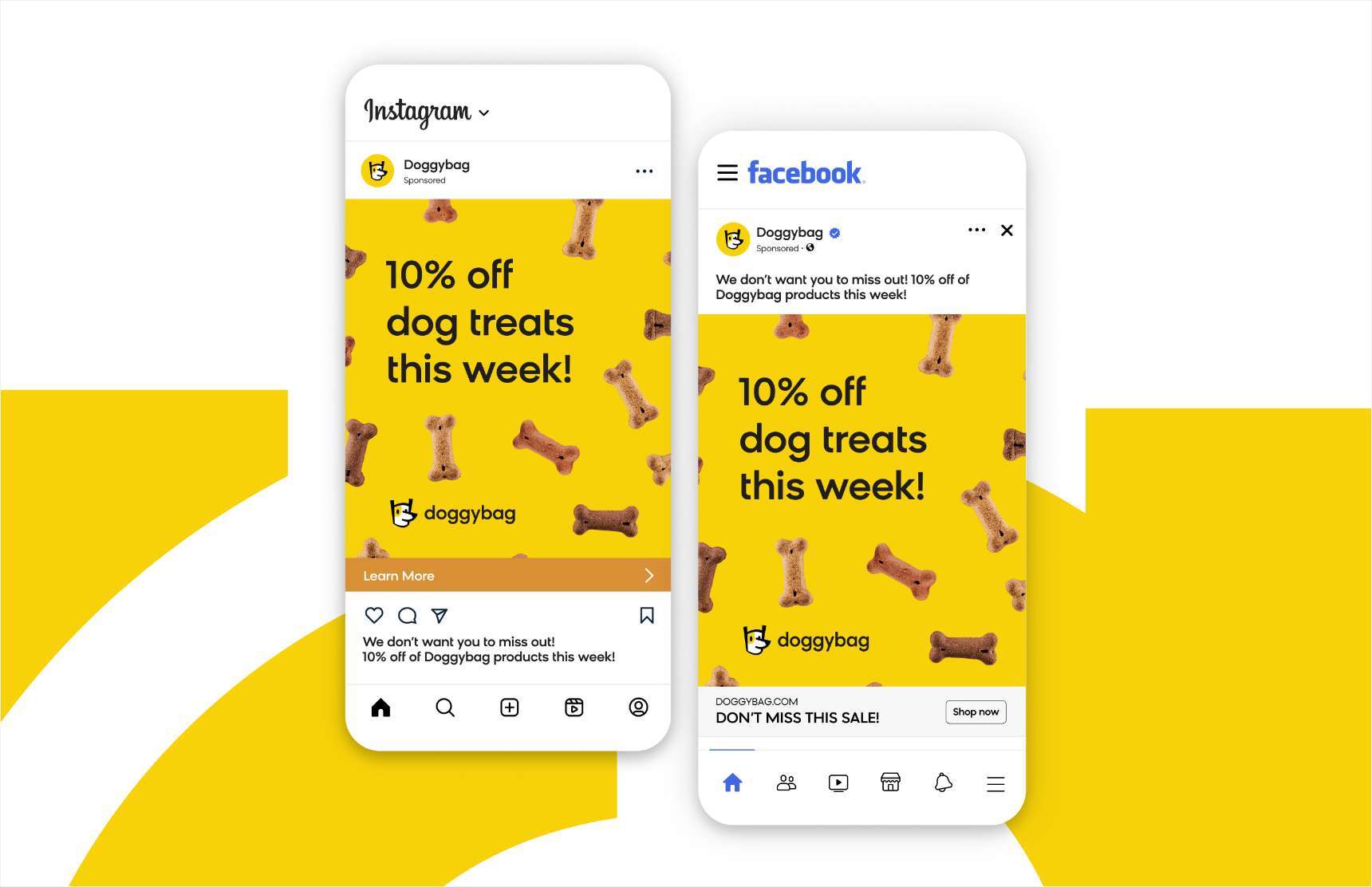 By retargeting audiences who haven't opened an email or SMS with social media ad campaigns, for instance, you can offer more ways for your customers to familiarize or re-familiarize themselves with your brand, build a better understanding of which channels they favor, and encourage them to convert again (and again). Simply put, it's a great way to capture missed conversion opportunities and broaden the reach of your messaging.
With Bloomreach Engagement, retargeting with the most relevant channel is no longer a guessing game. Using first-party data and AI predictions, you can segment your audience to reach customers in the places they are most active and streamline their path to purchase.
Retarget Customers Who Interacted With a Campaign But Didn't Convert
Omnichannel engagement can also help retarget customers who interacted with a campaign but didn't complete a purchase. If your audience is intrigued enough to click through to the next stage of your customer journey, you shouldn't let your efforts end there. It's worth offering an alternative avenue to make a purchase.
For example, if a customer clicked on an Instagram ad highlighting a travel and hospitality brand's top destinations for flights, that customer can be targeted with an email using consistent messaging to see if they are more likely to convert through that channel.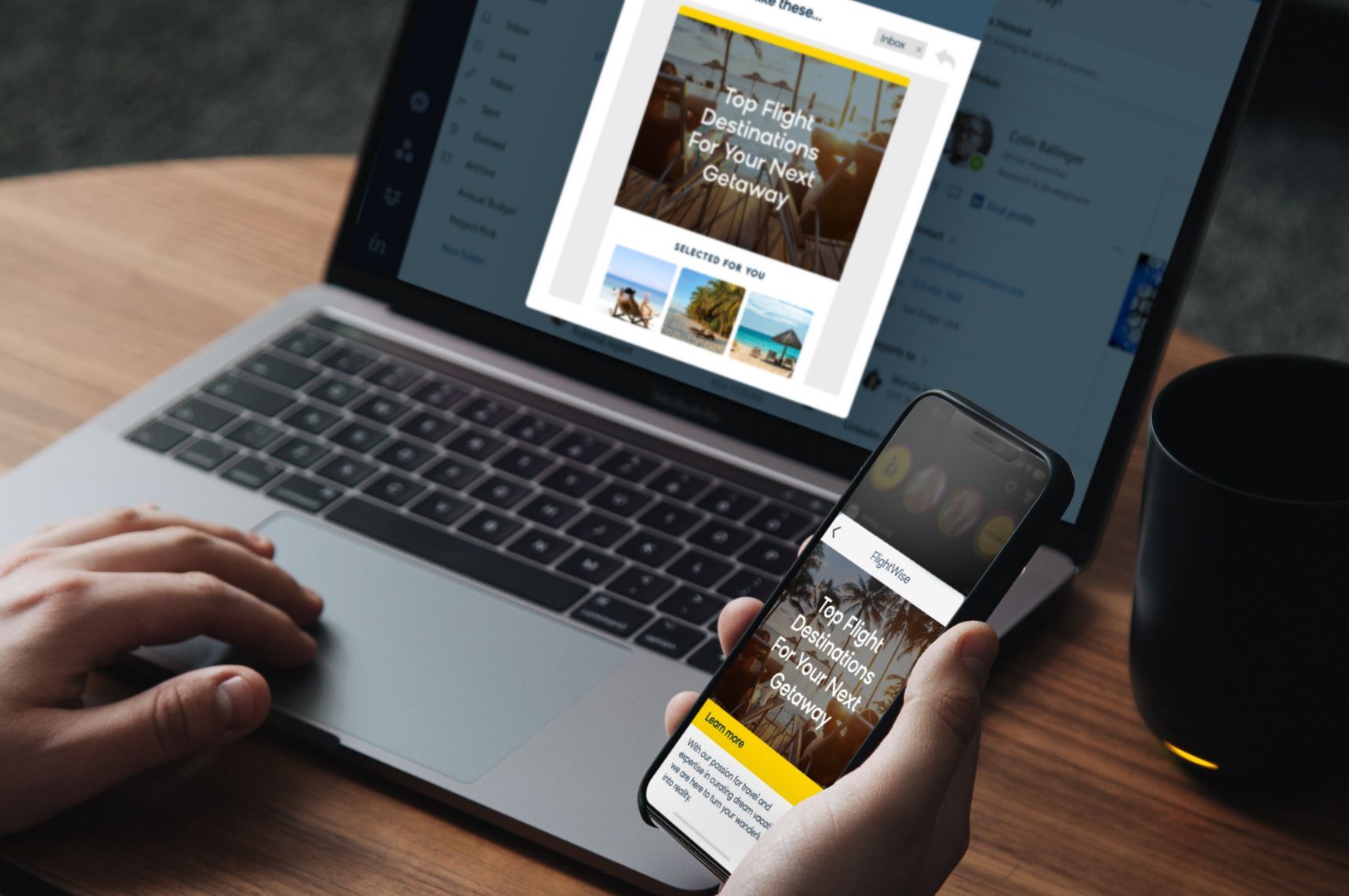 And with Bloomreach Engagement, marketers can completely automate this process — you can build an audience segment that will update in real time with each new customer who doesn't convert with one campaign. It can also schedule a weekly campaign on another channel to reengage with them and incorporate the data from all your efforts into your future plans to engage new and returning customers.
Reengage Inactive Customers Through an Omnichannel Win-Back Campaign
Lapsing customers are the last thing marketers want and one of the first audiences you should focus on with your omnichannel customer engagement strategy. Building omnichannel customer experiences can help bring inactive customers back into the customer lifecycle, prevent future customer churn, and gather feedback on where and why customers become inactive in the first place.
A reliable way to reengage with this audience is by creating a win-back campaign that's consistent across multiple channels. Omnichannel retargeting campaigns that offer an incentive to reconnect with your brand can make all the difference — for example, a wellness brand can offer inactive customers 25% off their next purchase through Instagram ads, an SMS campaign, and an email to cast a wide net and invite your audience to reengage.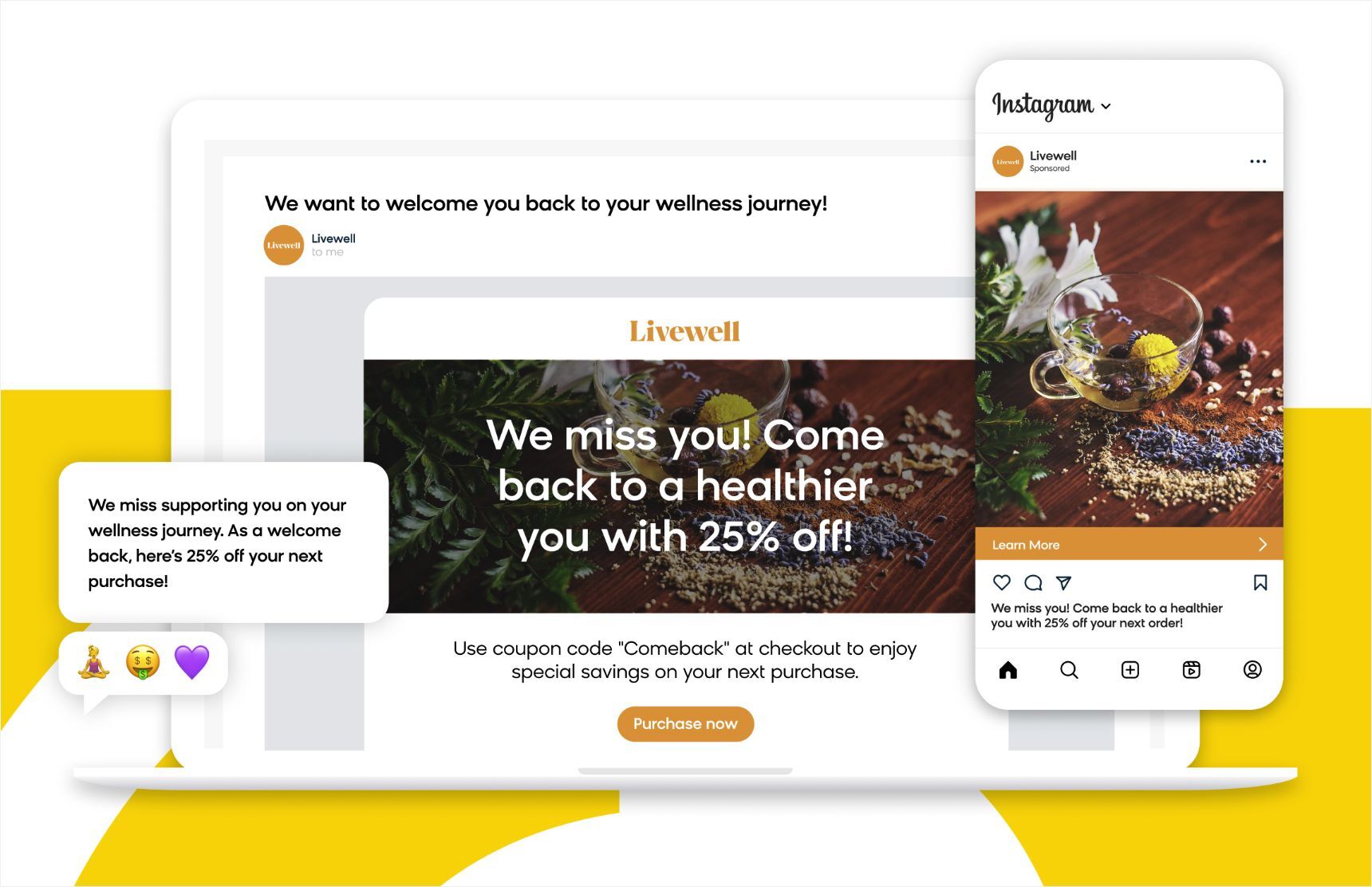 Bloomreach Engagement helps personalize these win-back campaigns on an individual level to give each lapsing customer further incentive to return to your brand. Using customer behavior and data points from their past interactions, you can offer personalized recommendations in your messaging that speaks directly to their preferences. 
So, a fashion retailer could personalize their win-back campaign with products that their customers viewed, or similar items they browsed. Personalizing a message with something as simple as "We think this jacket would look great on you — here's 15% off" can make a lasting impression and inspire your audience to click through and reengage.
Optimize Your Omnichannel Customer Engagement Strategy With Bloomreach
If you're looking for a tool to help you manage, streamline, and personalize your customer engagement strategy, we've got you covered. 
Bloomreach Engagement offers everything you need to refine your omnichannel customer experience and craft meaningful interactions at every touchpoint, from acquisition to long-term retention — it's exactly the kind of solution you need to set your business up for success.
And our platform is proven to help modern businesses inspire their target audience, craft personalized campaigns, and maximize  ROI — just ask Benefit Cosmetics. The beauty brand chose Bloomreach to power its omnichannel marketing strategy and saw amazing results, including 40% more revenue from a product launch campaign compared to previous campaigns.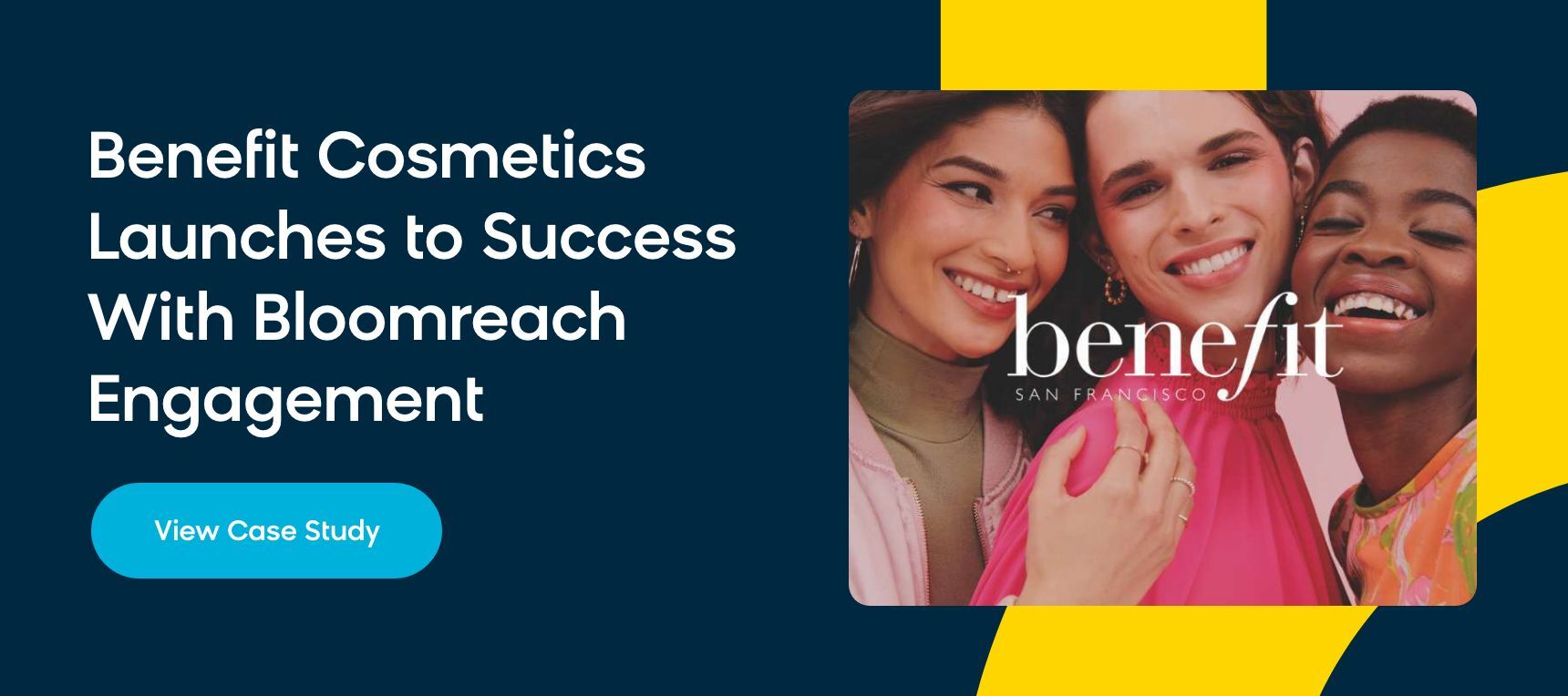 Want to hear more success stories with our platform? Here's five brands that revolutionized their omnichannel marketing with Bloomreach Engagement.