B2B Insights
E-Commerce for Distributors Is Easy With the Right Product Discovery Solution
B2B Insights
E-Commerce for Distributors Is Easy With the Right Product Discovery Solution
Have you ever visited a website where it was nearly impossible to find what you needed, the search results weren't relevant, or the product recommendations were way off? While some websites do a great job of meeting customer needs and guiding you through the sales process, others make it difficult to find the right product and leave you feeling confused and frustrated. 
Chances are, you probably wouldn't stick around these websites for long. Quite the opposite, actually. You'll head over to a competing company's website that caters to your needs. The same is true for many potential customers regarding your e-commerce site.
But distributors often struggle to translate their positive in-person experiences into ones that customers can find online.  For many distributors, their technology stack fails to support the needs of today's B2B buyers. Even though e-commerce is the fastest-growing sales channel, about two-thirds of B2B customers are dissatisfied with their online purchasing experience. And in today's digital world, customer satisfaction means everything.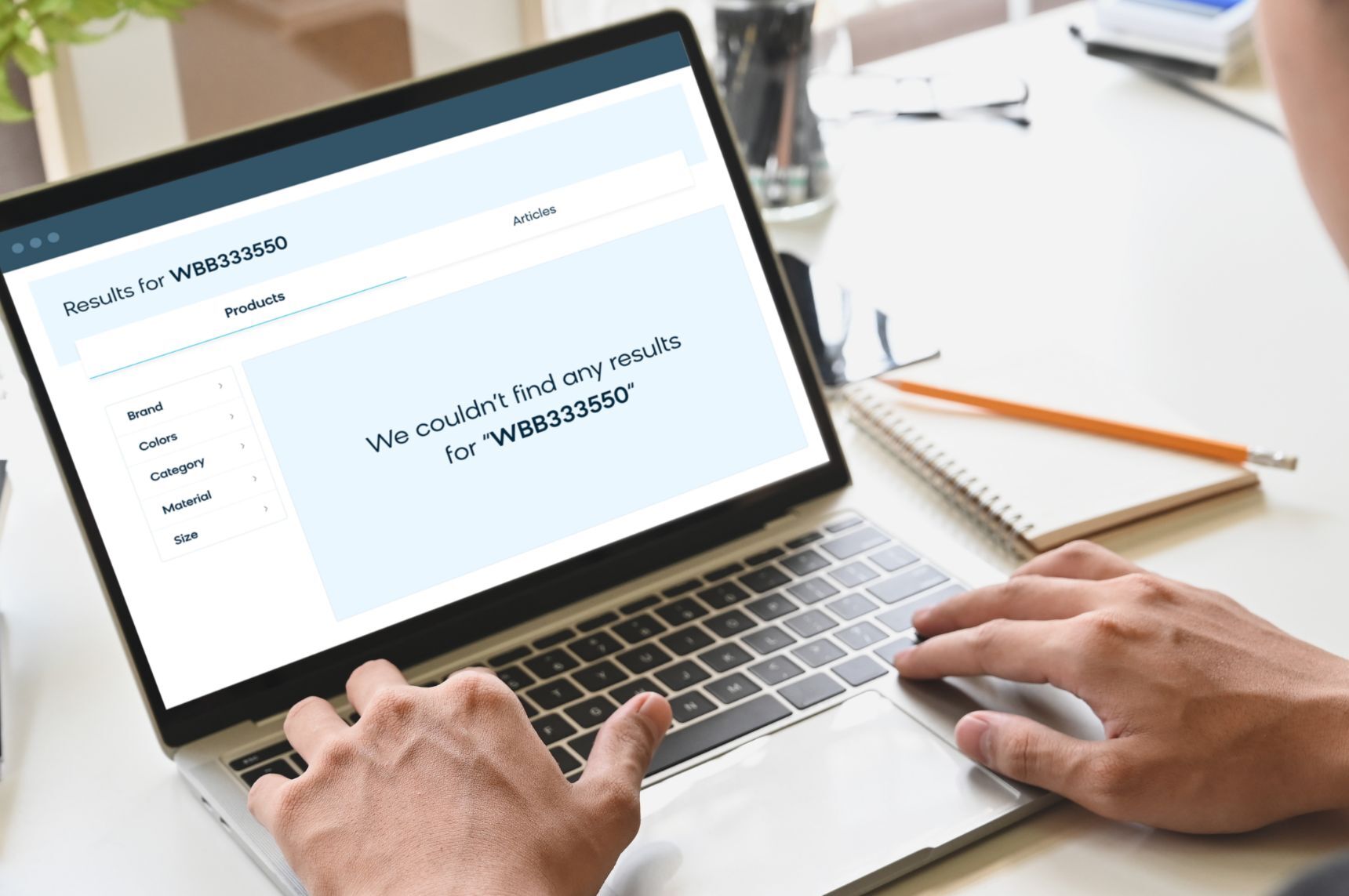 To attract and retain loyal buyers throughout the e-commerce experience, you need to make sure your website reflects the expertise and guidance of your top sales rep. You'll need more than an e-commerce platform to get your brand off the ground with this initiative, too. Here's what you need to know.  
But First, These Are the Challenges Holding Distributors Back
COVID-19 incited a major turning point in B2B e-commerce history. With brick-and-mortar shops closed for much of 2020, and buyers working remotely, distributors relied on digital channels to meet customer expectations. While this shift certainly accommodated current online behaviors, it also opened the doors for new ones, as many buyers shopped online for products they'd never bought online before.
This growth in e-commerce has brought with it a minefield of challenges for product, sales, and marketing teams in the distribution business: 
76% of buyers experienced challenges during their most recent shopping experience on supplier websites
53% of customers will not buy from the same business again if they have had a bad experience
Nearly 50% of customers would pay more for a better, faster online buying experience 
Distributors need an e-commerce site that drives more online sales, increases profitability, and attracts new customers at a lower cost. To do that, they must build a website that is easy to search and browse, understands what buyers are looking for, and offers relevant product recommendations based on customer data, like industry, role, and preferred products. That said, many distributors fall woefully short of these expectations and often feel shortchanged in their investment. Then, they might ask questions, such as: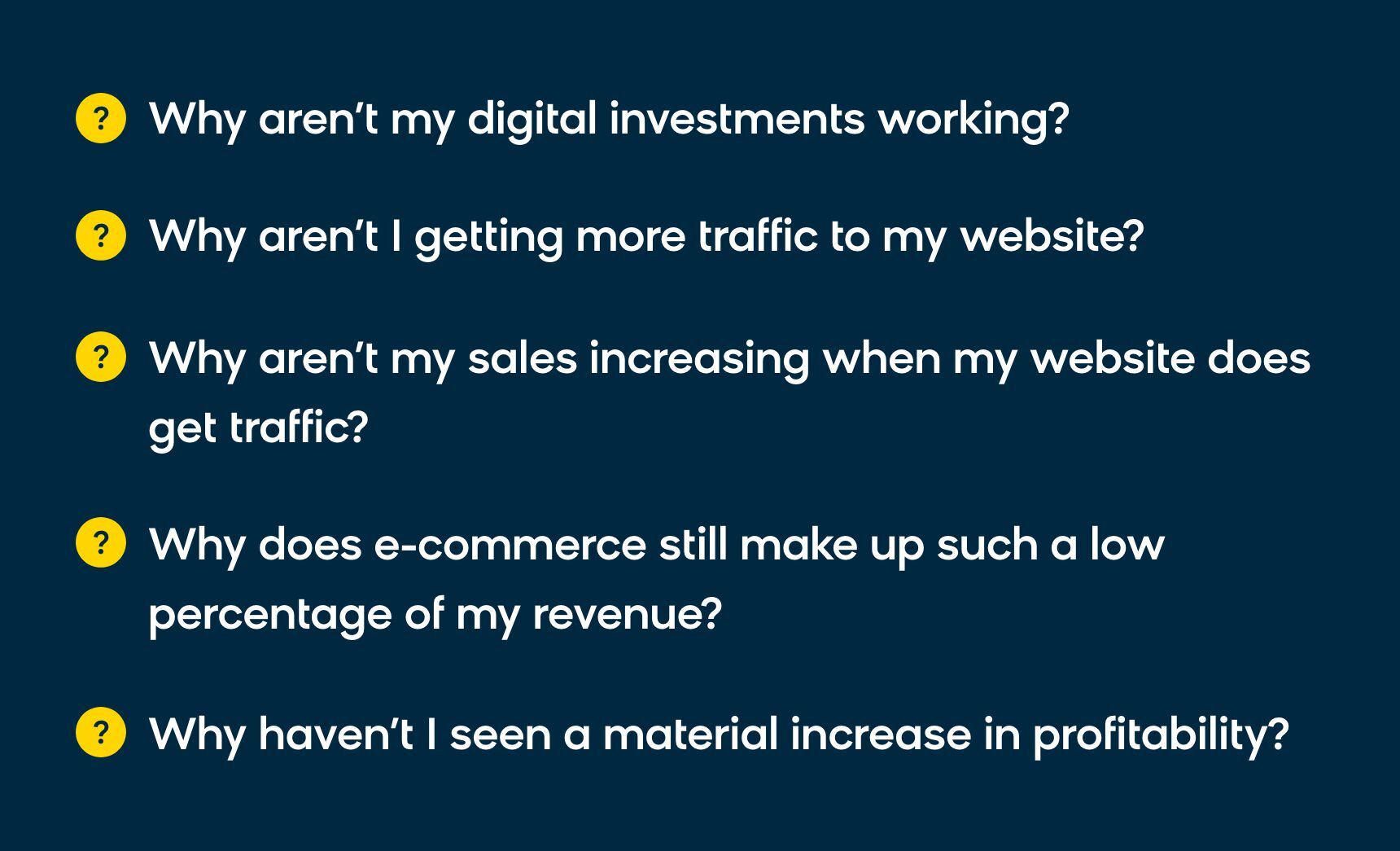 To answer these questions, we need to think about the experience B2B customers are accustomed to when they speak to you in person. When they visit your location, they can talk to their dedicated sales rep;  browse aisles that are organized by product type, application, and industry; or easily reference your catalog where their most-used product groups are bookmarked. They can also see end-cap displays featuring seasonal promotions and popular products. And once they head back to their job site, they can call with any questions or concerns about a product. Now, does your digital branch or e-commerce website reflect these same in-person experiences?
Transferring this process to unfamiliar distribution channels, like e-commerce, is challenging because online and offline merchandising are so different from one another. Today, customers want to do more than just purchase products online. They want to perform their own research and browse content and products at their leisure. Additionally, they desire access to expert advice and personalized suggestions. So, what's making this difficult for distributors to execute?
Diverse audience: Buyer needs vary by industry, project, application, and geography. Personalizing an experience to a single individual doesn't work in B2B. Distributors must account for all contexts and use cases to solve problems — while continuing to navigate traditional issues like inventory management.
SKU count: Even the smallest distributors stock tens of thousands of SKUs, with the largest selling in the millions. These products are more precise and technical in B2B than in consumer goods and often require specialized knowledge to purchase the correct one For example, if a contractor were to look at "insulating electrical tape" on one major distributor's website, they would find 293 products listed, seven subtypes based on the application or environment (high-voltage, moisture-resistant, etc.), 14 options for backing material (rubber, silicone, vinyl, etc.), and dozens of size options — and that doesn't even include the multiple brands.
Multiple touchpoints and siloed systems: Customers interact with distributors across multiple channels, including digital, in-person, phone, and print. The customer experience across all of these channels cannot remain siloed and must be cohesive across all channels. A true omnichannel strategy requires the right e-commerce technology vendor that can easily integrate your front- and back-end systems without breaking the business' bank account.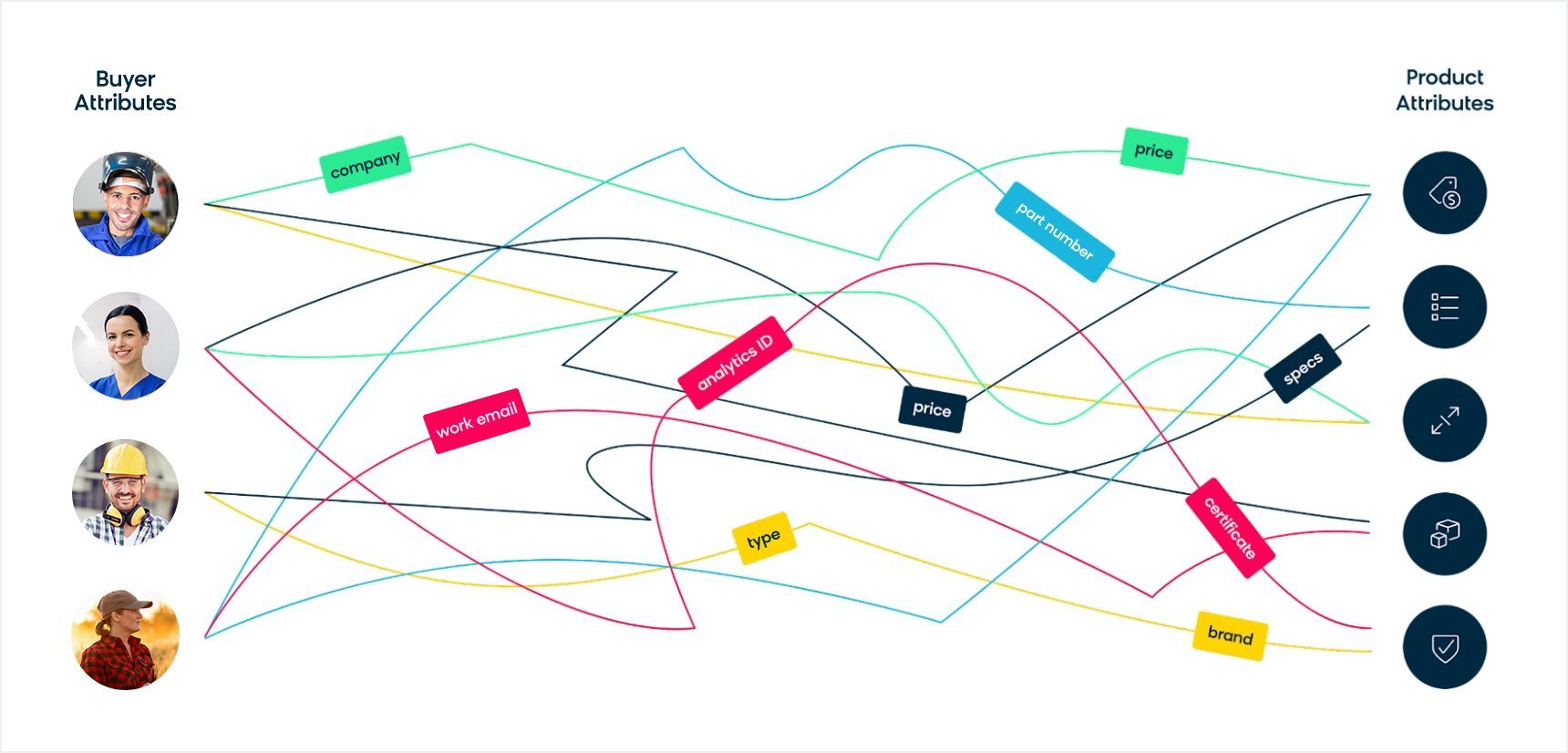 Technically complicated product: The products offered by B2B distributors are often both highly technical in nature and potentially unfamiliar to buyers. It's challenging to scale that specialty knowledge and level of expertise — from a technical product specialist, for instance — required to select and install the right solution.
These challenges are made even more complex with evolving buying behaviors. Some buyers want to search the website with brand names or manufacturer part numbers, while others find the products they need by application (drywall hanging) or the product name itself (drywall driver). Sometimes, a buyer may only know what their problem is (circulation pump for coolant) and not the solution, meaning they don't even know what to call the product they're searching for.
To effectively stand out from the B2B pack and play your part in the supply chain, your site must recognize the language all buyers use, not just the terms you prefer for them to use. Remember, the power has shifted from the supplier to the customer with e-commerce. Customers can just click over to a new supplier, which may offer a better digital experience. This is especially true as younger buyers enter the workforce and are less patient with websites that offer poor discoverability and unengaging content. 
Second, Technology Is the Distributor's Biggest Hurdle to E-Commerce
To create your e-commerce distribution channel, you'll have to go beyond the standard technology stack that distributors typically use to operate their e-commerce sites. This tried-and-true list of software isn't keeping up with customers' digital needs today, and it was never designed to do that.
If it helps, you're not alone. According to The State of Commerce Experience, nearly all (92%) decision-makers in B2B firms have experienced challenges with their tech stack and say that technology is the biggest hurdle in the e-commerce journey. Let's first look at the reasons.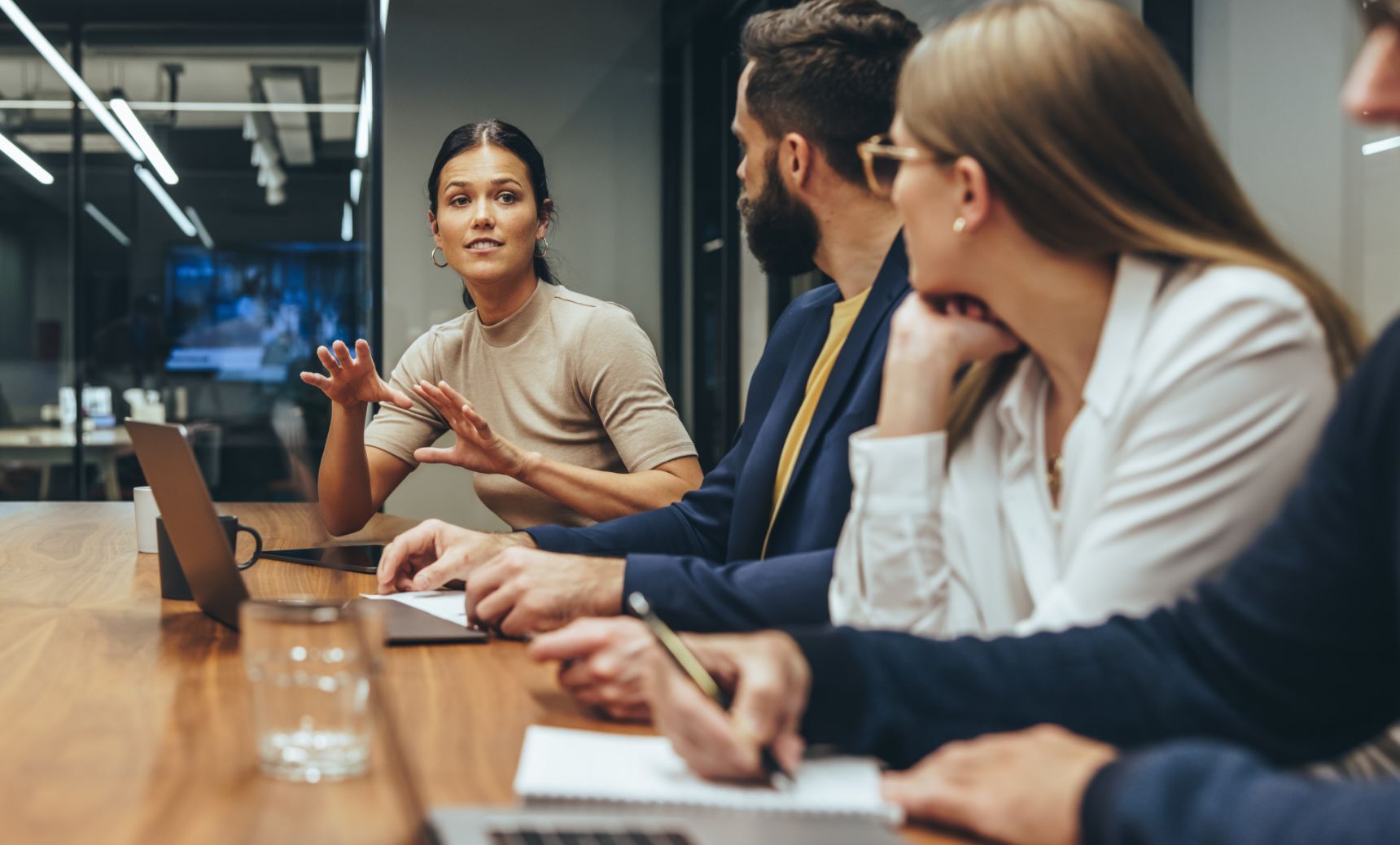 To serve buyers online, distributors typically operate point solutions like:
Enterprise resource planning (ERP) system
E-commerce platform
Product information management (PIM) system
Distributors attempt to manually integrate multiple pieces of software in hopes they will work together. The problem is that these solutions are often implemented one at a time and fail to coordinate, integrate, and communicate with each other. The result is overlapping systems that offer inconsistent digital experiences, slower revenue growth, less flexibility, and a one-size-fits-all experience that cannot adapt to customer needs and expectations.
When you fail to digitally transform, however, you run the risk of losing sales and existing accounts. On the other end of the spectrum, you can gain new customers, grow revenue, and lower costs when you invest in a proactive approach — making e-commerce a much more profitable channel.
Finally, Here Is Why Product Discovery Can Improve Experience
A product discovery solution lets distributors take the highly personalized and relevant experience they provide in person and bring it to their customers online. Distributors can use artificial intelligence to deliver a personalized, consistent, contextual experience across all of their digital touchpoints. Simply put, a good product discovery solution drives dynamic experiences in a responsive, scalable, and automated way.
Think of a product discovery solution as a digital salesperson. Like with sales reps, its core purpose is to understand the buyer and what they need. But it does this at scale with every customer segment and interaction on your website.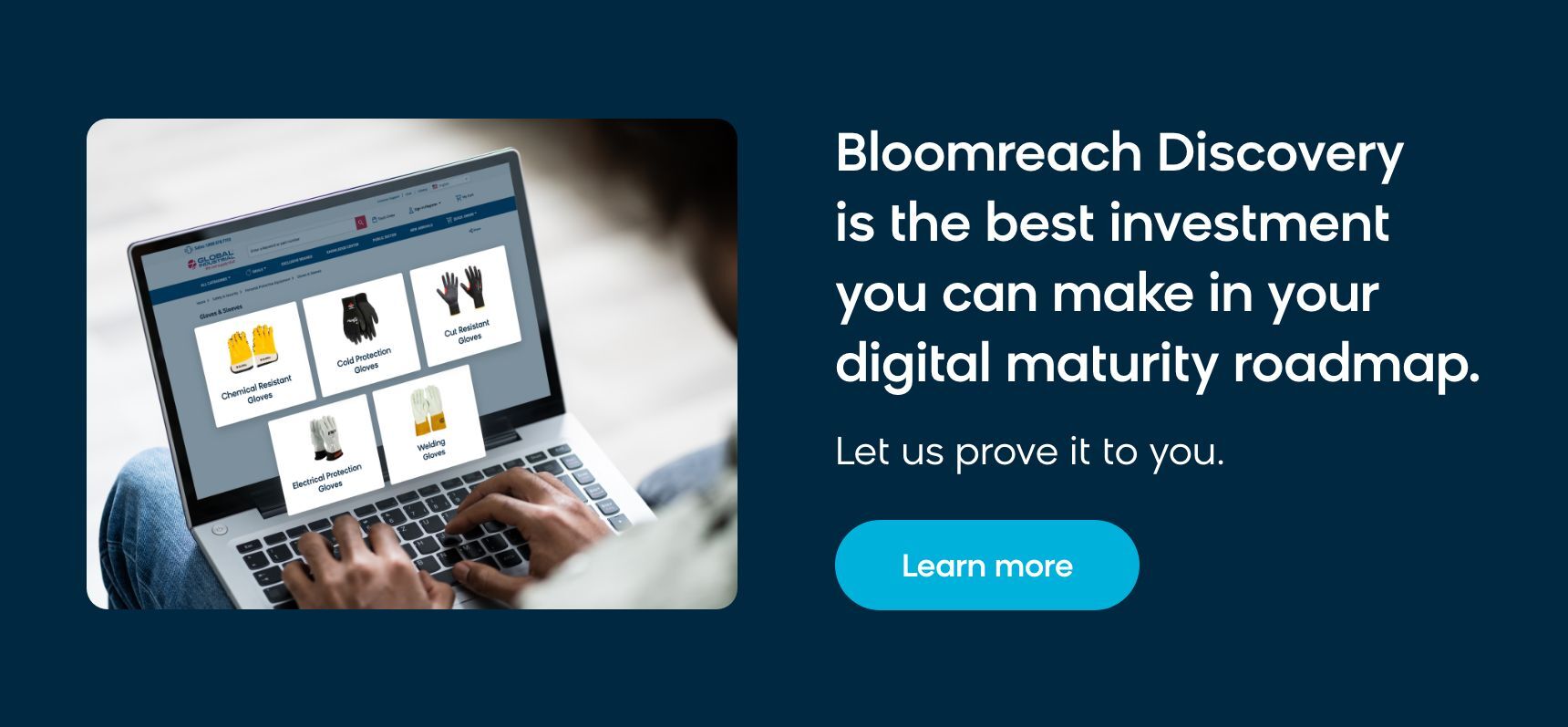 A product discovery solution achieves this by taking data about products or services from multiple sources and crunching it in real time, rolling it into an algorithm capable of making digital merchandising decisions for you. This data goes beyond product data alone and includes information on customer interactions, transactions, demographics, marketing initiatives, and relevant content to form commerce data. Once aggregated, this data helps you decide:
 
What should be shown in the search results if a customer searches for a certain item?
What product recommendations should you provide if they are purchasing "X"?
Who should I offer this promotion to?
Yet, Product Discovery Isn't Enough: How To Go Even Further
While implementing a product discovery solution is a good (and crucial) start, it's important to keep in mind just how complex it has become to create a seamless customer experience online. It represents just one part of the broader e-commerce ecosystem of solutions that can drive true personalization, endless innovation, and company growth.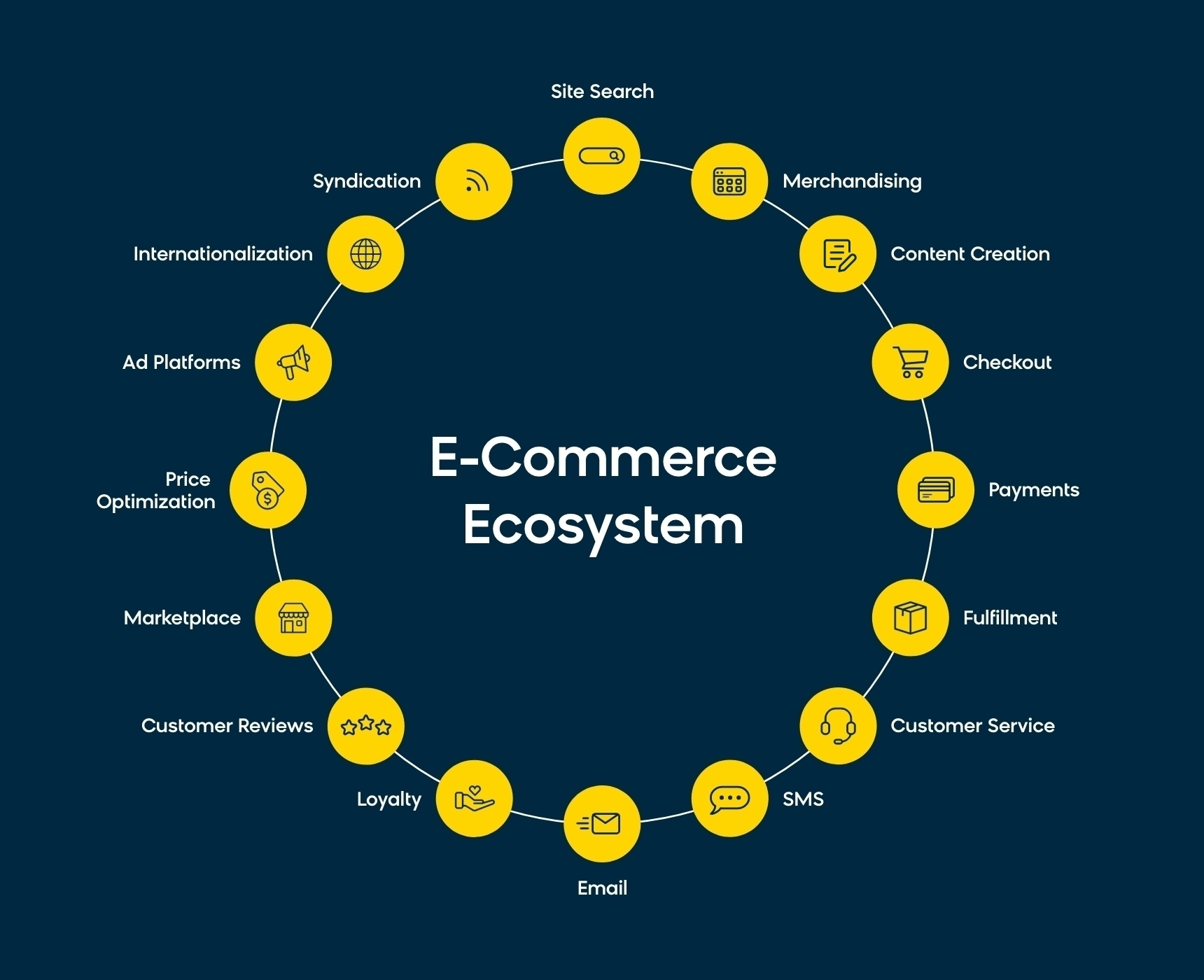 Bloomreach's customer data engine can work with your existing data infrastructure (or on its own) to help you gain an edge over industry disruptors and unlock the next phase of your digital commerce growth. With it, your merchandisers can realize the full potential of all that data by visualizing and activating it for orchestration, execution, and analysis. Trust us — it opens up a whole new world of possibilities for your search and merchandising experience.
Curious to see how Bloomreach can help you delight, win, and gain an edge over the online purchasing experience for your distribution company? Read our e-book to learn how to drive e-commerce wins for your business.