Real-Time Personalization
Email Personalization: Your Guide to Better Email Marketing Campaigns
By Ian Donnelly
08/29/2023
Real-Time Personalization
Email Personalization: Your Guide to Better Email Marketing Campaigns
When it comes to digital marketing channels, email is the best of the best. Everyone uses it, every marketer loves it, and every business strategy needs it.
But not all marketing emails are the same. There are good ones, there are great ones, and then there are personalized email campaigns. 
Personalization can take your email marketing to the next level, allowing you to serve the perfect products to individual customers within a large-scale campaign that won't take ages to customize and manage. You can orchestrate promotions that weave together multiple channels, technologies, and data points that still cater to shoppers on a one-to-one level.
Ready to start reaping the exponential rewards of email personalization? Here's everything you need to know.
What Is Email Personalization?
For starters, let's clarify what we mean by personalization. 
Personalization is the gold standard of digital marketing. It describes the ideal relationship you can achieve with your audience, offering them a curated experience with your brand that caters to them on an individual level.
It is a concept that goes beyond your email campaigns and should be present in every facet of your e-commerce marketing strategy.
Bloomreach defines e-commerce personalization as the practice of using commerce data responsibly to get to know, guide, and impress your customers with experiences that are so relevant and contextual, they feel like magic. E-commerce personalization spans cross-channel, on-site, and in-app. It encompasses anonymous and known customers, and includes personalized messages, content, site layouts, products, and much more. It is driven by real-time, first-party data. This results in measurable journeys that engage and lead customers through brand awareness to product discovery to repeat purchases.
Commerce data is the key to making personalization the best it can be. It lets you tailor messages to customers based on their specific wants, inclinations, and buying habits. It incorporates information like their name, purchase history, how many times they log into your app, or the time of day they tend to open their emails. The more data you have to inform your marketing efforts, the better they can be. 
And when it comes to email marketing, which is the most powerful tool in any marketer's toolbox, personalization needs to be at the heart of all your campaigns. Making personalized emails that are individually relevant, dynamic, and data-driven should be a top priority.

What Can Be Personalized in Your Email?
If you're wondering which components of your email marketing strategy warrant personalization, the answer depends on how committed you are to offering a personalized customer experience.
Every aspect of your email marketing can be tailored with a personal touch. Here's a rundown of the best places to start:
The Subject Line 
As one of the first things your recipient sees, your email's subject line plays an incredibly powerful role in their inbox. A strong first impression can inspire the action you want them to take.
It doesn't take much to add personalized subject lines to your email campaigns, and simple practices like adding your recipient's name to the subject line can go a long way toward getting your target audience to open and view your message.
The Email Content
There really is no corner of your email content that can't be customized to reach your target audience. The copy, the imagery, the special offers shown, the products recommended — it can all be informed by the data you've gathered from each customer's interaction with your brand.
Presenting the most relevant and dynamic content is the key. Personalized email content can point your recipient towards the ideal next step in their customer journey, whether that's returning to an online shopping cart to complete a purchase, shopping a sale featuring items they've previously browsed, or showing your weekly newsletter recipients the most relevant products related to their previous purchases. 
The Audience
Just like the email itself, your audience needs to be customized to create the best interactions and results for your emails. 
Creating highly targeted customer segments by dividing your customers into different groups based on their data is essential for a successful email personalization strategy. The goal is to group subscribers with shared characteristics — using geographic, demographic, and behavioral data — into segments in order to effectively market to each group. 
With customer segmentation, you can match personalized emails to precisely the right audience.  
Read This Next: Customer Segmentation: Options Marketers Should Know

The Benefits of Personalization in Email [With Stats]
As one of the most widely used and lucrative marketing channels, email offers an incredible way to communicate with your customers. It's a part of people's everyday lives, so much so that over half of the world's population has an email address that they use daily.
And with the power of personalization, emails can produce spectacular marketing results. Even minor tweaks to your campaigns can lead to better conversion rates, website bounce rates, average order values, cost per acquisition, and customer lifetime value.
Simple tactics like adding a personalized subject line to your emails make them 26% more likely to be opened. And including personalized calls to action increase your conversion rates by 202%. 
But that's just the beginning. When you incorporate email personalization techniques like serving dynamic content based on a customer's preferences or sending triggered emails based on a customer's action elsewhere in the customer journey, you start to reap the full rewards of email marketing personalization.
The fact is, the more personalized your emails become, the better they perform. On average, personalized emails produce 6x higher transaction rates.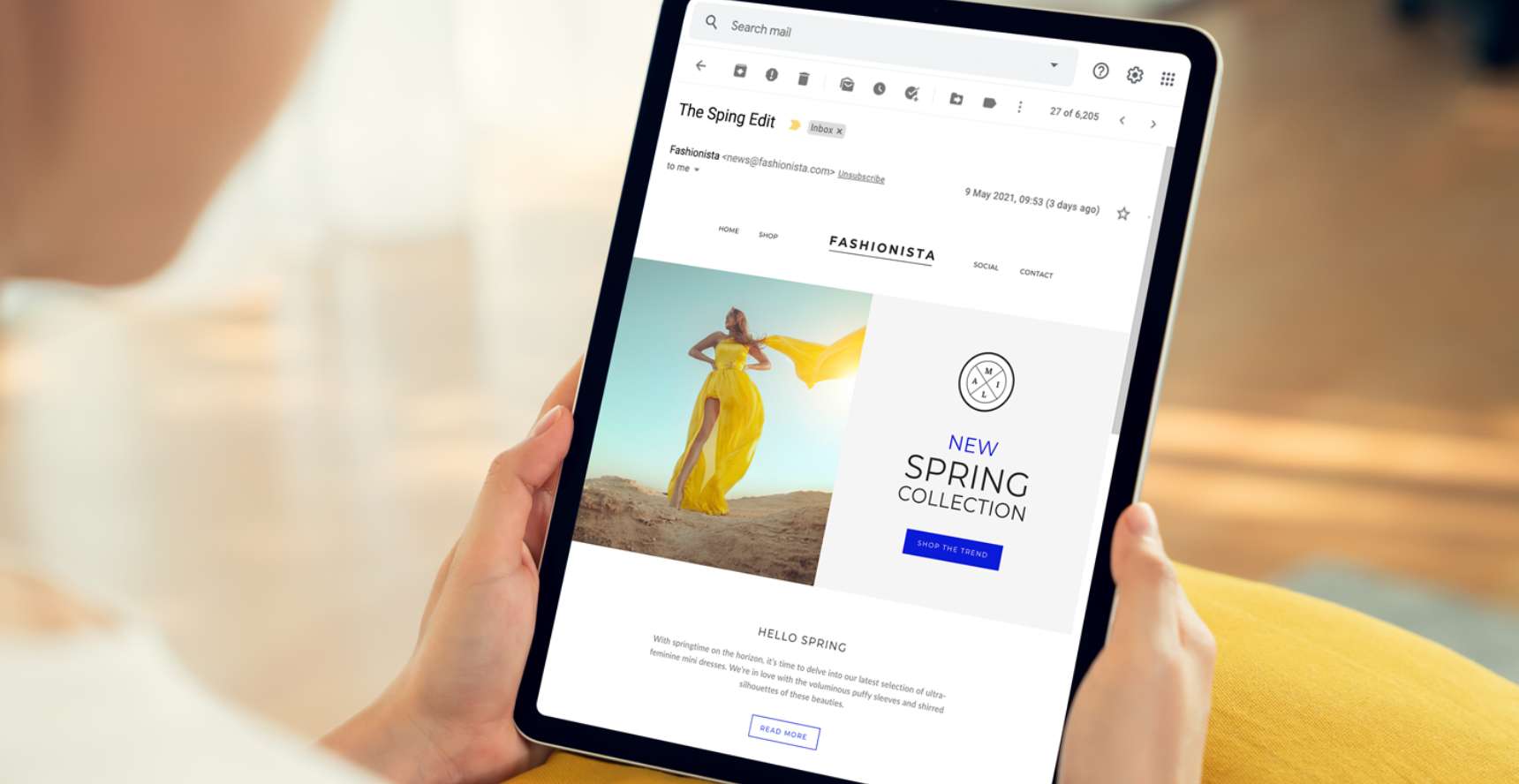 Not only are personalized emails effective, they are expected by your customers. Online shoppers are well aware of the data that modern e-commerce businesses collect from their interactions, and those who opt in for marketing emails do so to be served with more relevant and customized content.
47% of US consumers prefer personalized emails with deals and promotions from brands, and personalized email marketing generates a median ROI of 122%.
Read next: How BrewDog Increased Revenue +13.8% Using Personalized Email Campaigns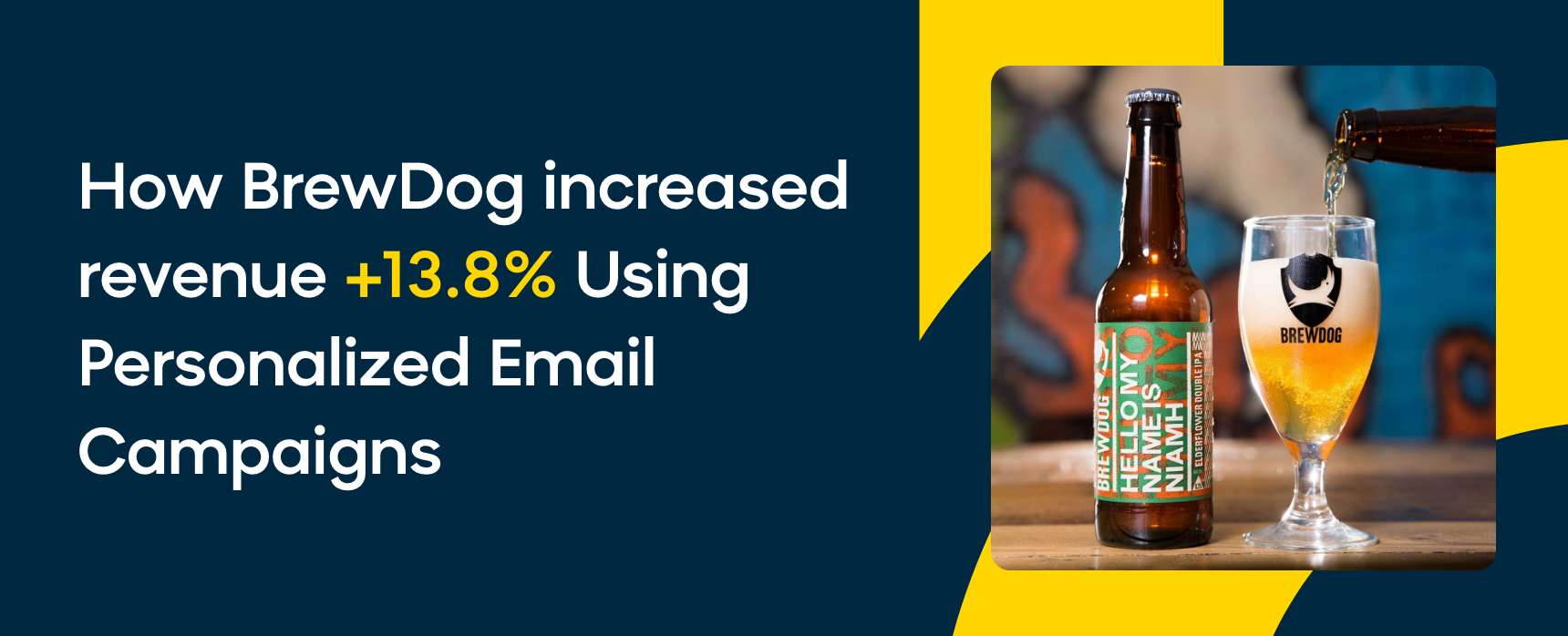 Designing Personalized Emails
With so many different ways to craft and position your personalized email marketing campaigns, it can be hard to know where to begin. But there are three key principles to keep in mind while designing personalized emails.
1. Make Your Email Content Relevant 
As every marketer knows, the content of your email is the most important part. Without meaningful email content, your messages won't stand out in your audience's crowded inbox. 
And with a personalized approach to creating the content of your emails, you can make your messaging hyper-relevant to each individual recipient. Even the most objective of data, like a person's name, age, and location, can go a long way towards customizing their experience with your brand.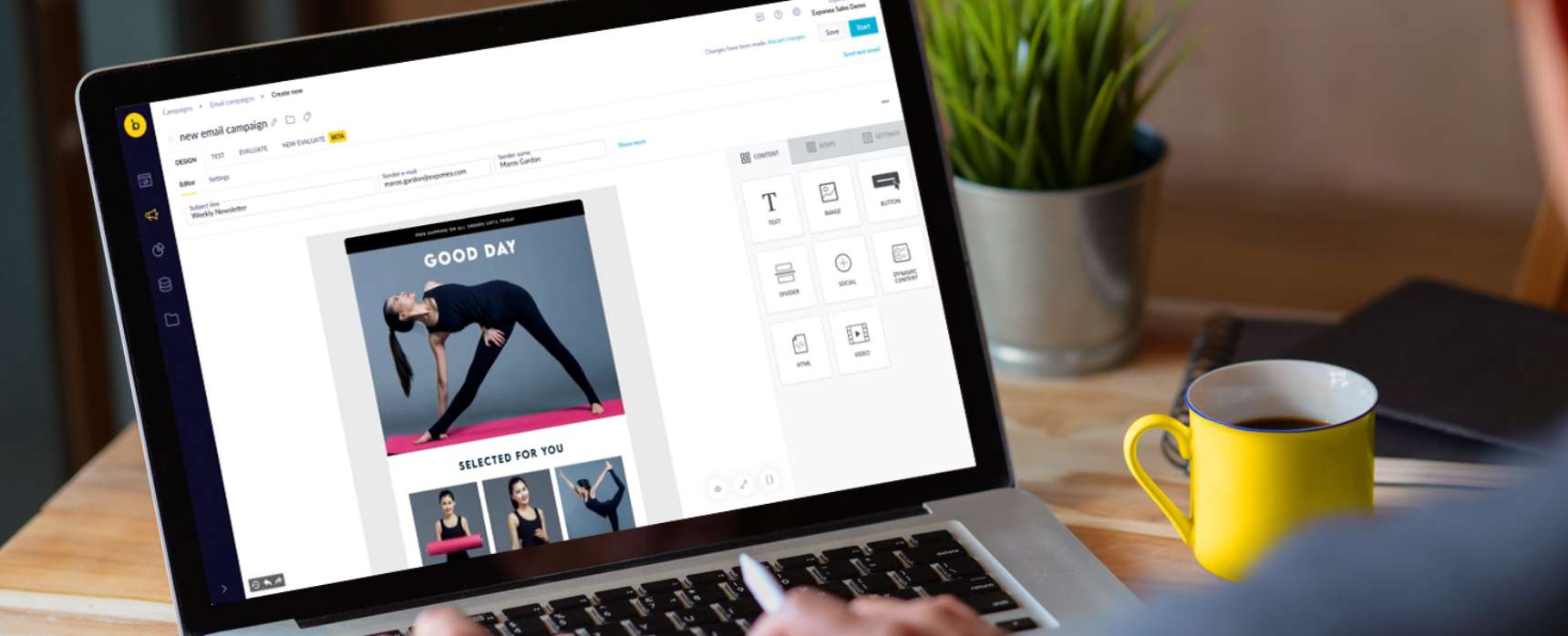 Differentiating your messaging, imagery, subject lines, and content to spotlight menswear to male customers and womenswear to female customers is a perfect example of a simple step that has big impacts on customer engagement. Similarly, you want to make sure your efforts aren't wasted by serving ads for winter coats to customers who live in a region experiencing a heat wave.
You need to make sure that the relevant content you're serving your audience has a significant impact on their lives. If a customer has bought a grill from a home goods brand, suggesting patio furniture is the perfect complementary promotion. Or if a customer has always bought cat-related products from a pet store, steering clear of dog-centric product promotions is the best way to foster brand loyalty. 
2. Keep Your Email Timely
Staying informed of your customer's interactions with your brand in real time is crucial for crafting personalized email campaigns. If you want to offer your audience the best opportunities to convert, you need your emails to be geared towards their current place in the customer journey, and that requires up-to-the-minute data.
It's all about using email personalization to serve them the right message at the right time. For instance, utilizing time-sensitive marketing tactics like abandoned cart emails can motivate customers to reengage and complete a purchase. And to make this kind of timely email campaign effective, there can be no lag time between your marketing and your commerce data.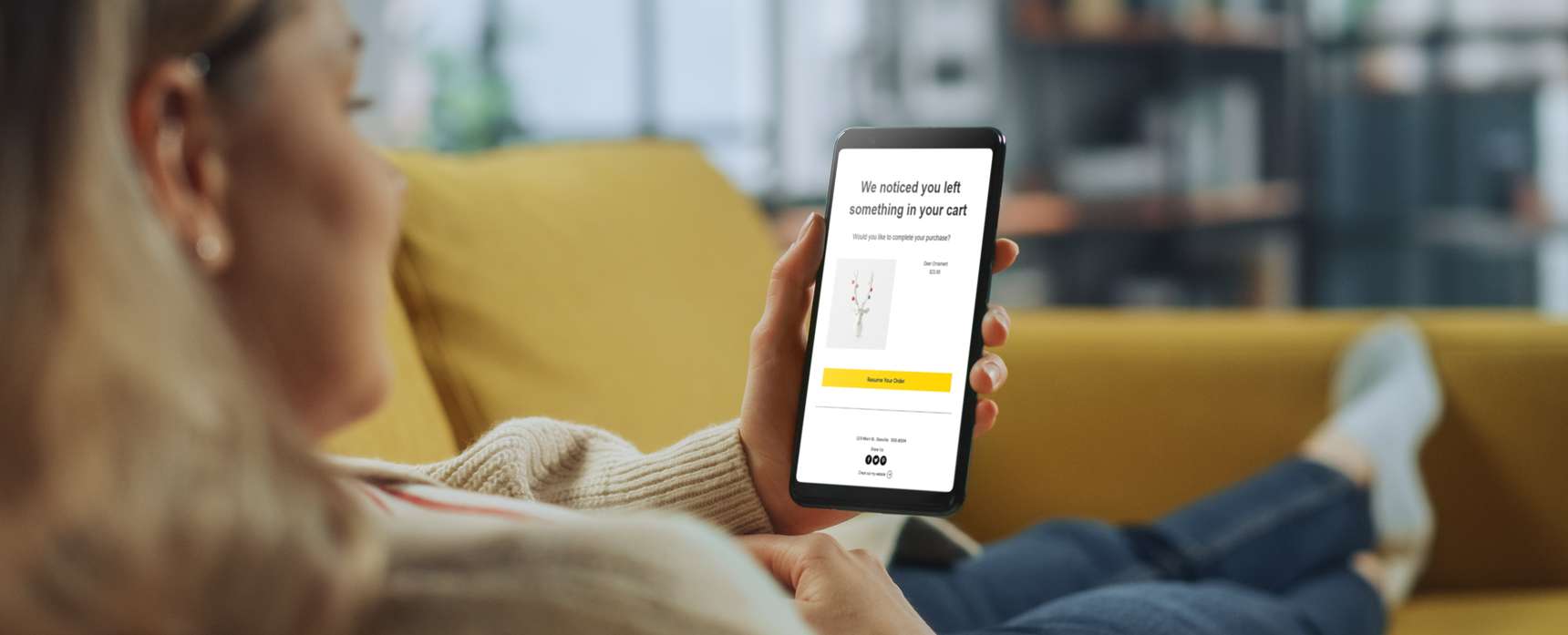 You need to know which products your customer added to their cart before they clicked away from your e-commerce site, as well as their email open history, so you can send them a message when they are most likely to engage. And that's just the fundamentals necessary for a personalized abandoned cart email.
To design an effective and timely campaign, it all boils down to the information you have available. Your customer's data is actively changing as they interact with your brand, and your email marketing needs to change along with it to offer the right message when it counts.
3. Craft Dynamic Experiences With Email Personalization
In-app or on a mobile site. On a laptop or in-store. There are so many ways for customers to engage with e-commerce brands. And no matter which way your audience prefers to interact, your email should cater to their desired shopping experience.
That's because designing email campaigns can't happen in a vacuum, unconnected from the rest of your marketing strategy. Your emails need to feel like a consistent interaction with your customers, one that is a logical next step in their buying journey. To do this, you must tailor every aspect of your emails — the subject line, the copy, the personalized images — with deals and promotions that cater to their points of contact, their preferences, and their buying habits. 
For instance, recognizing a session when a user browsed your site, as well as a separate session when they searched for products on your app, is important data that needs to inform your email marketing. They are distinct interactions, but they are two parts of the same customer experience, and the distinctions and parallels are valuable data points. 
If a shopper views a certain clothing brand on your site, your emails can encourage them to view similar products from the same brand, or you can recommend similar products that like-minded customers have purchased. And if the shopper has already provided their preferred sizing in an earlier session, your recommendations should reflect that data and only show items that have their size in stock. 

Your email campaigns should never stick out as pointless promotions or feel like they are coming out of nowhere. They need to be woven into your customer's relationship with your business and serve a purpose. They need to be part of an omnichannel commerce experience — one that offers a seamless interaction with your brand. 
Read Next: What Is Omnichannel Commerce? Definition, Benefits, and Trends

The Role of AI in Email Personalization
As we stated before, having access to all your commerce data is the first step in creating personalized emails. But putting all that data into practice requires a massive amount of time and attention from your marketing team  — or the right technology that helps you process it all.
That's where artificial intelligence (AI) comes into play. AI can completely transform your email marketing with the ability to interpret all that commerce data in real time and help you determine where to best utilize any insights gathered from your customers' behavior. It can analyze your customers' interests in a fraction of the time that it would take your marketing team to study the numbers, so you won't be bogged down in the sheer depth of data you have access to. 
But this requires an email marketing platform that can harness these AI-powered capabilities. Without an AI-powered solution like Bloomreach Engagement, you'll be stuck guessing about your customers or overwhelmed by the time it takes to manually process all your commerce data. And getting rid of that guesswork is crucial for crafting email campaigns that are as personalized and optimized as they can (and should) be. 
With access to the right information, AI can determine the right times to automatically send out personalized emails based on your audience's activity history, factoring in time zones and the personal habits of your customers to correctly calibrate the best time to send out your emails. It can also tell you what email content will resonate the most with your target audience, sorting through all their preferences, interests, and inclinations towards particular products to help you make informed decisions about the design and goal of your campaigns. 
Making your emails as personalized as they need to be requires AI's unique ability to translate data into insights, and to do it on a large enough scale to make individually tailored emails possible.
Read Next: 4 Ways to Introduce Artificial Intelligence to E-Commerce

Why You Need a CDP for Email Personalization
So, if artificial intelligence is the key to interpreting your commerce data and putting insights into practice, how do e-commerce businesses collect the valuable data needed from their customers? Where does it all go, and how do you keep it all compliant, up to date, and organized?
To collect and secure your customer's data, you need a customer data platform (CDP). A CDP creates persistent, unified records of all your customers, their attributes, and their data, giving you a complete picture of your customers on an individual level. It gathers first-party customer data from multiple sources and systems, and links that information to the customer it corresponds with. 
With all this information gathered and organized, you get a 360-degree profile of each of your customers, or a single customer view, which can then be used as the cornerstone of your marketing strategy. 
Because when you connect all your marketing efforts with your CDP at the center of it all, you position your brand to be a customer-centric business — a step that is absolutely essential for personalized marketing tactics, including your email campaigns.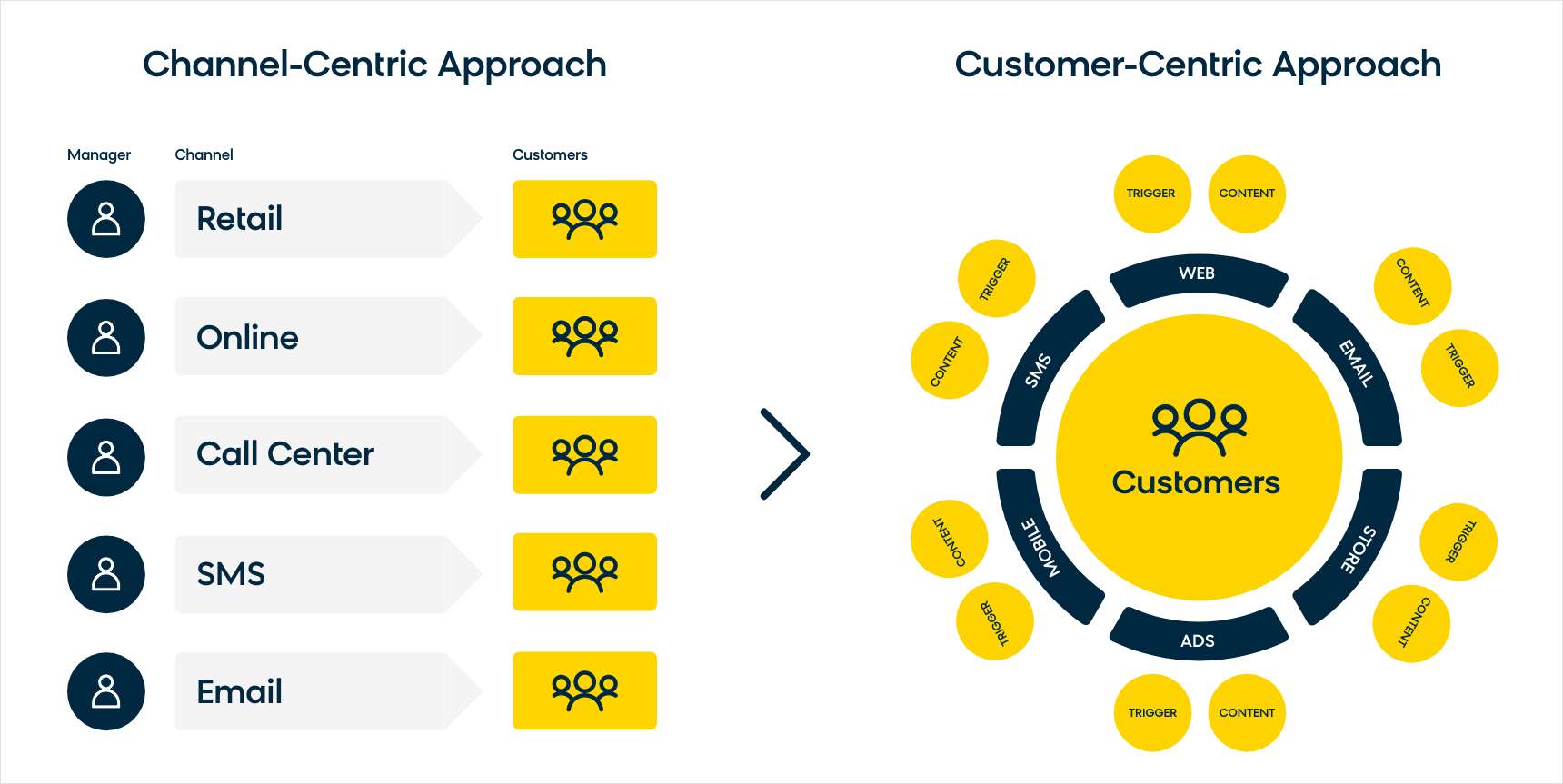 Far too many businesses take a channel-centric approach to marketing, which creates data silos and a disconnected picture of the customer. The weakness of this approach is that each team doesn't know what the others are doing, what they're focusing on, or when and how they're engaging with their audience. SMS campaigns aren't in sync with email campaigns, the retail store and the online marketplace don't coordinate, and so on. 
To avoid this, you need to shift to a customer-centric approach. A CDP, or a CDP plus marketing automation solution like Bloomreach Engagement, makes this transition much easier by breaking down silos and giving everyone access to a complete picture of your customer through that single, unified customer view. 
And for your personalized email campaigns to be as relevant, timely, and dynamic as they need to be, that 360-degree customer profile is a must-have for your marketing team.
How Email Personalization Starts the Customer Experience
Creating an easy, meaningful, and inspiring customer experience should be a priority for every e-commerce business. The type and quality of interactions that a customer has with your brand are make-or-break factors in today's digital market, and email personalization is one of the best tools available for starting that relationship off with a great first impression. 
When a customer expresses an interest in your business (e.g., signing up for an account, list subscription, or event registration), you have an opportunity to onboard a new customer with an email welcome series that will wow them from the start.
By crafting personalized emails that tailor the onboarding experience to their unique needs, you can cultivate a sense that your brand is receptive to their preferences and actions, which is exactly what you want a customer to feel.
As with every personalized email, focusing on the time, content, and cadence is crucial for crafting the right approach. Laying out the goals of each email in the series, setting the optimal times of each email sent, and determining the content based on the recipient's interactions with your emails are all important to consider for tailoring your welcome series to each individual user.
For example, here's a blueprint for a three-part welcome series you can adapt for your company to onboard new customers or subscribers:
With a plan like the one outlined above, you can guide your recipient towards the next step in their customer journey while keeping your emails reactive to each choice your customer makes.
The first email is a generic email that introduces your company, letting them know what your brand is all about and what they can expect from your emails. The second, sent a day later, highlights your brand's best attributes and encourages the recipient to move to the next stage in the lifecycle journey.
The next step in the series is dictated by the recipient's interaction with your emails so far. 
If they have already made a purchase or moved onto the next stage in the customer journey, you can encourage them to connect with your social media or install your app. If they haven't yet acted on the previous emails, you can offer them an incentive to do so through a special deal or discount, and then follow up with a suggestion to connect on other platforms. 
Even with a simple, straightforward level of email personalization like this three-step series, you can demonstrate that your marketing is paying attention to your customers' needs, properly utilizing their subscriber data, and elevating their customer experience right from the start. 
And as your customer relationships grow and users opt in for more marketing opportunities, you can craft even more personalized messaging, content, and campaigns that ensure you enjoy a long-lasting relationship with your customers. The more customer data you have, the more personalized your efforts can be, and your customers can enjoy more bespoke experiences.
More Email Personalization Use Cases
Once you've designed and set up your personalized welcome email workflow, the next step in your email personalization efforts is up to you. There's a whole host of use cases that can have a huge impact on your bottom line, including:
Sending a personalized email to notify current or potential customers of price drops on previously sought-after products or services is a great way to reengage shoppers and invite them back into the customer journey. 
Customers are more likely to purchase a product or service that is offered at a lower price, and when your emails speak directly to their previous browsing experience, your campaigns are more likely to drive conversions.
When customers lapse and stop purchasing from your site, you can use email personalization to create winback campaigns and entice them to reengage with your brand.
If you're trying to reconnect with your audience, sending a generic email with a "we miss you" subject line won't speak directly to every customer's wants and needs. To reactivate past customers, you need to send personalized communications based on their specific site activity and purchase history. 
Showcasing products they've shopped in the past, offering discounts on categories they prefer, and offering recommendations based on their previous purchases can go a long way in bringing back inactive customers and preventing churn.
Newsletters are essential campaigns for marketers. But these tried-and-true emails can achieve even better results with the help of email personalization. 
All it takes is a little fine-tuning with dynamic content to make your newsletters stand out and entice your audience to click through. Adding an engaging touch to your regular newsletter, like showcasing items within a customer's most-loved category that they haven't purchased yet, can drive more engagement and boost conversions in a meaningful way.
Bloomreach Facilitates Joyous Customer Experiences With Email Personalization
To get the most out of your email marketing campaigns, you need to give your recipients the best possible experience with your brand. That's the main objective of any good marketing strategy: to communicate with your customers, not just launch sales pitch after sales pitch at them. 
Email personalization is the key to hitting that target and sending the best possible message with the best possible promotion at the best possible time. 
And to get that fine-tuned level of email personalization, you need a single solution that offers a real-time customer data platform with intelligent marketing automation. Bloomreach Engagement provides everything you need to build better email marketing campaigns with advanced targeting and AI-powered personalization without sacrificing deliverability and ease of use.
It ensures that you're always taking a customer-centric approach to campaigns, utilizing valuable insights gathered from your customers' behavior, and targeting the right customers with timely, dynamic, and relevant emails.
Want to learn more about all the transformative ways Bloomreach can help your business grow? Schedule a demo today and find out more.