The Importance of Personalized Search
By Katie Lawson
Oct 25, 2018
10 min read
The Importance of Personalized Search
In an independent study, Internet Retailer examined the eCommerce sites of 125 leading US retailers to determine the 2018 eCommerce Personalization Report.

In a recent webinar, the researchers dove into their results and highlighted key findings about the state of personalization today.
The Stair Step of Personalized Search
One aspect of this report checked how well retailers used browsing behavior, where there was a clear drop off across different parts of the customer path.

Changing the homepage based on behavior was the most popular action for 36% of sites, such as Williams-Sonoma which changes the the "Just for You" section on their homepage to outdoor cookware after the researcher browses grilling utensils.
 

The next most popular space to personalize was landing pages, with 29.4% of category landing pages being updated based on browsing behavior.

Site search followed, with only 8% of retailers altering search results based on customer data.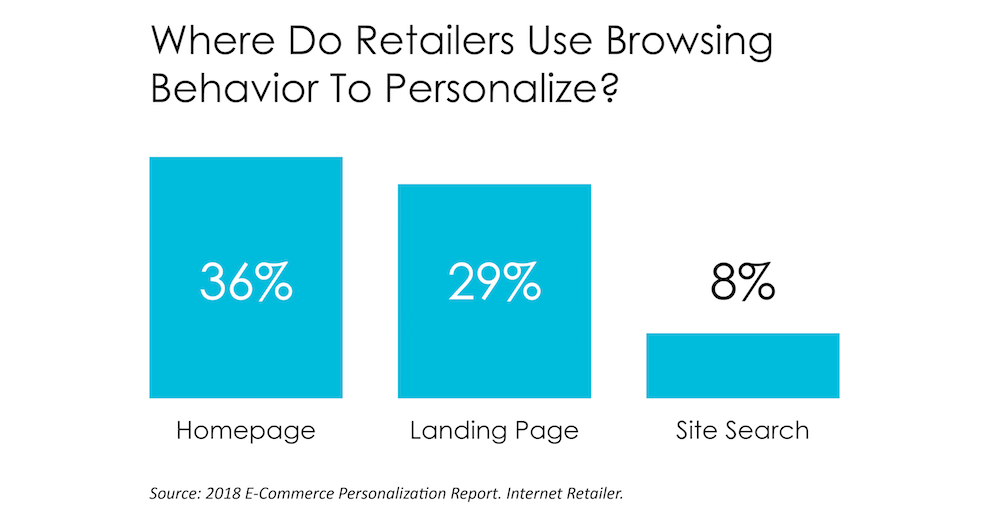 Personalized Search is a (Very Helpful) Gold Mine
The relative rarity of personalized search is a huge missed opportunity, as visitors using search convert at a 1.8 times higher rate than the average visitor.

For those companies who make it a priority, a truly helpful search tool can be a key differentiator.

People don't remember a neutral search experience - only the good and bad ones - and noone wants to be on the negative side of the experience spectrum.
Companies are aware of the pain bad site search brings.

An earlier Internet Retailer report uncovered that the number one challenge experienced with current site search was that, "Customers often see irrelevant results or results in the wrong order" and listed "Personalized results" as the top feature needed in a modern search solution.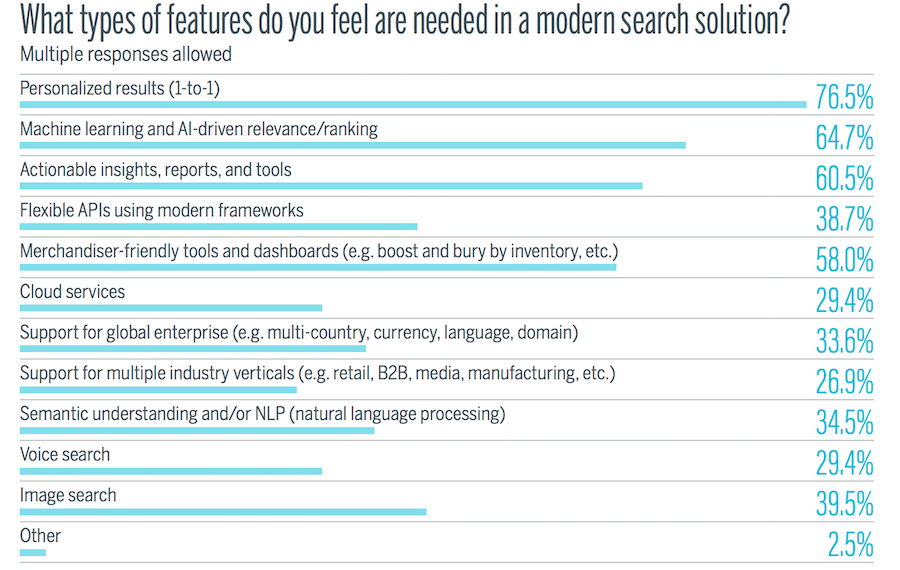 Why Is It Hard to Return Relevant Results?
Search can be messy. Spelling mistakes, use of broad terms, differences in how people describe the same product can make accurate search results a struggle.
On top of that, Merchandisers need to set the rules to boost and bury the products and brands important in the moment.

When search is handled manually, or it's impossible to tweak the algorithms to fit with your specific goals, these factors quickly pile up.
Who Are the 8% Acing Search?
Browsing behavior is the customer communicating, click-by-click, what they need.
For non-logged in customers, these clicks are often the only way to get this information and the companies winning the Search Race are the ones who listen.
Forever 21 is a prime example of this. When the Internet Retailer researchers first searched for "Hoodies" they saw primarily women's items but after browsing men's items the engine listened - and returned more relevant results.

Neiman Marcus was another retailer the researchers mentioned as a Search Leader, and pointed to their Mobile Experience as the reason why.

Taking advantage of smartphone capabilities, they offer Snap. Find. Shop., where visitors can use a picture of an item they like and see results that have similar characteristics.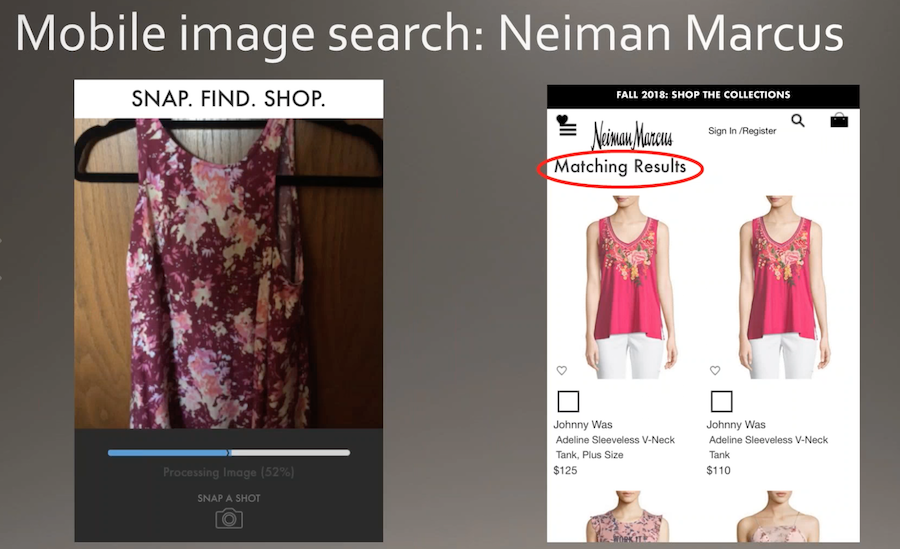 Personalization is Differentiation
These days everyone is competing on experience.
The discount giants like Amazon & Alibaba have made it impossible to compete on price alone, so a relevant, truly helpful experience is now a major battleground for retailers.
That battleground extends far beyond Site Search and today's customers are expecting more than just "similar products", they expect each click to offer them an experience custom to their taste. In other terms, you're required to be a sort of butler for every customer - anticipating and catering to their needs.

To keep today's customers happy, personalization needs to be at the core of your experience, and continuously learn...and learn….and learn.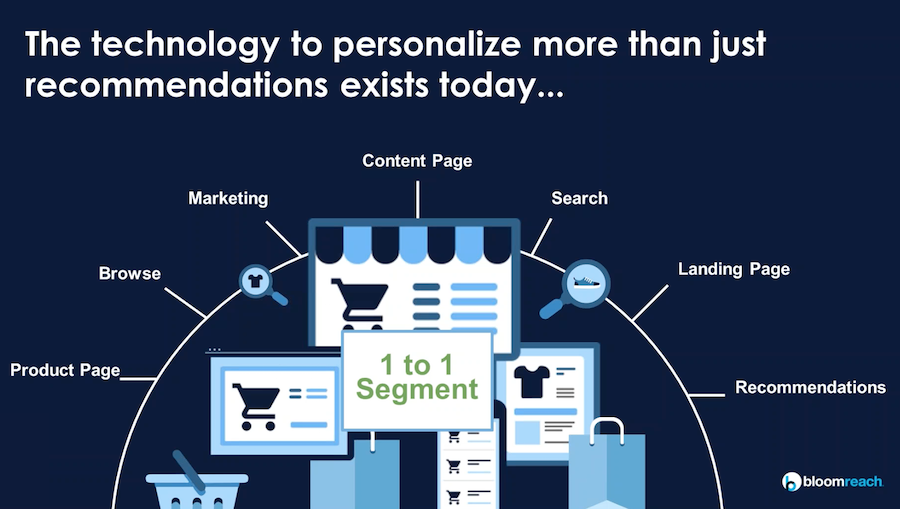 Learning with the Help of AI
While we humans are amazing creatures, this huge amount of learning simply requires machine learning to master.

Merchandisers can put their minds to key pages, campaigns, and use their deep understanding of their customers to guide the algorithms.

The machine learning can ensure the engine behind your experience is continuously improving while you sleep.
Machine learning can quickly use both Identity and Behavior cues to whip up personal experiences in-session for both logged-in and anonymous users.
Identity cues are the information you know as soon as the customer enters.

Location is a key one here, a Californian searching "sweater" is most likely after different results to someone in Montana. Identity cues also cover the device used and account details for logged-in users.
Behavior cues are where the real magic happens, as these allow sessions to become more personalized with every click.

The Forever 21 example mentioned above is behavior based personalization, as its results take into account visit frequency and affinity for particular brands or product attributes.
Along with these clues, machine learning incorporates your back-end information to make the experience not just personal, but helpful.

For instance, when a product's more popular sizes go out of stock, the ML can automatically lower the ranking of a product.

Let's say you have a football jersey that goes like hotcakes in Medium and Large, the algorithm identifies that pattern, notices you only have XS jerseys left in your inventory, and pushes that jersey down in search ranking until stock replenishes - all without the need of manual work.
When retailers put personalization at the core of the experience, they have a major leg up in the race for differentiation.

Site Search is a feature that benefits massively from this core data, and with only 8% of retailers taking advantage of that and 13.8% of revenue coming from site search users, those who start building their search strategy now are reaping the benefits of an exceptional customer experience.