Real-Time Personalization
Using AI To Target the Right Customers at the Right Time
By Ian Donnelly
09/15/2023
Real-Time Personalization
Using AI To Target the Right Customers at the Right Time
Every marketer knows that timing is everything. If you want to encourage your audience to take a certain action or buy a certain product, you can't serve them an inconvenient SMS or an ill-timed email. You need to reach them at the right time.
But finding the perfect timing for your marketing campaigns isn't an easy task. Different audiences prefer different timeframes, and different campaigns call for different schedules. 
Luckily, our AI-powered platform can help. Keep reading to learn how Bloomreach's powerful AI can adjust your campaigns to the most opportune times and reach your customers when it counts.
Hyper-Relevant Segmentation Is Only Possible With AI
Granular audience segmentation is the only way to reach your customers at the perfect time. Grouping your audience into big, broad categories just doesn't cut it — you need sophisticated customer segments powered by AI to make sure your marketing messages resonate with their specific needs.
Your business' real-time data is the key to making this level of personalization a reality. But collecting, organizing, and activating all that data is a huge task. No marketer has the time to painstakingly sift through massive data sets to identify relevant characteristics and segment the entire audience accordingly. 
AI Does the Heavy Data Lifting
Thankfully, Bloomreach's AI can handle all that tedious work for you. Bloomreach Engagement can gather data from all your relevant sources, including customer interactions, purchase history, website behavior, social media, and more. This data is then organized to create a comprehensive customer profile, or single customer view, which gives you a thorough understanding of your relationship with each customer.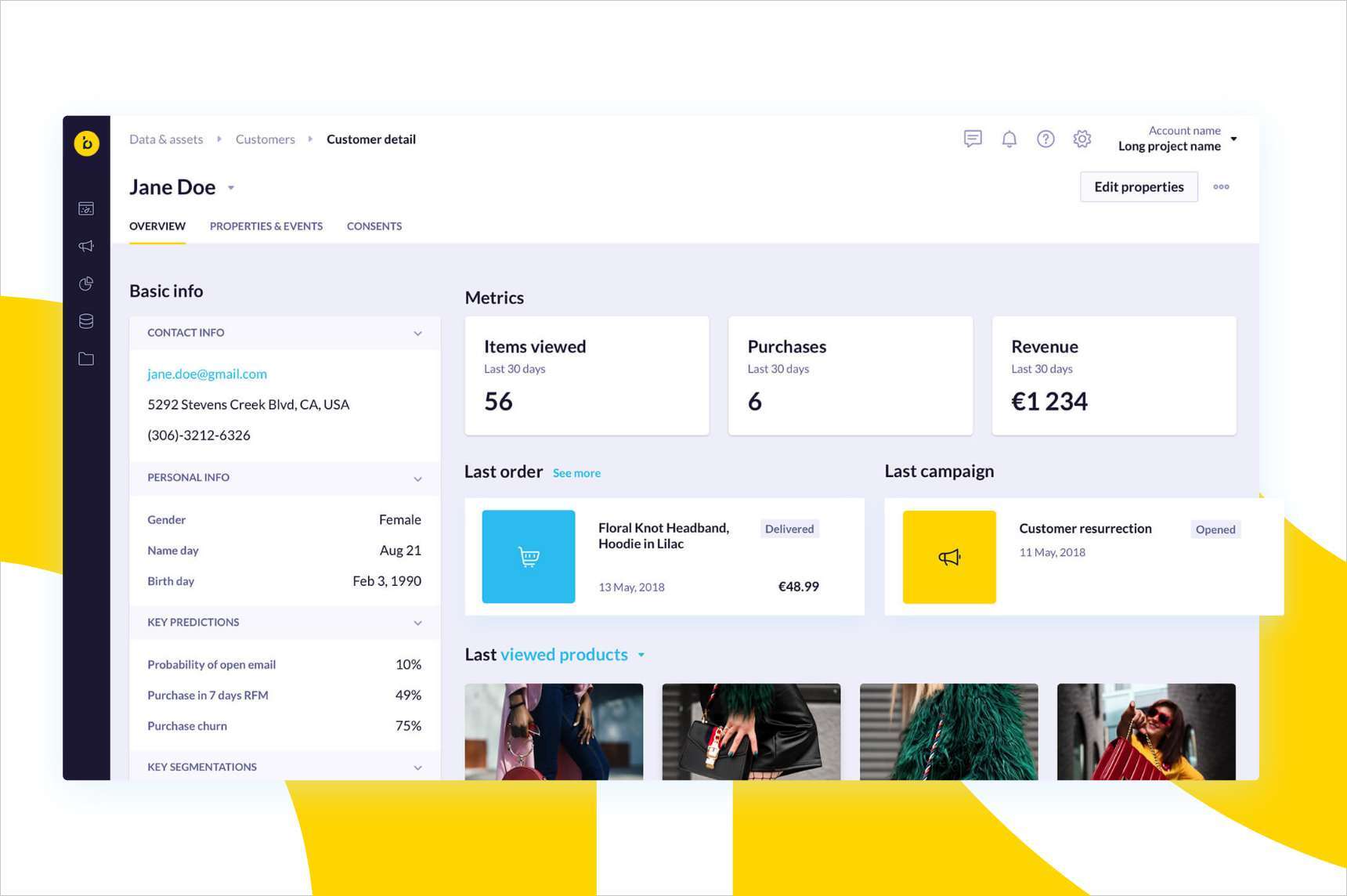 And with individual profiles of every person you're trying to market to, Engagement's AI algorithms can identify patterns and trends among customers and group them appropriately, segmenting customers into distinct groups based on similarities in their characteristics and behaviors. 
AI Keeps Your Marketing Up to Date
Not only does AI automate this segmentation process, it also keeps each customer's profile up to date with each new interaction they have with your brand. 
Since Engagement can process data in real time, brands are able to respond quickly to changing customer behaviors and preferences. This ensures that your understanding of your audience is always relevant and up-to-moment — and your marketing messages are, too.
AI Can Predict What Your Customers Need
With an always-relevant profile of your customers, you'll have the data you need to identify the right time to send a campaign to each member of your audience. This wealth of organized data can provide personalization on an individual level, with insights for the timing that will most likely appeal to your customer's preferences. 
This is known as send time optimization, an AI prediction model that calculates the time when a customer is most likely to interact with your campaign. Fueled by all the actions and touchpoints of your customer, AI can predict customer behavior based on historical data and patterns. It anticipates customer needs and preferences, enabling brands to proactively reach out to customers with tailored and timely messages.
What Send Time Optimization Looks Like in Practice
This might sound like a complicated process, but for a marketer using Bloomreach Engagement, harnessing AI to optimize your campaigns only takes a few clicks.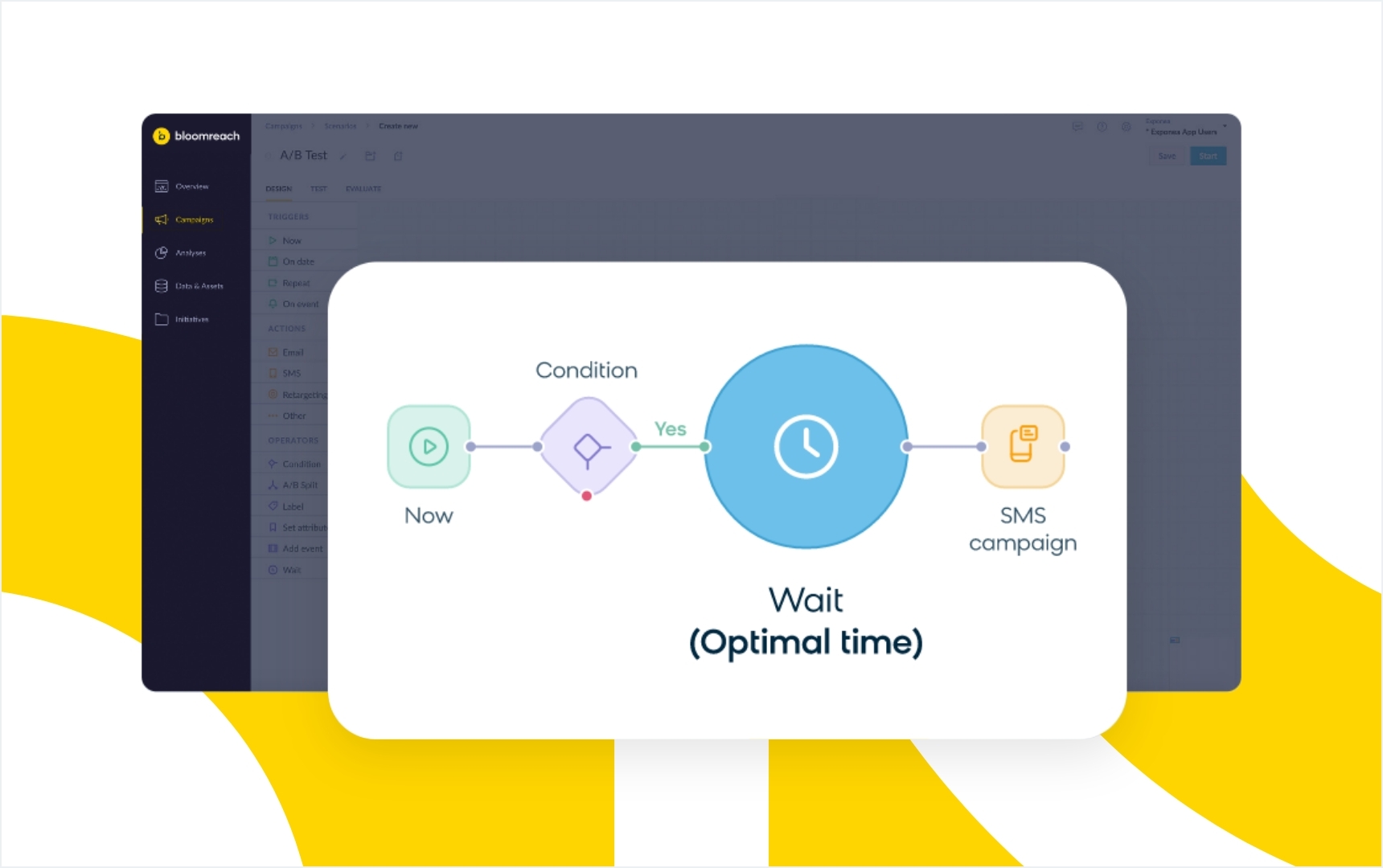 As you build your campaigns and orchestrate your customer journeys, you can add a condition in your campaign flow that personalizes the send time. This will tell the campaign to wait for the right time to send for each audience member — all you need to do is set the parameters of the wait time. 
So, for example, if you have a daily email newsletter that should be delivered no sooner than 10 a.m. and no later than 10 p.m., you can set that 12-hour timeframe as your wait time and Bloomreach's AI will determine the optimal time for each individual within that window.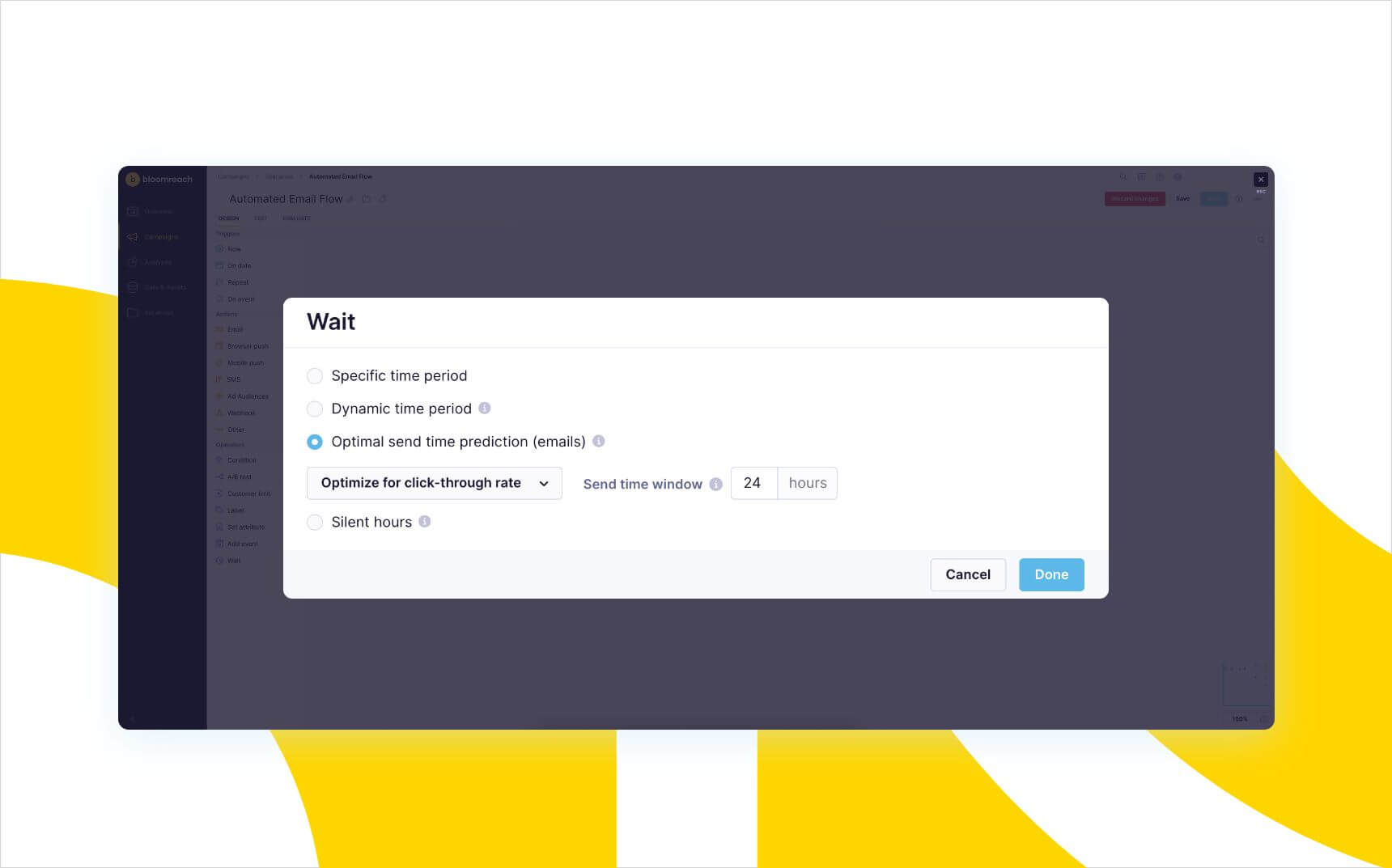 And there's no wait on your end to determine each customer's ideal send time. Each optimal time is stored as an attribute for every customer in their individual profile, so all you need to do is add the condition, set a timeframe, and our AI makes sure your campaign reaches your customers at the perfect time. 
Bloomreach's Powerful AI Does It All
If this sounds like something you could use in your marketing efforts, look no further than Bloomreach Engagement. Send time optimization is just one of the many AI-powered capabilities that our omnichannel marketing platform offers.
That's because Loomi — our AI built for e-commerce —  is the connective tissue across our suite of products. It works alongside you to make you more efficient and effective than ever before, helping you deliver hyper-personalized experiences across all channels in the customer journey. 
With all the marketing and orchestration tools you need and the power of Loomi, you can build campaigns that reach the right audience, on the right channel, at the right time. The possibilities are limitless with Bloomreach.
Ready to see all our AI-powered capabilities? Check out our site to learn more.