Omnichannel Marketing Automation
The Ultimate Guide to Mobile Push Notifications for E-Commerce Businesses
By Ian Donnelly
02/06/2023
Be honest — the last time you heard your phone ping with a new notification, did you check it?
There's a good chance that you did, like so many of us do. Mobile phones are so ingrained in our day-to-day experience that when a notification shows up on our home screens, most people check it almost immediately. And that's why mobile push notifications are so effective.
For e-commerce businesses that have an app for their customers to download and use, tapping into the potential of push notifications is an easy win for their marketing efforts. It's a great opportunity to increase your reach, grow your customer engagement, and boost conversions. 
If you already put the time, effort, and investment into making an app for your customers, it's high time for you to put a strategy in place and optimize your mobile push notifications. 
Here's everything that e-commerce businesses need to know about mobile push messages.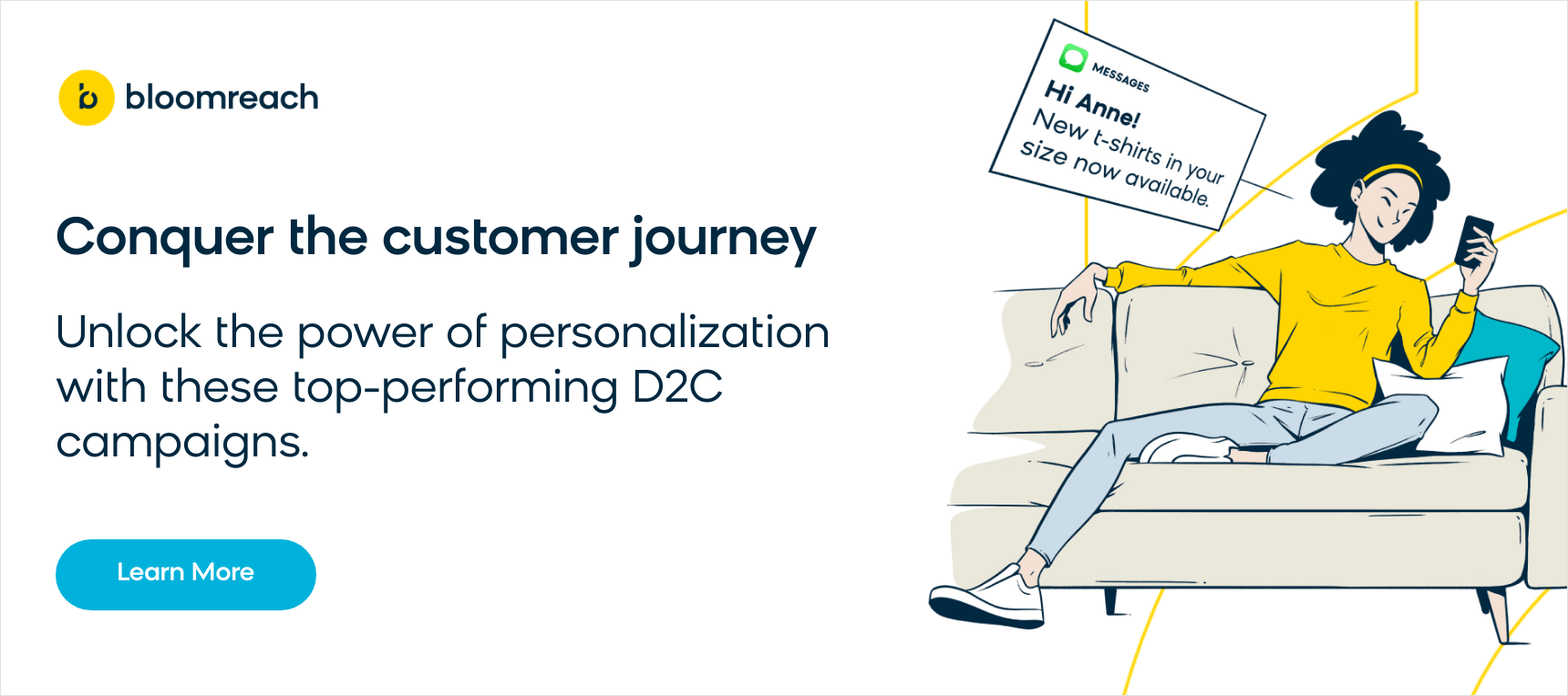 What Are Mobile Push Notifications?
Mobile push notifications are small, pop-up messages sent directly to a user's mobile device via an app they've installed. Similar to SMS messages, they appear on the user's home screen and can be customized based on the user's opt-in preferences.
Mobile push notifications can include text, images, videos, and audio in their messaging. The settings of these messages will differ slightly depending on which operating system your app user has on their device, but all phone providers support mobile push services — whether your audience uses Apple iOS devices or Android devices.
The Benefits of Using Mobile Push Notifications
With the ability to send notifications right to your user's device, push notification messages offer a wide range of benefits for e-commerce businesses, including:
Improved Engagement With Your Customers
If you're looking to increase customer engagement with your mobile app, mobile push notifications are one of the most powerful tools at your disposal.
Push notifications have an open rate of 90%, which blows other marketing channels out of the water. By comparison, the average email marketing open rate is just shy of 17%.

Plus, users consider mobile push to be a helpful and click-worthy service. 70% of users see mobile push notifications as useful, and 40% interact with an app within an hour of getting a notification.
Better Customer Retention
Creating loyal customer relationships is a goal every business should strive for, and mobile push messages can help drive recurring business by guiding your customers back to your app. 

In fact, just sending a few notifications can yield incredible results. A study showed that app users who receive any amount of notifications have 190% higher retention rates than those who do not, while more frequent messaging increases mobile app retention rates by up to 10x. 
Increased Conversions
One of the biggest benefits of mobile push messages is their ability to drive more purchases for e-commerce businesses. 
Mobile push is arguably the most direct line you can draw between your audience and a purchase. Your messages can reach users on their most preferred device at any time, whether or not they are in your app. 

And the effectiveness of this connection is evident in the results. Mobile push notifications have an average click-through rate of 40%. Applied to the right campaign, that value can go a long way towards reaching your goals.
Understanding the Push Notification Opt-in Process
Compared to email and SMS marketing opt-in processes, mobile push notifications abide by more conditions that businesses should be aware of. Different phone providers offer different ways for their users to opt in, which has an effect on the opt-in rates for different devices.
Apple vs. Android Opt-in Models
Phones with Apple iOS are based on an active opt-in process, meaning that brands can't send mobile push notifications to their app users until those users agree to receive them. 
Android devices, on the other hand, automatically opt in users to receive push notifications. Brands can send app messages as soon as users download the app, and users need to manually opt out of push notifications to stop receiving messages.
This difference produces interesting variances between iOS and Android user experiences.
A study showed that Android users have an exceptionally high average opt-in rate of 91% with the automatic push notifications opt-in model, while the average opt-in rate for iOS is just below 44%.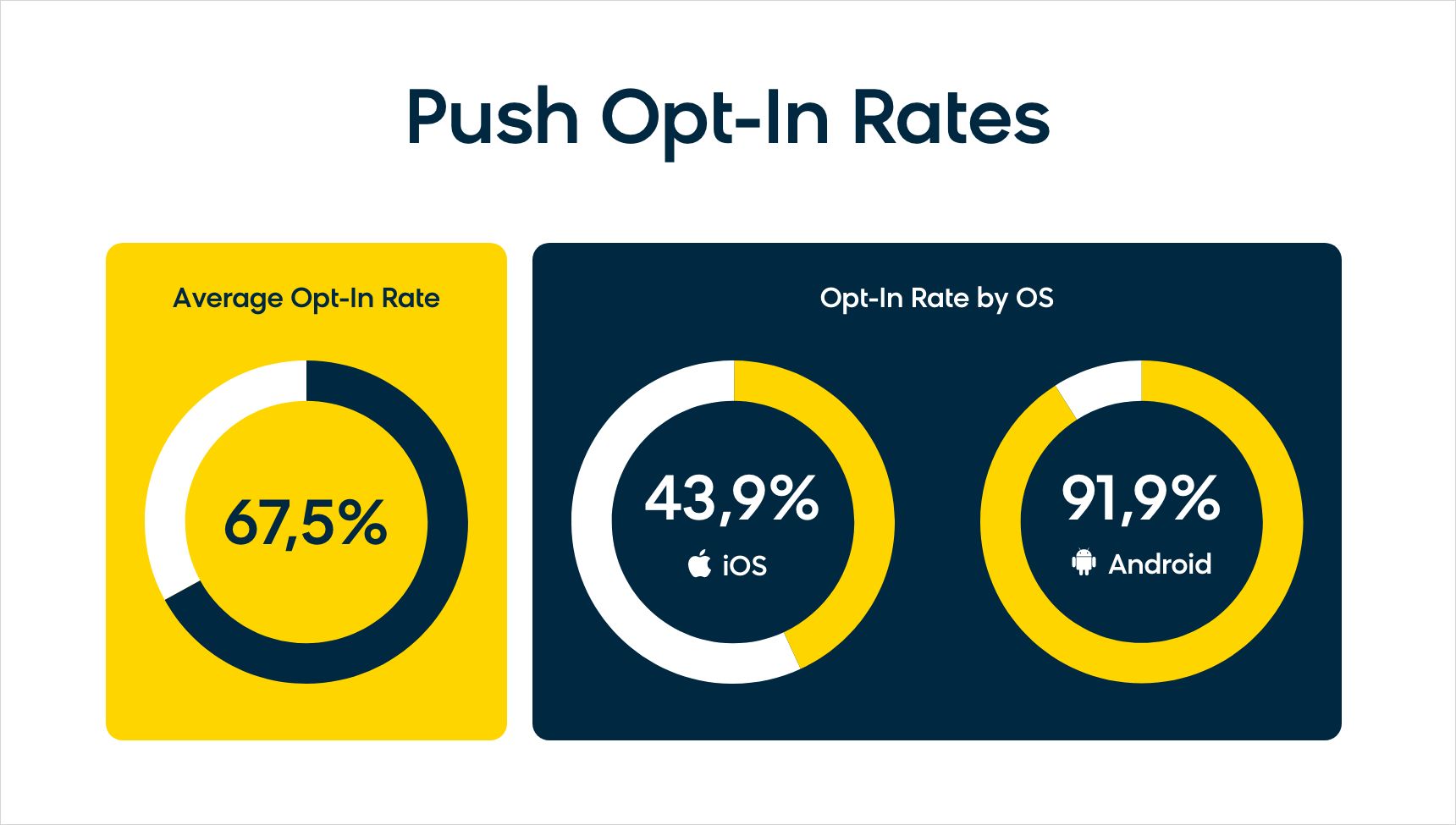 Android's approach gives you a broader audience of push-enabled users by default compared to iOS. But Apple's process ensures that your subscriber list is only full of engaged and conscripted users, while Android's users aren't necessarily eager recipients. Without giving users the option to easily opt out, sending unwanted or too-frequent notifications can motivate customers to turn off messages or uninstall the app.
It's important to consider the difference in how iOS push notifications and Android push notifications work as you shape your mobile push notification strategy.
Read This Next: The Ultimate Guide to Consent Management
3 Qualities That Users Want in Your Mobile Push Notifications
Push notifications will differ from business to business, but there are a few characteristics that every app user wants from a business' notification service.
Personalization
Customers give businesses a wealth of zero- and first-party data when they interact with apps and shop online stores — from their demographic and transactional data to their personal tastes and product preferences — and they expect brands to translate that information into genuine and unique app experiences. 
Personalization makes that experience happen, and your mobile push notifications need to incorporate personalized messages to keep your audience engaged and coming back to your app.
Personalization usually starts with simple steps, like including a customer's name in your messages. But with the right marketing software, you can personalize the types of promotions they receive, the products they are shown, and the updates they get — all stemming from their unique tastes and preferences that you've collected. 
Read this next: E-Commerce Personalization: Your Complete Guide

Timeliness
Mobile push notifications walk a fine line between being a welcomed service and an invasive annoyance. You need to think critically about the timing of your notifications and when you want them to reach your audience.
Sending push notifications at the wrong time, like a sale announcement in the early morning or late at night, can irritate users and make them uninstall your app.
At the same time, mobile push notifications are perfect avenues to send users real-time information. For instance, if a customer's order is out for delivery, sending them an immediate notification can be a beneficial update that they want ASAP.
It's all about finding the appropriate timing to send notifications, which will differ by type and content. 
Relevance
The best course of action when formulating your mobile push notifications is to use the channel in moderation, employing it only for the most important and meaningful messages. 
You should only use notifications to announce the most exciting, relevant, and urgent updates. Everything else can be funneled into other marketing channels such as email campaigns or SMS campaigns that will suit your messaging better.
If you're having trouble deciding whether or not to utilize mobile push notifications for a message, a good rule of thumb is to ask yourself whether or not the notification will inspire action in the next 24 hours. If the answer is yes, a push notification is warranted. If not, it can be communicated through other campaigns.
Types of Messages To Send Through Mobile Push Notifications
Not all notifications are the same. There's an assortment of utilities, objectives, and styles that you can strive for when creating your mobile app push notifications, and each has their own unique advantages. Here are some examples of each type of message:
Informative Messages
Informative push notifications deliver important, time-sensitive messages to a user's mobile device. This type of notification should be used to keep customers up to date with significant updates or changes to their user experience. 
Informative messages can mean different things for different businesses. They can be in-app preference alterations like a change in password for a user, a notification that a customer's order status has changed, or a reminder that an upcoming event kicks off soon.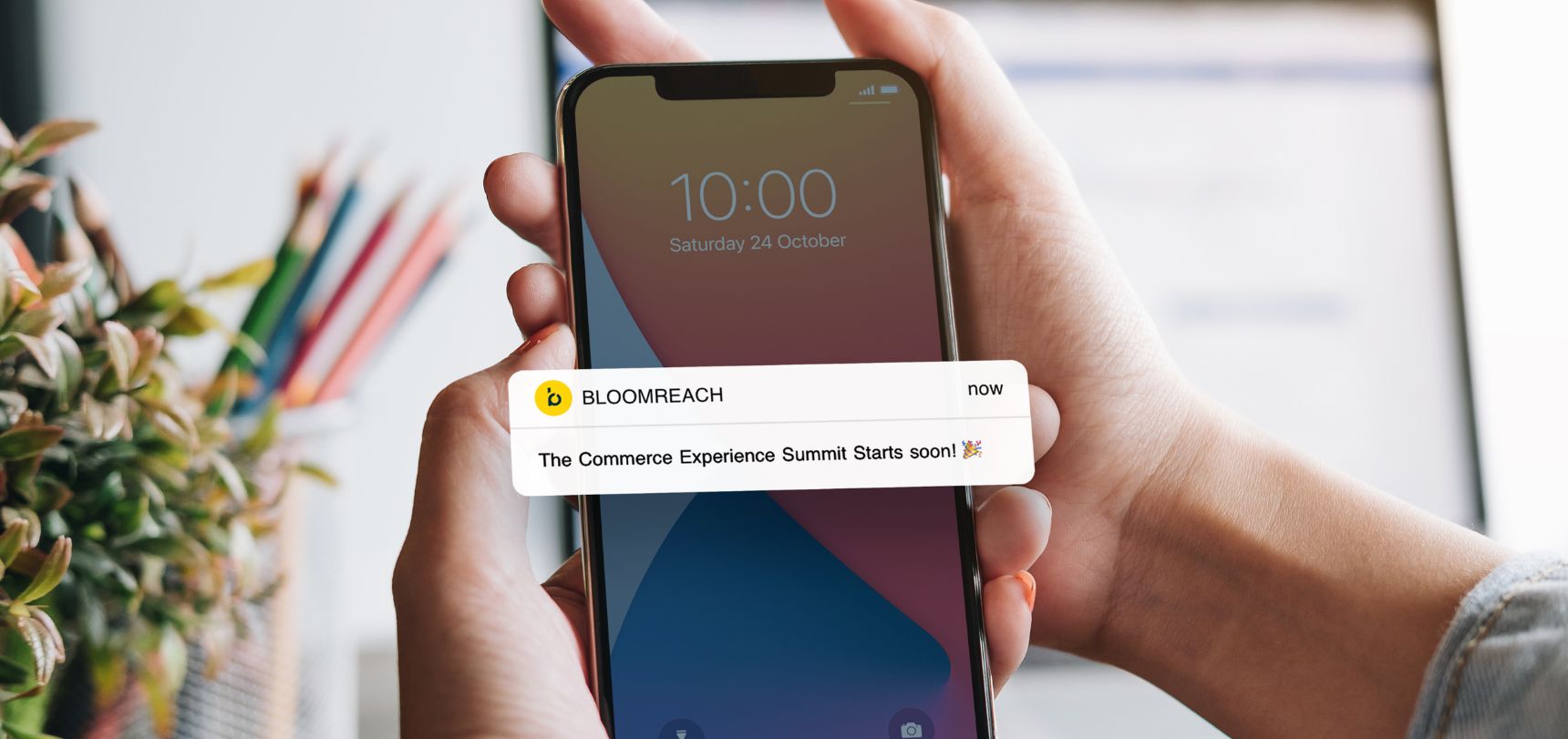 Location-triggered Notifications
Geolocation-based mobile push notifications allow marketers to send push notifications to users in a specific area. Based on a users' real-time GPS location, you can serve specific alerts and deals to offer hyper-local incentives for your audience to engage with. 
The most widely used example of this is a weather app's use of a user's GPS location to alert them with local weather updates. But businesses can also use location triggers to inspire in-the-moment interactions, like nudging users to shop in a nearby store.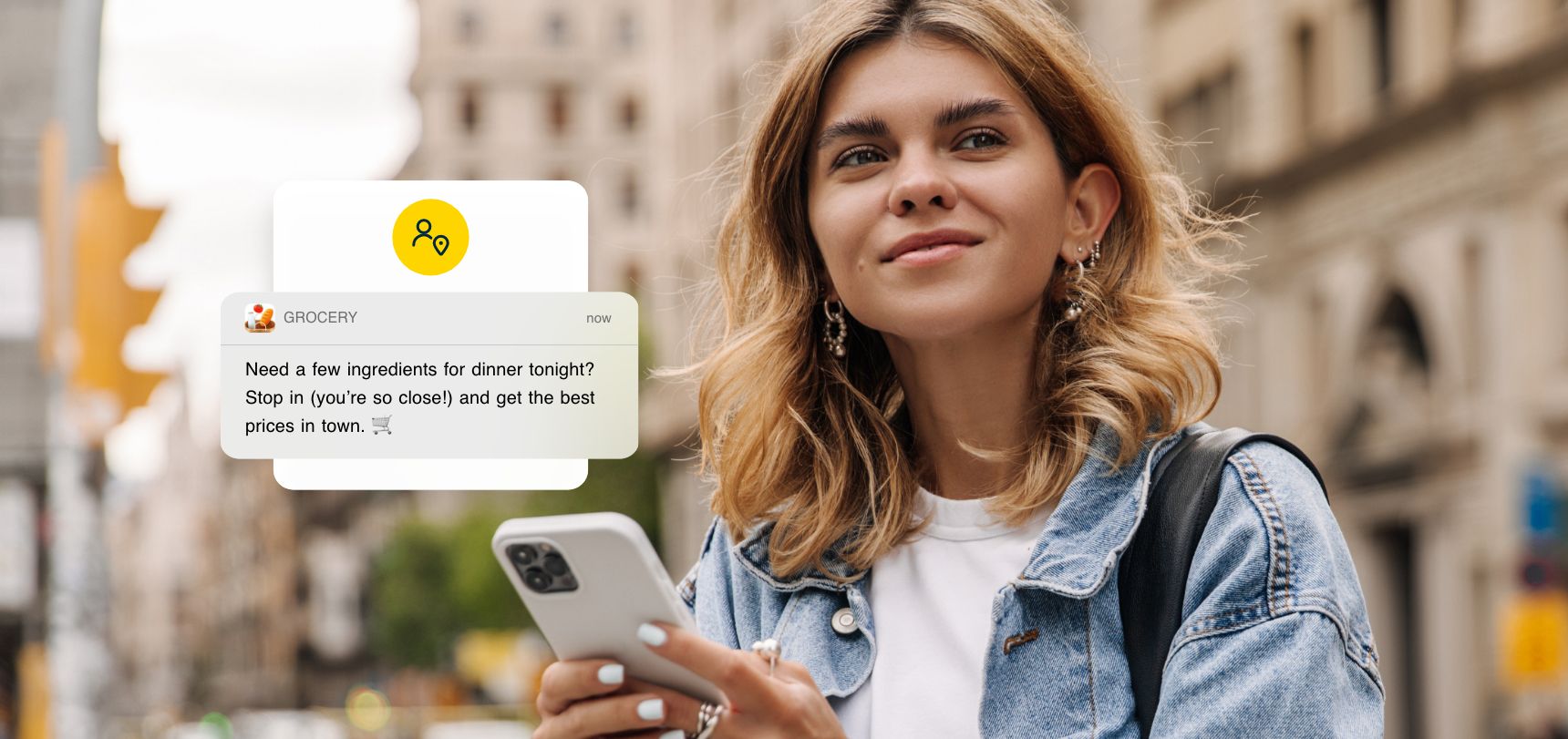 This type of notification is one of the most valuable ways to encourage app users — it speaks directly to your audience, offers new ways to engage, and caters to them on an individual level to create a unique brand experience.
Reengagement Campaigns
Keeping your customers on your app and browsing your brand is an uphill battle for businesses. Digital commerce has made it hard to capture any audience's focus, especially with so many apps fighting for their attention, which is why reengagement push notifications are vital components of any good remarketing strategy. 
Low inventory alerts, back-in-stock messages, and updates on loyalty programs are a few great subjects to consider for push notifications — but if there's one reengagement tool that every business should employ, it's abandoned cart campaigns.
The average cart abandonment rate is just shy of 70%, which is a staggering amount of dropped conversions for e-commerce businesses. Brands should be doing all they can to get customers back to their cart and completing their purchase.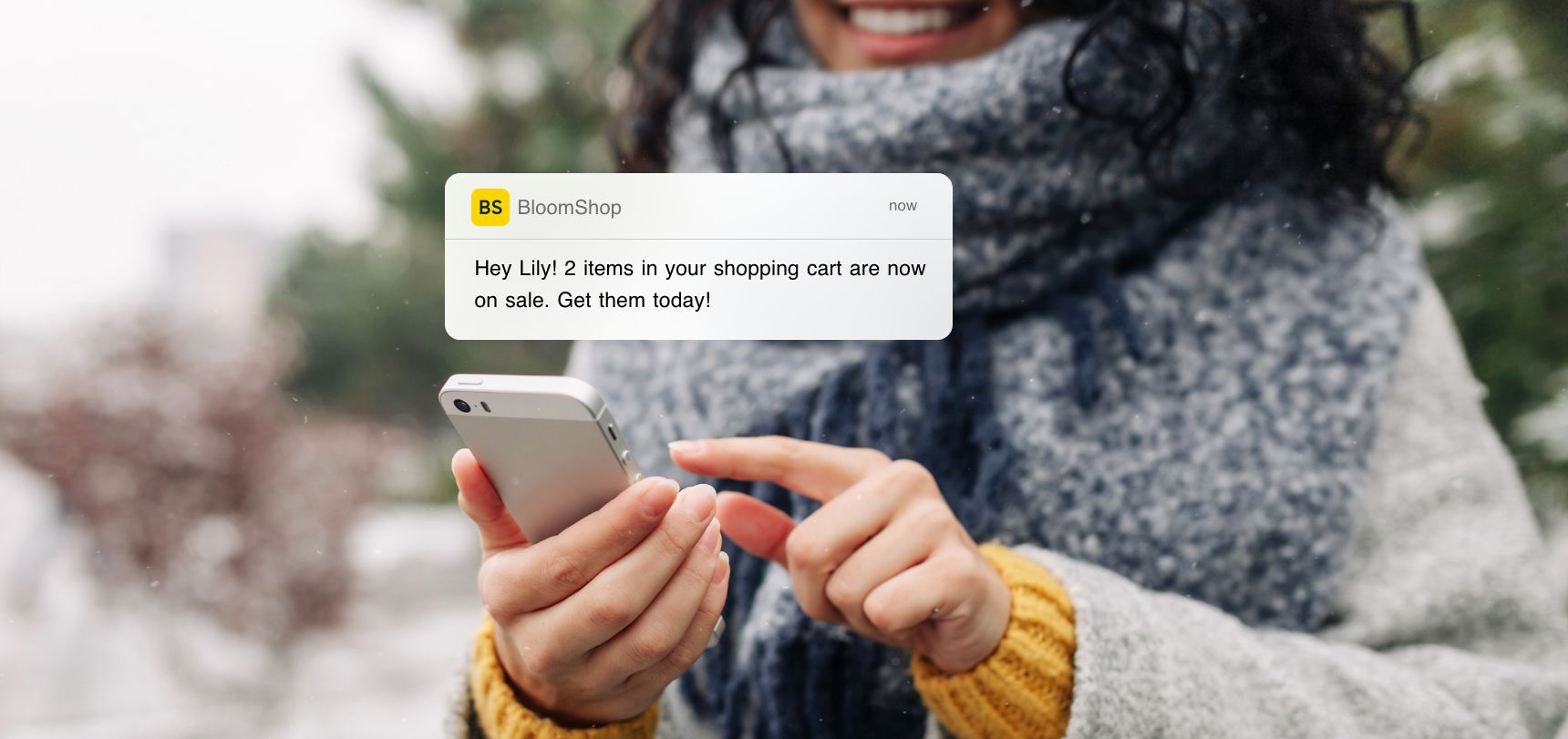 Reminding your audience that their cart is still waiting for them with a push notification can spark a user's curiosity, and an added incentive like a discount can lead to prompt action.
Even when they're built with the bare minimum of effort, reengagement campaigns like abandoned cart messages reach an already interested audience with an actionable message. It's the perfect recipe for a successful marketing tactic.
Read This Next: How Reengagement Campaigns Boost Revenue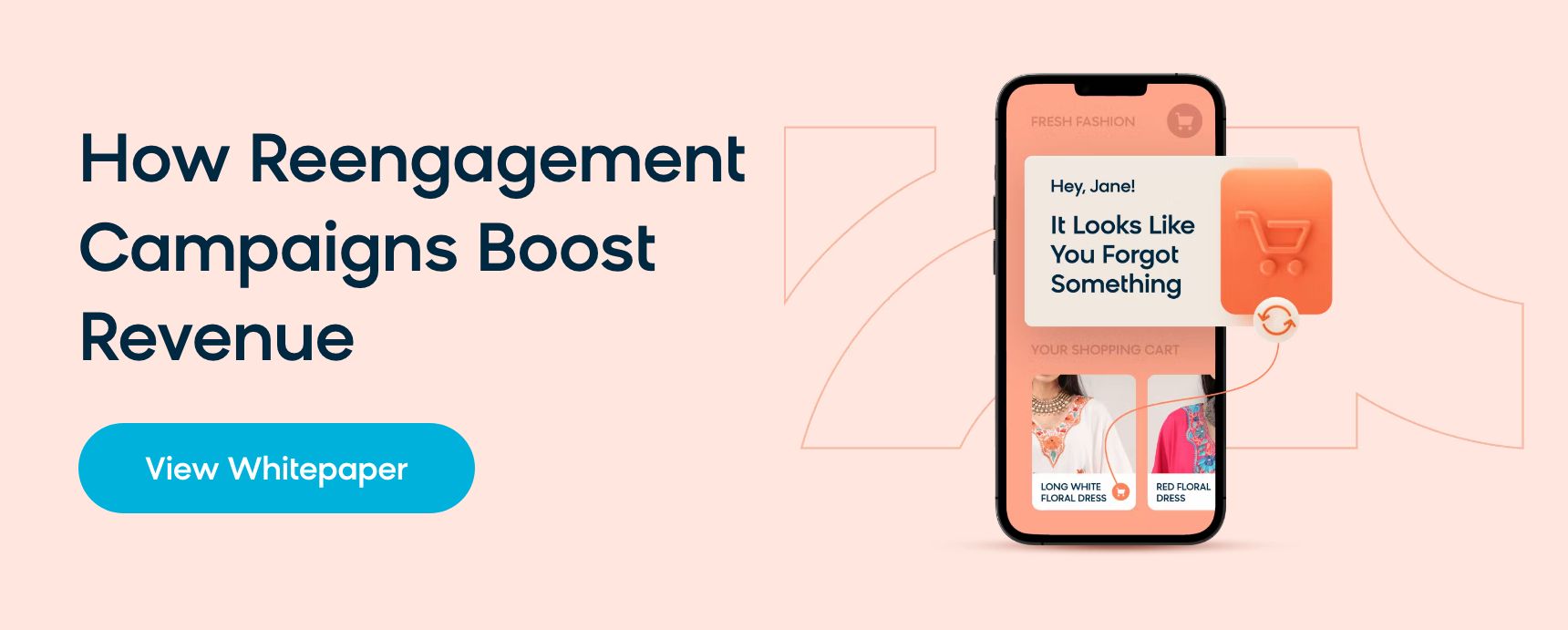 Promotional Messages
If you're running a limited-time promotion of your products, a push notification is a great way to drum up excitement for it. 
Special deals like 24-hour flash sales or giveaways are events that your audience wants to know about immediately so they can take advantage of it. With a push notification, you can directly alert users and entice them to make the most of your promotion.
Sending promotional messages via push notifications can be a worthwhile and beneficial way to boost sales and inspire engagement, but it's best to err on the side of caution. The greatest strength of mobile app push notifications is how up-to-the-minute they can be, so highlighting seasonal or forthcoming sales should be left to other channels. 
Personalized Recommendations
As we touched on earlier, personalized communication is key to successfully engaging with your audience using push notifications. The best way to entice your users to visit your app and shop your brand is to show them exactly what they are looking for from your business.  
This is a very broad category type, but it's vital for brands to design worthwhile customer experiences and thoughtfully utilize their data to make the most of their messaging.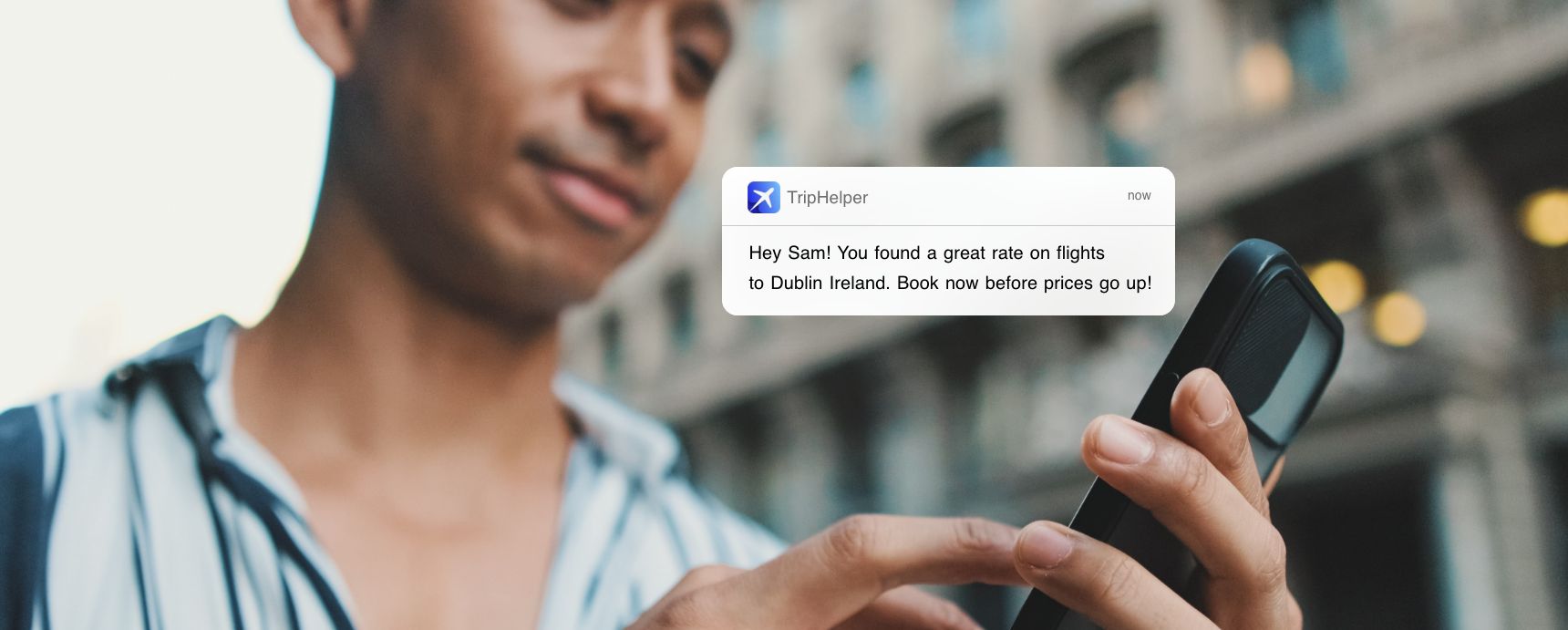 If your customer has an affinity for a certain product category, like shoes, you can inform them of the latest shoe styles and brands that come in stock. If a user has been recently searching for travel accommodations or flights to Ireland, you can alert them when prices are changing. Or, you can offer monthly refill reminders for customers that get the same cat food on a monthly basis.
Different businesses in different industries will have to decide how to best personalize their mobile push notifications, but your messages should always aim to serve the right message to the right customer at the right time. 
Read This Next: Why Product Recommendations Are Key To Winning With E-Commerce Personalization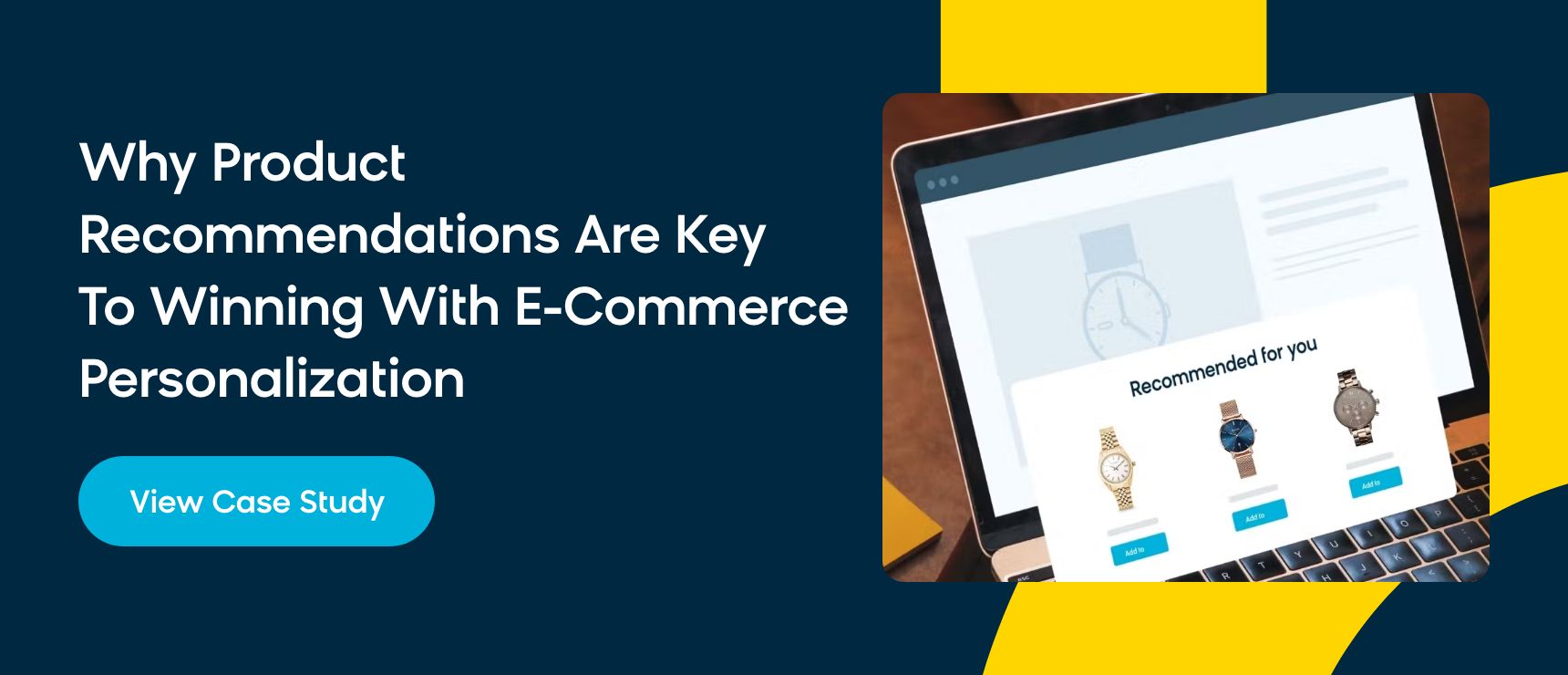 How To Optimize Your Push Notification Strategy
As you craft your push notification strategy, there are a few guidelines that every business should keep in mind. Here are some best practices for shaping the best notification strategy for your brand: 
Keep It Short and Sweet
When it comes to push notifications, a little goes a long way. And too much can lead users to uninstall your app.
Brevity and restraint should be the guiding principles for your messaging strategy. You don't want to bombard your users with tons of mobile notifications, so make sure each type of message you send works towards your business goals.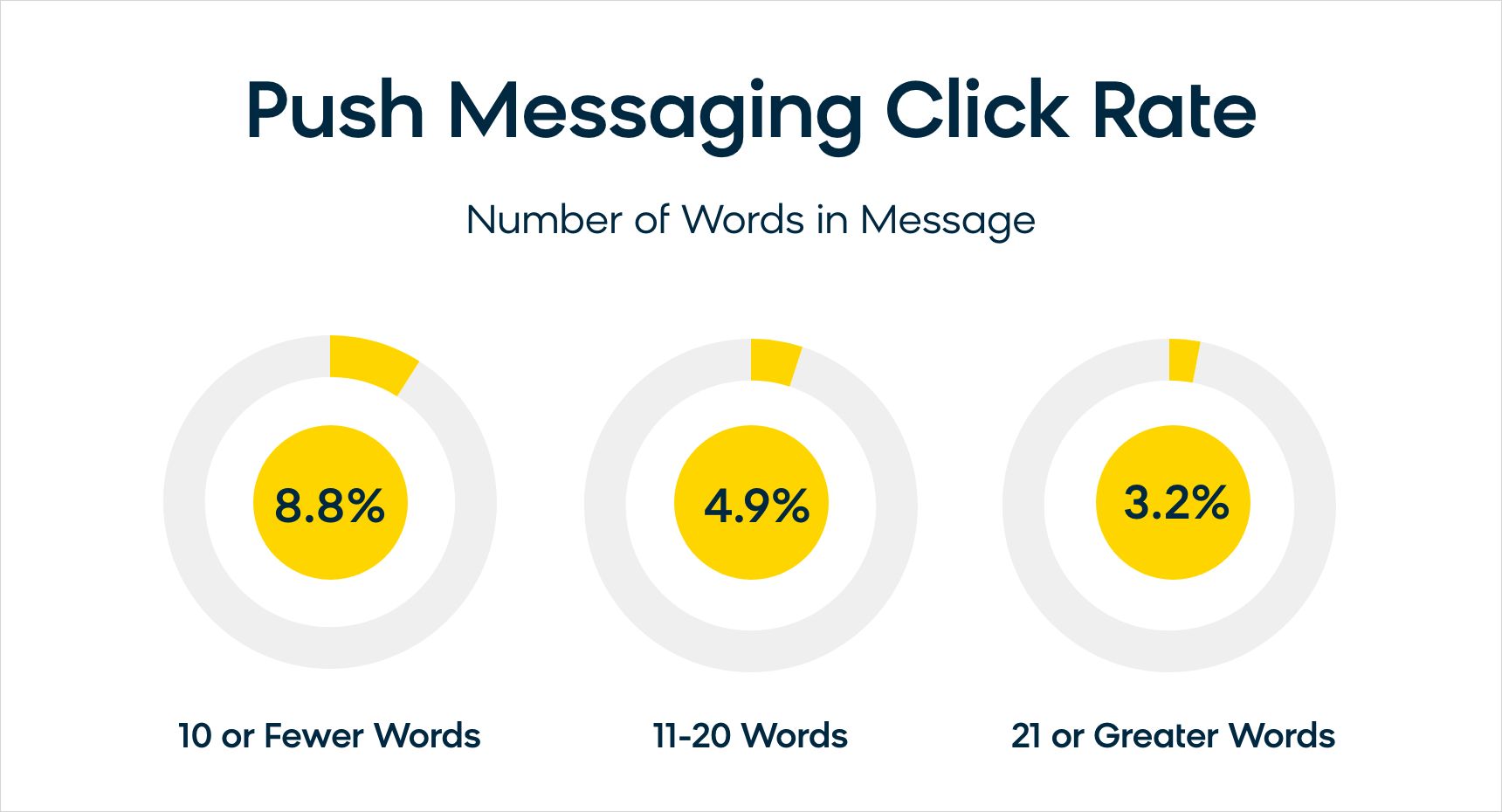 Similarly, each mobile push message should be clear, concise, and to the point. Shorter push notifications have a higher engagement rate, so using fewer words in your copy and a strong call to action is the key to success.
Segment Your Users for the Most Relevant Notifications
Segmenting your customers into targeted groups is a vital step towards getting the best results out of your mobile push notifications. 
When you can direct your mobile alerts toward different segments of users based on individual characteristics like location, demographics, interests, or past purchases, your messaging can be refined to speak precisely to your intended audience.
Read This Next: Customer Segmentation Options Marketers Should Know
To reach this level of sophisticated segmentation, modern businesses can't rely on manually sifting through customer data and subscriber lists. 
You need the right tech for the job — marketing software that offers a single customer view, or a database with customer profiles that catalog the purchase history, site activity, product recommendations, and more for every individual person who interacts with your business.
Collecting data from multiple sources into a single customer view is crucial for making informed and strategic marketing decisions beyond your push notification messaging. 
With all your gathered behavioral and transactional data in one place for each individual customer, you can tailor all your marketing messages to meet the exact needs of your audience and coordinate every channel to work in tandem to reach your goals.
Having all your data centralized from every source — your in-app data, on-site data, offline data, calculated metrics, predicted future data, and more — allows you to understand and map out your customer's full relationship with your brand. It's the key to utilizing customer insights, segments, and attributes in real time and creating personalized experiences at scale.
Read This Next: A Single Customer View (SCV): Everything You Need To Know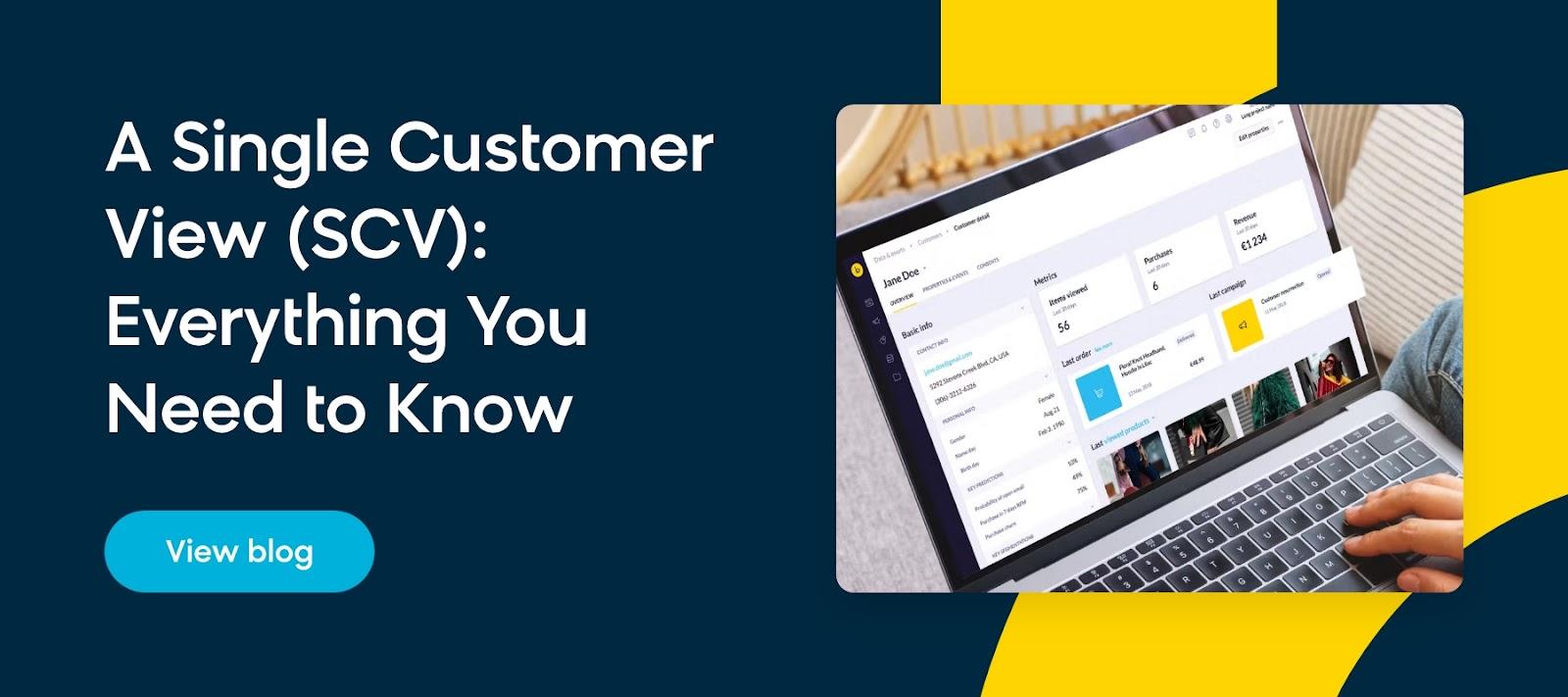 Make Mobile Push Notifications Work With Your Entire Marketing Strategy
As valuable and efficient as push notifications are, your marketing strategy needs more than one messaging tactic to thrive. A holistic approach to marketing — viewing all your messages, channels, and campaigns as one interconnected and customer-focused strategy — is essential for modern businesses.
Every aspect of your marketing needs to work in sync. The notifications you push to app users need to inform the email campaigns you send to that same customer. They also need to work in tandem with the SMS messaging they receive, and match the in-store experience they have with your brand.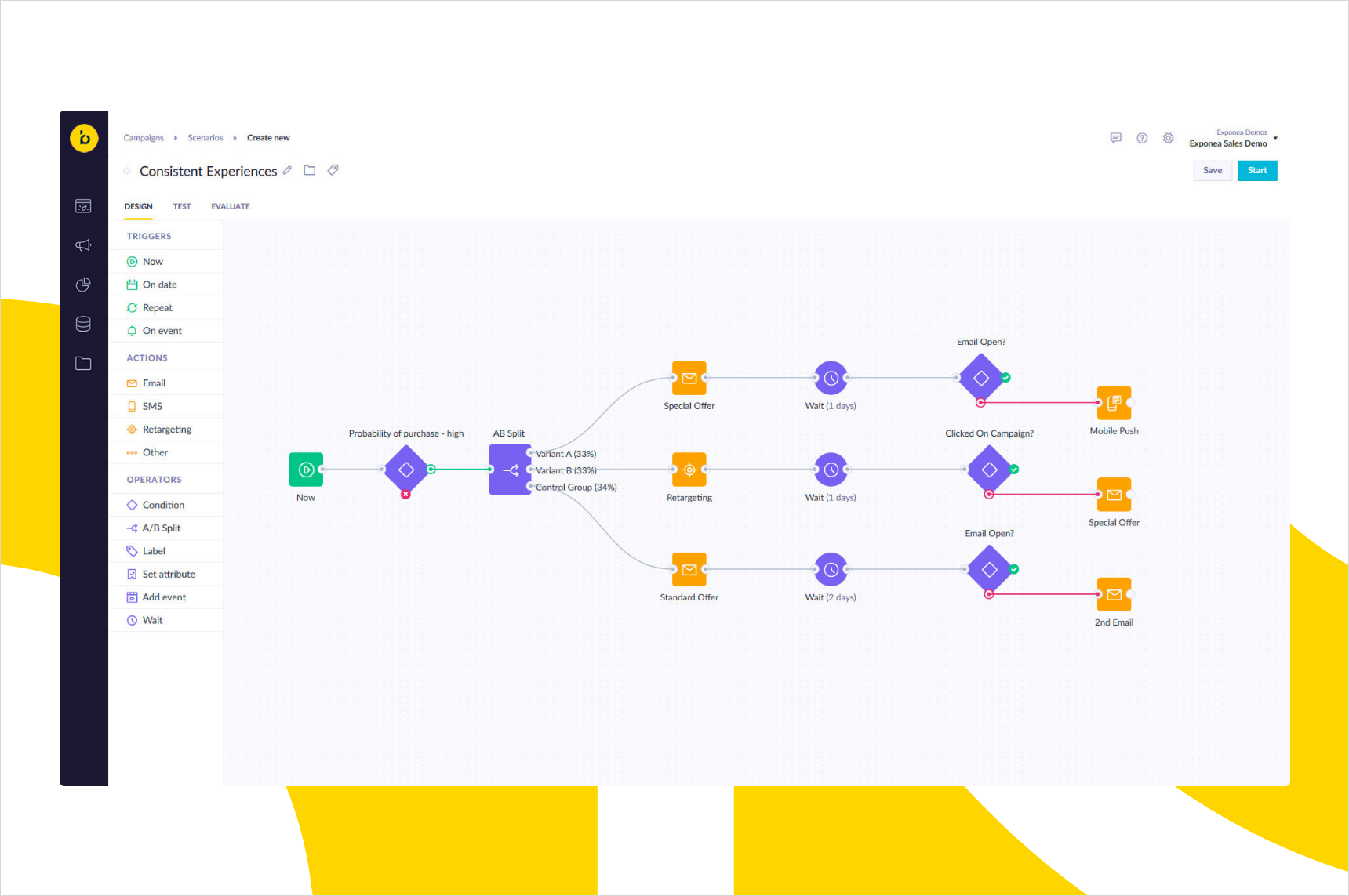 Providing a seamless customer experience is the ultimate goal. And to make this possible, you need marketing technology that allows you to organize, design, and facilitate entire customer journeys with omnichannel orchestration. 
Once you have the ability to create omnichannel experiences, your marketing has no limits. You can bring all your channels and data together to design end-to-end omnichannel flows for your customers, giving them the elevated experience they expect from modern brands.
Read This Next: The Ultimate Guide to Journey Orchestration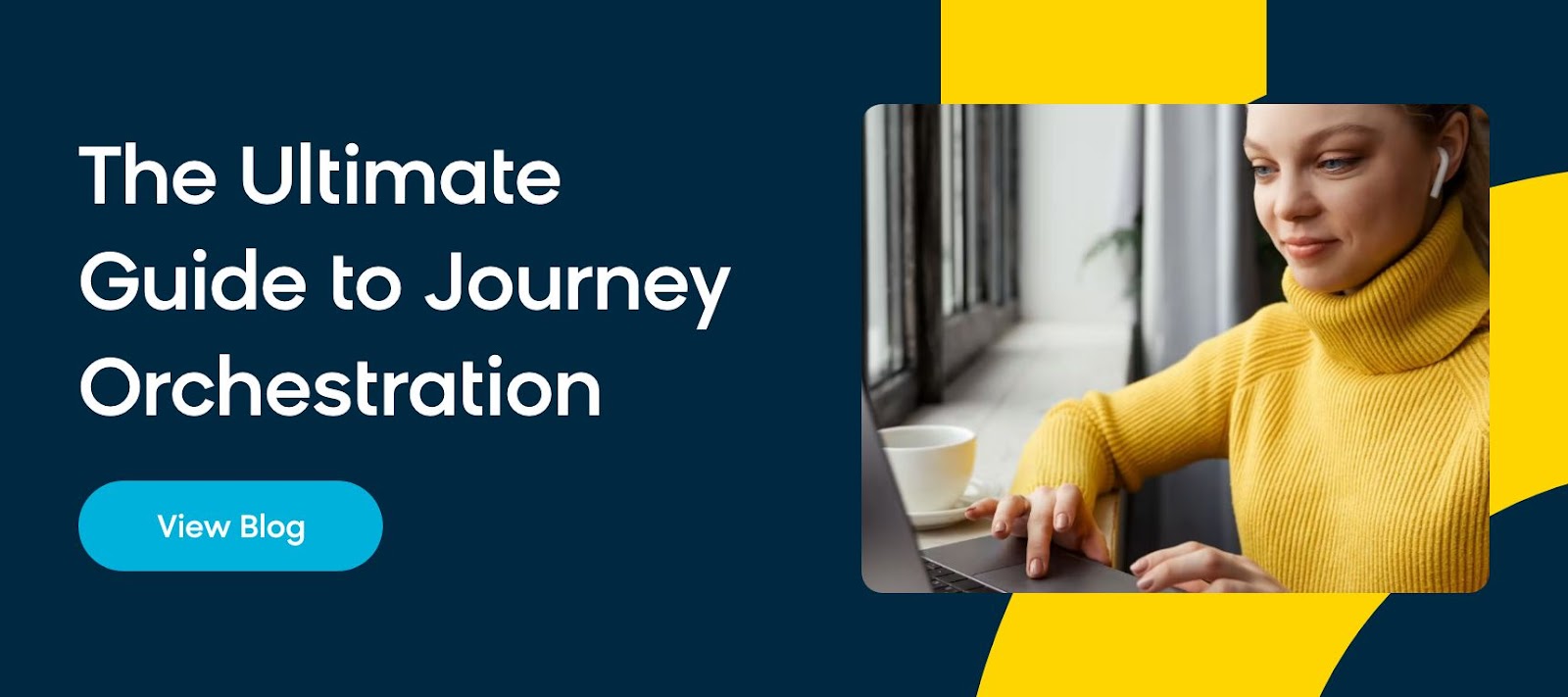 Get the Best Results With Bloomreach Engagement
If you want to get the most out of your mobile push notifications, you need a marketing tool that offers the segmentation, automation, and omnichannel orchestration capabilities necessary to keep up with your most ambitious goals. And that's exactly what Bloomreach offers.
Bloomreach Engagement has everything you need to create personalized, next-level customer experiences in a single, powerful platform. You can drive customer behavior with relevant, actionable push notification messaging, sync your efforts with your overall marketing channels and campaigns, and make your entire strategy run as effectively and efficiently as possible.
Interested in seeing what Bloomreach can do for you? Visit our site to learn more.