E-Commerce Site Search and Merchandising
The Complete AI Search Guide
E-Commerce Site Search and Merchandising
The Complete AI Search Guide
AI provides search intelligence by understanding the nuances of human language, as well as analyzing behavioral data like past purchases, searches, and customer service interactions. It enables retailers to better understand each customer's needs and preferences, so they always deliver accurate and relevant results.
E-commerce priorities start with search because it's so ingrained in our everyday lives — 87% of consumers start a product search online. However, historically search has forced users to think like a search engine — if they are to receive relevant results, they have to use the same words stored in the underlying database. For example, a search for "pasta" would yield zero results if the products were all given specific names, like "farfalle," "fusilli," and "macaroni."
From a user perspective, it's frustrating when you're forced to perform multiple searches on related keywords and synonyms just to find what you're looking for. This poor experience is exasperated further when the search contains irrelevant results, out-of-stock products, or a lack of appropriate filters, which 80% of consumers admit to leaving a site because of.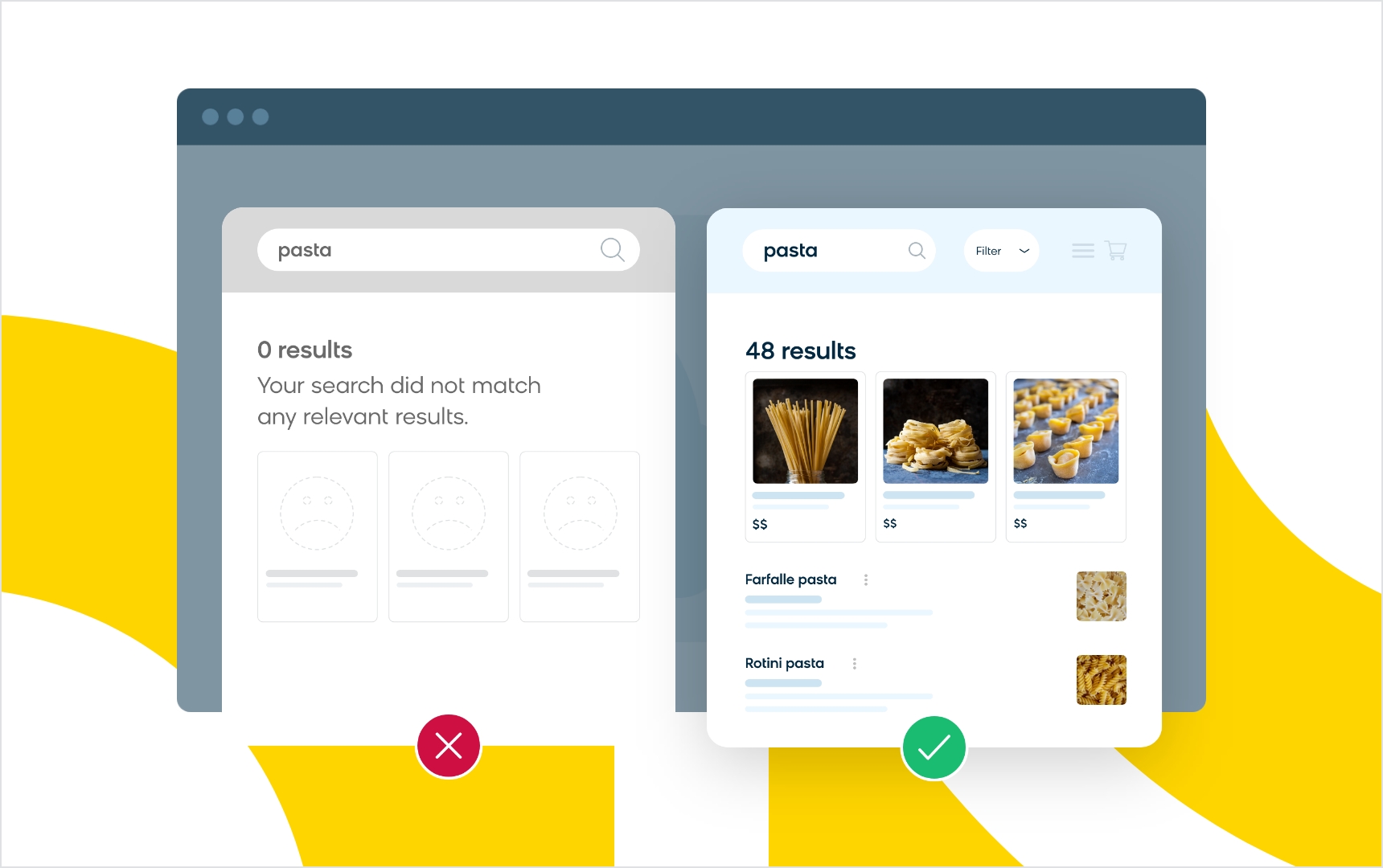 Users want accurate, relevant results in seconds, which is why over two-thirds (69%) immediately navigate to the search bar on an online retailer's website. Retailers who take site search seriously can become 1.8x more effective at producing conversions — and those customers are willing to pay more and even purchase additional items when they can locate what they want in a few clicks. 
The best way to enhance site search is through the adoption of AI technologies, and this guide contains all the information you need to get started.
What Is AI Search?
AI search is able to understand context, intent, synonyms, and incorrect spellings, which allows shoppers to input any keywords and receive accurate and relevant search results. Therefore, it's not surprising that AI site search is quickly becoming a competitive differentiator.
From the user's perspective, it puts an end to complex thinking about how the underlying database may be structured to find what they're looking for. It also provides the opportunity to access personalized product recommendations based on their past purchase behavior, as well as find relevant substitutes when an item is out of stock.
From a business perspective, it reduces the manual effort of merchandising by 30-50%. The technology can identify related keywords, such as "suitcase," "carry on," and "weekender," and will return them all as results for a search on "luggage," which means you don't need to write lengthy product descriptions to cover every search scenario. 
How Does AI Search Work?
To understand the data, AI search uses natural language processing (NLP), which interprets semantics and contextual meaning to determine the intent behind the search query. Additionally, it uses a process called facet extraction to detect language patterns and identify the relationship between words.
For example, "cotton black dress 12" can be broken up as: 
Cotton = material
Black = color
Dress = category
12 = size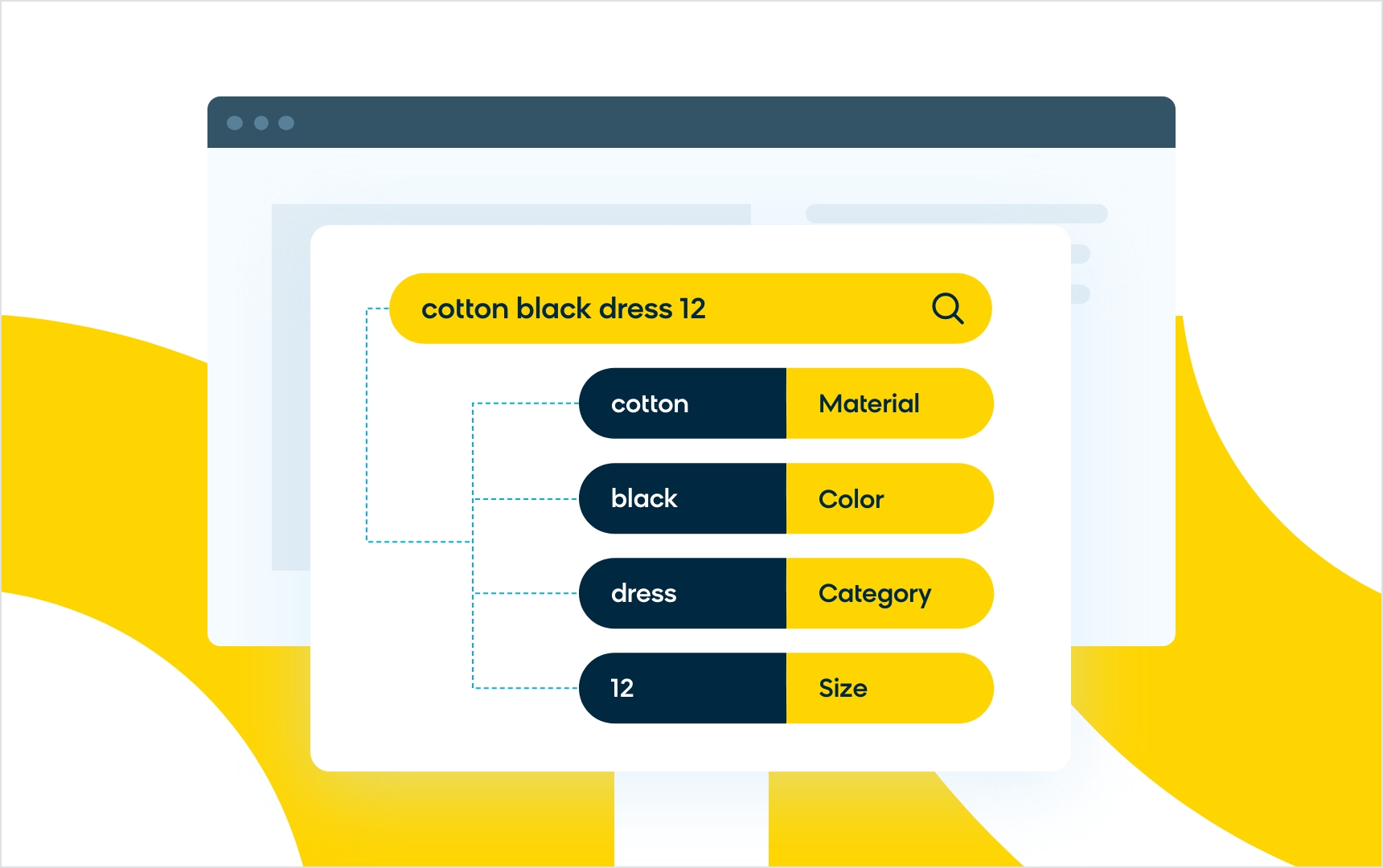 AI search also uses machine learning to continuously improve the results it generates. For example, if a user has previously purchased several dresses with a knee-length hemline, it will prioritize this attribute in future search results.
Sometimes, it's hard to express a search query in words. Here, computer vision comes into play, allowing users to search based on images. For example, if a user uploads a picture of their dress, a search engine with computer vision capabilities could analyze the image and identify key features, such as color and style, to make relevant accessory recommendations.
For more complex queries, deep learning allows the searcher to understand the relationship between different search terms. For example, a deep learning model would understand that a search for "staycation" is related to searches for "summer festivals," "outdoor games," and "days out with the kids."
Types of AI Search
AI has revolutionized site search by allowing users to search in new ways while enabling businesses to satisfy their customers' needs in more meaningful ways.
Conversational Search
The COVID-19 pandemic changed search behaviors as consumers increasingly turned to voice assistants to help them shop on a daily basis. Today, the rise of generative AI technologies like ChatGPT is driving 80% of CEOs to change how they manage customer engagement using conversational AI technologies.
Rather than simply analyzing and understanding human language, conversational AI is able to simulate a conversation and interact with customers like a human to respond to queries, commands, and requests.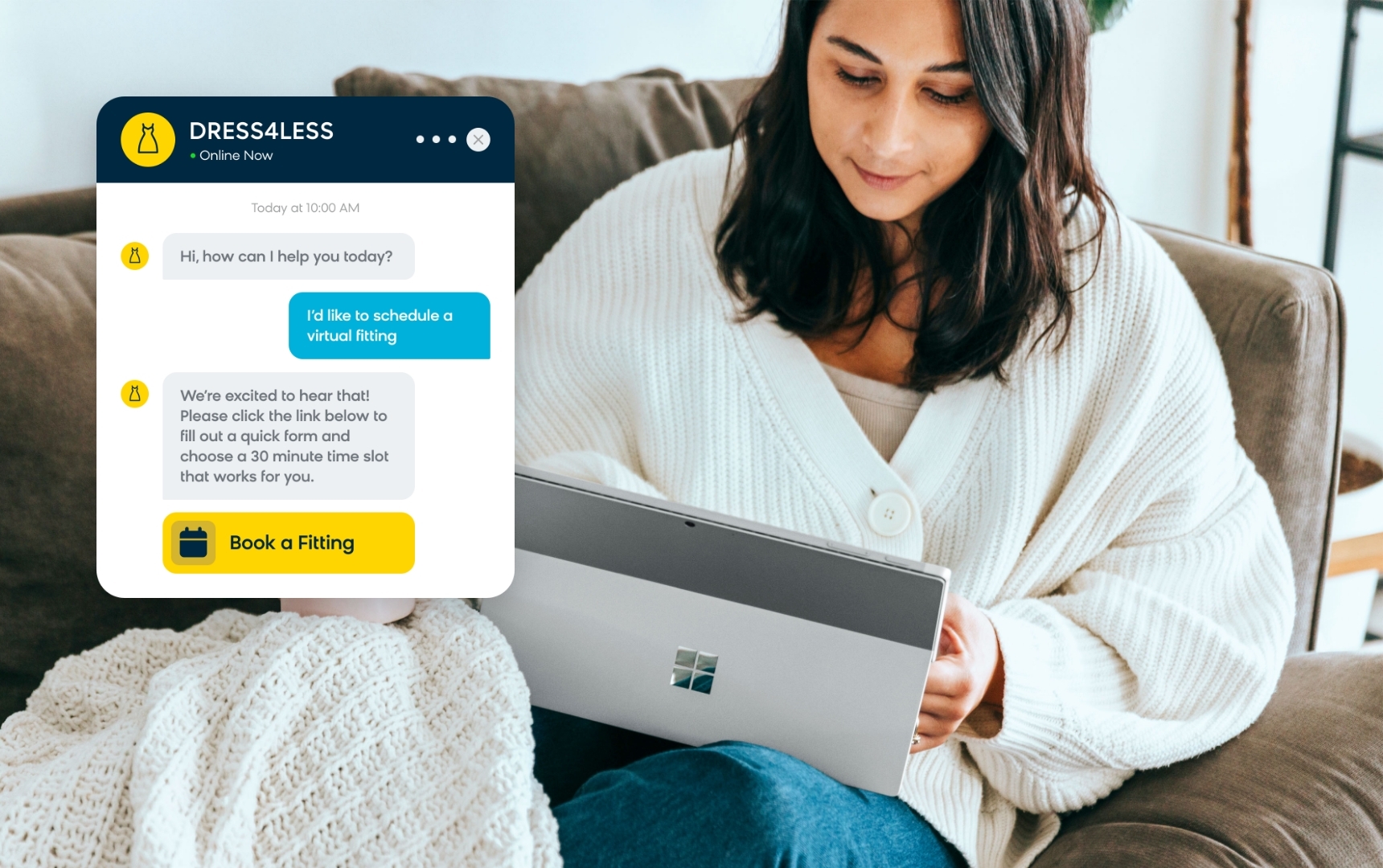 From a user perspective, it means they can get help 24/7 rather than wait for a customer service agent to get back to them. From a business perspective, this ability to answer questions in the moment can increase sales by an average of 67%.
However, conversational commerce isn't just about capitalizing on out-of-hours sales. It's a key component to help organizations better understand their customers and know where and how to enhance their online experience. For example, we're already seeing trends like shopping-as-a-service rise in popularity because it combines the convenience of online shopping with personalized recommendations. Very quickly, this desire for a personal shopping assistant who understands customers' tastes, budgets, and needs will become the norm, and retailers that haven't kept pace with changing consumer expectations will struggle to remain competitive.
Visual Search
AI has added a new dimension to the online shopping experience. Now, customers can search using images, which allows retailers to make product recommendations based on style. For product categories like clothing or furniture, it's a lucrative opportunity as 85% of consumers placed greater importance on visual information over text.
From a user perspective, consumers receive a personal experience typically reserved for luxury brands. For example, rather than searching for "jeans" and being presented with several different styles and color options, they can upload a picture of themselves, and the AI visual search will determine the best fit — like stone-washed bootcut jeans.
From a business perspective, it offers a competitive edge because only 8% of retailers currently have image search built into their web inventory. Furthermore, with the functionality being more popular among younger shoppers, failure to act now could have serious repercussions in the future when customers choose to turn to retailers who do meet their expectations.
AI Search Benefits
AI search is like a personal assistant, only without the need for human intervention. When nearly three-quarters (72%) of shoppers expect the businesses they buy from to recognize them as individuals and know their interests, AI search quickly and accurately delivers the results they seek. This leads to greater customer satisfaction, higher conversion rates, and larger average order values.
Customer Experience
Over a third (38%) of executives said customer experience and retention is the primary focus of their AI investments because it enables their business to engage with customers on a personal level. 
By allowing users to search in their own words, AI helps customers discover new products through recommendations and relevant substitute offerings. For clothing and footwear digital retailer N Brown, adding AI search to its site resulted in an increase in revenue per search user of 59.73%.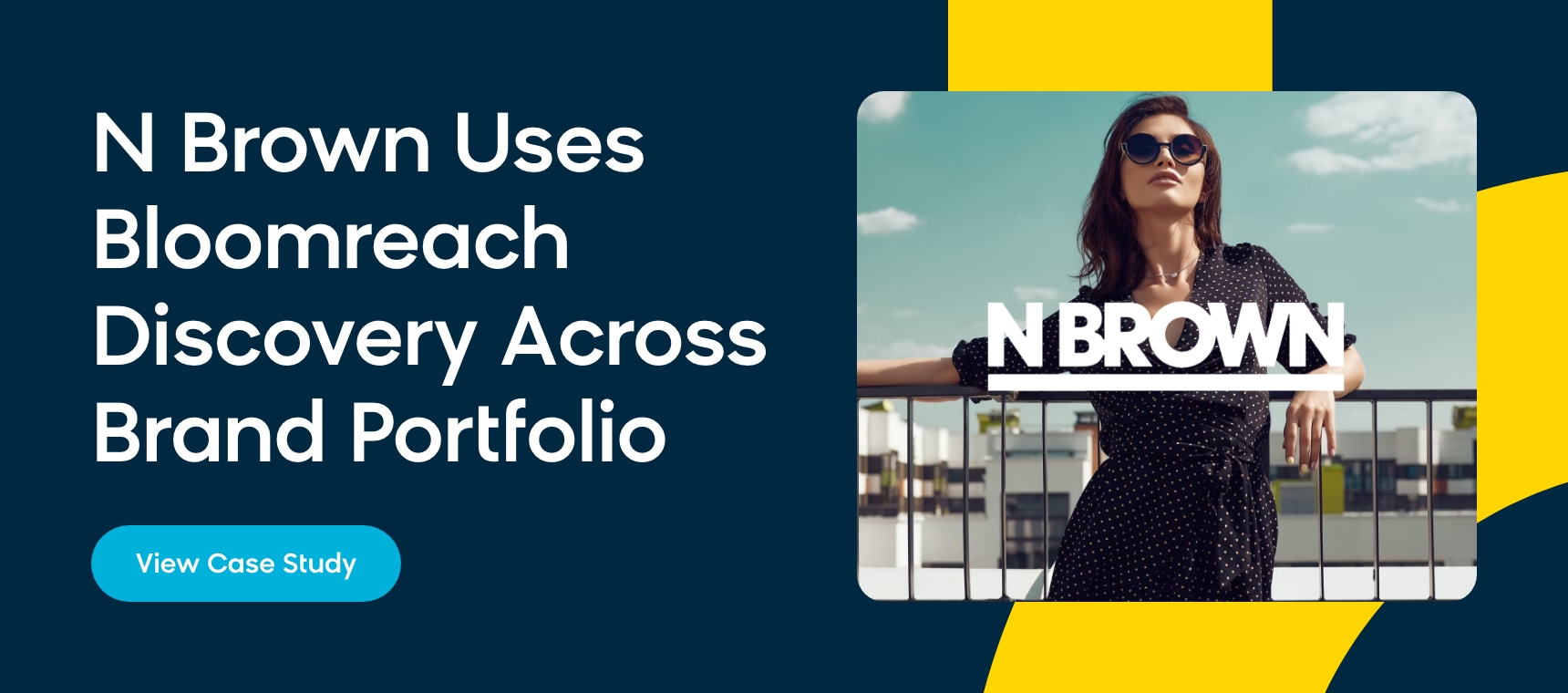 Deeper Personalization
Nearly three-quarters (70%) of consumers say they're more likely to make a purchase when search results are personalized. Furthermore, AI search is proven to lift revenue by an average of 5-10% and increase average order values by 15-20%. This is because it provides better insights into user behaviors and preferences, which enables retailers to offer better recommendations.
As one of the first grocery chains to start online delivery, Albertsons has always been ahead of the curve with e-commerce. Adopting AI search to offer deeper personalization, it experienced a 25% increase in customer basket-building speed, as well as a lift in conversion rate and an increase in basket size.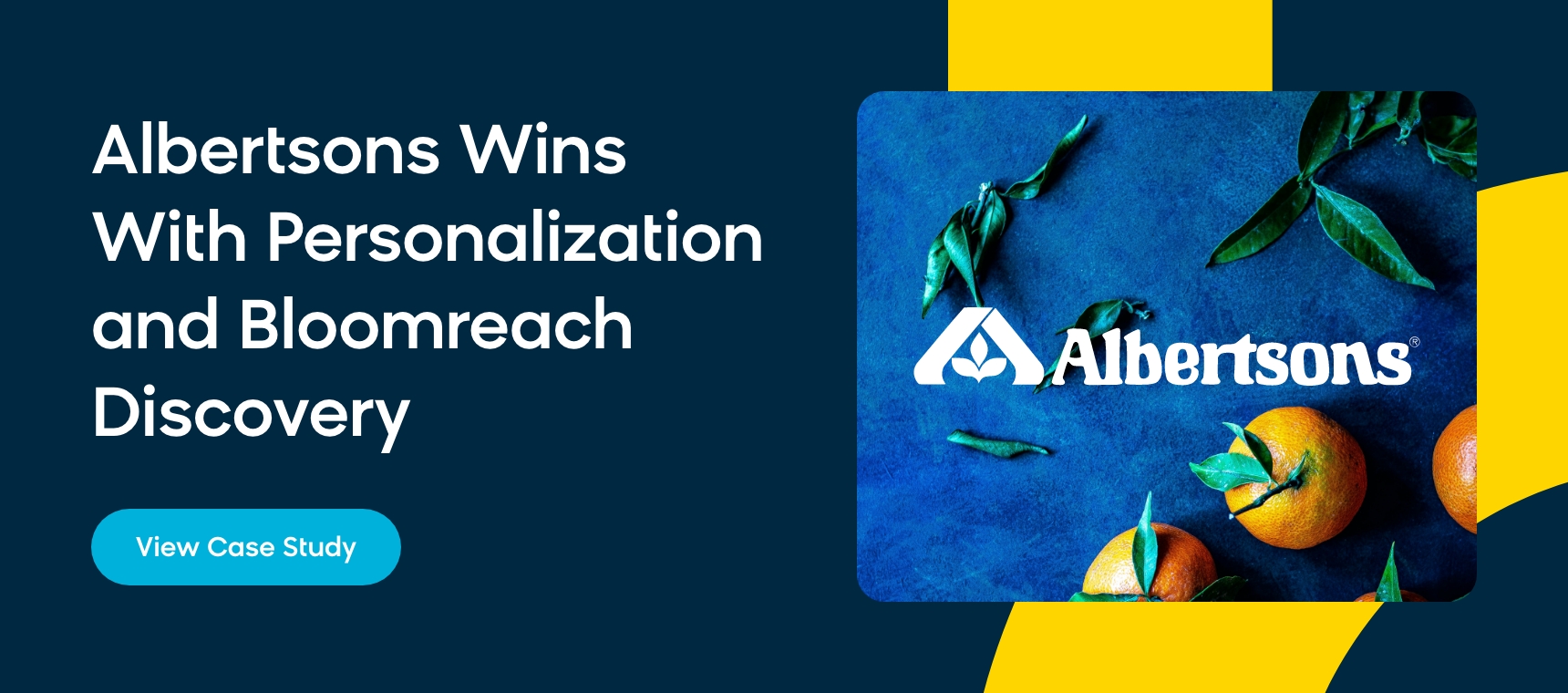 Lower Admin
When compared to traditional search, conversational AI is shown to increase customer support agent productivity by an average of 14% and reduce the hours spent searching for information and diagnosing problems by 30-50%. 
Using AI is a smart operational tactic because using chatbots to respond to early customer queries frees human agents to support later stages in the customer journey. For example, MKM is the UK's largest independent builder's merchant, and through AI, it managed to increase the average online order value by 7.9% and boost total web revenue by 43%.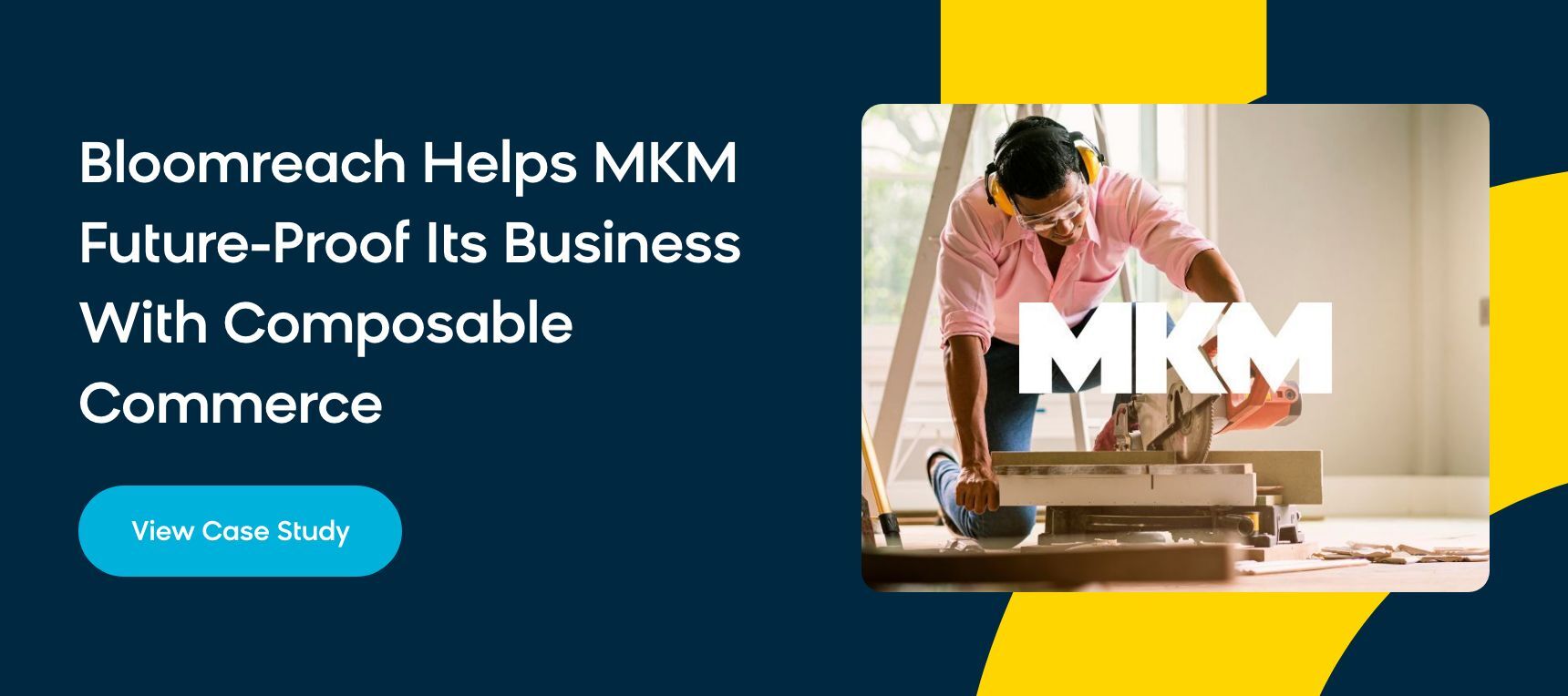 Deliver Better AI-Driven Results With Bloomreach Discovery
In today's digital marketplace, the e-commerce experience should be built for every customer — and Bloomreach Discovery makes it easier than ever to deliver that personalized service. Powered by Loomi, an industry-leading AI trained on over 13 years of e-commerce data, Bloomreach Discovery can surface personalized and relevant results immediately, leading to the fastest ROI of any product discovery solution. 
If you're ready to take the next steps into AI search, check out our guide on automatically personalizing your search experience with Bloomreach Discovery.