E-Commerce Site Search and Merchandising
The AI Search for Commerce Guide
E-Commerce Site Search and Merchandising
The AI Search for Commerce Guide
Artificial intelligence (AI) is a crucial tool that helps retailers gain a competitive edge. By analyzing historic data, like shopping history and product searches, retailers can better understand their customers' needs and preferences, and tailor the experience they deliver accordingly. The technology is so revolutionary that AI spending in the retail industry has grown 39% year-on-year (YoY) since 2016.
Organizations that embrace the AI opportunity now will secure their long-term growth. Online sales currently account for 18% of all sales with continued steady growth of 1% YoY. Retailers who adopt AI-based business strategies can expect to generate at least 20% additional revenue because they acquire the insights needed to know how to better meet their customers' expectations. 
Furthermore, at a tactical level, AI can support search engine optimization (SEO) efforts, which e-commerce site managers spend considerable time on. AI helps retailers optimize their sites for long-tail keywords, build a link structure to connect their content, and keep every page up to date with automation.
In this article, we consider how AI specifically supports retailers with search for commerce, and how the different AI technologies enhance this function to create personalized (and profitable!) search experiences.
What Is AI-Powered Search?
AI-powered search uses AI to add intelligence to search by interpreting the context of the website and the customer to determine intent, as well as learning from historic data to produce more accurate and relevant results.
Traditional search works by matching the keywords in a query against keywords stored in the search index. If the two terms match exactly, then it's effective. Retailers can go further to offer advanced search tools, such as autocompletion or autosuggest. This helps address the issue of typos, which can cause the search engine to fail and yield no results.
AI search is different. Rather than simply matching keywords, AI uses language processing models and deep learning techniques to improve the accuracy and relevance of results. It reduces the effort needed to optimize product pages for SEO while giving customers exactly what they want and helping retailers showcase their extensive product catalogs.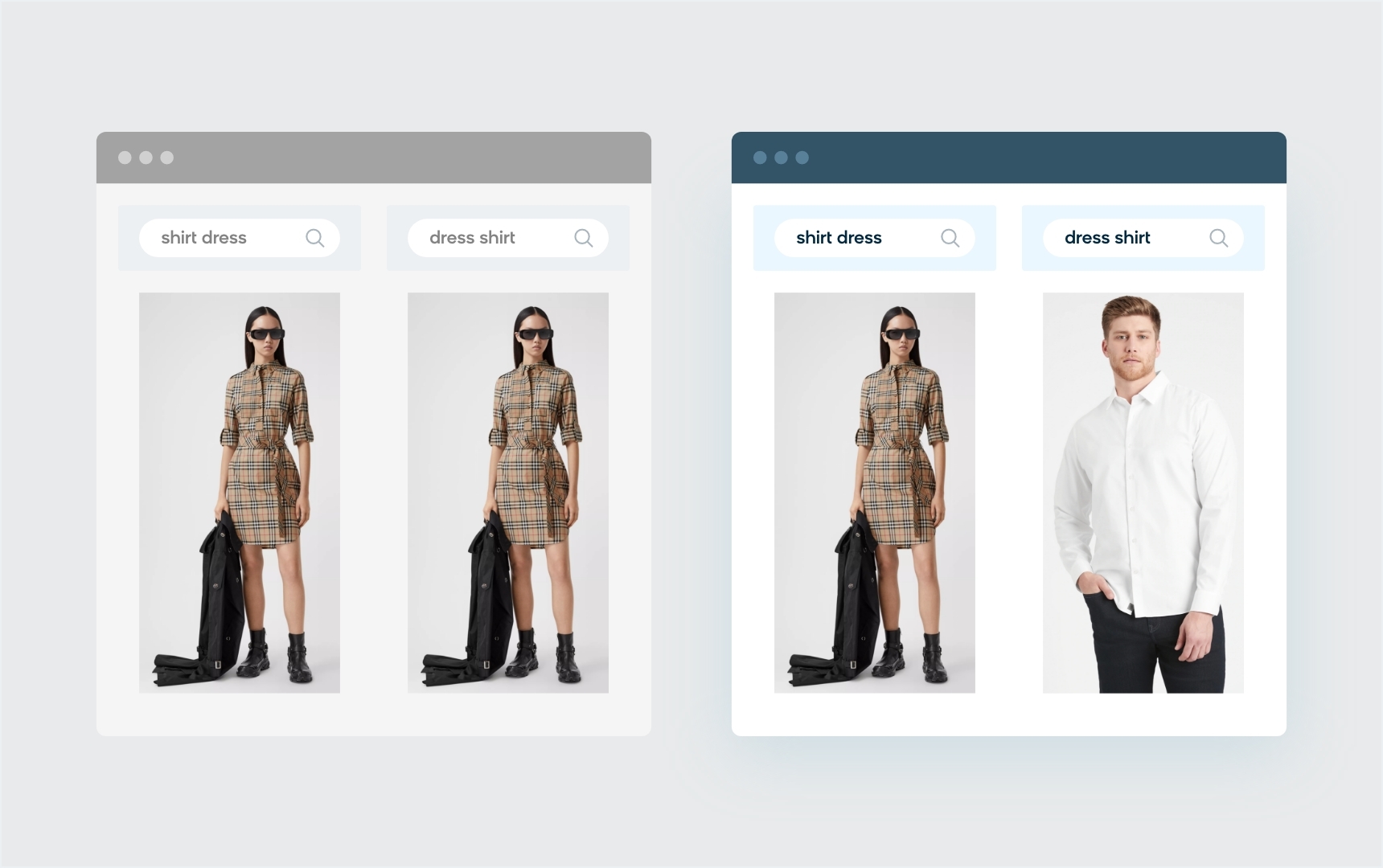 Generative AI changes the way retailers use search for commerce because the models can be trained on a wide range of data, such as product descriptions, user reviews, and social media feeds. The technology is so intelligent it can pick up on the smallest cues to indicate what a customer is interested in. It also learns over time — so if a customer returned an item of clothing based on poor sizing, it can suggest a more flattering fit in the future. AI for commerce search is helping retailers take online personalization to a whole new level. 
How Does AI for Commerce Search Work?
Every year, search abandonment costs US-based retailers $300 billion simply because customers are presented with irrelevant search results on their websites. 
AI commerce search is able to deliver accurate results and personalized recommendations — as well as improve over time by learning what does or doesn't work — in order to address the problem of search abandonment. It combines traditional search methods with advanced features to transform data into actionable insights.
Natural Language Processing
Human speech is often unstructured and complex, which makes it hard for traditional search algorithms to understand. Natural language processing (NLP) enables site search tools to understand the nuances of language and get to the intent behind a search query.
To do this, NLP uses "facet extraction" to break down the product attributes in a search.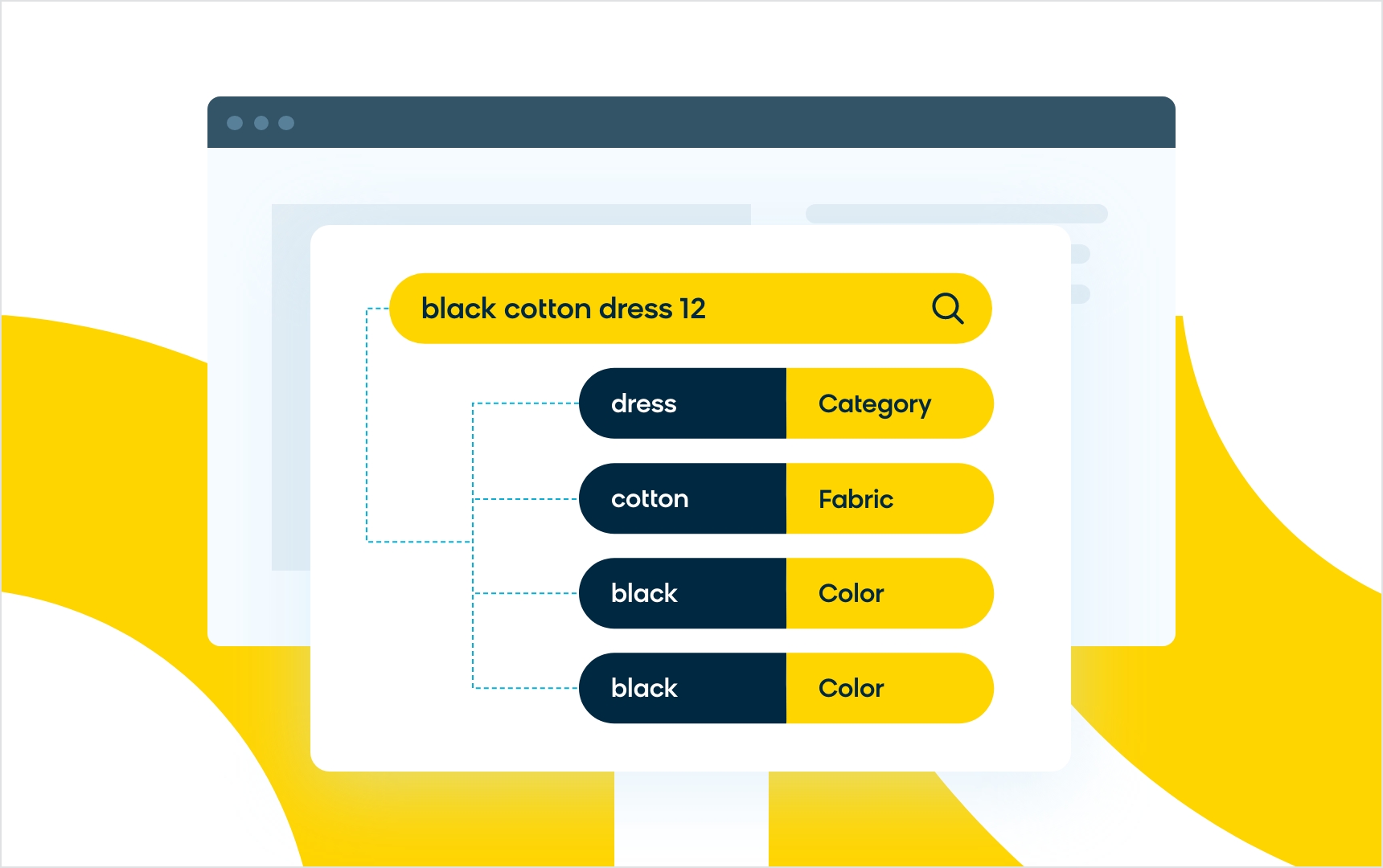 The technology then uses syntax analysis to look at the arrangement of words in the sentence, along with grammatical rules, to understand exactly what the customer is searching for, rather than force the customer to filter. Communication is instantly more human-like, and the experience is far more favorable because the customer is only shown results for a black cotton dress in size 12.
NLP addresses the complexities of human-to-machine communication. In a traditional search, "summer dresses" would yield no results if the keyword in the search index was "summer dress." With AI-powered search, it would recognize "dresses" as the plural of "dress" and return all relevant results. 
Furthermore, the technology can understand colloquialisms and slang. If the same customer wanted a "handbag" to go with their new dress, the AI search would know to interpret this as a "purse.". It would also take context into account, so if the original search was for a "little black dress" and they've also searched for a matching bag, the inference is that the shopper is attending an upcoming event, which means they might need some new shoes or new lipstick.
N Brown is one of the UK's most diverse retailers with nine brands and individual websites. By adopting AI within its sites' search, the company increased revenue per user by 60%.
Machine Learning
For over 100 years, Hornby Hobbies has developed, manufactured, and supplied toy products to enthusiasts. As part of its ongoing growth, the company wanted to enhance its digital experience and tailor everything to individual customers. By using AI-powered search, it instantly increased conversions by 10%.
In a brick-and-mortar store, customer service agents engage in face-to-face conversations with shoppers to find out what they like and make personal recommendations. This 1:1 interaction becomes more challenging online unless the retailer uses AI. 
Machine learning enables AI-powered search to mimic the way humans process information. When the product recommendation engine is linked to customer data — such as a customer's most-viewed categories, products, and purchase history — the AI-powered search learns about what each customer does or doesn't like, and tailors recommendations accordingly.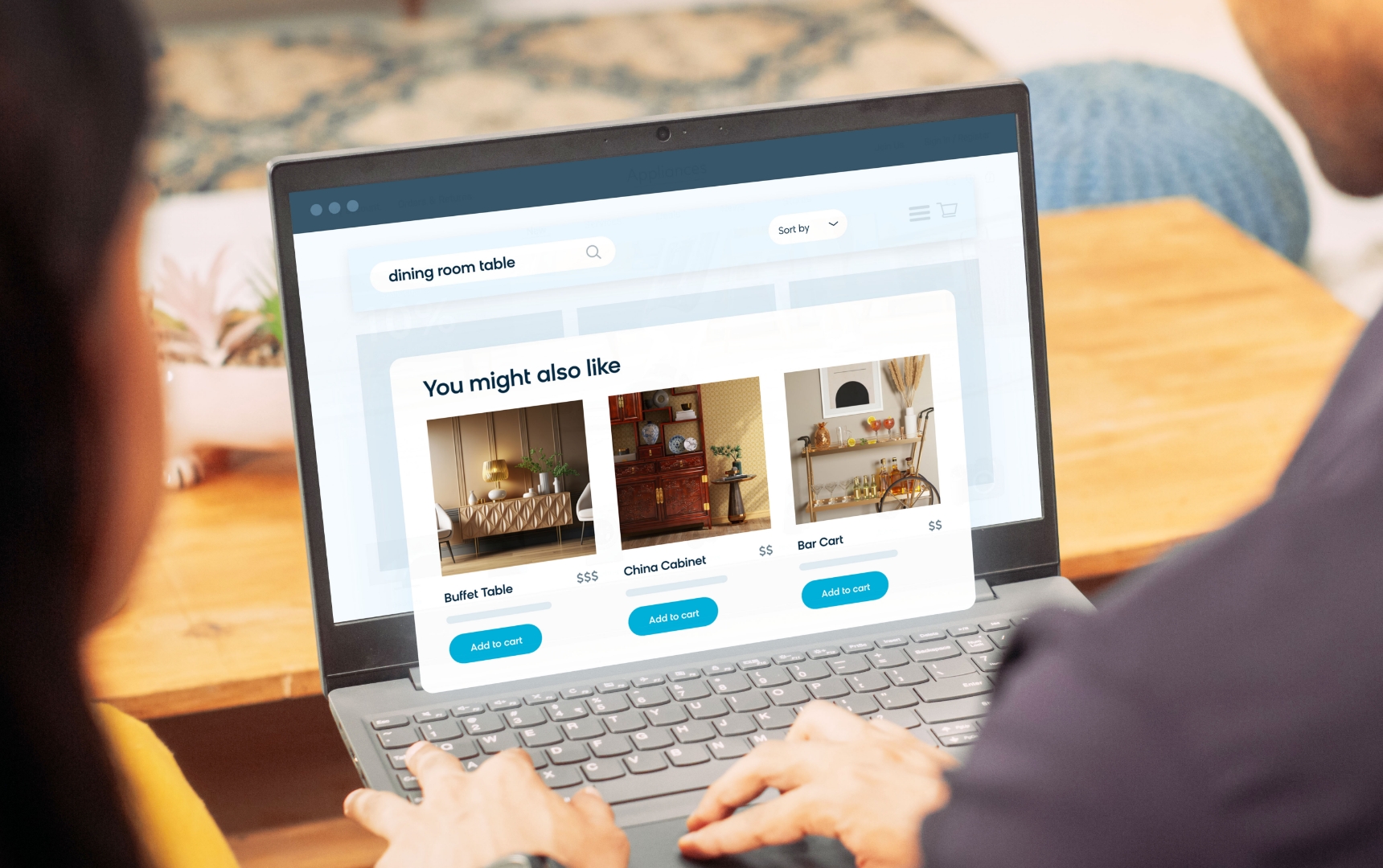 It can have a profound influence on the way shoppers interact with a brand. 
For example, when an AI-powered search can detect synonyms, it may omit certain results for "bread" because it's learned from past behavior that the shopper doesn't like flatbreads or bagels. Similarly, a shopper's purchase history may indicate they haven't purchased pet food for three weeks. When a search for "chicken" is made, it may suggest it's time to order food for their dog, as well as their dinner. Finally, at the checkout, there's an opportunity for upselling or cross-selling recommendations — perhaps there's a current offer on pet beds the shopper may be interested in, or some mayo to go on that bread to make the perfect sandwich.
Personalized Search
Did you know that 94% of consumers globally receive irrelevant results while searching on a retailer's website, despite personalized search being simple to deliver? 
Ideally, retailers want their customers to feel special and understood from their first visit. Personalized search enables them to understand who their shoppers are, what they want, and why they want it. Furthermore, because the technology continues to learn, the accuracy and relevance of results will only continue to improve. 
Retailers that have adopted personalized search on their sites are shown to have increased their revenue by 8.5%. One such company is Jenson USA, whose catalog boasts 30,000+ products. Feeling there's always room to improve, the retailer added personalized search to its site to optimize results based on a deeper understanding of its customer segmentation. By extending this intelligence to different devices, it also increased revenue per visitor by 26% for mobile e-commerce.
Everything a customer does on a site tells the retailer a little more about them and opens a chance to connect. This deeper understanding of what a customer is searching for helps retailers build more effective merchandising and marketing campaign strategies. It allows retailers to achieve true personalization with more 1:1 interactions, which have until now been confined to brick-and-mortar stores. Now, online search results can be adjusted to reflect each customer's preferences — like prioritizing dark chocolate with 85% cocoa over any other type.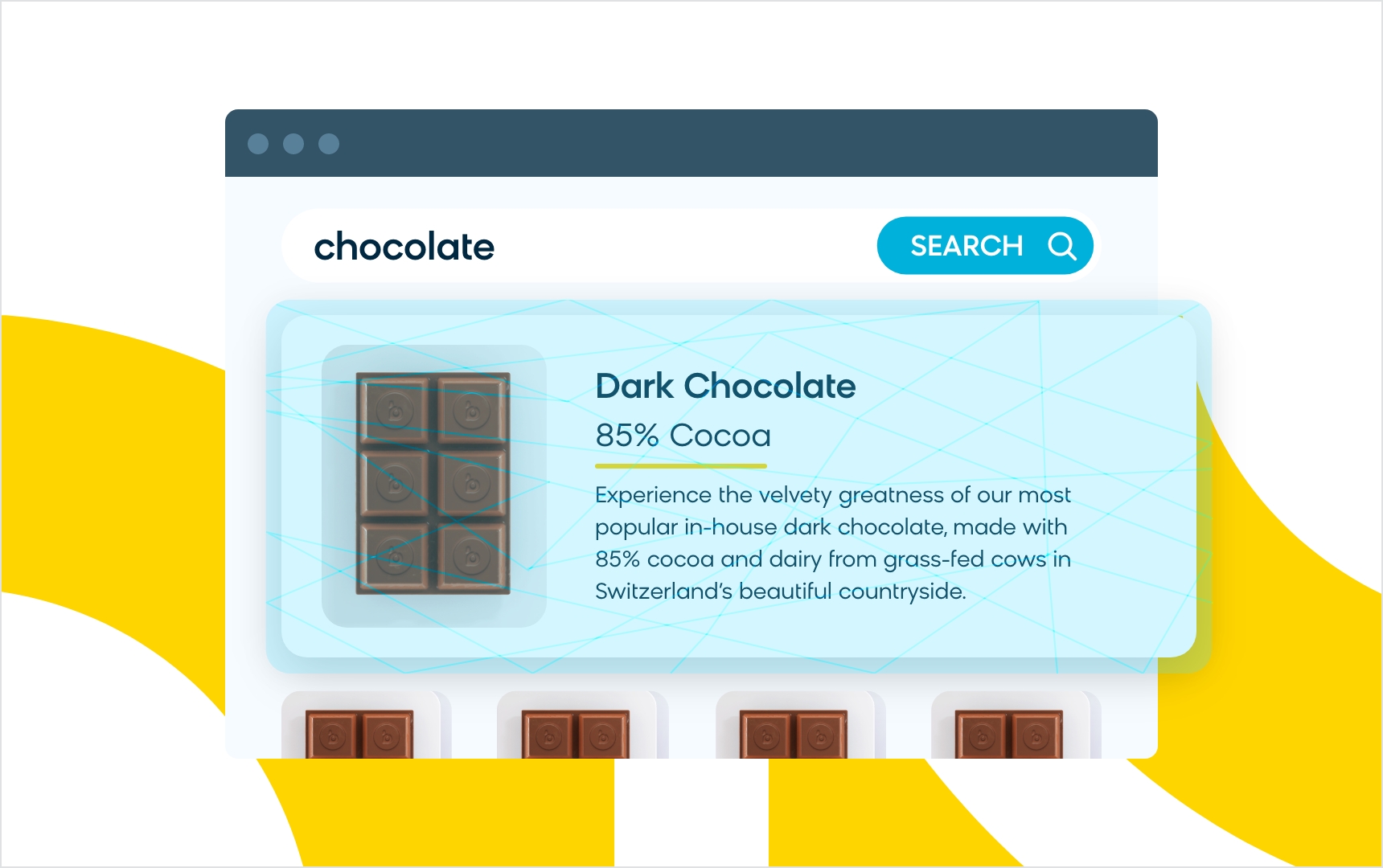 Benefits of AI-Powered Search
According to usage data, AI is currently best supporting e-commerce businesses with personalization, site search, and forecasting — but how does that translate into actual value realized?
Better Shopping Experience
Research from McKinsey indicates that 57% of e-commerce businesses have implemented AI with the sole intention of improving the customer service experience. By ensuring any search a visitor conducts is guaranteed to be understood, AI eliminates the most frustrating customer scenario of "no results found." 
From the customer's perspective, AI makes the search process more natural. Rather than stopping to think like a machine and craft the optimal search query, they simply write as they speak, and the search understands their intent.
Furthermore, AI makes it possible for shoppers to be super specific with their search. For example, someone shopping for a new laptop could enter a precise technical specification like, "32GB, 13" black laptop with 1TB storage, 2x USB-C, 2880x1920 resolution" and get the right results.
Grocery chain Albertsons uses AI to enhance its shopping experience — elevating its value proposition beyond simple food items to inspire its customers on what to cook for dinner. By serving up relevant content, it has achieved a 25% increase in customer basket-building speed, because customers can find exactly what they want, and faster.
Increased Conversions
At every stage of the buyer journey, customers need assistance to complete an online purchase. AI plays an important role in nudging the customer toward a sale. Using AI to constantly track user behavior, as well as adjusting the search results sequence to present users with the things they previously responded to best, Canadian Tire increased its conversions by 20%.
In particular, AI-powered chatbots add immense value to the buyer journey, helping resolve around 80% of inbound queries. Available 24/7/365, chatbots offer quality round-the-clock customer support. According to Gartner, this helps organizations achieve at least a 25% improvement in customer satisfaction.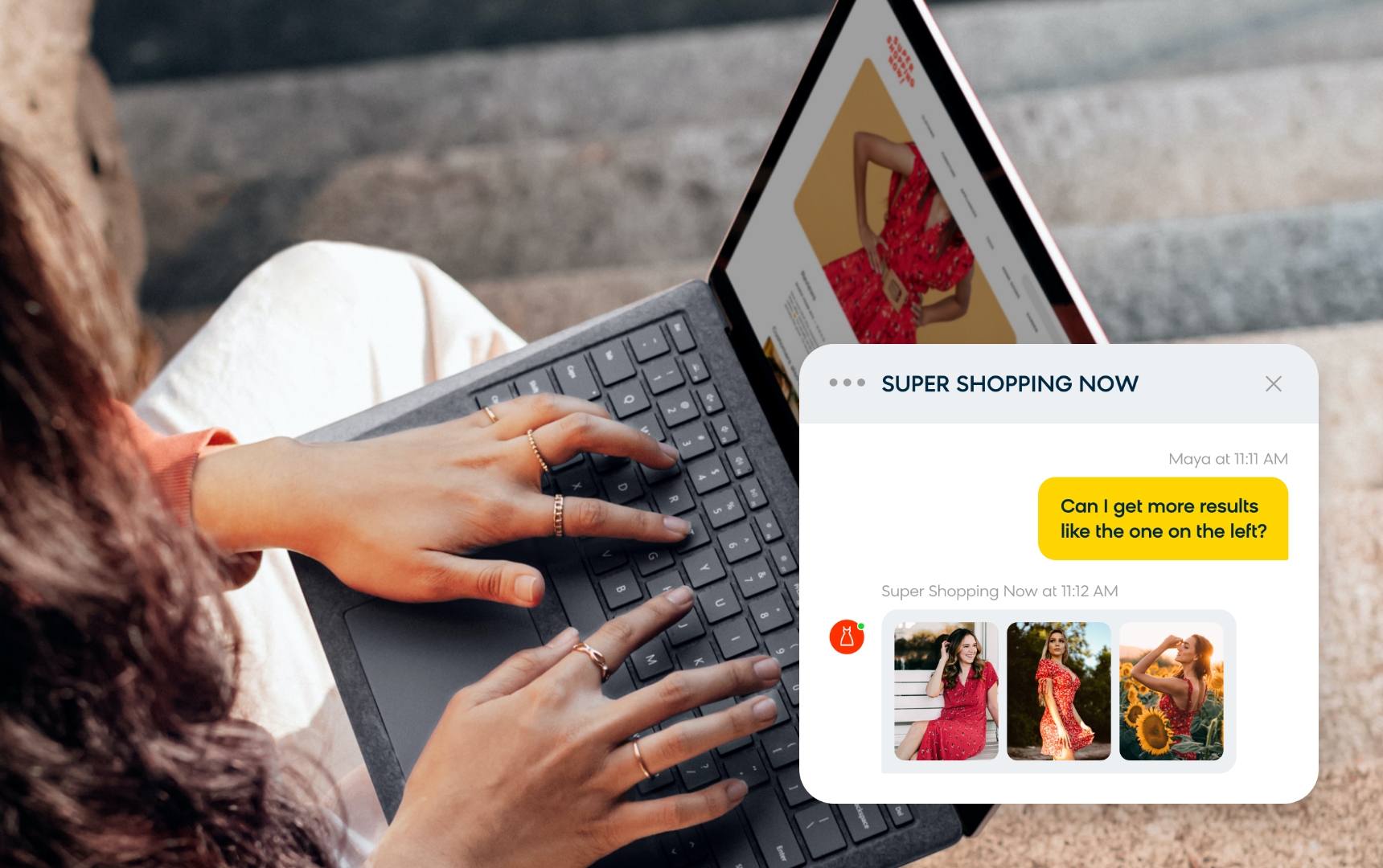 By incorporating AI into marketing and sales, retailers can enhance their company revenue by at least 20% simply because they share the right message with the right customer at the right time. For a shopper at the start of their buying journey, this could be responding to initial questions and presenting the best options. For a shopper nearing purchase, dynamic content can help overcome any post-purchase fears that would otherwise result in cart abandonment.
Improved Results Over Time
The human effort required to satisfy shopper demands on a 1:1 basis is prohibitively high, which is why AI for commerce search is such an exciting opportunity. The technology is able to continuously learn from past behaviors and data, as well as become more refined in the results it generates. Plus, it requires zero manual effort. 
Now, retailers can forecast actions in real time so they can act in the moment to change the outcome. Historically, a retailer would simply hope their content was sufficient to convert a lingering web visitor. With AI search, it becomes possible to nudge that visitor toward the checkout by serving up FAQs or last-minute offers.
That same search will also provide valuable intelligence back to the business. When 69% of retail customer conversations can be automated with chatbots, AI transforms those queries into actionable insights. For example, if there are a high number of queries about payment issues, it could identify an immediate problem with the website. Or, there may be an emerging trend with several queries related to returns or cancellations, which could indicate the need to improve the warehouse shipping process and avoid customer dissatisfaction.
Level Nine Sports is a retailer that addressed customer churn with AI search. Using the intelligent technology, it was able to deliver the same experience online as a shopper would receive in-store, which resulted in a 30% decrease in search exits and a 23% increase in conversion rate.
The Future of AI in E-Commerce Search
Despite three-quarters of executives fearing they will go out of business within five years if they don't scale AI, there are challenges that block their path to adoption: a shortage of staff skills, fear of the unknown, and finding the right starting point.
Bloomreach Discovery creates an e-commerce experience that's built for every customer. With industry-leading AI that doesn't need a pixel to start personalizing search results, you can achieve faster ROI than any other product discovery solution on the market. Learn more about Bloomreach Discovery and why it is the perfect solution for your business today.