Omnichannel Marketing Automation
Setting Up for SMS Success: How To Build an Effective SMS Marketing Strategy
By Ian Donnelly
07/17/2023
Omnichannel Marketing Automation
Setting Up for SMS Success: How To Build an Effective SMS Marketing Strategy
Sending a text message is simple and easy. Everyone does it on a daily basis to connect with their friends, family, and colleagues. Why not do the same for your customers?
If your business isn't already doing this, your digital marketing strategy may be lacking. Mobile marketing isn't just a passing fad, and brands are quickly catching on to the fact that SMS marketing is a great way to reach and influence their audience. 
But building out an SMS marketing strategy is a little more complicated than sending a text and calling it a day. 
You need a thought-out plan, the right tools, and some marketing know-how to create SMS campaigns that capture attention, drive actions, and provide a richer customer experience.
If you're trying to craft a worthwhile marketing strategy and don't know where to start, you've come to the right place. Here's everything you need to strategize, optimize, and execute better SMS campaigns.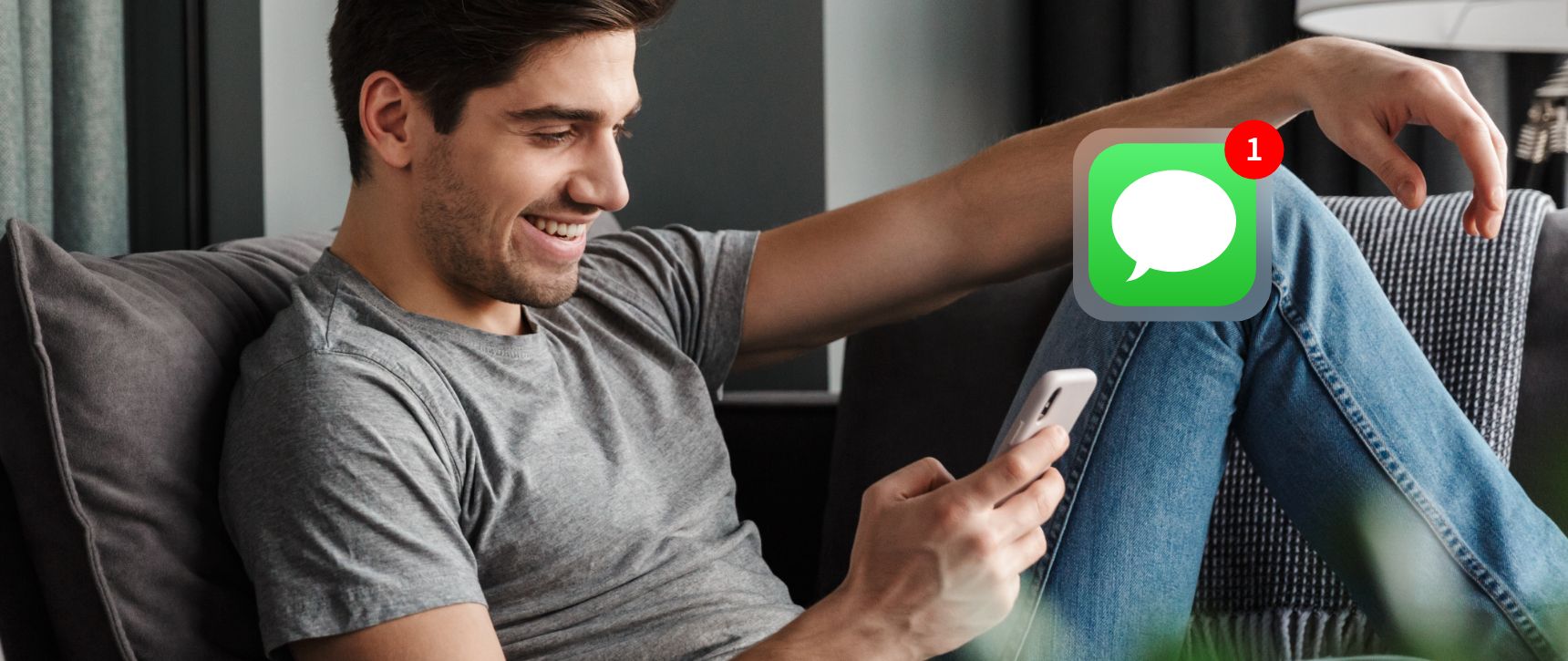 What Is SMS Marketing?
Simply put, SMS marketing is the act of using text messaging as a marketing channel. 
You've likely experienced this as a customer before — getting a welcome message, special offer, or shipping update via text message from a brand you frequent is an example of SMS marketing at work.
It's a convenient and straightforward way to send important information and promotional materials. And it's fast becoming a preferred channel for customers to interact with the brands they patronize.
The Benefits of SMS Marketing
The hype around SMS as a marketing channel is more than a flash in the pan. The stellar performance of SMS marketing messages and their growing functionality prove how valuable a text message marketing strategy can be.
Mobile Commerce Is the Future
The proof of this can be found everywhere you look. Everyone has a smartphone, everyone is interconnected, and everyone uses their mobile devices to research, shop, and engage with the brands they love.
2021 saw nearly 15 billion mobile devices operating worldwide, and that number is only expected to climb. By 2025, the number of devices is likely to exceed 18 billion.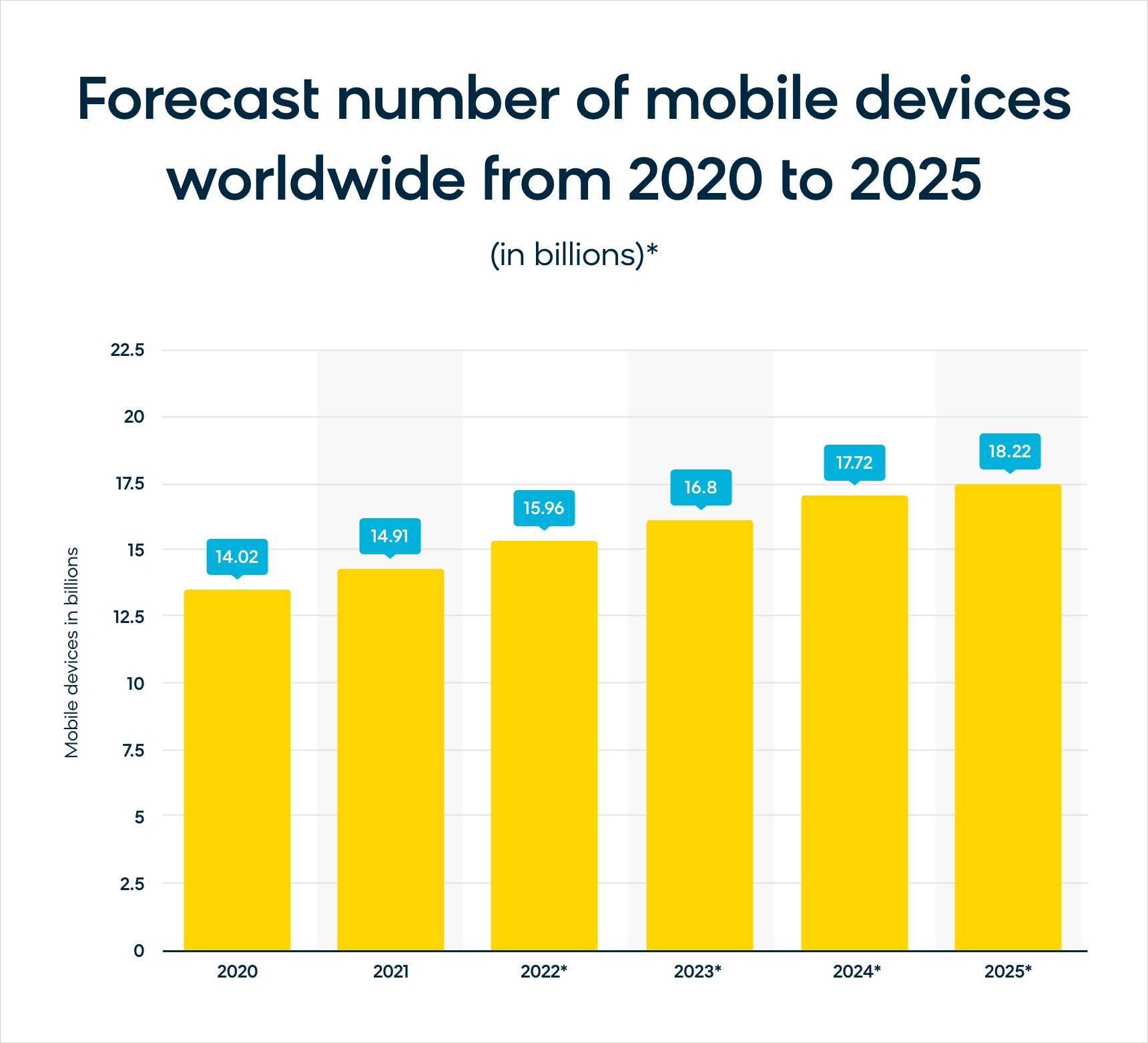 And with mobile phones currently contributing to more than half of all internet traffic, it's easy to see that mobile marketing is no longer a nice addition to your marketing strategy. It's an essential element for your business' future.
Click-through Rates Prove How Influential Texts Can Be
On average, marketing via text message yields a 19% click-through rate (CTR).
That's an incredible number compared to the next best results: Marketing emails produce a 4% CTR, while Facebook barely reaches 1%.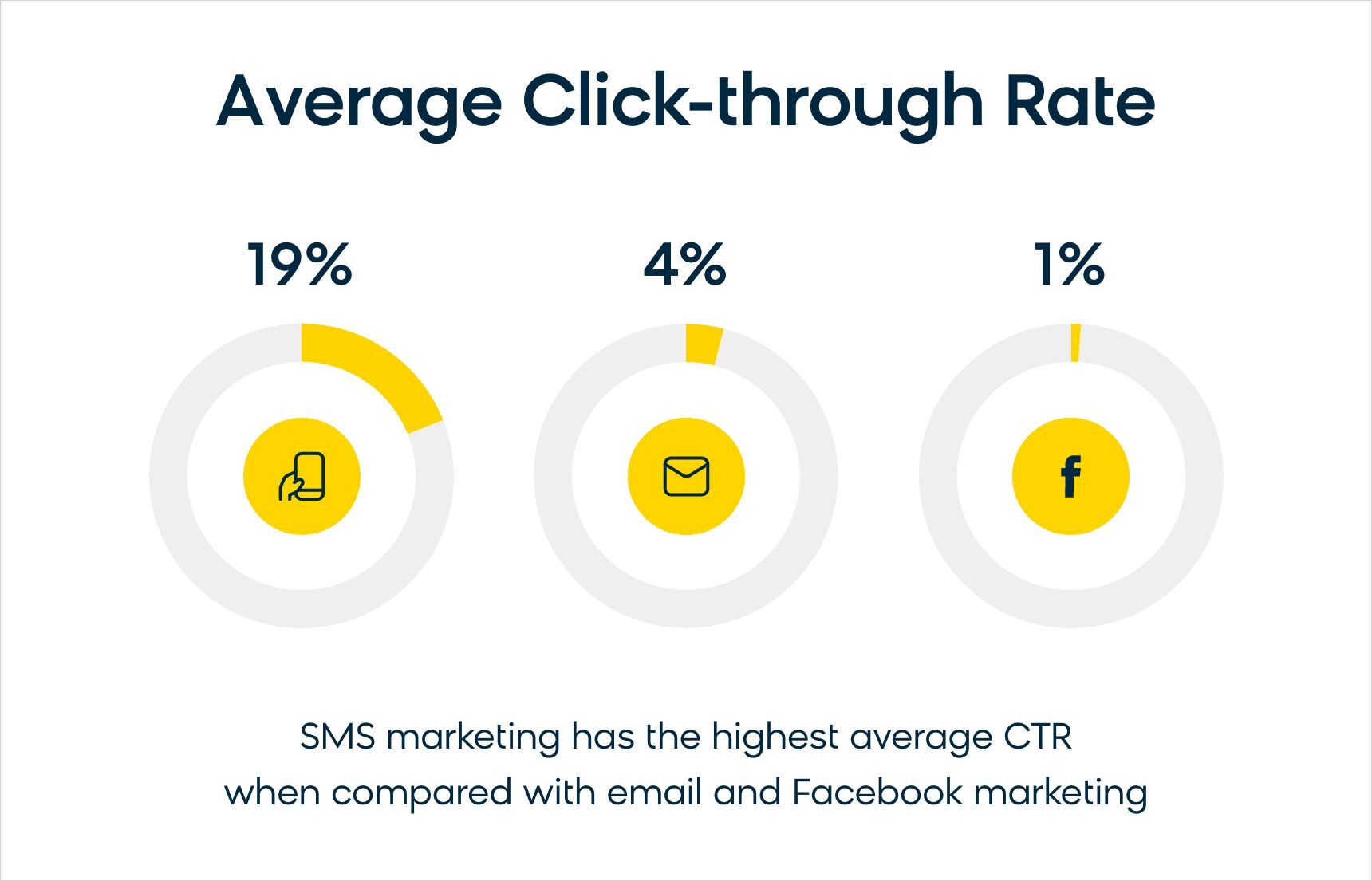 It's the channel most likely to elicit an "open and read" action, which is no small feat in the online advertising world, where attention and engagement are coveted achievements. 
The ROI From Mobile Marketing Will Continue To Grow
Investing in SMS marketing is one of the most important steps your business can take. If you're not already planning to capitalize on an SMS marketing program, you risk missing out on a substantial amount of revenue.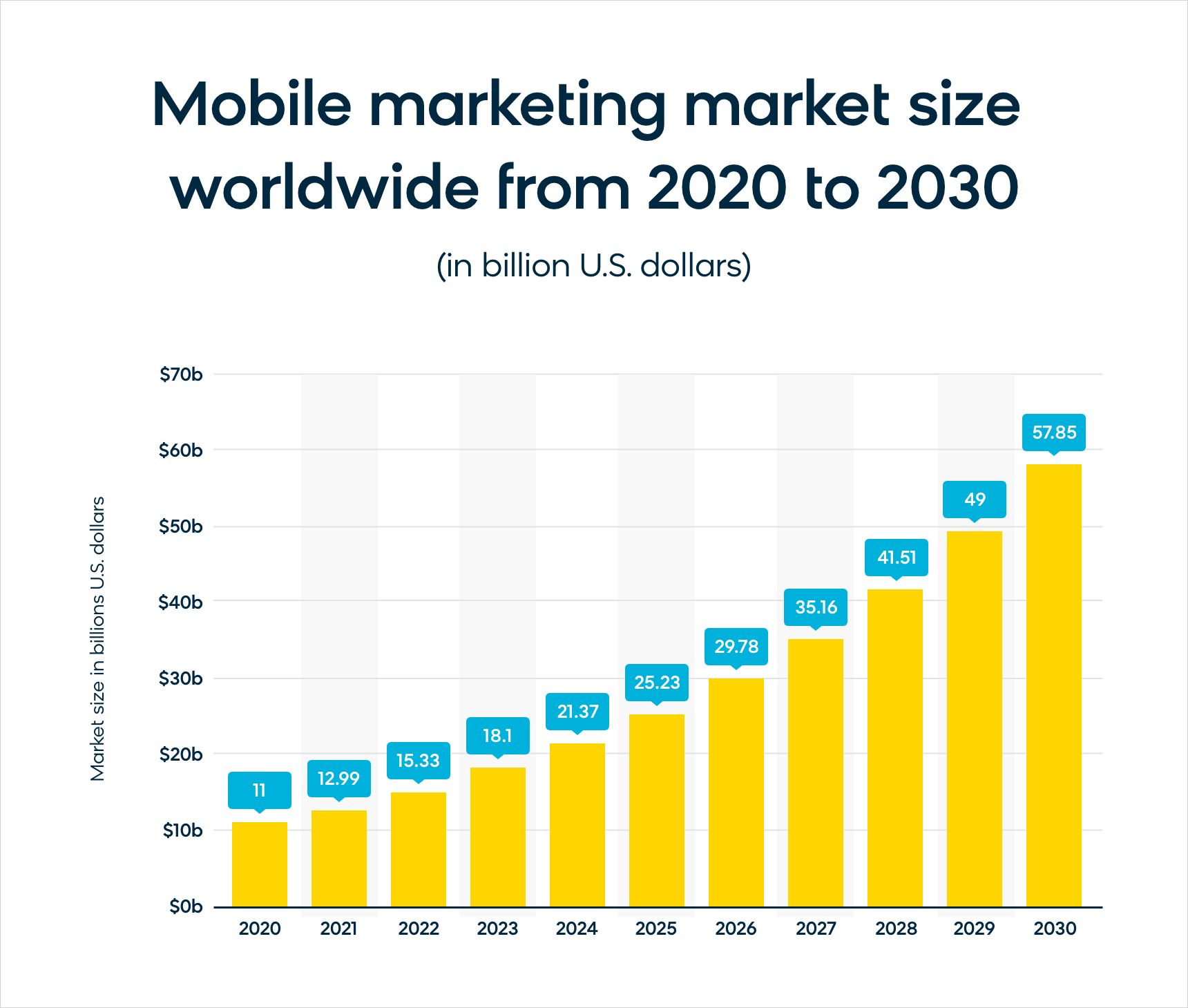 In 2020, the size of the global mobile marketing market was estimated at $11 billion (US dollars), and it's projected to reach close to $58 billion by 2030. 
That's a compound annual growth rate of over 18%, and a swelling market that businesses should prioritize in their strategy.
SMS Marketing Best Practices
SMS marketing strategies will differ from business to business. It all depends on what you want your campaigns to accomplish and how you can best use the channel to interact with your audience. 
But there are a few important best practices to keep in mind, no matter which direction you want your campaigns to take.
Here are a few crucial ideas to consider:
Let Your Goals Guide Your SMS Messaging
Like all marketing efforts, an SMS marketing campaign needs to start with a goal you're setting out to achieve. 
SMS messaging has so much potential and many promising use cases. But it needs a measurable and achievable purpose to be put to good use. You need to determine:
What do you want your SMS marketing to accomplish?
What does success look like?
How does this goal contribute to your overall marketing strategy?
For example, reducing cart abandonment — one of the biggest pain points for e-commerce businesses — is a great goal to start with.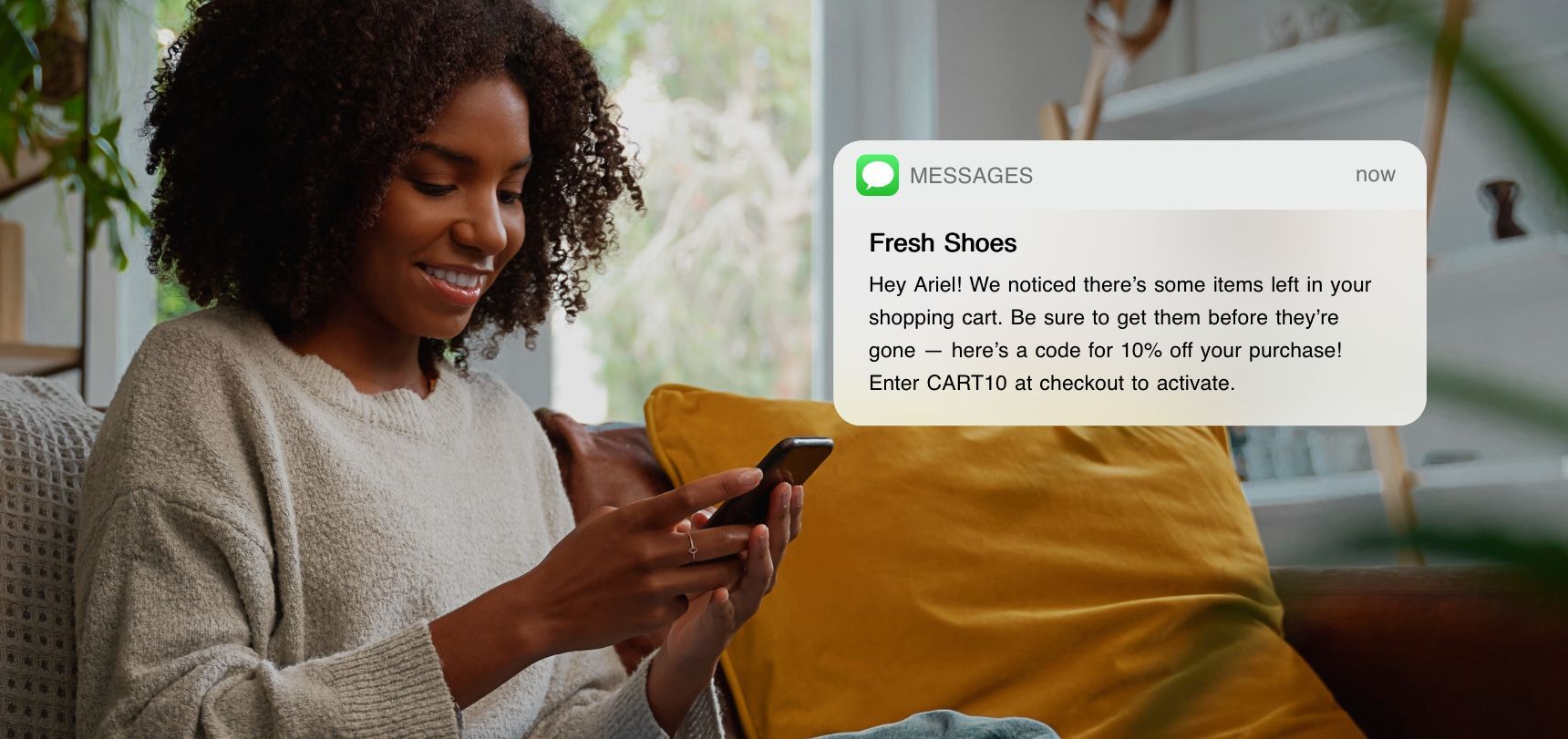 With this objective in mind, you can tailor your SMS messages to notify shoppers when they've left items in their cart, send them discounts and incentives to complete their purchase, or provide shipping updates for their order once they've become a loyal customer.
Read This Next: How Reengagement Campaigns Boost Revenue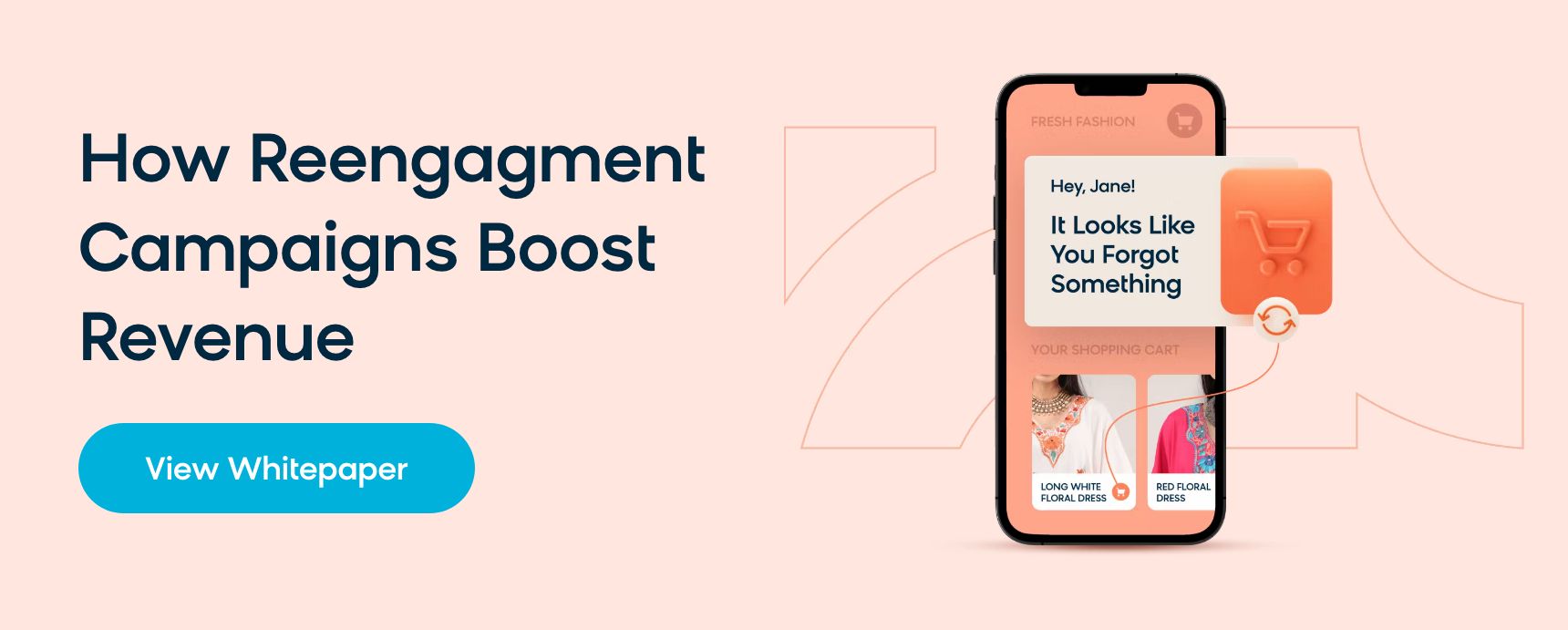 Make Your Messages Worthwhile for SMS Subscribers
Like all good marketing campaigns, your SMS messages need to offer real value for your audience.
No one wants to get a message from a business that feels like spam. When you reach out to your customers, make sure you have something useful to say, such as:
A unique or special offer, especially if it is exclusive to your SMS subscriber list
A time-sensitive deal, like a 24-hour flash sale
Information on a special event or loyalty rewards
Introductions to new products or services, with first access for SMS subscribers
Keep Your Text Messages Short and Sweet
The beauty of using text messaging as a marketing channel is how to the point your campaigns can be.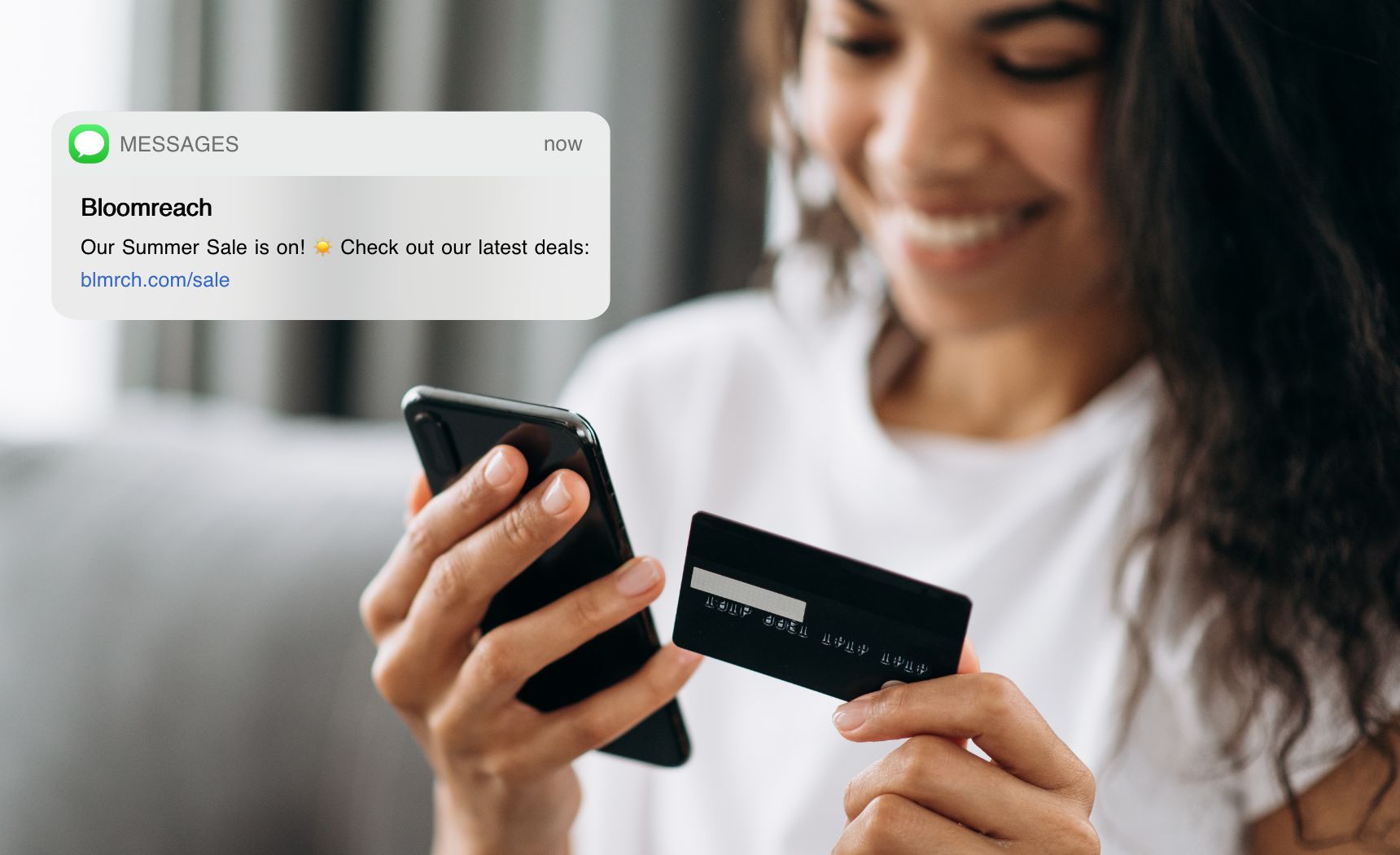 Your audience is used to communicating through quick, bite-sized messages and your brand should adopt the same writing style. It's best to be as concise as possible, avoid a long thread with multiple messages, and stick to one CTA for your customers to follow.
Examples of Revenue-Driving Marketing Campaigns
The use cases for SMS marketing campaigns are only limited by your imagination. Once you have an objective in mind, you can craft a strategy that focuses on your goal with campaigns that point your customers in the right direction.
If you're not sure where to start with SMS marketing, there are plenty of commonly used examples you can emulate and execute with great results.
There are two basic kinds of campaigns: promotional and transactional. Each has its own specific goal and offers a myriad of ways to engage your audience.
Promotional Messages
Promotional SMS marketing campaigns consist of the advertising and marketing messages you send to generate interest in a product or service. 
They are designed to get customers on your site and shopping your store, such as:
Special discounts
Coupon codes
These promotions can be highly effective via text, especially when accompanied by a clear CTA.
Transactional Messages
Transactional messages are triggered campaigns that are sent in response to an event or action. This kind of SMS marketing provides timely and relevant information to the customer, enriching their experience with quick and easy communication.
Some examples of transactional campaigns are:
Order confirmations
Customer service and feedback
Shipping notifications and updates
Because these messages are sent in response to an event (such as a sign-up or a purchase) they have a high open rate, can foster recurring customer engagement, and can go a long way towards bettering your customer lifetime value.
Read This Next: The Ultimate Guide to Customer Lifetime Value
Draw Inspiration From the Best SMS Marketing Campaigns
The best way to brainstorm and conceptualize your own SMS marketing campaigns is to look at common use cases for ideas. 
What are some SMS messages you've received from businesses that motivated you to take action? Which brands do you admire? What campaigns are they utilizing, and how could you apply those concepts to reach your goals?
If you're looking for more campaign ideas and some inspiration you can use to boost your text message marketing efforts, check out our guide for creating the best SMS marketing campaigns.
Read This Next: Everything You Need To Create the Best SMS Marketing Campaigns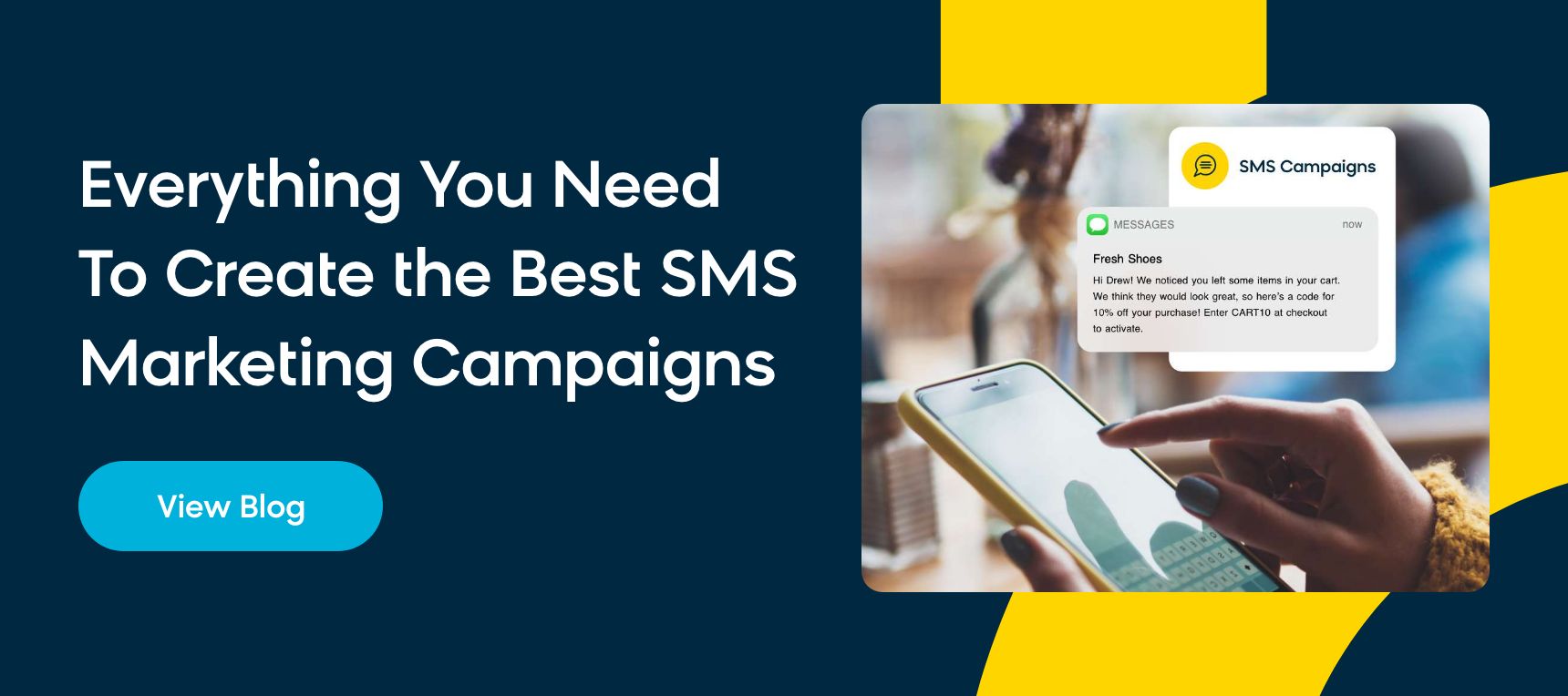 Key Components of a Successful SMS Marketing Strategy
No matter which creative SMS campaign ideas you decide to implement, there are a few overarching tactics that every effective SMS strategy needs.
Here are the key components that every marketer should incorporate into their SMS marketing:
Opt-in Messages and Maintaining Compliance
Sending opt-in messages and getting consent from customers to receive marketing text messages isn't just a suggested best practice that marketers should adopt. Businesses are legally required to get explicit consent from subscribers before sending marketing communications.
If you plan on using SMS as a marketing channel in the United States, you are required by law to adhere to the Telephone Consumer Protection Act (TCPA), which regulates telemarketing calls, autodialed calls, prerecorded calls, text messages, and unsolicited faxes. 
This federal law lays out what you can and can't do with the SMS marketing channel. To summarize, SMS compliance requirements in the US include:
Your subscriber must explicitly opt in for SMS marketing in writing. This opt-in has to be separate from email marketing.
You must explain to potential subscribers what types of messages they'll receive and clearly state how they can opt out of future messages. 
You must respect opt-out requests. 
You can't send text messages during federal- and state-specific "quiet hours."
In essence, this law ensures that businesses only send an SMS campaign to those who have explicitly given you permission to do so, and only communicate in a respectful manner. 
The best way to obtain consent is to include an opt-in form on your website or other online channels. And there are creative ways you can incorporate this prompt into your customer journey, such as a homepage banner with an opt-in form, a subscriber request in exchange for a promotional deal, or asking them to subscribe once they've completed a purchase for easier updates.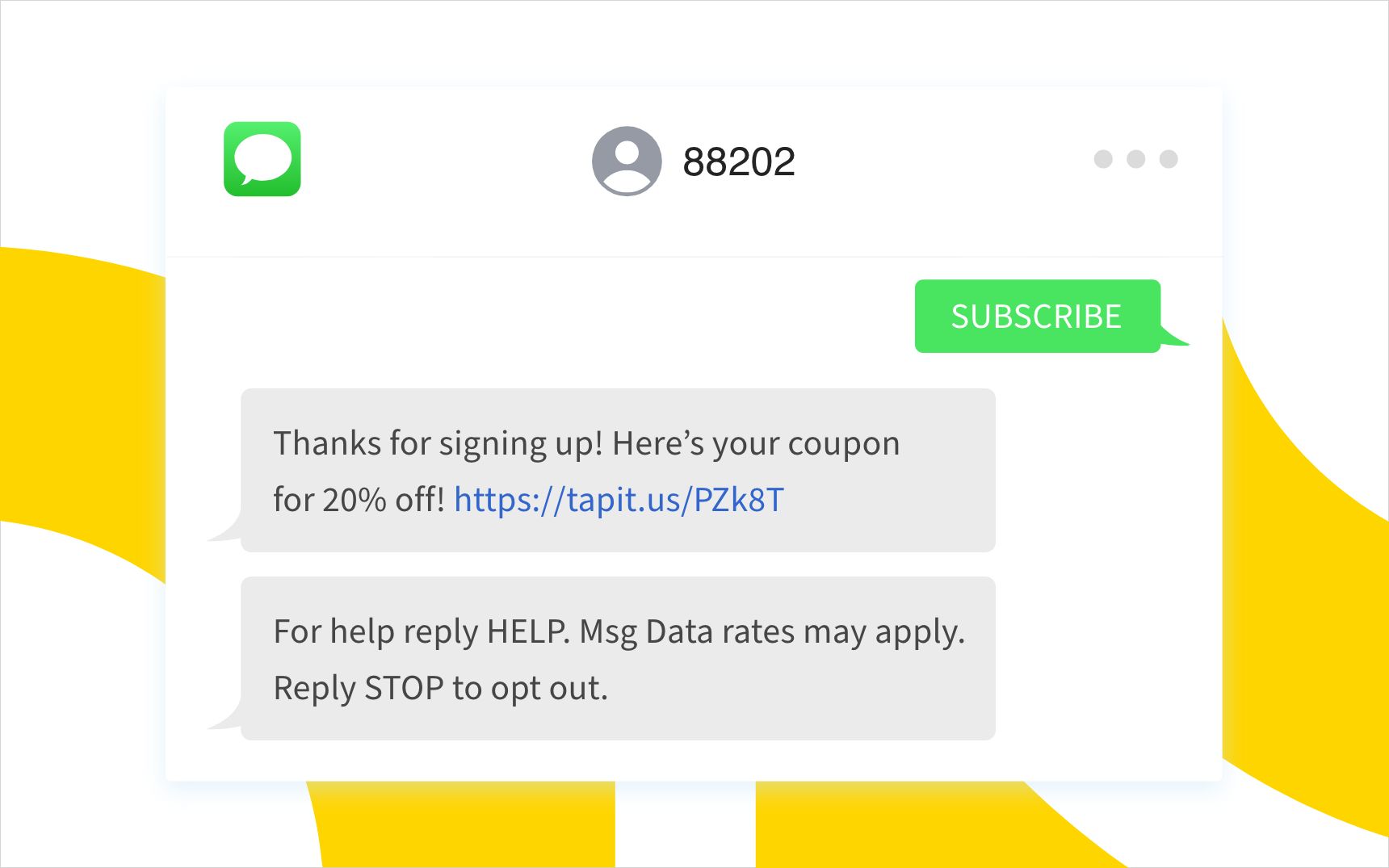 It's also a good idea to have an opt-in SMS message campaign built into your consent process. An SMS opt-in text should always be your first and foremost message that begins any communication you have with your customers. 
If it's the first message you send after they've given you written permission to send marketing text messages, you can thank them for subscribing, set expectations for message frequency, link to terms and conditions, and ask them to reconfirm their opt-in status by asking for a simple reply of "Yes" or "No."
Read This Next: The Ultimate Guide to Consent Management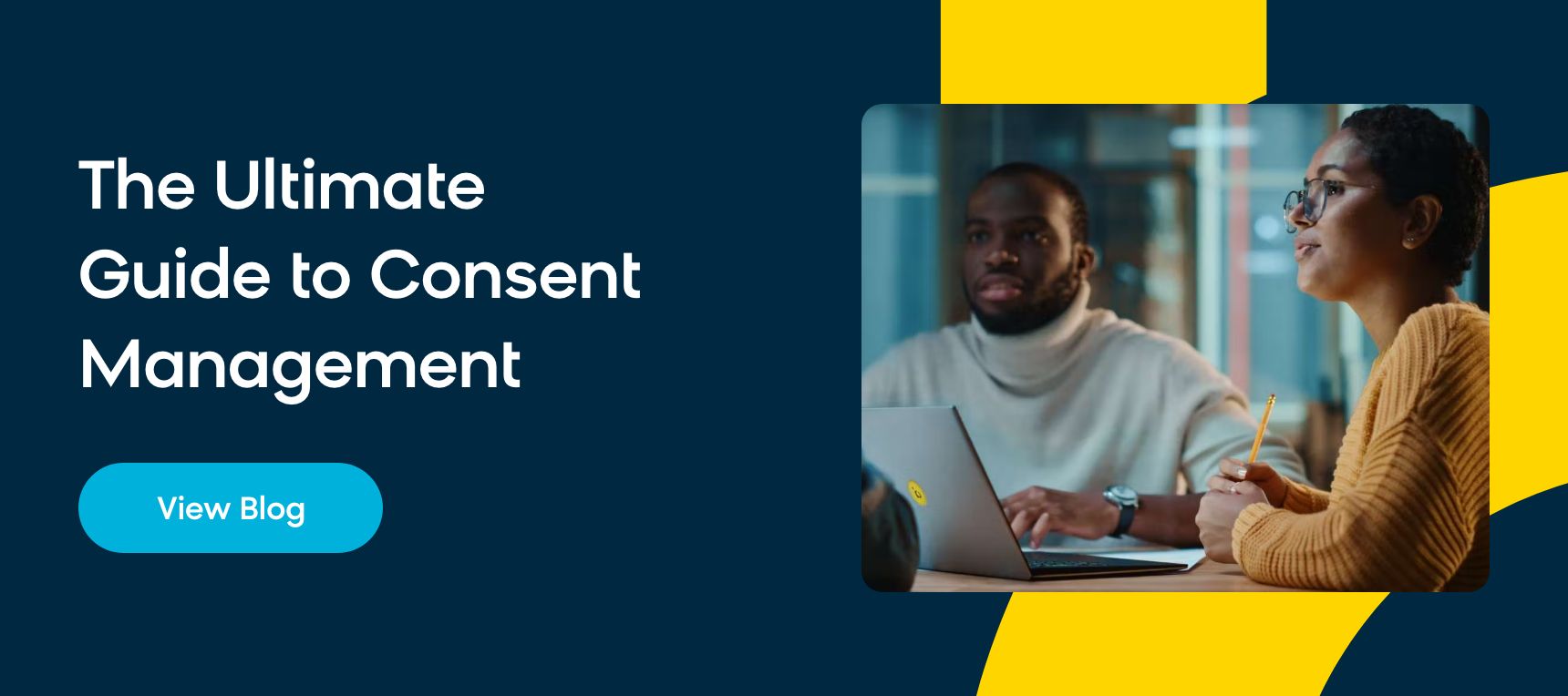 A Strong Subscriber List
While choosing the right campaigns is important for any business' SMS marketing, growing your subscriber list should always be a top priority.
The fact is, no matter how well written and coordinated your SMS marketing messages are, your campaigns are only as good as your subscriber list.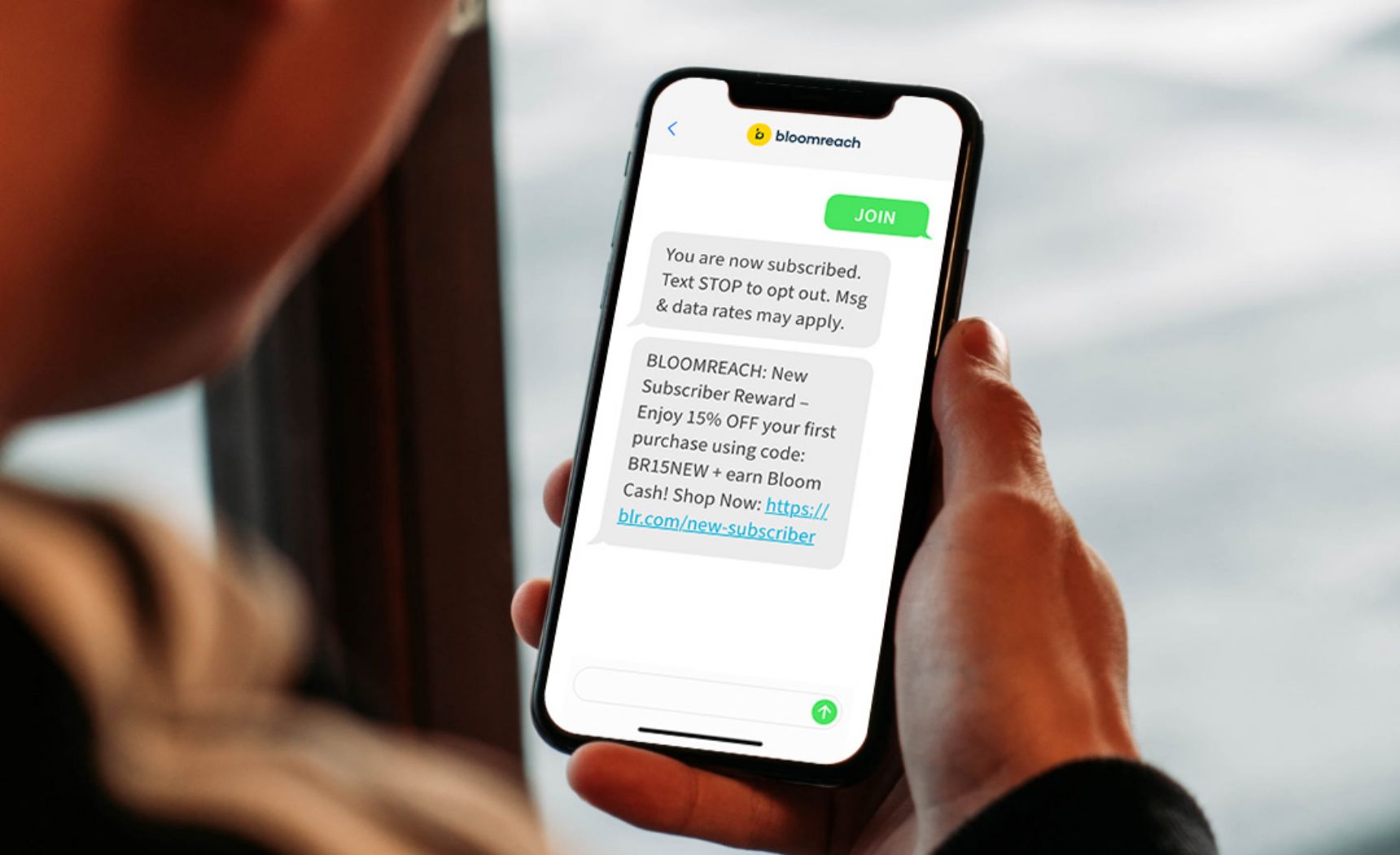 As stated above, you need to stay compliant when collecting subscribers. But there are plenty of fresh and engaging ways to collect SMS subscribers, and offering multiple paths to opt in is a smart way to grow your subscriber list.
Here are just a few ideas to help you get new sms subscribers:
Add a sign-up form or banner to your website
Launch an email campaign to convert your existing email subscribers
Offer SMS-exclusive deals and discounts
Request SMS numbers for entering contests or giveaways
Ask your social media following to subscribe
Personalized Messaging
Like all great digital marketing strategies, your SMS marketing needs to be personalized and tailored to your individual customers. The best campaigns reach your audience with the right message at the right time, and personalization makes that happen.
Personalization usually starts with simple steps, like including a customer's name in your messages. But with the right marketing software that offers AI-powered personalization capabilities, you can personalize the types of promotions they receive, the products they are shown, and the updates they get — all stemming from their unique tastes and preferences that you've collected. 
The rapid evolution of artificial intelligence has recently changed the game when it comes to personalization, and AI can be a revolutionary tool in your SMS marketing strategy. With the power to analyze and organize your customer data instantaneously, AI can help you identify key customer segments to target, choose hyper-relevant products to recommend to your subscribers, generate new content for your campaigns, and more.
Read this next: E-Commerce Personalization: Your Complete Guide
Marketing Automation
Setting up and maintaining your SMS campaigns can feel like an overwhelming task. But e-commerce marketing automation is possible — all you need is the right technology. 
There are tools available that can help you build, automate, and optimize all your campaigns, cutting out the tedious work of SMS marketing. Businesses can replace manual marketing tasks with marketing automation software to manage and monitor repetitive workflows. 
Artificial intelligence can transform this aspect of your strategy as well. With the capability to "learn" from the data it ingests, you can use AI to craft a customer journey that adapts and grows with each new interaction. Algorithmic analysis can be employed to keep your efforts one step ahead, helping you anticipate your customer's next move, adapt to changing demands, and send SMS messages exactly when recipients are ready to engage with your brand.
Read This Next: E-Commerce Marketing Automation and Its Benefits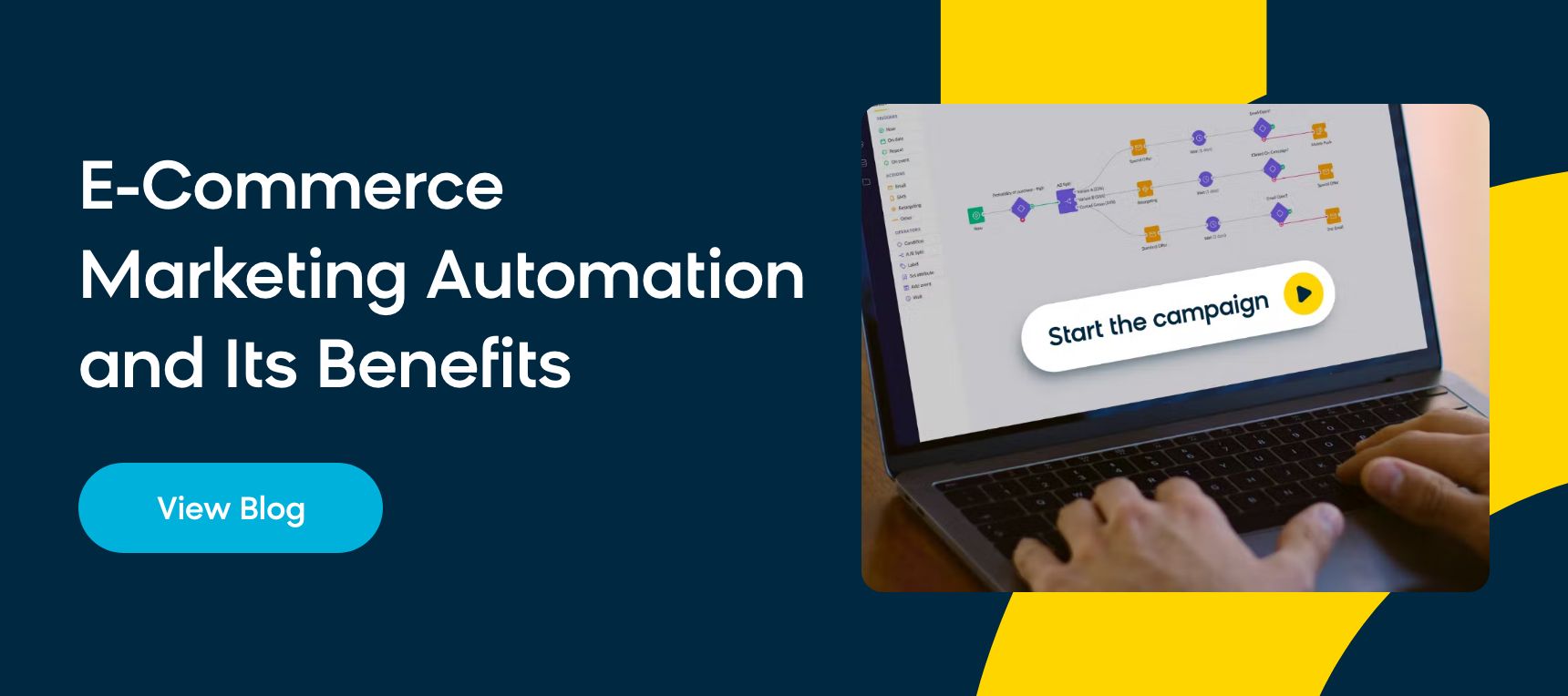 A Holistic Marketing Strategy
As valuable and efficient as SMS messages are, your marketing strategy needs more than one channel to thrive. 
A holistic approach to marketing — viewing all your channels and campaigns as one interconnected and customer-focused strategy — is essential for modern businesses.
Concentrating on each channel as their own separate systems leads to siloed, disjointed results. That's why businesses need to shift their channel-centric approach to a customer-focused omnichannel marketing plan. 
Your marketing messages need to span multiple channels, working together to guide your customers through their customer journey. They all need to provide a seamless customer experience, whether a customer is shopping online from a mobile device, on a laptop, or in a brick-and-mortar store.
Read This Next: The Ultimate Guide to Journey Orchestration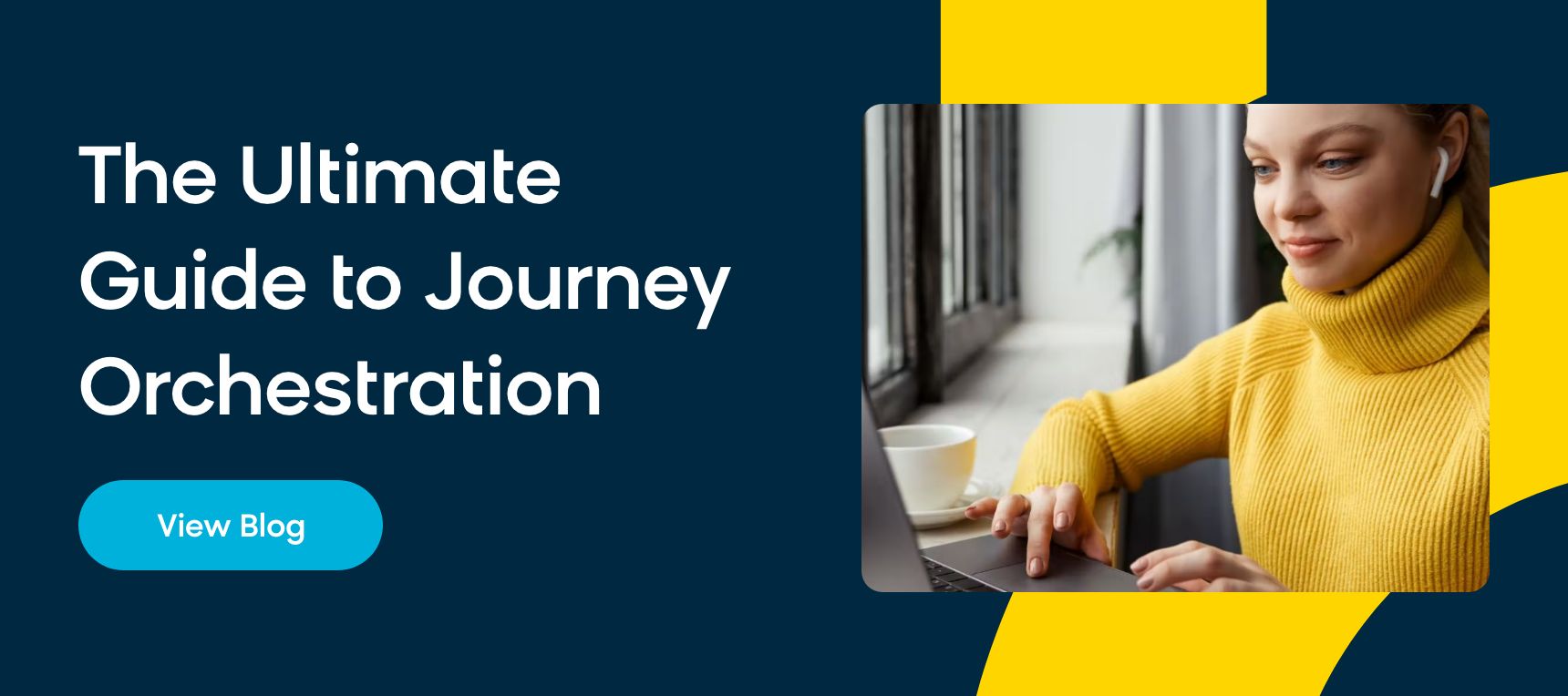 To achieve this level of consistency across channels, you need a single customer view — a database with customer profiles that catalog the purchase history, site activity, product recommendations, and more for every individual person who interacts with your business.
Collecting data from multiple sources into a single customer view is crucial for making informed and strategic marketing decisions. With all your gathered behavioral and transactional data in one place for each individual customer, you can tailor marketing messages to meet the exact needs of your audience and coordinate every channel to work in tandem to reach your goals.
No matter what data point you gain — whether it's on-site data, back-end data, offline data, calculated metrics, or predicted future data — your single customer view reflects a customer's full relationship with your brand. It's the key to utilizing customer insights, segments, and attributes in real time and creating personalized experiences at scale.
Read This Next: A Single Customer View (SCV): Everything You Need To Know
Why an SMS Marketing Platform Is Essential for Success
Developing your marketing strategy takes time, effort, and the right tools for the job. All the key components listed above require technology to implement. That's why an SMS marketing platform like Bloomreach Engagement is essential for modern businesses looking to make the most of their efforts. 
You need the ability to create campaigns at scale, orchestrate and automate your messages, and personalize your content. The right technology can make it happen — you just need to choose the right platform for your business.
Must-have Features of the Best SMS Marketing Platforms 
A good SMS marketing tool offers all the features you need to make your SMS campaigns more effective. Here are some essential functions you should look for in a good SMS marketing platform.
Bulk Messaging and List Building
This one is obvious — your marketing solution needs to be able to send your SMS messages to a large number of phones. 
In addition to mass messaging capabilities, you need to be able to access, maintain, and build out your SMS list. 
Two-Way Conversations
Two-way conversations allow your customers to reply directly to the messages received from your brand. It's a feature that adds another dimension to your messaging, giving your audience a better customer experience that can elevate your campaigns.
To do this, you need an SMS platform that allows you to set up keyword auto responses. This gives your customers the ability to respond to messages with configured keywords.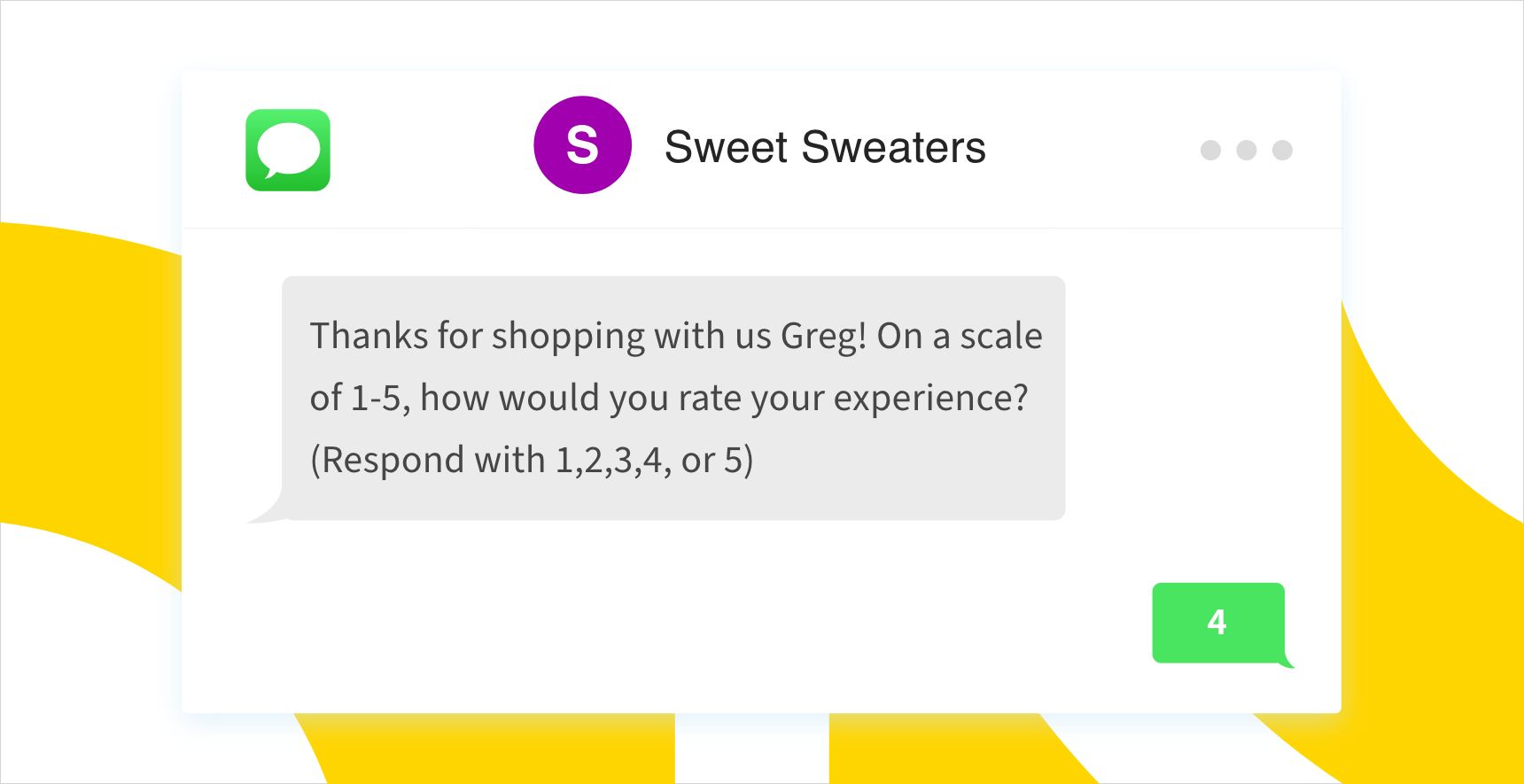 With two-way conversations, you can engage with your audience and ask questions that they can respond to, such as a number-based customer feedback survey. You can also configure keyword responses for yes or no questions, get opt-in confirmation responses, or connect your customers with customer service help.
Multimedia Messaging (MMS)
MMS (multimedia messaging service) marketing campaigns allow businesses to send rich media via text, such as images, videos, GIFs, and audio clips. It adds a dynamic and vibrant layer to SMS marketing that text-based messages can't quite deliver. 
Text messages are also limited by nature, and platforms that offer MMS messaging provide your brand with a valuable, visual way to say more with less.
Short Codes
Short codes are truncated phone numbers, usually five or six digits, that can receive and send SMS or MMS messages. They are easier to remember than typical 10-digit numbers and are more likely to be used by your audience.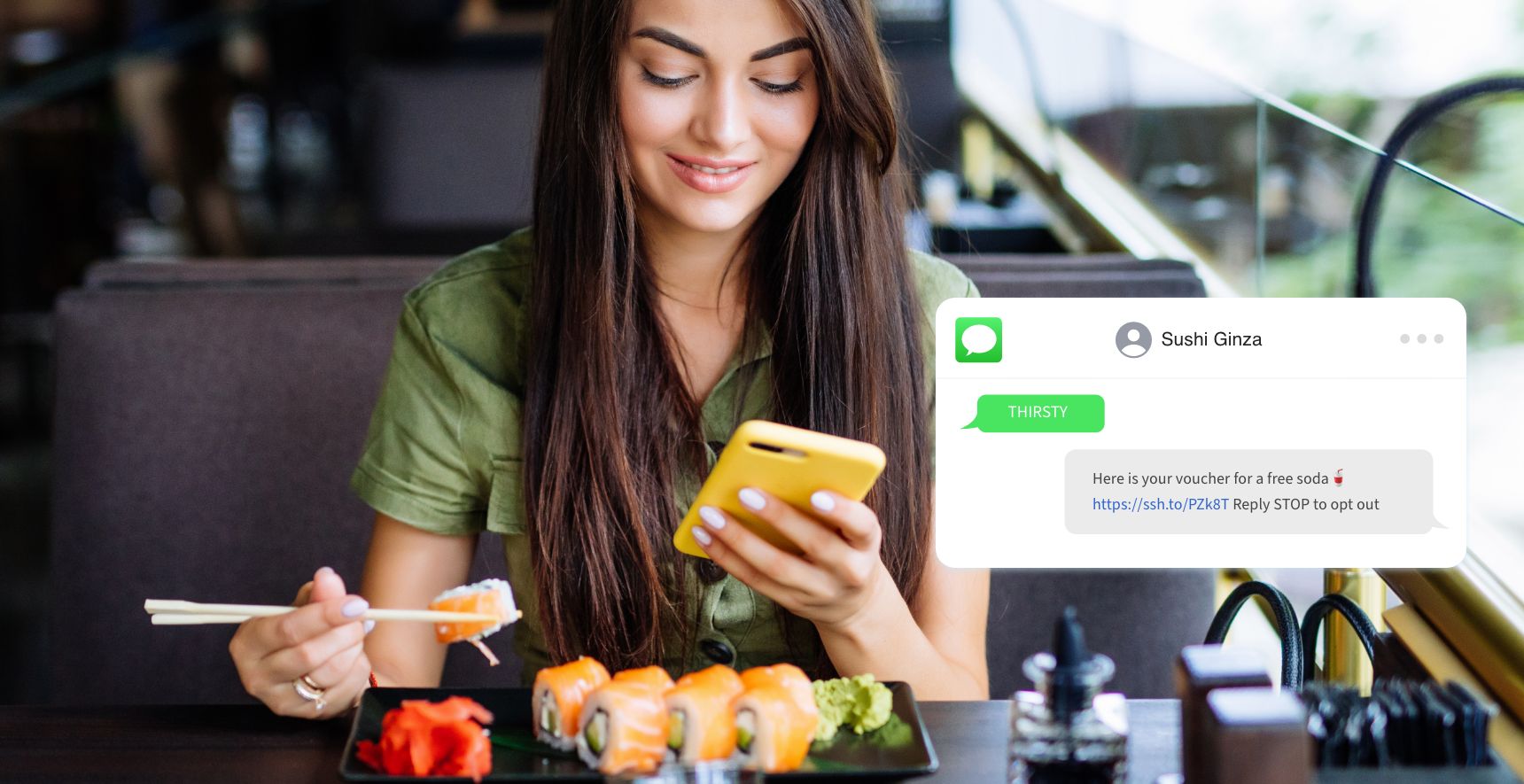 These short codes come in handy for a wide range of campaigns, especially for list building initiatives. Asking a customer to send a keyword message to a shortcode to get a free product (like the image above) is a simple and straightforward way to engage with your brand without asking too much from your audience.
Analytics and Reporting
Being able to analyze and interpret the results of your campaigns is absolutely crucial for any marketing strategy. 
Delivery, open rates, and link tracking are must-have analytics, but ideally your platform needs to offer reporting capabilities that go beyond the basics to help you spot the strengths and weaknesses of your SMS campaigns. 
A/B Testing
A/B testing is a tried-and-true way to optimize your campaigns, and the best platforms make it easy to experiment, test, and fine-tune your messaging.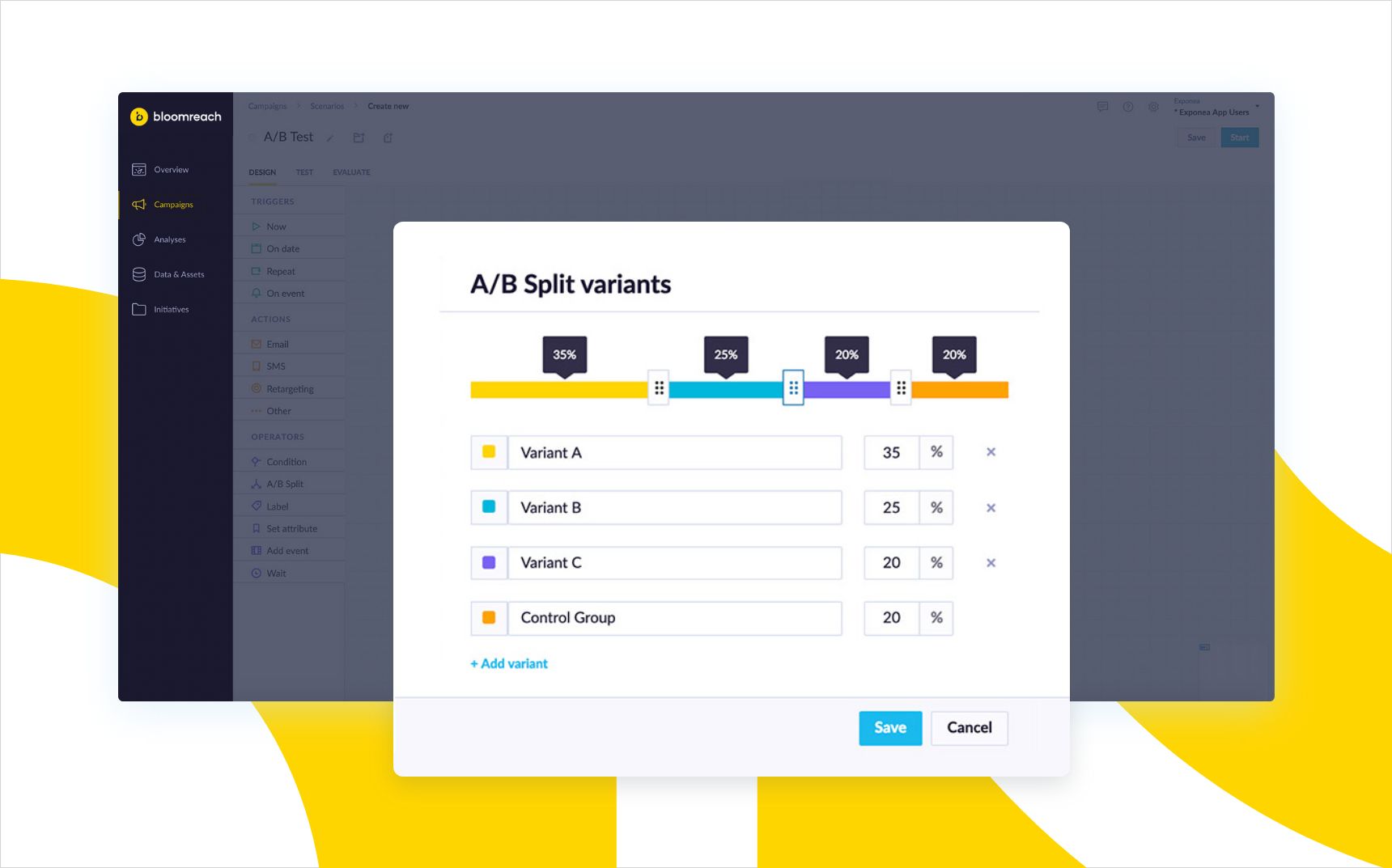 Learning what resonates with your subscribers is inherently a try-and-see process, and A/B testing allows you to build on the successes of each campaign. Testing out a new image type in your MMS campaign, a different emoji in your copy, or an alternative send time will guide you closer to your goals with each new outcome.
But with today's audience expectations, traditional A/B testing doesn't quite cut it. Every customer is different, and your campaigns need to factor in an individual's preferences instead of just serving the winning variant to every member of your audience. 
That's why Bloomreach Engagement's contextual personalization is so important for modern marketers — it's the next evolution of testing, allowing you to set up a test and know your variants will be served to the right customers on an individual level — something that traditional A/B testing can't hope to achieve.
Read This Next: What Is Contextual Personalization?
Integrations
True SMS marketing automation is only possible through integrations with other related platforms. Your solution should assimilate with the rest of your martech stack seamlessly. 
SMS messages are only one part of your overall marketing strategy, and to make sure all your campaigns are creating the ideal customer journey, you need to connect all your efforts. 
Your email marketing, social media ads, and other campaigns should all work hand in hand with your texts. The best platforms make sure this process is streamlined and user-friendly.
Make Your SMS Marketing Strategy Come to Life With Bloomreach 
To put your boldest and most ambitious strategy into action, Bloomreach Engagement is the tool you need to realize success.
Bloomreach Engagement is an omnichannel marketing solution that brings customer data, automation, AI, and analytics together so marketers can build personalized campaigns from one place, for millions of customers — and do it all in a matter of minutes. 
With our innovative platform, you have all the essential components to create successful SMS campaigns that weave seamlessly into your strategy — personalization, automation, and omnichannel orchestration are all effortlessly possible.
Ready to see our platform in action and learn how we can revolutionize your SMS marketing? Learn all about the next-level SMS marketing features available with Bloomreach Engagement. .