Real-Time Personalization
The Personalization Puzzle: Assembling the Pieces of Connected Commerce Experiences
Real-Time Personalization
The Personalization Puzzle: Assembling the Pieces of Connected Commerce Experiences
At Bloomreach, we believe that the best way to achieve personalization success is by thinking of it like a puzzle. 
Each puzzle piece is essential to a complete picture, but it must be assembled correctly to see its true value. Even if you have all the right pieces, if you arrange them into an image that doesn't make sense, then you won't see the results you were hoping for. 
E-commerce personalization is additive in nature. You're always adding pieces to something that already exists. You're not ascending a magical ladder where you can forget what's on the lower rungs. Each step of the customer experience matters and will always matter.
Personalization is also complex and composed of many individual pieces, but what's ultimately most important is how the pieces connect to build out the bigger picture. 
Personalization can be the unifying force behind your digital commerce team or it can be the wedge that drives the team apart. Unlocking commerce growth with e-commerce personalization has never been more important, especially as the top and fastest-growing companies strive to make true personalization a reality.   
There are nine distinct pieces of the personalization puzzle. Let's explore each of them in more detail, including actionable advice on where to start improving your customer experience and growing digital revenue.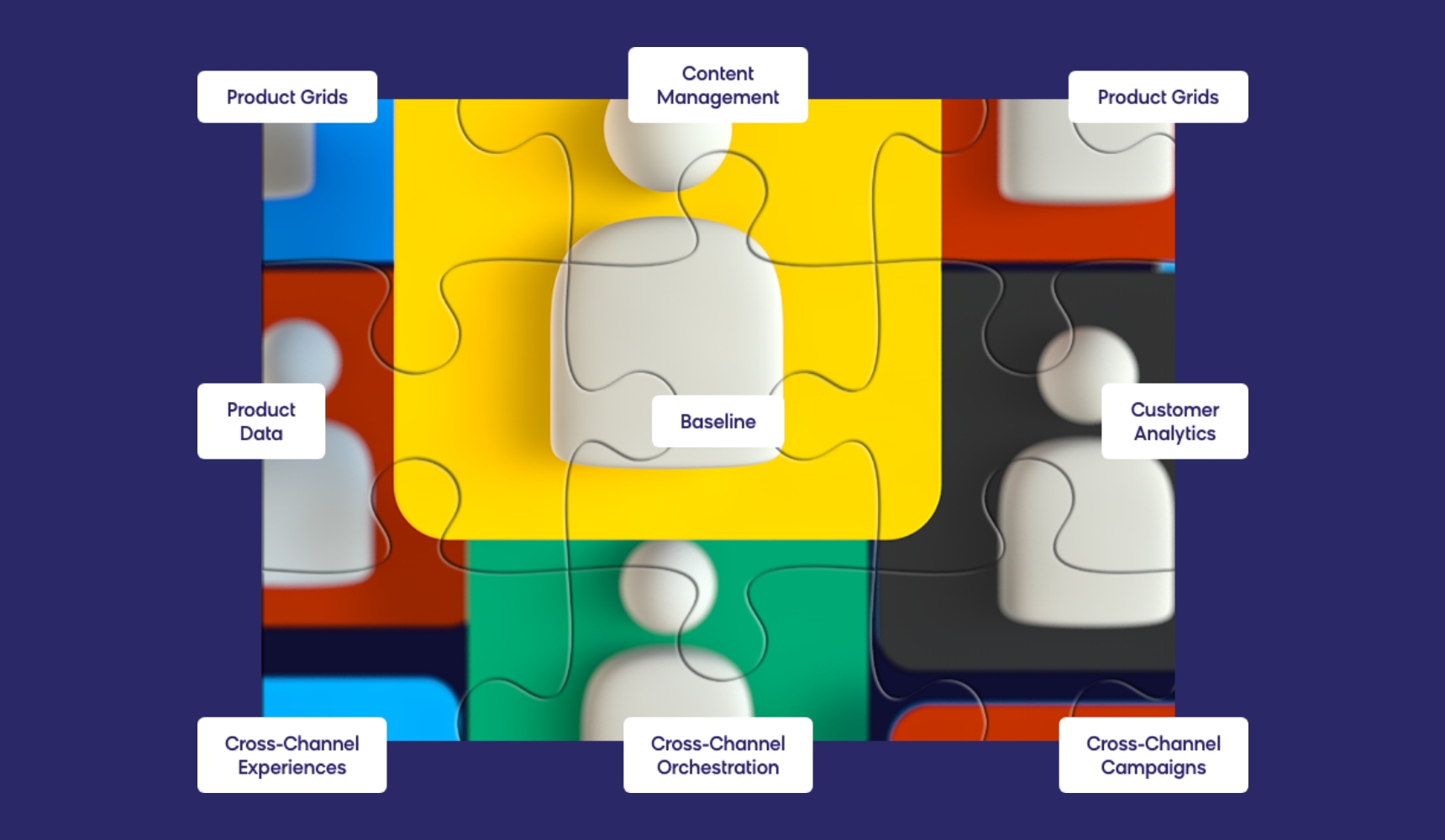 Baseline Experience
You have to start somewhere, right? 
Baseline experience is what anonymous visitors get with your company. What role does it play in the personalization puzzle? Well, first-time visitors you know nothing or little about are often your largest customer segment. And you need to make sure they enjoy a great, frictionless experience on your website, with your app, and with all of your other customer touchpoints. 
Improvement tactics: 
A/B testing

Cart optimization 

Page speed optimization 
Key metrics: 
New visit conversion rate

Cart completion rate
Customer Analytics
Analyzing customer behavior is one of the basic principles of personalization.  
In order to provide any level of personalization, you need to understand what your customers are doing, what their preferences are, and other contextual information. In order to do that, you also need commerce data (a combination of customer and product data) and integrations between systems that generate it.
Improvement tactics: 
RFM segmentation

Funnel analytics

Single customer view
Key metrics: 
Speed to reporting

Speed to insight
Cross-channel Orchestration 
The power to orchestrate campaigns across different channels is essential to effective e-commerce personalization. 
The more channels you add to your marketing mix, the more effective your personalized campaigns can be. Reach people on the most relevant channels based on context and their preferences.
Improvement tactics: 
Adding new channels

Ideal send time

Cross-channel teams
Key metrics: 
In-channel management

Results at the customer level
Content Management
Content is everything on your website that isn't a product. And that encompasses a lot. 
To have any chance at effective personalization, you need to have different variants of your content for your different customer segments. You also need a library of content assets to pull from when building a personalized experience. Getting that right is a big piece of the personalization puzzle.
Improvement tactics: 
Increase sales by creating bespoke content for various customer segments

Ensure a consistent brand message and reuse the same content across channels (web, app, etc.)

Inspire your customers to buy with media-rich stories
Key metrics: 
Cart abandonment

Engagement rate

Customer lifetime value

Speed to build and change a page

Content engagement (page views, time spent on page, etc.)
Search
Search is how your customers find their way to enticing products. 
But the way customers talk about products changes every day, and what customers find most relevant to their search is never alike. That's why you need search to be powered by an in-depth understanding of commerce data. With commerce data feeding into AI-driven search, you can produce search results that feel effortlessly personal to your customers.
Improvement tactics: 
Automatically correct customer searches by adding spell check, autosuggest, and synonyms for common searches

Remove dead ends by providing relevant or related results on null/zero result searches
Key metrics: 
Revenue from search

Number of null search results

Average order size
Product Recommendations
Customers rely on you to help them navigate the many products you have to offer. 
That's why it's imperative that you showcase how products relate to each other, just like a sales associate in a store might recommend a great tie to go with that shirt. What products are in stock? Which are similar? What is the newest model? Answering many more questions like these can help you recommend products and categories based on customer behaviors or preferences.
Improvement tactics: 
Add bestsellers and trending products to your home page, and use AI  to always keep them up to date

Feature categories like new arrivals, brand collections, or aisle shopping to keep repeat customers engaged

Connect categories by showing related categories and products within a category page

Help repeat customers reorder by showing their past purchases

Show what other customers also bought on the add-to-cart page for one final effort to increase their order size
Key metrics: 
Cross-sell and upsell conversions

Average order value/basket size
Product Grids
Product grids are a key way for you to curate your catalog for your customers. 
Which products should be shown first in each search? Which should be first within a category? By refining the experience through boost/bury rules, you can shape exactly how the product grid appears and highlight new products, promote a popular brand, or even feature high-margin items.
Improvement tactics: 
Boost or bury products within the grid according to your business goals

Add recommendations to category or search results pages to give products special attention, such as your highest-margin SKUs or bestsellers 
Key metrics: 
Search relevance

Conversions on category or search results pages
Cross-channel Experiences
Think about the consistency of experiences customers have with your brand on your owned touchpoints (e.g., website, app, or emails). Is that experience consistent? 
Do they see the same products? Do the touchpoints feel the same? More importantly, are your customers able to continue where they left off after switching channels? Consistent experiences lead to more conversions and happier customers.
Improvement tactics: 
Save cart items and restore them later on with a persistent cart that can be accessed by logged-in customers 

Share a common data platform for all channels

Make an effort to consistently personalize experiences across channels with a headless experience manager
Key metrics: 
Revenue per visitor (RPV)

Percentage of identified sessions

Cross-channel conversion rate

Customer satisfaction or NPS
Cross-channel Campaigns
Just like experiences, your campaigns should also be consistent across channels. 
Once customers make a purchase, they shouldn't see remarketing ads for that same product. When they see a promotion in an email or via push notifications, they should be able to find that promotion on your website as well. Customers shouldn't be blasted by all the campaigns, but rather only those that are most appropriate for them. At the highest level, this requires knowing which customers are likely to respond to which campaigns in all of your marketing channels in real time.
And of course, your campaigns must respect customer privacy at all times. 
Improvement tactics: 
A shared campaign orchestration for all channel teams

Adopt a lifecycle marketing approach and follow the same principles in all channels
Key metrics: 
Number of customer support requests for a post-purchase discount after seeing a campaign

Frequency of communications per customer

Bounce rate from campaigns

Piece Together Your Personalization Puzzle With Bloomreach
Your company's primary goal in piecing together a personalization puzzle should be to facilitate joyous customer experiences that inspire your consumers to be loyal to your brand. This will ultimately lead to the growth of your digital business. 
You may not have all the pieces right now, and that's okay! Don't feel like you need to build your personalization puzzle all at once — it takes time and effort to put it all together.
If you're looking for more information about how to identify which pieces of the personalization puzzle are missing for your company, watch our "Missing Piece of Personalization" webinar on demand. Together with our partners Ansira and Sinch, our industry experts discussed the real-life examples and results from companies that have successfully assembled their personalization puzzles and provided connected commerce experiences to their customers. 
You can also learn more about the importance of using e-commerce personalization to facilitate connected commerce experiences. Or better yet, schedule a personalized demo to see it in action.