Life at Bloomreach
How Bloomreach Prioritizes Employee Professional Growth
By Lucie Cisarova
11/03/2022
The workplace is constantly evolving. New technologies and new processes are being invented every moment and it can be hard to keep up with all of them. The key to success in today's fast-paced environment is having skilled people — something that many companies underestimate. That's the reason why we believe that Bloomreach is different and has the potential to be the best employer you work for. At Bloomreach, we care about each one of our Bloomreachers, and believe that they are the best investment for the company, so their constant development is crucial for us.
We don't want to be just another run-of-the-mill employer that simply ends up as another item on your resume before you find something else. Our mission for our people is to be the most impactful professional experience of their career, and we take that to heart. We select new Bloomreachers carefully (read more about our hiring process here), and we want them to be motivated to constantly grow with us, both personally and professionally. But how do we back this claim?
Personal Development Budget
Each Bloomreacher has a dedicated annual budget of $1,500 for further development based on their needs and career aspirations. Our managers have a crucial role in helping our teams set the direction and choose the right paths with relevant courses and valuable learning opportunities. The goal is for our employees to be constantly learning and to have an overview of trends in their field. What do Bloomreachers most often use it for? Professional courses with a certification that remains theirs for the rest of their life, as well as tickets to relevant conferences or team trainings to improve their skills and strengthen relationships as a group.
Internal Coach
Meet Ivo. Ivo is our internal coach and mentor, thanks to whom Bloomreachers can improve their communication and leadership skills. Before partnering with us, Ivo had worked as a communication expert at McKinsey for 10+ years, and we are honored to have him help our fellow  Bloomreachers now. Each one of us can schedule a one-off or recurring call with Ivo and work on our further development, which is useful both professionally and personally. Here's what some of our Bloomreachers had to say about the benefits of having an internal coach: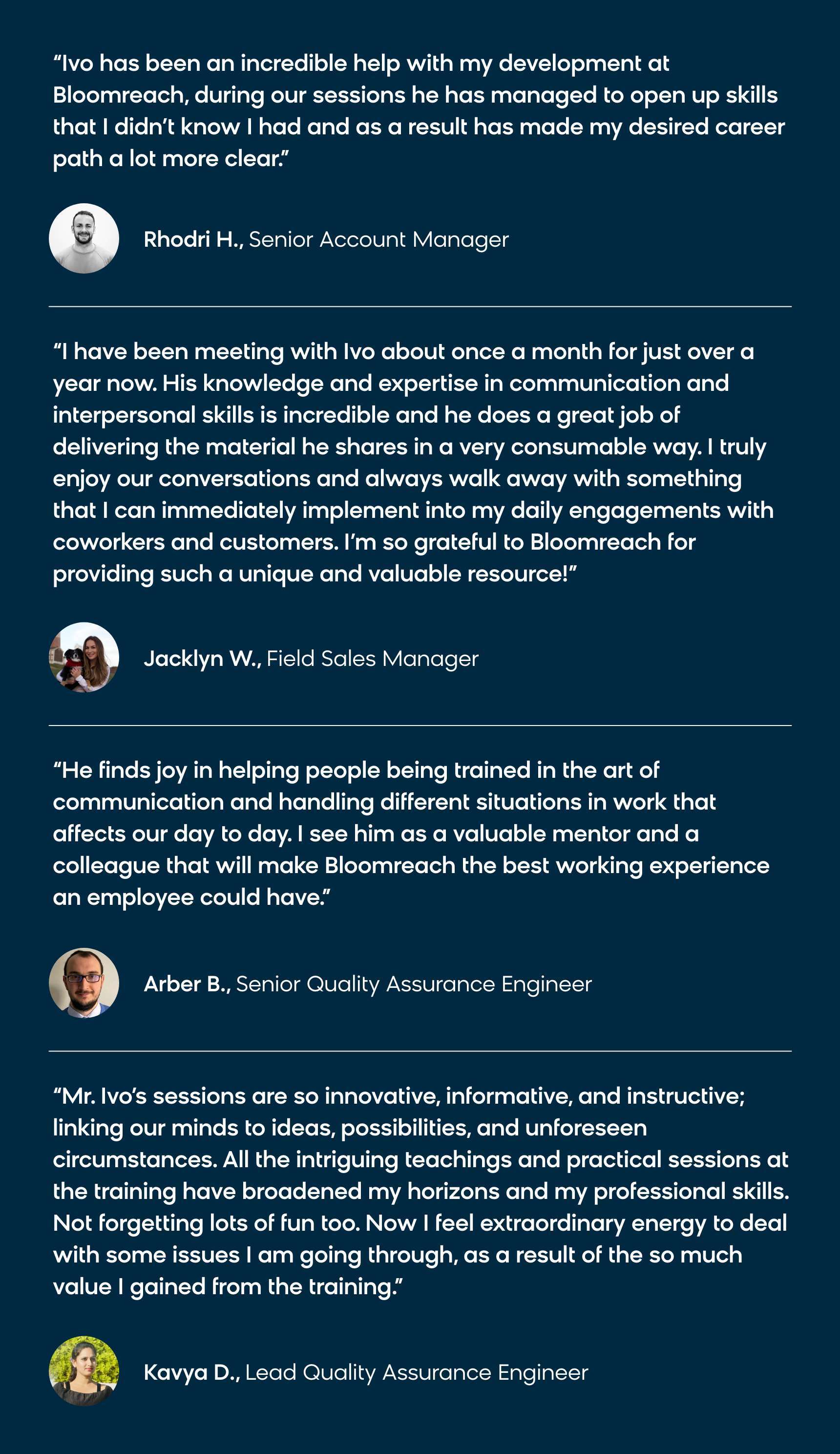 Leadership Development Program
We know that having strong leaders at Bloomreach is key to employee satisfaction and engagement across the board. That's why we teamed up with Let's Grow Leaders to launch our own Leadership Development Program, called LEAD. Everyone in a leadership position at Bloomreach is invited to join this six-month program, where they build the practical skills and habits needed for empowering leadership in our remote-first culture. We want our leaders to be equipped to build high-performing teams, where every Bloomreacher feels connected and supported, and is also encouraged to take appropriate risks, be curious, and be resourceful.
Udemy
We know everyone has their own professional needs, so we want to offer a rich digital library where everyone can really tailor their learning experiences. In our case, we chose Udemy, which offers over 17,000 courses with instructors from all over the world. We love to see our Bloomreachers earning certificates and adding them to their LinkedIn profiles!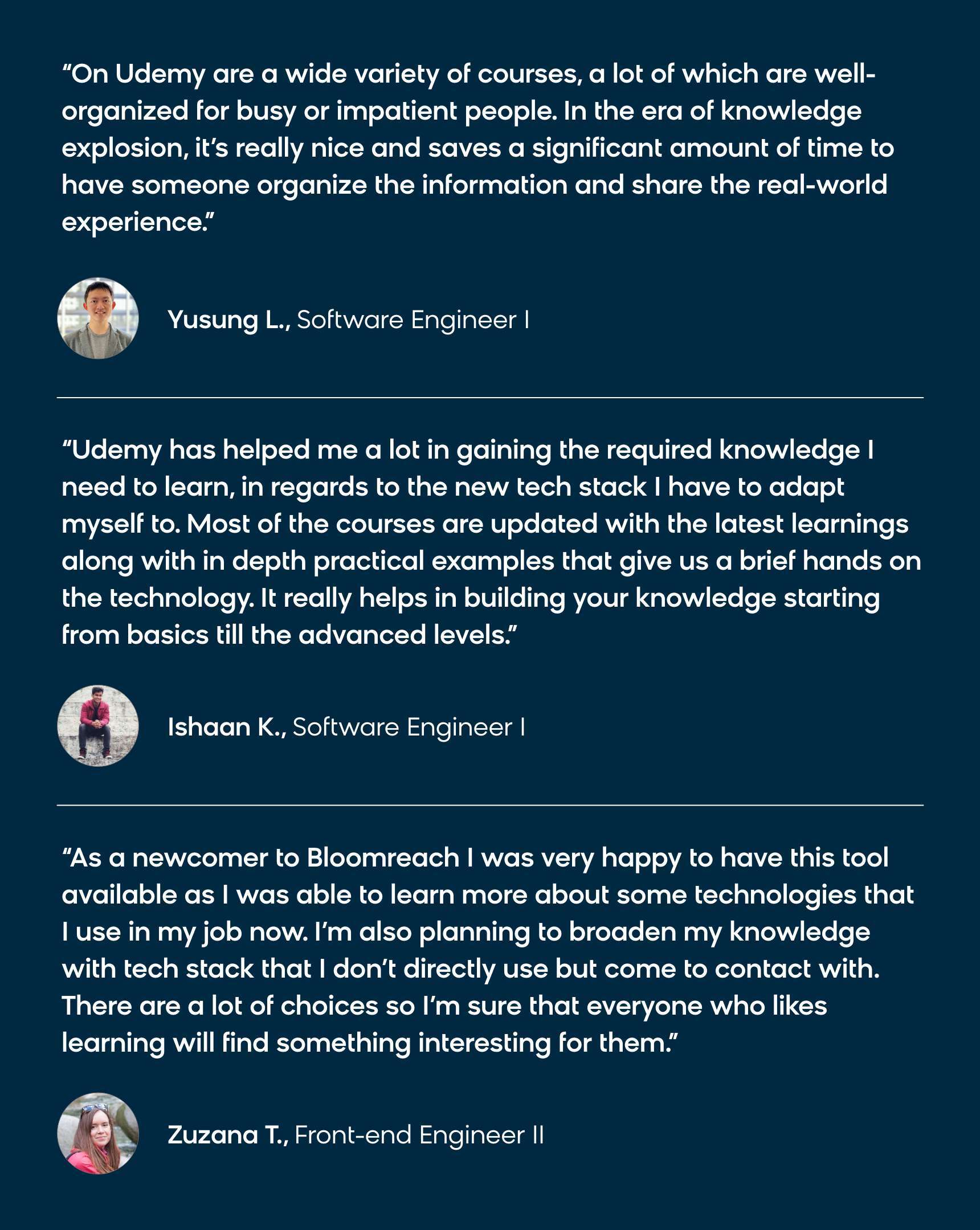 Bloomreach Academy
In addition to the external learning platform, we also have an in-house training platform available for all Bloomreachers. Bloomreach Academy offers courses on all of our core products (Engagement, Discovery, Content) with different knowledge levels, ensuring that everyone in the company is familiar with our products and business. The Academy team also provides additional learning materials on industry-related topics so that we are always up to date.
We're proud to be a company that champions continuous professional growth, whether that be through promotions, internal transfers, or access to a wide range of learning opportunities (self-directed and on-the-job). If you're ready for the most impactful part of your career so far, check out our open positions and join us at Bloomreach!