Omnichannel Marketing Automation
The Future is Mobile: Why Mobile Marketing is Here to Stay
By Carl Bleich
Sep 30, 2021
16 min read
Omnichannel Marketing Automation
The Future is Mobile: Why Mobile Marketing is Here to Stay
Whether you realize it or not, mobile marketing is ingrained into the fabric of our lives and has carved out a niche that will likely never be replaced. In fact, mobile has literally become the centerpiece of customer experience with the vast majority of web browsing, search, video consumption, email opens, and social engagement now occurring on mobile devices.
From a messaging standpoint, think about your most recent notifications—the arrival of a package, a reminder for your upcoming doctor's appointment, a deposit in your bank account, a flight delay, and so on. These are essential reminders or updates that allow us to go about our everyday lives without dedicating additional time to discover things or without forgetting important upcoming obligations.  
Mobile marketing is a multi-channel online marketing technique focused on reaching a specific audience that is using their smartphones, tablets, or other mobile devices through websites, email, SMS, MMS, social media, or other mobile applications. Its goal is to provide consumers with personalized information that promotes goods/services or to provide key reminders that enrich the lives of those opted in to receive the notifications. 
Mobile marketing has boomed in popularity in recent years for one simple reason: people across the world have become more attached to their mobile devices. Despite beliefs that consumers would be reluctant to purchase via mobile, mobile commerce sales are expected to reach over $3.5 trillion in 2021, nearly double the number from just three years ago. 
The opportunities companies have to connect with their customers via mobile devices are only going to increase as time goes on. 

The Data Says Go Mobile
In today's market, customers have evolving preferences for how they want to access your products or services. And customers aren't just signing onto your website from desktop computers anymore. 
But creating a mobile version of your website and ensuring your emails are accessible via mobile devices isn't nearly enough. The rise in popularity of mobile devices has changed how the users of these devices communicate. That means that your company needs to focus on having a means of two-way communication with these customers on these devices.
More than half of all web traffic comes from mobile devices. The specific number of users accessing the internet from their mobile device is up over 20% from the beginning of 2015.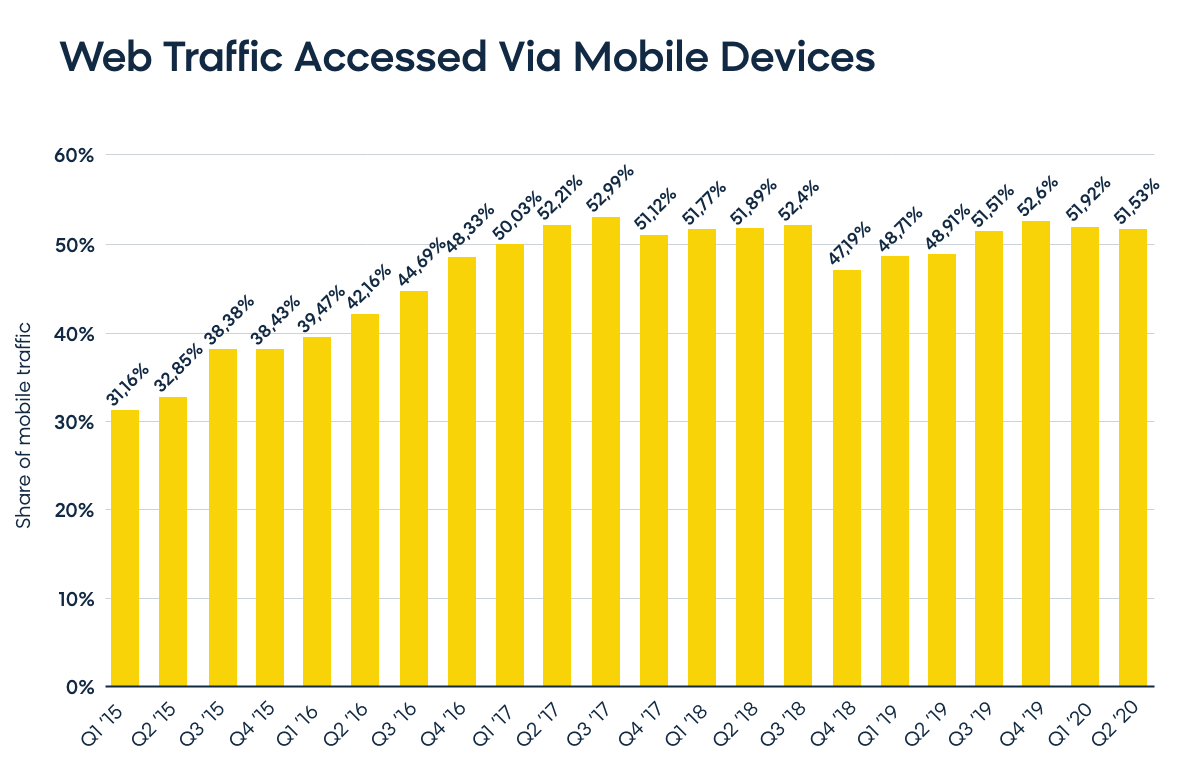 This number will only go higher as smartphones and tablets become more accessible and economical across the world. The Ericsson Mobility Report, which provides industry-leading projections and analyses of the latest trends in the mobile industry, projects that by 2025, roughly 75% of web traffic will come from mobile devices. 
If Ericsson's prediction comes true, that would be nearly a 45% percent jump in mobile web traffic in ten years. That means it is time for every business with an online presence to begin focusing on mobile marketing immediately. 
Mobile Marketing Tips For Success
As the medium is very different, it is important to consider that not everything about your mobile marketing will be the same as your other types of marketing. Understanding the importance of these differences will help your mobile marketing succeed. 
Here are some tips and tricks to help: 
Do not treat mobile like an extension of your email program.  A "batch and blast" approach to mobile marketing is doomed to failure.  A phone is arguably the most personal device each of us owns and there's little tolerance for impersonal communications.  Consumers expect that their messaging and mobile experiences will be personal, guided by data and especially relevant.
Don't be afraid to mix things up. As this is a different medium, there can be room for experimentation and testing of sorts to see what works for your brand. Don't assume that what works well for a business in a different market or your competitor will work for you. Try things out and learn from the results. 
Understand your audience. Fully knowing your target audience should influence how and what you advertise or offer to them. Also, understand that your audience is likely in a different place physically and mentally when seeing your marketing materials. Our mobile devices go with us everywhere we go—so consider that it might be best to...
Be clear and concise. Not only do mobile devices have small screens, but we are also trained to scroll past or navigate through things we don't want to see on them. Consider this when crafting the message and design you intend to present to your audience
With the amount of things to keep track of and remember with mobile marketing, it's essential to have a partner to help ensure that your company is doing all it can to effectively market on mobile devices. 
Sinch Facilitates Mobile Marketing Momentum
Sinch, a key partner for Bloomreach in the mobile marketing realm, is the world leader in mobile customer experience (CX) and brings businesses and people closer together through personalized engagement. Sinch's cloud communications platform is capable of reaching every mobile phone on the planet in seconds or less. 
Sinch offers a broad messaging profile that encompasses conversation messaging in all of its forms — SMS, Rich SMS, MMS, conversational marketing, conversational commerce, and more. It is a full stack Communications Platform as a Service (CPaaS) provider that has been named a market leader by IDC at powering next-generation mobile experiences. 
In addition to Bloomreach, Sinch helps some of the biggest brands in the world offer a top notch mobile customer experience and drive greater engagement and conversion. These brands include Nissan, Eddie Bauer, Albertsons, FirstBank, and Dell, just to name a few. 
Sinch's platform enables conversations between brands and consumers on the consumers' preferred channel. Sinch for Marketing is also a full-service mobile agency of record for many marquee brands providing strategy, campaign execution, analytics, and other integrations. 
Bloomreach's partnership with Sinch has helped over 300 Bloomreach Engagement customers connect with their companies via mobile marketing in a way that helps them meet their marketing goals. 
Let Bloomreach Engagement and Sinch Power Your Mobile Marketing
Bloomreach Engagement, our Customer Data and Experience Platform (CDXP), uses Sinch as a provider for our native SMS, MMS, and WhatsApp channels. These channels help users power personalized omnichannel marketing automation that allow for customers to receive marketing messages from your company in real time on their mobile devices. 
Bloomreach Engagement features a built-in Sinch API. With Bloomreach's customer data collection methods/marketing automation capabilities and Sinch's messaging software, companies across the world are able to create personalized and product-specific automated messages to their customers to help reengage them and guide them through the customer journey with their brand.  
MMS is a built-in channel to send multimedia content via mobile that allows for an engaging and branded way to reach customers where they are most active. With MMS messaging, brands can personalize their content with zero- or first-party data captured in Bloomreach Engagement and target high-intent audiences. This makes converting abandoned carts, engaging your most loyal customers, and welcoming new users with a contact card very simple. 
Thanks to a recent Bloomreach product update, your MMS messages with Bloomreach Engagement can now feature images, videos, and GIFs. This will further help to convert abandoned carts, engage loyal customers, and onboard new users.  
SMS is a direct messaging tool integrated with Bloomreach Engagement that allows one-to-one communication with customers. You can reach customers with personalized messages and Bloomreach Engagement can also process simple responses to these messages and take appropriate action.  
The Sinch API also facilitates Bloomreach Engagement's use of WhatsApp messaging. After consent, two-way WhatsApp messages can be sent and the customer replies are free of charge, so you are more likely to get a response than with SMS. And finally, with retail and digital commerce pivoting towards what is known as "conversational commerce", our two firms have a world class solution to what will be the future of e-commerce experiences.
With so many customers having experiences with your brand on their mobile devices, you don't want to miss the opportunity to connect with them where they are. You likely have already taken steps as a company to begin mobile marketing efforts, but are you doing it the right way?  
The combination of Bloomreach Engagement and Sinch facilitates your company's ability to connect with your customers via their mobile devices in a way that is engaging and encourages them to take action with your brand. If you are interested in learning more about how Bloomreach Engagement can help jumpstart your mobile marketing, schedule a personalized demo today.