Commerce Experience
The Power of Unified Commerce
By Lisa Rothman
06/29/2023
Commerce Experience
The Power of Unified Commerce
In e-commerce, revenue is king. But driving continued revenue growth in the long run is often challenging — that's where unified commerce comes in. With a unified commerce strategy in place, you can bring together all aspects of your brand, product, marketing, and more under a single platform. With the right unified commerce platform, you can drive powerful engagement that boosts sales. And by implementing a unified commerce approach, you'll see greater consistency in marketing, customer engagement, product presentation, and all other aspects of your business. 
To truly appreciate the power of a unified commerce platform, you'll first need to understand the difference between omnichannel marketing and unified commerce. It's also critical to understand how unified commerce can be used to help with customer relationship management and improve the customer experience. Let's dive into the what, why, and how of unified commerce.
What Is Unified Commerce? 
As the name implies, a unified commerce platform connects everything, from your customer-facing commerce channels to your store operations and back-end systems, in one place. Unified commerce also breaks down data silos by connecting all your data, which helps you create a more positive shopping journey, improve brand loyalty, and strengthen your image and reputation.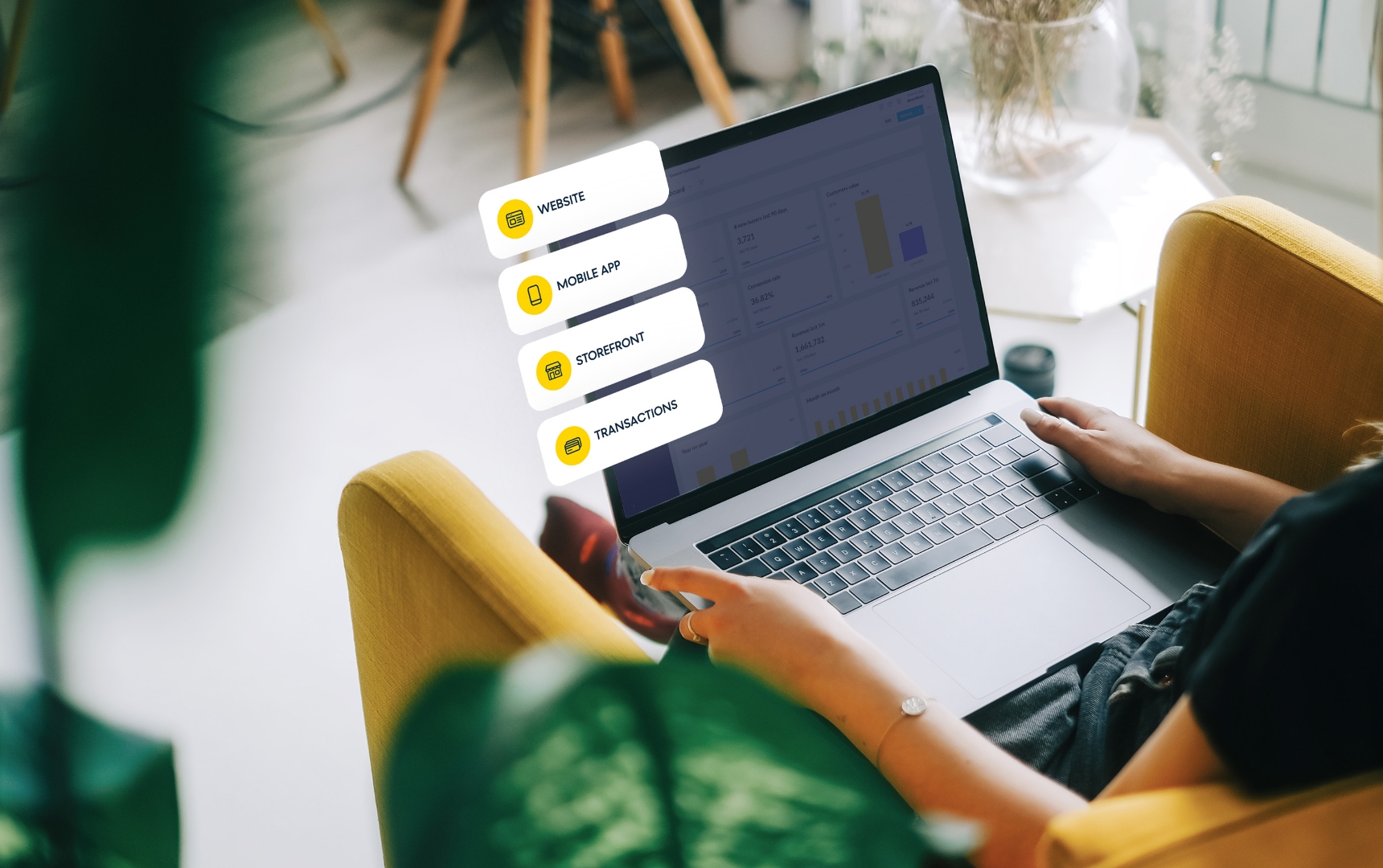 Unified commerce consists of four key components:
Systems: Integrate all systems (customer-facing and back-end), reducing the time and resources spent managing multiple providers and making your organization more efficient
Channels: Securely identify shoppers to connect them across channels and regions, which helps with cross-channel purchases and measuring results
Products: Provide a consistent view of products across stores and online channels, making it easier to confirm stock availability and facilitate sales
Interactions: Improve the customer experience by making it personalized and seamless at every step
To develop a unified commerce strategy, you must first establish the purpose and objectives of your consumers' in-store experiences. This means you must assess the technologies you'll need to remove barriers to purchasing. You must implement architecture with cloud-native micro-services and ensure you've optimized your data access.
A unified commerce platform offers critical benefits for businesses, including personalization, flexible points of sale, effective data, efficiency, and better engagement. It also enables you to create consistent experiences across all devices, reducing costs and maintenance overhead. Additionally, unified commerce allows you to strengthen your brand image and engagement with a fast response to shifting store needs and customer preferences.
What's the Difference Between Unified Commerce and Omnichannel?
Unified commerce is not just another buzzword for omnichannel commerce. While unified commerce and omnichannel are inextricably linked, they are set up differently with the potential for very different results. While an omnichannel approach may still have different pieces of software working together, unified commerce platforms consolidate all your marketing channels, payment systems, products, and customer interactions within a single platform. Unified commerce delivers a totally integrated, measurable, and frictionless customer experience.
A key part of omnichannel commerce is marketing across all your marketing channels (email, SMS, social, web, etc.). Omnichannel marketing aims to deliver relevant, timely, and valuable experiences for customers while maintaining consistency across devices. To fuel your omnichannel efforts, you'll need to gather data in a single customer view to be able to create consistently personalized experiences.
Omnichannel marketing utilizes AI to personalize and optimize customer experiences across multiple channels. AI technologies — including natural language generation, machine learning, and computer vision — enhance customer experiences by personalizing recommendations, automating customer service, and providing smoother shopping experiences. Marketers guide AI, while AI learns from user inputs and determines customer preferences. This symbiotic relationship between marketers and AI ensures a seamless and effective customer experience.
In comparison, unified commerce connects the whole commerce experience, including transactions, site search and product discovery, and more. A unified commerce strategy consolidates payment systems and data across all channels, including in-store, online, and in-app. This helps in better identifying customers, understanding their needs, and facilitating seamless cross-channel experiences.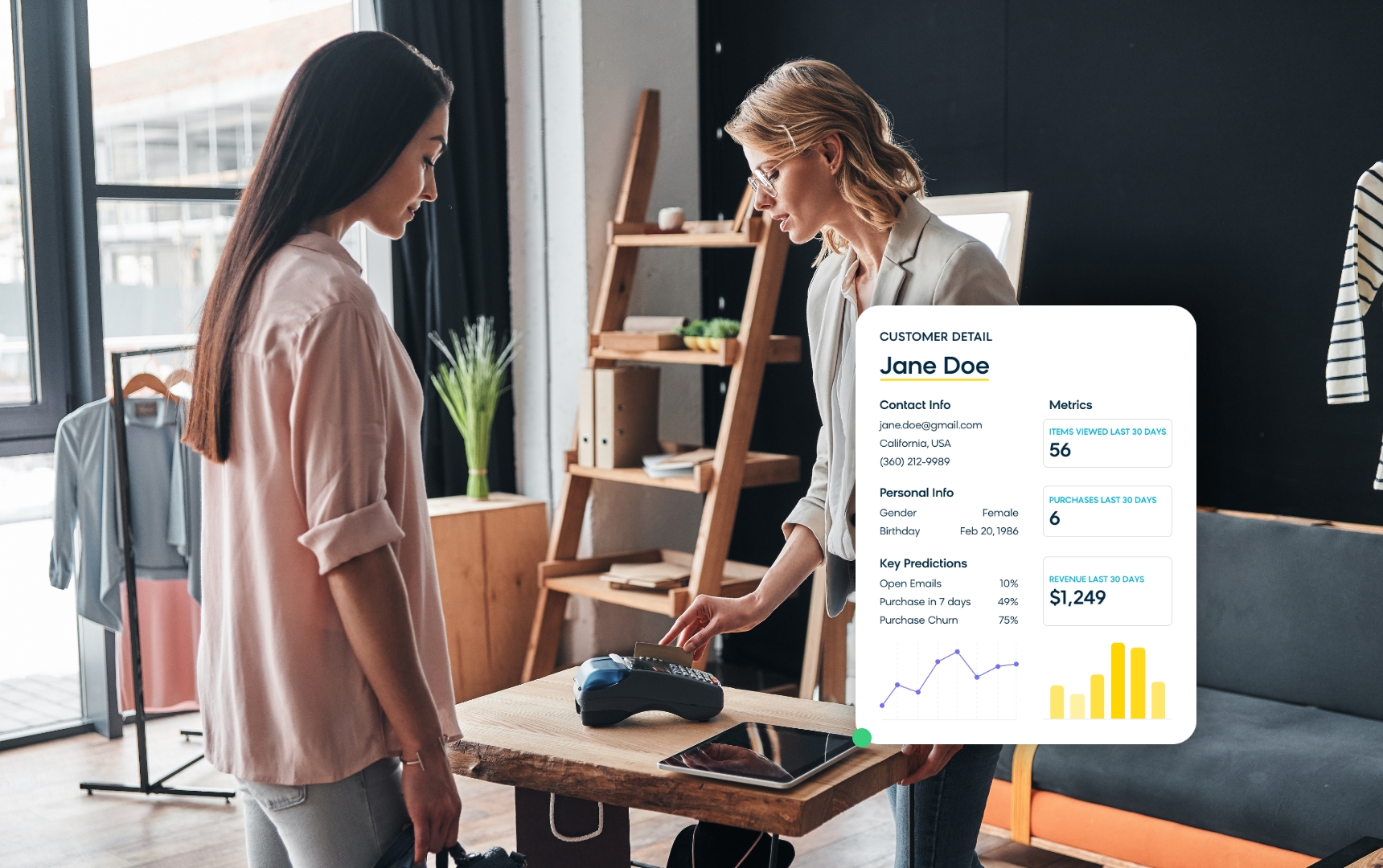 By linking online and offline sales channels, customers buy more often and spend more when they do buy. Unified commerce solutions also allow businesses to process payments and refunds globally, which eliminates the need to manage local acquisition regions. Furthermore, unified commerce platforms use one back-end system to manage all payments from any channel, which keeps reconciliation simple and facilitates recurring payments with real-time account updates.
Overall, unified commerce enables businesses to enhance customer experiences, scale their businesses, and provide a more efficient and personalized shopping experience by better representing customer behavior.
Why Is Unified Commerce Important?
An omnichannel retail strategy improves customer experience and provides more channels for purchase, including mobile, the web, or physical stores. However, unified commerce allows you to take this a step further and better connect the customer experience across their entire buying journey. A unified commerce strategy enables you to bring together all aspects of your brand, product, marketing, and more on a single platform. Unified commerce ensures you have consistency in marketing, customer engagement, product presentation, and all other aspects of the business. This is the type of experience modern customers expect, and with a unified platform, you can deliver this experience effectively. 
Examples of Unified Commerce
The most effective way to understand how unified commerce works is to look at several examples of businesses using this strategy. 
Jenson USA
Jenson USA, a leading online bicycle retailer, used unified commerce to improve its search experience and increase conversion rates.
The company wanted to personalize its content and products for different audience segments (e.g., mountain bikers vs. road bikers). To do this, Jenson USA turned to Bloomreach Engagement's customer data engine to enable custom segmentation that would update based on in-session behavior. The brand also used Bloomreach Discovery to optimize on-site search results and generate valuable insights for its site visitors.  
As a result of this unified approach to personalization, Jenson USA saw an 8.5% increase in revenue per visitor (RPV), as well as a 26% increase in RPV for mobile shoppers.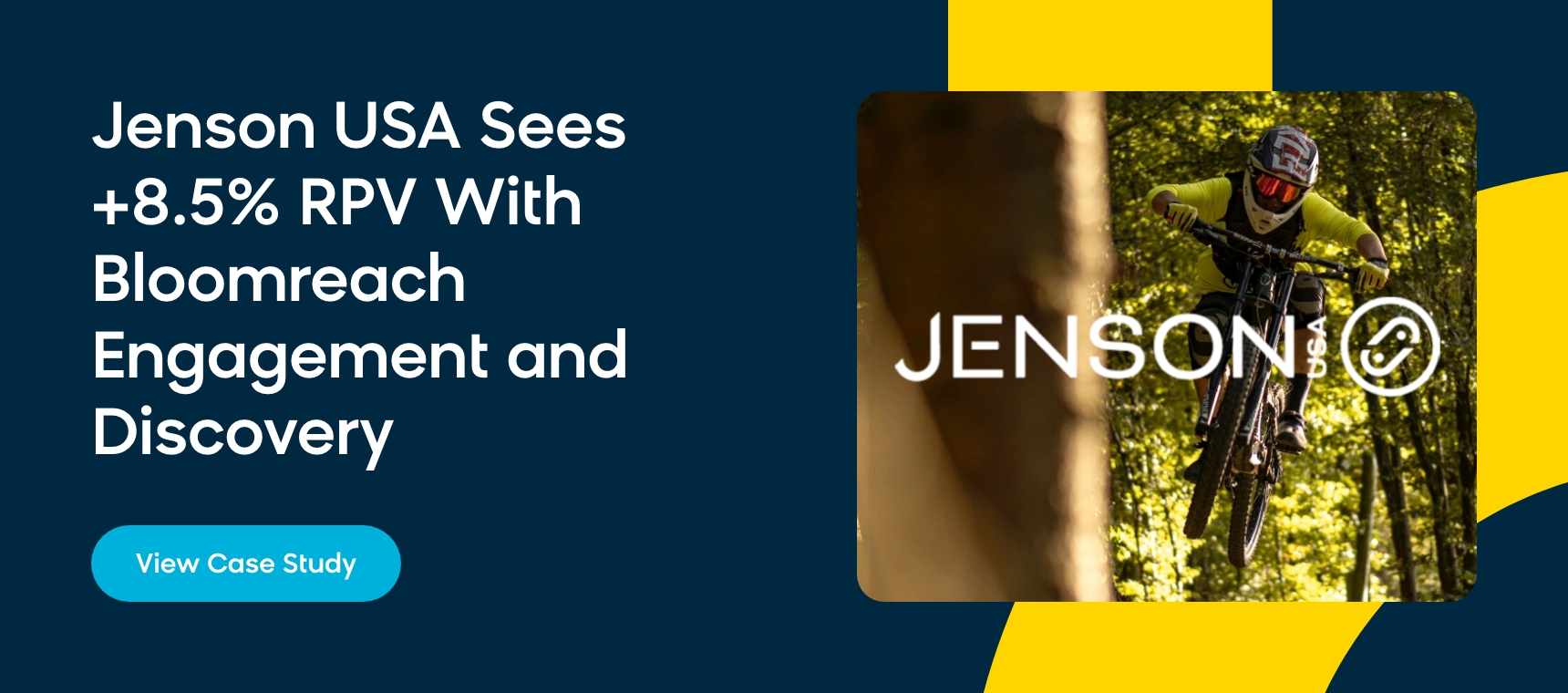 Hornby Hobbies
UK-based hobby and toy brand Hornby Hobbies had traditionally relied on selling its products through large merchants, local retailers, and model shops, but it wanted to expand into selling directly to consumers. To make this possible, Hornby Hobbies turned to Bloomreach Engagement to unify its customer data in a single customer view, allowing it to create personalized campaigns across all channels. 
Additionally, the company used Bloomeach Discovery to revamp its site search and create a similarly personalized experience that customers would find in a physical store. By bringing omnichannel marketing automation and product discovery into a unified platform, Hornby Hobbies could drive impressive results quickly, including a 34% revenue lift from email campaigns and a 10% increase in conversion rates.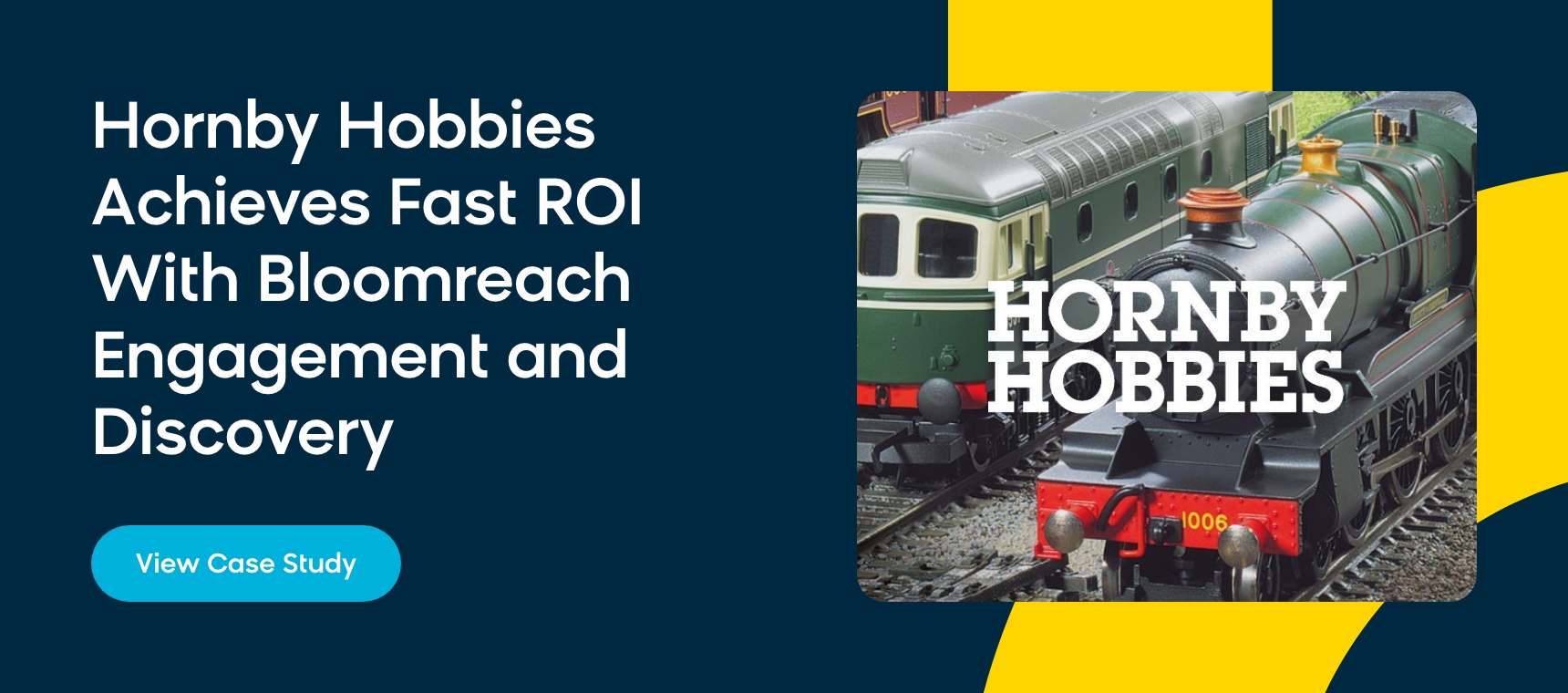 MKM
MKM, the largest independent builder's merchant in the UK, wanted to modernize its digital experience and adopt a B2C approach to commerce. The company faced challenges such as slow load times, costly maintenance protocols, and a subpar digital experience. To address these issues, MKM partnered with Bloomreach to develop a new and improved website.
The company used Bloomreach Discovery for site search, merchandising, and recommendations. Then, MKM used Bloomreach Content for headless content management. To top it all off, the brand also added Bloomreach Engagement to gather the insights it'd need to personalize the purchase journey for modern buyers. 
Instead of having to deal with multiple systems, MKM was able to tackle many of its challenges from a centralized platform, resulting in a 7.9% increase in average order value, 43% greater total web revenue, and a 77% boost in average time on page.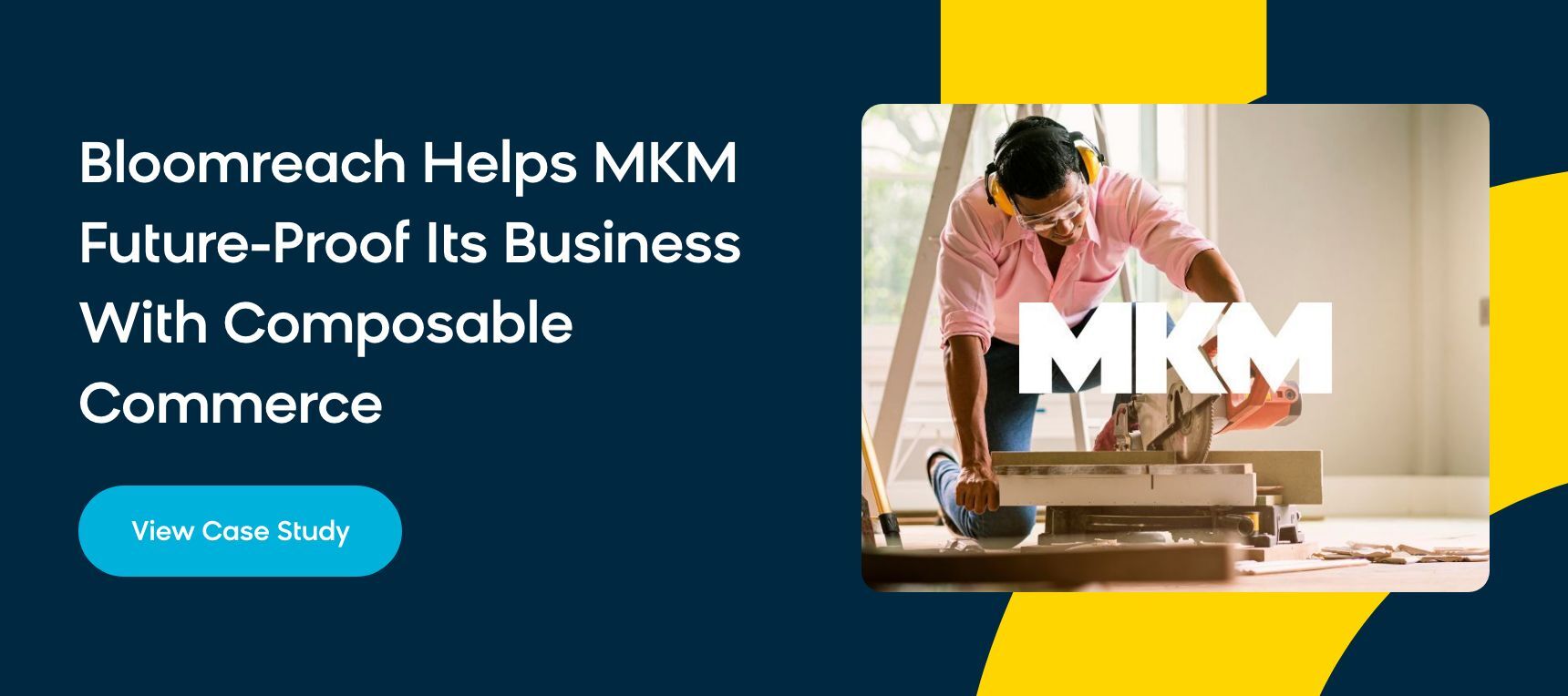 Embrace Unified Commerce With Bloomreach
To make more informed business decisions and drive revenue, you'll need the right unified platform. With the Bloomreach Commerce Experience Cloud, you get everything you need to create a consistent customer experience that's personalized to their needs and wants, including: 
Bloomreach Engagement for real-time and omnichannel marketing automation powered by a customer data engine to unify your data
Bloomreach Discovery for AI-driven product discovery, including site search and smart merchandising, that'll drive faster ROI than any other solution 
Bloomrach Content for headless content management that makes it easy to manage your online store 
Take your next step into a unified commerce strategy that generates results by learning more about how Bloomreach fits into your e-commerce ecosystem.