Customer Data Platform (CDP)
Why the Best Customer Data Platforms Are Failing Marketers
Customer Data Platform (CDP)
Why the Best Customer Data Platforms Are Failing Marketers
In today's digital-first world, a customer data platform (CDP) is essential to the success of your e-commerce business. 
A customer data platform is database software that creates persistent, unified records of all of your customers, their attributes, and their data. The best customer data platforms will easily integrate with your existing data and allow for easy retrieval of the data they store, while also informing every interaction your company has with your customers.
This should open up a world of possibilities for marketers on digital channels. From personalized email campaigns to mobile marketing campaigns that meet your customers where they are, the single customer view created by the best customer data platforms should be a golden ticket for marketers to personalize customer journeys and meet their revenue KPIs. 
But the key word in that sentence is "should." The best CDPs should open up a world of possibilities for marketers and inform customer interactions. An intelligent customer data platform should make offering a personalized customer experience easy.
In reality, this hasn't been the case, especially as the customer data platform market has changed considerably over the past few quarters.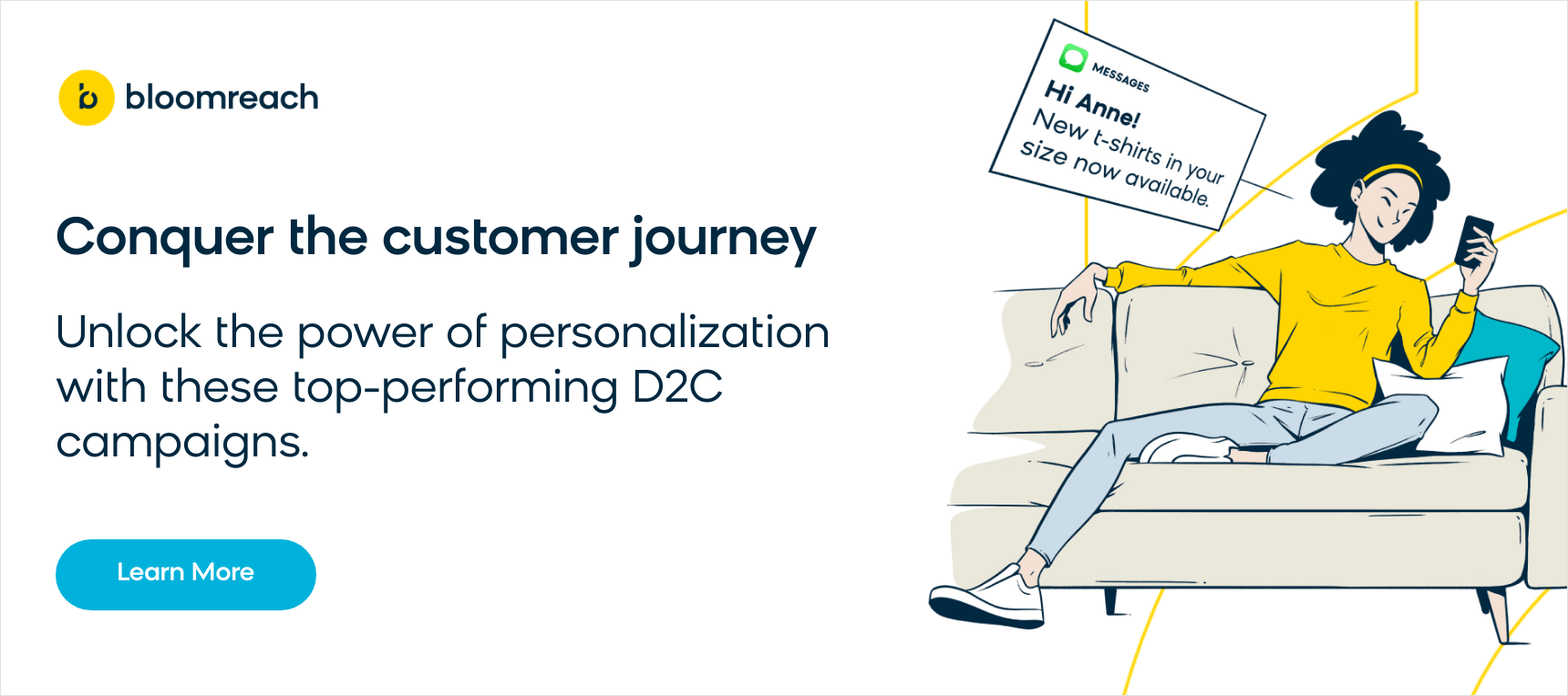 Even the Best Customer Data Platforms Are Abandoning Marketers
Call it a bold statement, a hot take, or a daring assertion…call it whatever you want — but we believe that the best CDPs are no longer helping marketers like they should be. And for what customer data platforms cost companies, that simply isn't acceptable.
Why are marketers getting left behind? To fully understand why, we must first look at just how many competing KPIs there are from those who are invested in purchasing and implementing a customer data platform. There's the: 
Need for integrations — The consideration given to the implementation strategy, speed, and flexibility of the platform. How quickly can the CDP integrate with the existing technology stack? Can the need for outside vendors be minimized and/or consolidated? 
Need for organizational scale — Almost every company is future-proofing its strategy in today's market. Can data be securely stored and centralized for use across the entire organization? What does the platform being considered allow for in the future as the requirements for multiple teams change? 
Need for results — How can teams quickly create email marketing campaigns, activate collected customer data across every channel possible, and manage automated omnichannel flows to personalize customer experiences? How else can the business take advantage of the data and orchestration capabilities of the CDP? How can teams strategize with goals like reducing customer acquisition costs (CAC) and improving retention and customer lifetime value in mind?
When you're in the buying cycle, it can be very easy to over-index on the first two bullet points — integrations and scalability. That's because these are much easier to discern in an RFP. 
But not placing enough emphasis on how marketers will work with the platform every day and how they'll use it to generate results can become a costly mistake. This can lead to choosing a CDP that allows for data collection, integrations, and centralized organizational scaling, but doesn't prioritize revenue-driving results and everyday user efficiency. 
This is where many CDPs on the market today are losing marketers. Driving revenue and the ability to assess those results should be the most important function of the best customer data platforms — but is far too often overlooked in favor of technical needs and concerns.
After seeing the shift in the CDP market since the explosion of digital commerce during the "great acceleration" period of 2020-21, Bloomreach wants to highlight the key capabilities that have helped hundreds of marketers get back in control of their KPIs, regardless of what customer data platform they're using. So, we're giving it a name. 
Introducing the secret driver behind Bloomreach's powerful omnichannel marketing platform: our customer data engine.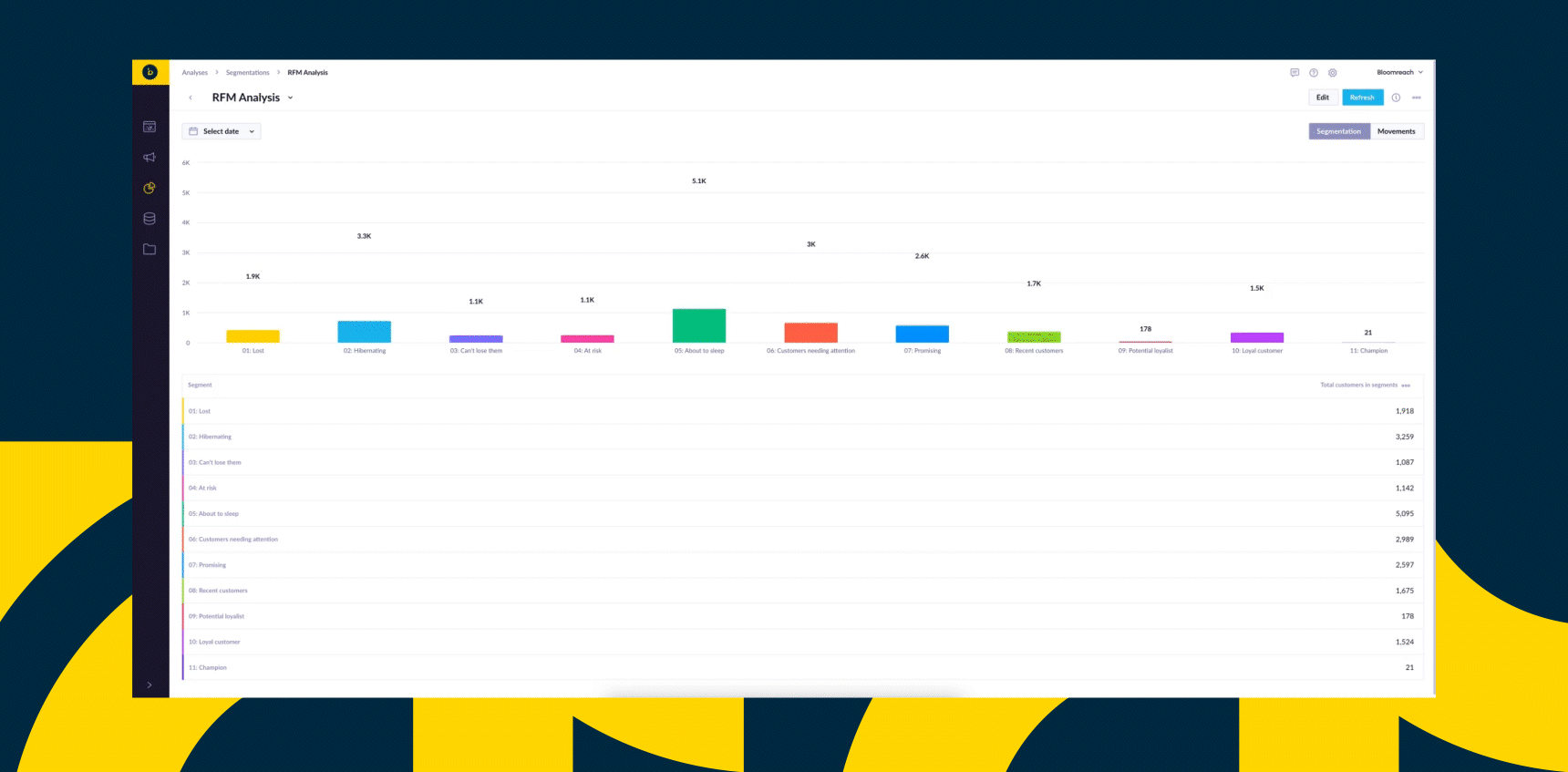 Why the Best Customer Data Platforms Alone Cannot Help Marketers
Marketers want a CDP for three main reasons:
Even the best customer data platforms in the market have fallen short because they do not emphasize or even facilitate all of the above. The definition of a CDP has significantly evolved in the last five years, to the point where CDPs have begun to function primarily as a data warehouse or a data pipeline. This means marketers lose the ability and freedom to do their jobs to the best of their ability. 
In other words, what works well for IT isn't guaranteed to work well for marketers.
Bloomreach recognizes this as a gap and has built marketing automation products on top of an engine that facilitates meaningful e-commerce personalization within a single platform — all without having to depend on your technology or IT team on a daily basis. 
The scope and scale of personalization that is achievable with Bloomreach cannot be met by just bringing in a CDP to attach to your point solution email service provider (ESP) or SMS provider. This is because neither can provide answers to the fundamental questions of retaining customers, getting repeat purchases, and driving incremental revenue: Why is my customer shopping? Where do they engage with me? Where do I lose them? Where should I be investing my marketing budget? 
Bloomreach is the only marketing solution that combines customer data, 13 marketing channels, analytics, and AI in one integrated platform. Our customers have achieved a 800% increase in ROAS, a 40% increase in revenue from email, and a 99% email deliverability rate by tapping into the power of data and customer insights. And the vast majority of them have done it without bringing in a separate CDP.
The key reason is the underlying customer data engine that powers all Bloomreach's email, SMS/MMS, mobile app marketing, and web personalization.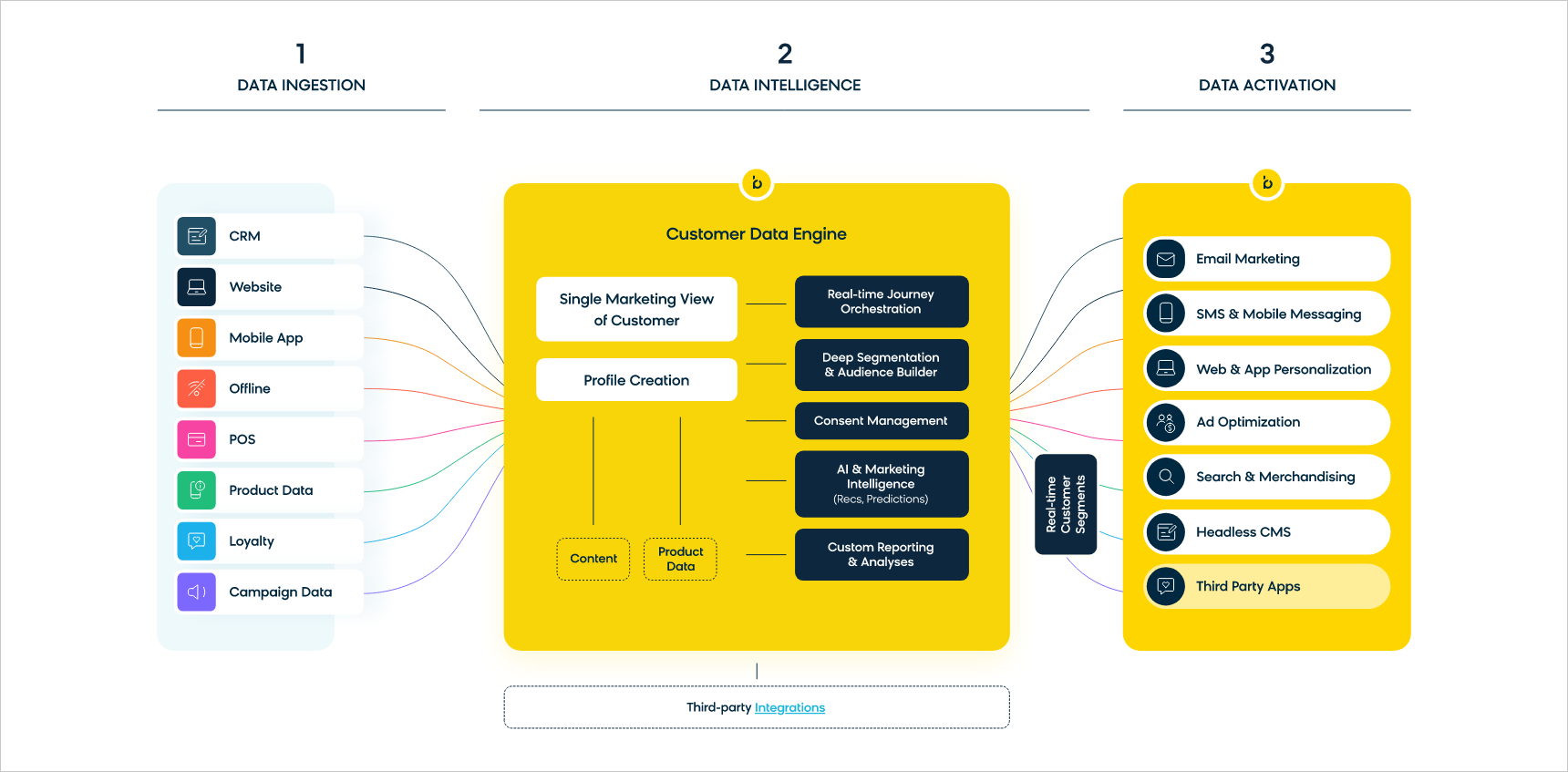 Our customer data engine is the powerful data core that drives all our products. It brings together customer data platform capabilities and advanced analytics, and it's this combination that enables marketers to understand their users' journeys in real time and create personalized marketing campaigns that drive results. 
Essentially, Bloomreach puts customer data in the tools you use every day, making it easy for marketers like you to start with a deep understanding of the customer, then quickly generate incremental revenue and hit your KPIs. 
Activate Your Data With Bloomreach's Customer Data Engine
The best part about our customer data engine? It's ready to work with your existing data infrastructure. 
If you already have a CDP, data warehouse, data lake, or something similar, our customer data engine will allow your marketers to realize the full potential of all that data by visualizing and activating data in a marketer-friendly way for orchestration, execution, and analysis. 
Our customer data engine can power your digital touchpoints and be utilized by your marketers to better understand your customers and to maximize the ROI on your e-commerce personalization efforts.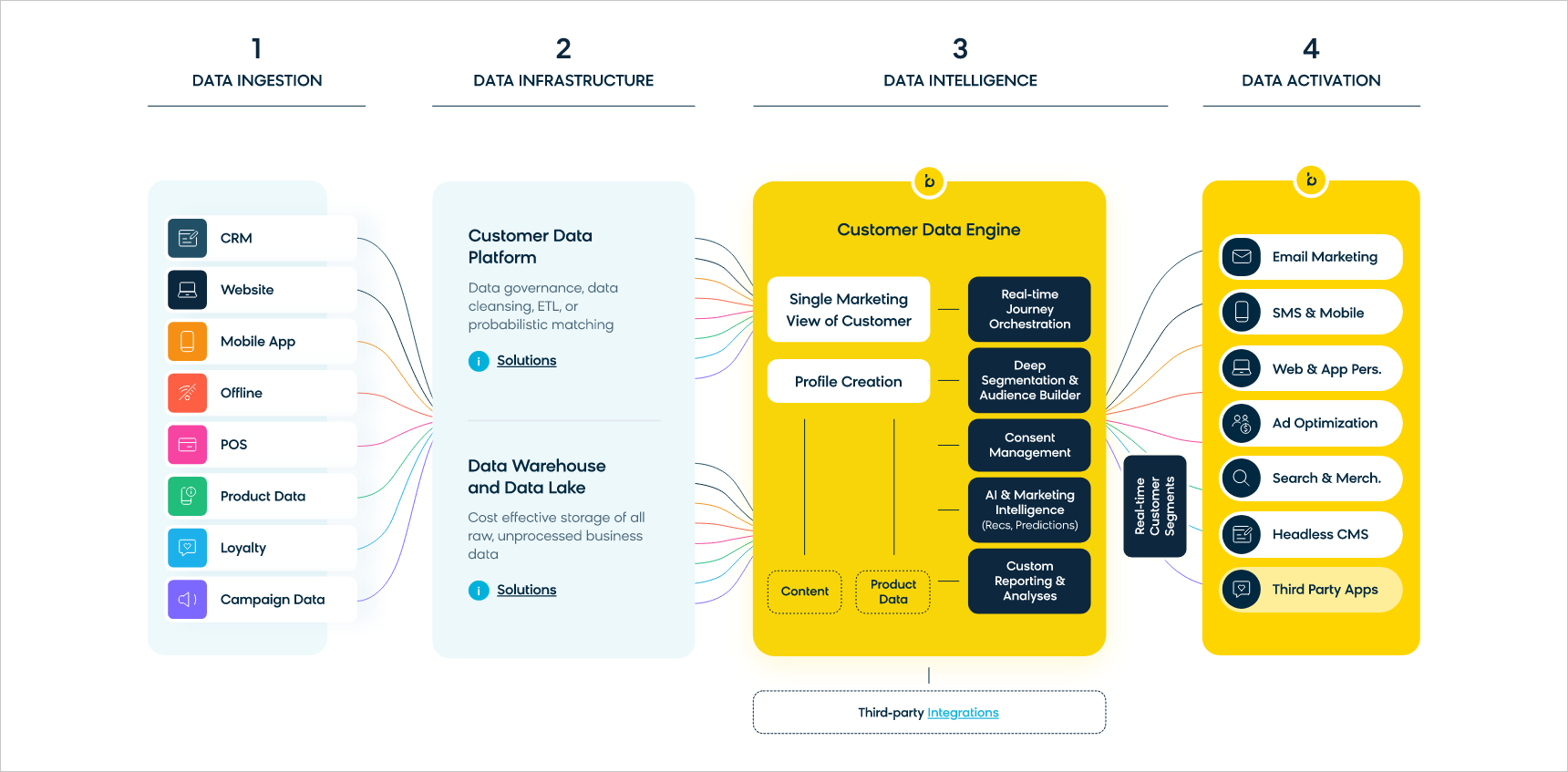 You may be thinking that your existing technology can already collect customer data, but ask yourself an honest question — are you really happy with the marketing insights it's offering you? 
It's time to open up a whole new world of possibilities and rejuvenate your campaigns with the help of the following six capabilities in our customer data engine. 
Single Marketing View of the Customer
The single customer view created by our customer data engine spans past data, up-to-the-millisecond interactions, and predicted future behavior. This access to unified customer profiles facilitates effective cross-channel campaign management.
It also helps marketers better understand their customers, so they can make informed decisions about what campaigns to run or next steps. This compilation of actionable customer data allows marketers to be able to predict customer journeys and drive measurable revenue impact as a result. 
Segmentation and Audience Builder
Build your customer segments and audiences using real-time data to ensure that your customers never receive communication that's outdated or no longer relevant. 
Our customer data engine allows marketers to go even deeper with custom attributes that can be computed within the platform — this way, a combination of multiple customer properties can be used to create highly relevant segments that are constantly updated in real time. These segments are tightly integrated with your marketing channels, so your customers are getting the right message, at the right time, on the right channel. 
Real-time Journey Orchestration 
Real-time journey orchestration now truly means "real time." And that's just what you need to craft the optimal customer journey for your brand loyalists.
Capture and visualize insights from data the moment you need it. Our event-based data model allows marketers to dig as deep as they want, whether it's a high-level overview or deep analyses of reports, cohorts, custom metrics, and other dashboards. This allows for the uncovering of previously unseen trends thanks to identity resolution and profile stitching across devices and data sources. 
Advanced AI and Marketing Intelligence
Transform the customer experience with real-time product recommendations in email, SMS, or on your website for either returning customers or first-time visitors. 
Yes, that said first-time visitors. Our customer data engine uses in-session customer behavior to offer personalized product recommendations to customers as they browse your site. This powerful approach ensures that all of your visitors get a personal touch, even if it's their first interaction with your brand. 
Consent Management and Frequency Policy 
Centrally manage your company's consent management process across all channels. This includes defining your consent categories based on a lifetime overview of consent history. 
Marketers can also centrally manage messaging frequency based on customer engagement with our smart frequency policy to ensure your customers are hearing from you when they actually want to. 
Security and Compliance Support  
Our customer data engine offers the security and compliance support you need to ensure stability in the marketplace. Your team can create, send, test, and analyze campaigns from a single user-friendly interface — securely. 
Let Bloomreach's Customer Data Engine Reignite Your Marketing 
If you're looking to improve your e-commerce marketing automation and generate more revenue, simply getting a customer data platform will no longer solve your problems. CDPs are no longer all created equally because they don't have the marketer in mind. 
You need to think beyond the CDP if you hope to personalize your customers' experience and increase customer lifetime value with your brand and achieve your KPIs. Without the power of a customer data engine, even the best customer data platforms on the market will fall short for marketers.
If data unification, more effective personalization, and improved efficiency are priorities for your marketing strategies, then you need to activate the power of your data with our customer data engine. 
Schedule a personalized demo of Bloomreach Engagement to see the only customer data platform on the market that powers personalization with a customer data engine.