B2B Insights
How B2B Distributors Can Use Bloomreach Discovery To Improve Search
B2B Insights
How B2B Distributors Can Use Bloomreach Discovery To Improve Search
For B2B distributors to stay competitive in the modern landscape, it's crucial to adopt an AI-driven search engine. That's because your buyers are increasingly seeing personalized and seamless experiences in their personal online shopping, and they expect the same experience when it comes to buying for B2B. It's no longer acceptable to coast on "how things were always done" — you only have a few chances to prove yourself to your buyers before they bounce to a competitor. 
That's where a solution like Bloomreach Discovery can be pivotal to your distribution business. With industry-leading AI that can intelligently parse complex B2B search queries right from the start, you can create exceptional buying experiences that drive faster ROI. In this post, we'll share some Bloomreach Discovery features that can significantly improve your site search. 
Deliver Accurate Results With Numeric Precision 
One of the reasons why B2B distributors have had trouble creating B2C-like experiences is because of the sheer volume and complexity of their products. Not only are distributors serving a wide range of industries, but each buyer has very specific needs depending on their role and the application of the product they need. For example, if someone's searching for a ¼ inch drill bit,  ¾ inch wire, your search needs to understand that "¼ inch" is the diameter, while "drill bit" is the product. At the same time, not everyone searches in the same way, and this is where most search engines fall short — they have trouble understanding that "¼ inch drill bit" is the same as "¼" drill bit," "one-quarter inch drill bit," or even "E drill bit."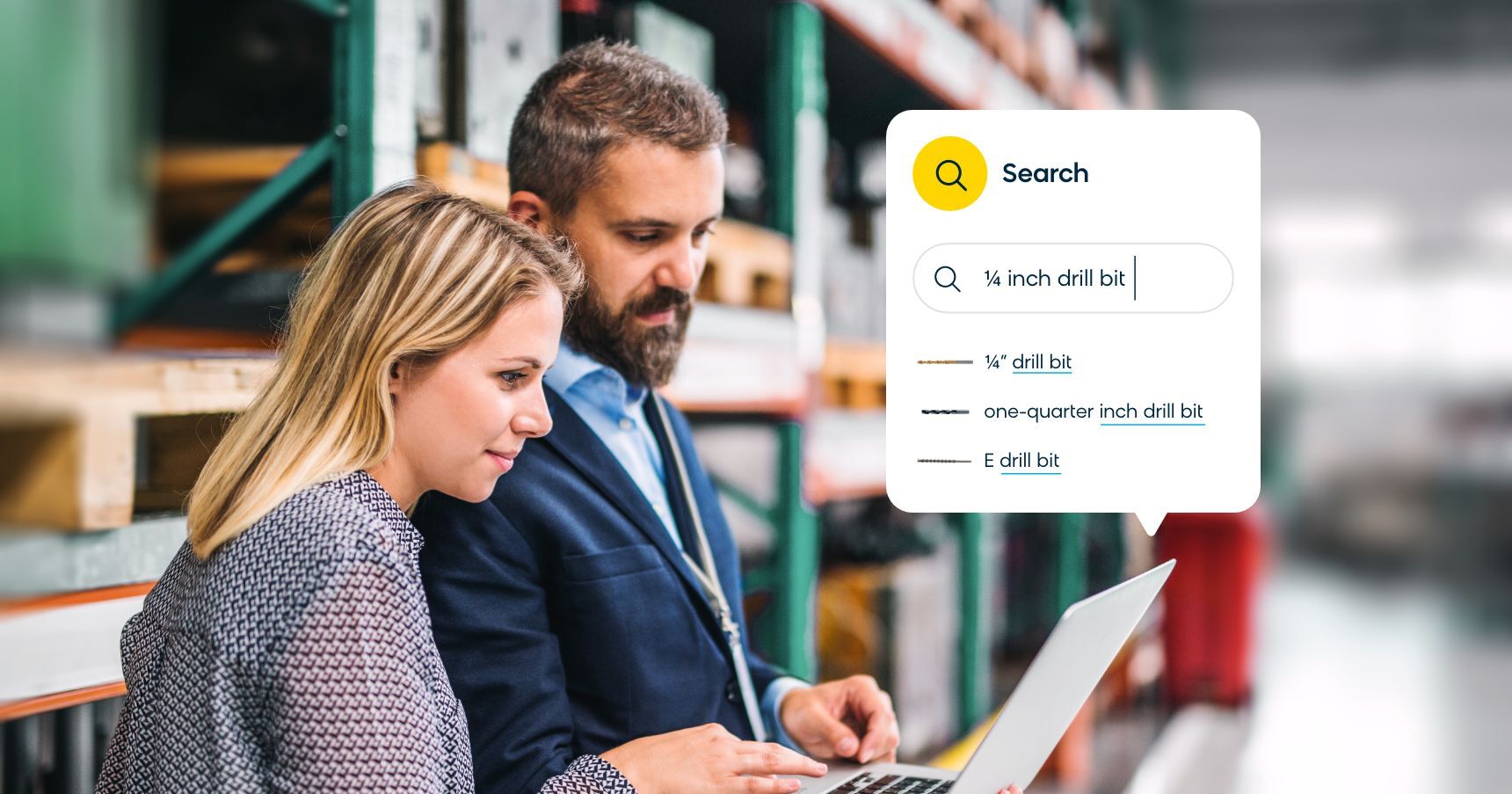 With Bloomreach Discovery's numeric algorithms, which use natural language processing (NLP), your site search can automatically understand numeric product attributes — no matter how they're written (like in the wire example above). Not only that, but our algorithms support both English and non-English languages, so they know that "2.5mm" is the same as "2,5mm." 
Automatically Personalize Product Images With SKU Select
Even after delivering relevant results, you can take semantic understanding even further with Bloomreach Discovery's SKU Select feature. When a buyer searches for certain terms, you can use our dynamic SKU ranking algorithms to optimize a search recall set at the SKU level, helping to automatically display the correct product. For example, if someone searches for "neon yellow safety vest" and a particular SKU has three different colors, the product shown first will be for the neon yellow version.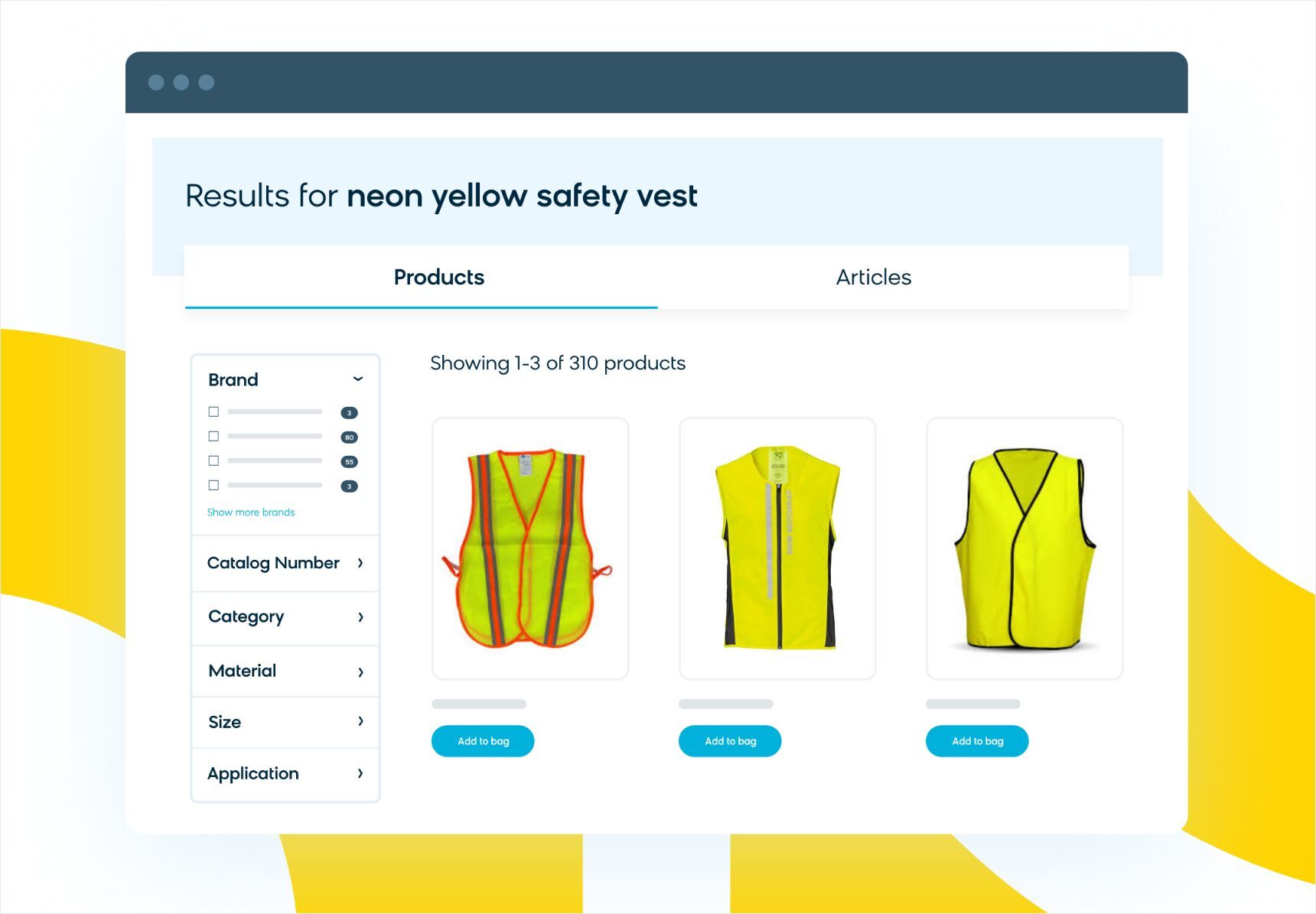 This can also apply to filters that your buyers set (e.g., compatible material, specifications met, and coating/finish) — SKU Select will automatically prioritize filtered options and show them at the beginning of the results set. This may seem like a small thing, but that extra touch of personalization can have a big impact on how your buyers perceive your brand and how well you understand their business.  
Streamline Product Discovery With Group Merchandising 
As a B2B distributor, you likely have a lot of SKUs to manage. To make your product manager's lives easier while also giving your buyers a more intuitive browsing experience, you can use group merchandising in Bloomreach Discovery. 
Essentially, this feature uses dynamic grouping to group similar products together based on attributes of the product (e.g., brand, cut type, color, size, etc.). Try using different groupings to maximize the effectiveness of your search — for example, you can group by sub-category on a category page, and then group by price on a search page. Or, you can create a table display to give buyers all the information they need in one spot. 
With group merchandising, you make it easier for buyers to discover the items they want instead of scrolling through millions of products. Plus, if you notice a certain product group performing well, you can always boost specific groupings to the first position to increase sales. 
Bring Personalized Search to B2B With Bloomreach Discovery
In this day and age, you can no longer get away with delivering subpar online search experiences. If you want to make the B2C touch possible for your B2B company, you'll need a tool as powerful as Bloomreach Discovery. With over 10 years of learnings across every industry, we already know how to address the most prevalent challenges that B2B distributors face. 
It's time to create a B2B search engine that allows you to compete on experience in an increasingly digital landscape. Get a firsthand look at how Bloomreach Discovery can drive real impact for your bottom line by scheduling a demo today.