E-Commerce Site Search and Merchandising
Creating Immediate Value With Real-Time Segments in Bloomreach Discovery
One of the big challenges merchandisers face is wanting to personalize their site — especially product grids and search — but not being able to do it in real time (while delivering tangible results). That's partly due to a fixation on 1:1 personalization, which can end up hindering your merchandising effectiveness: 
That's where real-time segments in Bloomreach Discovery come in. This feature gives merchandisers the ability to define, adjust, and use behavior-based segments to personalize all product grids — even for first-time visitors — to boost revenue per visitor (RPV). 
In our September best practices webinar for Bloomreach Discovery, we explored this feature in detail. Read on for the key takeaways from the webinar. 
An Overview of Real-Time Segments
Real-time segments is a feature that allows you to personalize your site's product search, category, and pathway results in real time based on customer demographic and behavioral data. It's based on a website pixel that can connect with your existing data infrastructure if needed. And, thanks to Bloomreach's customer data engine, you'll get a single customer view, real-time segmentation, and customer analytics and reporting. 
For example, let's say a person searches for "red dress" on your site. Typically, all users would see the same red dress as the top result. But with real-time segments, you can separate each segment (e.g., deal hunter, premium, trendsetter) so that each segment sees a different top result.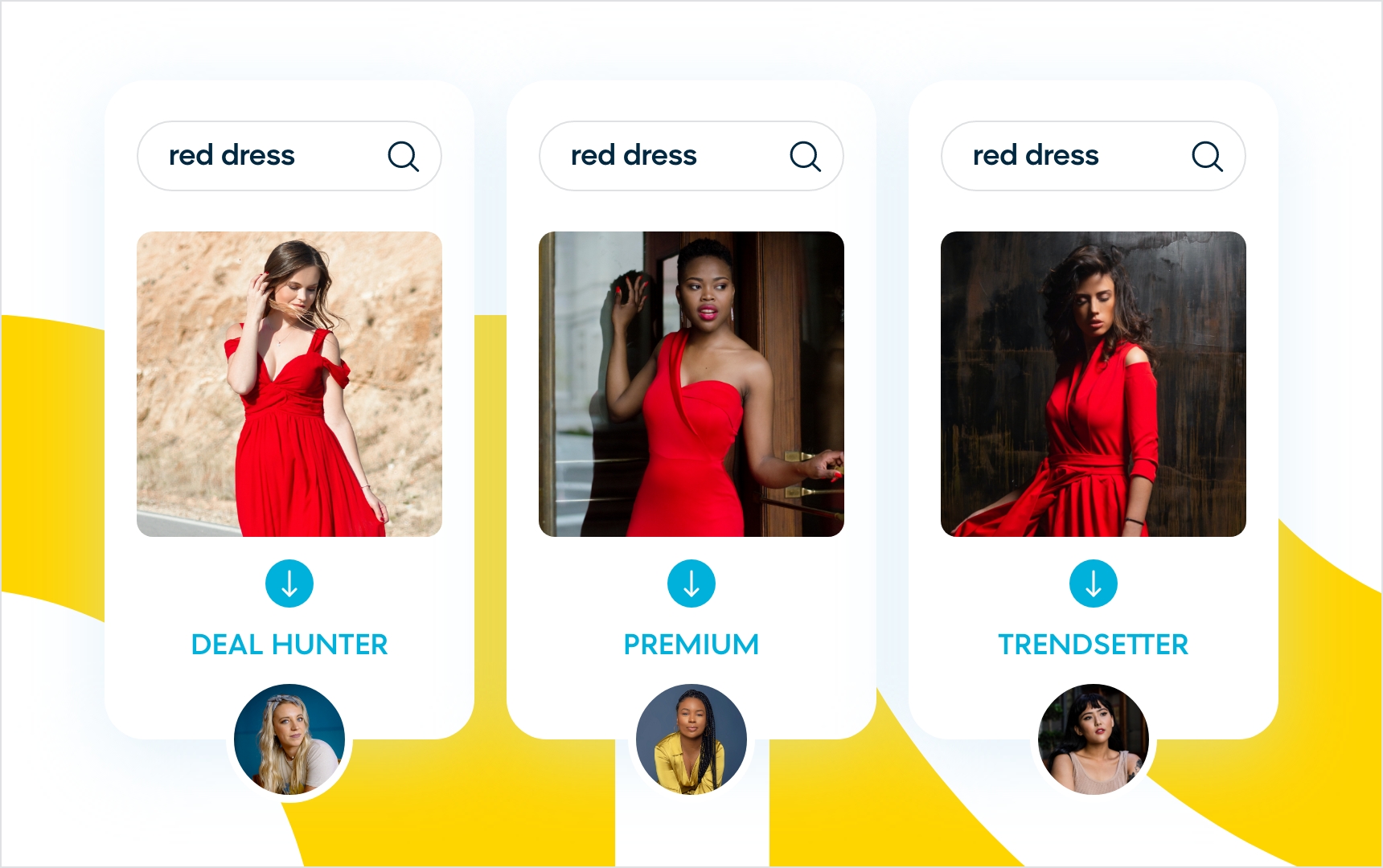 Important Considerations
But before jumping straight into real-time segments, there are a few important definitions you'll need to set first: 
What are your customer profiles? 
Which events are the ones that matter most? 
You can use this template to go through an exercise with your team and figure out how you want to segment your customers. You should start by discussing your personalization goals and customer problem statements — a good starting point is answering the question, "What does my best customer look or act like?"
Then, you can identify important events or attributes in your customers' journeys. What are the moments that matter, and how can you capitalize on that excitement? For example, if there's data showing that people who buy three times on your site will purchase much more often, then your goal is figuring out how to convert one-time buyers into three-time buyers. From there, you can define KPIs and provide outputs to inform your customer segments. 
At the same time, it's crucial to not create too many segments. Having too many segments means some will be too small to be ideally served. After all, personalization needs data to be effective, and small segments means you're not gathering enough data to ensure the algorithm works properly. Quality is more important than quantity here. 
Understanding How Real-Time Segments Work in the Back End 
Peeking beneath the hood of Bloomreach Discovery, whenever someone visits your site — even if it's their first time — an anonymous customer profile is created in the back end. If the visitor ends up creating an account on your site, then this initial data will be merged with that profile. 
These profiles are the heart of real-time segments, and provide invaluable insights into your customers. For example, let's say a first-time visitor searches for "chairs." Their initial results will be a hodge-podge of results because there's no data yet — they'll see both cheaper and higher-end chairs of a variety of styles (typically the top-selling results in the category).
But if the user clicks on a cheaper chair, then the customer profile will update to reflect that, and if they search for "chairs" again, they'll see more tailored results, with lower-priced chairs showing up first on the page.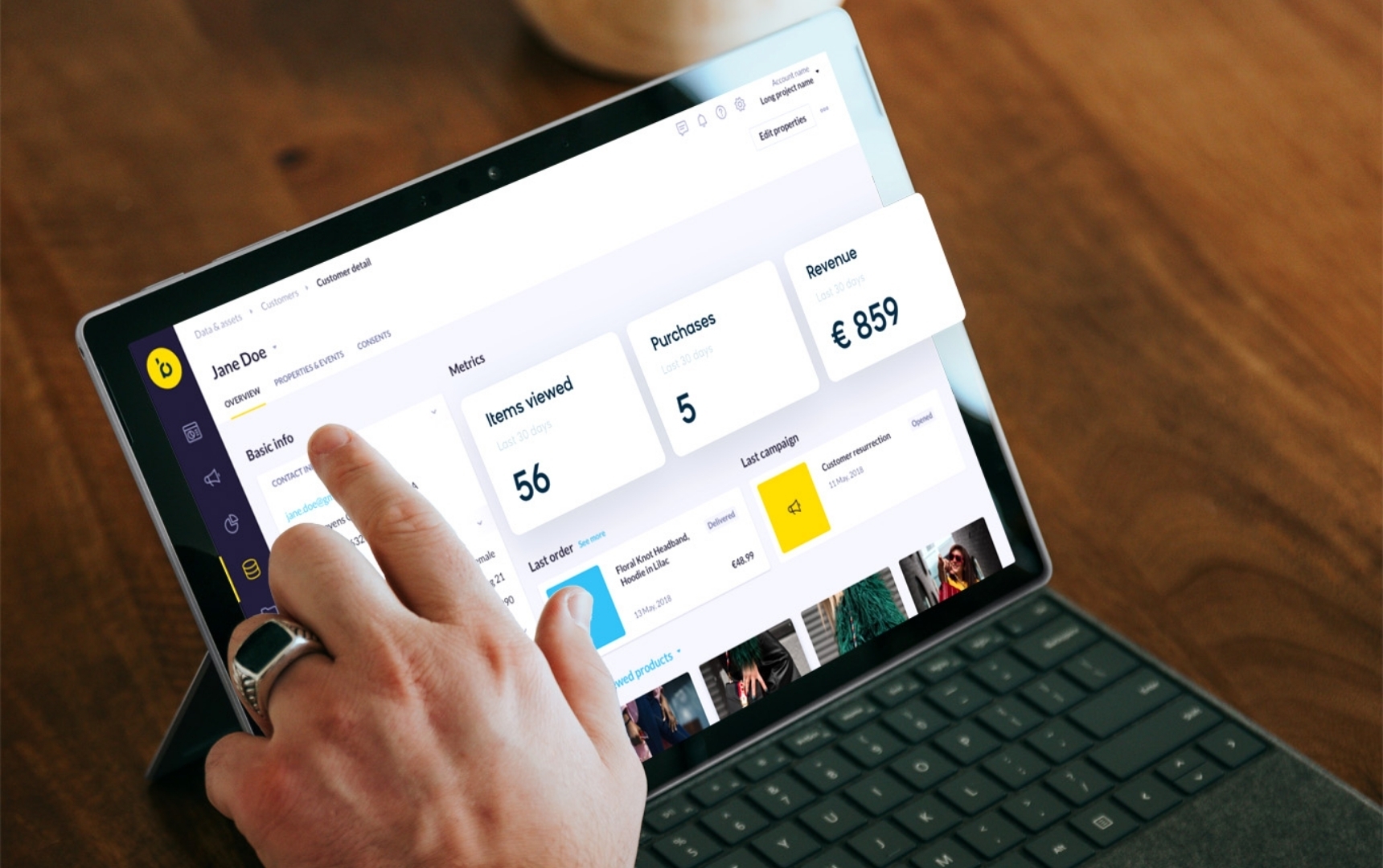 You can take this a step further by exposing segments to Bloomreach Discovery. This locks segments in place so that the algorithm can learn what these segments are doing over 30 days. Then, the algorithm can automatically rerank results based on these learnings. 
This is useful for informing your merchandising strategies. For example, let's say you learned that your premium shoppers have a higher average order value (AOV), but a lower conversion rate. You can then trigger an automatic campaign whenever they purchase a premium product, where they receive a tailored thank-you offer for their next purchase with an expiration date. 
Deliver Personalized Search With Bloomreach Discovery 
With Bloomreach Discovery, you can use real-time segments to immediately personalize your site experience — even for first-time visitors. This is made possible by Loomi, our industry-leading AI built for commerce, which is built on 14+ years of e-commerce data, resulting in the fastest ROI of any product discovery solution on the market. 
To see real-time segments in action, watch the on-demand video from our September best practices webinar. Or, to experience the power of AI-driven product discovery yourself, schedule a personalized demo.