E-Commerce Site Search and Merchandising
How to Delight Your Customers and Sleigh Your Seasonal Goals With Bloomreach Discovery This Year
By Roxanna Couse
09/19/2023
E-Commerce Site Search and Merchandising
How to Delight Your Customers and Sleigh Your Seasonal Goals With Bloomreach Discovery This Year
For the general public, the holiday season becomes top of mind as the leaves change color and children head back to school — but for folks in retail and e-commerce, it's a year-round source of anxiety. After all, it's up to you and your teammates to deliver a seasonal shopping experience that delights customers and accomplishes lofty holiday revenue goals, while also ensuring smooth search and merchandising operations. No pressure. 
But, if you can get it right, the holidays offer a chance to exceed customer expectations, crush targets, and ultimately win big. We're here to help you do just that. In this guide, we're sharing six ideas Bloomreach Discovery users, yourself included, can implement to delight customers, increase revenue, and stand out from the competition this peak season. 
Prepare to sleigh the holidays!
Curate Holiday Gifting Pages
The holidays can get hectic, so you can't expect your shoppers to browse through your entire product catalog to find what they're looking for.
This year, we recommend using Bloomreach Discovery's sequential lock operation. Sequential lock helps to ensure a relevant search experience for your customers by recalling the most accurate product results. Our algorithms optimize the ranking and recall of products continuously but sequential lock allows you to tailor your product grid experiences in a way that elevates the look and feel of your category pages. 
With this operation, you can sequentially define the position of a range of products in your product grid. You're empowered to create an aesthetically pleasing category or search experience where every product has been strategically placed according to the goals you are trying to achieve. 
The products placed outside the sequential lock can be ranked algorithmically or boosted/buried accordingly. This allows the merchandiser the best of both worlds — flexible curation for eye-catching product display and a self-learning algorithm ranking that targets KPIs. 
Curated pages can serve as a powerful merchandising strategy for your business to provide an effective shopping experience through engaging and versatile pages. By thoughtfully curating products to create a themed collection page or a targeted campaign page, you can create a much more immersive experience, and build brand loyalty, and establish a connection with your customers.
One last tip — don't forget to review the performance of last holiday season's curated page. This will help you understand what worked, what didn't work, and how exactly to deploy your strategy and on which pages. 
Drive Cross-Sells With Personalized Product Recommendations
There's nothing quite like the in-store experience…unless you offer personalized recommendations online. 
By providing personalized product recommendations on home pages, category pages, and product pages, you ensure that every customer's shopping experience feels just as seamless as when they go into a physical store. 
One more strategy for cross-selling? Curating a widget at online checkout that promotes a small add-on buy — or a stocking stuffer — to put the cherry on top of the original purchase.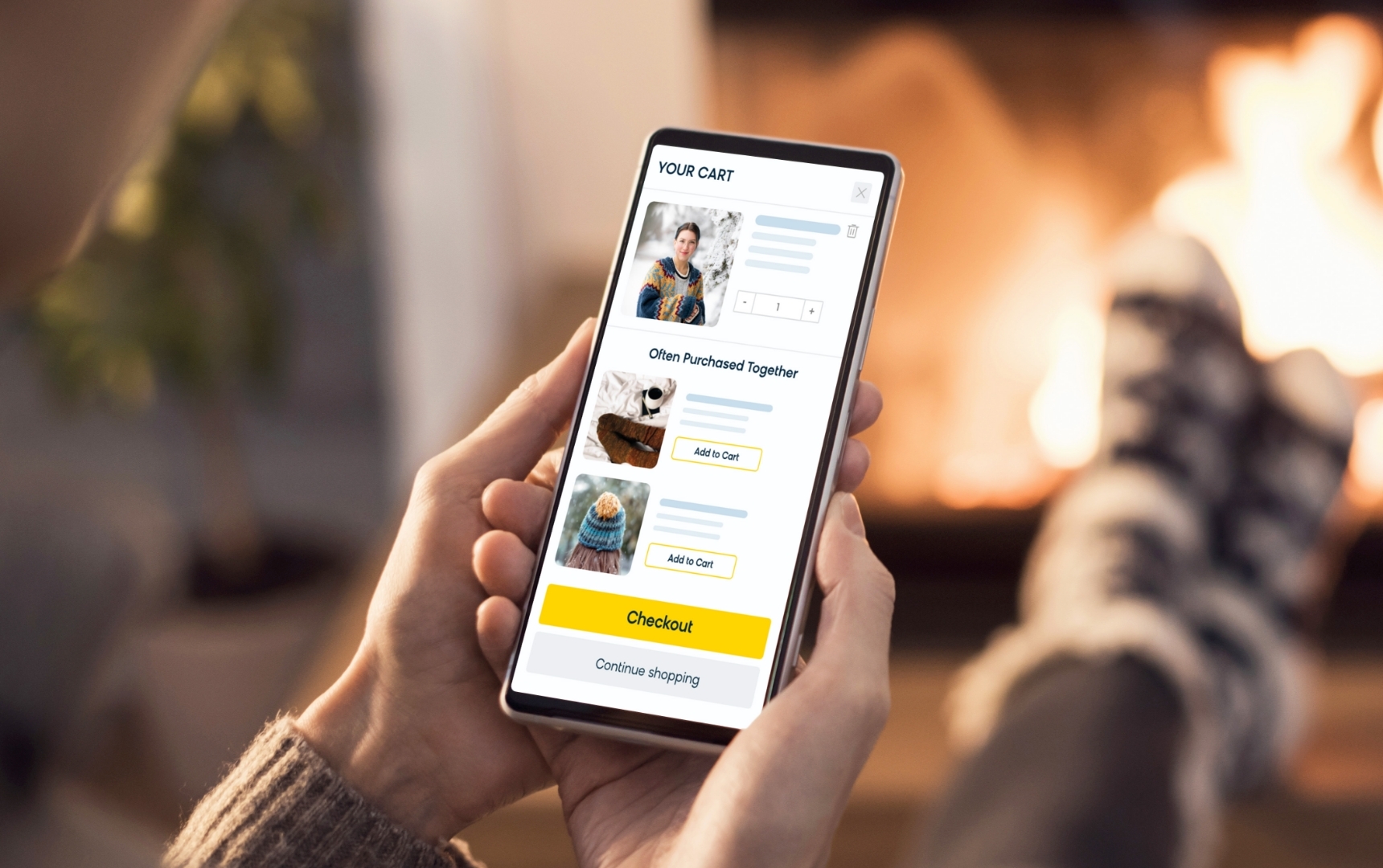 Meet Business Needs With Strategic Merchandising
With the right merchandising strategies (i.e., freeing up your merchandising team's time to focus on the 20% of critical tasks), you can make it so your product pages pull in a lot more business for you this holiday season.
You'll want to:
Take advantage of the product grid by boosting new arrivals, "special buys" or deals for the season and burying or blocking out-of-season and out-of-stock products 
Look to the Bloomreach dashboard for insights on the trending and top-selling products in your catalog, and organize your product grid accordingly
Get ahead of the holiday rush by scheduling the rules so that you're better prepared when all these campaigns launch (plus, you'll save yourself some stress!)
Offer an Omnichannel Experience
Above all, you'll want to offer a seamless, unified experience across all of your shopping channels to make holiday shopping as enjoyable for your customers as possible. 
With so much competition in the e-commerce space, the less seamless (and painless) you make shopping online, the more likely the shopper will stick around on your site to make a purchase. 
For example, if a consumer sees that a product is out of stock at a certain location, you can add distance-based filtering and the ability to search across multiple locations to indicate which other local stores have the item in stock. You could also offer a BOPIS (buy online, pick up in store) option in case customers don't want to wait for shipping times.
Additionally, using Bloomreach Discovery's managing banners, assets, and campaigns capability, you can add "shipping cut off date" banners and links to extended return policies. This makes the online shopping experience more friendly for the consumer.  
Create Urgency and Anticipation
While we mentioned the holidays being hectic and stressful, that doesn't mean you shouldn't inject a little urgency into your e-commerce experience
to get shoppers to act. 
There are all kinds of tactics you can deploy to drive conversions using Discovery alongside a CMS solution like Bloomreach Content.
Here are some examples:
Add timers to let people know when a deal is expiring
Use countdowns to build anticipation for upcoming promotions
Communicate scarcity (e.g., "only 10 left") to let interested shoppers know if they should act fast
Push clearances and sales when applicable — don't only promote new arrivals
Showcase the unique services, shopping channels, and policies that set you apart from competitors (e.g., rewards/discounts from using the mobile app, free shipping, free exchanges and returns, etc.)
The key here is to entice customers to keep moving further down the path to purchasing, so try out different combinations of these tactics to see what
Segmentation and Personalization 
If there's ever a time of year where personalized search is important, it is peak season. 
Real-time customer segments with Bloomreach Discovery will allow you to personalize the product search results in real time based on customer demographic and behavioral data. This capability combines Bloomreach Engagement's rich customer data and Discovery's search algorithms for your benefit. 
Since every customer has their own unique needs and wants when using an e-commerce search bar, customers could be searching for the same term but have a different expectation about what results should be returned. Using real-time customer segments ensures your customers are seeing the search results they expect to see when they search with your brand. 
Properly segmenting your customers and then building personalized rankings for each segment can get your company ready to deploy real-time customer segments. This will make sure your shoppers are finding the perfect holiday gift for them this peak season, rather than their neighbor. 
What Was Popular During The 2022 Holiday Season? 
Our Bloomreach Commerce Pulse data is a great indicator of trends worldwide as it is a compilation of information from over 500 e-commerce companies located around the world. 
During the 2022 holiday season, it was obvious to see that fashion was on the minds of shoppers.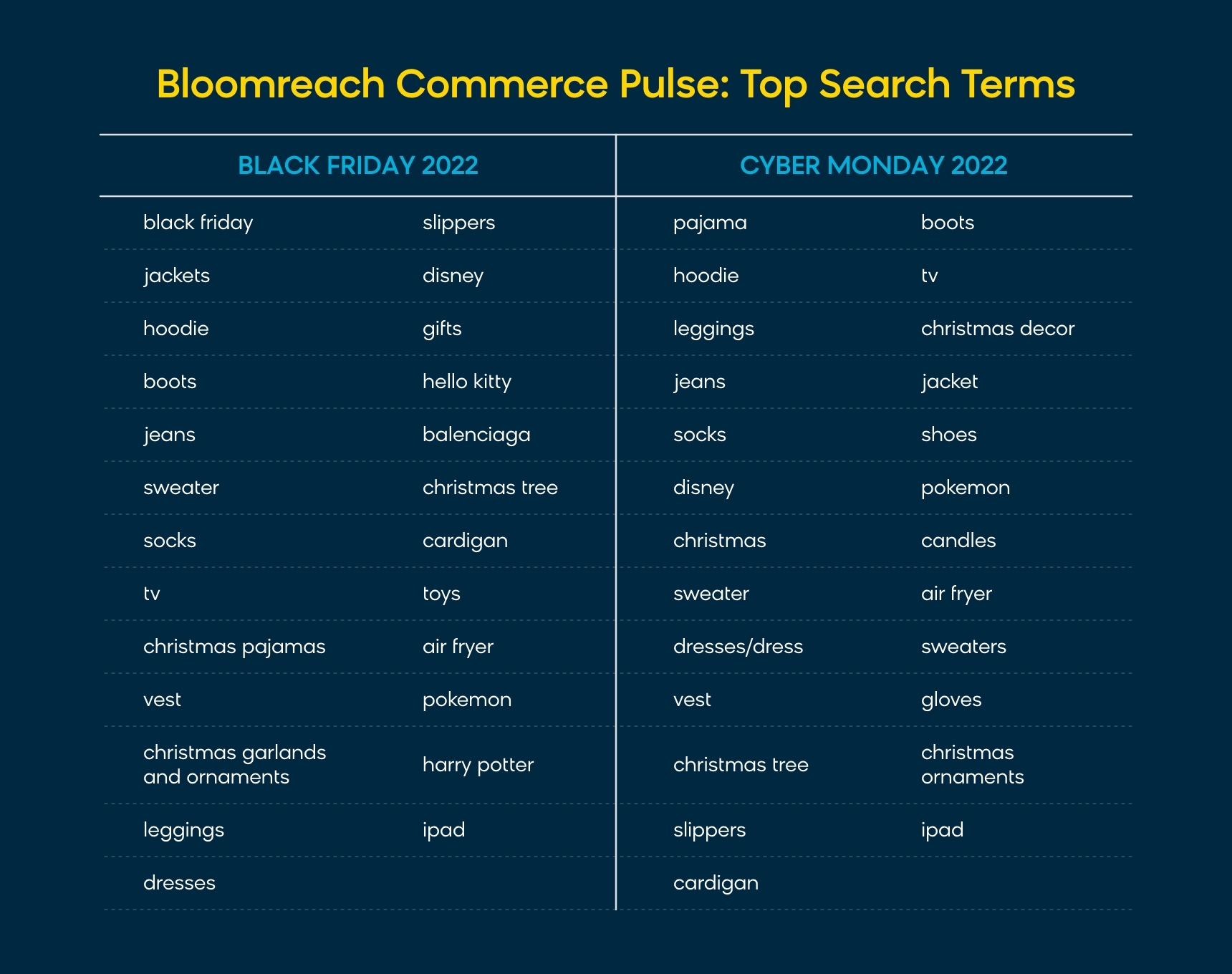 Put Your Ideas Into Action
Feeling inspired? Ready to put these ideas into action? 
Before moving forward, it's important to make sure your house is in order and that you're prepared for peak season from a technical and support perspective. Gift yourself a stress-free peak season by learning about the extra support Bloomreach can offer you and your team in preparation for the holidays, including premium support and performance testing environments. 
If you're looking for more information, you can check our Peak Season Webinar that will help your team prepare for peak season.