Omnichannel Marketing Automation
Best Practices for Using Marketing Automation With Bloomreach Engagement
Omnichannel Marketing Automation
Best Practices for Using Marketing Automation With Bloomreach Engagement
If your team's still running campaigns manually, then you're likely leaving revenue on the table (and giving yourself more work at the same time). That's where marketing automation can help with streamlining processes and automatically running campaigns in the most effective way. And with technological advancements in AI, implementing marketing automation can yield tremendous results for your e-commerce business.
Bloomreach Engagement stands out in the market for its combination of unified built-in customer data, robust reporting and analytics, and intelligent marketing automation capabilities. In this post, we'll share some use cases to help you get the most out of Bloomreach Engagement and drive significant revenue growth for your company.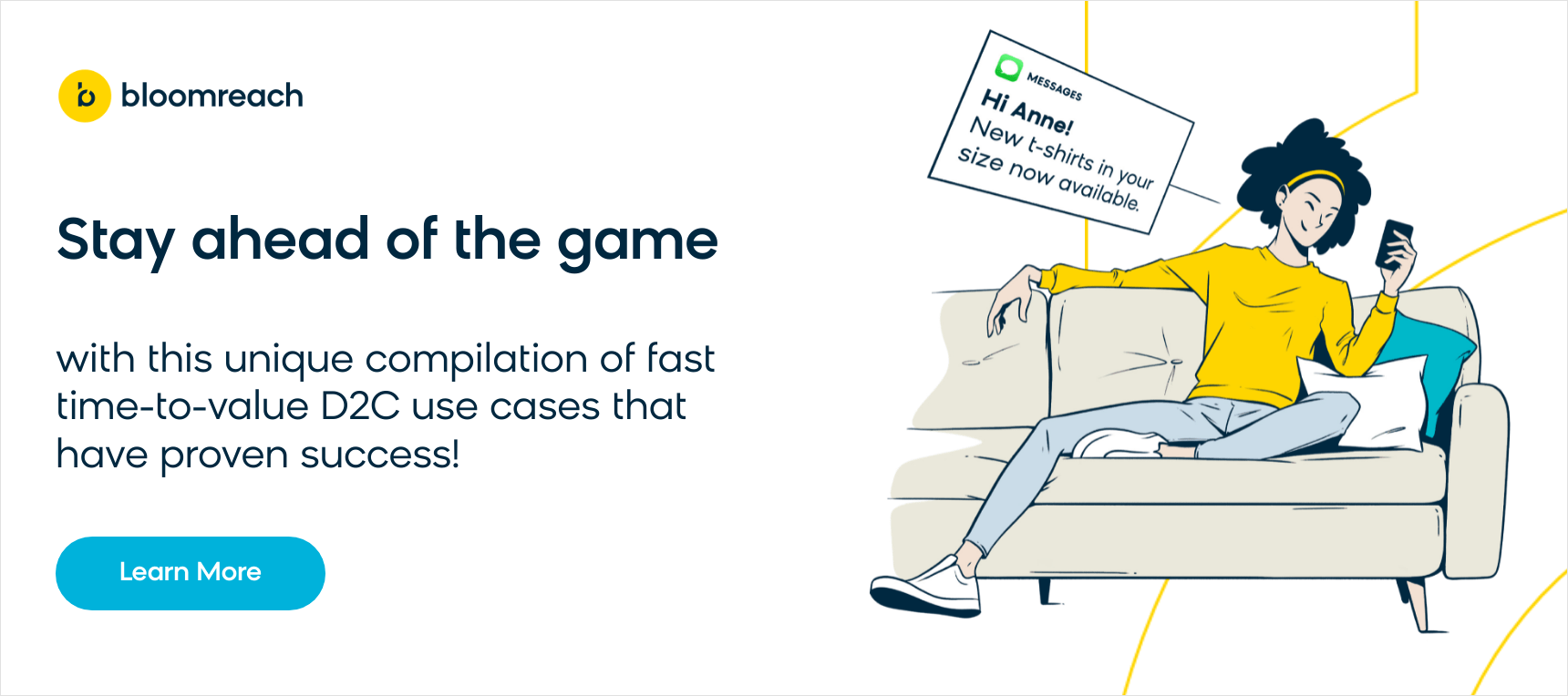 Making the Shopping Process Seamless
Modern consumers want things to just work. They don't want to jump through endless hoops to get what they want or have to dig for relevant information. Here are some ways to use marketing automation in Bloomreach Engagement to make the shopping experience more seamless. 
Automatically Send Order Updates 
After your customers make a purchase, keep them updated to increase engagement and improve the customer experience. At the very least, you should send a message (via email, SMS, mobile push, and/or your website) right after the order is confirmed and another one when the item's shipped out. You can go further and also update the customer when the item is out for delivery and actually delivered. 
Learn more about automatic updates.
Let Customers Know It's Time To Restock 
If your customers are purchasing certain items at regular intervals, you can have Bloomreach Engagement automatically trigger a campaign when it's roughly time to replenish. For example, a cosmetics company can send a push notification reminding a customer to purchase a new jar of cream they previously purchased (with a discount code).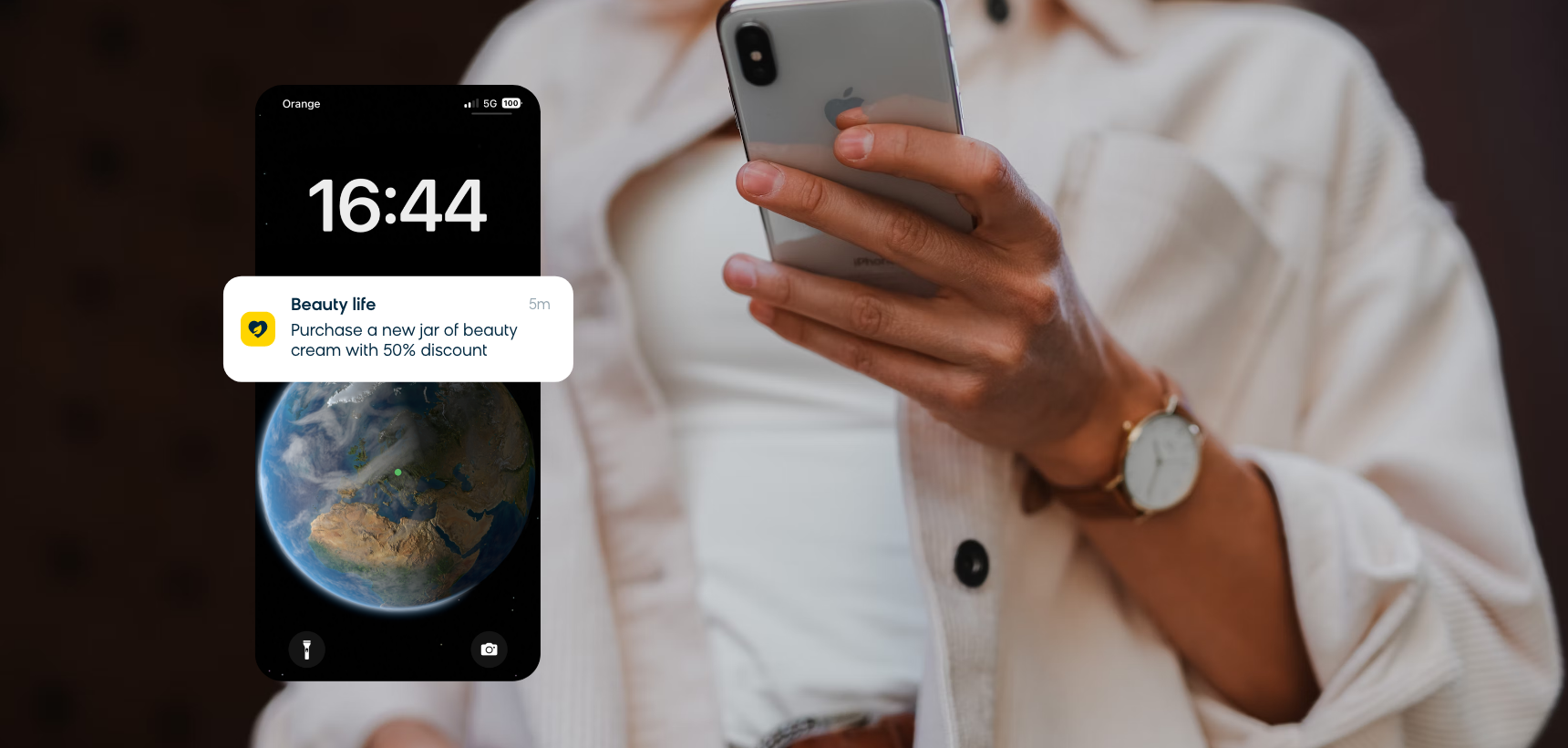 This is a great way to improve customer retention and loyalty, reduce churn, and drive repeat purchases. 
Learn more about replenishment campaigns. 
Alert Customers of Stock and Price Updates
Customers don't want to keep checking back to see if items are available or on sale. Help streamline this process by implementing automatic notifications. For items that a customer has favorited, they can receive an automatic message when the price drops. Or, if that favorited product was out of stock, let them know when it's available again to avoid them jumping to a competitor. 
Learn more about back-in-stock notifications. 
Learn more about price-drop notifications.
Show the Remaining Amount Needed for Free Shipping
If you have a minimum order amount before providing free shipping, automatically display a weblayer (i.e., an on-site banner) letting customers know how much they have to add to their order before qualifying for the benefit. Not only does this help boost average order value (AOV) by motivating customers to add enough value to get free shipping, but it'll also reduce frustrations as customers don't have to wait until they navigate to their cart to see if they get free shipping or not. 
Learn more about free shipping weblayers.
Creating Hyper-Personalized Experiences 
With customers getting inundated with marketing messages, being able to deliver personalized customer experiences is key to standing out from the competition. Learn how Bloomreach Engagement makes it easy to personalize at scale. 
Send Emails Based on Loyalty Tier
If you have a loyalty program in place, you'll want to make sure you give special attention to the VIPs instead of simply sending everyone a generic email. Use Bloomreach Engagement to trigger campaigns based on loyalty tier, such as providing a special discount or exclusive content to your most valued customers. 
Learn more about personalized loyalty emails.
Suggest Relevant Products To Cross-Sell
When your customers add a product or service to their cart, this is a great opportunity to increase your AOV with the right suggestions. Automatically serve personalized recommendations based on what they've added to their cart to give them a better shopping experience. For example, you could suggest complementary products to help "complete their look."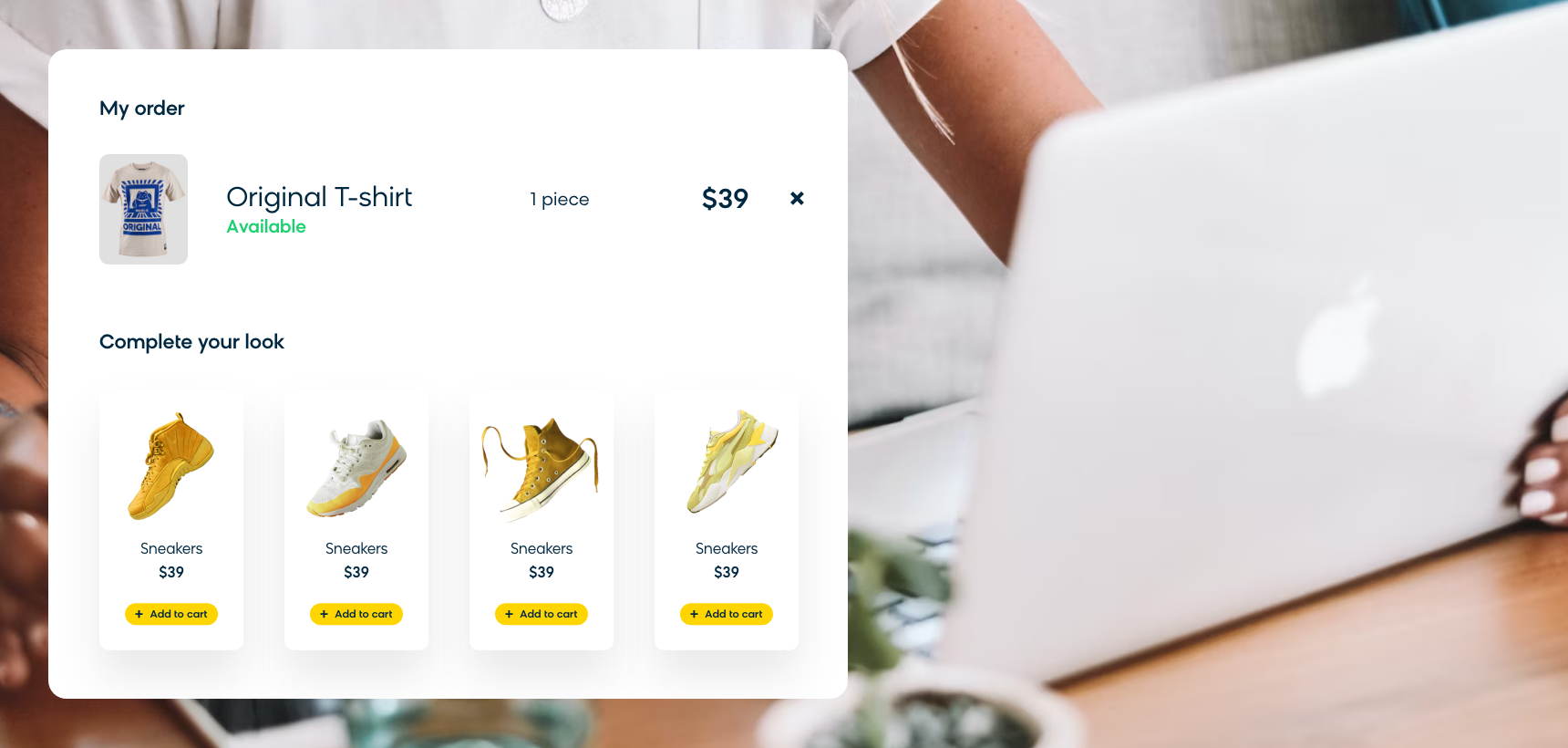 This will help you generate more revenue, while also improving customer satisfaction and loyalty by providing them with relevant and tailored recommendations based on their preferences. 
Learn more about cross-sell recommendations.
Personalize Based on Behavior
Similarly, you can also automatically show personalized recommendations based on a customer's purchase or browsing history. Display recently viewed (and related) items, or even offer up a discount on products based on their preferences. Send personalized emails or show the recommendations as they browse via browser push and weblayers. 
Learn more about personalized recommendations.
Convert More With Contextual Personalization
Unsure of whether to offer free shipping, a discount, or an upgrade? Unlike A/B testing, contextual personalization in Bloomreach Engagement lets you show the offer most likely to resonate with each individual customer. Instead of choosing one variant and applying it to everyone, you can show each person the most relevant offer.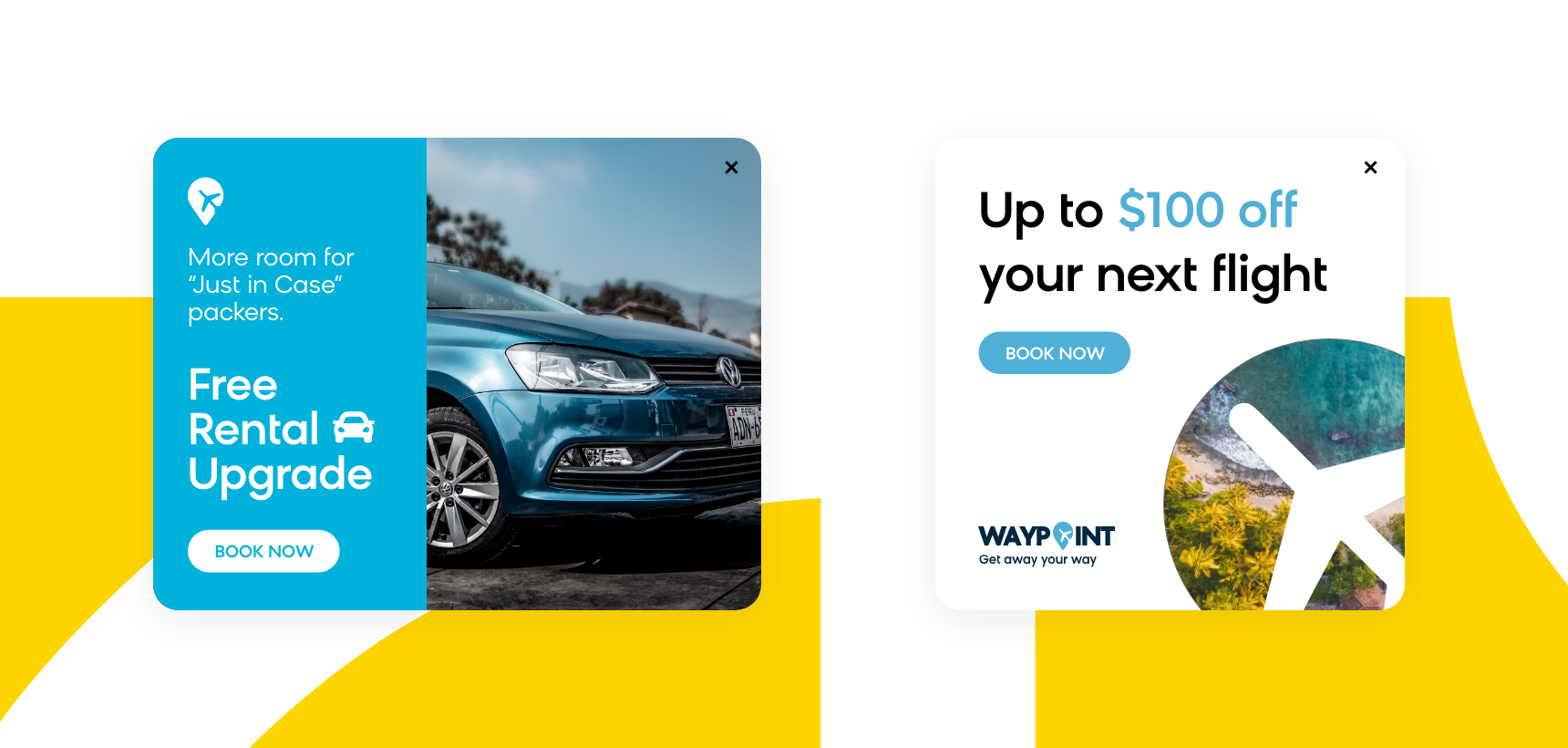 Contextual personalization uses AI and machine learning to determine the best offer for each customer based on their past behavior. Give each customer a truly personalized experience and deliver offers that convert. 
Learn more about contextual personalization. 
Meeting the Customers' Preferences
In addition to offering personalized recommendations, there are some things you can do with marketing automation to improve the customer experience — without them being conscious of it. Try using these use cases to boost customer loyalty and brand affinity. 
Limit Communications Based on Customer Engagement 
Sending the same marketing communications (at the same frequency) across your entire database is a surefire way to hurt your deliverability and engagement. Instead, automatically limit the number of messages you send across email, SMS, mobile app, or browser based on each customer's lifetime value (LTV) and engagement — this is a proven tactic for reengaging a less engaged audience.
This way, customers who aren't frequently clicking on your messages don't feel like they're getting spammed, resulting in an improved customer experience (and better overall engagement). 
Learn more about limiting communications. 
Send Campaigns at the Optimal Time 
Take the guesswork out of the best time to send your campaigns with Bloomreach's AI-powered optimal send time prediction. Instead of sending everything at once, our algorithms will determine when someone is most likely to open and interact with your email or SMS/MMS, and deliver it at the right time. Not only will your customers receive communications when they actually want to see them, but you'll also easily boost engagement and conversion rates. 

Learn more about optimal send time prediction.
Target the Right Audiences Based on Geography
Different regions will have different dates for campaigns — for example, Mother's Day in the US falls on a different day than in the UK. With Bloomreach Engagement, you can automatically launch similar campaigns at the right time in each region. So, no need to worry about someone in the UK receiving that Mother's Day promotion in May instead of March. 
Also, if you have a brick-and-mortar store, you can target customers living within that specific area to provide time-sensitive communications regarding the store or in-store-only offers — for example, "Our SoHo store will be closed during Thanksgiving," or "Get 20% off in-store purchases until Friday!"
Learn more about geographic targeting. 
Unlock Powerful Marketing Automation With Bloomreach Engagement 
With Bloomreach Engagement, you can realize the full potential of marketing automation to drive limitless growth across every channel. Our powerful AI, in combination with an intuitive interface, makes it so you can get started easily and scale as you grow. 
Ready to see what you can do for your business with Bloomreach Engagement? Explore all our use cases today.