Life at Bloomreach
Meet the Team: Senior Account Executive Sebastian Michalski
By Petra Trubinska
08/29/2022
Life at Bloomreach
Meet the Team: Senior Account Executive Sebastian Michalski
Sebastian is a 2022 newcomer within our Revenue team, and has been with Bloomreach for five months now. We spent some time chatting with him about his experience with the company so far to give prospective candidates a chance to better understand what it's like being part of our Revenue team.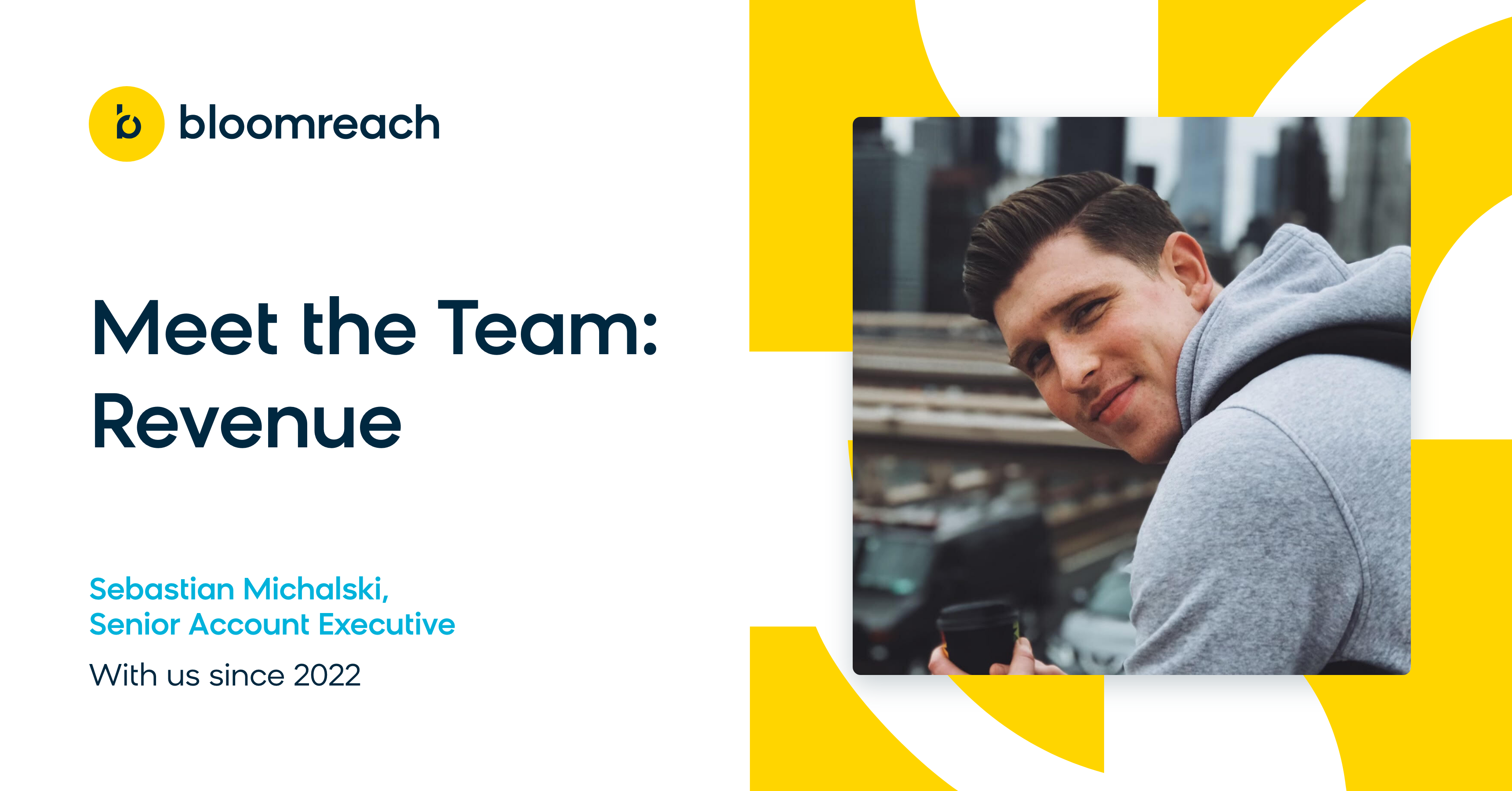 1. You joined quite recently — how did you find out about Bloomreach?
I knew Exponea before the acquisition and knew it was a great product. The opportunity came through a colleague who already works at Bloomreach and told my current supervisor to reach out to me. It was the right time and I was impressed by how quickly the team in DACH grew and what products Bloomreach was offering. After doing some research on Bloomreach, I was also impressed by our CEO Raj de Datta's video about the Bloomreach culture and his vision and mission for the company. The great reviews all over also helped. :) In the end, I made this decision because the people were super nice and I had a really good feeling about it.
2. How has your professional journey been to becoming a Senior Account Executive in a software company?
I studied Business Logistics, and my first job was for DHL in Container Management for Ford — so something totally different. After a while, I got interested in online marketing and decided to take a position in a German SaaS company working as an Account Manager. That's the great thing about this industry (and the times we live in) — no matter your background, you can often make a career change. 
I always enjoyed the contact with clients, and seeing them use something which really made their lives easier was and is a great reward. I then got more and more interested in the e-commerce space, working for personalization and marketing automation vendors as an Account Executive and Sales Director. I was sure that these topics are and will become essential for e-commerce companies to really be equipped to grow their businesses in the future. 
The next step for me as a salesperson was to work with bigger customers, more complex products, and more complex sales cycles (also one of the reasons I came to Bloomreach). It gives me the possibility to grow as a salesperson and challenge the things I felt comfortable with before. I always saw sales as really helping the other party to the best of your abilities. So for me, it was always important to work for companies which had a great product, solving real customer problems, so I could stand 100% behind the product I was selling. 
3. Walk us through a day in the life of a Senior Account Executive at Bloomreach!
I like to structure my day in different working blocks. As I'm the most productive in the morning, I use my time and energy to try and reach new prospects and talk to potential new customers, testing different approaches and methods. 
After that (and lunch!), I will answer emails and go into my next block, which is typically either different Zoom calls (internally or externally) or working on RfPs and different things to help customers decide for a new solution and guide them through the sales process. The last part of the day I typically use to educate myself on LinkedIn and different other industry websites, or finish internal courses to get better and different topics. 

4. What qualities would you say a person who wants to become a (Senior) Account Executive in the DACH region needs to possess?
That's a great question. I think most and foremost adaptability, drive, self-motivation, teamwork, and a problem-solver mindset. I think we are looking at very exciting times for Bloomreach across the world, but especially in the DACH market, which is being built from scratch. So the situation of having a well-funded company with a great product in the back, but also having the flexibility, flat hierarchies and challenges of a startup in the market, is special and (at least to me) a big opportunity. 
But this all means that a lot of work needs to be done and everybody needs to work together as a team to reach our ambitious goals. I think it is important to be able to adapt to every situation, as every day is different with different situations and challenges (and wins of course!), and to keep going even if some days might be difficult. 
5. What do you consider the most challenging part of your role?
In the beginning, definitely the amount of new information. Bloomreach offers great products, but there is quite a bit to learn. The good thing is that we are provided all the necessary training to do our job to the best of our ability. 
The second one is time management, as in most (sales) jobs. Setting priorities and organizing your day can sometimes be a challenge when you're working on a lot of things at once and your to-do list keeps getting longer. 
6. On the other hand, what would you say is the most rewarding part of your role?
Really knowing that the products we sell are one of the best in the world and they help customers solve their problems and accelerate their businesses. Also working with interesting and world-renowned brands from different industries is exciting and challenging.
7. What would you say is your favorite thing about working for Bloomreach so far?
Definitely the people and culture. Everybody is very friendly and forthcoming, and is always willing to give a helping hand when needed. I also really like the transparent and open communication within the company. The company takes care of its employees, with a lot of benefits (like the DisConnect Days), which makes working at Bloomreach a great experience so far.
8. Coolest story involving your team?
Definitely the Online Marketing Rockstars trade show in Hamburg in May this year! At the end of the two days, we had a big booth party, which blew everybody away (the most crowded and loud in the whole hall!), but most importantly brought us closer together as a team. It was a great experience and a great way to get to know everybody from a more personal side, which helps us work better as a team. 
9. In three words, how would you describe the culture at Bloomreach?
Friendly - The people here are great and I believe that this is a reflection of the company culture. They are not only welcoming, but they ask questions and are always willing to help. No one will leave you here alone.
Transparent - Communication is very open here and everyone knows what's going on. All results and numbers are presented every week and nothing is hidden. In the same way, we can openly ask about anything that interests us, even our CEO.
Driven - Inspiration always comes from above, and our leaders really represent our company culture. It can be seen that they are motivated and want to achieve great things together. It inspires everyone around and it's great to really see it.
10. How do you learn new things applicable to your role?
The great thing about Bloomreach is that we are offered a lot of resources to expand our knowledge and learn new things. If I want to learn more about the Bloomreach products, I turn to the Bloomreach Academy or the dozens of video tutorials on YouTube and in our documentation. 
If I want to educate myself on general topics in e-commerce, personalization, etc., I read the Bloomreach blog and whitepapers, but also general industry websites and LinkedIn as well. 
11. Outside of Bloomreach, what are you passionate about?
I love to travel and experience new places. My wife and I love the US and especially New York City, which we visited a lot already and plan to visit more in the future. I love to spend time with my two-year-old son, as with him I am really able to switch off and it is amazing to see him grow up. 
Working out is also a big one for me. During Covid, I let it slip a little, but I am back at it and it feels great!