Omnichannel Marketing Automation
How Bloomreach Uses First-Party Tracking To Help You Run More Efficient Paid Ad Campaigns
By Dominik Pribyla
11/21/2022
Omnichannel Marketing Automation
How Bloomreach Uses First-Party Tracking To Help You Run More Efficient Paid Ad Campaigns
Reducing customer acquisition cost (CAC) and getting more efficient with marketing spend (especially ad spend) is top of mind for every marketing leader. As paid channels get more expensive, it is essential that marketers find a way to optimize ad spend. While every platform has its way of tracking customer activity, all of them do it differently and it's hard to combine them together based on your business needs. 
With Bloomreach Engagement, you get a unified single customer view. This helps you analyze customer behavior in real time and distribute customers into audiences based on your parameters from one centralized place.
Stop Relying on Restricted Third-party Cookies
The default setup for ad campaigns is by using separate third-party pixels for each platform to get data from your website. There are a number of issues with this setup:
They get to choose what data they use and how
Ad platforms use their own data structure to segment visitors for their campaigns. Using the one-size-fits-all approach, users have little control over what is tracked and how. On top of that, this also leads to third-party tracking of more data than necessary, which is not in line with data privacy standards. 
They don't communicate with each other
Every ad company stores their data separately, meaning there is no synchronization between them. This can lead to ineffective campaign management and less control over the outcome of your campaigns.
They use third-party data to feed their platform
With third-party cookies being blocked or restricted by most of the web browsers, it is becoming harder to get relevant data to feed your campaigns if you rely on third-party cookies.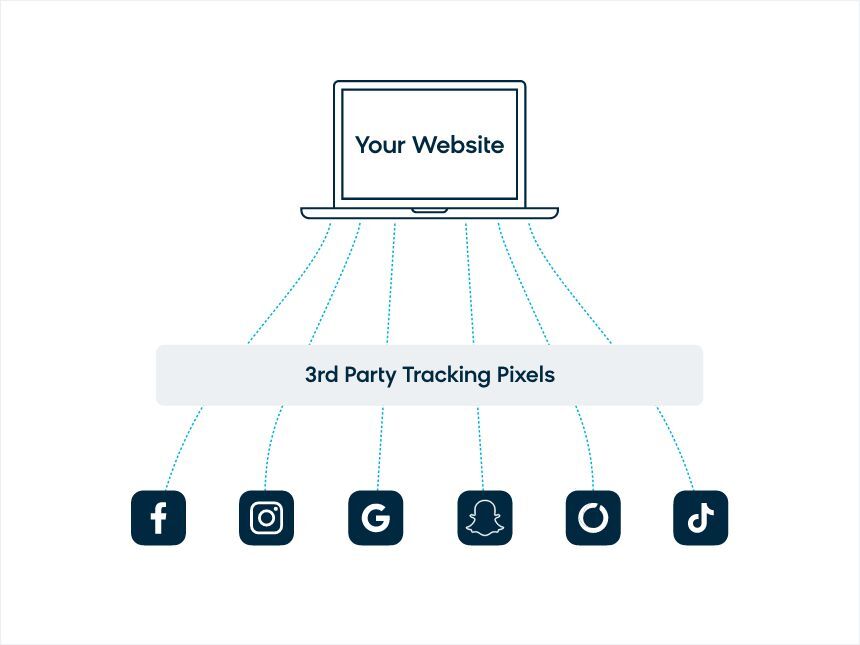 Generate Audience Data More Precisely and Effectively With First-party Cookies
With Bloomreach, you can use our customer data engine to store all important data in one place and then decide how to activate it on your advertising channels. This is what makes this setup so powerful:
YOU get to choose what data to use and how
With Bloomreach, you have complete control over how your data is tracked and stored, giving you options to send only the most necessary data to third parties. 
Manage your audiences from ONE omnichannel campaign orchestration module
All your advertising channels can be implemented from one place into omnichannel marketing campaigns through our journey orchestration module. 
Use first-party cookies to get high-quality data
Bloomreach is built on first-party data with the tools for marketers to also ingest zero-party data. This, alongside features like Facebook Conversions API and server-side anonymous ID management, helps marketers get ahead of third-party cookie restrictions.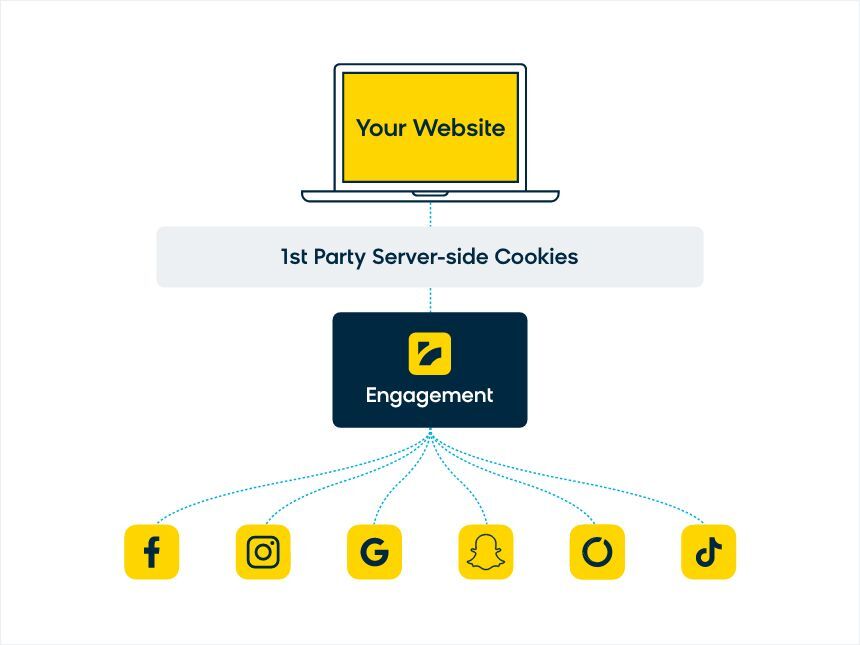 See Into the Future With AI/ML Predictions
Go one step ahead with your data by using one of our five predefined prediction models, or define your own custom predictions.
How to leverage predictions in your ad campaigns:
Target visitors with the highest purchase probability. Increase conversion rates and lower your cost per acquisition (CPA) when you target an audience of highly probable future shoppers.
Set your discount model to generate the biggest profit. Tailor the number of discounts your audience gets based on how probable it is they will become customers. High probability of purchase within the next seven days? Lower the discount you offer to generate more profit. Low probability of purchase? Increase the discount above average to become more appealing and increase conversions.
Decrease ad spend by excluding low probability contacts. Make your ads more effective and decrease your CPA by filtering those who will most likely not interact with your content.
Improved Facebook Ad Performance With More Reliable Data
Send important events, such as purchases and leads, to optimize your Facebook ads without relying on browser pixel events by using our Facebook Conversions API (FB CAPI) integration. Pair this with our consent management to eliminate excessive data collection by the Facebook pixel and get more control over your data. Learn more here.
Summary
In Bloomreach, we offer a comprehensive set of tools to empower marketers to understand customer journeys, identify segments for incremental revenue, and predict high-value, high-intent audiences.
All of this is made possible by our customer data engine that is using real-time first-party data and anonymous user tracking without third-party cookie restrictions.
Data is then used to offer you real-time analytics and insights, and also allow you to see into the future with our out-of-the-box prediction models and custom predictions. All of this within a marketer-friendly environment, which is easy to use and doesn't need to depend on data scientists and IT.
With this, our customers gain an advantage with their ad campaigns and are able to run campaigns that are more efficient, leading to a decrease in ad spend and, in return, an increase in profits. Ready to improve your paid ad campaigns? Schedule a personalized demo today.