Content Management System (CMS)
Built For Commerce: Break Free from the Sea of Sameness and Yield Greatness With Bloomreach Content
Cookie-cutter houses. What pops into your mind when you hear that?
Streets lined with bland, constructed ubiquity, both inside and out. Neighborhoods built with no inspiration, no individuality. And although these houses have everything you'd expect like walls, rooms, windows, and appliances, you have no desire to live in an unremarkable commodity.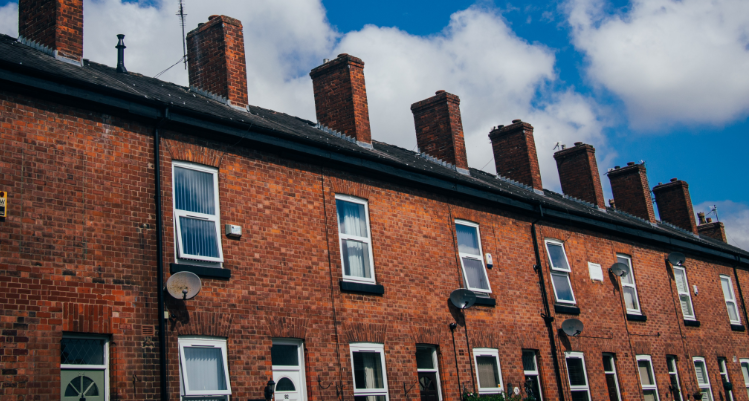 Nancy Duarte said it best: "Being buried in a sea of ​​sameness does not yield greatness."
When a house breaks free of the sea of ​​sameness, it becomes something more than the sum of its parts. It becomes a home to be celebrated and enjoyed, and that truly does yield greatness.
As an online retailer, think about the commerce experience you are giving your customers today. Picture your website, its homepage, and all of the pages that sit underneath.
What exactly is it? Is it just a combination of generic images and text that have been slapped together with little rhyme or reason? Can it easily be mistaken for any other company's shopping website? If you're being honest with yourself, is it cookie-cutter?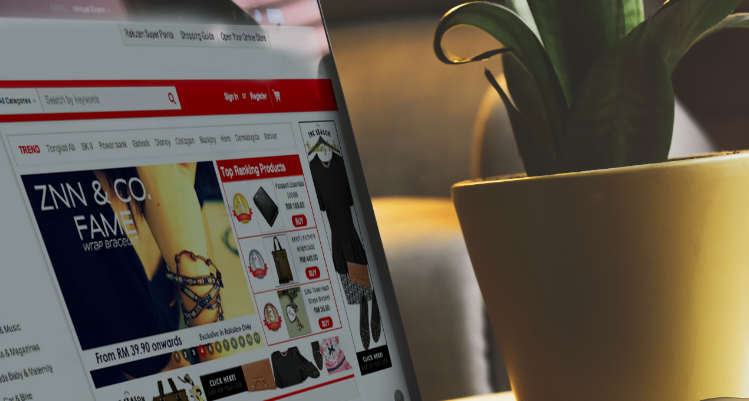 Today's consumer demands more. They want inspiration from the brands they shop from. They want education around complex products. They want to feel part of a community and they want a lifestyle. You can't do all that with just products on a product listing page. 
In a massively competitive environment, other companies are making moves and winning. If you don't break free from the sea of ​​sameness and differentiate, you could drown.
Bloomreach is here to help you break free and yield greatness.
Within Bloomreach Experience , the world's only digital experience platform built for commerce, you will find our brand new solution: Bloomreach Content . 
We've taken everything we've learned about commerce for over a decade and used that knowledge to build the premier content platform for online retailers like you.
A Complete Experience For The Modern Consumer
Why now? It all goes back to the modern consumer, and the desire for a complete experience, and giving you the only built for commerce platform to support them. Easier said than done, but we did it.
How, exactly? 
First, our offering is the only enterprise-ready SaaS content platform available on the market.. Since it is fully SaaS, it's nimble, easier to implement, upgrades are automatic, and delivers you significantly faster time to value — but those are table stakes for today's marketers and merchandisers.
Second, we're giving the marketer and merchandiser much-needed seats at the table, with a content management platform built for commerce, i.e. built to bring the marketer and merchandiser together. The whole point of content management is to maximize an organization's control over a website to create a better customer experience.
You're responsible for driving commerce, so of course we're talking about an improved online shopping experience. Here's the big problem, and it's make-or-break. 
If the CMS is headless and only offers up Content as a Service, all you've got is IT enabling the marketer to do text editing. That's not good enough to power a differentiated shopping experience for the modern consumer.
If the CMS is not built for commerce, all you've got is an overly complex product that's going to be very expensive and time-consuming for IT and marketing to customize. That's not good enough for either you or your impatient consumers.
And if you eschew content management and just try to use your commerce platform to do the job, you're not even bothering to try to give your customers a differentiated, immersive experience. A digital cash register is definitely not good enough.
The only viable solution that is good enough is headless content management built for commerce: Bloomreach Content.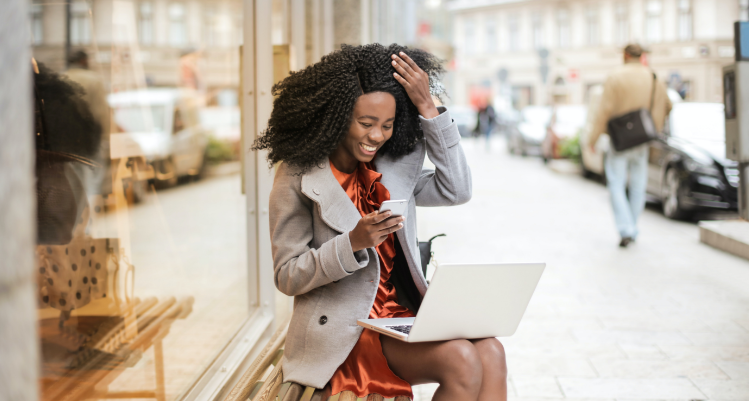 Empowering the Marketer and Merchandiser to Take Control and Tell a Consistent, Differentiated Story  
Let's talk about control.
Who has control over the composition and layout of your homepage, landing pages, category and product pages? 
Who controls the actual products shown on those pages and their order? And what about personalizing the experience for the individual customer?
When IT has control, they say "As long as the site isn't broken, we're good." If it's Marketing, they say, "I think this looks and sounds nice. We're good."
But you're not good, because this  mindset looks at content management through the wrong lens; a lens of functional chunks of text and imagery slapped together to form pages.
This is the very definition of a cookie-cutter website!
The problem with this mindset is it lacks seeing the bigger picture: content management is really about your products, the details and content behind them, and showcasing those products within a properly composed and unified shopping experience that will ultimately differentiate you and make you successful.
Many retail companies are completely dissatisfied with their homepages. And that's only the tip of the proverbial iceberg.
To address this, you also need to empower the merchandiser. That's exactly what Bloomreach Content does. It gives the merchandiser control of what they are an expert at:
Changing page layout and site flow based on this detailed product knowledge
Building pages quickly that feature the right products for the right consumers based on a combination of product and customer data
Ensuring that the entire experience is driving bottom-line revenue and profitability with better use of promotions, inventory, and understanding of margins.
With Bloomreach Content, IT, marketers, and merchandisers each have control over what they're good at. The rare win-win-win.
With the marketer and merchandiser empowered and sitting at the table, and working more closely together, your commerce experience can truly break free of that sea of sameness and yield greatness.
Distance Yourself From Disjointed Shopping Experiences
The third and final area of focus with Bloomreach Content was loading it with commerce-specific capabilities in the name of achieving fastest time-to-value and ultimately continued personalization.
You work for a retailer, but you're also a consumer. How often are you frustrated by poor, disjointed shopping experiences?
You're not alone. Our State of Commerce Experience Report detailed some eye-opening statistics about our new digital-first world.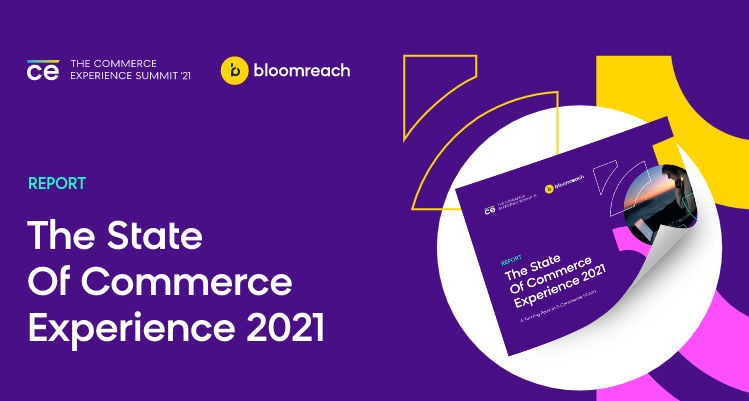 Over three-quarters (76%) of online shoppers report being disappointed by one or more aspects of their experience, with only one-third claiming to be satisfied. That's a low bar. 
When it comes to personalization, the numbers are even worse. Only 12% of customers feel like they receive a personalized experience from brands and 1 in 3 companies are reducing budget spend on personalization in 2021. 
Gartner predicts that 80% of companies will abandon personalization efforts by 2025 due to lack of ROI. That's the frightening cost of cookie-cutter websites.
It doesn't have to be this hard. And if you partner with Bloomreach, it no longer will be.
An Online Retailer's Journey With Bloomreach Content
To highlight the commerce-specific capabilities of Bloomreach Content and how everything can come together to create fastest time-to-value and continued personalization for your customers, imagine a retailer that specializes in travel apparel and lifestyle.
This retailer sells everything you can think of when it comes to tropical island leisure clothing and accessories while taking pride in an online shopping experience that treats every customer like Ohana… family.
Using Bloomreach Content, the head merchandiser for the company is empowered to optimize every visitor's web experience. Let's see how.
She begins with the homepage. Video content for the new Exclusives collection just arrived, so she uploads it into the primary hero imagery component. 
Next, with summer here, she drags and drops a product grid underneath the video, then populates it with the top selling swimwear in another clothing collection. The head merchandiser needs to move some low inventory products to make room in the primary warehouse for new merchandise, so she adds a promotion bar to the top of the page and creates a brand new final clearance page for it to link to. She drags in title, product carousel, and personalized recommendations components to populate the page.
Inventory counts are displayed for these clearance products, and she configures the page to dynamically remove products as they sell out. 
Now, she has complete control over page composition as well as the products shown. She previews exactly what these pages will look like for customers before kicking off a workflow to get the VP of Marketing's approval to deploy, which she gets almost immediately. Everything is live in minutes.
Next, she moves to the outdoor living category page, an important page because high-margin products like patio furniture sets are featured here.
Here, she wants to utilize customer segmentation to personalize the experience. By tapping into data such as average order value, customer lifetime value, purchase history, and geolocation, she uses Bloomreach's Relevance by Segment to control which furniture sets are shown, and what gets the all-important top three placements.
The product pages for these patio furniture sets are composed differently than clothing pages, requiring significantly more imagery and product details due to their high price points. A workflow informs the head merchandiser that marketing is ready to launch this quarter's biggest and most expensive campaign, the Summer Sun & Surf Spectacular. 
Merchandising now has the green light to build a series of campaign-specific landing pages that match up to its different creative elements.
Every customer that clicks through on any of the campaign's emails will now receive a tailored customer experience with personalized individual product recommendations.
Finishing the day where she started, she returns to the homepage, where she configures a component to display the campaign's content if the customer has engaged with it. This is the realization of continued personalization.
And finally, because it takes months to put together, the head merchandiser begins building out a completely different version of the homepage for the brand's biggest event of the year - while the current homepage is live!
With all of that done, the head merchandiser logs off and is ready to surf. Aloha!
Yield Greatness With Bloomreach Content
What did you just see there? You saw merchandising and marketing teams empowered by Bloomreach Content, enabled to quickly and easily build, edit, maintain, and optimize a personalized online shopping experience across all of the different pages of the website.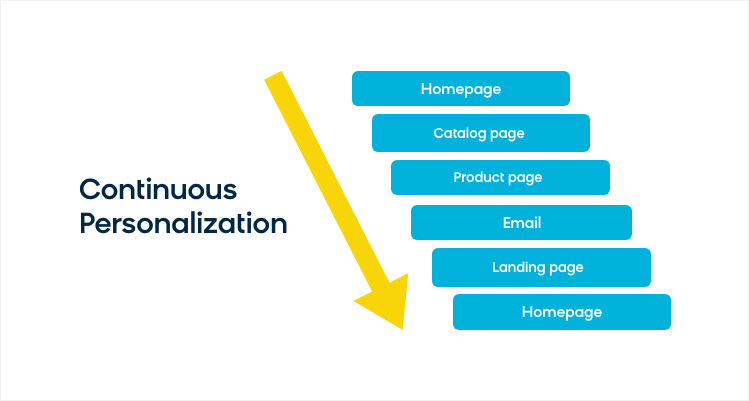 You're at the make-or-break point in the process of choosing the right content platform for your retail business. 
Returning to our 2021 State of Commerce Experience Report , 92% of retail decision-makers are experiencing challenges with their tech stack today. The vast majority (92%) of these decision-makers also expect hurdles in achieving their commerce priorities.
Don't doom yourself to failure like the 80% of companies that are going to do, according to Gartner research. Choose the path of Bloomreach Content. It is built for commerce, fully SaaS, empowers the marketer and merchandiser, and gives you the ability to provide a personalized, content-rich shopping experience to every customer. 
If you're ready to learn more about what Bloomreach Content can do for your company, schedule a personalized demo today to learn more. 
Together, let's break free from the sea of ​​sameness, and yield greatness.