Commerce Experience
Bloomreach Commerce Pulse: Update on NA, UK & EU eCommerce Traffic and Sales - Wk of March 29-April 4, 2020
By Brian Walker
04/07/2020
Commerce Experience
Bloomreach Commerce Pulse: Update on NA, UK & EU eCommerce Traffic and Sales - Wk of March 29-April 4, 2020
The week of March 29 saw the coronavirus COVID-19 situation in much of the United States, the United Kingdom, and Europe worsen. Thankfully there are signs that in some regions the rate of new infection has stabilized as a result of the social distancing measures, such as the Pacific Northwest and California in the United States, and Germany in Europe.
This of course comes at great cost to the overall economy and many impacted workers. By some estimates 26% of the overall U.S. economy is shut down at this point.
The downstream impacts of the economic shut-down are profound, even as governments, healthcare providers, and the private sector must focus on combating the virus and treating the critically ill.
And as we have seen now for many weeks, consumers are turning to eCommerce as an important source of the essential products they need to stay safe and sustain themselves, their families, and those with whom they are isolating.
We have also seen how consumers are shopping and buying in discretionary market segments as they seek to improve their homes, settle in for potentially months, and of course for many - work from home.
We have also heard from a number of clients over the past week a few interesting aspects related to their businesses:
Many omnichannel retailers and brands have essentially "turned off marketing" other than email to conserve cash and wait until the conditions improve. This means that the gains seen in eCommerce are despite a lack of marketing, and could be even higher if typical online marketing tactics were being used at this time. (This may have downstream impacts with Google, Facebook, and others. We will have to see.)
 
Some stores in certain segments such as health & beauty are beginning to re-open stores as they petition for these to be deemed 'essential'. However, overwhelmingly these are reliant on the eCommerce channel for business, as customers seek 'buy-online-pick-up-in-store' or delivery fulfilled from the stores. 
 
Some fulfillment centers are coming back 'online' after re-working processes, training, and gaining the necessary supplies to protect the employees and customers. 
 
Brands we work with who have stores China are beginning to reopen those stores. However, foot-traffic to any 'non-essential' stores in China remains very weak and at this stage eCommerce is the critical channel with which to engage the Chinese consumer.
Bloomreach powers over 20% of US & UK eCommerce search and commerce experiences across the 300+ global enterprise businesses - many of whom have multiple brands and eCommerce sites. Below is a view into our data, which tells a story of eCommerce demand across regions and segments. Let's get into the numbers. 
Update on NA & UK+EU eCommerce Traffic and Sales - Week of March 29-April 4, 2020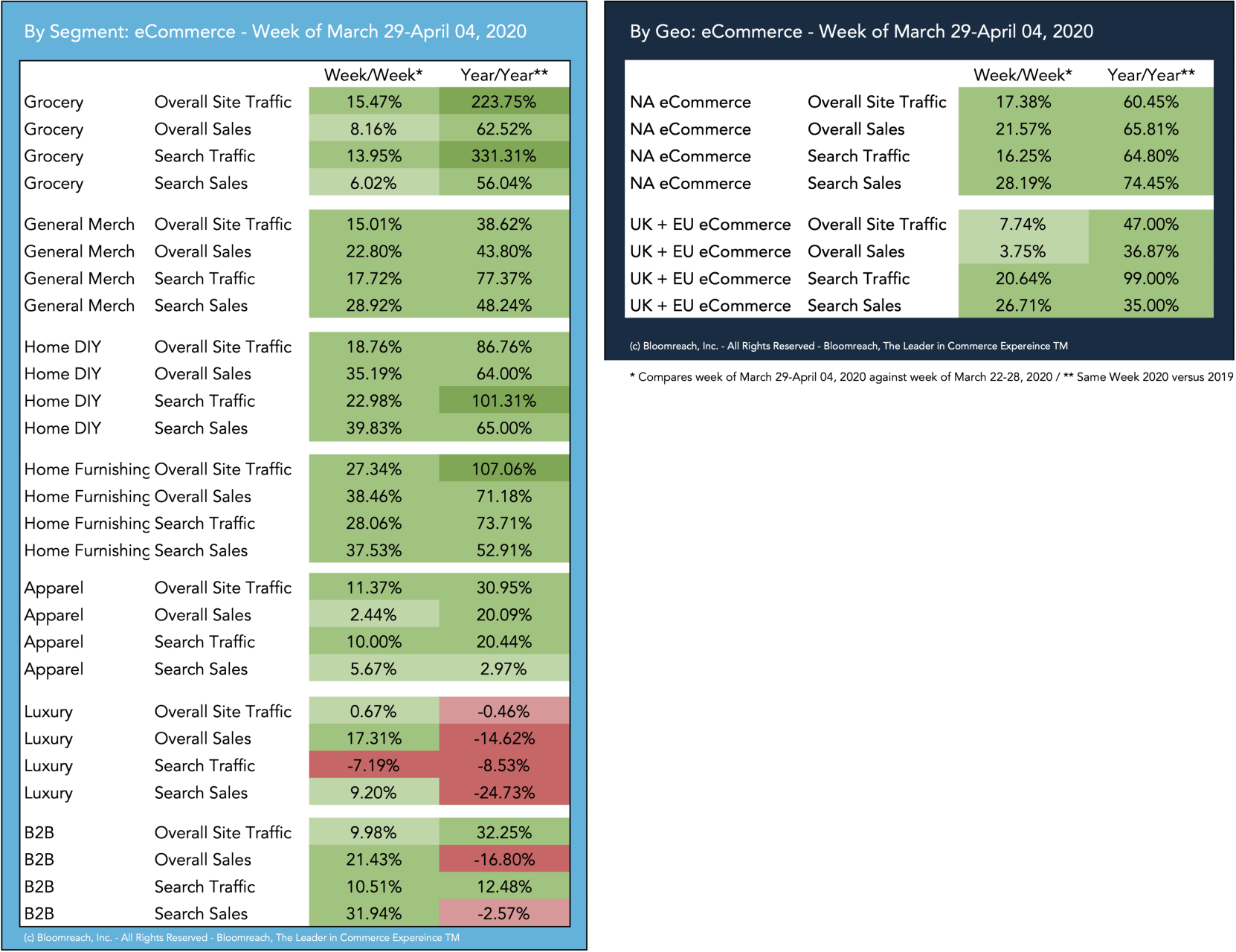 What we can see in the data:
 
North American eCommerce remains vigorous across the board, and gained steam week over week. This is of course buoyed by significant year-over-year growth in grocery, general merchandise, and home categories, as well as promotional activity in apparel and luxury segments.
 
UK & Europe saw a significant jump week-over-week, and was nearly on-par with the growth experiences in eCommerce businesses in NA. We can see some impact of the disconnect in consumer demand and the supply of goods in the high level of search and relatively lower search related sales activity. 
 
Grocery remains very strong, both YoY and up WoW as customers increasingly turn to online to stock the pantry. However there is a very evident disconnect between traffic and sales (both overall and search related) showing a very high level of interest in online grocery and a lesser impact in sales growth. This is likely the result of unavailability of stores within chains fulfilling online orders, delivery and pickup times available to the customer, and lack of availability for some highly sought after items. Key stables for sanitizing and protecting the home remain at the top of search terms, and 'flour' made the top ten for the first time last week. 
 
General Merch also remains very strong, with a large increase last week. Vitamins and immunity boosters are trending higher in this segment, but the top search terms here also reflect the key stables for sanitizing and protecting the home.
 
The Home-Improvement/DIY and Home Furnishings segments also had a very strong week, with exceptional traffic and sales growth. People are preparing for Easter despite the current situation having disrupted traditional plans. You can also see the interest in gardening and outdoor home improvement, which may be tied to Easter, finding ways to be outside, and plant a vegetable garden. Home Furnishing saw 'desk' and 'freezers' jump into the top ten as consumers adjust to working from home and adapting their routines to store and save food.
 
In Apparel we continue to see relatively strong year-over-year growth, though consumers appear to be checking out sales in a highly promotional apparel retail environment. We see comfortable leisurewear continue to trend highly in the search terms. 
 
Luxury is the only segment that is down year-over-year across the B2C segments. It appears the customer visiting the sites are looking for deals on very specific brands, and may not be converting as they anticipate prices may fall further, or having second thoughts on buying such a non-essential item. 
 
B2B is showing declines YoY despite the comeback versus last week. This may reflect the overall realities of a very soft business cycle, accounts' businesses going idle, and a lack of availability of the products B2B buyers are seeking. Again we see personal protective equipment such as 'mask' and sanitizing supplies dominate the search terms. 
 
You can find all of Bloomreach's Coronavirus related research, including previous weeks, on our Coronavirus Content Hub. If you have any further questions, I encourage you to reach out here, and we will follow up with you ASAP. We aim to bring you further insights each week as we navigate these challenges together - whether you are a customer or not. 
Thank you and be well.