See All News
11/22/2013
Hippo Named Critics Choice for Best Open Source CMS by CMS Critic
---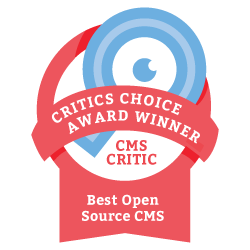 In its announcement, CMS Critic underscored Hippo's "overwhelming commitment to the open source movement" as a major criterion for selection. Hippo considers this involvement fundamental to its identity.
"Our open source development model is key to our disruptive innovation" said CTO Arjé Cahn, "I'm glad to see it recognized."
Hippo's technological team was another key factor in the selection process-- CMS Critic pointed to the large number of Apache committers, OASIS (Organization for the Advancement of Structured Information Standards) and Java Community Process (JCP) members as significant in its decision.
"I'm really glad that we won this award," said CEO Jeroen Verberg, "while developing Hippo CMS 7, we noticed that there wasn't a clear leader in the Java open source CMS space. Enterprises are increasingly looking for open alternatives-- we think that this award demonstrates that there is a good Java open source alternative Enterprise CMS. I would like to thank CMS Critic for this recognition."
The Critic's Choice CMS Awards were started in 2012 as a means to help spread the word about outstanding content management systems. 
CMS Critic, edited by Mike Johnston, aims to provide readers with the resources they'll need to select the perfect CMS from the many CMS products on the market. CMS Critic offers everything from a CMS directory full of ratings, screenshots videos and more to a host of unbaised CMS reviews.