Real-Time Personalization
Web Personalization Strategy Guide
By Ian Donnelly
06/28/2023
Real-Time Personalization
Web Personalization Strategy Guide
Catering to your customers is step one for any online business, and out of all the personalization tactics available for brands to use, web personalization is the gold standard. 
The reason that website personalization is important is an obvious one: Your site is one of the first places people turn to when they want to interact with your business. It's the go-to starting point for any experience your customer wants to have with your brand, whether they're a new visitor wanting to learn about your company, a shopper who wants to save some items in their cart for later, or a loyal customer who wants to explore your latest offerings. 
To make sure each of these different personas are satisfied with your website, you need a website personalization strategy that helps you tailor each customer's experience to meet their individual goals. Every customer is unique, and you need to be laser-focused on making each visit to your web page a special one.
In this guide, you'll find everything you need to build your own website personalization strategy — our blog will cover the basics of website personalization, its benefits, the different types of website personalization you can adopt to reach your goals, and some examples of businesses that have successfully implemented personalized strategies.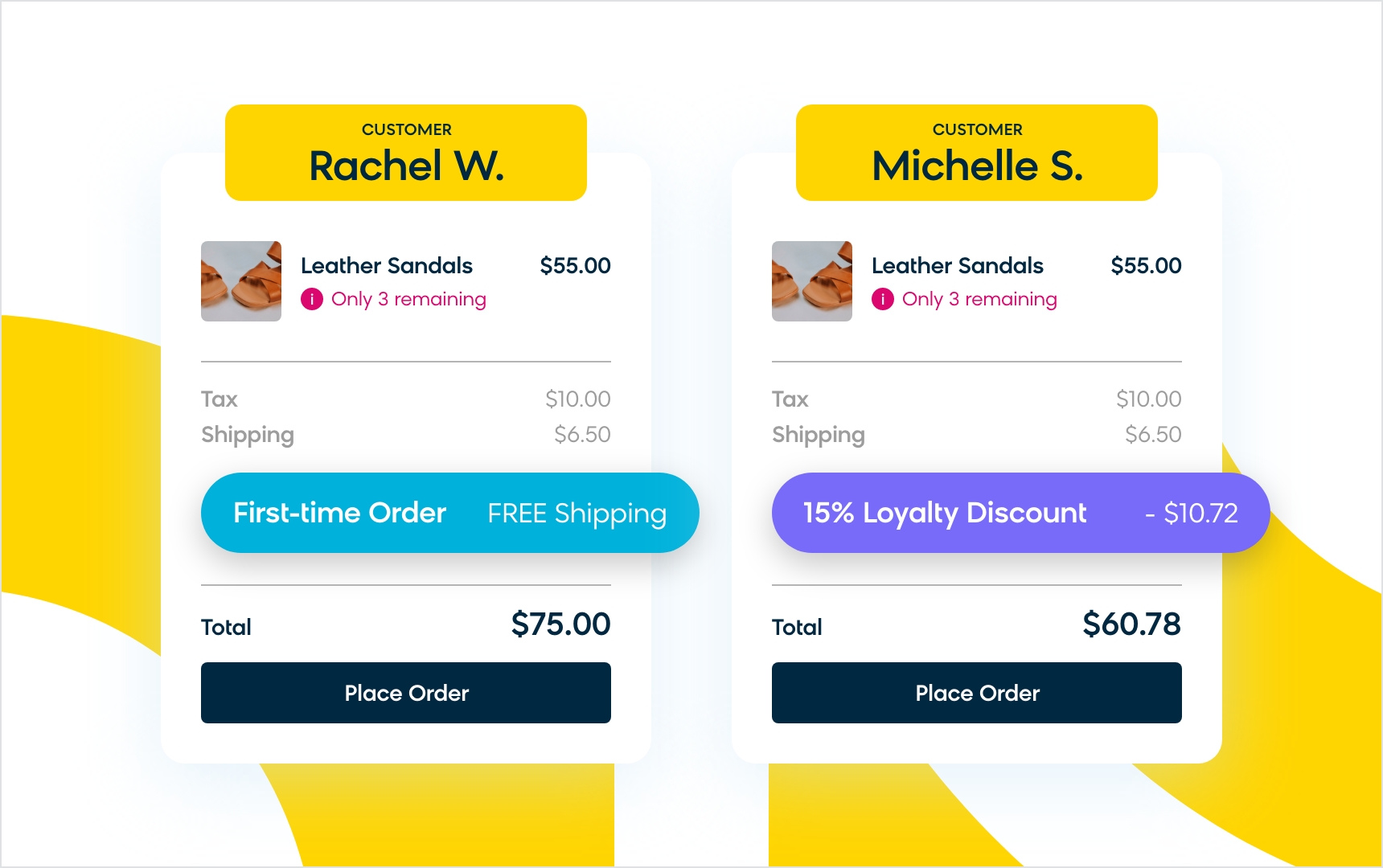 What Is Website Personalization?
Website personalization is the practice of creating unique experiences for website visitors based on their individual characteristics and behaviors. 
The goal is to craft the perfect visit to your website by anticipating your visitor's needs and wants right from the start, along with the ability to adapt based on a visitor's behavior. 
With the right personalization tactics in place, you can create the sense that a customer's interaction with each web page is a conversation, and that your brand is listening and responding to your audience's input. 
What You Need To Personalize Your Website
To offer customer experiences that reach this level of personalization, companies need to collect relevant data from their customer interactions and connect this information with their product data. The combination of these two data sets, known as commerce data, is the key to truly personalized experiences in e-commerce.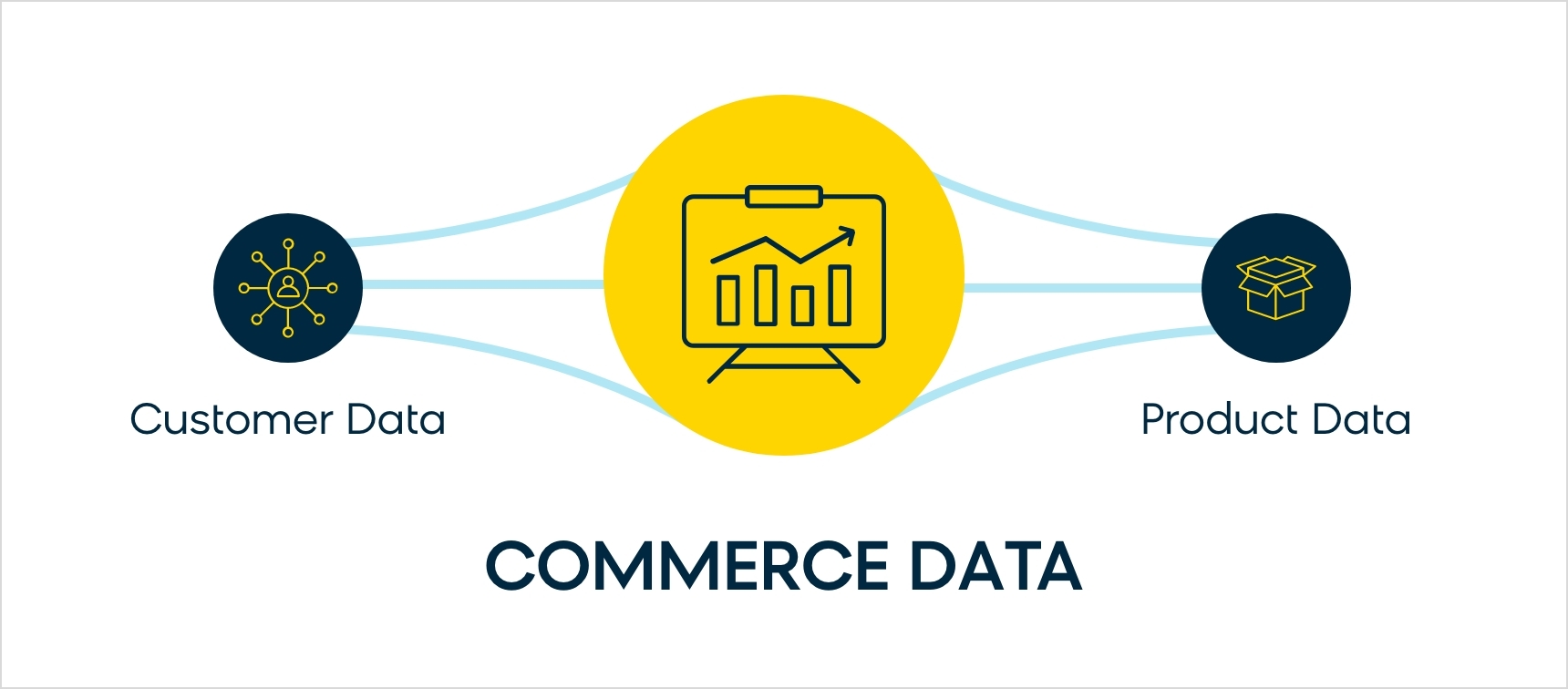 Customer Data
As long as it's collected compliantly and ethically, the amount of consumer data you can apply to your personalization strategy is only limited by your imagination. And it's worth it to gather a wealth of relevant data from your target audience — knowing key information about your visitors is crucial for creating the personalized website experience they are looking for.
Data points like site behavior, transactional history, and demographic data can fuel your personalization efforts and help turn would-be buyers into loyal customers. And it doesn't take much foresight to understand how effective these data points can be. Knowing a user's browsing history, past purchases, and current location is a fundamental step towards fine-tuning your site content on a one-to-one level.
Compiling all your customer data into a single customer view is the best way to organize and manage all this valuable data. A single customer view is a database made up of customer profiles containing all the data points you need — like their purchase history, site activity, and product recommendations — for every individual person who interacts with your business. 
With all your data compiled into a single, organized view, you can thoroughly understand their relationship with your brand and easily design impactful next steps. 
Read This Next: A Single Customer View (SCV): Everything You Need To Know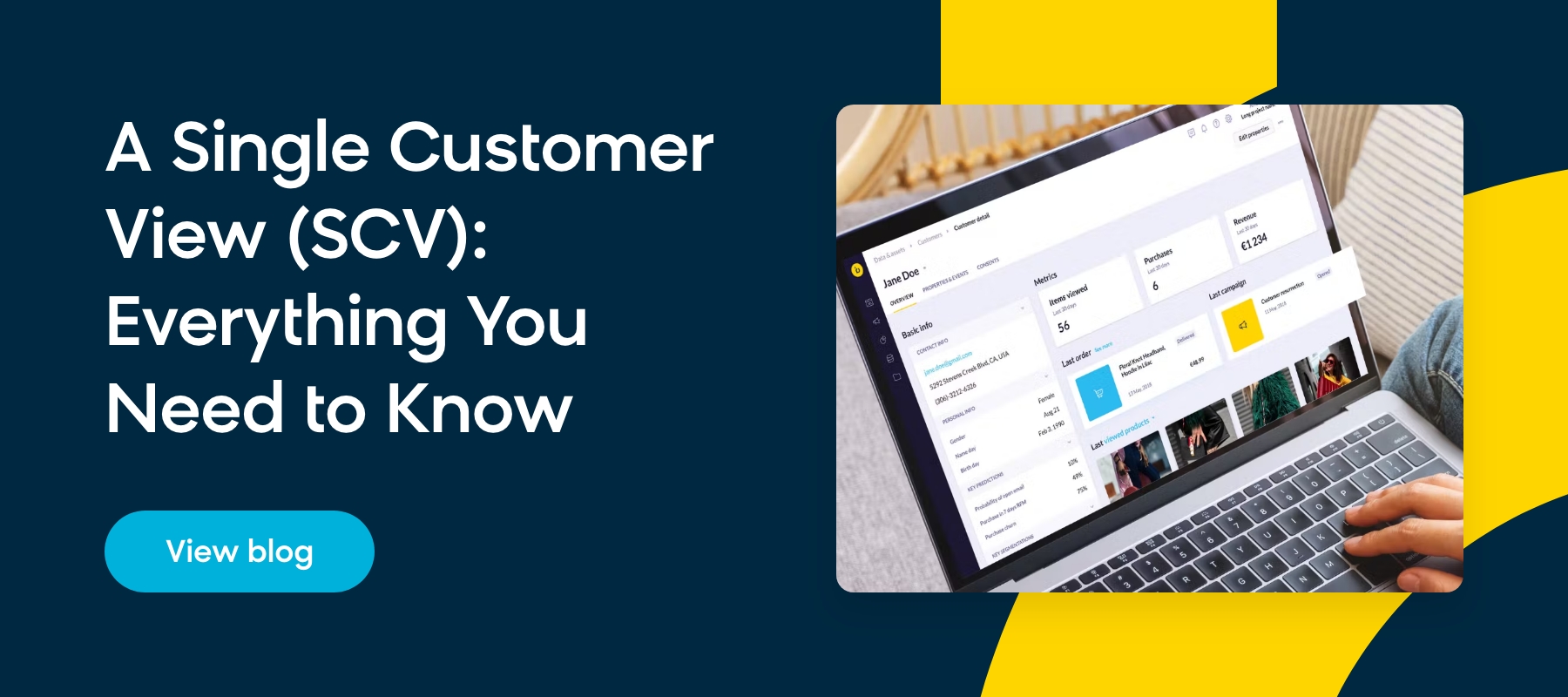 Product Data
Product data is just as important as customer data for your website personalization efforts. You need to know the right products to match with the right customer, and the only way to achieve this is by understanding the detail and scope of your product offerings.
Knowing a shopper's shoe size is 10 and their preference for black sneakers won't get you very far if you can't connect the shopper to the specific products that match their needs. So in this example, having detailed product categories that differentiate and organize the sneaker brands, colors, and sizes that are currently available are all vital for offering the shopper what they want. 
Without a robust structure of product data to draw from, your website personalization tactics can't reach their full potential. 
What Are the Benefits of Website Personalization?
Website personalization can have a huge impact on your business. Here are some of the key benefits of personalizing a website for visitors:
A Better Understanding of Your Customers
The most significant benefit of website personalization is that you can use it to understand your customer on a deeper level. 
Like we mentioned before, your visitors' experience becomes a conversation with website personalization, one where user engagement plays an active role in shaping the web pages and content they see. 
With this customer-centric and accommodating approach, you can gain valuable insights into what your customers want and need from your website. 
By analyzing customer behavior, preferences, and interests, you can build a stronger relationship with every site visitor and ultimately build better campaigns across your entire marketing strategy.
Increase Time Spent on Site
One of the best measurements for customer engagement is time spent on page, and website personalization encourages your customers to spend more time on your site by providing visitors with a more relevant experience. By tailoring content and product recommendations to a visitor's interests, they are more likely to explore your website further, resulting in longer sessions.
A personalized experience also makes it easier for visitors to find what they're looking for, reducing the frustration of navigating through irrelevant content. What's more, increasing the time a visitor spends on your website can also lower bounce rates, which is beneficial for SEO and overall website performance. 
More Conversions
Conversions are the ultimate goal for any business, and website personalization can help inspire customers to make a purchase and drive more revenue. 
It's a fact that people enjoy personalized experiences over generic ones. 77% of consumers will choose, recommend, or pay more for a brand that provides a personalized service or experience. 
And with the e-commerce market expected to grow to over $8.1 trillion by 2026, it's crucial for brands to make the most of their websites and offer the kind of tailored online shopping experiences that modern consumers expect. 
Site personalization efforts (like recommending products and dynamic content) provide a seamless shopping experience for your visitors, streamlining the path to purchase and establishing trust with customers. Personalization proves that you understand your customers, and that you value their wants and preferences, which encourages customer loyalty and repeat visits.  
The Fundamentals of Website Personalization
When crafting a website personalization strategy, it's important to keep a few essential concepts in mind. The "four Rs" (recognize, remember, recommend, and relevance) are a convenient way to keep all the crucial elements of personalization in mind and understand how they all work together to create a better experience for your website visitors. 
Let's break down each of these four pillars:
Recognize
Recognize your customers through data collection and analysis. Gathering information about their browsing history, demographic information, and past purchases will enable you to provide a more personalized experience.
Remember
Remember your customers by keeping track of their preferences and behaviors. This information can be used to deliver targeted content and product recommendations when they return to your site.
Recommend
Recommend content and products to your customers based on their interests and behavior. This can help improve engagement and drive conversions.
Relevance
Ensure that the content and products you recommend are relevant to your customers' needs and preferences. The goal is always to offer the most relevant experience possible, and each new interaction tells you more about what your visitor wants. To make your site experience the best it can be, it should always be informed by your customers' latest interactions. 
Types of Website Personalization
There are many ways to implement website personalization, each with different goals and approaches. Here are some great ways to start:
Dynamic Content Personalization
Speaking directly to your customers is vital for a personalized experience. That's why dynamic website personalization is such an important part of any strategy — it lets you customize your site copy and content based on audience segmentation, adjusting your landing pages based on a customer's behavior and interests.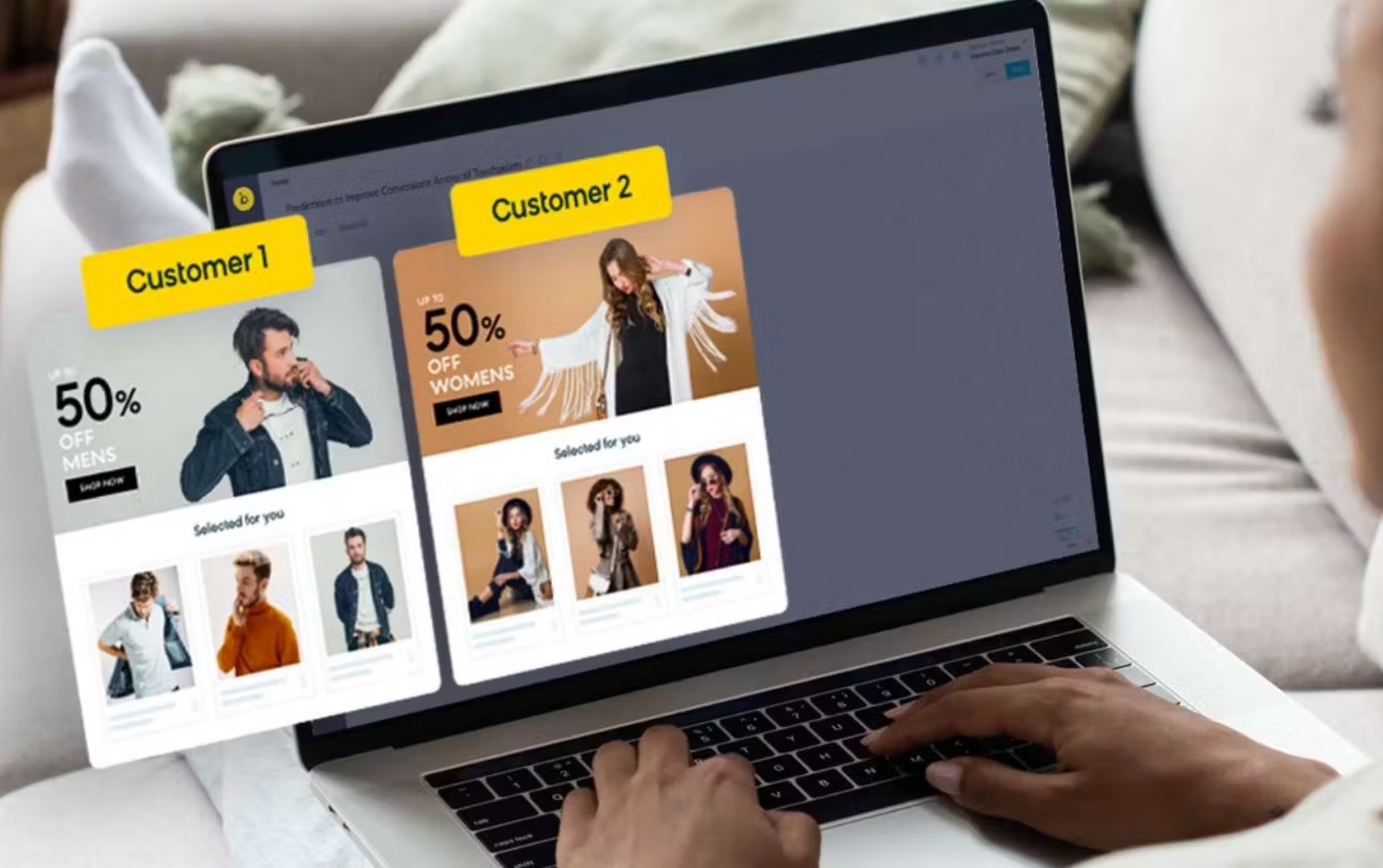 This can be as simple as catering your site page to show images and content based on geolocation, like showing winter clothing to visitors in colder climates instead of summer-focused items. 
Or, if your first-time visitors are exploring products that are for beginners, such as entry-level bikes on an online bike shop, you can serve them content like a beginner's guide to cycling or how-to videos on buying your first bike. 
With the right website personalization tools, you can automate this process and customize any aspect of your page layout to speak to a particular audience, offering tailored experiences that increase revenue and conversion rates. 
Personalized Product Recommendations
Offering personalized recommendations is a great way to show your visitor that you understand what they want from your brand and steer their customer journey in the right direction.  
By showing product recommendations based on a customer's browsing history, purchase history, and demographics, you can offer the most relevant products and encourage customer engagement.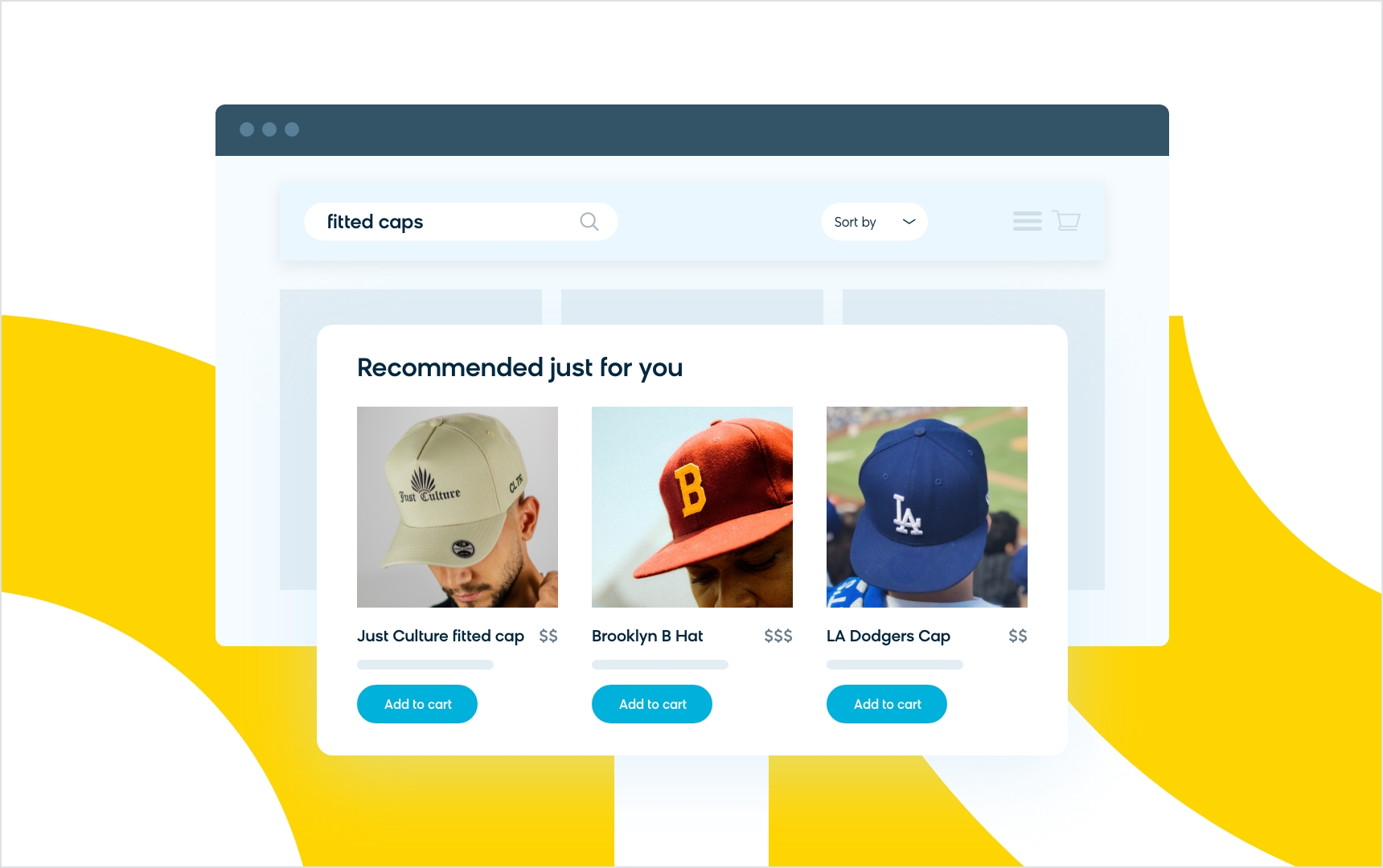 An e-commerce product recommendation engine is key for recommending the right products, which filters and sorts your online store's offerings on the basis of a set of rules. This process uses machine learning to match data about your products with customer data — such as the customer's most-viewed categories, products, and purchase history — to find the most relevant recommendations for your site visitors. 
Offering personalized recommendations is one of the most impactful ways to better your site user experience, providing your visitors with more opportunities to browse and purchase hyper-relevant products on your website. 
Read This Next: Why Product Recommendations Are Key To Winning With E-Commerce Personalization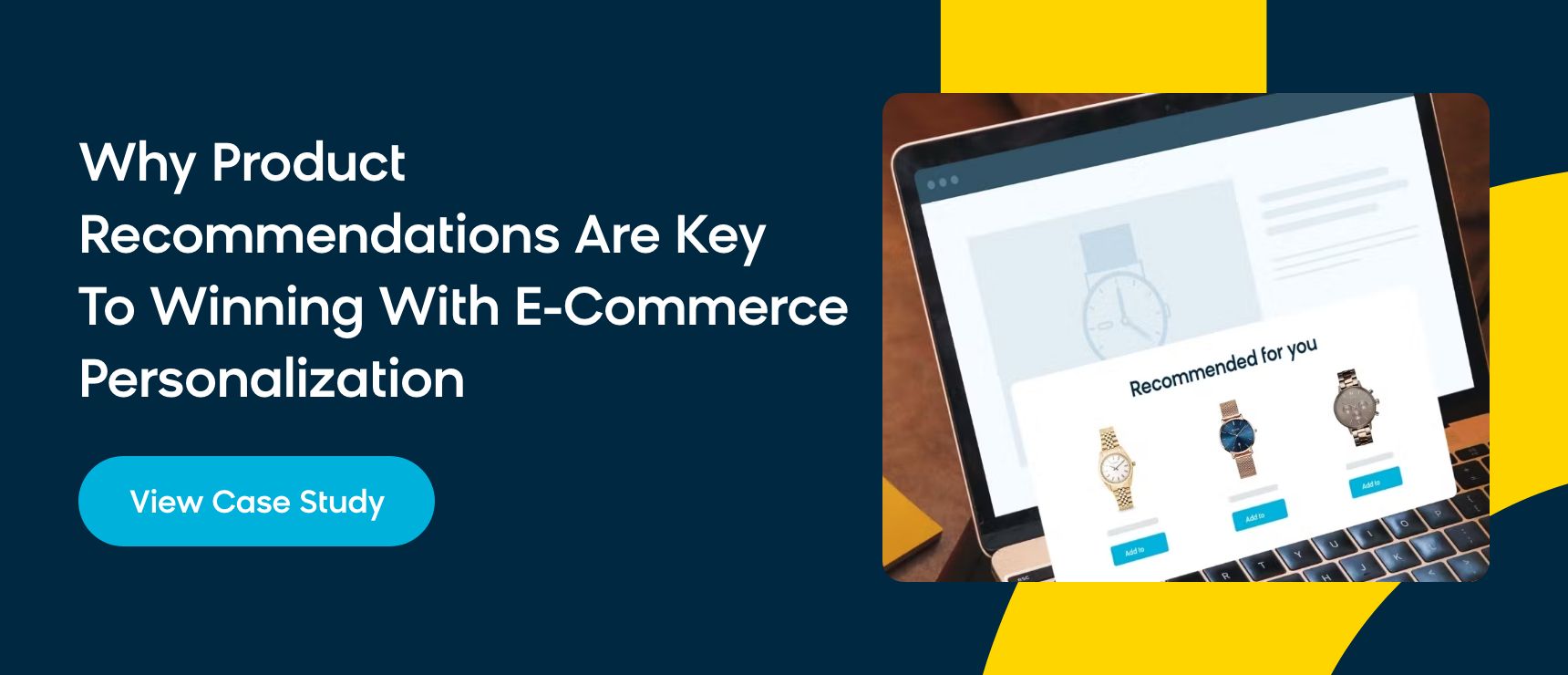 Predictive Personalization
With the right martech tool, your customer data can help you anticipate customer intent and predict important events like a purchase or churn.
Harnessing predictive analytics allows you to understand your customer behavior intimately and quickly react to your audience's mindset. With the right site personalization elements, you can capitalize on a website visit and customize a visitor's experience to guide them towards a purchase.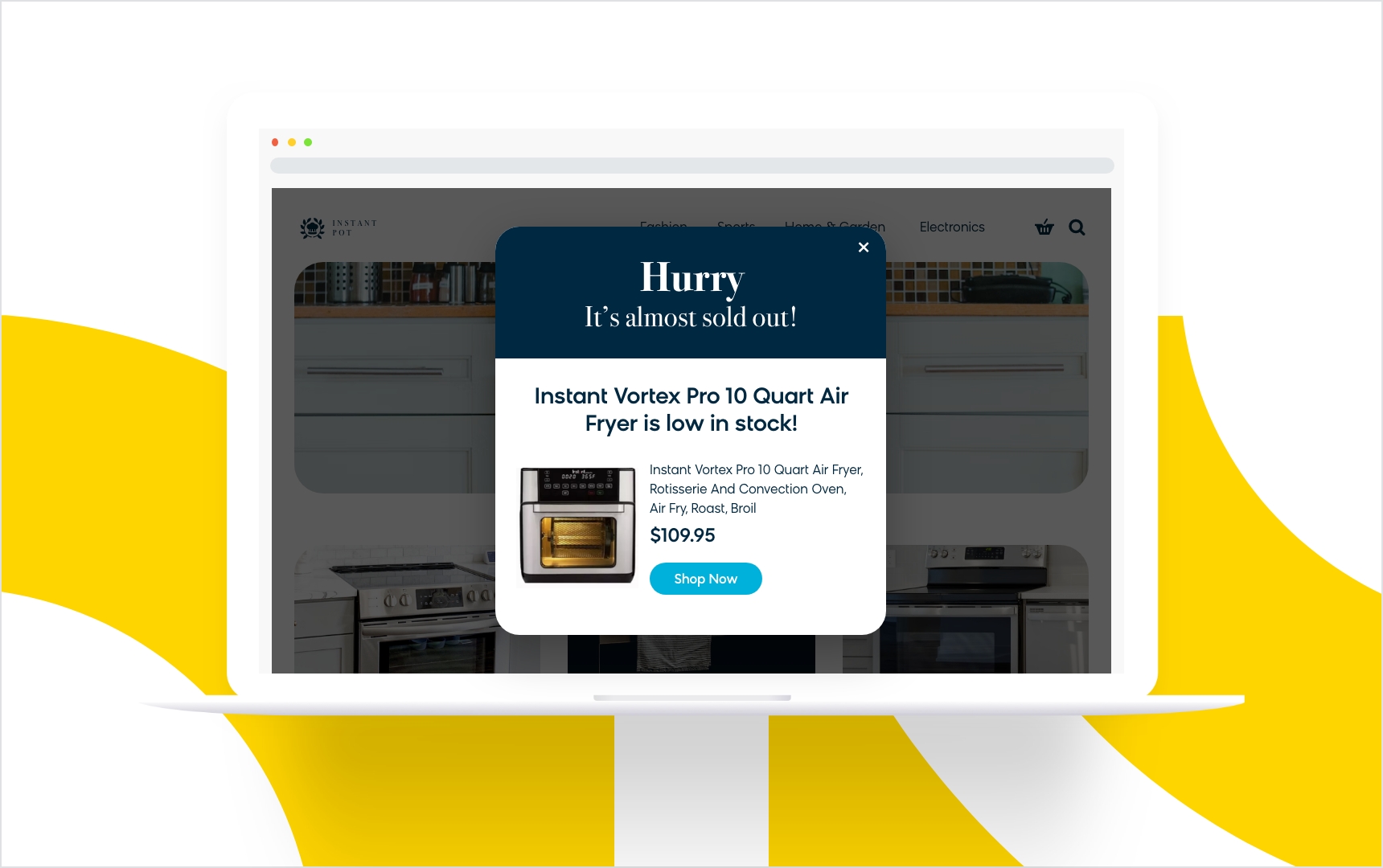 Using capabilities like on-site banners, countdown timers, and weblayers displaying discount codes or free shipping offers can help convert more visitors when and where it counts.
Read This Next: 5 On-Site Weblayers To Boost Customer Engagement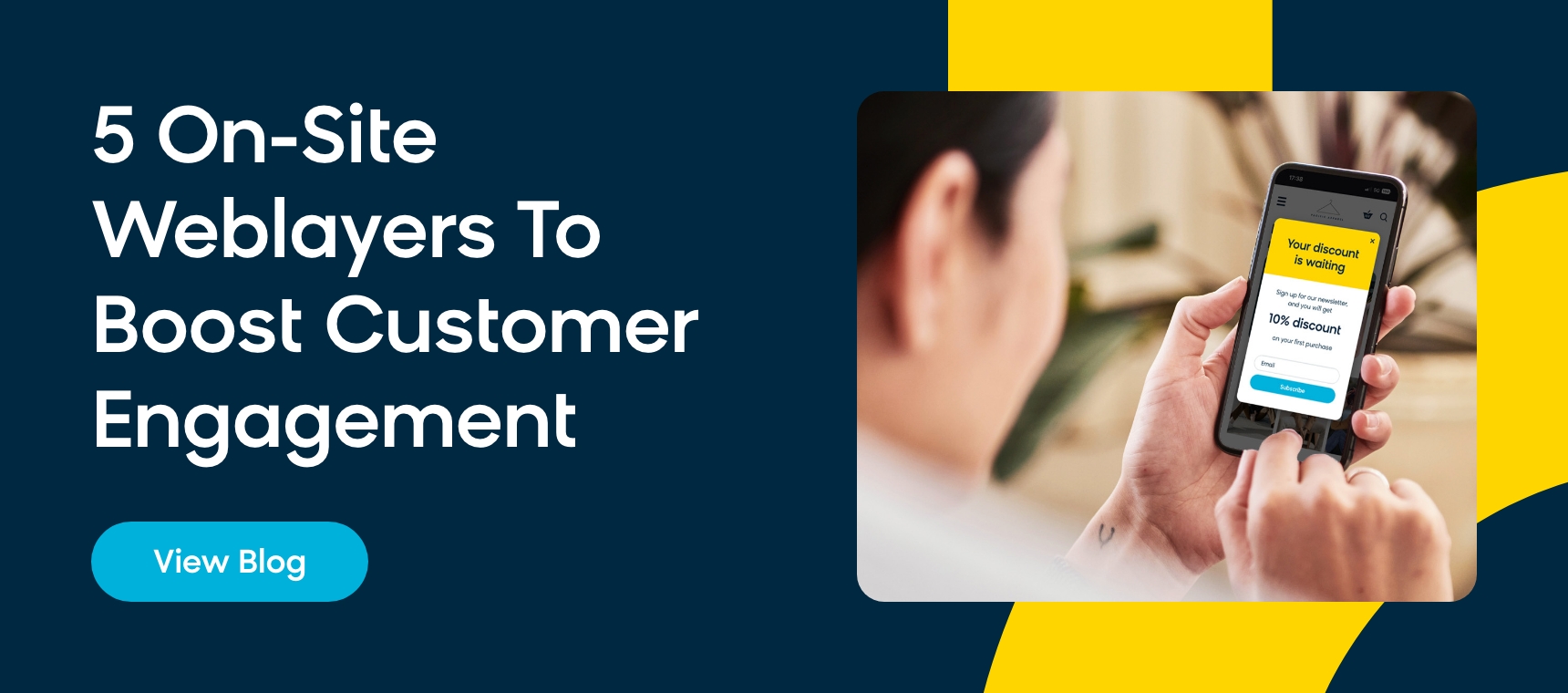 Contextual Personalization
To personalize your website (or any marketing strategy), it's standard practice to test out variations to see which one works best. A/B testing can help you fine tune everything — your messaging, your incentives, the way you organize your products, and more — to see what works and what doesn't for your audience. 
But traditional A/B testing comes with a hitch: There's one winner and one loser for each test. Whichever variant performs the best wins, and the other gets brushed aside. It doesn't matter if some customers are more partial to the losing variation. They're out of luck, and the winning variant is what they get, just like everyone else.
Contextual personalization solves this conundrum. It relies on artificial intelligence and machine learning — rather than human-defined rules — to make decisions about what to show customers by taking their individual context into account.
A customer's context incorporates all the historical data on their relationship with a brand, such as clicks on your website, past purchases, and so on. AI aggregates all this information for each customer automatically, analyzes these insights, and selects the correct variant based on this context.
With contextual personalization, you can set up a test and know your variants will be served to the right customers on an individual level. If you test offering a discount code vs. free shipping, for instance, contextual personalization will automatically serve the discount code to customers that are historically inclined to engage with it, while visitors who are more likely to enjoy free shipping will be served this incentive instead.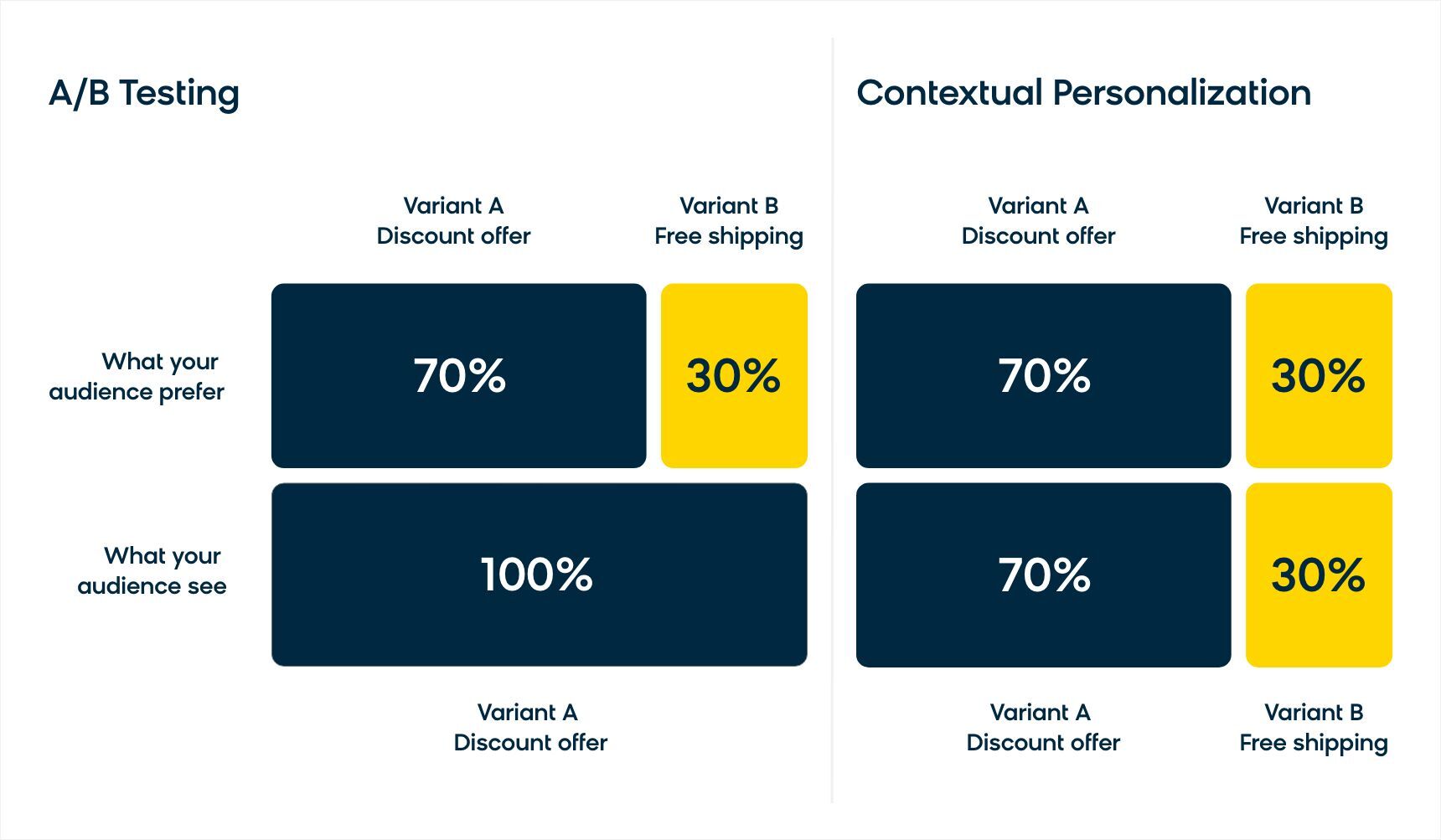 Either the customer converts or doesn't, just like any other A/B test. But with contextual personalization, AI can take this as feedback and learn which kinds of contexts paired with which variants lead to conversions, and which don't. 
Over time, it learns to make much better decisions, allowing brands to personalize their site on a granular level and offer the best experience possible for each individual customer.
Read This Next: What Is Contextual Personalization?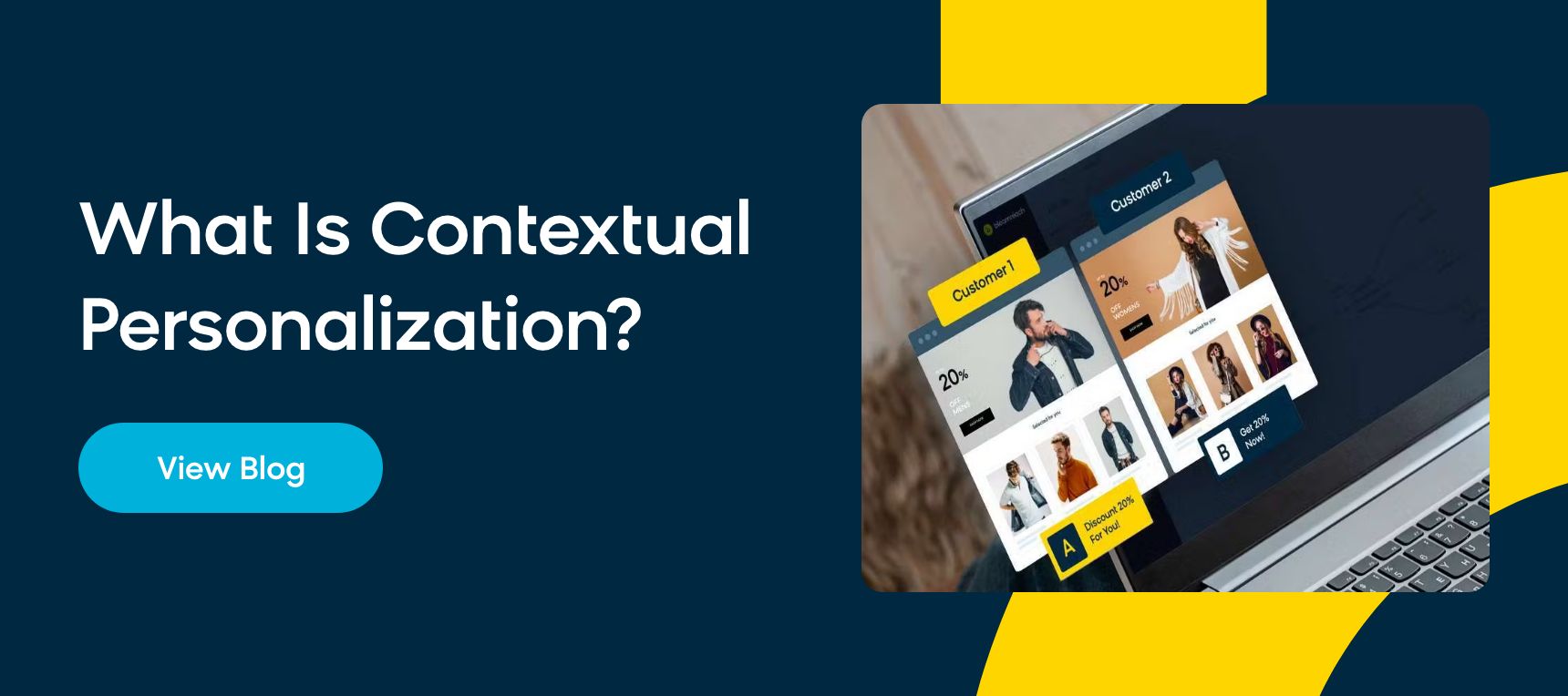 Website Personalization Examples
Wondering what great website personalization looks like in practice? Here are some examples of businesses that have successfully implemented website personalization strategies:
Yves Rocher Upgrades With Real-Time Product Recommendations
Yves Rocher is a worldwide cosmetics and beauty brand that wanted to level up its personalization efforts and provide the most personalized product recommendations possible to first-time visitors on its website. 

Using Bloomreach Engagement, Yves Rocher can now personalize product recommendations for anonymous guests. As soon as a visitor views a product, an anonymous user profile is automatically created, and the data collected within this profile is used to immediately personalize the customer's in-session experience. If the user creates an account, all that data is then stored in their new profile, ensuring their personalized experience is seamless. 
This on-site personalization resulted in a 11x increase in the purchase rate of recommended products. 
HellermannTyton Offers Hyper-Personalized Site Content 
HellermannTyton, a leading manufacturer and supplier of cable management systems, used Bloomreach Content to offer a truly personalized experience for its customers.
The company aimed to build a powerful, responsive website that could personalize content for its loyal customers, incorporating relevance targeting to cluster even unknown audiences and deliver different content to different personas.

HellermannTyton took personalization to the next level by offering an exclusive personalized customer portal called MyHellermannTyton for its customers. As part of this service, the company offers features like favorite lists, last searched terms, and a hardware registry to help customers find products as fast as possible.
bimago Uses Contextual Personalization To Increase On-Site Conversions
Interior design brand bimago saw a growing need to serve modern digital shoppers with truly personalized site experiences and wanted to go beyond traditional A/B testing to drive significant results.
Using Bloomreach Engagement, the company deployed contextual personalization to learn how much of an impact it would make in conversion rates. In testing done on a website banner, there was a 44% increase in conversion rate of subscriptions among those customers who had the banner personalized to them with contextual personalization compared to customers who saw the A/B testing version.

Optimize Your Personalized Web Experience With Bloomreach
In today's competitive online landscape, website personalization has become a critical component of any business's digital marketing strategy. 
By creating unique experiences for website visitors, businesses can increase engagement, drive conversions, and gain valuable insights into their customers' behavior and preferences. And no matter what route you want to take to build your personalized website, Bloomreach has the tools you need to optimize your site experience. 
Our omnichannel marketing solution, Bloomreach Engagement, has web personalization capabilities that help you craft incredible customer journeys, making sure you always offer the right products to the right customers at the right time. Bloomreach Discovery, our AI-powered product discovery solution, can power personalized product recommendations that keep shoppers on-site and drive more revenue. And, you can tailor every content component of your website to create agile, flexible, and personalized commerce experiences by integrating with Bloomreach Content.
Want to learn more about e-commerce personalization and how your business can stay competitive in the digital landscape? Check out our guide to e-commerce personalization next.