E-Commerce Site Search and Merchandising
Elevating Your E-Commerce Experience: Introducing Group Merchandising and Cloning Configurations
E-Commerce Site Search and Merchandising
Elevating Your E-Commerce Experience: Introducing Group Merchandising and Cloning Configurations
We're thrilled to unveil two powerful features that are set to redefine the way you manage and optimize your digital storefront. On the heels of our latest enhancements to our merchandising solution, our relentless pursuit of innovation has led us to introduce group merchandising and cloning configurations. These cutting-edge capabilities are designed to enhance your merchandising strategies and streamline your workflow, making it easier than ever to deliver an exceptional shopping experience to your customers.
Group Merchandising: Refine the Recall Set
Our new group merchandising feature offers a significant enhancement to our merchandising solution. To understand its impact, let's first explore dynamic grouping. Dynamic grouping revolutionizes search results by intelligently grouping similar products based on specific attributes. This enhances user experience, ensures quicker product discoverability, and ultimately drives increased conversions. Consider a scenario where your product offerings include variants differing only in attributes like color or size. Dynamic grouping addresses this challenge by categorizing products under specific groups, refining the recall process, and preventing the overshadowing of other offerings.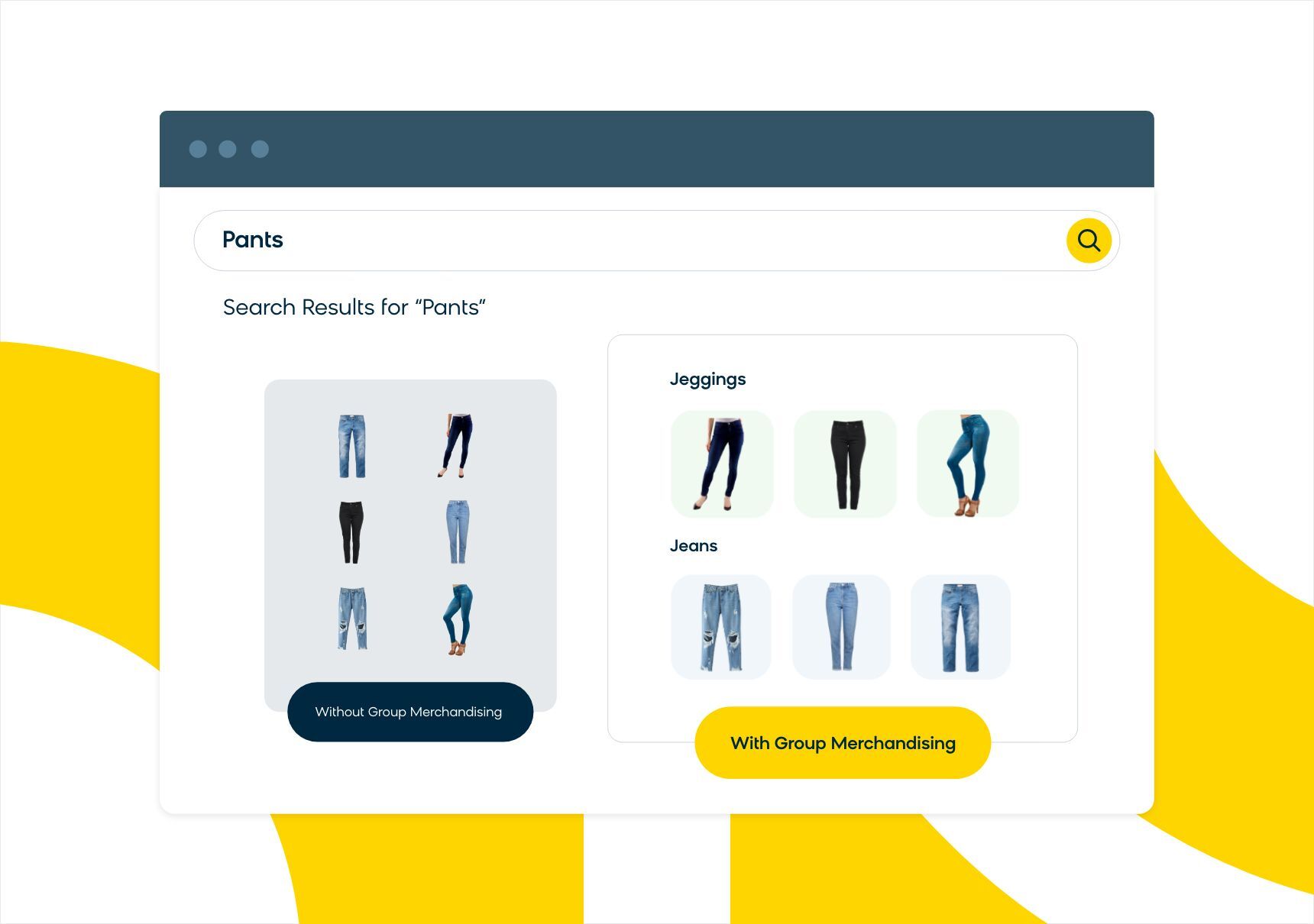 Group merchandising takes this a step further by acting as the actionable counterpart to dynamic grouping. While dynamic grouping streamlines product presentation, group merchandising refines the assortments themselves, ensuring that customers encounter the products that are most relevant to them within each group and across each grouping. For example, B2C businesses can organize the category page, "women's > dresses" by brand, with a specific luxury brand as the top group. Then, the first eight products within each grouping can be locked using group merchandising. For B2B businesses, search results for the query "drills" can be grouped by brand and then within each group, products can be ranked by best-performing. 
Cloning Configurations: Consistency Across Environments
Say goodbye to the complexities of manually recreating configurations when transitioning from development to production environments or across different accounts. Our cloning configurations feature empowers you to effortlessly replicate rules and configurations from one environment to another, ensuring a seamless and error-free transition.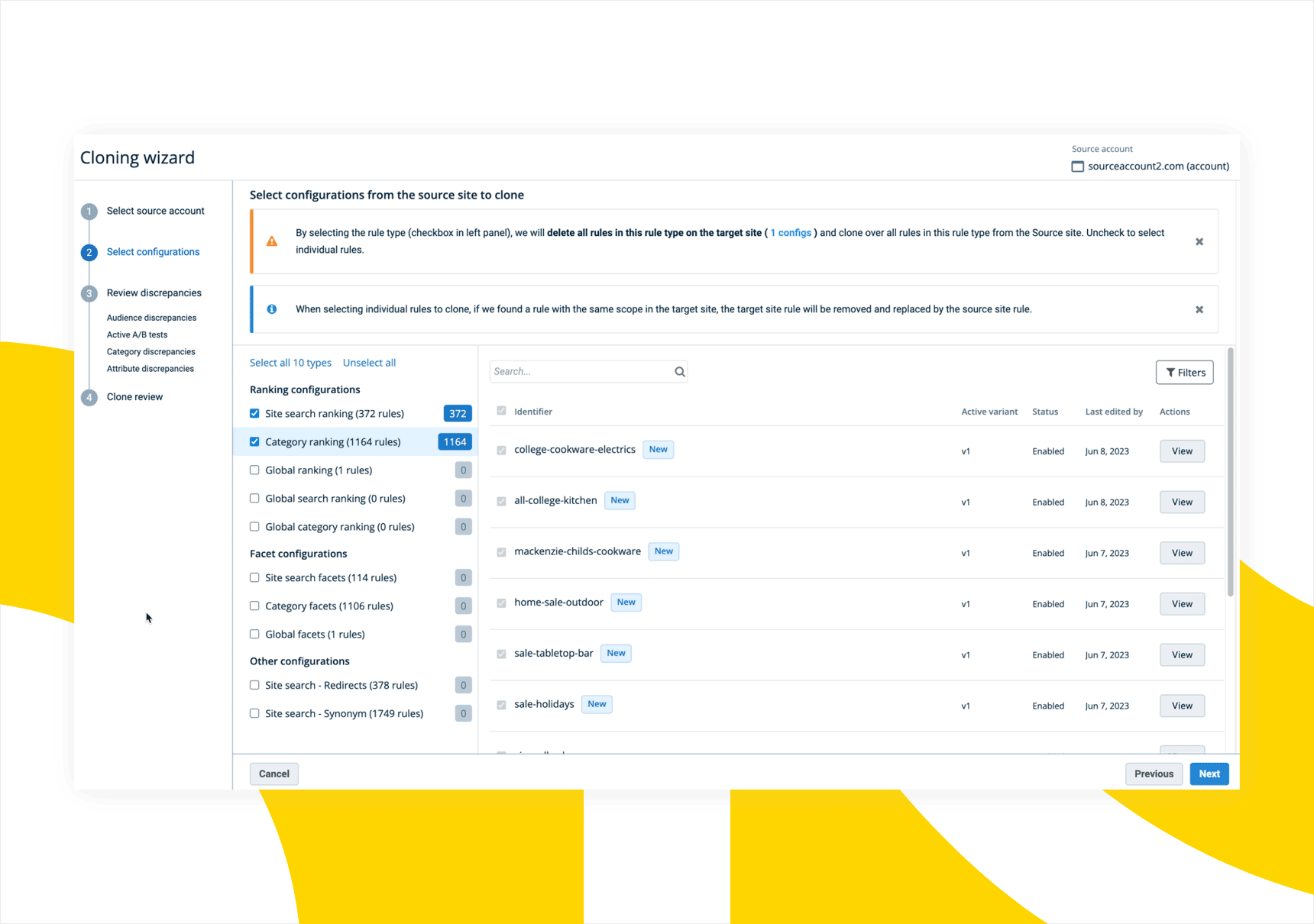 This feature isn't just about saving time and reducing errors — it's about preserving your meticulously crafted strategies and making sure your internal teams are able to manage more with less. With cloning configurations, you can confidently experiment, iterate, and optimize without the fear of inconsistencies derailing your efforts.
Embrace the Future of E-Commerce
As pioneers in the e-commerce landscape, we're committed to providing you with the tools you need to succeed in a rapidly changing digital world. With group merchandising and cloning configurations, you're equipped to create unforgettable customer experiences and stay ahead of the curve.
Ready to embark on this exciting journey? Log in to the dashboard now and explore these features firsthand. Or, read more about the new features in our documentation. Elevate your e-commerce game, exceed customer expectations, and drive your business to new heights with Bloomreach.