Real-Time Personalization
How AI Can Bridge the Gap Between Offline and Online Commerce
By Ian Donnelly
10/13/2023
Before the internet, most brands only had to worry about one thing: getting their customers to shop in their store. 
But since e-commerce changed the game, the online shopping experience has moved steadily into the foreground. In-store and online shopping are now two sides of the same coin, even though many businesses still struggle to reconcile their e-commerce and in-store commerce.
But any gaps between in-store and online shopping are ones that businesses can't afford to ignore. The world of commerce is no longer divided into online and offline realms. Instead, it has become a seamless blend of the two, creating a new, unified shopping experience. 
To implement this unified experience, you need artificial intelligence. AI is the key that can bridge the gap between these two worlds, providing customers with a seamless, engaging, and personalized shopping journey.
Why Online and Offline Need To Connect
The reason your in-store and online interactions need to work together is a simple one: Your customers expect it. Both experiences are now part of today's customer journey, and if your audience can't move seamlessly between online and offline channels while engaging with your brand, they'll likely see this disconnect as a shortcoming of your brand experience. 
A few years ago, keeping your offline and online experiences separate wasn't a deal-breaker. But modern shoppers no longer see a divide between online and offline shopping. Both are now an intrinsic part of the customer journey, not two ideas that oppose one another. 
Just think about your own experiences shopping — it's now common to browse products online before purchasing them in-store. Or you might've visited a physical store for inspiration before making a recent purchase online. This fluid movement between channels requires businesses to create a seamless shopping experience that caters to this new customer behavior.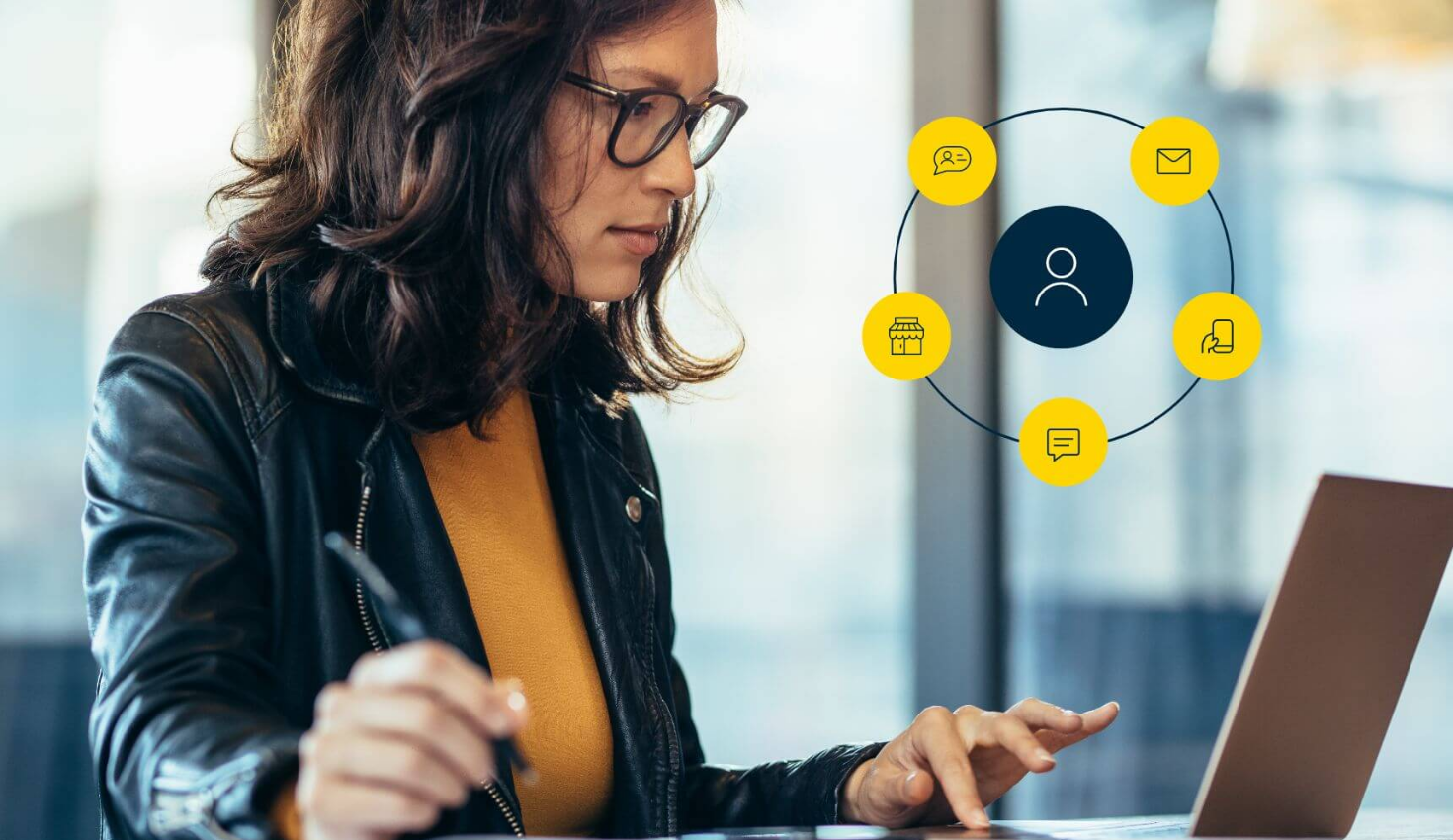 A disjointed approach to online and offline channels can result in a frustrating customer experience. Businesses need a unified commerce approach — one that leverages the power of AI — to connect the dots between these two realms.
AI Is the Key To Activating All Your Data
But what do businesses need in order to adopt this unified approach? How can offline and online experiences merge into one unified customer experience?
The answer, like so many obstacles for modern businesses, can be found in the data. Fueling your customer experience with the right data is the only way to make your entire customer journey feel seamless — you need to know your audience intimately to craft the ideal customer journey, both offline and online.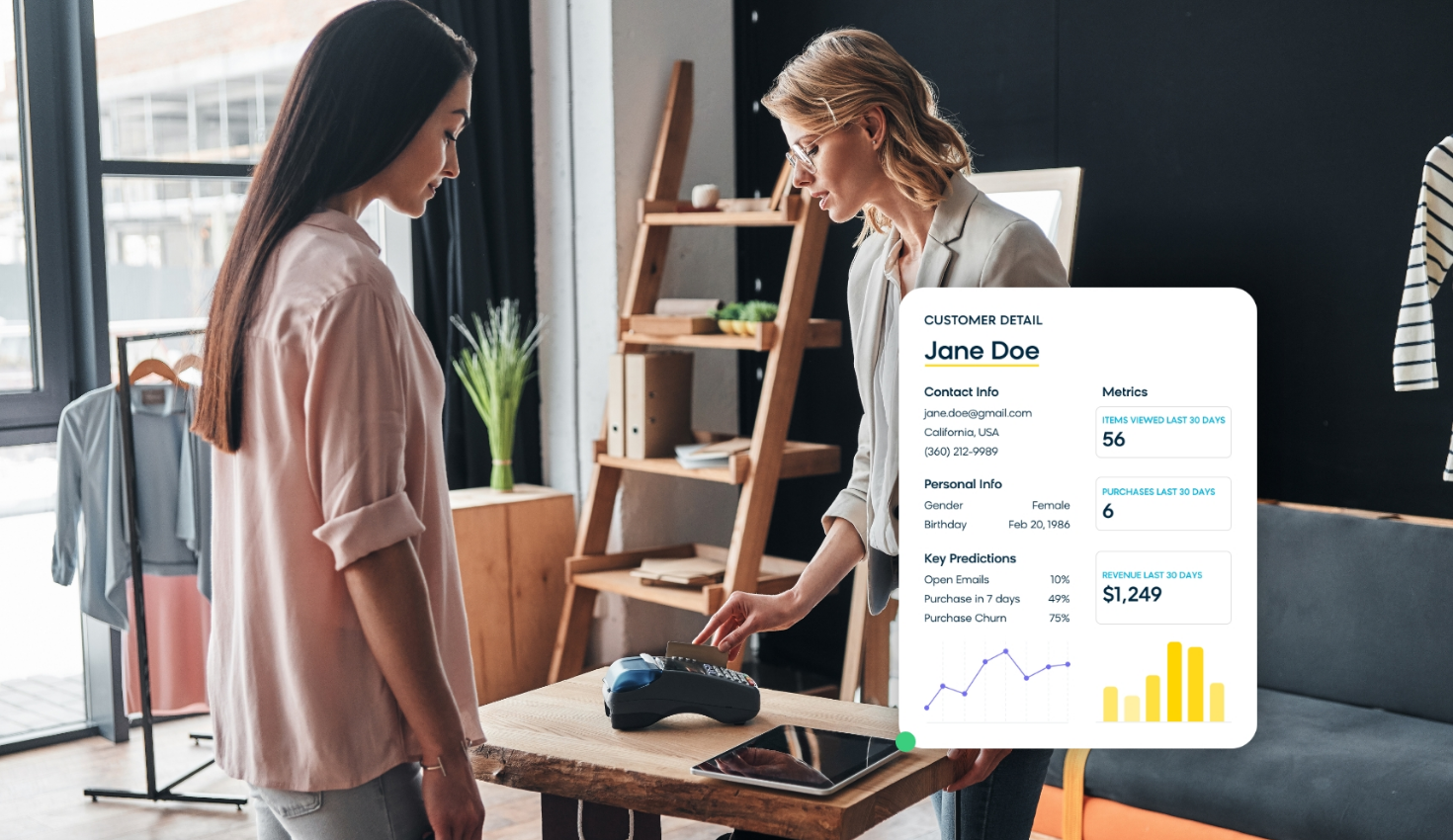 Too many businesses suffer from data silos and disconnected channels. Integrating all your data and making sure every touchpoint, campaign, and channel informs the rest is paramount, but it's one of the main challenges businesses face when trying to unify their experiences. 
AI has the power to break down these silos by analyzing and interpreting vast amounts of data from various sources. It can take every customer's touchpoint with your brand and build on their individual journey, using data from their experience on your social channels, through email and SMS campaigns, and their on-site experience shopping your products — as well as their offline interactions with your brand, which are just as important.
When AI can fully integrate all your data, your business gains a comprehensive understanding of every customers' behaviors and preferences, regardless of where the interaction takes place.
How AI Can Weave Online and Offline Experiences Together
Now that we grasp the theory behind AI's utility for modern businesses, let's dive into some lucrative use cases to understand exactly how AI can create a seamless, unified shopping experience in practice.
Hyper-Personalized Recommendations
Product recommendations are one of the best tools that businesses can use to link the offline and online experience together. And when recommendations are powered by AI, they can make customers feel like all the interactions they have are part of their unique relationship with your brand.
Just as an in-store sales associate might walk with a customer around a store, picking up clues on what kinds of products they like, artificial intelligence can collect and activate key data points across a customer's experience. This data can then be translated into hyper-relevant product recommendations that speak directly to a customer's real-time shopping needs.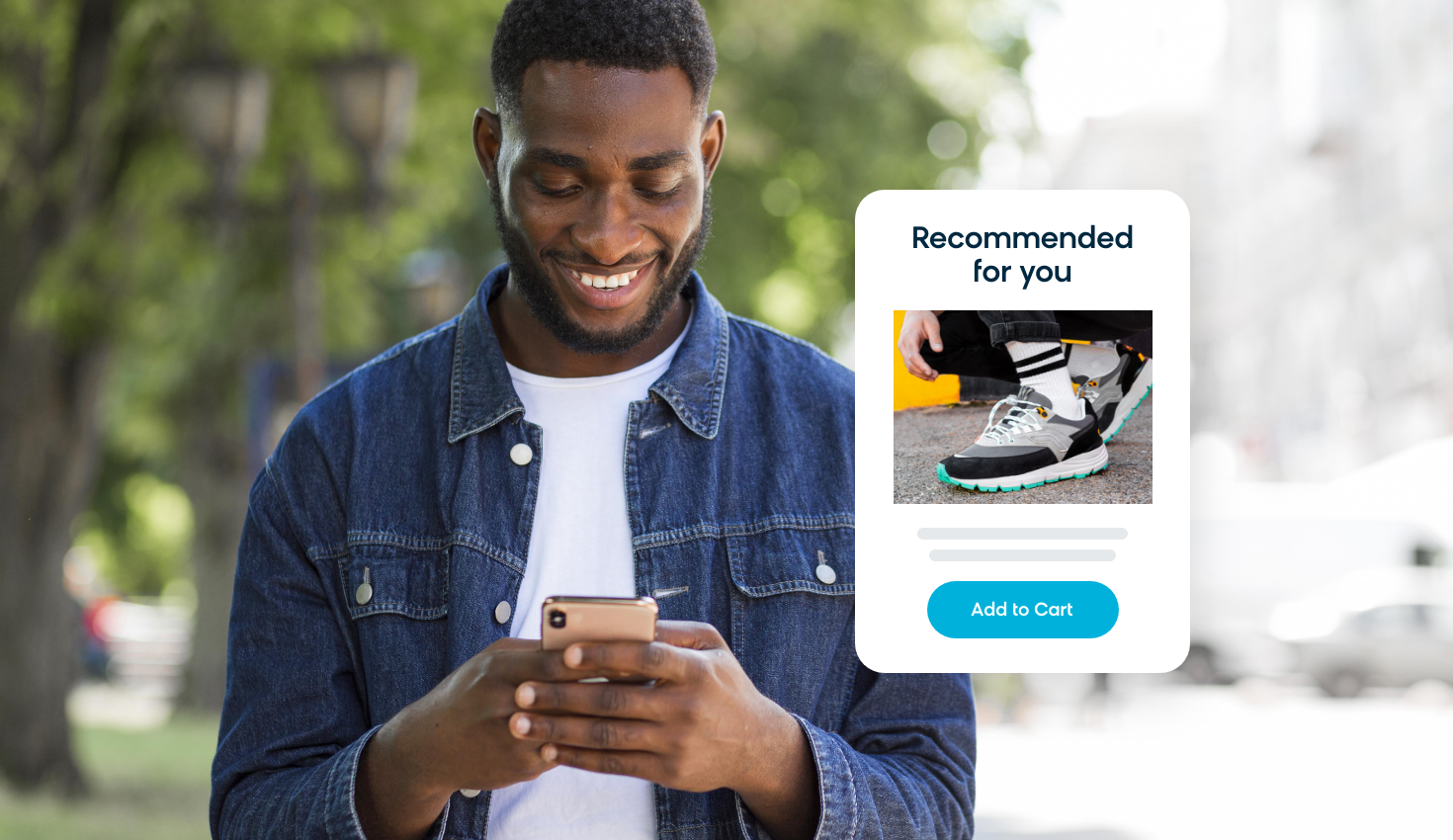 The key is to use all the data you have at your disposal, which AI has the power to do. Using data from a shopper's offline and online history with your brand, AI-powered recommendations can speak directly to a customer's real-time shopping needs, creating a seamless shopping experience that caters to each customer's individual interactions with your business.
If a customer buys a sweater in your store, the product recommendations they see in future campaigns can compliment that choice. Or, if a customer opens an email promoting a fall sale, then makes an on-sale purchase in a brick-and-mortar store, AI can serve future product recommendations that highlight sale items they would be interested in.
Online and offline interactions need to be woven together to make any type of recommendations hyper-relevant to your customers. Even broad categories like "bestsellers" need to be determined using offline and online data, as well as "customers also bought" recommendations.
The in-store experience needs to be plugged into your holistic marketing efforts as much as your on-site banners, SMS campaigns, or marketing emails. Every touchpoint informs the next step in your customer's journey. 
AI-Triggered Loyalty and Reward Campaigns
AI can analyze customer behavior and trigger personalized campaigns that encourage customers to join loyalty programs or take advantage of spending rewards. By integrating these campaigns across online and offline channels, businesses can create a consistent and engaging shopping experience.
Identifying your most loyal customers is important, especially since 65% of a company's business comes from existing customers. With more than half of all purchases likely to be repeat buyers, your brand needs to focus on nurturing a loyal audience, both online and offline, and offering them as many ways to reconnect and engage with your business as possible. 
With artificial intelligence, you can connect key data points across your channels to inform your loyalty program's campaigns and tiers. Triggered campaigns can automatically send out a congratulatory email or SMS with a special offer when a customer hits a new loyalty tier upon completing a preset number of purchases.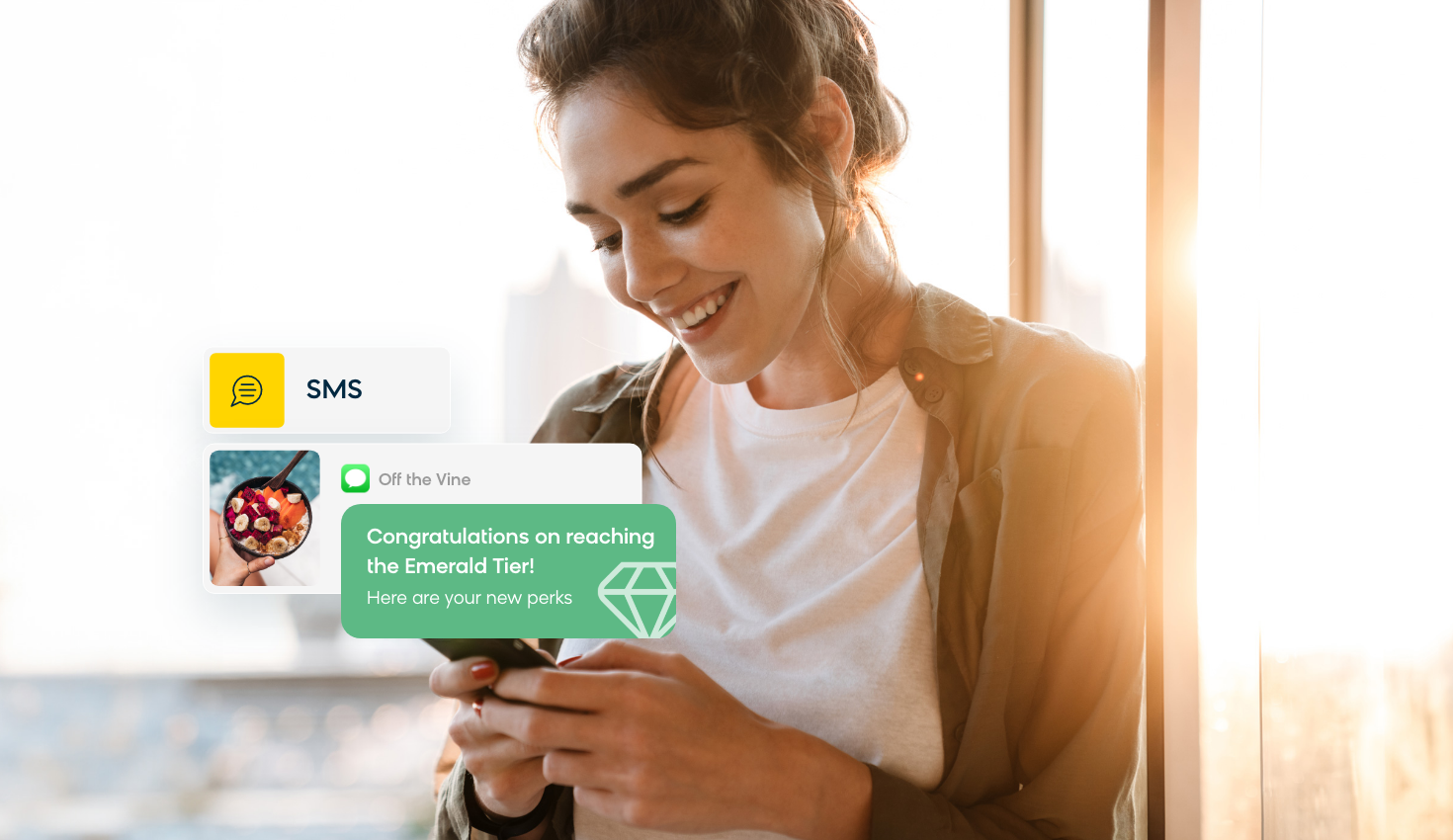 AI can also enhance customer experience by providing offers and incentives when shoppers spend a certain threshold amount in a specific product category. For instance, target customers who purchase more than $500 in shoes can be targeted with access to exclusive online presales, like a new shoe collaboration drop.
These AI-powered campaigns can go a long way toward retaining your most valuable shoppers — as long as your customers' in-store interactions are connected with their online experiences. A customer who buys ten pairs of shoes in-store and one pair of shoes online deserves to be targeted with that presale reward. 
For loyalty programs and rewards to feel part of a unified customer experience, all your interactions need to fuel your AI-powered efforts.
Position In-Store Visits in Your AI-Powered Customer Journey
Understanding that in-store visits offer valuable data for your holistic marketing strategy can open the door for more nuanced and personalized campaigns. With AI, you can incorporate in-store visits as an integral part of the customer journey, helping your customers move further along in their path to purchase. 
Using AI to analyze data from various sources, businesses can gain insights into when and why customers visit their physical stores. This information can then be used to create targeted campaigns that encourage customers to visit a store at key points in the decision-making process, thereby bridging the gap between online and offline commerce.
In practice, this helps build a long-term relationship with customers that can yield meaningful results, especially for businesses that have a lengthy sales cycle. 
For instance, furniture retailer DFS harnessed AI to craft an automated welcome email series that personalizes the customer journey across online and offline channels, helps facilitate better customer management, and drives more revenue.
DFS knows that a high-AOV industry like furniture retail requires a longer customer journey, with many customers expecting to have both in-store and online experiences while shopping their products. 
To make this journey as personalized as possible, the company crafted an automated welcome email series that is specifically tailored to its ideal customer journey. The AI-driven campaign delivers personalized, product-specific content based on what products it knows customers are interested in (thanks to previously collected customer data).
First, DFS sends an email asking customers to identify which furniture pieces they're interested in and personalizes a customer experience specifically for them based on this zero-party data. 
Then, it serves relevant content to the customer that builds on their relationship with the brand. This includes emails that offer 3D room layout tools to get a sense of products in their homes, style quizzes and buying guides for the category of furniture they're interested in, and ongoing sales that feature their preferred product type. 
And as each customer interacts with the email welcome series, AI maps their customer journey to guide them toward the next step in their experience. Each new email builds on the previous one, taking their clicks and engagement into account, until AI determines the exact right moment to encourage customers to visit a brick-and-mortar location and get the complete in-person experience with the product.
This step-by-step process is AI-powered personalization at its finest, incorporating both online and offline interactions into the buying journey. All it takes is the right technology and an understanding that your customer experience can happen everywhere, at any time — on a website, in an inbox, on social media, and in person. 
Read This Next: DFS Uses Bloomreach Engagement's Automated Welcome Email Series to Increase Revenue Nearly 4%
Unify Your Customer Experience With AI for E-Commerce
AI has the power to unify online and offline commerce, creating a seamless shopping experience across all channels and touchpoints. 
That's why Bloomreach built and trained Loomi, our AI for e-commerce. Loomi is the connective tissue between our products and is engineered to power connected, personalized customer journeys across every channel, in real time, and at scale. 
Trained on 13+ years of commerce data from some of the largest brands in the world, Loomi makes it possible to translate all your customer and product data into seamless experiences, from real-time marketing campaigns across every channel to intelligent merchandising and product discovery algorithms. 
It's the tool businesses need to craft the unified experience that modern customers expect and weave personalization into the entire customer journey. 
Interested in learning more? See what you can do with AI and Bloomreach by exploring our use cases.