Omnichannel Marketing Automation
5 AI-Powered Features in Bloomreach Engagement That You Can Start Using Today
By Ian Donnelly
07/19/2023
Omnichannel Marketing Automation
5 AI-Powered Features in Bloomreach Engagement That You Can Start Using Today
AI is everywhere, changing the game for so many industries, companies, and daily tasks. But what can marketers do to harness the power of artificial intelligence? How does this new evolution in tech translate into a scalable, smarter marketing strategy?
It can be overwhelming to parse through the latest think pieces and how-to guides to find the right AI solutions that'll help you achieve your specific marketing goals. Thankfully, Bloomreach has you covered — our platform is the AI-powered solution you need to create more efficient and revenue-driving campaigns.
Here are five AI-based capabilities available in Bloomreach Engagement's marketing platform that you can adopt and start using to optimize your marketing efforts today.
In-Platform AI Content Generator
Impactful content is crucial for any marketing campaign, no matter which channel you use to reach your target audience. That's why Bloomreach offers an in-platform AI content generator that helps you create engaging marketing content directly in our campaign editor. 
SMS messages, emails, in-app notifications, and browser push notifications all require their own variations of content, which can be a challenge for marketers who want to execute campaigns quickly and at scale. With the help of our GPT-3 integration, marketers using Bloomreach Engagement can cut down on the manual time it takes to write copy, using smart AI to simplify content creation and quickly execute campaigns across channels.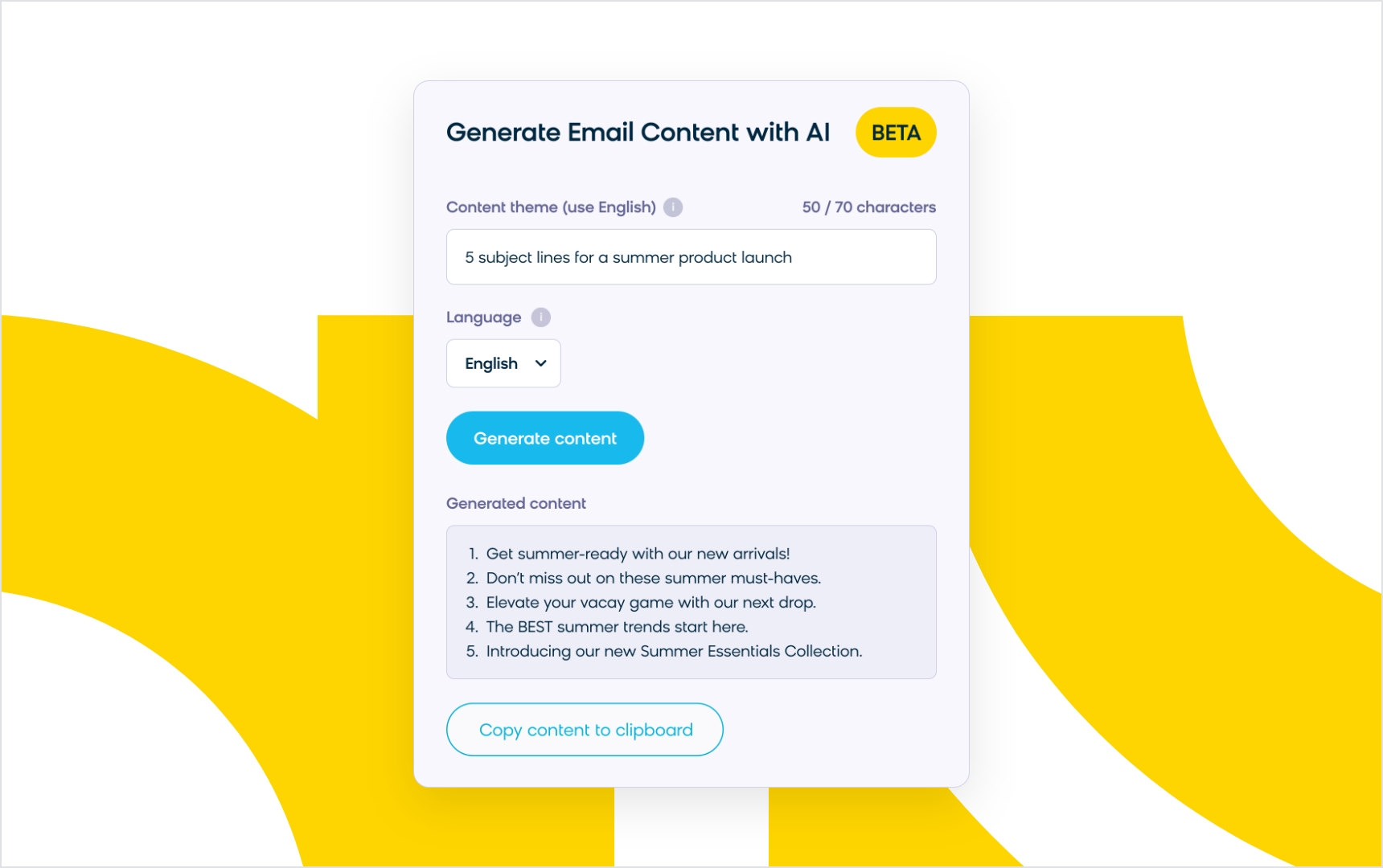 In a matter of seconds, our integration can generate new content options for your marketing strategy. This feature supports testing as well — marketers are able to use ChatGPT to generate multiple variants and then test their favorite suggestions. 
Personalization is also executed seamlessly with our content generator, with features that allow marketers to input a customer's first name, control the message's tone of voice, and streamline language translation.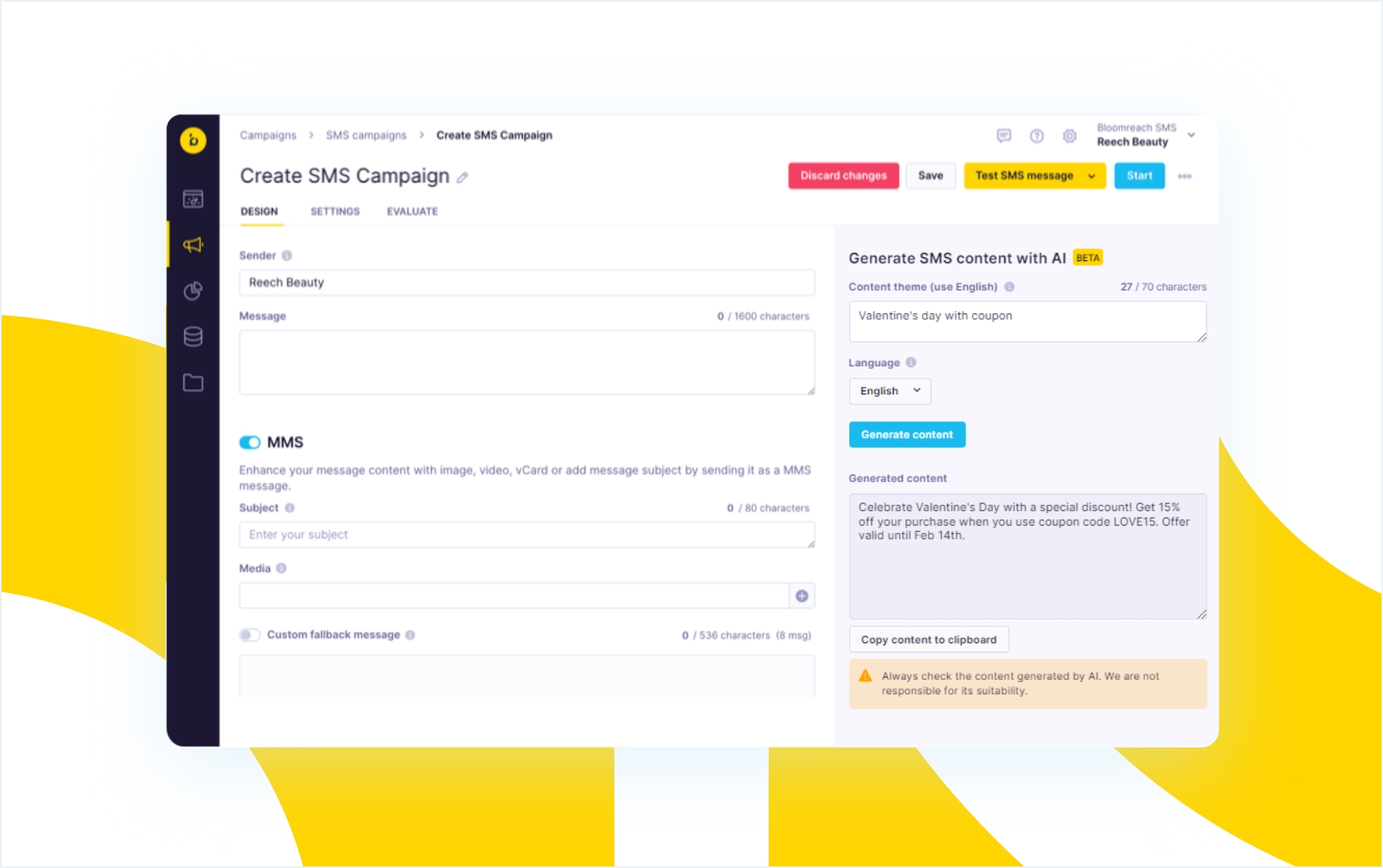 With Bloomreach Engagement, you don't have to leave the platform to generate things like alternative subject lines or multiple CTAs to try out. You can simply input the desired theme, character count, and language for your campaigns, and our AI content generator will create content options that you can use to launch and test the best messaging for your audience.

Churn Prediction 
Predicting your customers' next steps based on their historical and real-time data can revolutionize your marketing strategy. This is especially useful when it comes to a customer's likelihood to churn. Thankfully, marketers have vast amounts of data that can offer insights into their customers' future behavior — and Bloomreach Engagement has the right tools to unify and leverage all that information to identify patterns, trends, and expected outcomes. 
First and foremost, our platform consolidates and organizes all your customer data into a single customer view — a centralized database with customer profiles containing accurate data points for each individual who interacts with your business. With all your data interconnected and updated in real time, our machine-learning algorithms can analyze historic and current data to make the most informed predictions possible.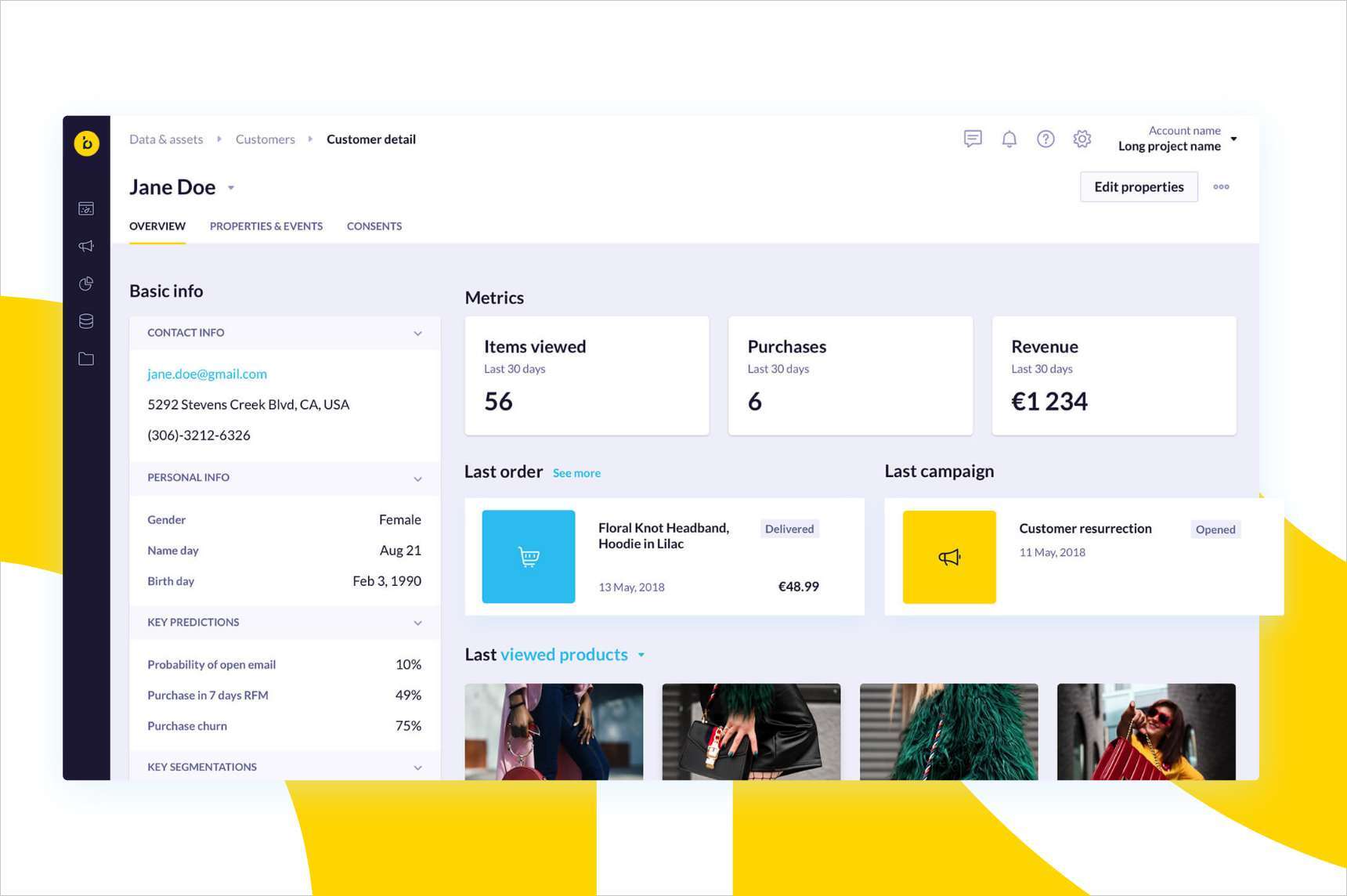 With all your data in one place, you can lean on AI to evaluate and accurately predict when a customer might lapse, giving you time to reconnect with your audience, win them back, and build lasting customer relationships.
With our preset churn prediction template, all you need to do is set the time frame you want the algorithm to evaluate and the action event (either purchase or session, whichever action you want to analyze), and Bloomreach's powerful AI will get to work, combing through your customer data to comprehend their current stage in the customer journey and forecast their next steps.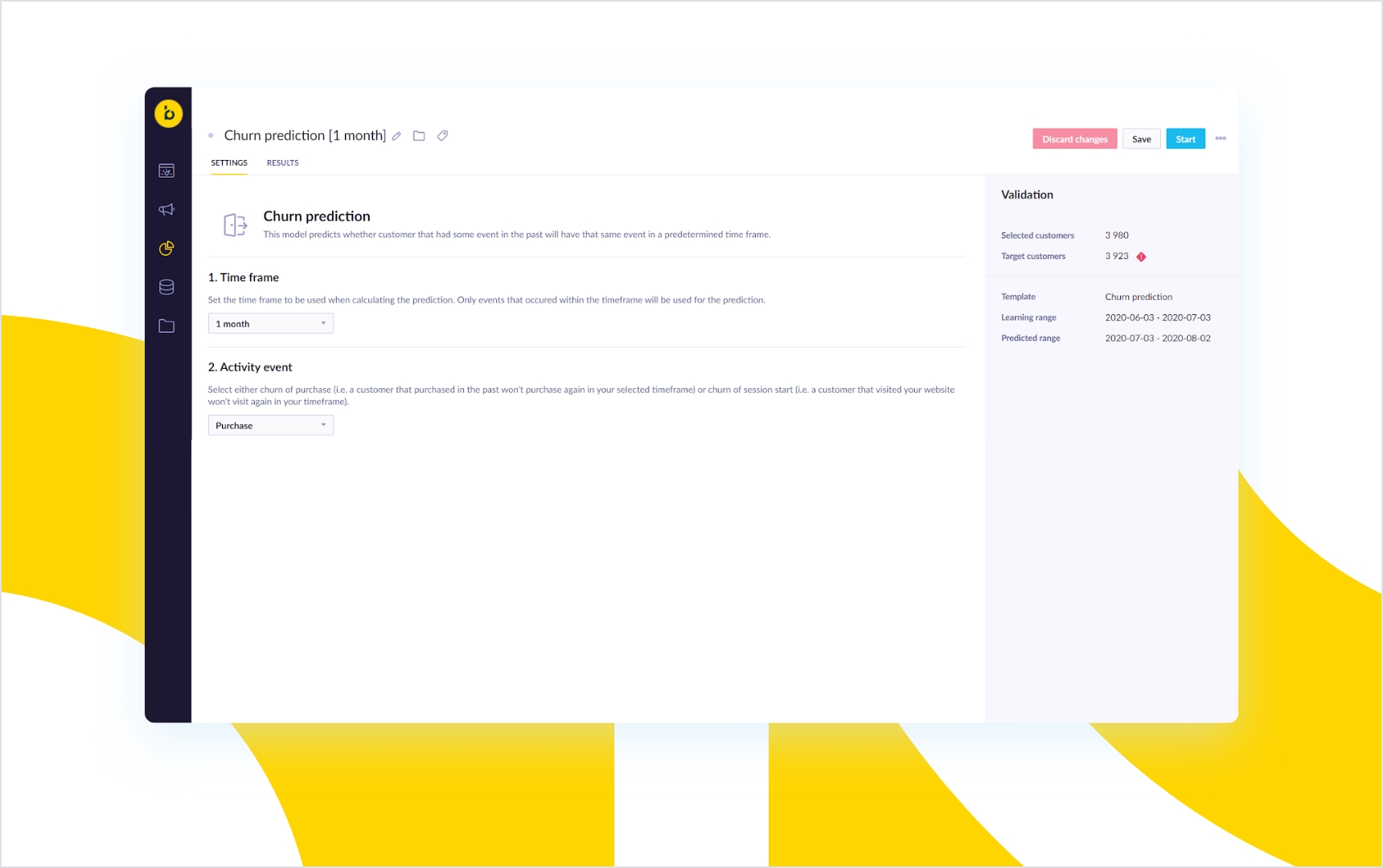 Armed with enough information, our churn predictions can help you score customers on a low, middle, and high probability of churn, which you can use to segment your audience and serve the right campaign for their unique needs.
And with AI-powered predictions, you can always rest assured that your insights into customer behavior are up to date. The result of your churn prediction for each customer is stored in their individual customer profile, and the prediction is recalculated with the most relevant data every time its value is requested. There's no need to manually update your predictions — our artificial intelligence learns and refreshes your predictions for you, making sure you always have the information you need to make the right decisions.
Best Channel and Send Time Optimization
If you want to reach your customer when and where it counts, you can't rely on the average preferred send time or the channel you hope they favor. You need to create truly personalized experiences for each individual customer, and our AI-powered optimal send time, along with custom channel predictions, can help you achieve just that. 
Bloomreach is the only platform that enables AI to determine the best time and channel to send your marketing campaigns. The optimal send time prediction model is based on historical open and click data at the individual customer level, allowing marketers to serve messages at the perfect time for every audience member, no matter the size of the audience.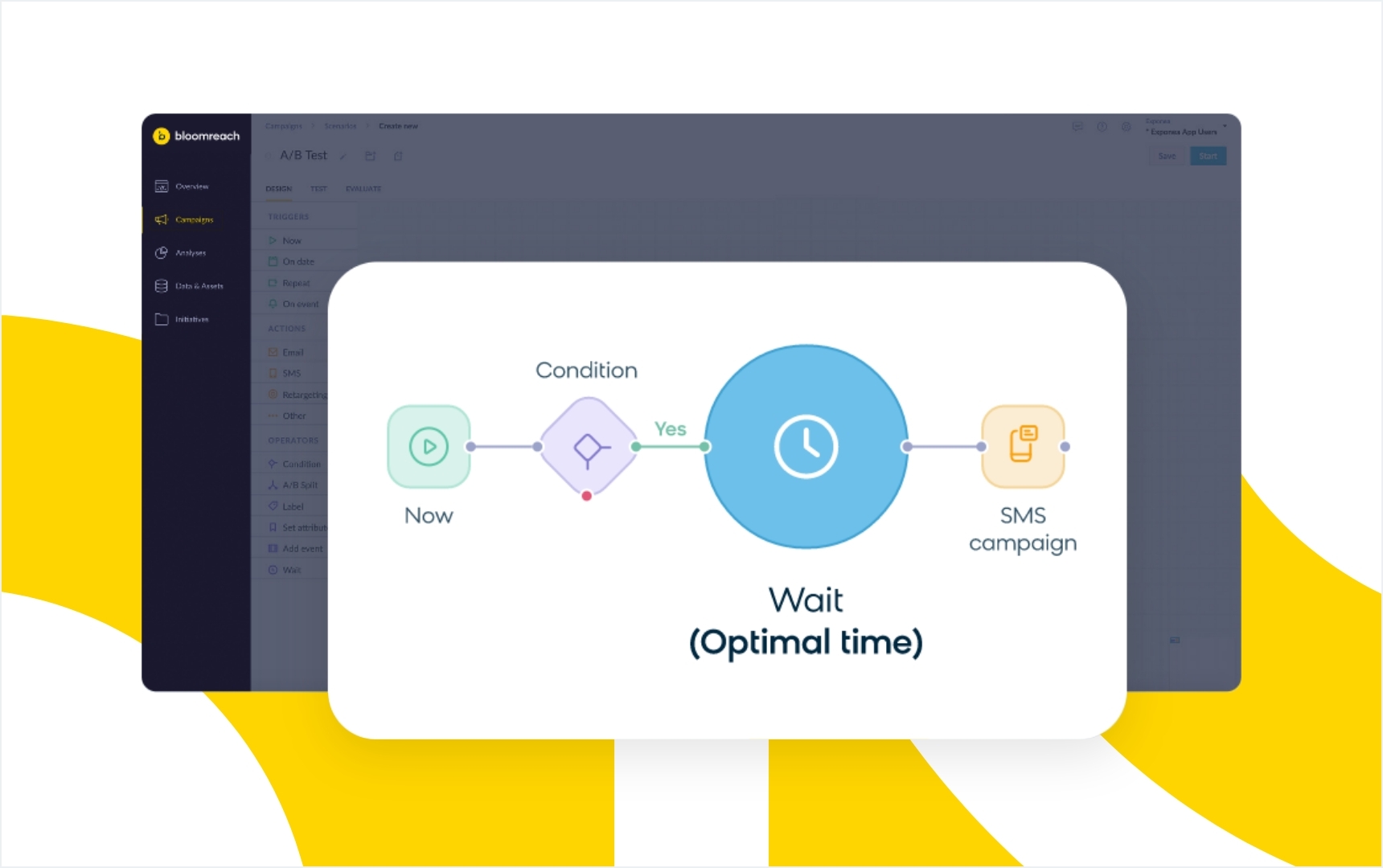 Rather than determining a general send time for your subscribers, you can personalize send times down to the individual level. Just like churn prediction, these AI-powered send times learn from each new data point and are stored in each customer's unique profile. 
The same is possible for best channel prediction. With Bloomreach Engagement, you can create custom prediction filters that utilize machine learning to help you identify the best channel to reach each customer. Using your audience's historical channel preferences and their most up-to-date behavior, you can fine-tune campaigns to make the most impact.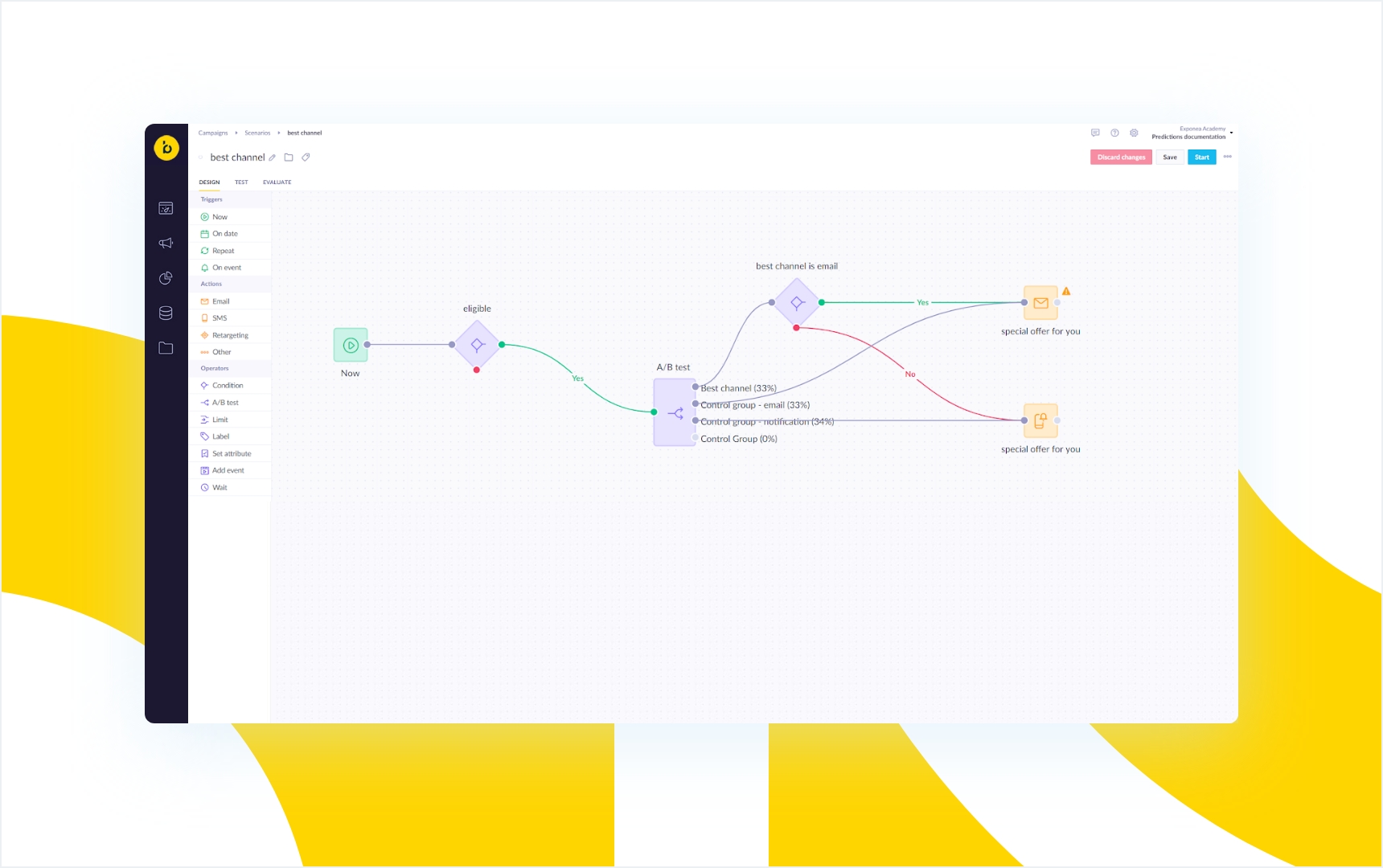 No more guessing whether an SMS will outperform an email or vice versa — now you can use artificial intelligence to understand which channel a customer is most likely to engage with and instantly cater to their preferences with targeted campaigns. 
Personalized Product Recommendations
No matter which channels you use in your marketing strategy, your audience expects a personalized experience with your brand. It's the trade-off for the wealth of information that consumers allow businesses to collect — they want you to turn all the data you gain into a relevant, tailored experience.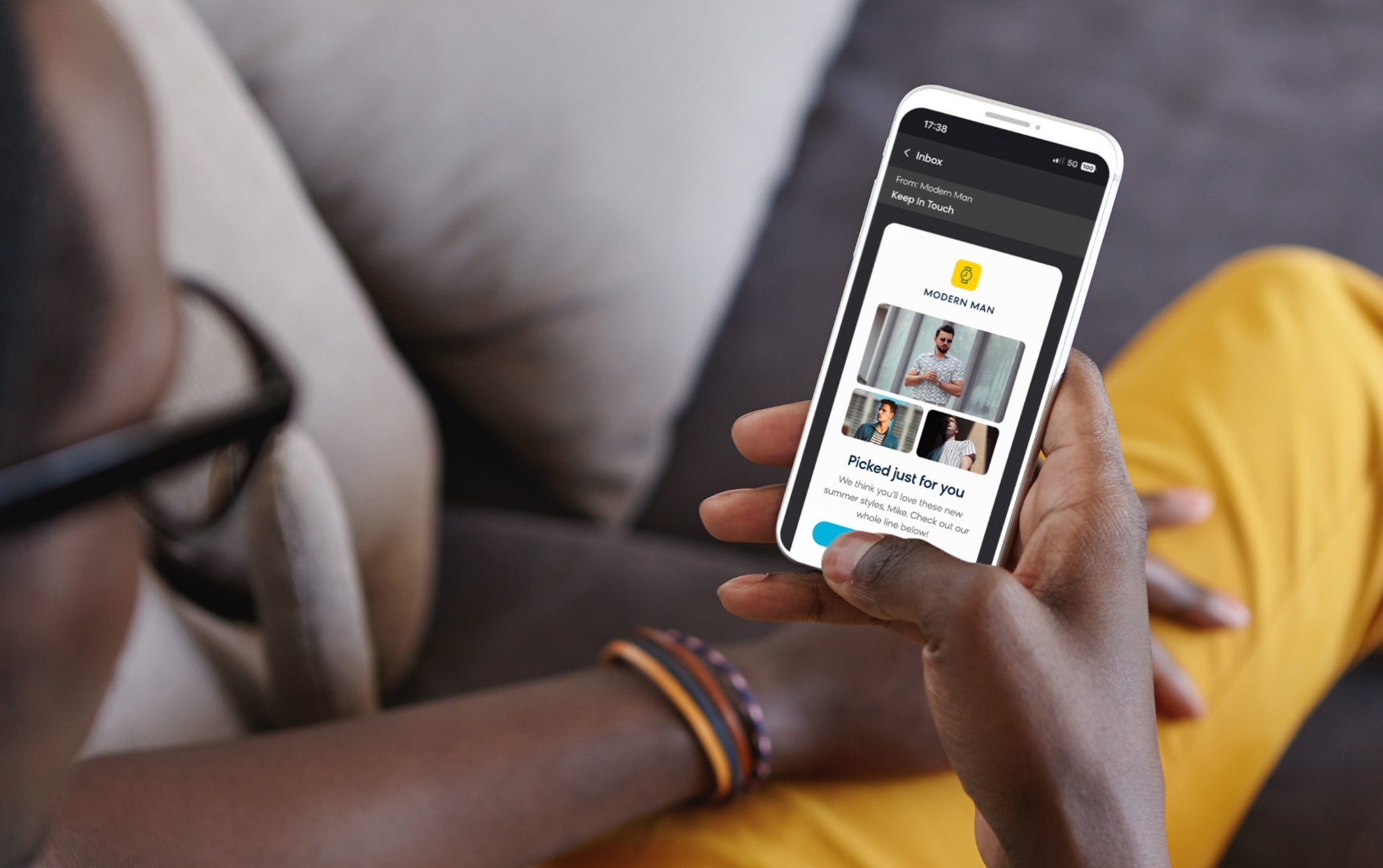 Serving personalized product recommendations is one of the best ways to achieve this, which is why Bloomreach Engagement offers AI-powered recommendations that help you speak directly to your customers' wants and needs with your marketing campaigns. 
With our all-in-one platform, product recommendations can be utilized at every stage of your marketing efforts, including:
On your homepage: Highlight recommendations for your customers right when they visit your site 
Within product detail pages: Show your audience alternatives for currently viewed products pages that they might also enjoy 
In a customer's cart: Suggest other relevant products based on the items they've already added to their basket
In email and SMS campaigns: Personalize email and SMS marketing messages with products they might be interested in
Via weblayers, banners, and push notifications: Serve the most relevant recommendations with a sense of immediacy that entices customers to act
Bloomreach Engagement uses machine-learning algorithms to generate recommendations that personalize the products suggested to each recipient in real time. Since artificial intelligence can ingest the most up-to-the-minute insights from a customer, every recommendation can be informed by the most relevant data points, like a recipient's last opened SMS, their most recent on-site searches, and even their latest in-store purchases.
You can even use personalized recommendations for first-time interactions with new customers, like anonymous site visitors with no prior history with your website or brand. Our solution allows you to start building a customer profile as soon as a user visits your site and accepts cookies, logging their interactions and using them to serve relevant, personalized suggestions. The data collected is used to immediately personalize the anonymous customer's in-session experience, building on each new step in their session and encouraging more engagement.
That's exactly what Yves Rocher did, leading to a 11x increase in the purchase rate of recommended products using Bloomreach Engagement. 
Read Next: Yves Rocher Upgrades Personalization With Bloomreach's Real-Time Product Recommendations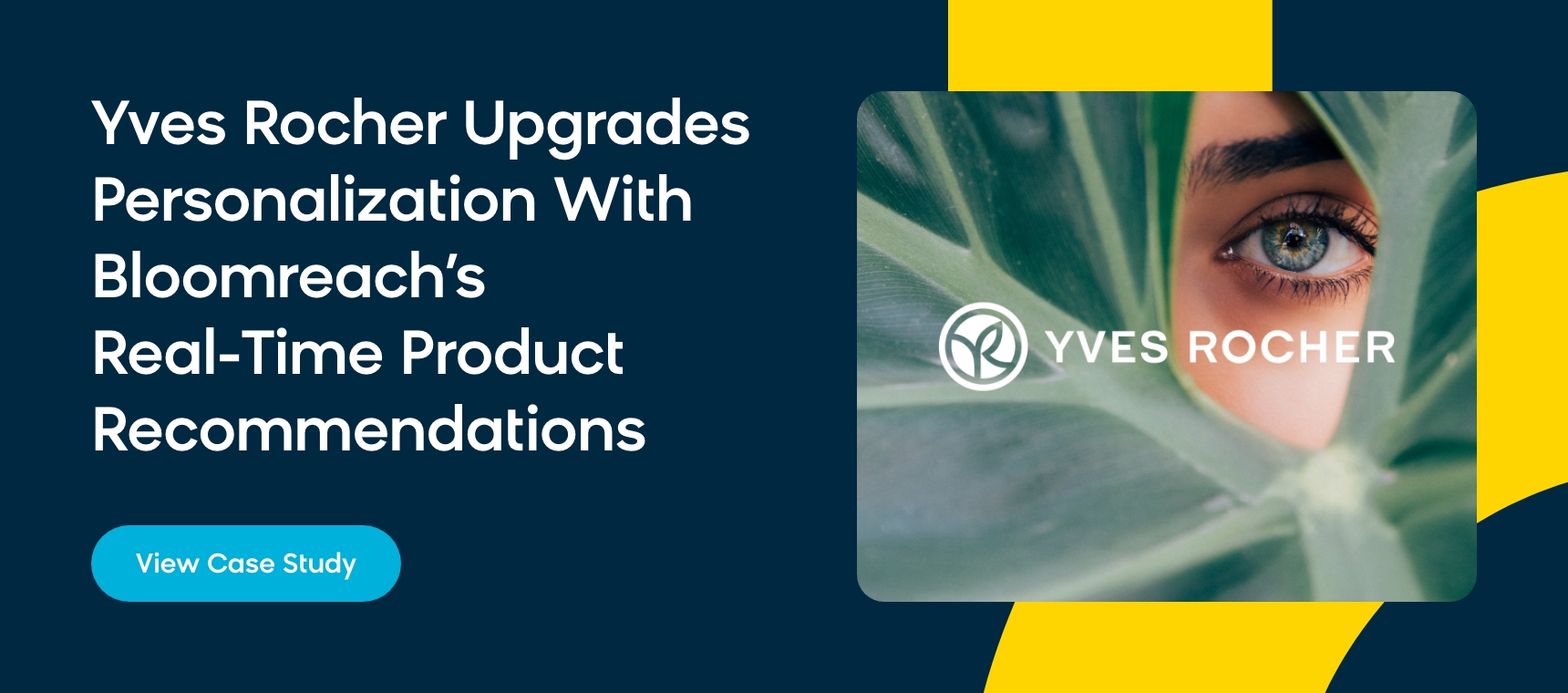 Contextual Personalization
Every marketer knows that the key to a strong marketing strategy is testing. If you're trying to make your campaigns the best they can possibly be, you test out variations of different components to see which one works best. A/B testing can help you fine-tune everything — your messaging, your channels, your site experience, and more — to see what resonates with your audience. 
But there's a problem with traditional A/B testing — it relies on a majority to steer your strategy. You take a winning variant based on a control, and then apply that winner to the rest of your audience. Even though there's a higher chance of that version resonating, there's also a chance that it won't appeal to some of your customers, which is a missed opportunity.  
That's where Bloomreach's AI-driven contextual personalization can help. It's the next step in A/B testing's evolution, using artificial intelligence and machine learning — rather than human-defined rules — to make decisions about what to show customers by taking their individual data and preferences into account. 
AI can use each customer's context — things like clicks on the website, past purchases, opened emails, and even data from their ongoing session — to select the variant most likely to lead to a conversion. Our AI aggregates all this information for each customer automatically, analyzes these insights, and selects the correct variant based on this context.
With contextual personalization, you can set up a test and know that AI will serve the right variant to the right customers based on their unique needs — something that traditional A/B testing can't hope to achieve.
Harness AI for Better Marketing Campaigns With Bloomreach Engagement
To take full advantage of artificial intelligence, marketers need the right platform with the right tools for the job. And that's exactly what you get with Bloomreach Engagement. Our omnichannel marketing solution uses AI to deliver hyper-personalized experiences across all channels in the customer journey, providing everything you need to build smarter and more meaningful marketing campaigns.
Our real-time customer insights and customizable templates give marketers like you a way to streamline your strategy and use artificial intelligence to benefit both your business and your customers. 
Interested in diving deeper into Bloomreach Engagement? Learn more about our AI-powered platform here.