E-Commerce Site Search and Merchandising
3 Site Search Best Practices for Your Commerce Brand
Some things are made to set and forget — Amazon's Subscribe and Save, a slow cooker, or a Roomba. You just fine-tune the settings to what you want, and then you don't have to think about it for the foreseeable future. Other things in life can be automated to some degree, but they still need a bit of TLC every so often. To us, e-commerce site search falls into the latter category. 
What we are saying is that your site search bar should use artificial intelligence (AI) to do the heavy lifting, but search managers and merchandisers still need the flexibility of a customizable solution. This is one of the many site search best practices we'll cover today. Before we delve further into that topic, though, let's talk about the value of e-commerce search, how AI plays a big role, and why it can solve some of your commerce company's biggest pain points. 
What Is the Value of E-Commerce Site Search?
Many of you reading this blog probably know about site search by now. You could have already incorporated an e-commerce site search solution, like Bloomreach Discovery, into your tech stack. A search function is simply a means of helping your customers (or buyers, in the case of the B2B market) find exactly what they're searching for by guiding them to relevant results. 
Even though practitioners show increasing interest in AI and site search, we often see the project being shelved for other e-commerce priorities, like paid search advertising, "prime-like" shipping, or assortment expansion. These strategies matter to your business, but brands often overlook how impactful site search can be to their revenue, as it's proven to increase both average order value (AOV) and revenue per visitor (RPV).
E-commerce site search provides numerous other benefits to both businesses and their customers, including:
Enhanced Customer Experience - Since e-commerce site search helps customers quickly find the products they are looking for, it leads to better shopping experiences, increased customer satisfaction, and more retention for your business.
Better Personalization - We're all probably tired of hearing about personalization to some degree. Because as hyped as it's been for the past decade, it never seems to work quite as it should. But good site search can analyze customer behavior to provide personalized autosuggestions, product recommendations, and more. 
Reduced Bounce Rates/Search Exits - Customers who use search are more likely to convert if they can easily find what they are searching for, leading to overall lower bounce rates and search exits — and less money in your competitors' pockets.
Significant Competitive Advantage - Providing exceptional site search capabilities can be a competitive advantage for businesses. If customers associate a smooth search experience with your e-commerce website, they'll have the incentive to spend more money, shop repeatedly with your brand, and spread the word about your business.
Overall, great site search is critical to providing a top-notch digital experience to your shoppers or buyers — making your brand stand out from the crowd and building long-term customer relationships. 
Why Should AI Play a Role in Your Site Search Strategy?
AI is becoming increasingly crucial in the e-commerce search strategy of businesses of all sizes, and it should play a significant role in your company's site search bar. To put it simply, your e-commerce website can provide more accurate search results by leveraging advanced AI technologies, such as machine learning (ML) and natural language processing (NLP).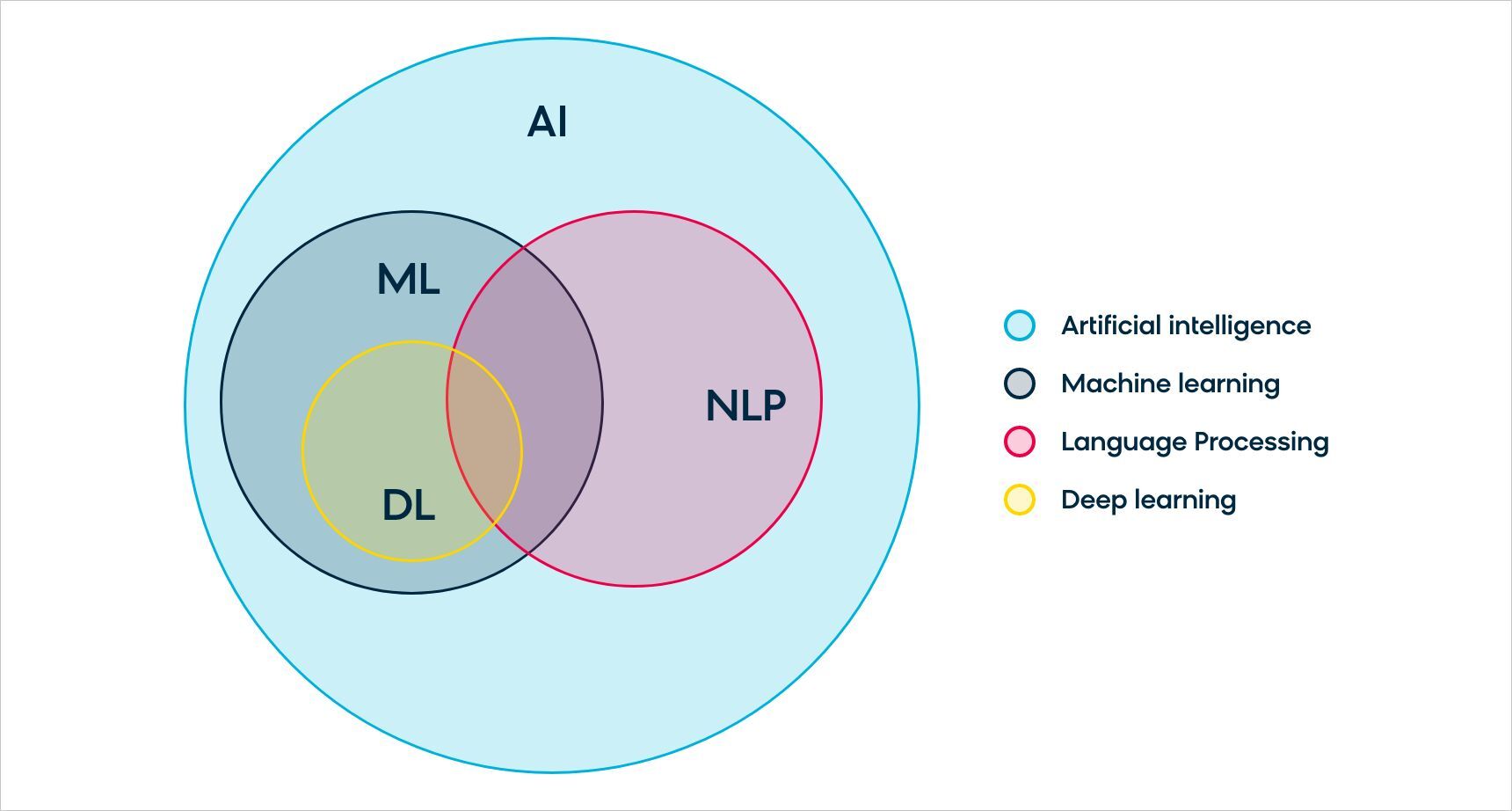 Don't forget that an e-commerce search engine serves a dual purpose. First, it ensures that your product data is complete, correct, and consistent across every channel. Second, it collects important customer data points to simplify the all-too-important product discovery process. This helps your customers find the products they're searching for — and more importantly, the ones they didn't quite realize they needed.
From there, AI analyzes customer behavior (e.g., user searches, clicks, and dwell time), translating this data into actionable insights to create relevant, personalized search results and product recommendations. AI's ability to evaluate customer interactions and inform purchase history leads to boosted engagement, increased customer satisfaction, and ultimately, higher conversion rates. 
When all is said and done, incorporating AI into your commerce company's product search strategy is necessary to compete in the modern business landscape and provide the exceptional results that customers expect. Even more, it enables scalable improvements to the user experience without any extreme manual intervention and contributes to your brand's competitive edge.
The Best Practices for E-Commerce Site Search 
Now that you have a better understanding of the value of on-site search, let's explore a few best practices for answering your customer's search queries — all of which should incorporate some aspect of artificial intelligence.
Put the Customer at the Center of the Experience 
In a brick-and-mortar store, professional sales representatives and clerks can speedily and efficiently help shoppers find what they're looking for. Your search feature should serve the same purpose on your e-commerce website, understanding intent and guiding shoppers to the best possible result for their query. 
That's why semantic understanding matters so much to your search strategy. NLP should separate products from their attributes, applying contextual understanding to break down the complexities of human meaning into apt results that make sense to your shopper's purchase journey. Once a set of products has been returned for a search query, AI adjusts the order of those products to optimize for e-commerce metrics.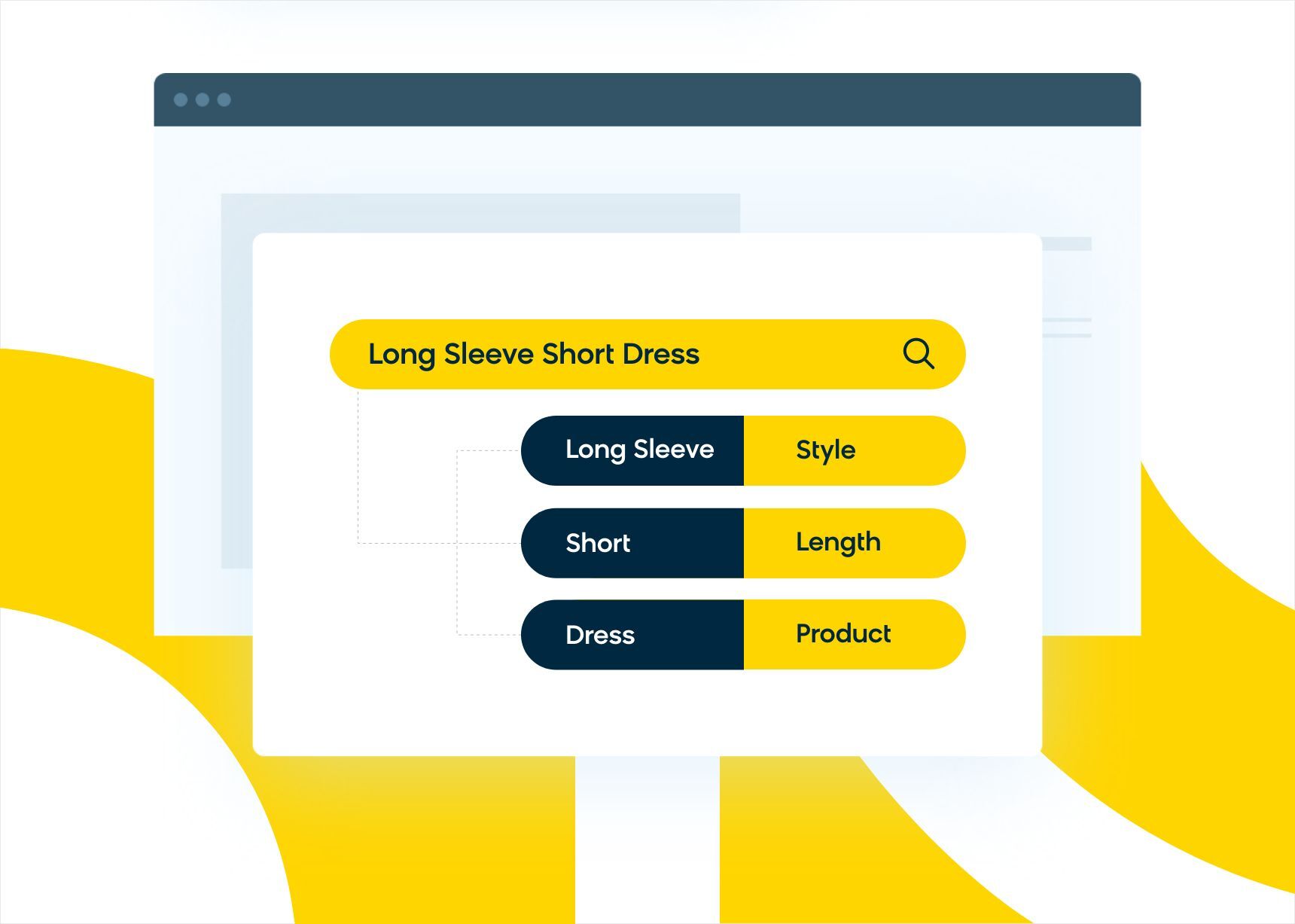 ML takes the reins from there, continually learning to become smarter for future customers. By analyzing the search query, e-commerce search algorithms better understand your targeted customer base and apply this behavior to future usage. This way, the digital experience keeps improving, even for completely anonymous visitors, and shows your customers that you understand them from the start. Trust us — if you let AI take the lead in the search process, it will also play a big role in personalizing the search experience to increase RPV and AOV.
Strengthen Your Commerce Data ASAP 
Bad data is about as helpful as having no data at all. The problem is there's still a lot of bad product and customer data out there — or what we at Bloomreach often refer to as "commerce data." Strengthening your commerce data is essential to site search optimization and relevance, making a huge difference to the search results page on the other end of a query. 
And you need more than clickstream data to get your brand where it needs to be in a reasonable amount of time. Because, not only does product data (e.g., descriptions, dimensions, and pricing) educate your customers on the item they're purchasing, but it also ensures that they're ordering the correct product based on their intent, further increasing trust and satisfaction in your brand. 
Your company can organize, clarify, and refine its data using a customer data engine (CDE). Whether you already have a data solution or are starting from scratch, a CDE will feed organized commerce data into the search experience to improve customer understanding and ultimately, increase revenue.
Once you define, analyze, and deploy customer segments that update in real time, you can better accommodate the customers searching for products on your site. Then, your applicable teams can use this data to shape your approach to merchandising and marketing campaigns. Even if your data is far from perfect, e-commerce search engines, like Bloomreach, can fill in the voids and tap into historical data to improve discoverability, as the pixel on your website continues to learn and gain a deeper understanding of the nuances behind your particular business.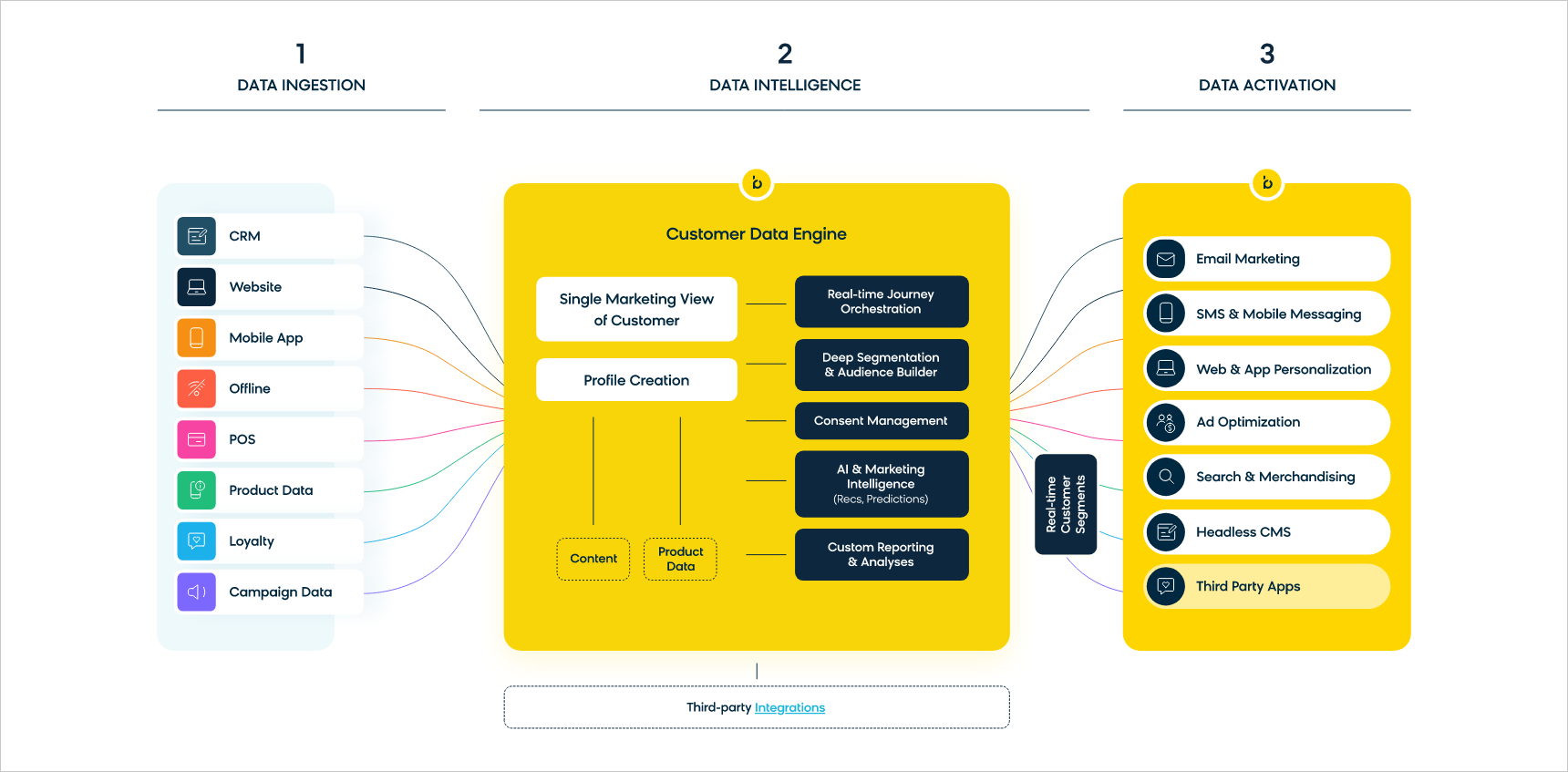 Think Beyond E-Commerce Site Search 
E-commerce site search is only the tip of the iceberg when it comes to product discovery. In fact, product discovery occurs across a wide range of touchpoints. Providing a seamless and personalized product discovery experience requires integrating all of these touchpoints into the overall shopping journey.
Take product recommendations, for example. They exist to accrue more revenue for your business while giving your shopper a better experience. Whether offering up new arrivals, similar products, or best sellers, you're demonstrating an understanding of your customer and their intent during a specific shopping trip. These recommendations  — personalized to a customer's unique wants and needs — have a high probability of capturing their interest and encouraging them to stick around your site after searching for the initial product or service.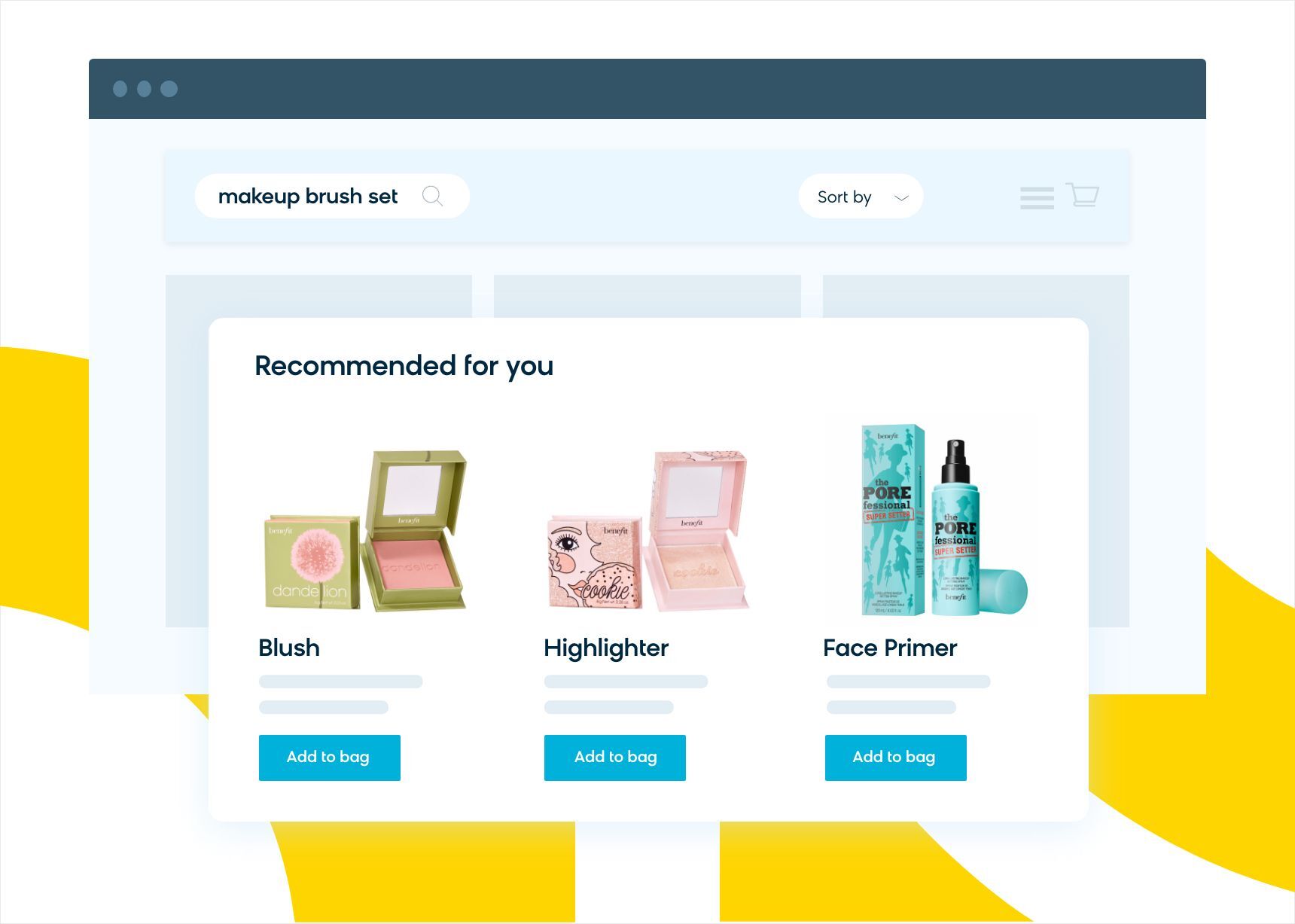 Merchandising capabilities are also a must-have. They provide insights into customer behavior, allowing your brand to curate product grids that suit customer preferences and increase conversion rates and revenue. A/B testing is a vital part of these capabilities, giving your practitioners valuable intel to make the best merchandising decisions for your bottom line. 
For a more comprehensive product discovery experience, you cannot ignore these other aspects of the customer journey. Remember, all of them set the stage for personalization, segmentation, and optimization — bringing the most relevant products to the customers' attention, improving the shopping experience, and driving sales for your company.
Use Bloomreach Discovery to Your Advantage 
The best search practitioners use Bloomreach Discovery to deliver a product discovery experience to their customers that is worthy of their 21st-century expectations. Powered by cutting-edge AI technology, Bloomreach Discovery allows search practitioners and merchandisers to provide more personalized, accurate, and relevant search results that are tailored to each customer's needs and preferences. Get the most out of our solution by taking advantage of our Academy courses, or explore our guide on making revenue now and later with product discovery.