Customer Success Stories
7 Examples That Showcase the Power of E-Commerce Partnerships
In today's booming digital commerce marketplace, understanding the e-commerce ecosystem and your company's place in it is extremely important. 
The e-commerce ecosystem is a collection of tools and solutions, each playing a crucial role in helping you create a more personalized digital experience for your customers. That can include having multiple pieces of a technology stack and tapping into an e-commerce partnership to efficiently implement and use those tools. 
At Bloomreach, we have both partner agencies and technology partners to help create world-class customer experiences and to enhance companies' digital capabilities through technology. 
While the Bloomreach Commerce Experience Cloud allows companies to achieve true e-commerce personalization and drive unparalleled business growth, there are a host of other e-commerce solutions that help complete the customer experience online. One of our goals at Bloomreach is to connect our customers to our partners that can help them achieve their goals and serve their customers more efficiently. 
What specifically can be accomplished by tapping into e-commerce partnerships? Turns out, a lot. 
Keep reading for seven examples of what digital commerce companies have accomplished with multiple e-commerce partners in their corner.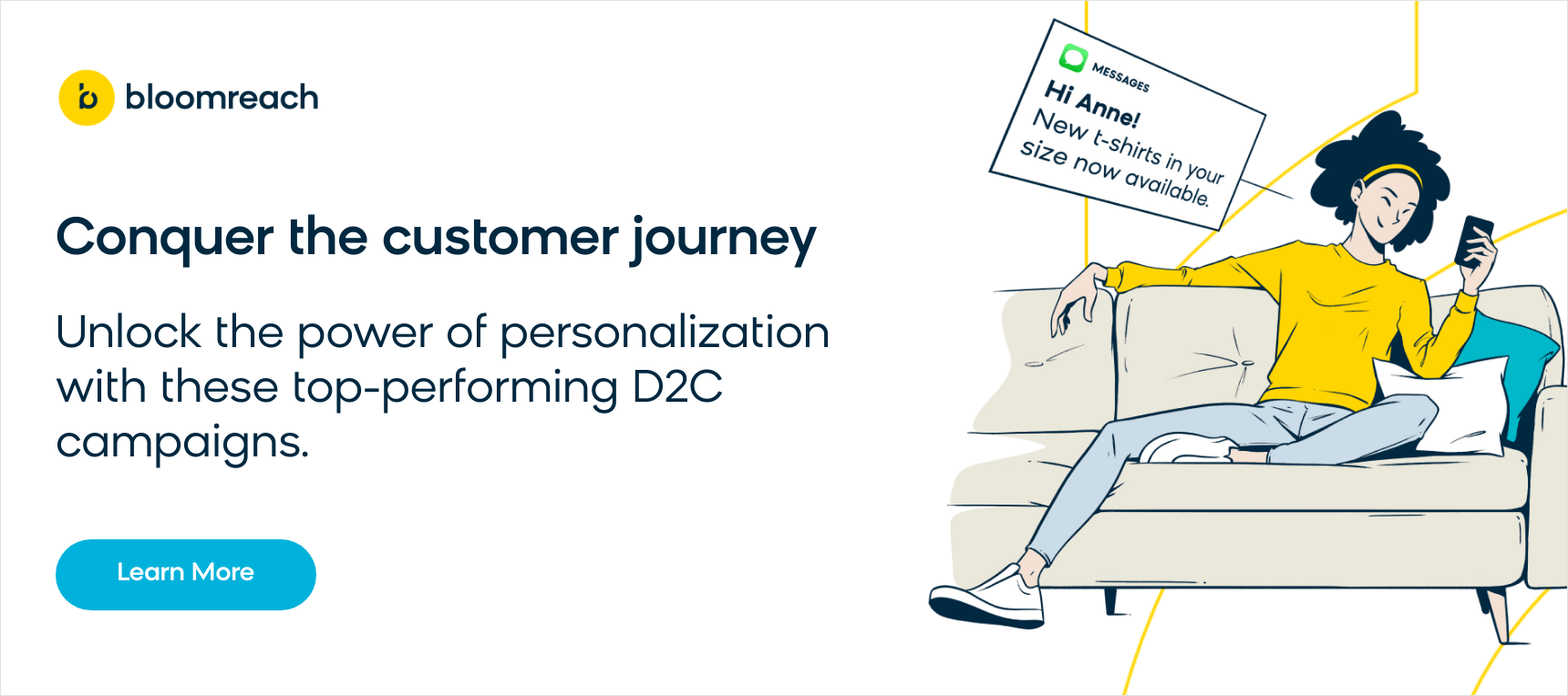 IFM Electronic Operates a Digital Sales Platform Created Jointly With diva-e, Bloomreach, and SAP
IFM Electronic has branches, development, and production sites in more than 50 countries across the world. 
The globally operating sensor manufacturer operates a digital sales platform with the help of diva-e and solutions from Bloomreach and SAP. Together, this partnership helps lead IFM online customers to the product they are looking for faster. 
IFM's previous website and online shop was replaced by a scalable and open system based on web standards with a modern design. The new menu structure and design provide customers with a more user-friendly shopping experience. There's also informative content (displayed via Bloomreach Content) that advises customers on the possible uses of the products before guiding them to make a purchase.
IFM also relied on diva-e for the development of a software download portal. The portal allows the administration of licensed software as well as the management of software packages and software versions.
Cedar Fair Provides Immersive Experiences With Bloomreach and Authentic
Cedar Fair parks provide incredibly immersive experiences. Whether it's Halloween, Christmas, or Independence Day, every roller coaster, water ride, show, bar, shop, or other attraction that Cedar Fair operates is going to immerse you in that holiday. 
That focus on immersive experiences was pivotal to Cedar Fair's digital transformation path, which began where all the best do — with customer expectations.  
As one of the largest amusement resort operators in the world, Cedar Fair entertains 26 million guests per year across its 11 amusement parks, including its flagship park, Cedar Point. 
Cedar Fair identified a major pain point it needed to address — the existing digital experience it was offering customers simply did not deliver the true depth and quality of experience the parks were delivering every day to guests. This pointed to a content problem. 
Cedar Fair is a house of brands. Every one of its parks has a very individual feel with its own identity, which means that each park needs its own website and app. Cedar Fair also had a team of developers and content creators who, naturally, did not want to start from scratch each time. The company needed a structure that was not only reusable, but also flexible, so the digital face of each park could showcase its unique personality. 
Working with implementation partner Authentic, Cedar Fair used Bloomreach Content as the foundation for its next-generation digital strategy, encompassing both in-park and traditional digital experience elements. The implemented solution enabled Cedar Fair to quickly scale experiential initiatives across its family of parks, while also creating an immersive and inter-connected experience that was more tailored to each park visitor. 
Global Industrial Wins With Shift7 and Bloomreach 
Global Industrial is a leading national distributor of industrial products and MRO supplies. The company was looking to differentiate itself with thought leadership in the form of educational content, but faced numerous challenges. 
These challenges included getting a product-focused and product-led website experience, a homegrown website platform with little flexibility for expanding content storytelling, and the ever-increasing competitiveness of digital commerce. 
To solve these problems, Global Industrial partnered with Shift7 and Bloomreach to create The Knowledge Center, a digital, content-rich resource designed to empower customers with expert advice on topics they need to succeed and grow. The company used Bloomreach Content to build out the site and the AI-driven tools of Bloomreach Discovery to create relevant experiences for customers. 
It integrated with its home-built e-commerce site to tie two key user experiences together — educational content and related product categories. The expert advice offered through The Knowledge Center cemented Global Industrial as a leader in the industry and a key partner in helping customers grow. 
Level Nine Sports Enhances Online Experience With Bloomreach and BigCommerce
Level Nine Sports is a top retailer of skiing, snowboarding, biking, and other outdoor products in the western United States.
It began as an e-commerce company first before opening its brick-and-mortar stores in Utah. With its in-person shoppers, it could easily direct them to the products they wanted or needed and showcase top spellers, new products, or sale items. 
But how could it effectively do that online? Level Nine Sports' challenge became offering an equally great customer experience online as it could to shoppers who were walking into a physical store. This included connecting shoppers with products they desired and with inventory the company wanted to move. 
The partnership between Bloomreach and BigCommerce has helped Level Nine Sports address all of these challenges and more. 
Using Bloomreach Discovery as its product discovery engine and BigCommerce as the e-commerce platform, Level Nine Sports reinvented how customers find the products they seek. By using AI to optimize the majority of search discoverability challenges, the team at Level Nine Sports no longer needs to worry about whether results will come back for very specific product searches like "backcountry avalanche transceiver" or if there is a synonym created for interchangeable terms like "coat" and "jacket." 
This freedom has allowed the company to focus on building new, innovative experiences like better ways to bundle multiple products together or to share content related to a purchase decision. The implementation took just one month from beginning to end, with the Bloomreach Discovery BigCommerce app powering the core search and category experience, and some custom front-end development when adding recommendations and content search. 
GrandVision Embraces Digital Future With Bloomreach and commercetools
GrandVision is a leading global optical retailer with more than 7,200 stores worldwide and a growing online presence. It offers customers expert eye care services along with a large selection of unique and stylish prescription eyeglasses, sunglasses, contact lenses, and other eye care products. 
The company conducted extensive research into the journey of their customers online to determine pain points and unmet needs. It identified what was needed to enable a unique and creative customer experience for each brand using a single underlying tech stack. 
One significant criteria that stood out was the need for a front-end customer experience layer that was decoupled from the business logic layer. This would allow GrandVision to give its 30+ brands across 40+ countries the freedom to create their own identity while keeping the back end consistent from easy maintenance and scaling. 
With that criteria in mind, GrandVision opted for a combination of the Bloomreach Commerce Experience Cloud and the commercetools "headless commerce" platform to power the central engine of its digital channels. 
GrandVision uses Bloomreach Content to make it easy for customers to shop online from the comfort of their own homes. It can now offer a digital shopping experience that is consistent with the one it offers in its brick-and-mortar stores. 
The headless commerce platform from commercetools gives GrandVision limitless commerce possibilities. It allows the company to develop a highly functional and visually appealing customer experience that's always on brand. 
GrandVision now powers its global presence with Bloomreach and commercetools. It consistently offers a digital experience that is unique to each brand and meets customers where they are at every step of the way along their journey. 
Ted Baker Launches BigCommerce's E-Commerce Platform With Help of Bloomreach and Wunderman Thompson Commerce
Built on BigCommerce's multi-storefront headless solution, UK-based fashion brand Ted Baker uses a single BigCommerce store to operate multiple unique storefronts and leverage the platform's ever-evolving partner network to strengthen its position as a digital-first brand. 
BigCommerce worked with Wunderman Thompson Commerce to seamlessly integrate Bloomreach Content and Bloomreach Discovery into the Ted Baker storefront to drive more impactful, relevant shopping experiences for end users. 
With its multi-storefront headless platform, Ted Baker can manage its global online presence from a single store and streamline back-end employee operations while offering modern and frictionless customer experiences. That means the company's 12 regional storefronts are now fully localized, enabling the luxury fashion retailer to meet the needs of its expanding customer base. 
Shoppers can now browse in their preferred language (English, German, French, or Spanish) and make purchases using their preferred currency. 
Wunderman Thompson Commerce further integrated BigCommerce and Bloomreach with Ted Baker's back-office systems for product data, order processing, and in-store omnichannel functionality. Tapping into these different tools and technologies also underpins Ted Baker's ongoing commitment to develop its e-commerce offering and drive digital growth. 
Bosch Power Tools Goes Headless With Bloomreach and SAP
The Power Tools Division of the Bosch Group is the world market leader for power tools and power tool accessories. 
As Amazon drives industry trends, it's essential that major B2B brands like Bosch don't fall behind. Going headless helped to change the technology, culture, and mindset of Bosch Power Tools on a global scale. 
With Bosch Power Tools operating multiple global sites, the organization understood that its customers were inherently expecting a tailored digital experience across all channels. This was the business unit's main challenge: creating multiple unique experiences at the country level, while promoting and aligning holistic experiences globally. 
Bosch Power Tools created an infrastructure and baseline of technology systems and processes for all corners of its organization to follow. It wasn't about taking control — it was about helping to accelerate the organization regardless of the country or region. 
This led Bosch Power Tools to headless commerce and Bloomreach Content. Headless commerce differentiates itself from traditional commerce and CMS systems by untethering the back end and front end from each other. Using a headless approach and leveraging Bloomreach Content enables Bosch Power Tools to replace it's front-end system without bringing operations to a halt, thereby maximizing efficiency. 
This is all possible because of Bloomreach's partnership with SAP. The Bloomreach Commerce Experience Cloud seamlessly integrates with SAP Commerce Cloud as part of SAP's Industry Cloud Program, and is available on the SAP Store. This powerful combination empowers Bosch Power Tools to build personalized, relevant experiences that convert on any channel and every journey. 
Bloomreach and Partners Facilitate E-Commerce Growth
Bloomreach is a partner-centric company. The commitment that our partners have made to us is unrivaled and is extremely important to Bloomreach's success. And that commitment facilitates e-commerce growth for our joint customers. 
If you're interested in seeing how Bloomreach can help your company, schedule a personalized demo today to learn more.