Life at Bloomreach
Meet the Team: Solution Architect/Sales Engineer William Borg Barthet
By Anna Petrescu
11/29/2021
Life at Bloomreach
Meet the Team: Solution Architect/Sales Engineer William Borg Barthet
Welcome back to our Meet the Team Q&A series, where we feature interviews with Bloomreachers to give prospective job applicants a better understanding of what it's like to be part of the Bloomreach team. Our first interview of the series was with Staff Engineer Scott Powers. Keep reading to learn more about William Borg Barthet and his roles as a Solution Architect and Sales Engineer for Bloomreach.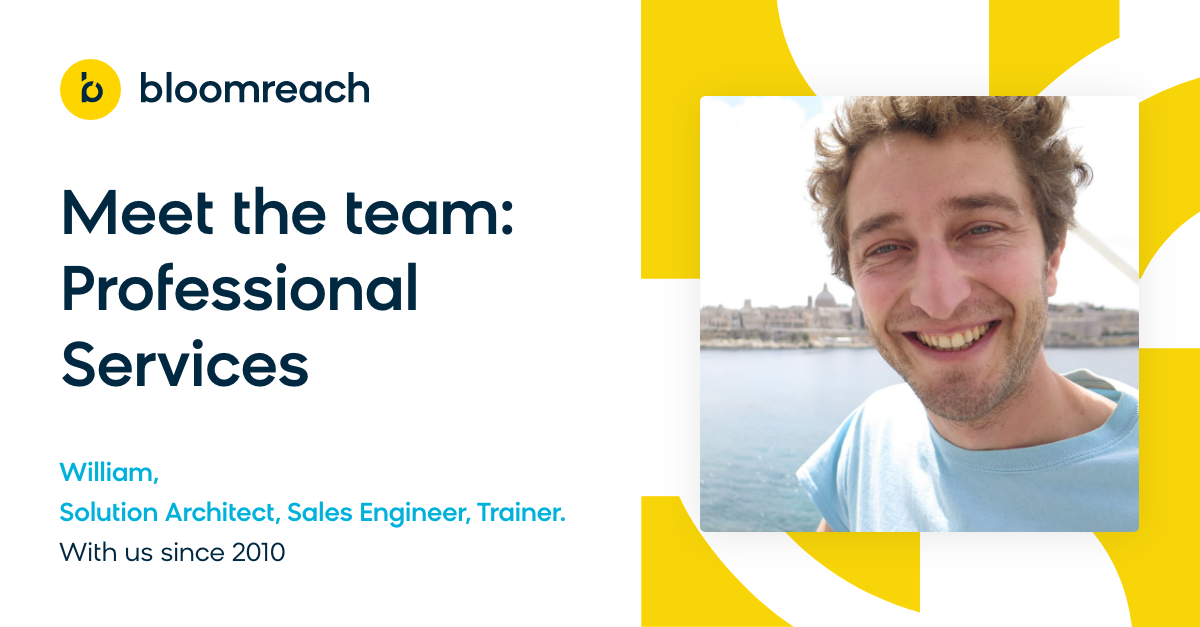 William is one of our longest tenured employees at Bloomreach as he has been with us since 2010. We spent some time chatting with him about his multiple roles, what he is passionate about in those roles, and what enjoys outside of work. 
How long have you been working for Bloomreach?
Over 11 years now! I initially joined Hippo—I moved to Amsterdam to join the team there, then moved to the US, and then later on to Germany. Then, when the opportunity presented itself, I moved with my family to the UK and have stayed here ever since!
Tell us a bit about what your role entails - you seem to be wearing loads of hats! :) 
I am the lead architect for Professional Services for Content. I help collect and determine best practices and align our efforts with other departments. I also lead the other PS architects and developers and get directly involved in client implementations.
Looking back, what made you join us? 
During a difficult time in my life, I reached out to a contact in the Spring world. He told me a CMS company in Amsterdam needed someone with my skills, so I packed my bags and started over. It turned out to be a great move!
Walk us through a day in your life at Bloomreach!
After the informal morning coffee chat (I like to think of this as a re-creation of that morning line at the coffee machine!), most days are a mixture of customer meetings, designing solutions, aligning with other departments, and implementation work. Towards the end of the day, I attend the daily stand-down meeting to see what the rest of the team has been up to, and to help and get help with what we're working on.
What is the most challenging part of your role?
From a technical point of view, getting the architecture right at the start of a project is key. Also, trying to balance the need of getting a solution in place urgently with the need of finding long-term strategic solutions that can be used across multiple projects.
What is the most rewarding part of your role?
It's really satisfying to use one of the websites I helped create in my everyday life—it's great to see that our efforts are having a real impact on people's lives. For example, when I shop at one of our customers' websites here in the UK or whenever I book train tickets in Amsterdam, I'm amazed at how versatile our projects have been in the past couple of years.
What would you say is your favorite thing about being a Bloomreacher?
The people. In Bloomreach in general and in my team in particular there are some super smart people who are also really humble and helpful. I have learned so much from them. They're also a really fun bunch who know how to play hard as well as work hard. And even though Bloomreach is now nearly a billion-dollar company, it still feels a lot like a startup. The energy, pragmatism, and fast pace of growth all make for an exciting adventure. 
What's something you've worked on at Bloomreach that you're proud of?
The original material for our training course. I created the first version of that, which helped train hundreds of developers over the years!
In three words, how would you describe the culture at Bloomreach?
Honest, open, and fun.
What advice would you give to a future candidate who's looking to join your team?
Don't be afraid to take the initiative, and never stop learning. In a job interview, it is better to admit that you don't know something than to try and change the subject.
How do you effectively manage and lead a remote team?
I've been working remotely for many years. Although it is not a perfect substitute for working together in person, this can be mitigated by making sure communication is frequent and effective. Also, it's important to organize online substitutes for those informal and fun moments people need in their working week.
How have your customers adapted to the pandemic one year on?
For some customers, online went from being part of their business to being all of their business. This necessitated a lot more investment and focus on their websites. It seems the online world is busier and more important than ever!
Outside of Bloomreach,  what are you passionate about? 
I'm a history buff and a keen cook. The latest thing I cooked was pasta with Sicilian anchovies and a breadcrumbs sauce. I also like to play computer games when my children allow me the time (I'm also a full-time dad now).

A big thanks to William for his time and for serving Bloomreach since 2010! Interested in joining Bloomreach? We're currently hiring! Visit our careers page to check out the open roles.